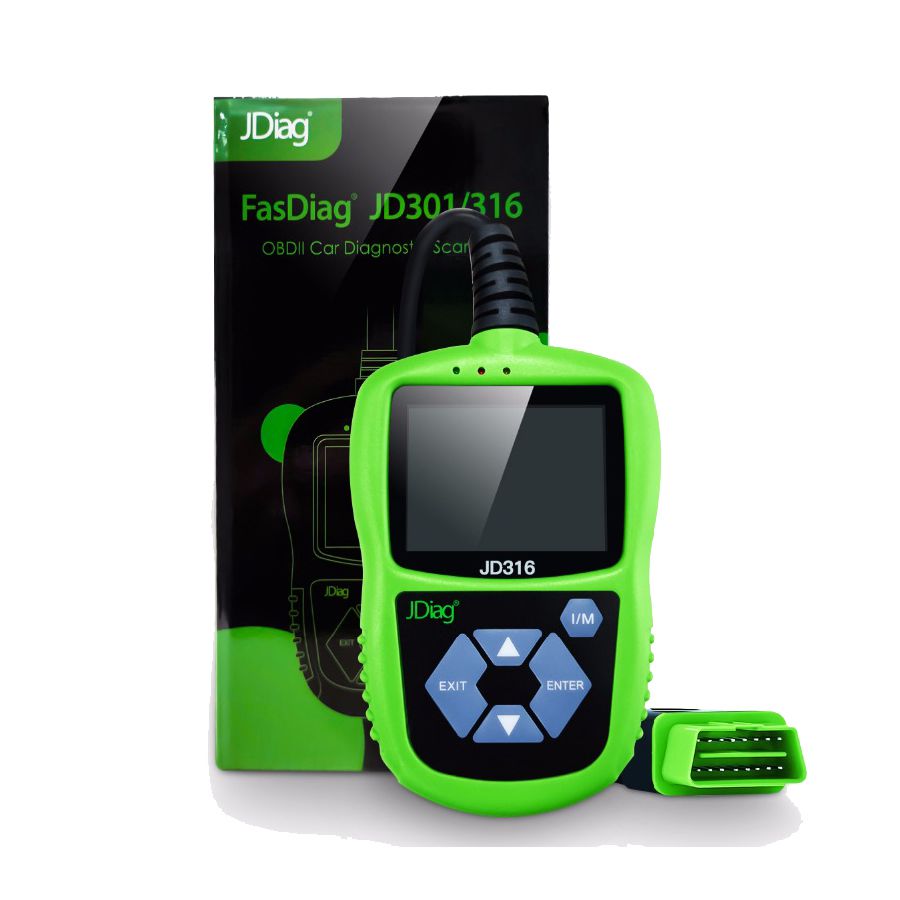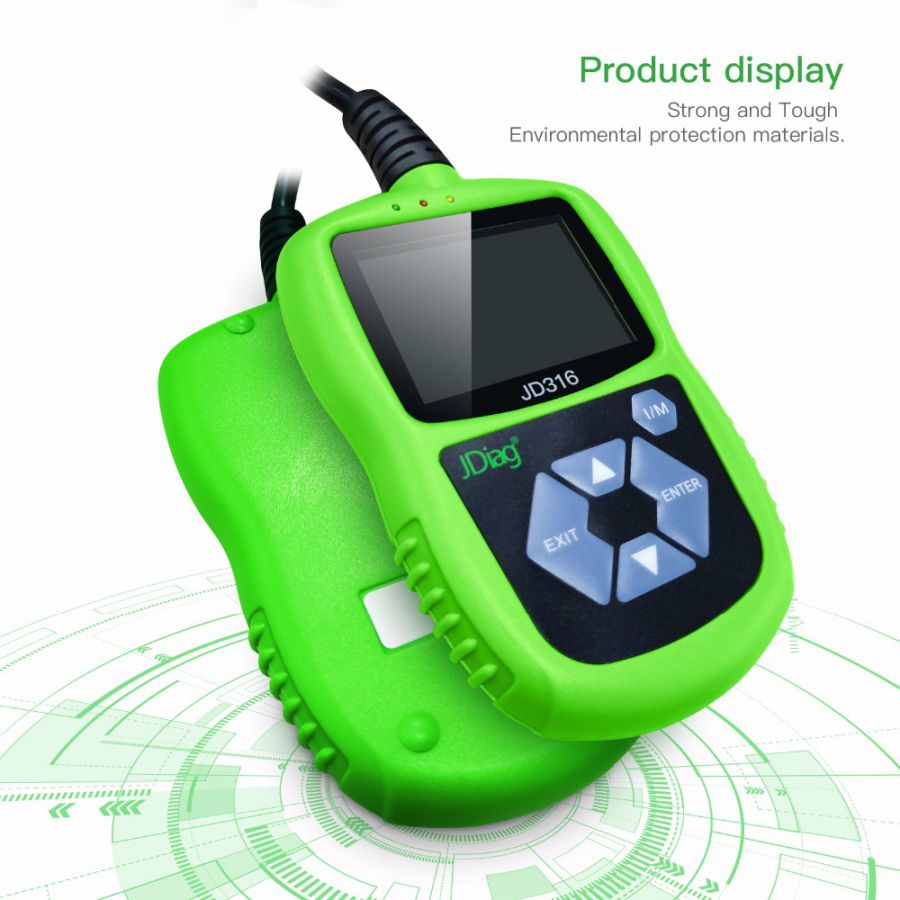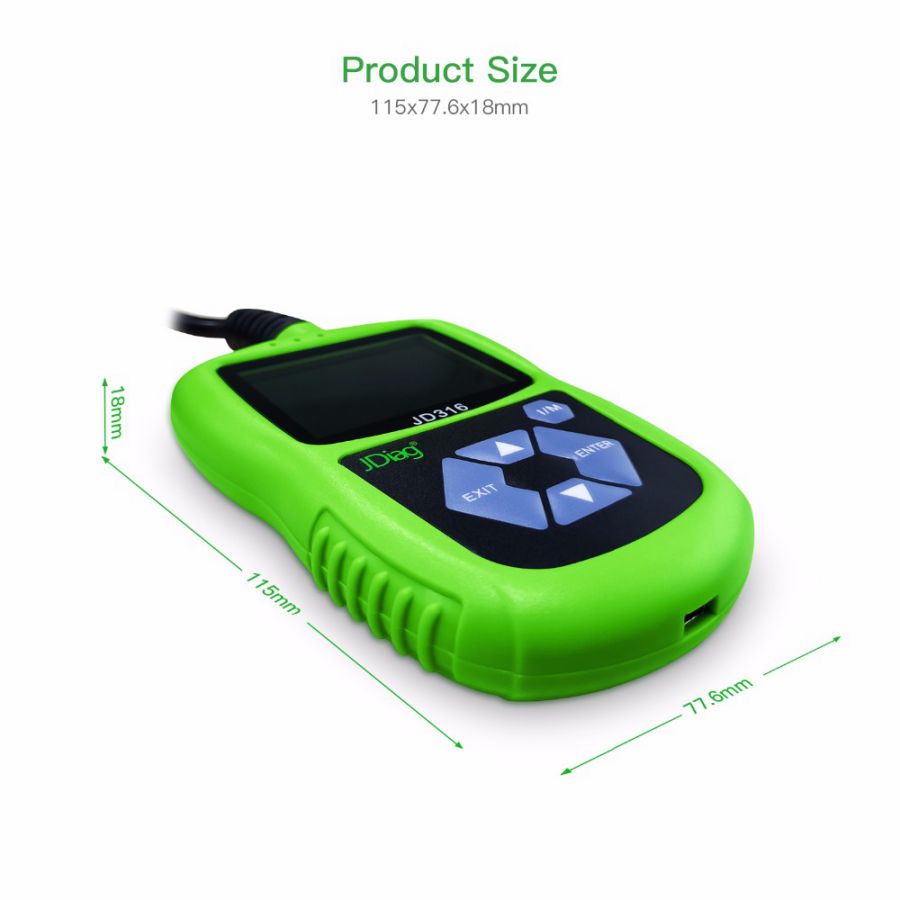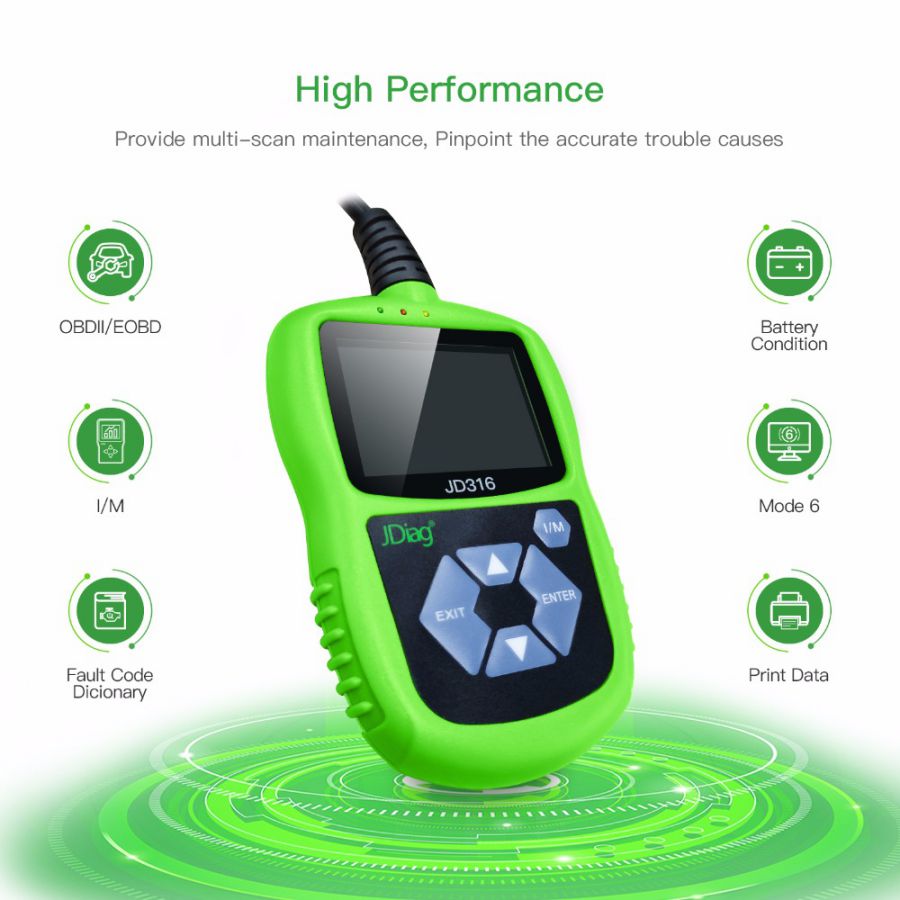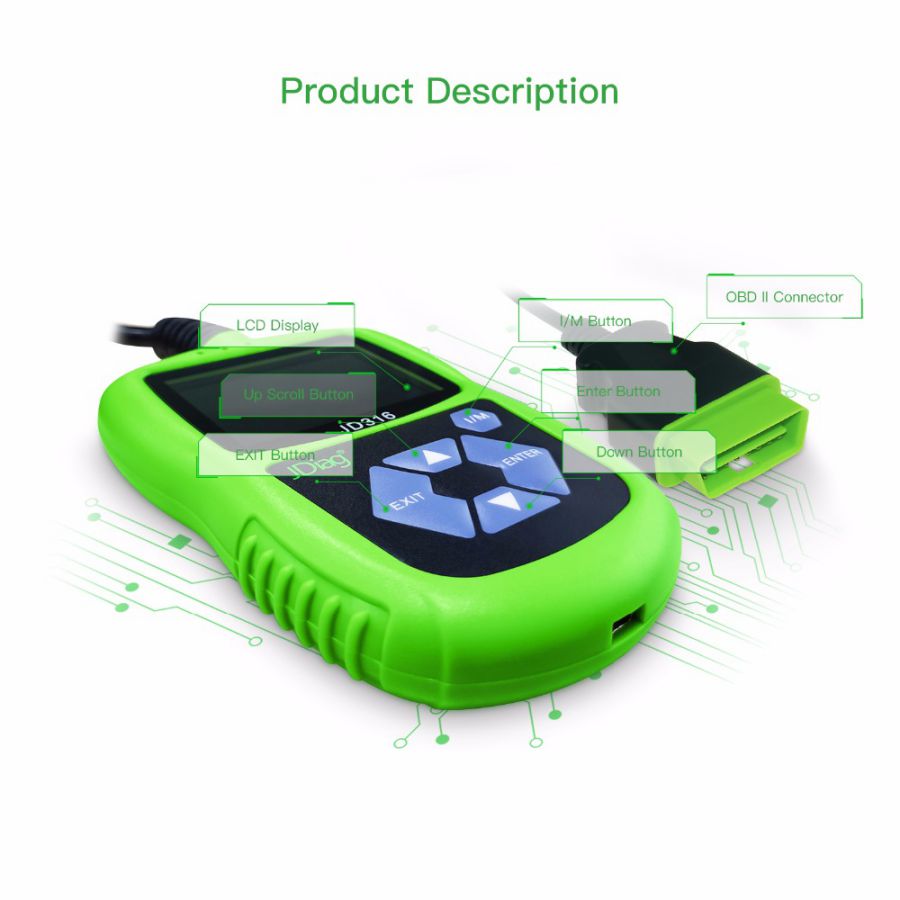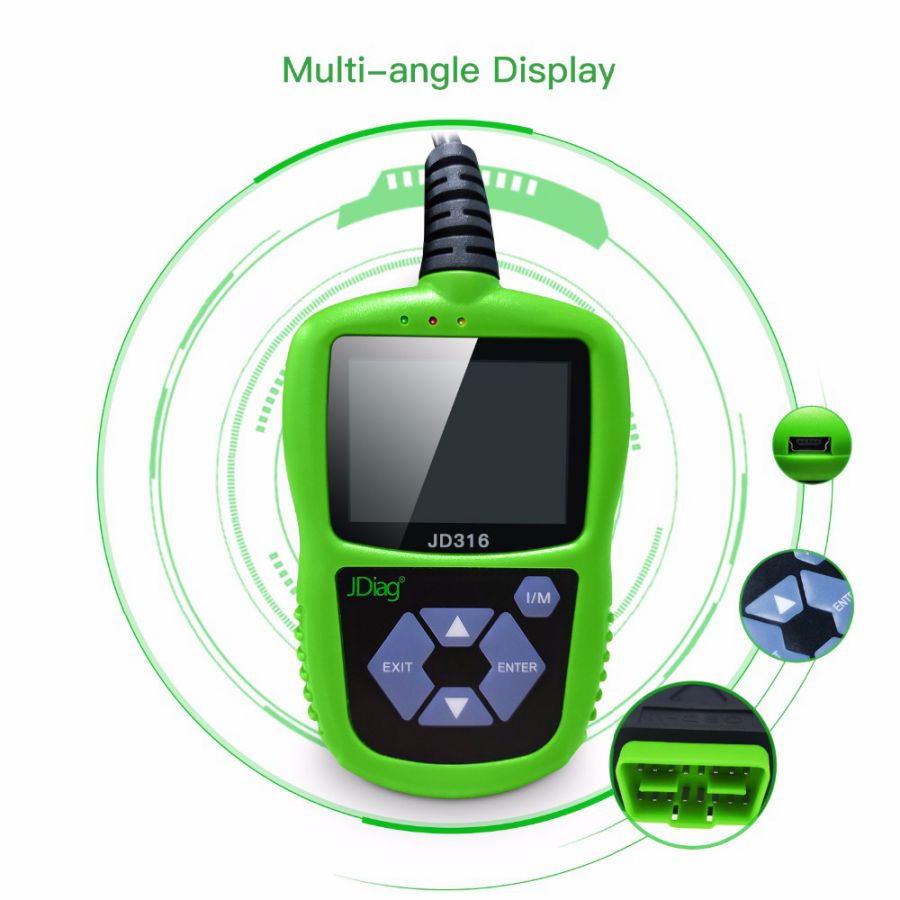 Description
JDiag JD316 OBD2 Scanner Automotive engine Fault Code Reader CAN Diagnostic Scan Tool

【Vehicle Doctor】
Locate bad O2 sensor, turn off check engine light, reset monitor, read enhanced data. The
OBD2
scanner can quickly read and erase DTC (engine fault codes). Access to emissions readiness status, on-screen DTC definitions, built-in DTC look up library, allow you accurately determine causes of the check
engine
light, and turn off the MIL(Malfunction Indicator Lamp). Automatic VIN acquisition and decoding make it easier to read manufacturer specific codes and enhanced mode 6 data.
【Accuracy】Live data in both graph and text forms. Accurately read and clear vehicle error codes for Worldwide cars, SUVs, light truck and 12V diesels equipped with Obd2. Besides, the car scanner also shows live vehicle sensors data in text and graph format and allows you to focus on any suspicious or symptom-specific data parameters.
【Worthy to Own】Supports data logging feature and the ability to record and review log. Printer compatible. Unique PATENTED design, clearly arranged keypad, 2.8" wide TFT color screen with Life-Time Free update and 1 year Money Back guarantee, it deserves to own.
【Emission Test Helper】
Read/Erase DTC and I/M readiness hot keys make it easy to use this car computer reader right out of the package. Red-Yellow-Green Leds and build-in speaker indicate emission monitor status. The
OBDII
scan tool also help catch intermittent problems and confirm repairs during a drive cycle, so that help you quickly determine the health of the car.
【Home Necessity】JD316 car scan tool is open to global customers. It is an upgraded version from the basic car obdii diagnostic scanner with distinctive features. No battery required, it is charged directly from the OBDII car scanner interface in your vehicle( just need to turn on the ignition of your vehicle), making it convenient for Home and Autoshop Mechanics. It is recommended as a necessity in your toolbox and one of the best gifts for father.
The
JDiag
JD316 obd2 code scanner can read and erase codes which can also retrieve a wealth of information from the
engine
Control Unit (ECU).
The ECU is what triggers the Check Engine Light when there is a problem with your car. Parts might cause your check engine light on include:
#1. Gas Cap #2. Oxygen Sensor #3. Air Fuel Ratio Sensor #4. Mass Air Flow Sensor #5. Ignition Coils #6. Spark Plug Wires #7. Spark Plugs #8. Thermostat #9. EGR Valve #10. Evaporatative Emission Canister Purge Valve(EVAP) #11. Catalytic Converter.
And the JD316 obdii
Code Reader
will read codes indicates these fault parts. After the car problems have been solved,
JDiag
JD316 code
reader car diagnostic tool can erase these trouble codes and turn off check engine light.
All GM brands, including Chevrolet,
GM
C, Cadillac,
Buick
, Saab, Saturn, Pontiac, Oldsmobile, & Hummer
All Ford brands, including Ford, Lincoln, & Mercury
All Chrysler brands, including
Chrysler
, Dodge, Jeep, Ram, & Plymouth
All Toyota brands, including Toyota, Lexus, & Scion
All Nissan brands, including
Nissan
, Infiniti, & Renault
All BMW brands, including
BMW
, Mini & Rolls Royce
All Volkswagen brands, including Volkswagen,
Audi
, Lamborghini & Bentley
JDiag's dedicated team of Professional Engineers are continually providing free updates with Enhanced Diagnostics support for more brands.
Please note, all JD316 features, including trouble code lookup and Repair Reports work on ANY vehicle with an OBD2 port.
Reviews

11
#1 yahaya idris
Apr 9, 2019

the best!!!!!!!!!!
#1 jose madrigal
May 9, 2018

Fast delivery, good package, good price. Hope everything works as it should.
#1 Brian Sullivan
Jan 9, 2019

Ok , happy
#1 gabriel cespedes
Jun 9, 2018

has not been tested yet but everything looks perfect
#1 Mustafa Naama
Dec 9, 2018

works Perfect Thank You
#1 tyijwwzgb tyijwwzgb
May 9, 2018

The seller sent promptly. I chose according to reviews. How to check add feedback
#1 Peter Tittelbach
Mar 9, 2019

Ok , happy this JDiag JD316 OBD2 Scanner Automotive Engine Fault Code Reader CAN Diagnostic Scan Tool (Green) is good quality, working very well
#1 Joshua Duncan
Jan 9, 2019

Excellent product
#1 thierry masuyer
Nov 9, 2018

Received it via DHL,all good.thank you.
#1 GREGORY FROGSON
Mar 9, 2019

pretty good to use,thanks for your help!
Previous: JDiag Bluetooth OBD2 Scanner Code Reader Faslink M2 Professional Vehicle Diagnostic Tool Compatible iPhone & Android (Orange)
Next: Handy Smart YANTEK YD308 Diagnostic Tool auto Circuit Tester Covers All The Function of YD208