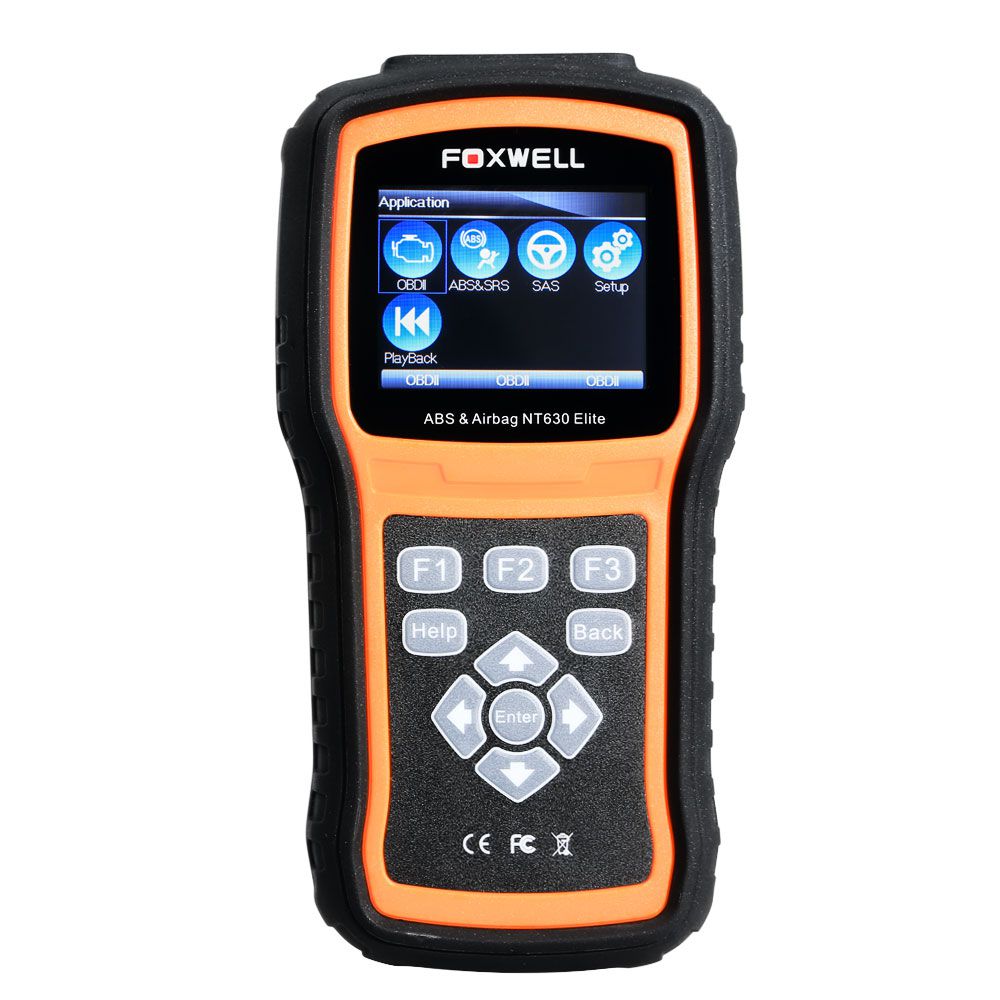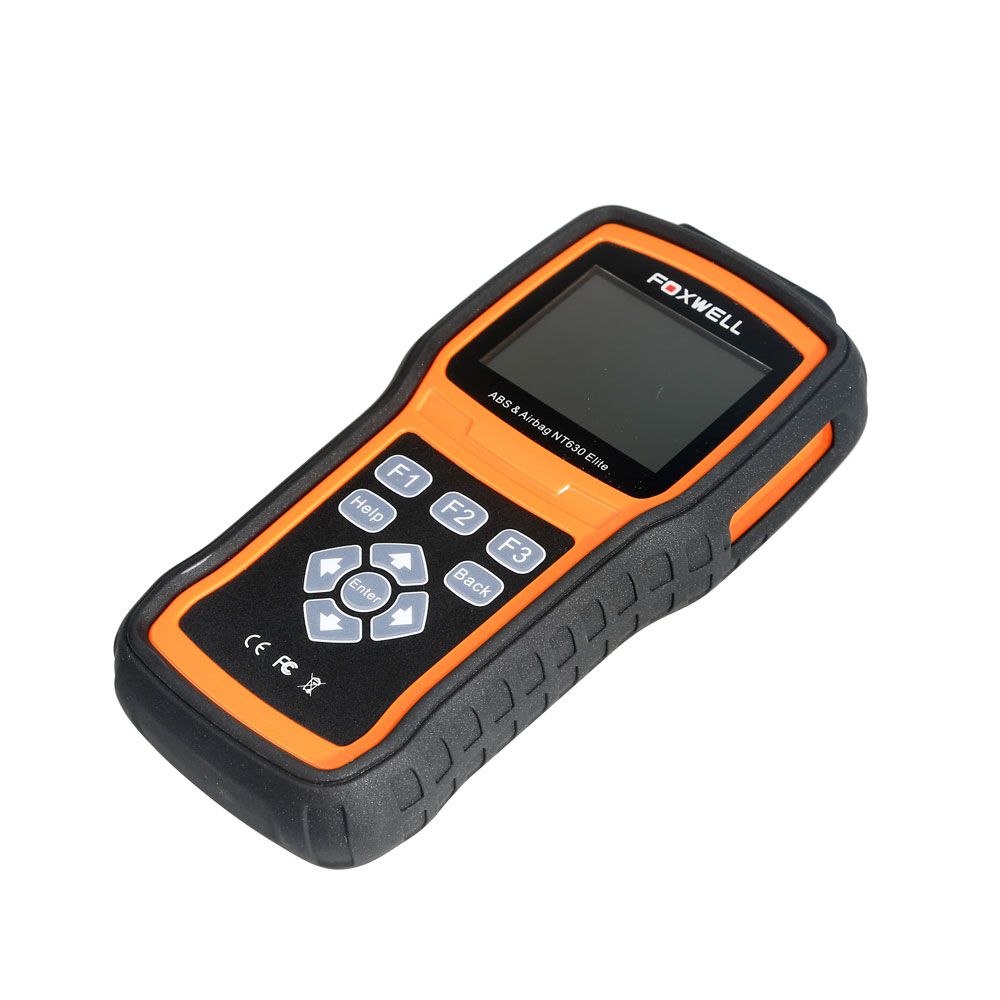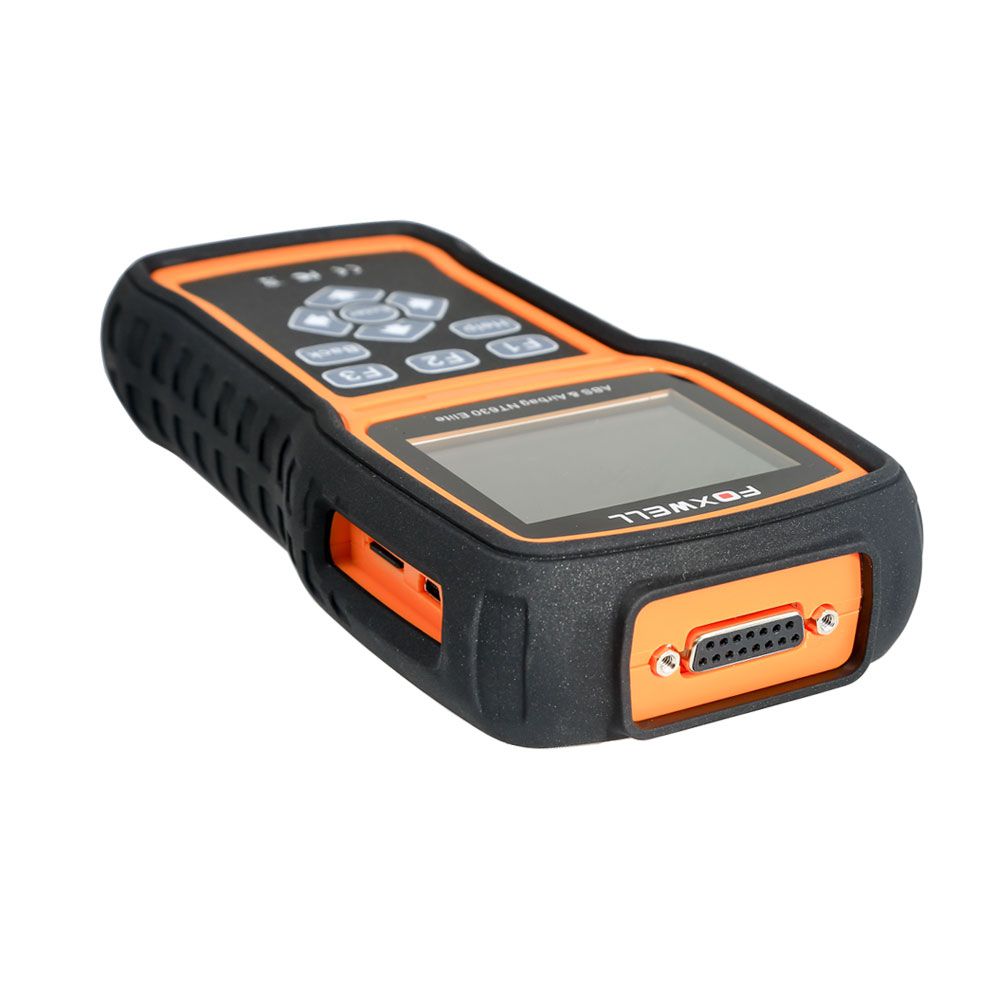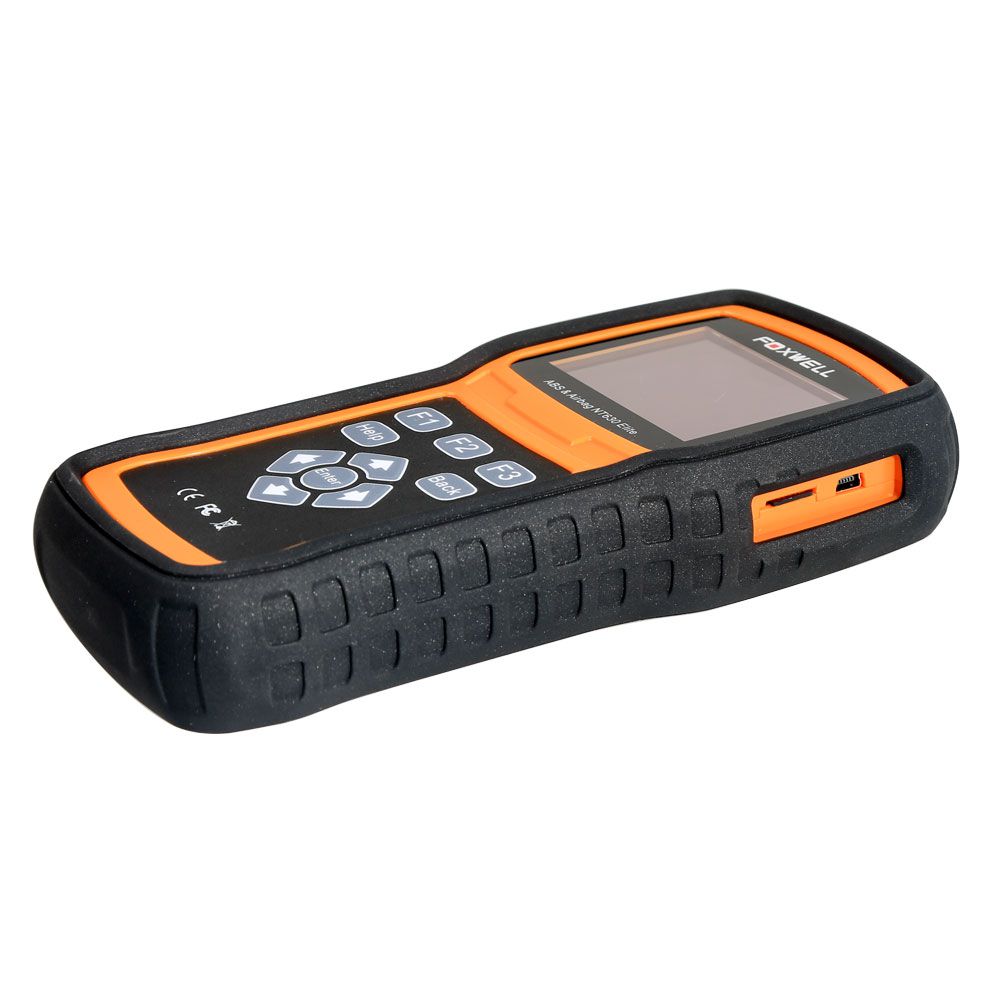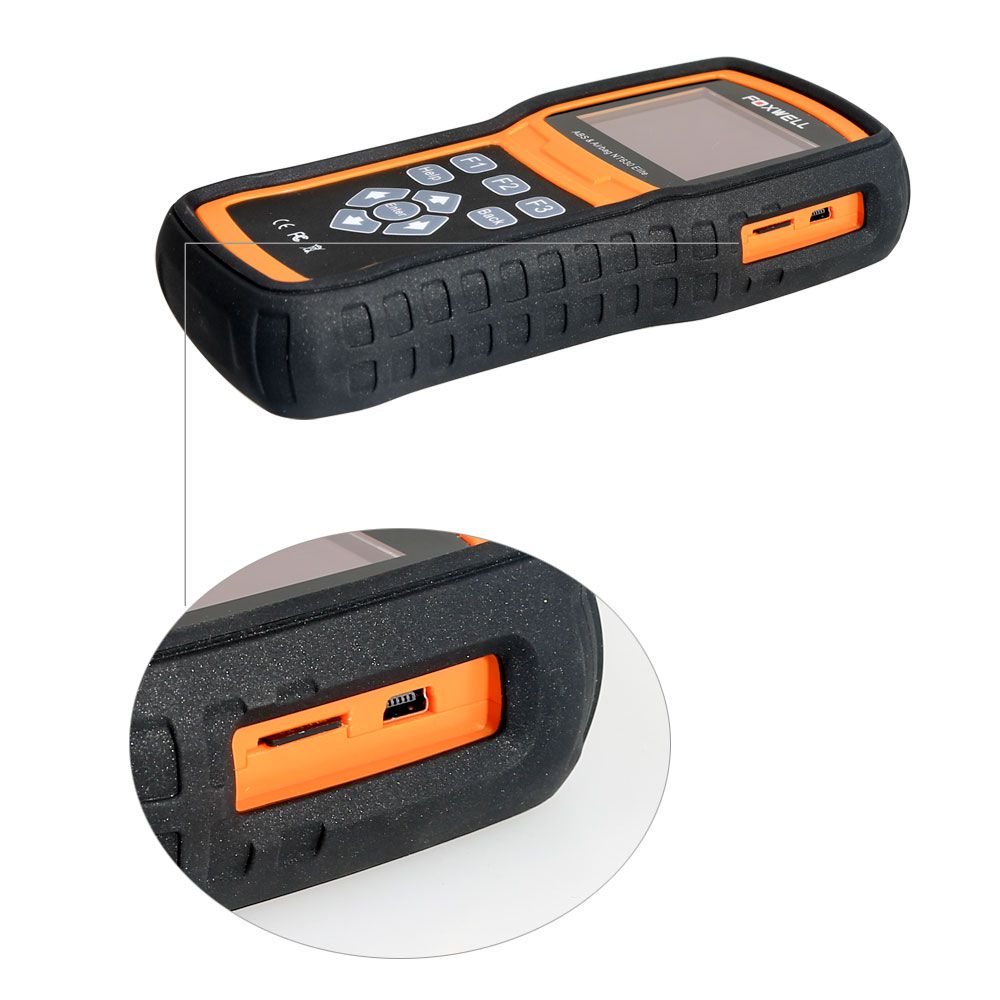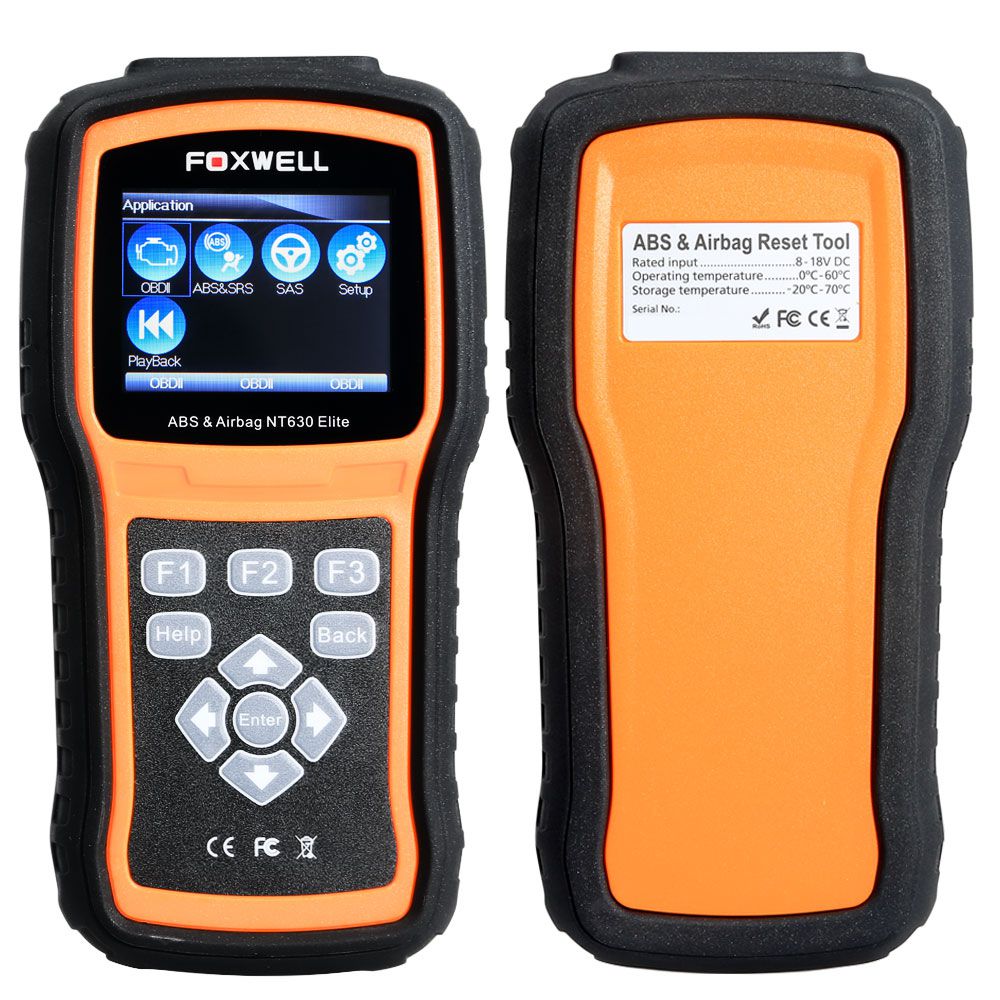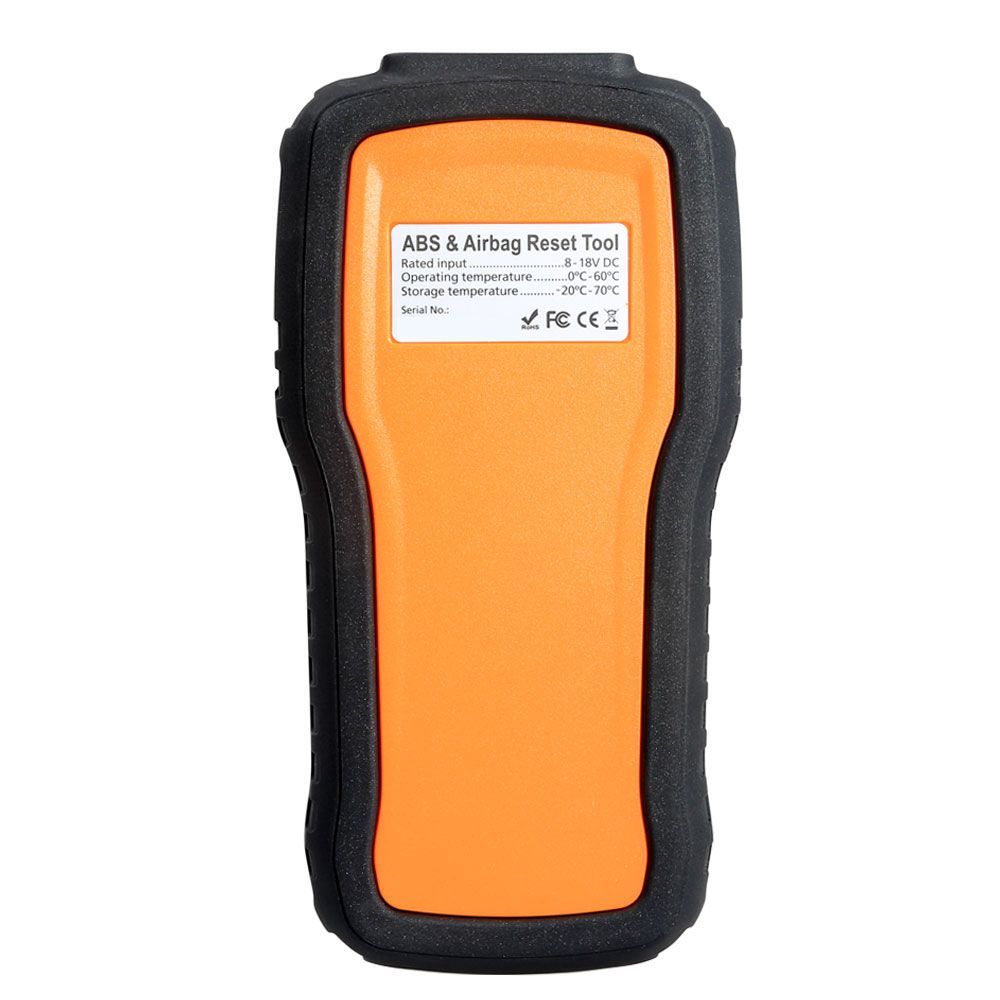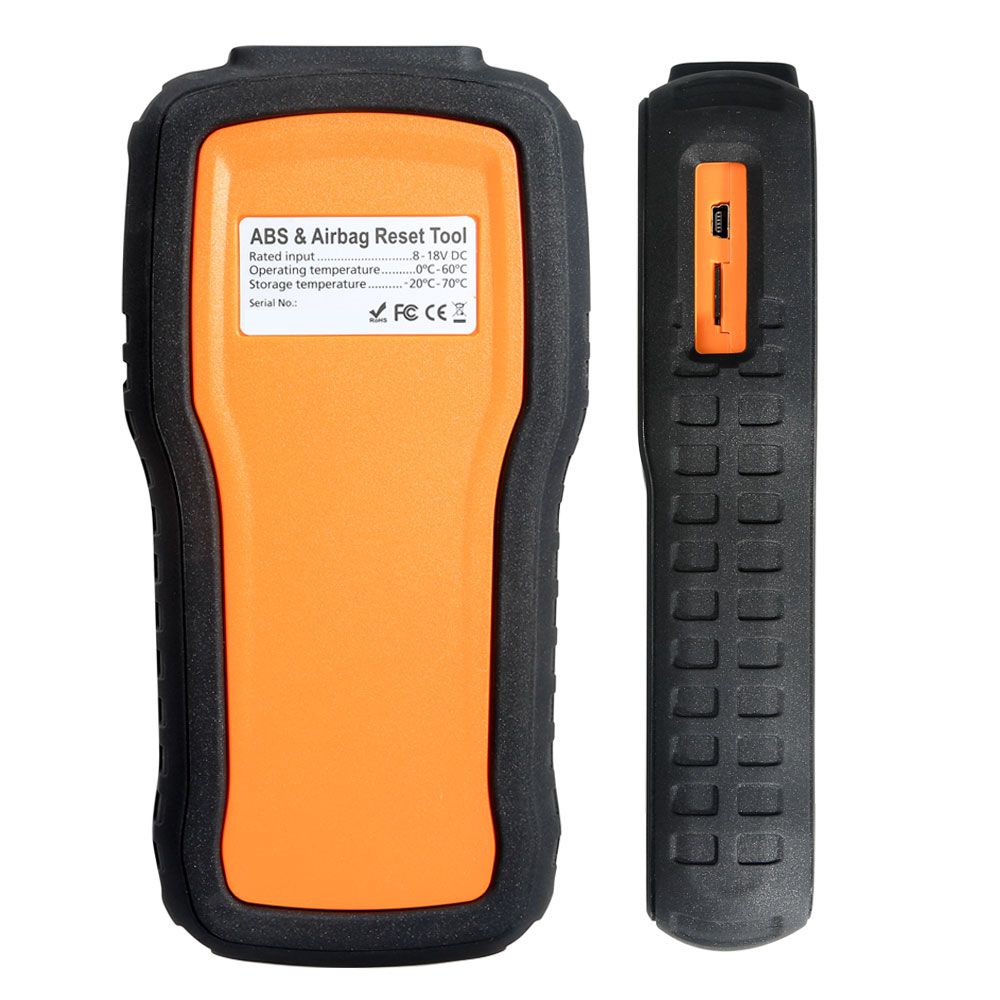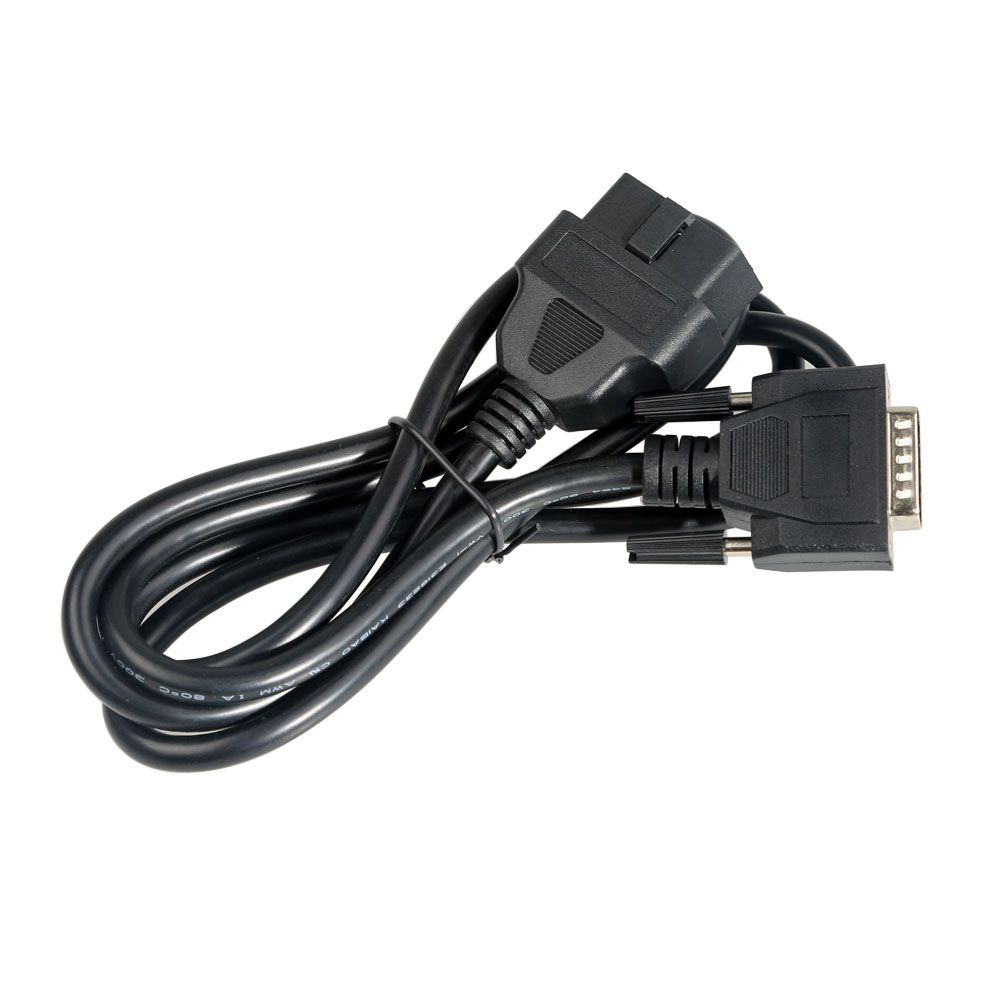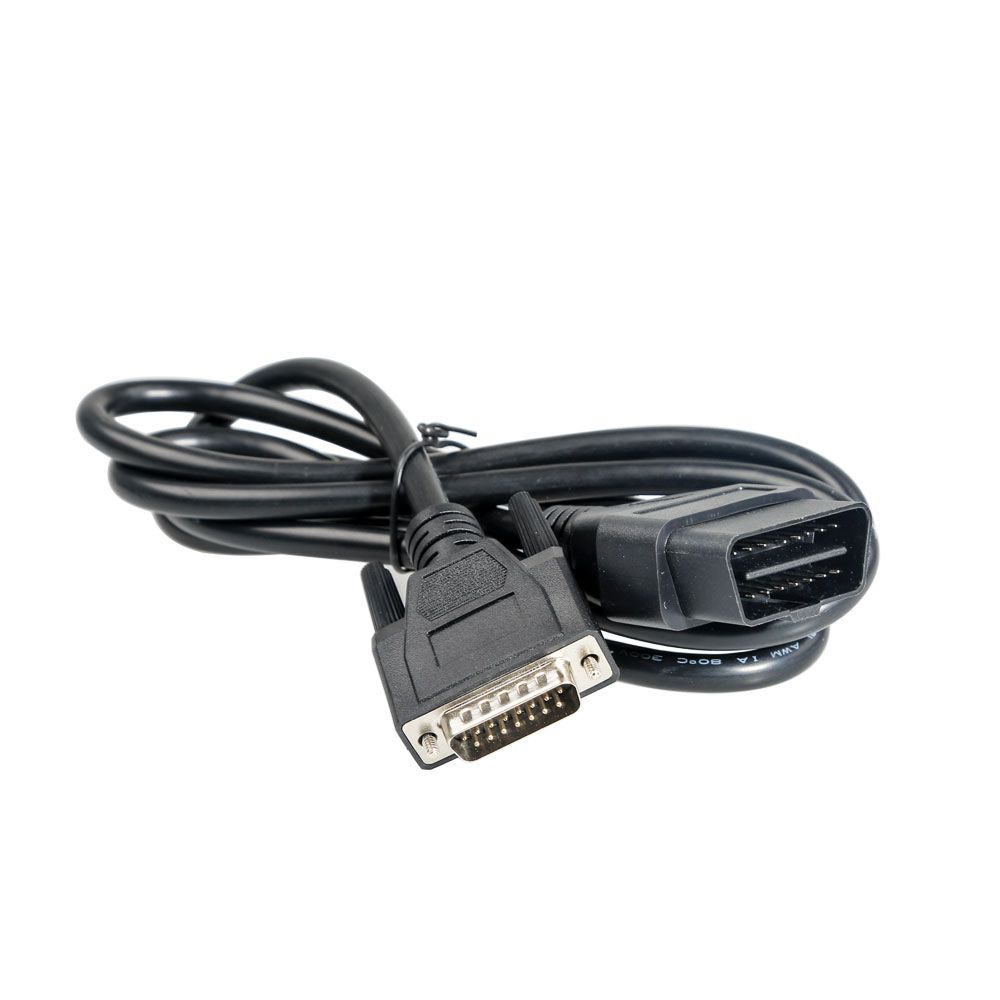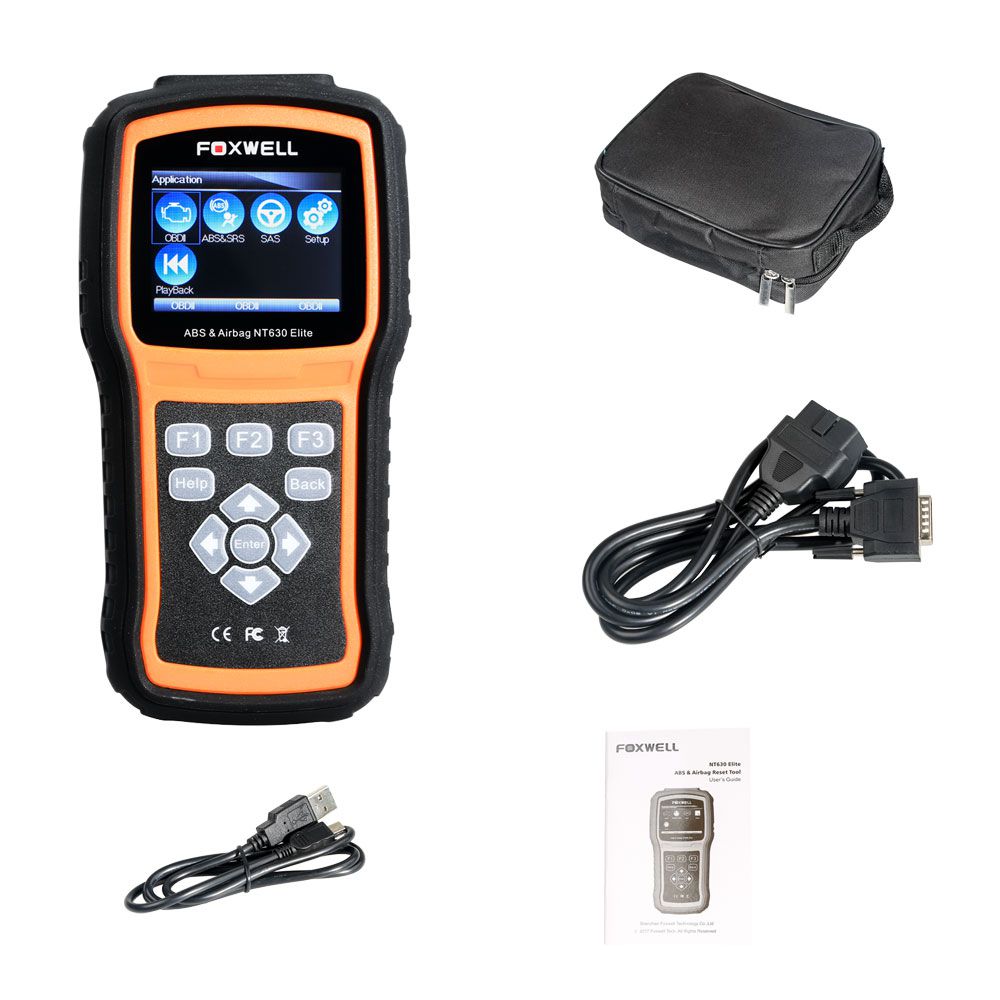 Description
Foxwell NT630 Elite ABS and Airbag Reset Tool with SAS

Update Online Free Lifetime.
Support Multi-Language: English, French, Spanish, Hungrian, Korean, Japanese & German

Foxwell NT630 Elite Features and Benefits:

* Coverage includes an incredible range of 52 manufacturers
* lt delivers SAS (SteeringAngle Sensor) Calibration on more than 35 vehicle makes
*Compatible with both OBDI and OBDll cars SUVs minivans light-duty trucks sold worldwide including the latest 2016/2017 models on selected makes
* ldentifies the vehicle you are testing rapidly and accurately on the basis of its VIN number
* Reads and clear codes and turns off ABS/Airbag warning indicator
* it shows live vehicle sensors data in text and graph format and alows you to focus on any suspicious or symptom-spcific data
* You can view2 parameter graphs simultaneously and merge them into one coordinate so you can easily see how they affect other, providing you with the most comprehensive and functional look at live data possible.
* lt allows you to use the scan tool tenporanrily activate or control ABS/airbag systen With NT630Elite the check of electronic components such as switches sensors relays &actuators is made a simple task saving your time and labor costs.
* Multilingual menu options and code definitions for an international marketplace lt supports English, French,German, Polish,Russish and much more
* With internet access you will always have the latest bug fixes new vehicles newly added parameters and functionality at your fingertips And they are free for life for life long time after your purchase
* Clearly arranged keypad menu-driven operation shortchuts and impressive 2.8 color display together make the series extremely easy to use
* It is constructructed to resist impact impact and damage in the tough worshop environment A rubberized sleeve protects your investment

It is important for automotive repair shops to get as much coverage as possible to effectively and quickly service any
vehicle. NT630Elite provides easy diagnosis on more than 52 American, Asian and European vehicle makes, and you
dont have to turn down your customers driving to your workshop any more.

USA COVERAGE
Chrysler, Ford, GM, Brazilian GM (For Brazilian Market Only)
ASIA PACIFIC COVERAGE
Au Ford, Acura, Daewoo, Honda, Holden, Hyundai, Infinit, Isuzu, Kia,Lexus Mazda, Mitsubishi, Nissan, Perodua, Proton, Scion, Subaru,Suzuki, Toyota

EUROPEAN COVERAGE
Abarth, Alfa Romeo, Audi BMW, Bentley, Bugatti Citroen, Dacia, EU,Ford, Fiat, Jaguar, Lancia, Land Rover, Maybach, Mercedes,Benz, Maserati, Min, Opel, Porsche Renault, Rolls-Royce, Saab, Seat,Skoda, Smart, Sprinter. Vauxhall, Volkswagen, Volvo

Nt630elite lets you identify the vehicle you are testing rapidly and accurately on the basis of its VIN number. It automatically retrieves the VIN code or you can enter it manually to identify the model you are working on





Nt630Elite shows live vehicle sensors data in text and graph format and allows you to focus on any suspicious or symptom-specific data parameters. it's powerful graphing capability gives you the real picture of what's going on in the vehicle. You can view 2 parameter graphs simultaneously and merge them into one coordinate so you can easily see how they affect each other, providing you with the most comprehensive and functional look at live data possible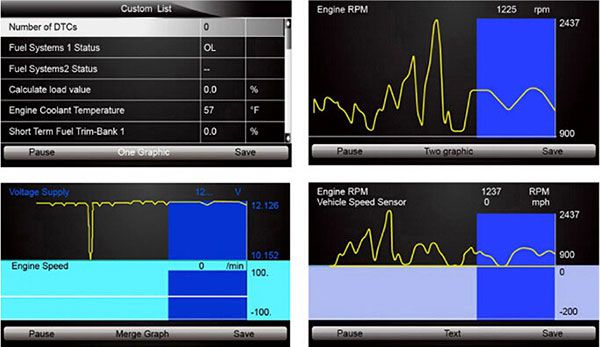 Nt630elite cannot only read your codes, but it can also actuate components, run system tests, program control modules Reading the trouble codes from your vehicle is easy. But without live data, bi-directional controls and other special functions, you may not have enough information to get the problem fixed right.
It allows you to use the scan tool temporarly activate or control ABS/airbag system or component With Nt630elite the check of electronic components such as switches, sensors, relays &actuators is made a simple task, saving your time and labor costs. It gives you the ability to flash ABS and airbag control units with new program data and allows for the coding and programing of a replacement control module or changing previously stored incorrect coding as expensive factory tools do.





With Internet access, you will always have the latest bug fixes, new vehicles, newly added parameters and functionality at your fingertips. And they are free for life long time after your registration. Simply connect the scanner with your computer log into the PC application, and click update. The application does all the work, syncing the latest software to your tool.





The easy yet elegant design of this scanner was developed by technicians for technicians. Clearly arranged keypad menu-driven operation, shortcuts and impressive 2.8"color display together make the scanner extremely easy to use.





NT630 Elite is built to last it is constructed to resist impact and damage in the tough worshop environment A rubberized sleeve protects your investment. The secure fit. extra corner padding and screen protector ensure your scan tool will be around for a long time.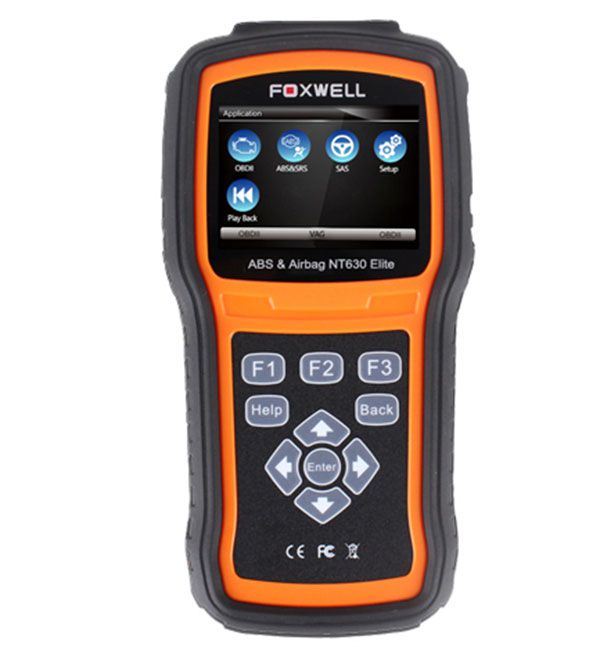 Specifications

Display: Backlit, 480*272 TFT color display
Working Temperature: 0 to 60℃ (32 to 140℉)
Storage Temperature: -20 to 70℃ (-4 to 158℉)
External Power: 8-18 Volts powered by vehicle battery
Dimensions: 200*130*40mm (L*W*H)
Blow molding case: 330*220*80mm (LWH)
Weight: 1.5KG
QTY/CTN: 20SETS
Weight/CTN:38KG
CTN MEAS: 680*460*420mm
Package includes:
1pc x NT630 Elite Scan Tool
1pc x User's Guide
1pc x Memory Card
1pc x USB Cable
1pc x Diagnostic Cable
1pc x Blow molding case
Previous: Multi-languages Smart Zed-Bull With Mini Type No Tokens Needed
Next: VPECKER E4 V8.3 Malaysia Version Multi Functional Tablet Diagnostic Tool Wifi Scanner for Android