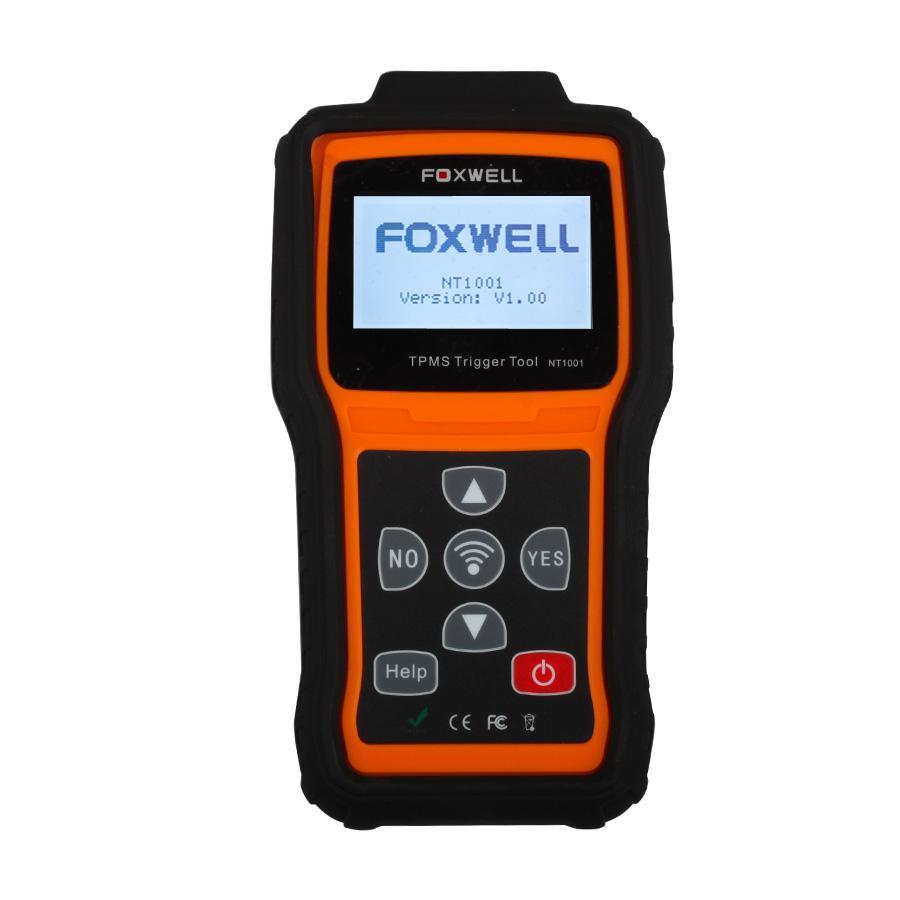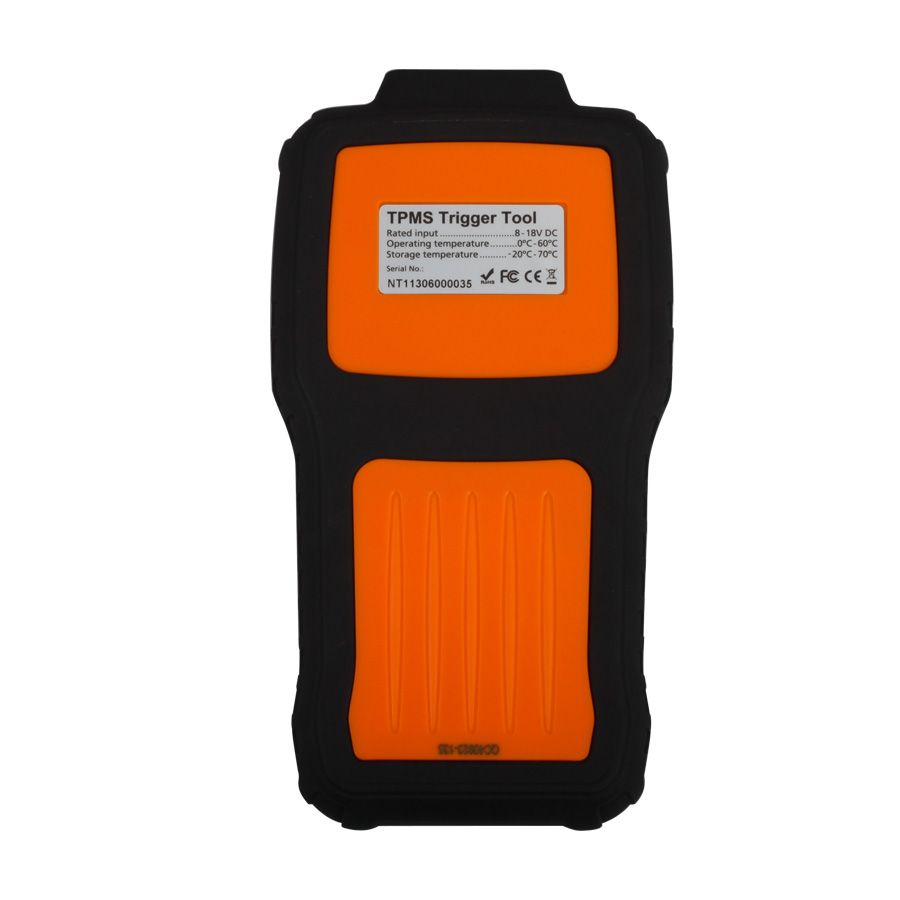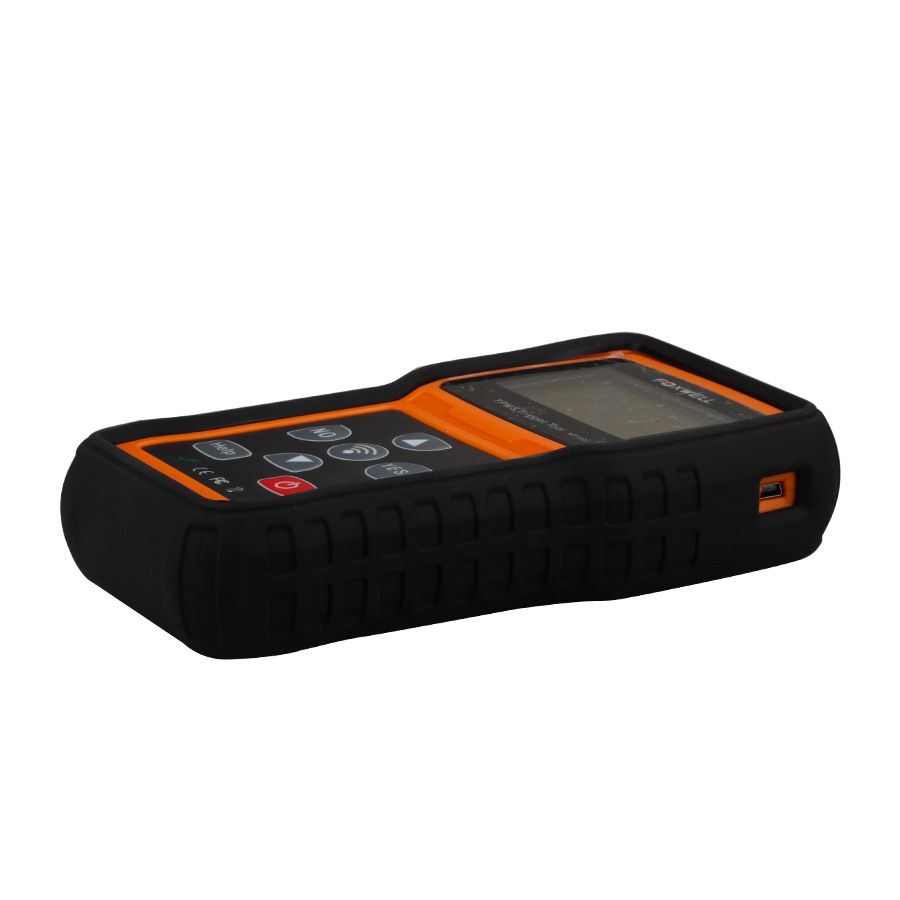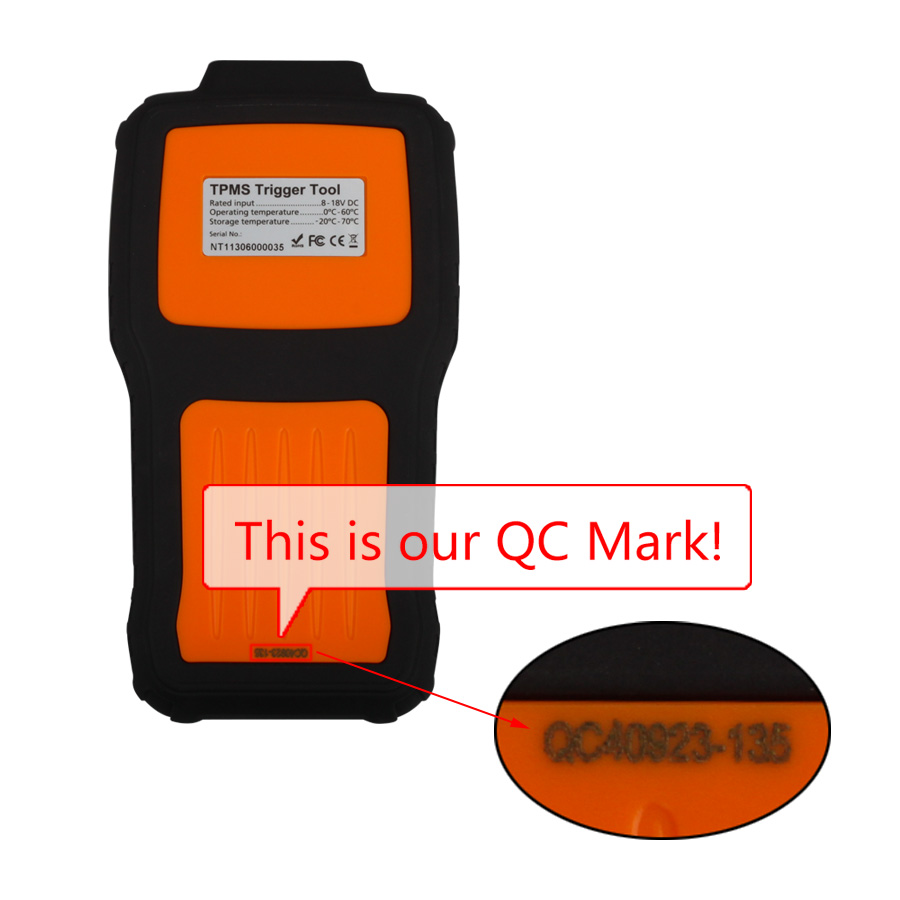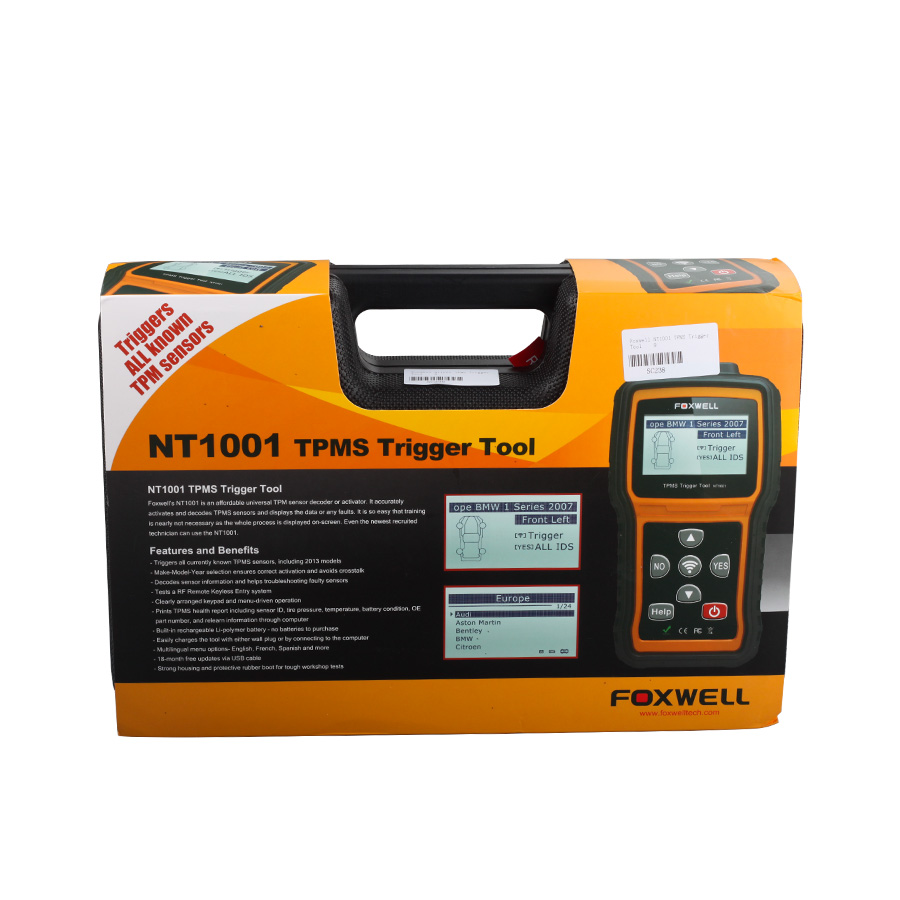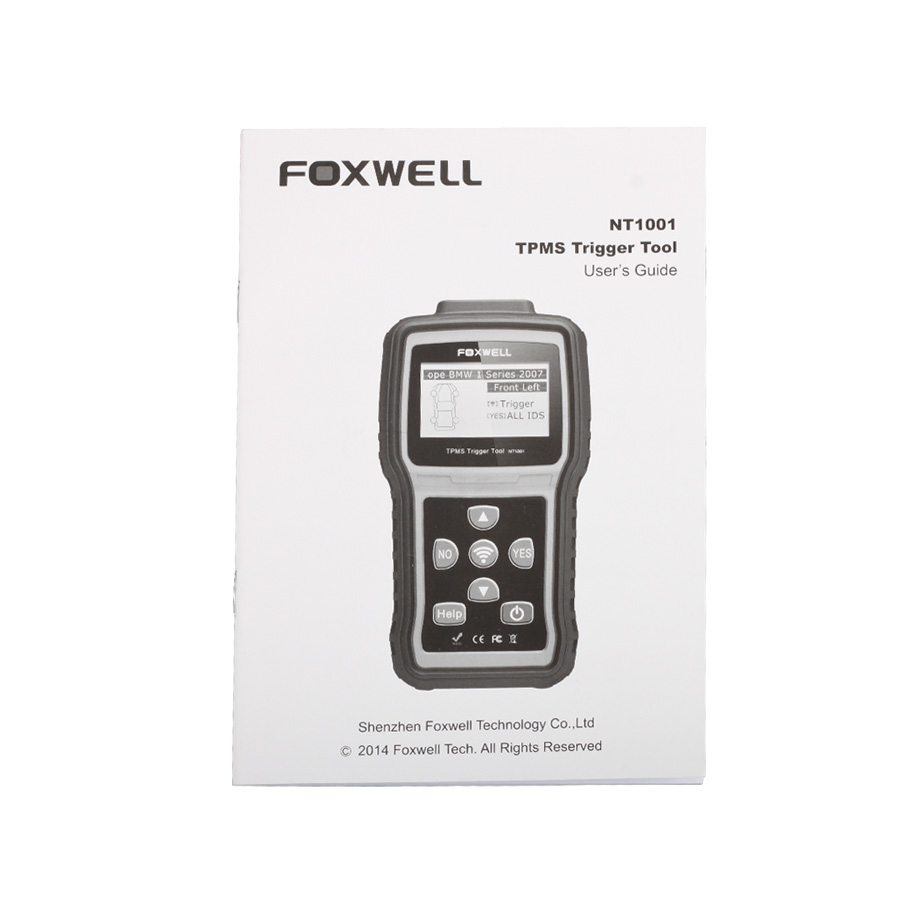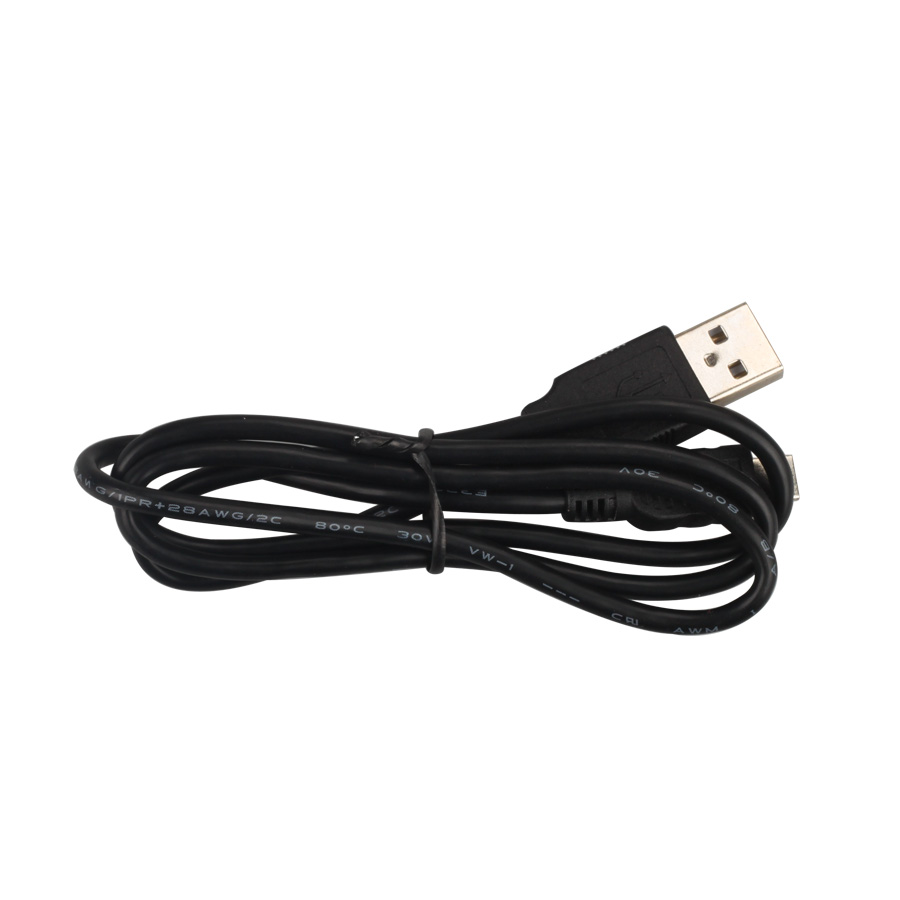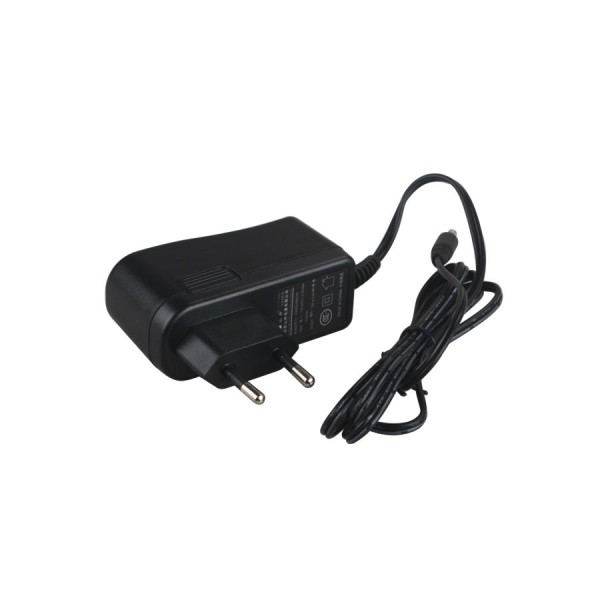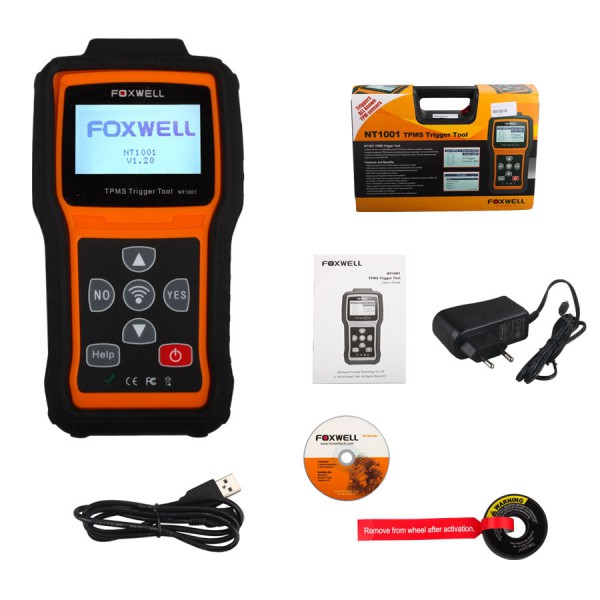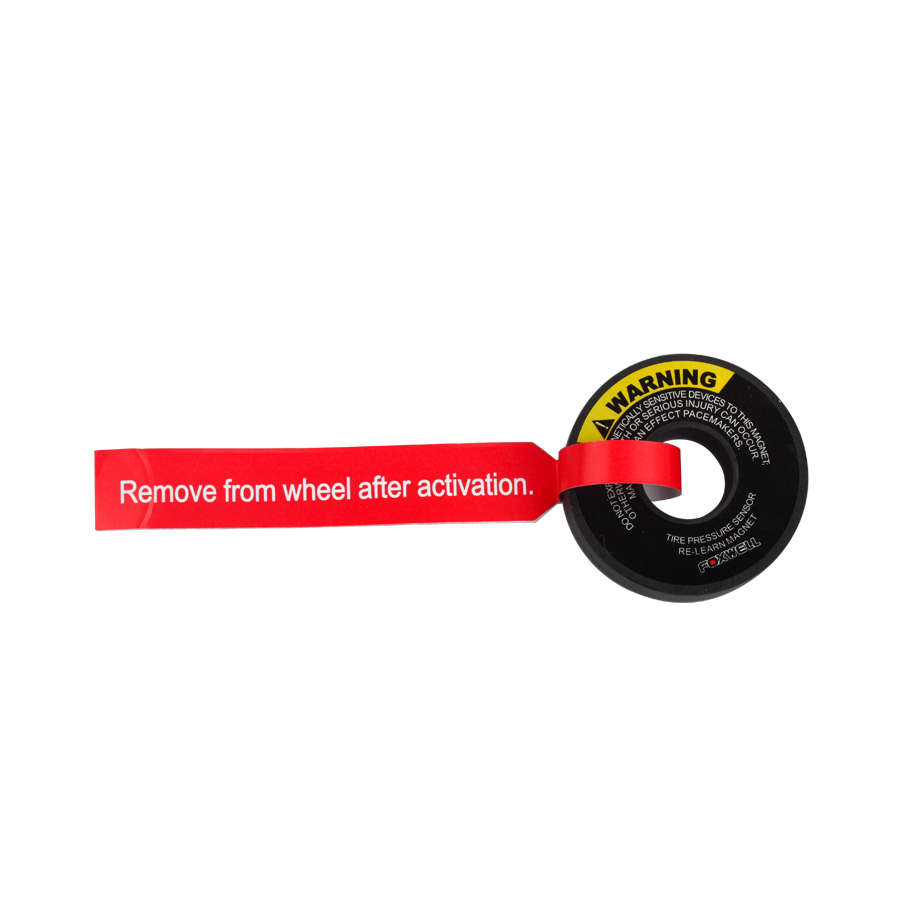 Related Accessories/Similar Items
Description
Foxwell NT1001 TPMS Trigger Tool

Language:
English, French, Spanish and more
Foxwell NT1001 TPMS Trigger Tool Features and Benefits:
Triggers all currently known TPMS sensors, including 2014 models on selected vehicles
Make-Model-Year selection ensures correct activation and avoids crosstalk
Decodes sensor information and helps troubleshooting faulty sensors
Warns of a wrong sensor installed, missing or faulty sensor, duplicate ID, and incorrect sensor mode
Checks RF Remote Keyless Entry (key FOB)
Clearly arranged keypad and menu-driven operation
Prints TPMS health report including sensor ID, tire pressure, temperature, battery condition, and OE part number through computer
Built-in rechargeable Li-polymer battery – no batteries to purchase
Easily charges the tool with either wall plug or by connecting to the computer
Life time free updates via USB cable
Strong housing and protective rubber boot for tough workshop tests
Foxwell NT1001 TPMS Trigger Tool Specifications:
Display: Backlit, 128*64 pixel display with contrast adjustment
Operating Temperature: 0 to 60°C (32 to 140°F)
Storage Temperature: -20 to 70°C (-4 to 158°F)
Power: 3.7V Li-polymer battery
Package List:
1 pc x NT1001 TPMS Trigger Tool
1 pc x User's Guide
1 pc x USB Cable
1 pc x Software CD
1 pc x Magnet
1 pc x Battery Charger
1 pc x Blow Molding Case

Reviews

17
#1 Oleg Shumeray
Mar 9, 2019

I received the goods, i liked the quality.
#1 FLUETLETODS FLUETLETODS
Jan 9, 2019

Very fast delivery. I will buy again from this store. Thank you!
#1 William Cavallini
Aug 9, 2018

Very good product super fast
#1 samuel agyemang
Jul 9, 2018

Very good… Super fast
#1 Michal Robaczewski
Jul 9, 2018

all perfect ! Items came to me 3days! I would buy it again, from this seller
#1 seth rensburg
Jun 9, 2018

works just as the original
#1 sanjuana escalera
Jul 9, 2018

Fast delivery, good package, good price. Hope everything works as it should. this Foxwell NT1001 TPMS Trigger Tool is good quality, working very well
#1 mr. maik
Jan 9, 2019

A professional approach, I recommend the seller
#1 David Pung
Dec 9, 2018

The best seller here on the site there are unrivaled fast and reliable
#1 Sergey Scripachov
Sep 9, 2018

I received the goods, i liked the quality.
Previous: LISHI HY17 Decoder Picks (Direct Read) for HYUNDAI KIA
Next: V-checker H501 Head Up Display for OBD1 OBD2 JOBD EOBD Vehicles