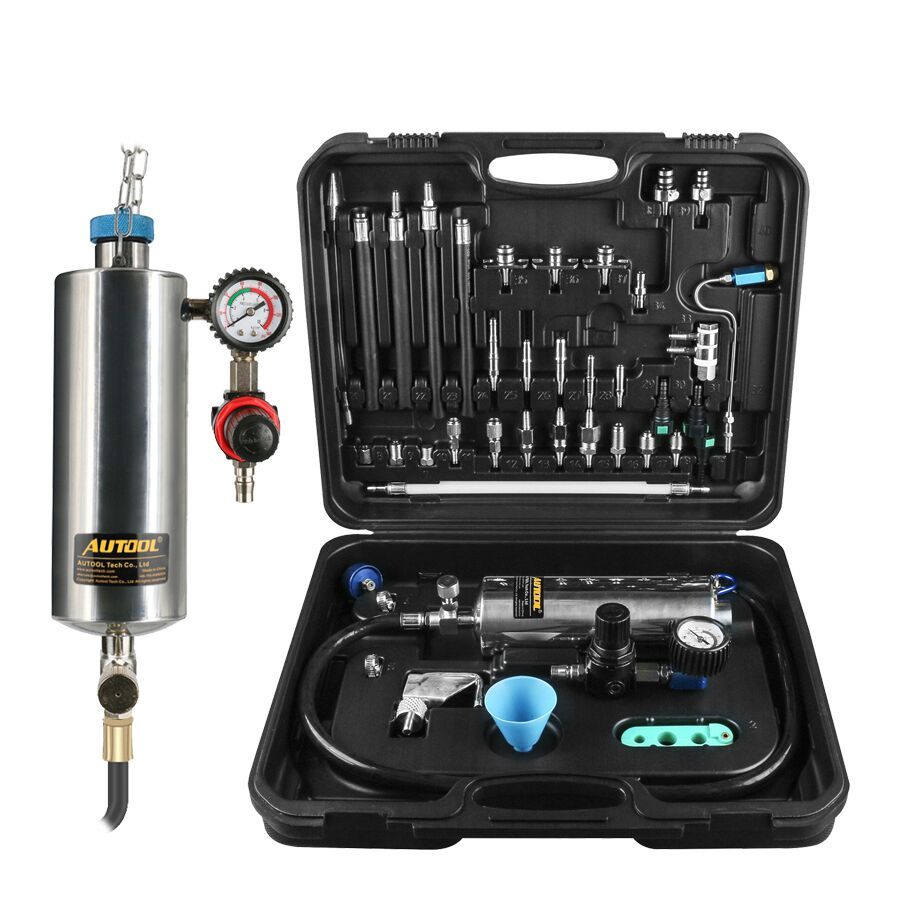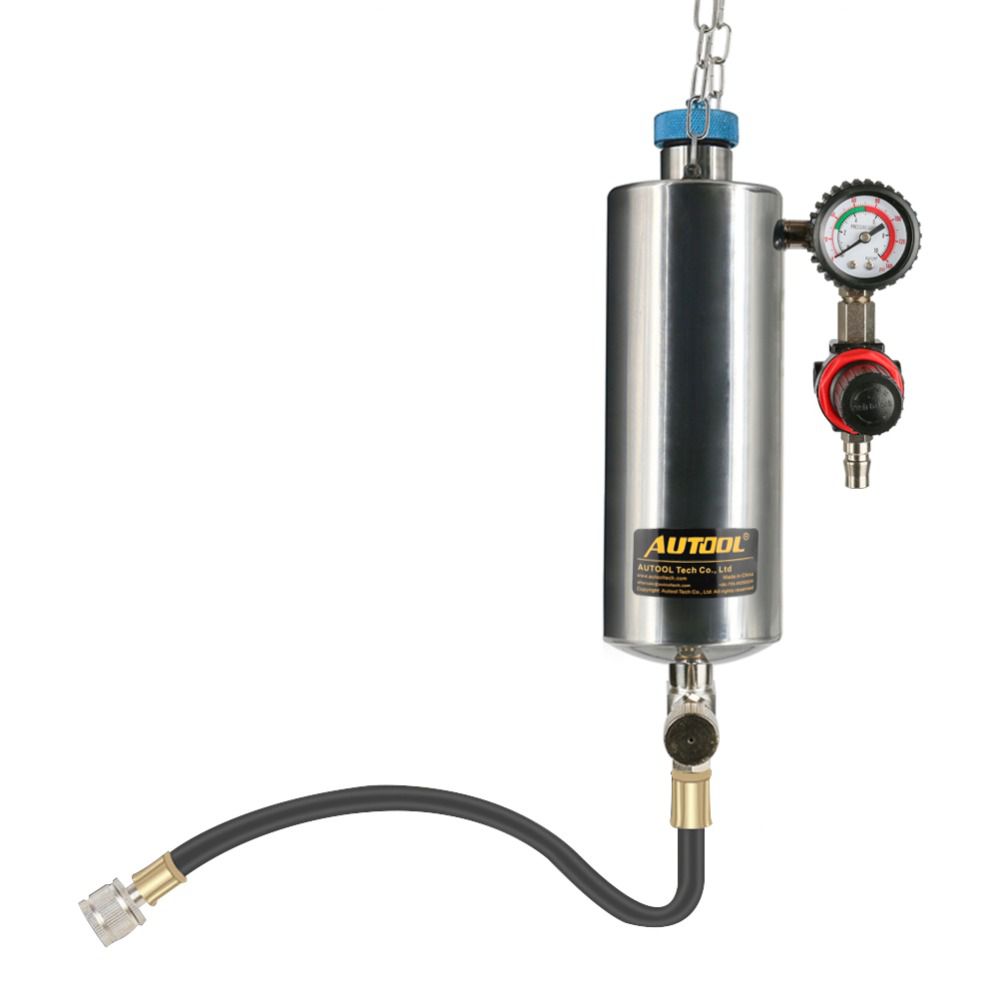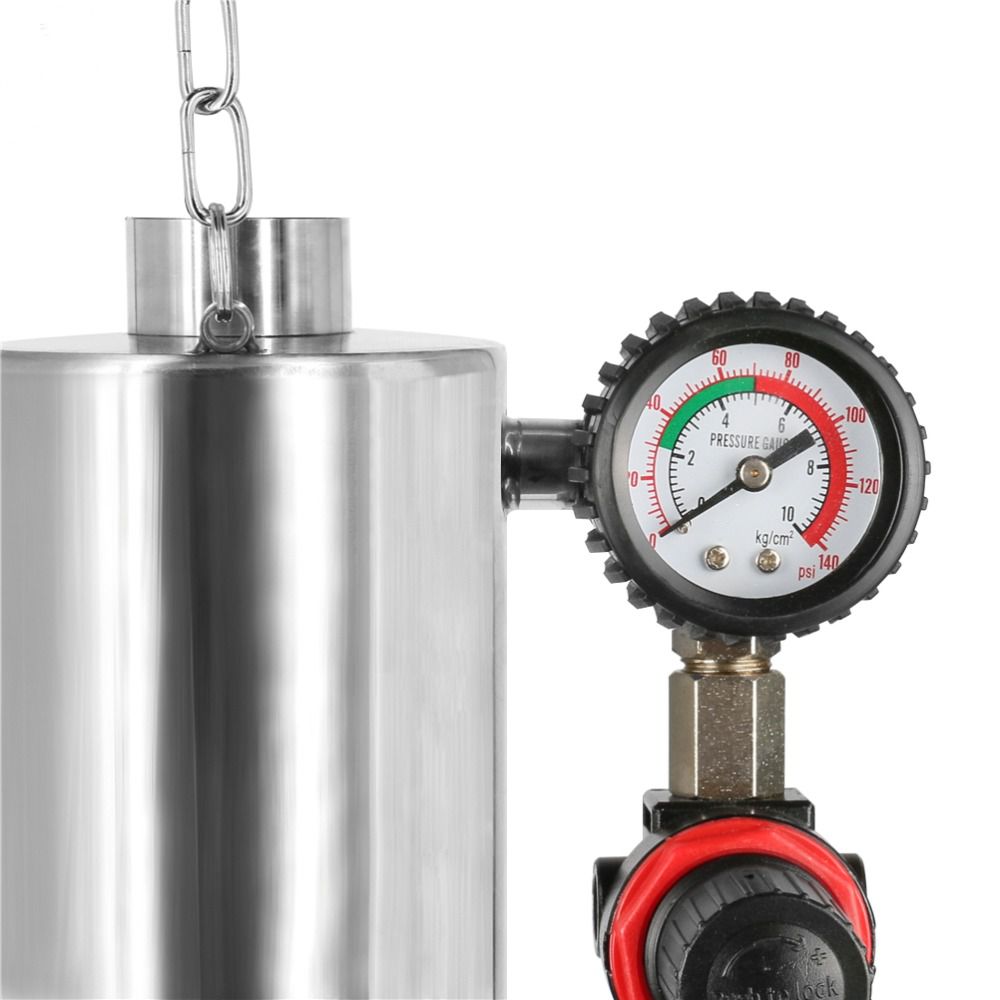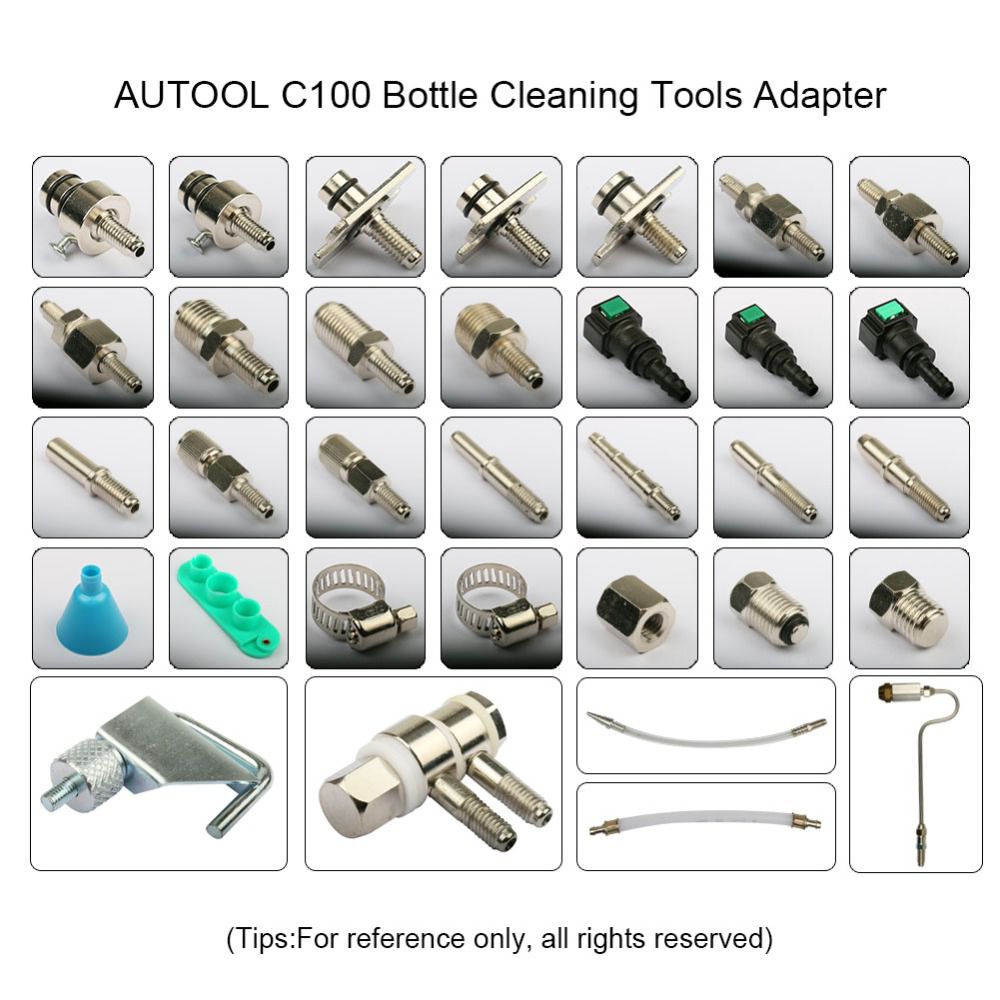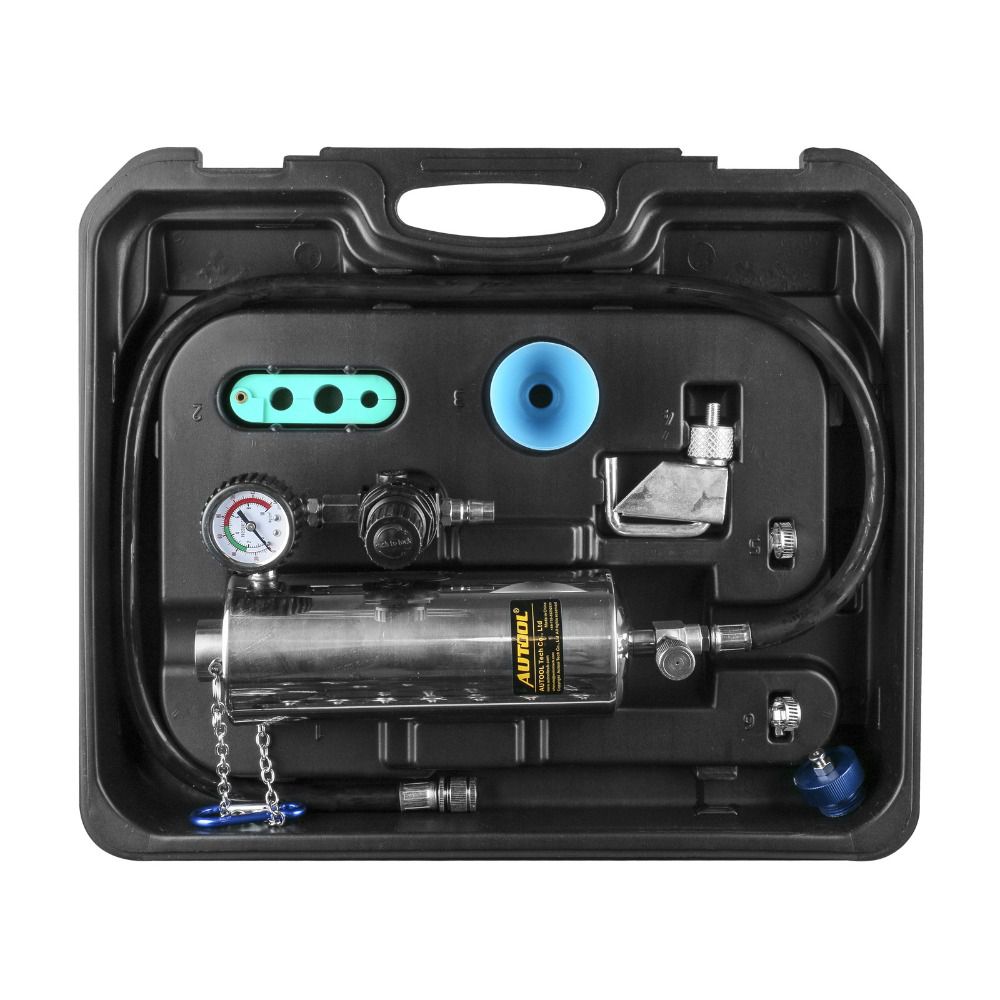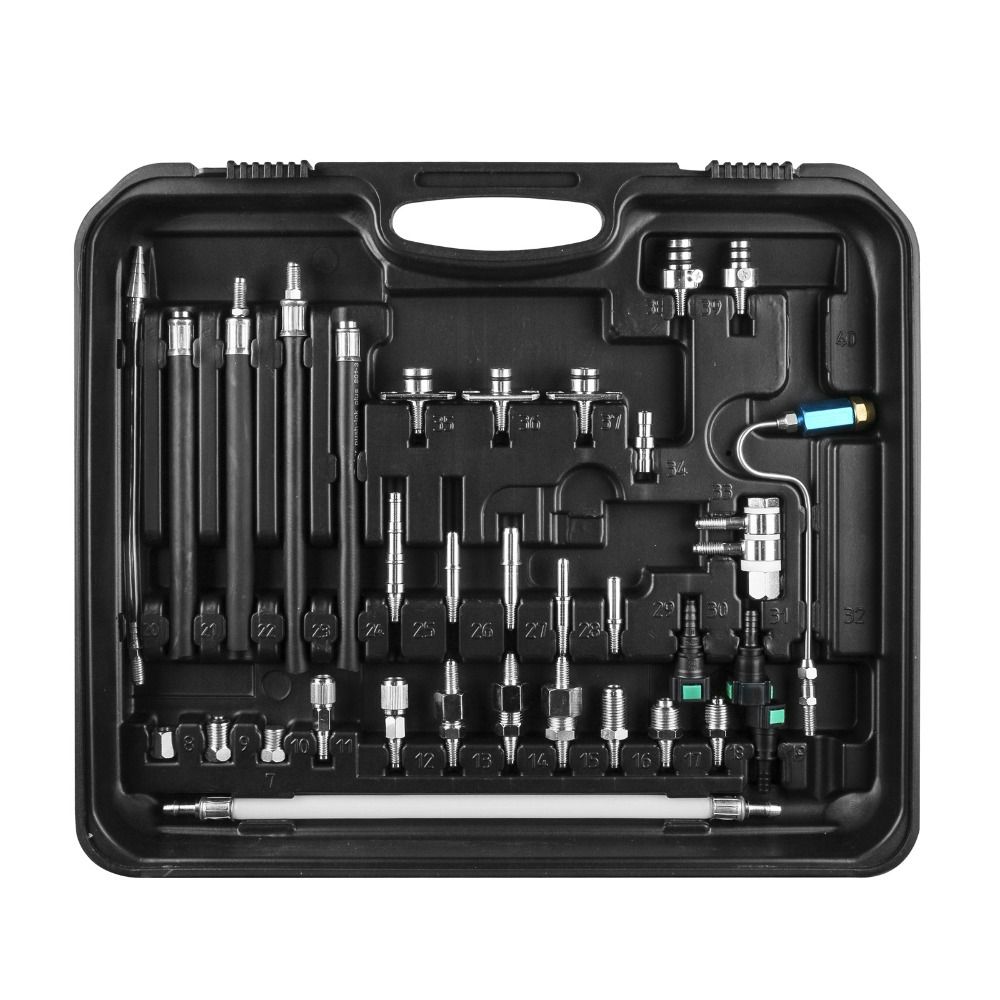 Description
AUTOOL C100 Automotive Non-Dismantle Fuel System Cleaner Injector Clean For Petrol Cars
The injector clean kits include many different kinds of adapter, cover almost all the EU,Asia,USA cars and light trucks.
Non-Dismantle injector Throttle and fuel system.
The system is not only characteristic of high and low pressure cleaning function.
At the same time put the function of the whole combustion chamber fuel system of several major functions in one product,
such as cleaning throttle valve and the fuel nozzle.
Notice: Clean liquid not included.
Fit for gasoline injector,not for diesel injector !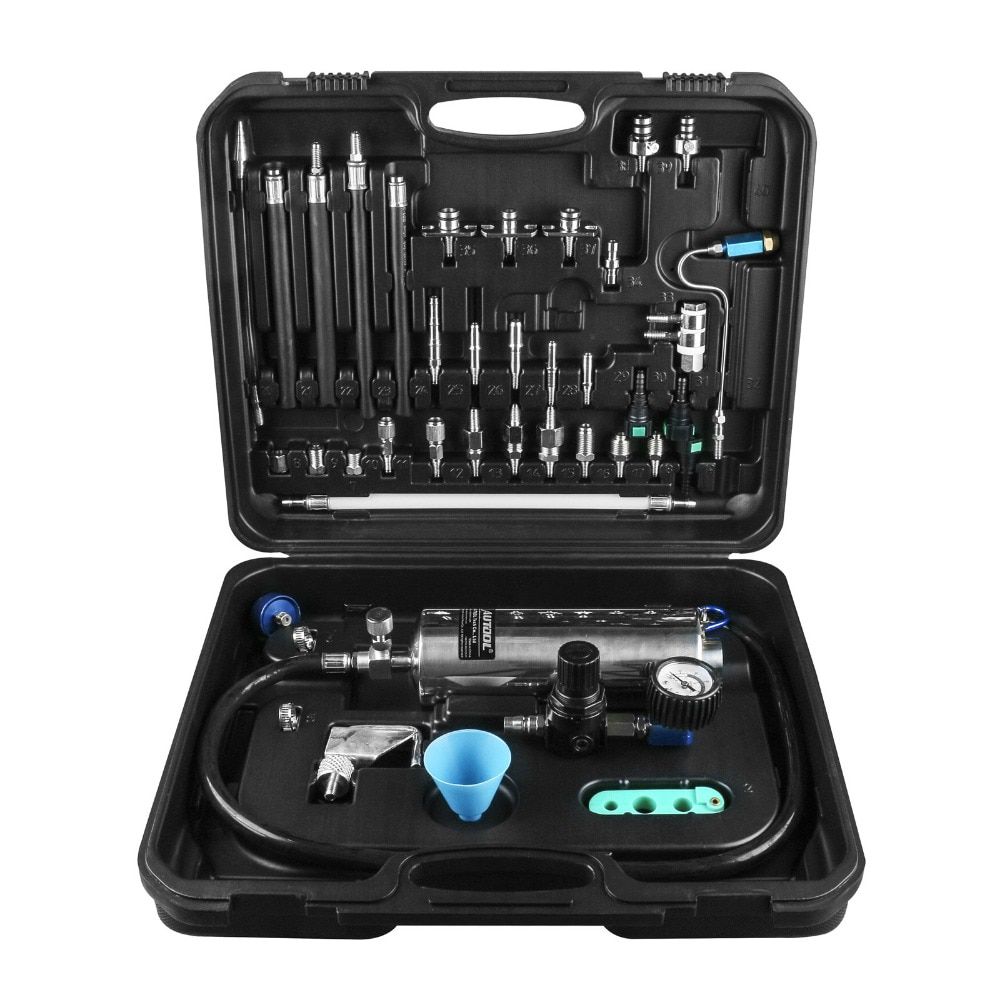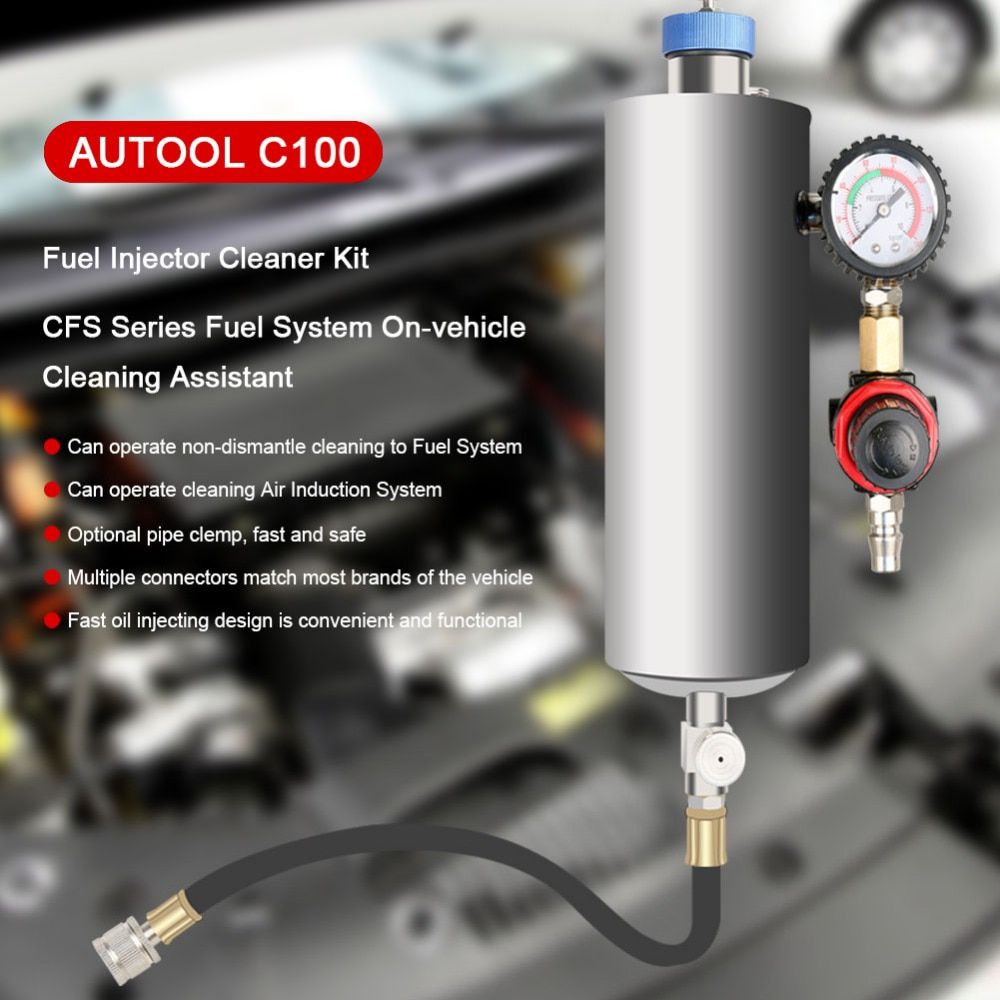 Check fuel injection model, throttle or EFI:
EFI Model :

1. Find out the fuel return hose, disconnect it and plug it with suitable adaptor;

2. Find out the fuel inlet hose, disconnect it and connect it with the outlet hose of the cleaner with proper adaptor;

3. Connect the outlet and return hose of the fuel tank, and open the tank cover;
if there is not return hose, please move the fuse of the fuel pump so that the pump will not work;

4. Charge the cleaning fluid into the tank of the cleaner;

5. Connect the air source power to the air port of the cleaner, adjust its pressure 40-50PSI;

6. Check all connect point to make sure there is not leakage;
7. Start the
engine
to clean the fuel system.
To the Throttle Style:
To the throttle style system, the way of connection is the same, just adjust the pressure of the air source 1-5PSI.
The way to identify the inlet and return hose:
1. Generally speaking, inlet hose is bigger, return hose is samaller;

2. There is always a filter connected in the inlet hose side, and a buffer in the return side;

3. There is arrow on the hose to show the fuel flow direction.
NOTE:

To the throttle style system, the way of connection is the same, just adjust the pressure of the air source 1-5PSI
Specifications:
Pressure 0-140PSI

Weight 4kg

Tank 600ml

Fit for USA EU Asia cars and light truck (petrol and diesel)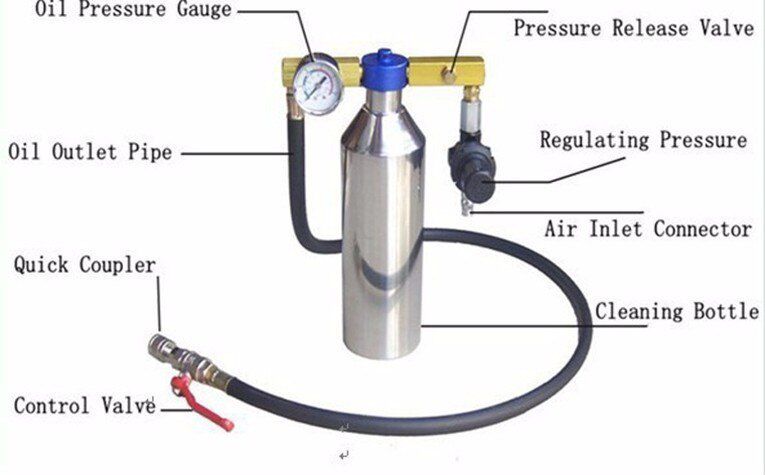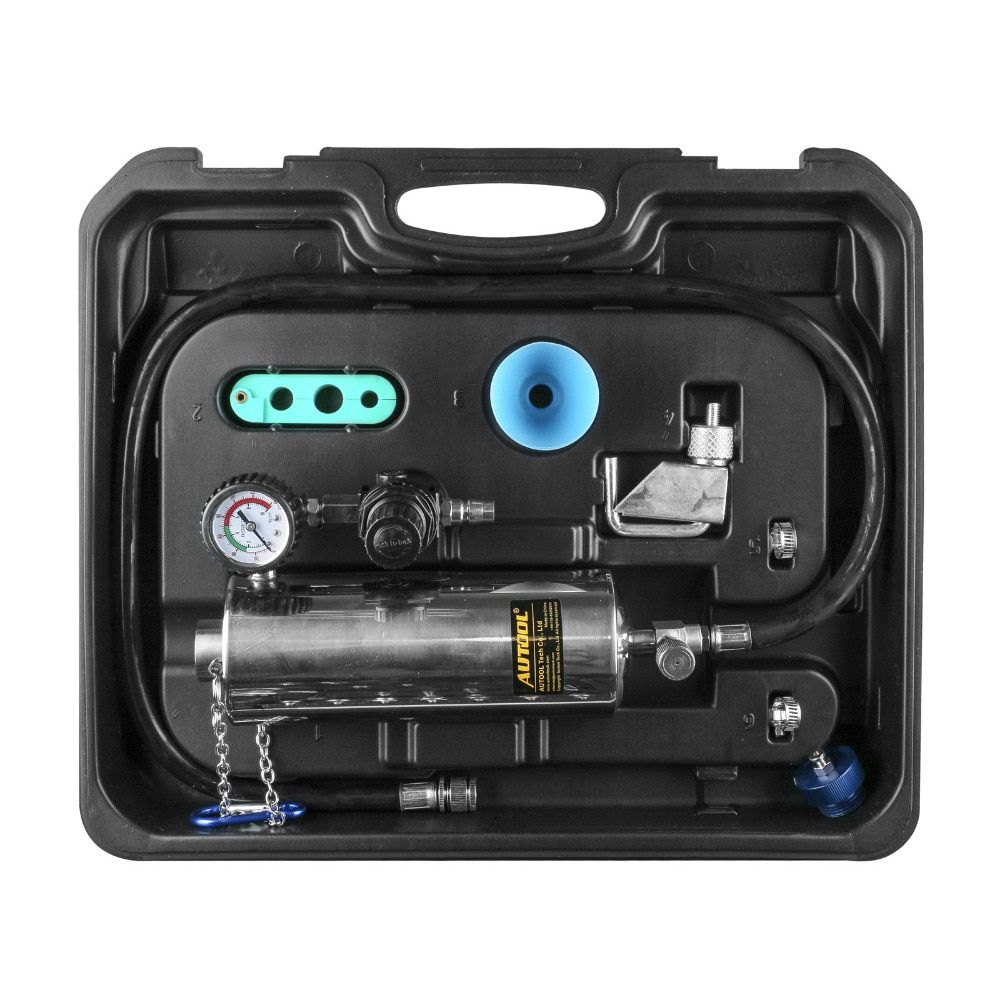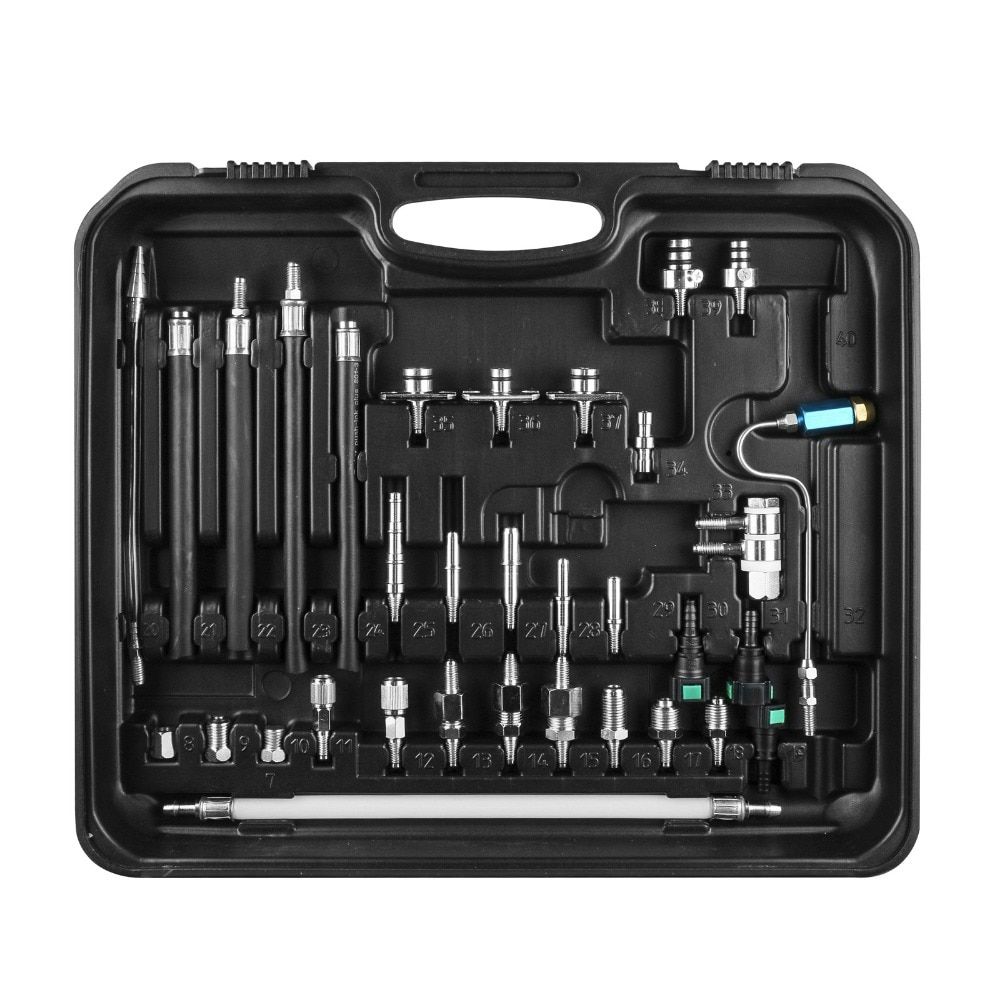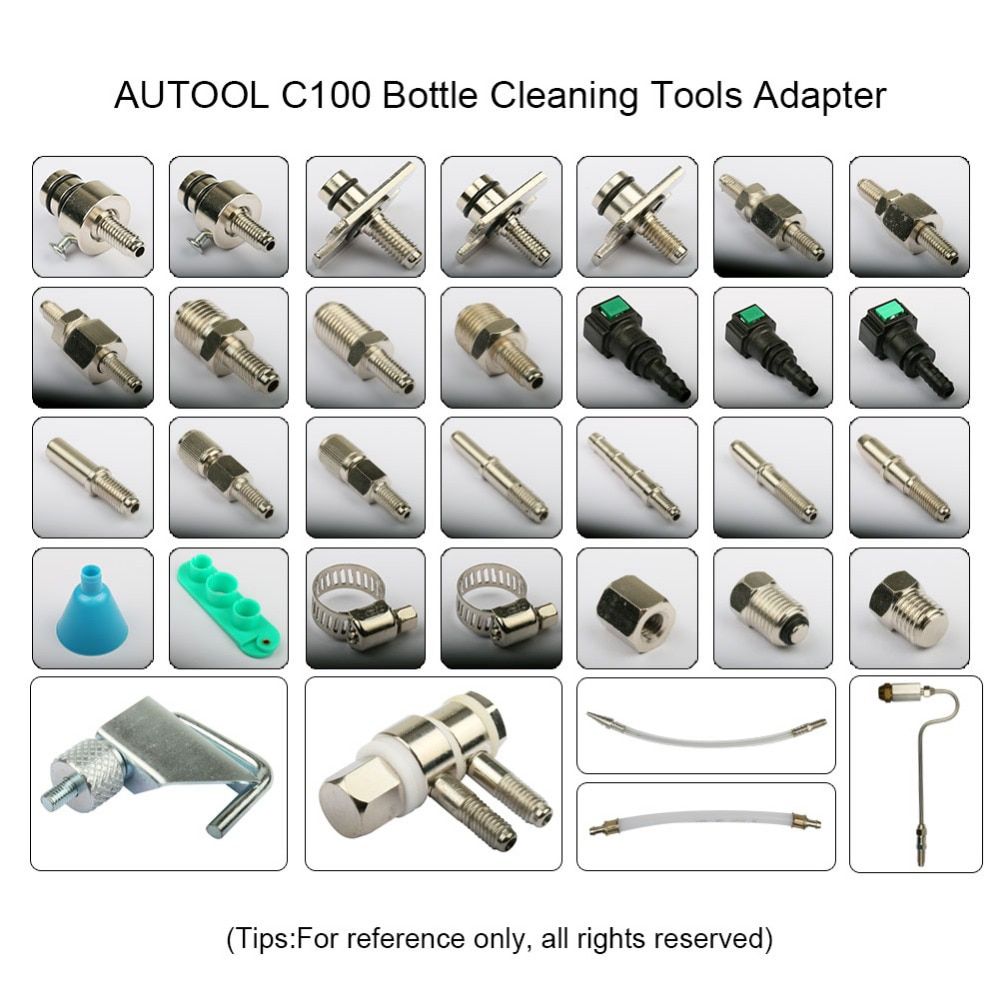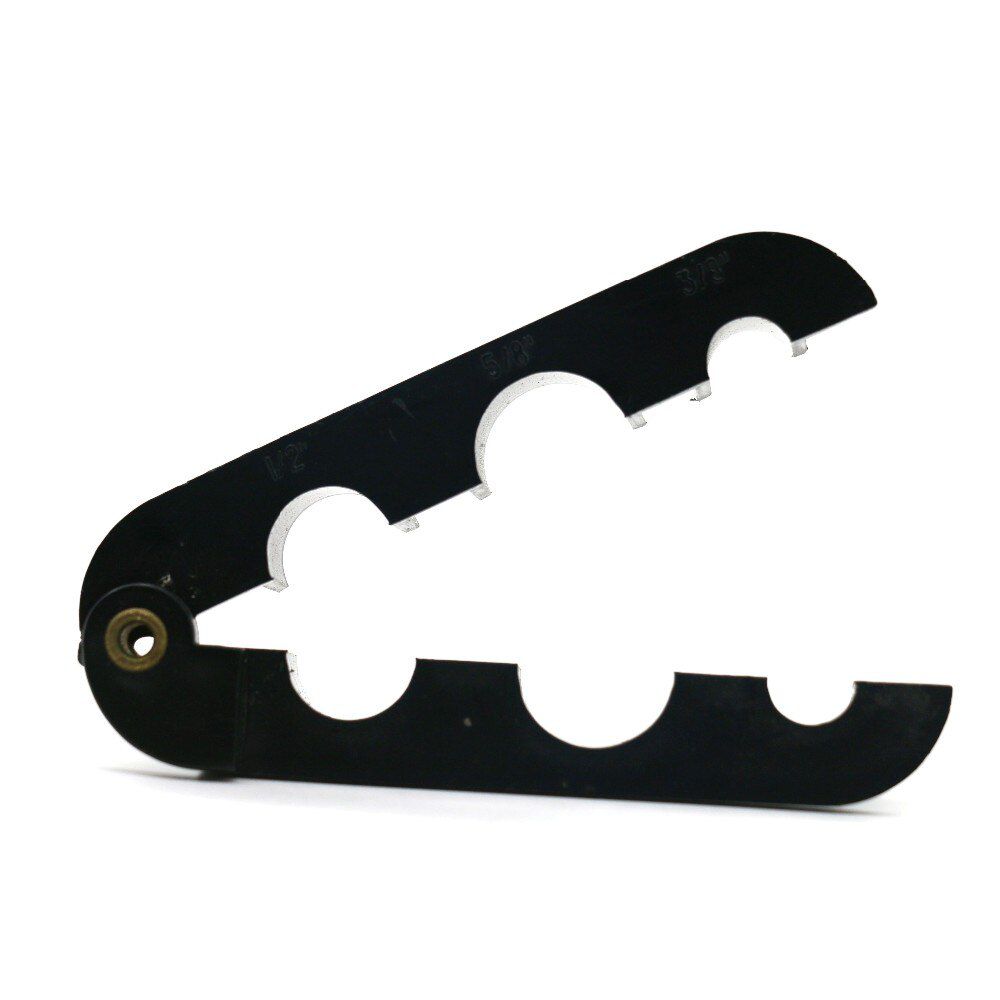 Package Include:
1x Fuel Injector Cleaner

1x Adapter Kits

1x Suitcase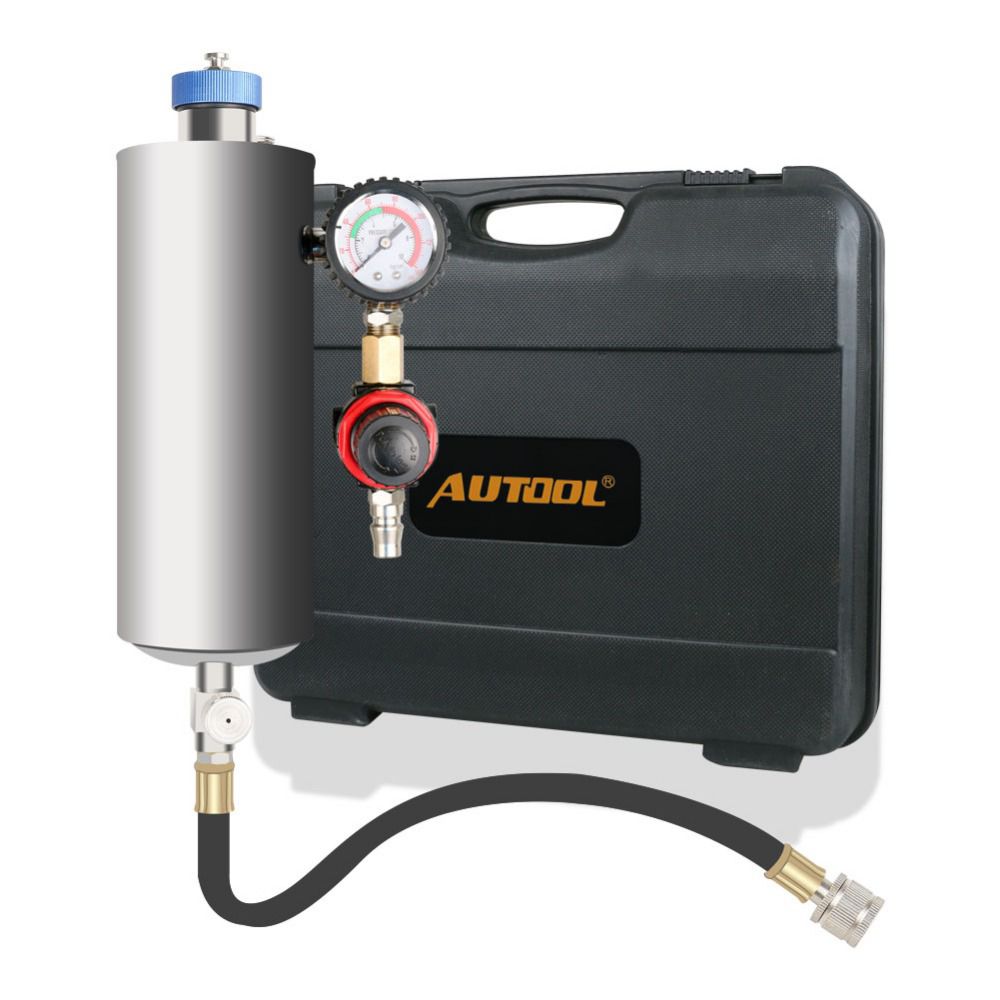 Reviews

11
#1 RONALD DE ZAYAS
Jul 9, 2018

Delivered quickly to the threshold,Connected the first time. Counted recorded without problems.
#1 ferogh mansury
Mar 9, 2019

very good
#1 veli laitila
Sep 9, 2018

Everything ok
#1 AcataitabsBub AcataitabsBub
Mar 9, 2019

Thanks to the producer everything came on time all the whole works quality assembly meets the requirements of the description
#1 Arash Bahramnia
Nov 9, 2018

Fast Delivery
#1 Robert Counihan
May 9, 2018

Could you put low value as import duty for the package?
#1 Grega Kern
Dec 9, 2018

fast this AUTOOL C100 Car Fuel Injector Cleaning Cleaner Machine Universal Automotive Gasoline Auto Non-Dismantle For Petrol EFI Throttle is good quality, working very well
#1 Mirko Stephan
Oct 9, 2018

Very fast and high quality
#1 Ajayi Olumuyiwa
Jun 9, 2018

The goods were delivered quickly.
#1 cecil rogers-wright
Dec 9, 2018

has not been tested yet but everything looks perfect
Previous: AUTOOL X50 Plus Multi-Function Car OBD Smart Digital Meter + Alarm Fault Code Water Temperature Gauge Digital Voltage Speed Meter Display
Next: AUTOOL BT-30 Maintaining Auto Car Computer ECU MEMORY Saver Battery Tool OBD2 SAFE Replace Car Alligator Clips Battery Clamps