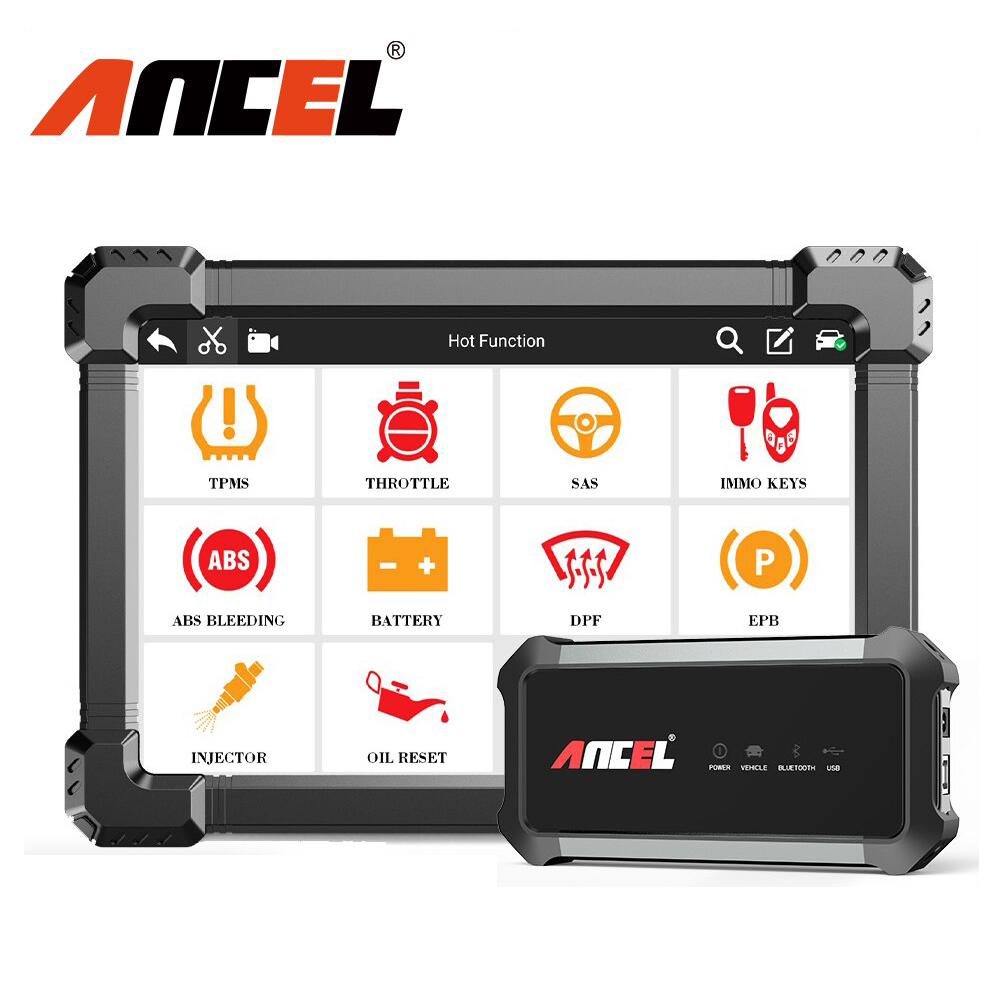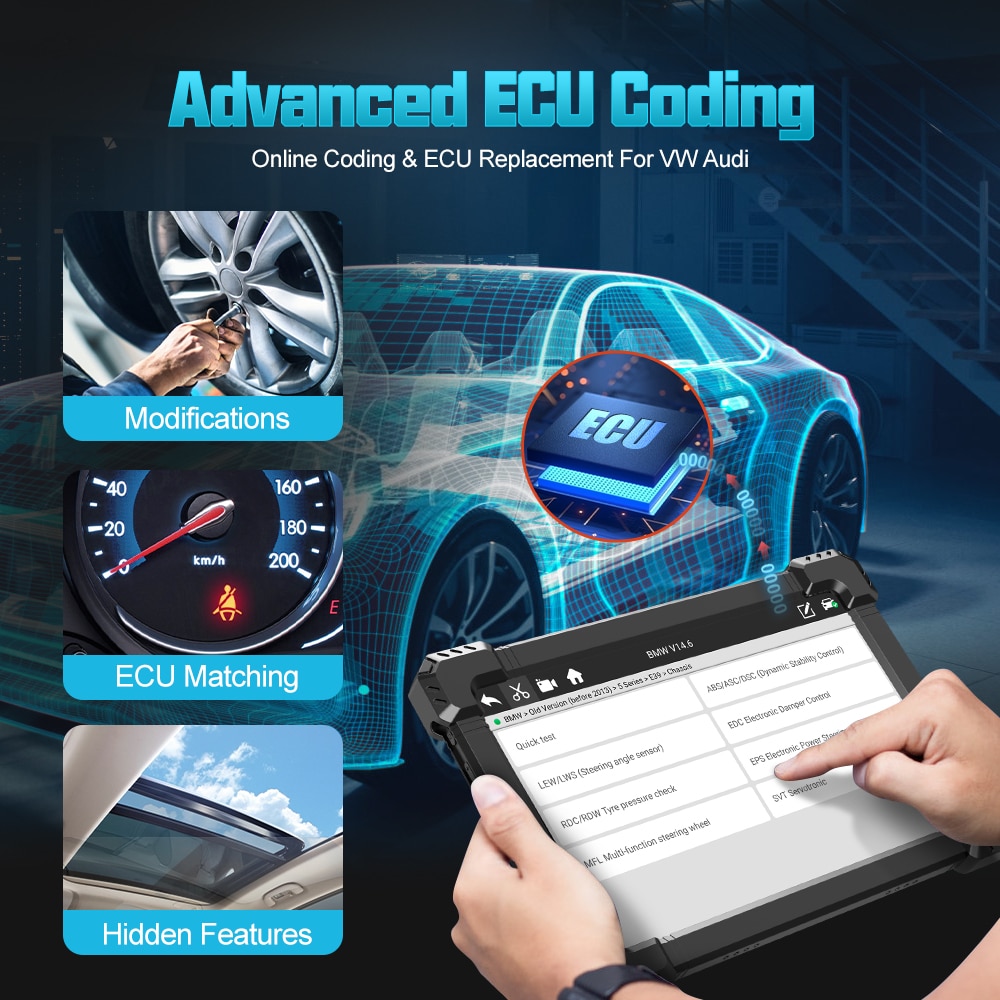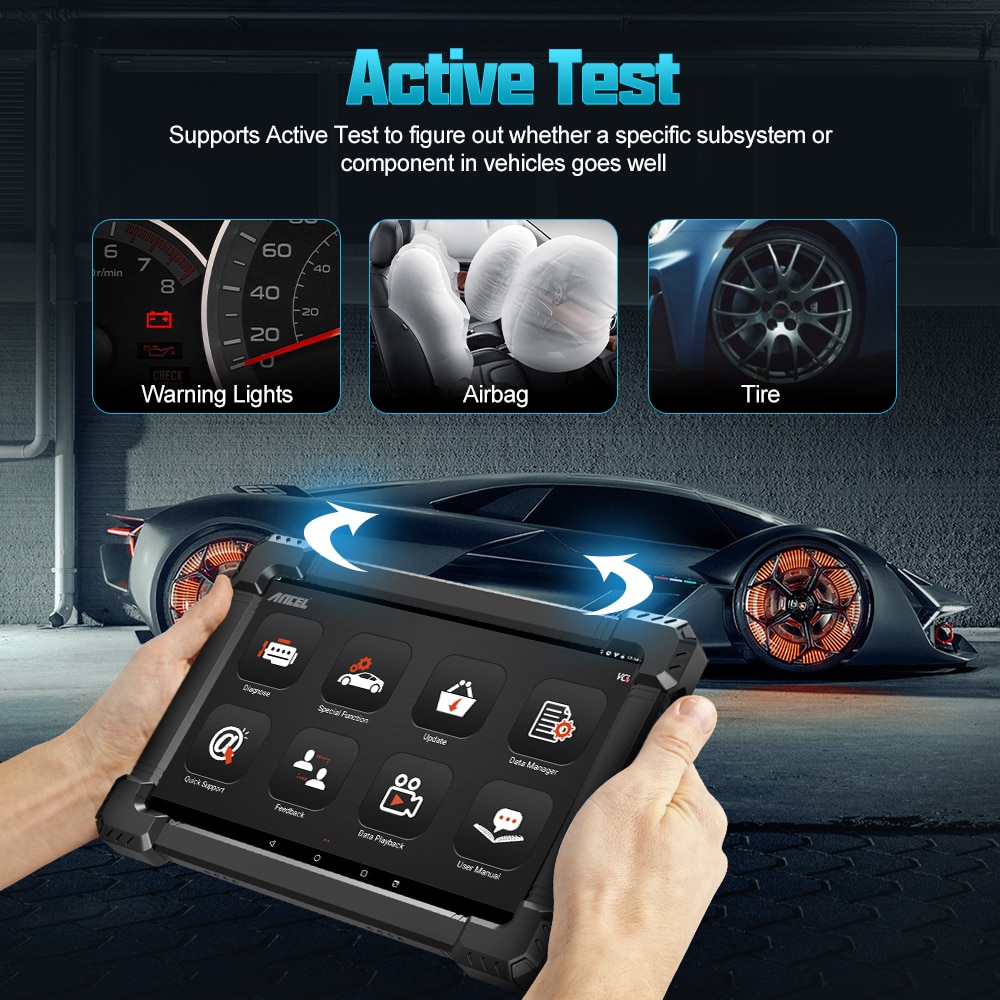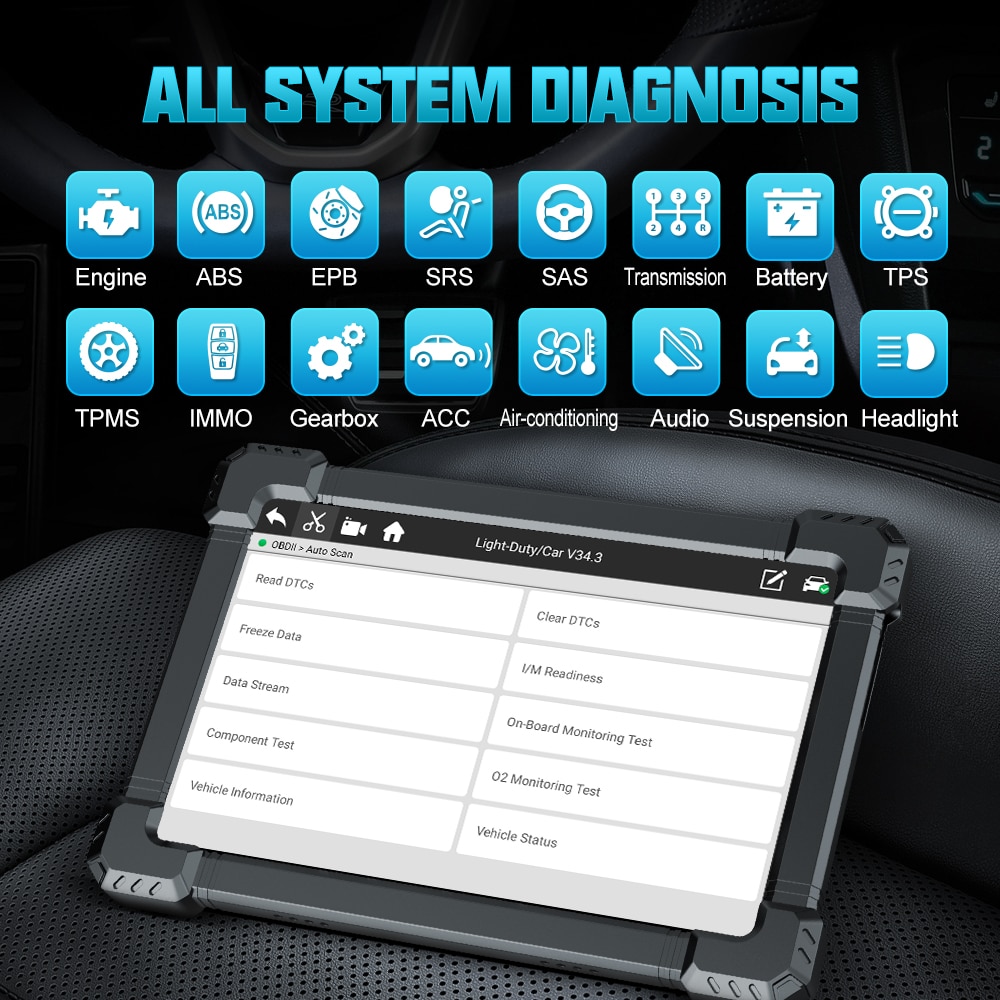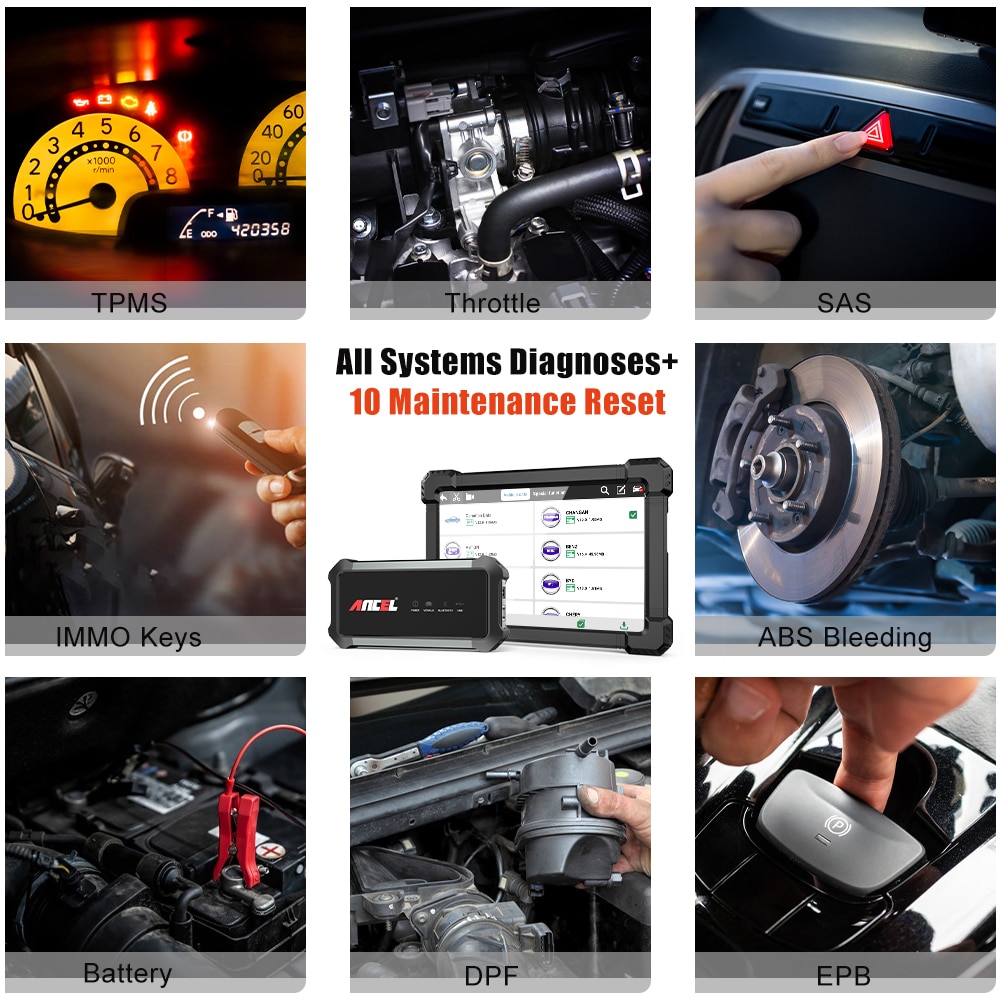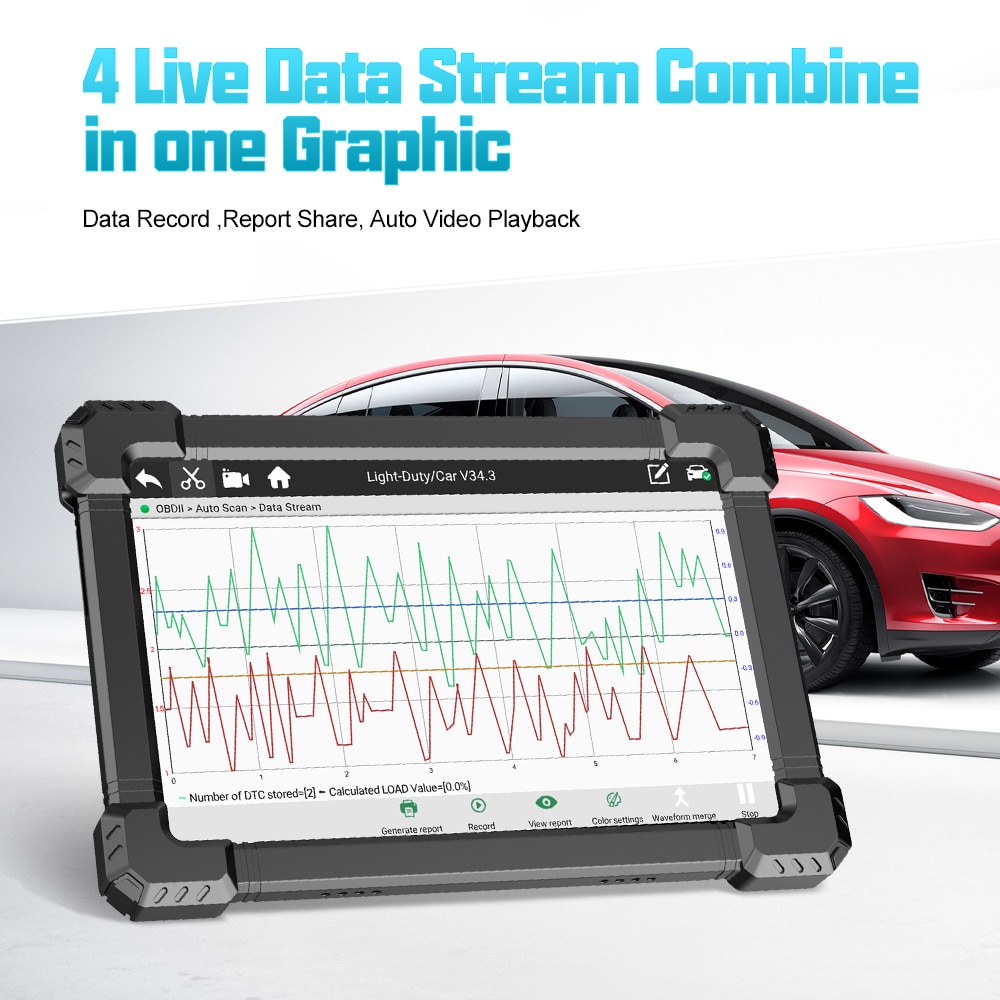 Description
Ancel X7 OBD2 Automotive Scanner Professional OBD Scanner Full System ABS Oil EPB DPF Reset Bluetooth-compatible Diagnostic Tool
*No need to buy other Auto scanners if you have ANCEL!

*Lifetime tech support from ANCEL Official Store!!!

*We are the ONLY ANCEL Official Store in Aliexpress!!! No chance of buying fakes!

*We promise you can get theLowest Price over the whole Aliexpress!

*Choose DHL from China warehouse,and we will send it via EU warehouse(only fit for EU country)

Follow us to get more discount
Wish you a happy shopping~
ANCEL Team
Good News!
For BMW Cars,support up to 2021,and support more than 21 special Function,Active Test.

For Chrysler cars,support up to 2020,support Active Test.

Increase Brazilian Volkswagen, Brazilian Fiat, Brazilian GM
OBD2
Automotive Scanner Ancel X7
Bluetooth
-compatible Wifi Professional OBD Scanner Full System
ABS
OIl EPB DPF Reset OBD 2 Diagnostic Tool
1.Android System version and 10.1-inch LED Touch Screen
2.Support Language:English, French, Spanish, German, Russian, Korean, Japanese, Portuguese, Italian, Polish, Dutch
3.Support Full system diagnostic and 10 Special Function(support more car models than X6)
4.Long-time Working
5.Bluetooth-compatible Scanner(More stable connection than X6)
6.Life-time Free Upgrade
Ancel X7 Full Systems Diagnoses
Ancel X7 10.1-inch tablet obd2 scanner is capable of reading and clearing trouble codes of all major systems , including engine, Airbag/SRS, Transmission, ABS, SAS, Air Conditioning, ACC, Audio, Headlight ,Center Lock, ESP,Suspension failures, ect.
To diagnose Brake System if you feel the brake pedal is mushy and notice unusual odor or noise, etc. A properly operating brake system is critical to ensure safe vehicle control and operation;
To diagnose Emission System if the system is affected by vehicle age or poor quality fuel. A good emission system reduces harmful gases to a large degree and protects you from being fined;
To diagnose Fuel system if vehicle won't start or "Check
engine
" light is illuminated. Check car's fuel system regularly ensures the best performance of your car with the lowest emissions;
To diagnose Transmission if your car is slipping or difficult to shift. The system plays an important part in the overall performance of your car;
To diagnose Wiper System if you observe chattering or streaking wiper. If the car is not regularly checked, the accident might happen because you can't see clearly;
To diagnose Light System if you see rapid signal blinking or dimming lights.
And many more ...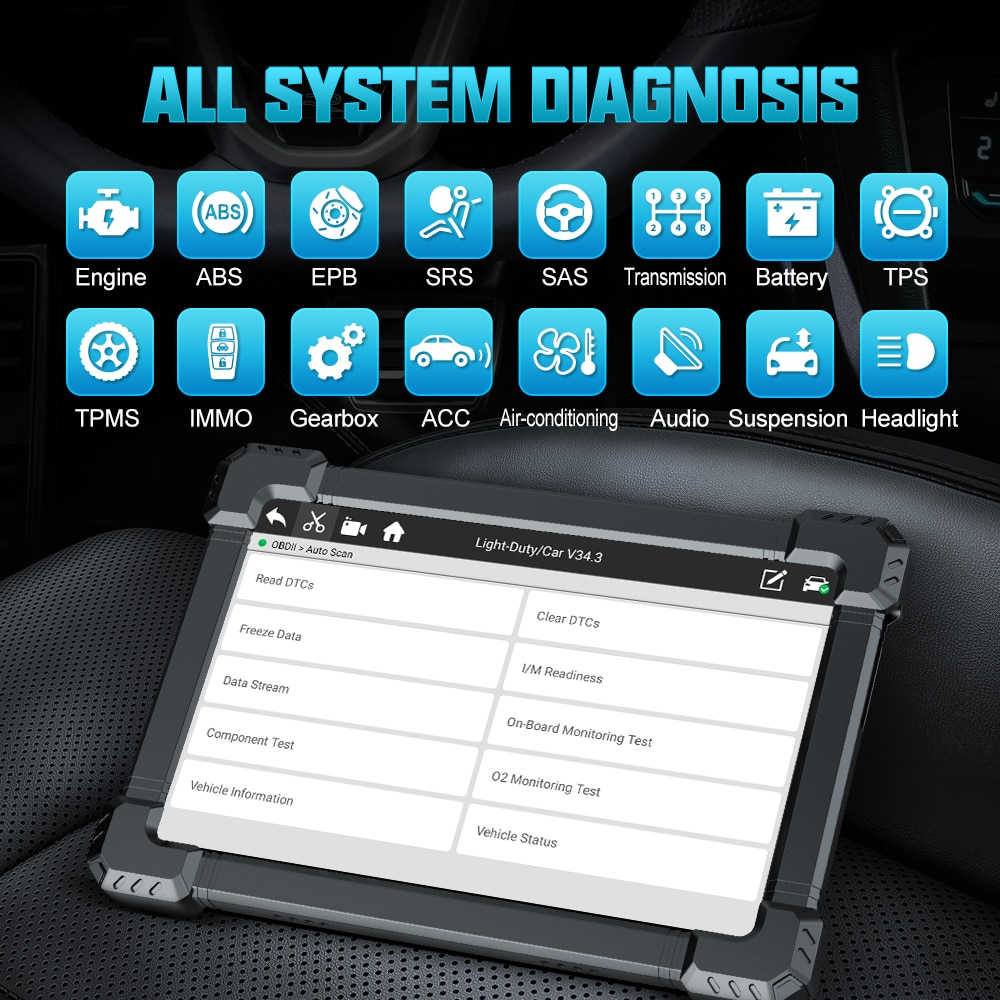 The diagnostic tool is specially designed with the Service section to provide you with quick access to the vehicle systems for various scheduled service and maintenance performances.
1.
Oil Reset
Service:
Allows you to perform reset for the engine Oil Life system, which calculates an optimal oil life change interval depend on the vehicle driving conditions and climate.
2.EPB Service:
Helps maintain the electronic braking system safely and effectively, deactivating and activating the brake control system, assisting with brake fluid control, opening and closing brake pads, and setting brakes after disc or pad replacement, etc.
3.ABS Bleeding
ABS brake bleeding to get a firm brake pad after air exhaustion.
4.BMS service:
Allows the scan tool to evaluate the battery charge state, monitor the close-circuit current, register the battery replacement, and activate the rest state of the vehicle.
5.
TPMS
service
Makes sense in displaying sensor IDs from the vehicle's ECU, inputting TPMS sensor replacement IDs and testing sensors.
6.DPF Service:
Allows you to carry out numerous functions to the Diesel Particulate Filter system.
TPMS Service: Allows you to quickly look up the tire sensor IDs from the vehicle's ECU, as well as to perform TPMS programming and reset procedures after tire sensors are replaced.
7.
IMMO
Service:
Programs a new anti-theft key, and performs key matching when the ignition switch, the combined instrument panel, ECU, BCM, or the remote control battery is replaced.
8.SAS steering angle sensor service:
helps clear the fault steering angle sensor memories and plays an important role in the steering angle sensor calibration.
9.Injector Coding
Leaking injectors and some dead injectors can be missed even when an injector is disabled. Otherproblems with the ignition system and mechanical components also may not show an rpm loss when an injector is turned off
10.TPS Throttle Adaptation
The throttle body is a tube containing a pivoting flat(butterfly) that is used to control the amount of air entering an engine. In an electronically fuel injected car , a throttle position sensor and air flow sensor communicate with the computer , which supplies the corresponding amount of fuel needed at the injectors. It must need re-learning throttle sensor position after clearing or repair
OBD OBD2 Car Diagnostic Tool Ancel X7 Support Languages:
English, French, Spanish, German, Russian, Korean, Japanese, Portuguese, Italian, Polish, Dutch
Ancel X7 ODB Car Diagnostics Support Car brands:
ASIA Area:
for ACURA,for ASIAGM, for DAEWOO, for DAIHATSU, for HONDA, for HYUNDAI , for INFINITI, for ISUZU, for KIA, for LEXUS, for MAZDA, for MITSUBISHI, for NISSAN, for PERODUA, for PROTON, for SSANGYONG, for SUBARU, for SUZUKI, for TOYOTA, for MARUTI.

EUROPEAN Area:
for ABARTH, for ALFA, for ASTON MARTIN, for Audi, for BENTLEY, for BENZ, for BMW, for BUGATTI, for CITROEN, for DACIA, for FERRARI, for FIAT, for FORDEU, for JAGUAR,for LAMBORGHINI, for LANCIA, for LANDROVER, for MASERTI, for MINI, for OPEL, for PEUGEOT, for PORSCHE, for RENAULT, for SAAB, for SEAT, for SKODA, for SMART, for VAUXHALL, for VOLVO, for VW.

AUSTRALIA Area:
for HOLDEN, for AU FORD .

CHINA Area:
for BYD, for CHANGAN, for CHANGHE, for CHERY, for EMGRAND, for ENGLON, for FOTON, for GEELY, for GLEAGLE, for GWM, for HBSH, for HUACHEN, for LIFAN, for WULING, for YUAN.

Brazil Area:
for VW, for GM, for Fiat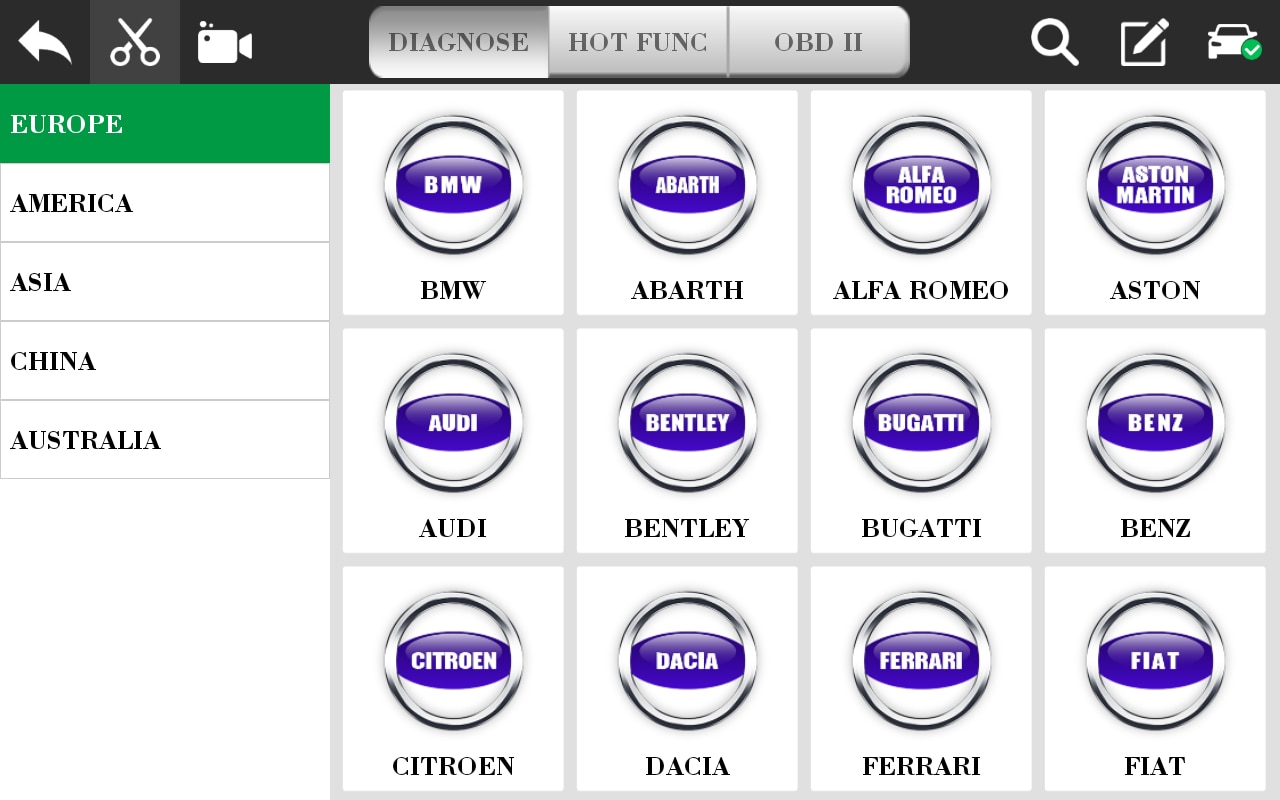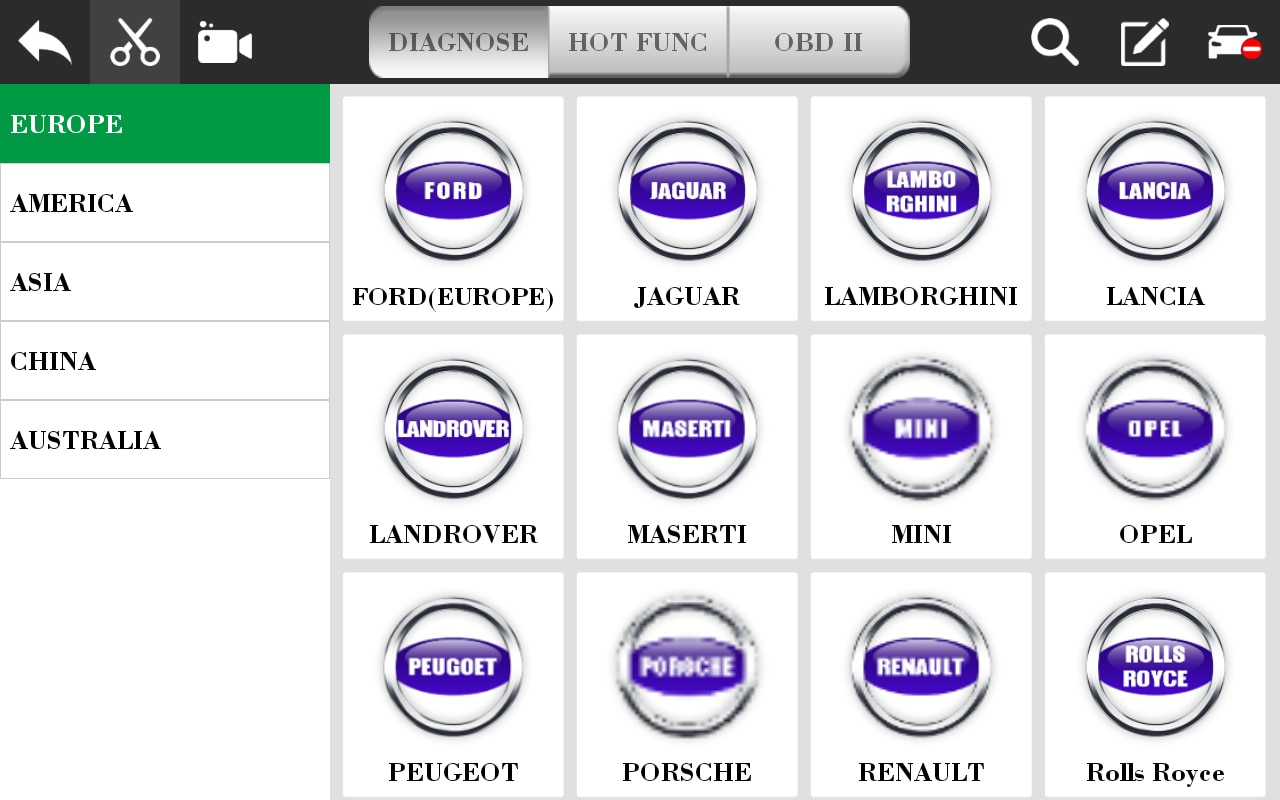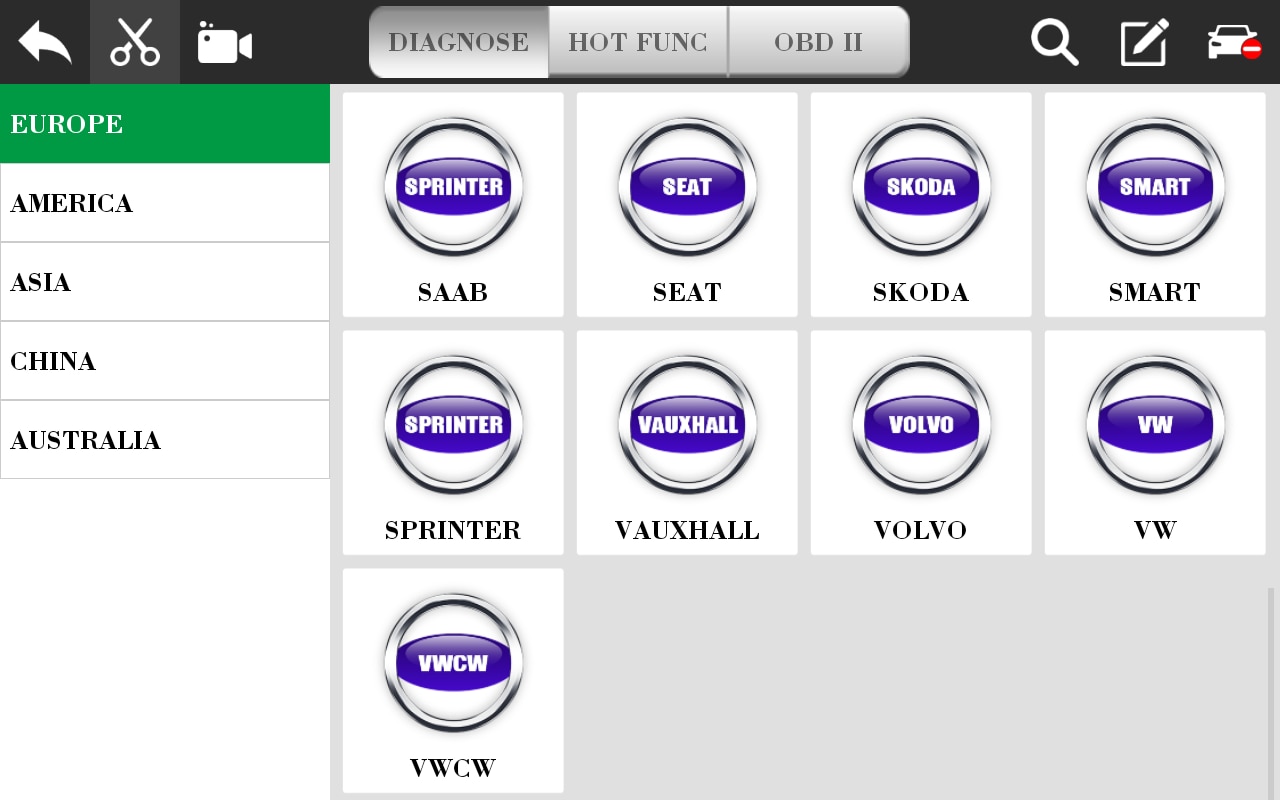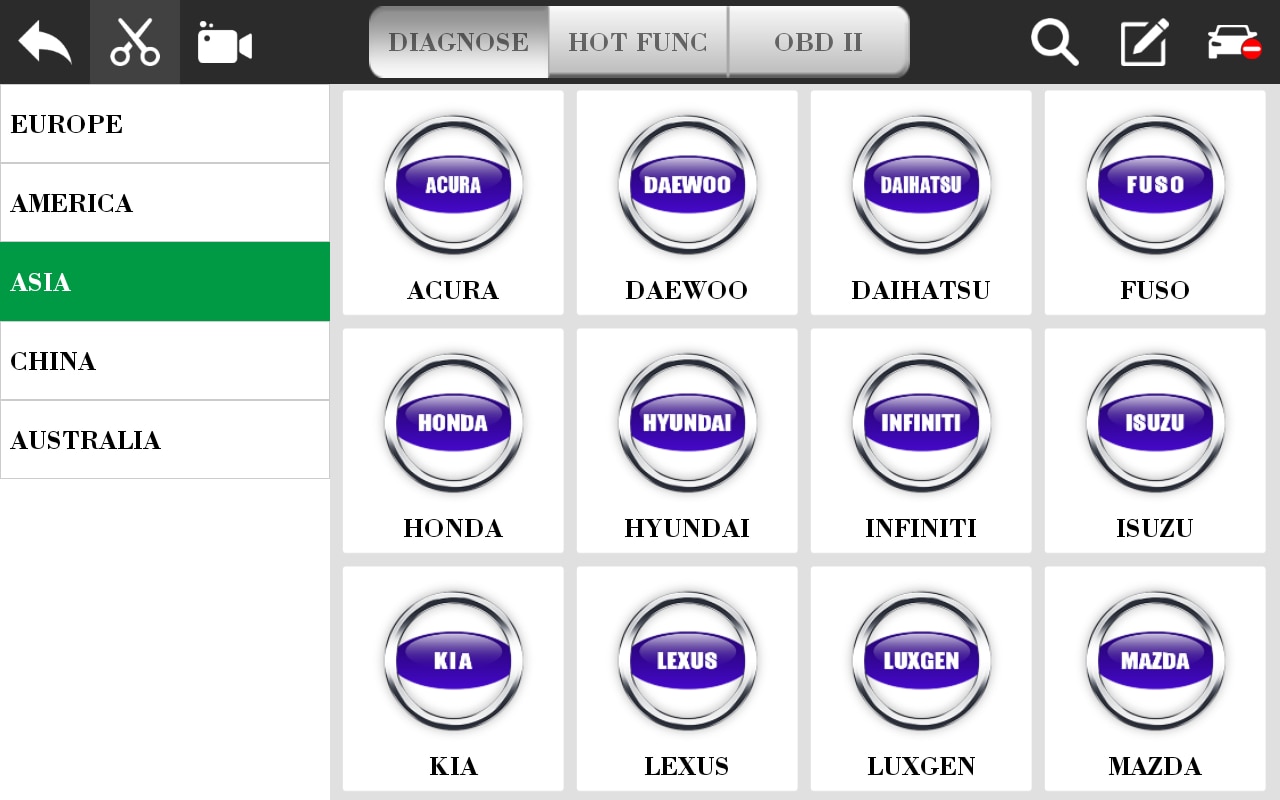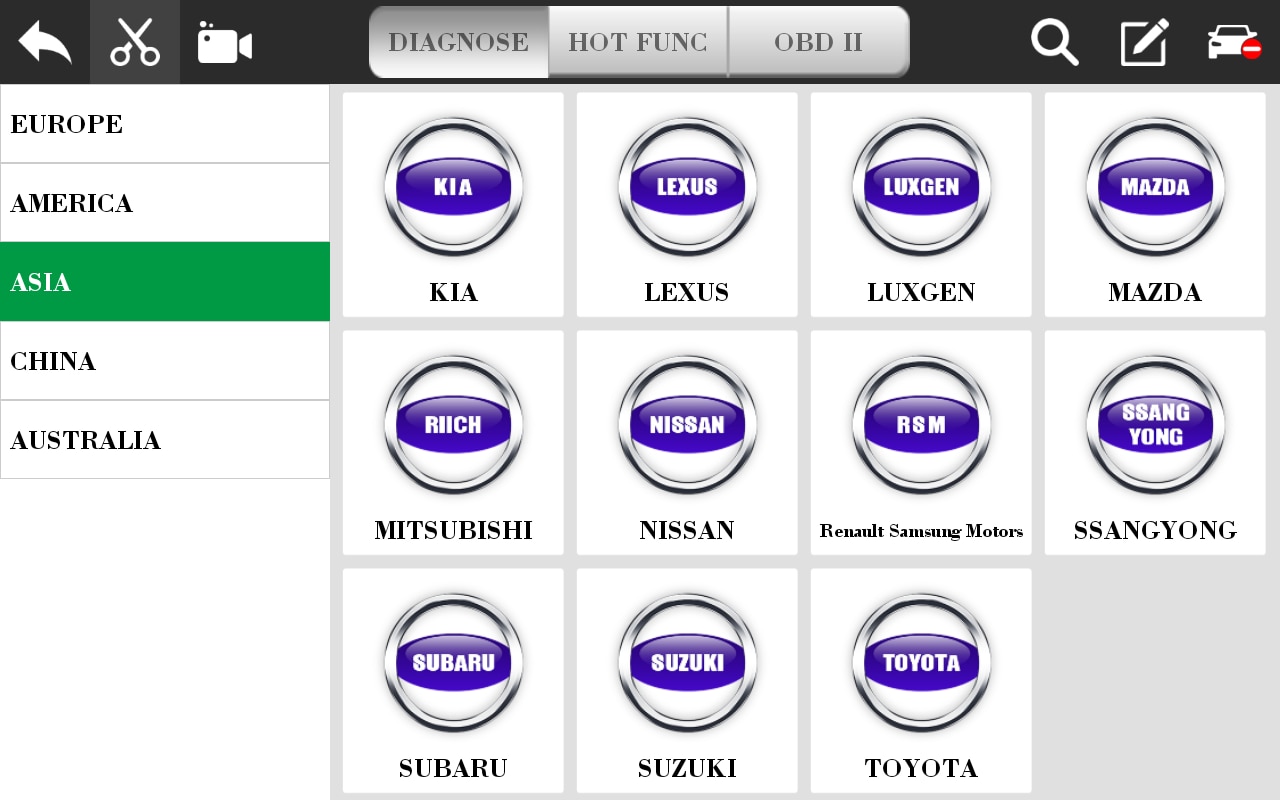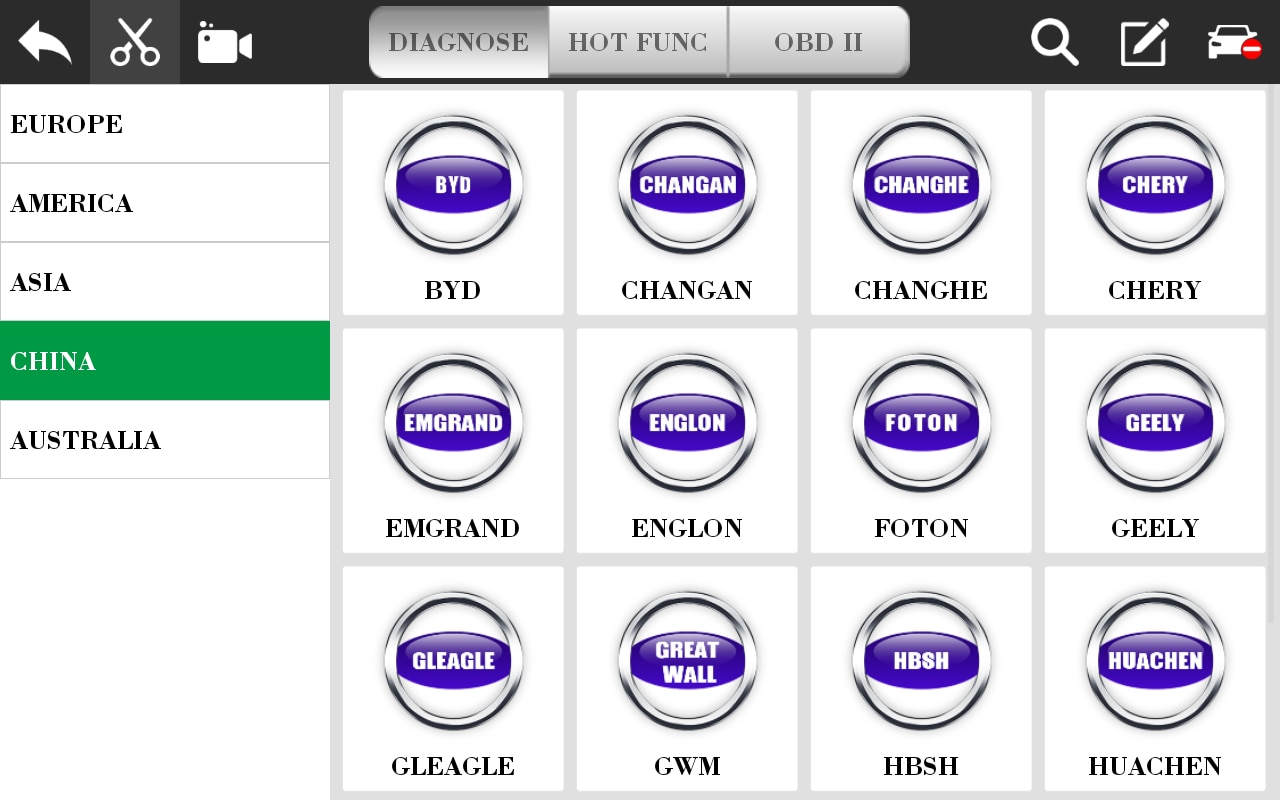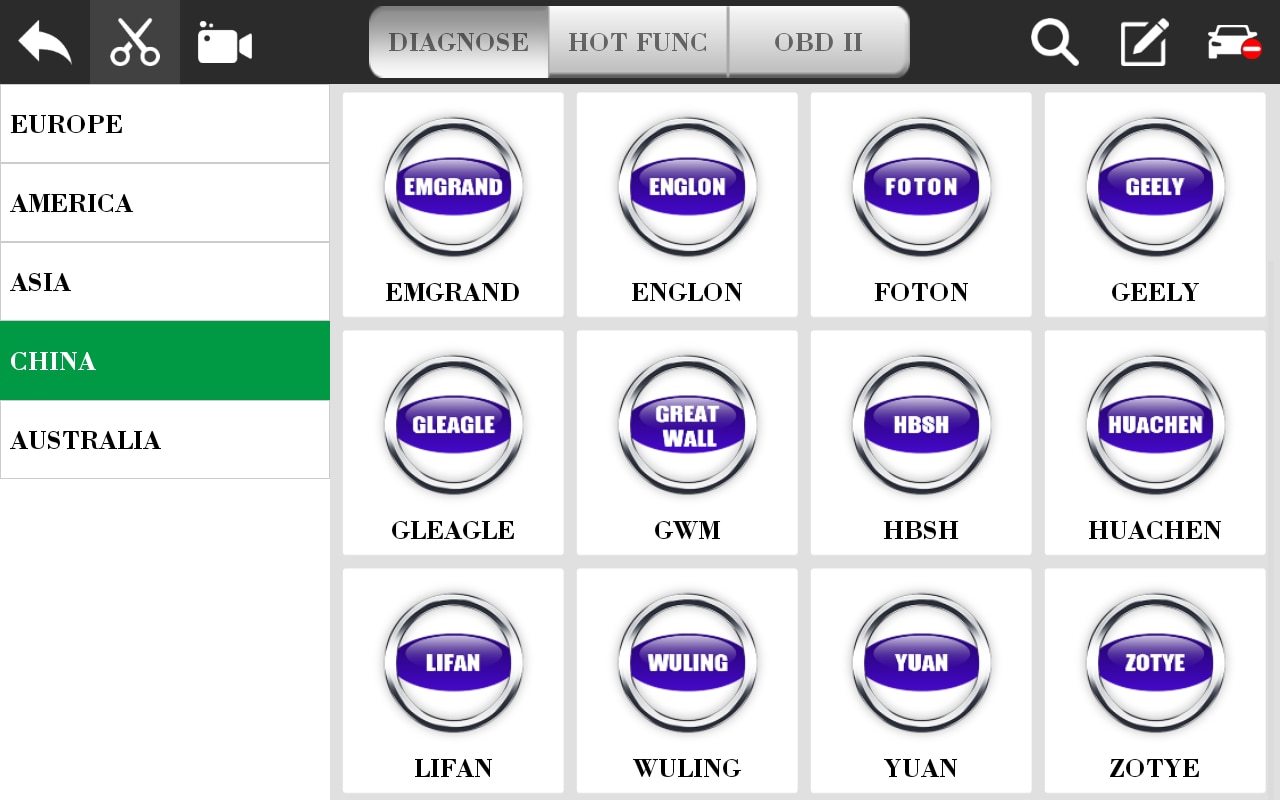 Ancel X7 OBD2 Automotive Scanner Supported Cars On Special Functions
1.ABS Bleeding (up to 2018)
2.Battery Match (up to 2018)
3.DPF Regeneration (up to 2018)
4.EPB Electrical Park Brake (up to 2018)
5.TPMS Reset (up to 2018)
6.
IMMO
KEYS Service(up to 2018)
7.Oil Light Reset Service(up to 2018)
8. Injector Coding Service(up to 2018)
9. SAS steering angle sensor service(up to 2018)
10. TPS Throttle Adaptation(up to 2018)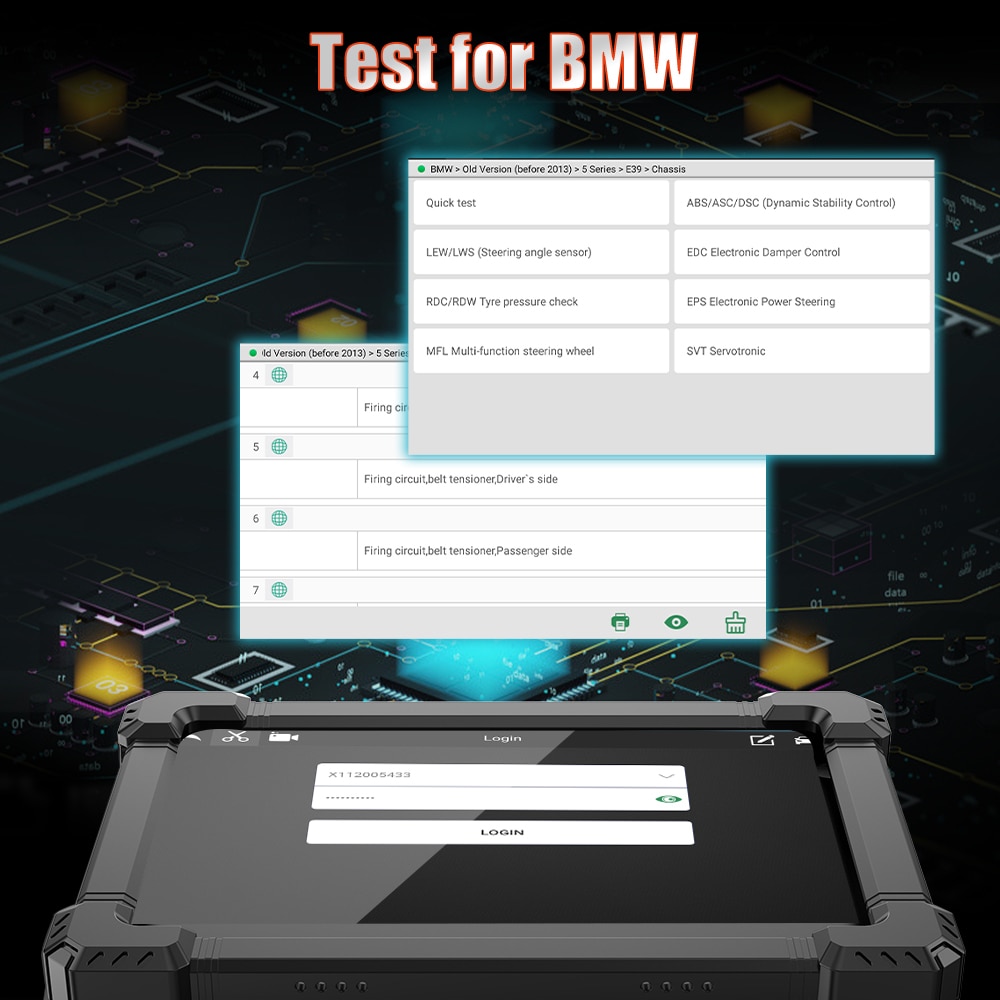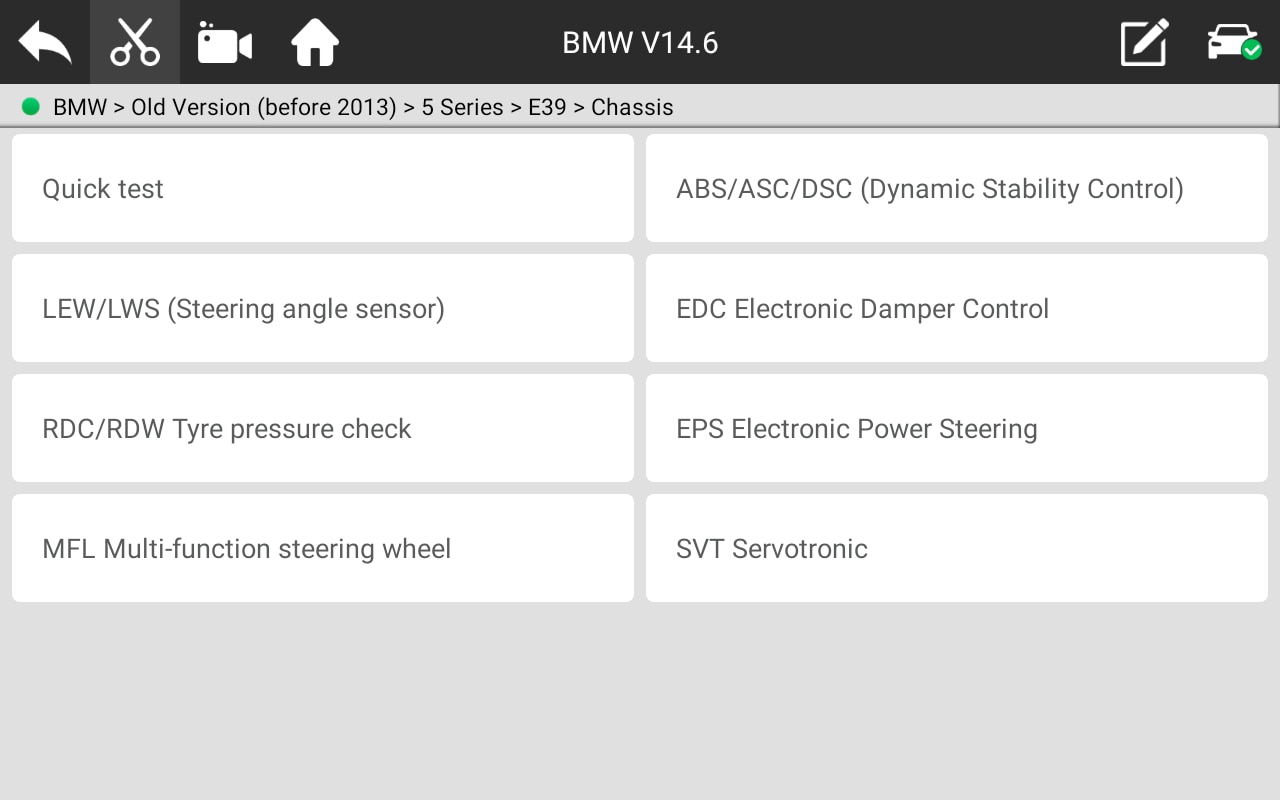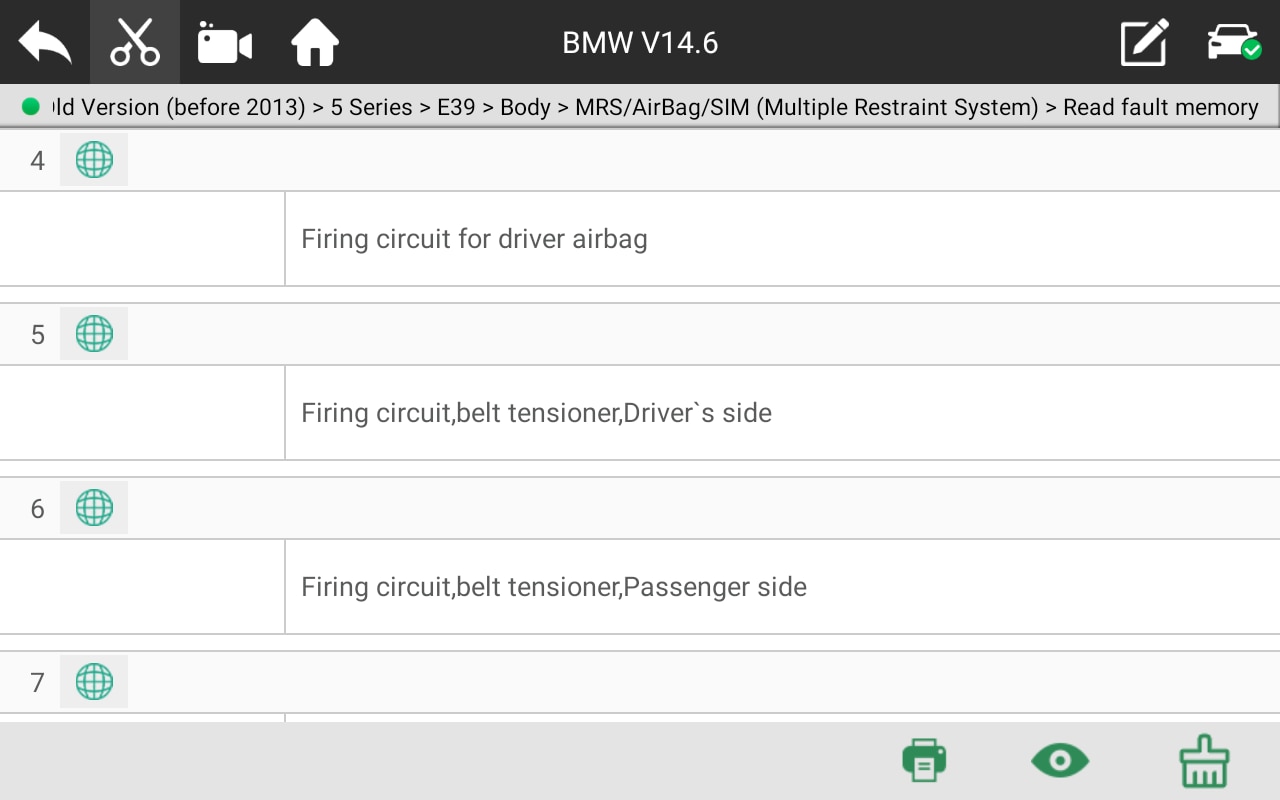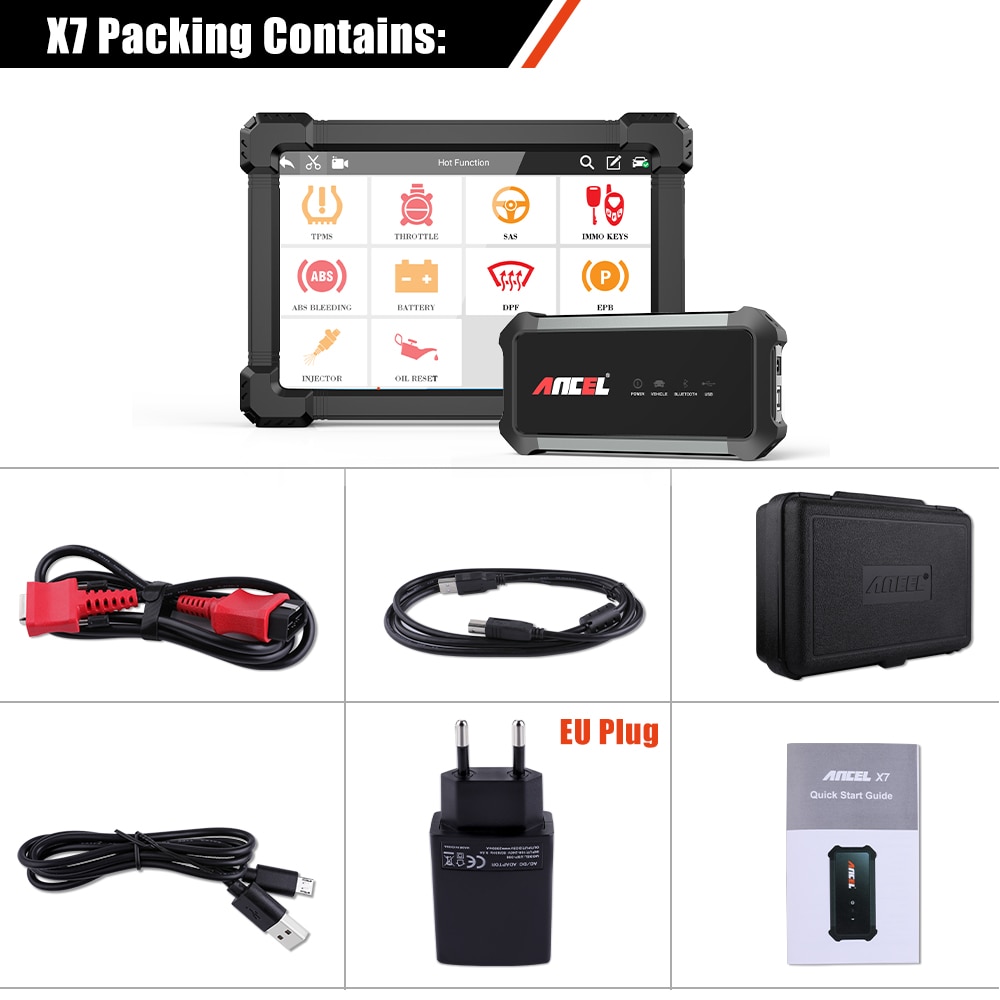 Reviews

16
#1 seppo kivelä
Mar 9, 2021

Excellent seller já me turning client
#1 Luis E Barreto F
Jul 9, 2021

All OK very fast delivery…
#1 Dror Shemesh
Mar 9, 2021

Delivery is very fast, the device is intact and do not harm. To the car has not yet connected, as i will try then i will add a tip, and so everything is fine.
#1 taofeek mudashiru
May 9, 2021

Good product ...... works perfectly… no problem Recommend the purchase. Arrived fast ahead of schedule. Not the two came together, arrived separate but both came in perfect condition.
#1 Matthew Zhao
Apr 9, 2021

Fast delivery, the machine good quality. Investment zwróciła after first use. Recommend.
#1 adevaldo de jesus vasco
Jun 9, 2021

All OK very fast delivery…
#1 MisterTwister MisterTwister
Feb 9, 2021

Very good ! I recommend ! this Ancel X7 OBD2 Automotive Scanner Professional OBD Scanner Full System ABS Oil EPB DPF Reset Bluetooth-compatible Diagnostic Tool is good quality, working very well
#1 Scott Hawthorne
Feb 9, 2021

OK, TOP seller, good supporrt...
#1 cusu aurel
Feb 9, 2021

The seller sent promptly. I chose according to reviews. How to check add feedback
#1 Ladislav Holovac
Jun 9, 2021

pretty good to use,thanks for your help!
Previous: ANCEL HD3200 24V Heavy Duty Diesel Truck Diagnostic Scanner Car Full System DPF Regeneration Oil Reset for FUSO HINO Hyundai
Next: Ancel FX9000 OBD2 Automotive Scanner Professional OBD 2 Car Tools All System SRS TPMS TPS DPF IMMO Reset ODB2 Diagnostic Tool