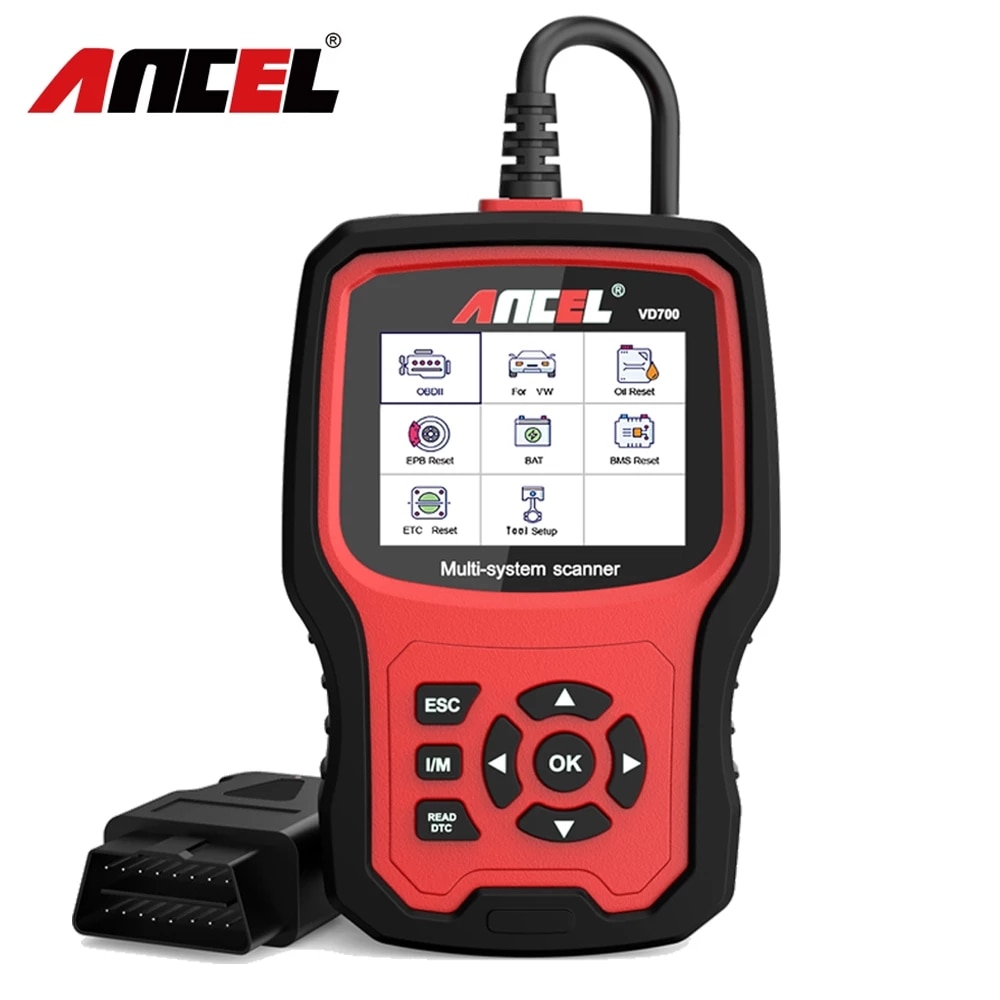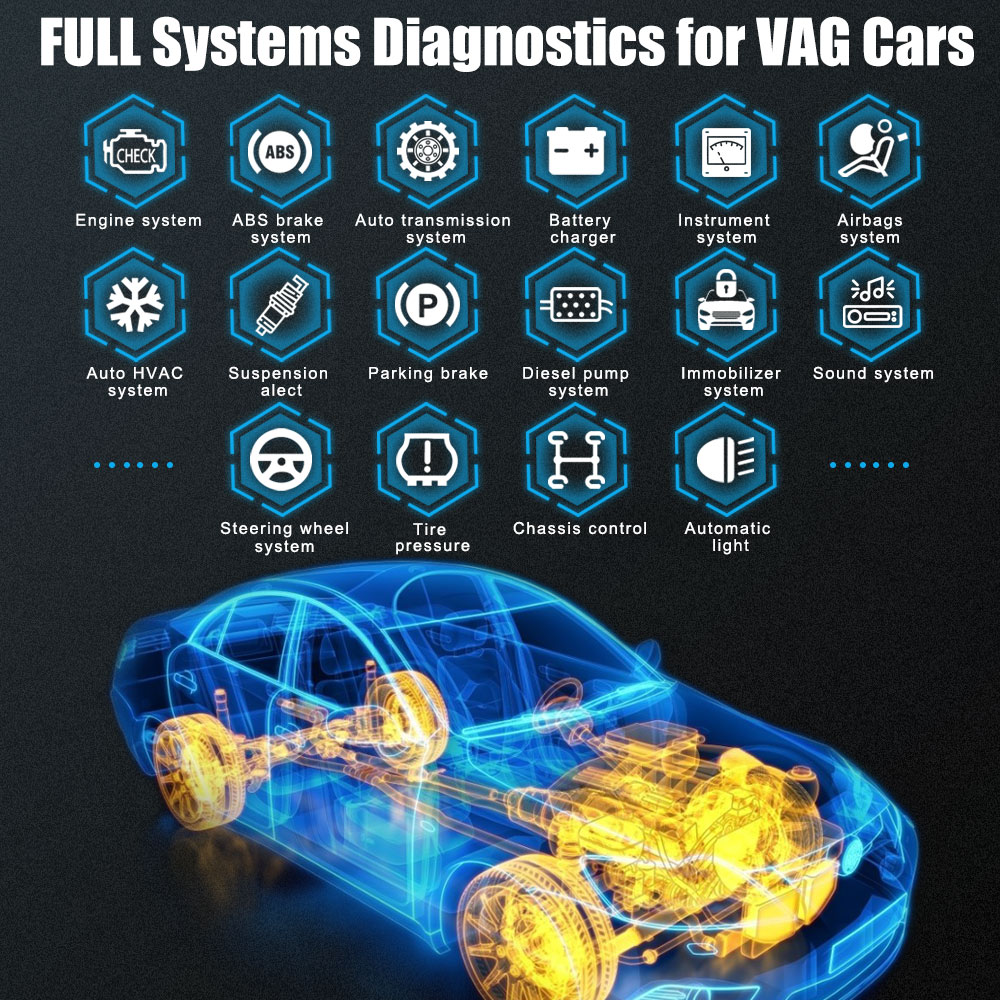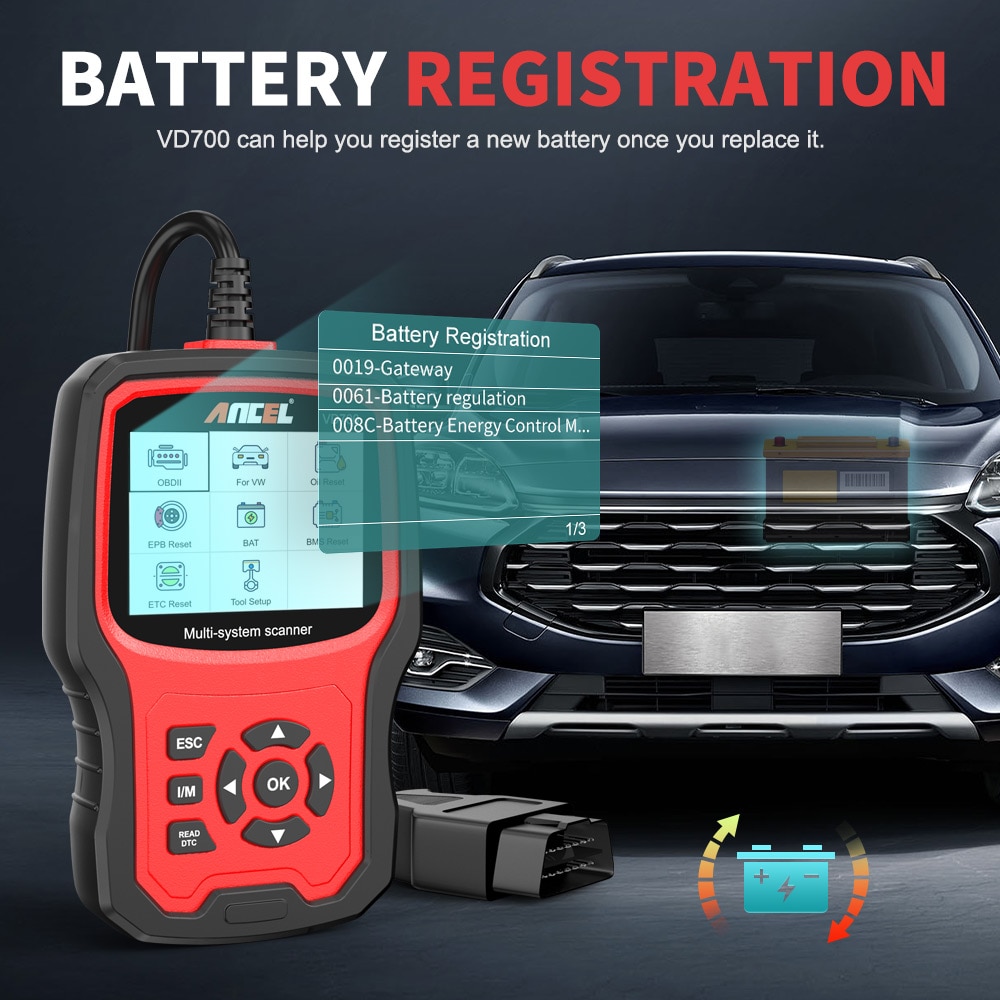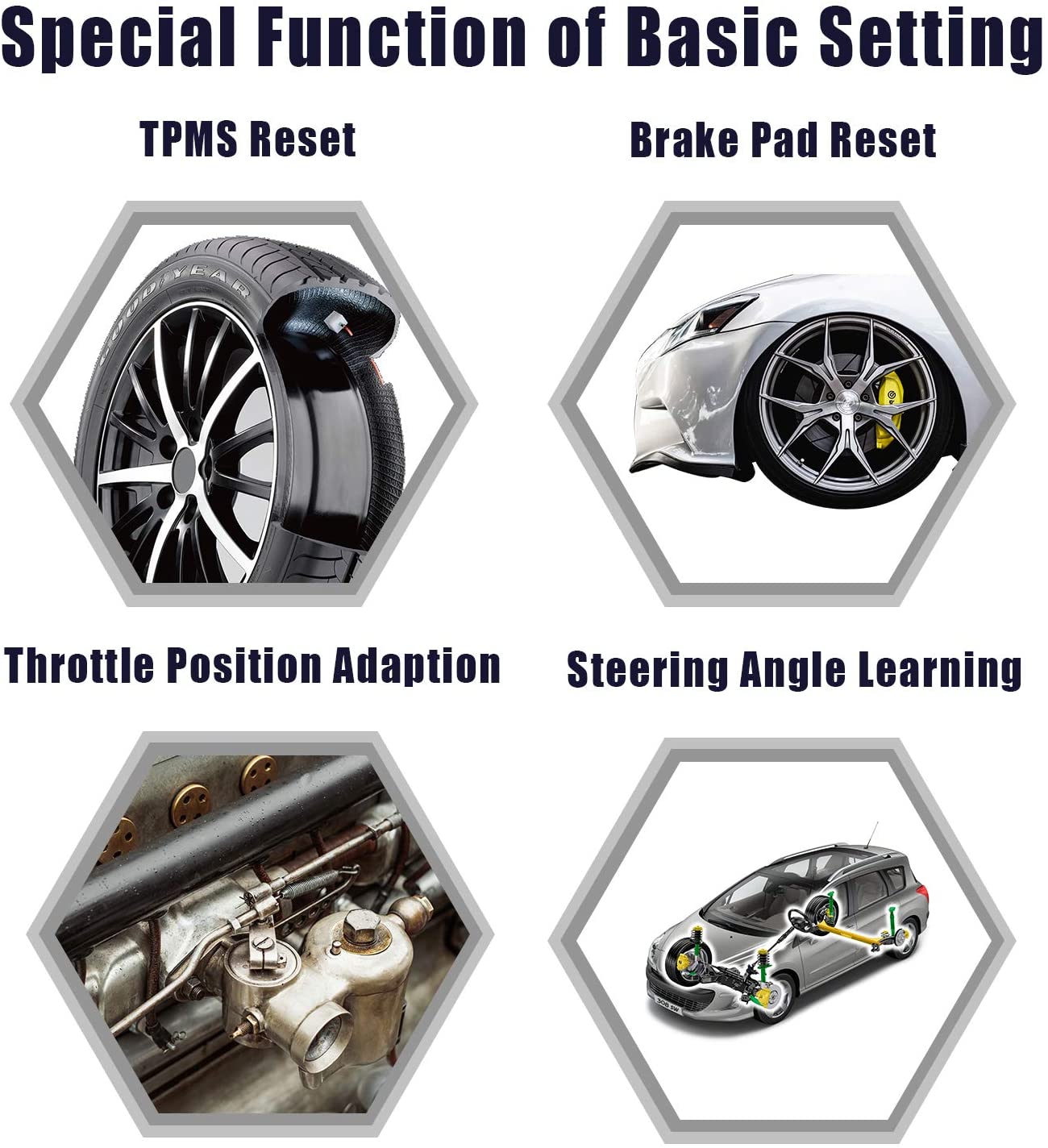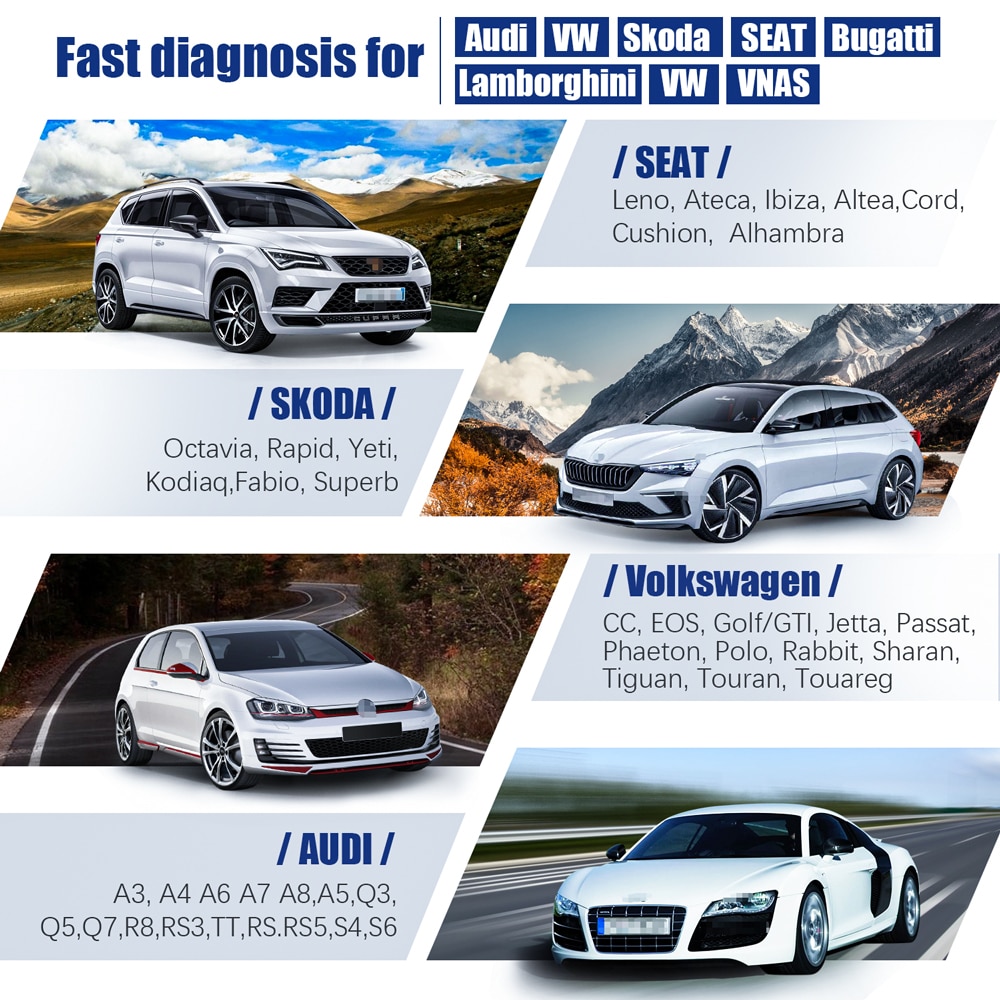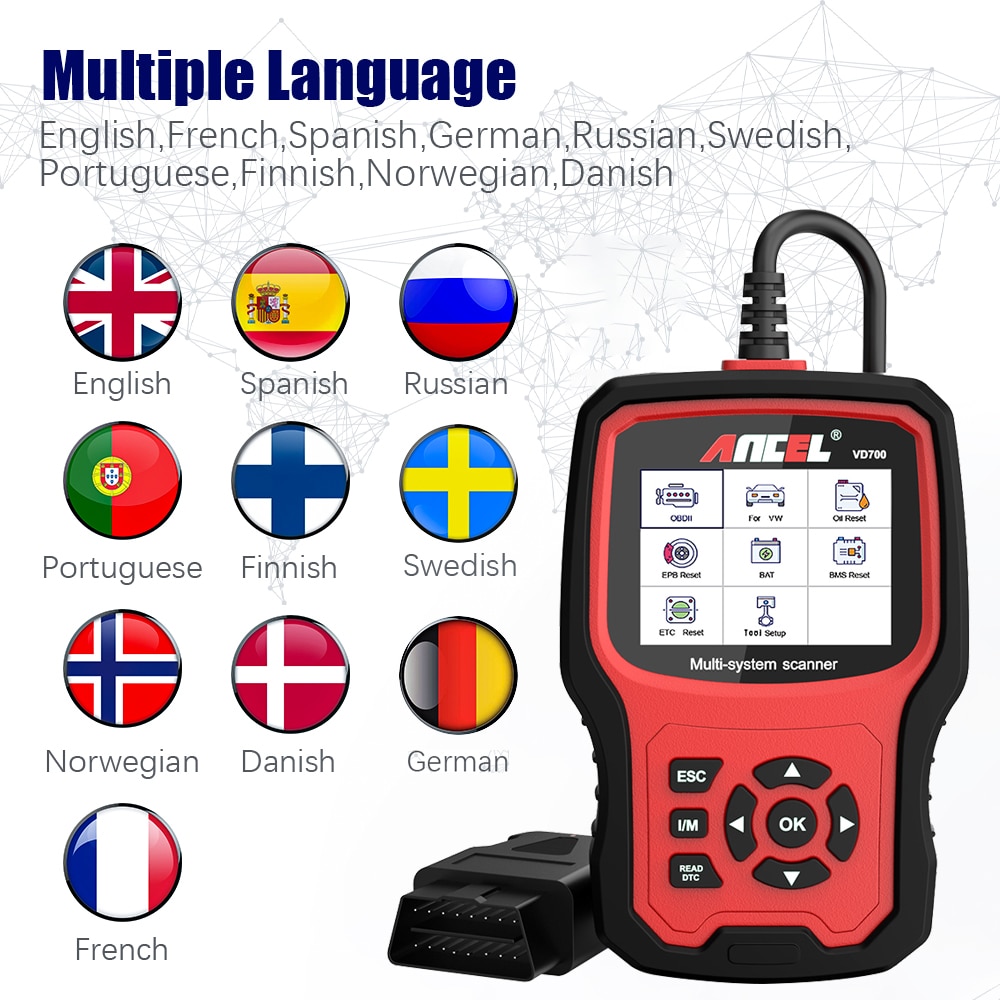 Description
Ancel VD700 for Audi Skoda Seat ABS SRS Airbag Oil EPB DPF TPMS Reset Car Diagnostic Tool
Ancel VD700 is the powerful handheld car
OBD2
/EOBD full system diagnostic scanner,special design for 12V 16pin for
VW
,
Audi
,
Skoda
, Crafter,Seat,BUGATTI,LAMBORGHINI,BENTLEY cars. Including check All system working condition, read, clear error codes, turn off MIL light. Also support car maintenance function such as Oil service reset, EPB brake pad reset, throttle position check Battery reset etc reset service function. No need battery with fast scanning speed and lifetime free upgrade online, offer a better car diagnose experience for car DIY owner.
Ancel VD700 can do Full System Diagnose for VAG cars and Retrieves VIN Info:
1.engine system
2.Auto transmission system
3.ABS brake system
4.Auto HVAC system
5.Center electronic system
6.Airbags system
7.Steering wheel system
8.Instrument system
9. Immobiliser system
10.Navigation system
11.Radio system
12.Diesel pump system
13.Electric drive
14.Battery regul
15.Battery charger
16.Parking brake
17.Steering angle
18.Suspension alect
19.Sound system
20.Chassis control
21.Tire pressure
22.Active steering
23.Door electric system, drive/pass/rear left/rear right
24.Slide door, right/left
25.Automatic light
26.HAVC Heating, Ventilation and Air Conditioning
27.Air Condition Clutch
and more...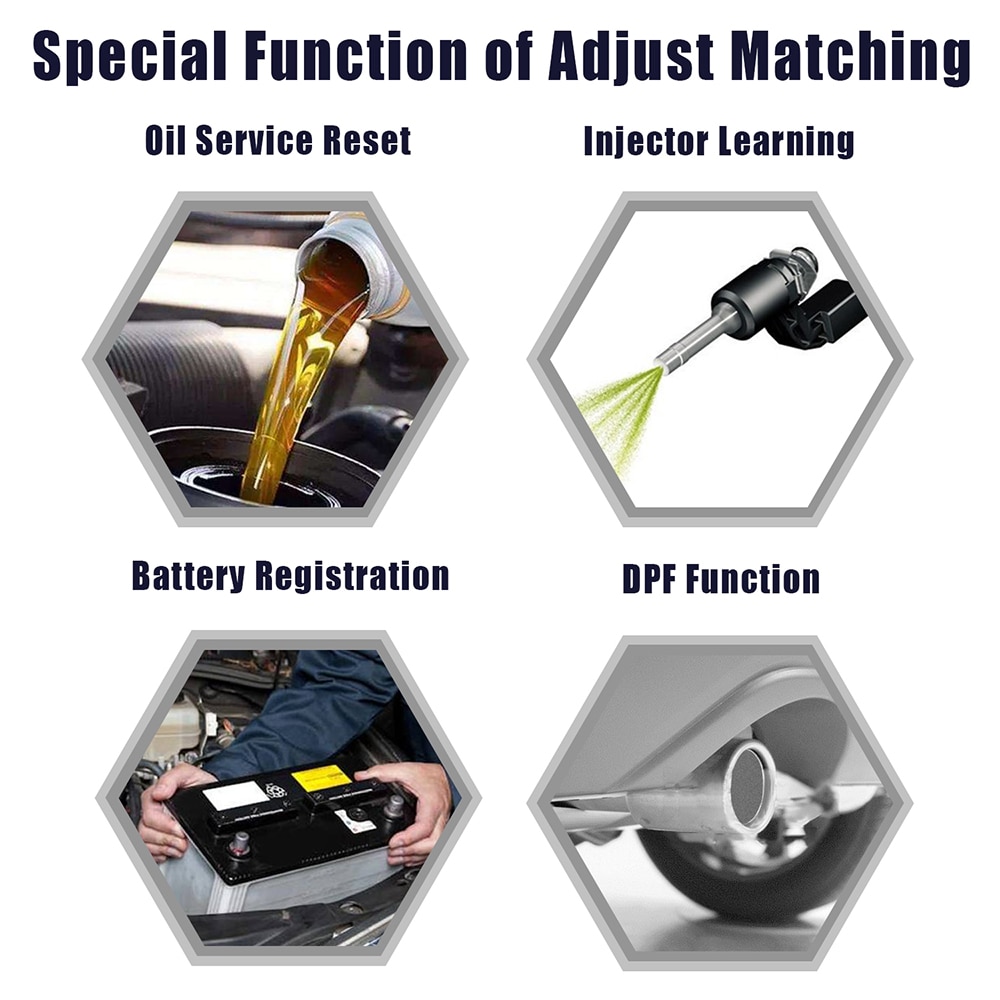 More Rest Services to be Provided---Save your time and money.
VD700 OBD2 scanner can do basic setting, adaptation and access authorization on VAG vehicles(if needed). Such as: throttle position adaption, brake pad reset, TPMS reset, steering angle learning, oil reset, injector coding,DPF reset and battery registration etc.

●TPMS Reset

You can use VD700 to clear the codes and turn off the TPMS warning light after you replaces the tire.

● DPF Regeneration

The most common reasons for DPF failures are: Short journeys where the engine doesn't reach optimum operating temperature. Clogged EGR Valve increasing diesel soot passed to the DPF. Faulty fuel injectors sending too much fuel to the air/fuel mixture. VD700 will perform a forced regeneration, turn off the DPF light and reset ECU after the filter has been replaced, and reset the additive light after topping up.

● TPS Throttle position Adaption

If these problems occurs: engine may be stalling or misfiring, poor engine performance, lack of power, transmission (gear) may not be shifting correctly, it means that you need to get the throttle position sensor (TPS) inspected. After that, the trouble codes will need to be cleared. VD700 can clear codes and reset the TPS.

● Injector Learning

Once you have replaced the car injector, you will need to write a new injector code to inform the ECU how much compensation is required to achieve the optimum in lowering emissions and provide smooth running. VD700 can help you complete this process.

● Steering Angle Sensor Calibration

You can use VD700 to read the fault codes, perform the sensor calibration if needed, and clear the codes when you done.
● Battery Registration
Disregarding the need to register and code for a new battery may result in improper charging. VD700 can help you register a new battery once you replace it. Just click for VW - special function - battery registration.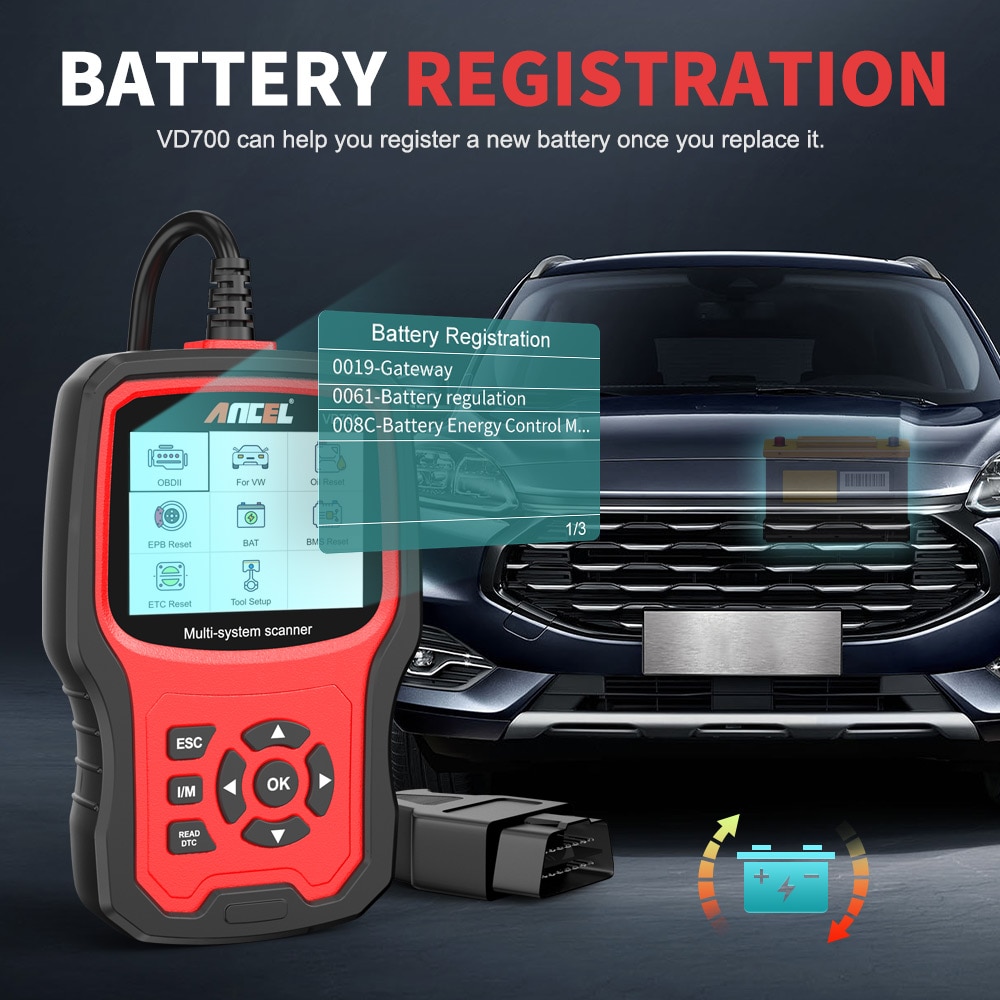 ●Battery Voltage Test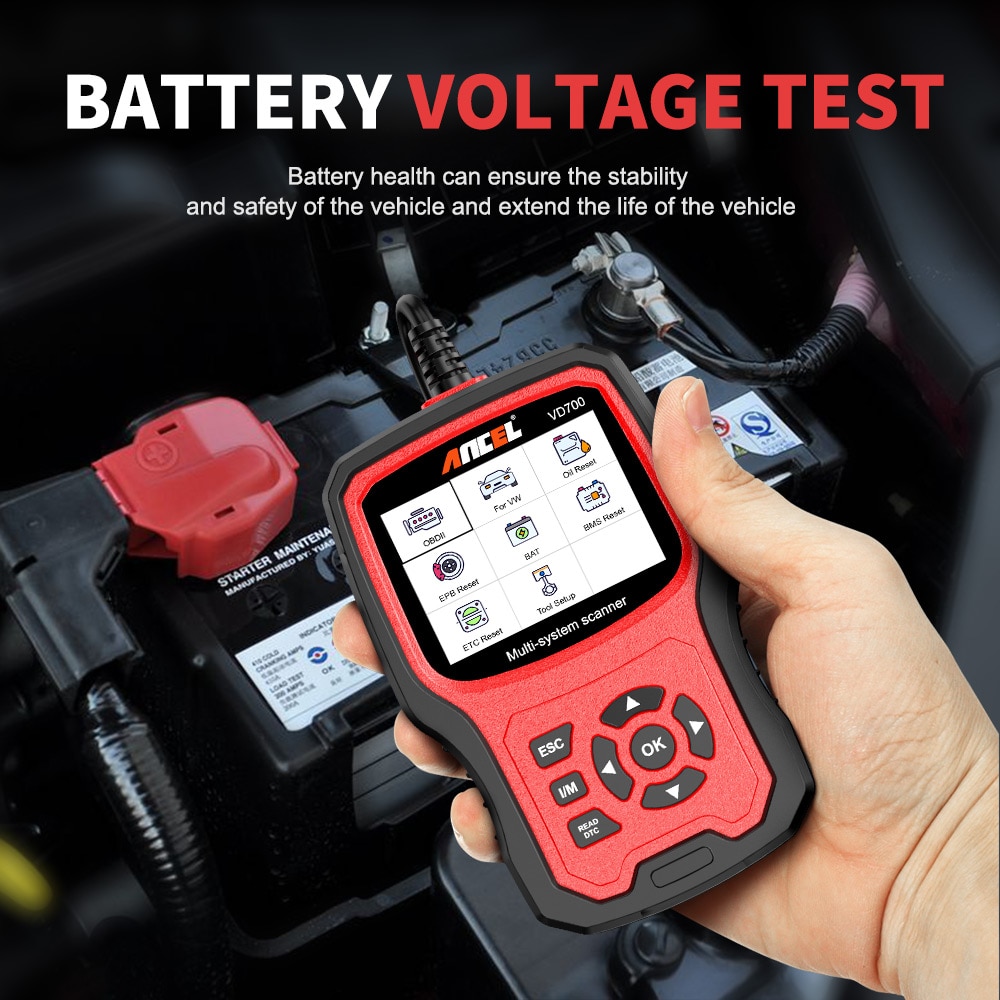 ● Electrical Park Brake (EPB) Reset
VD700 is a essential tool required to release rear electric parking brake unit when replacing rear pads or discs so that the caliper piston can be moved back. It can also clear codes and turn off the EPB light when it's done.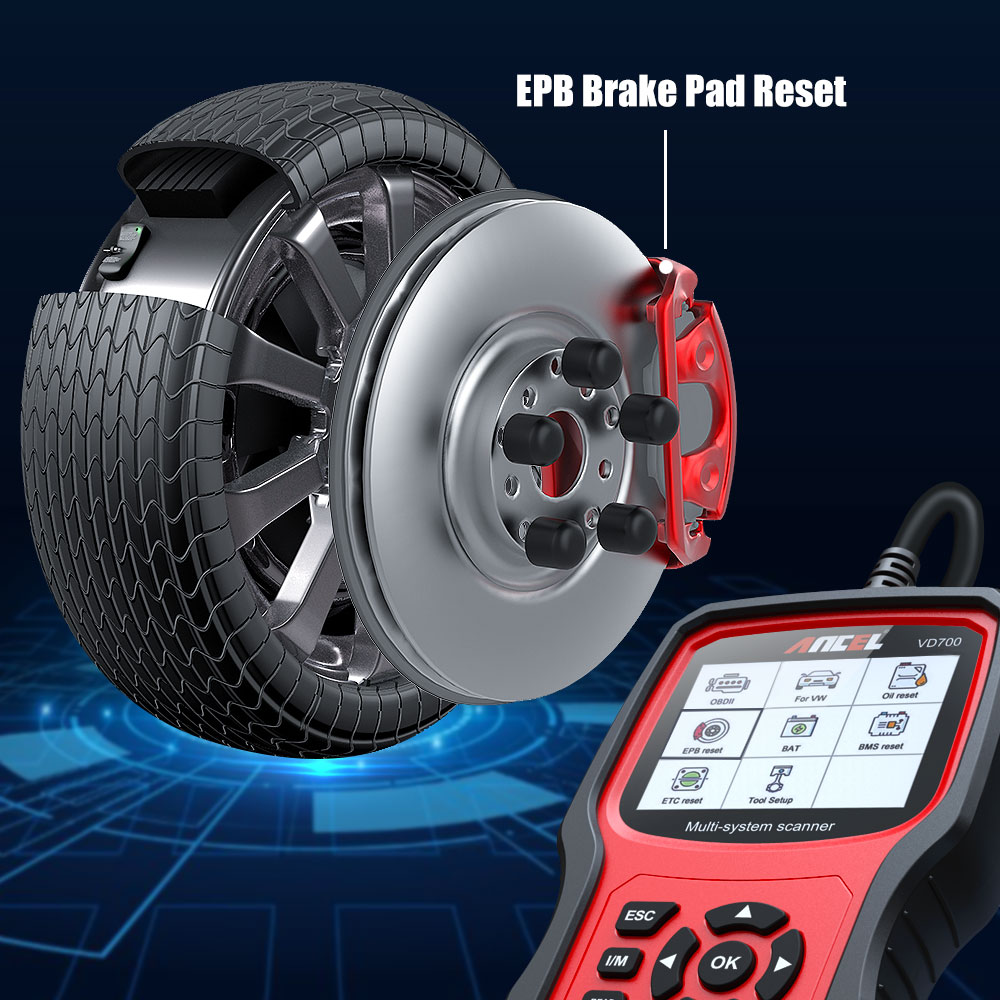 ● Oil Service Reset
When you want to reset your oil service after you changing the oil or simply want to reset your vehicle inspection warning light(please make sure your vehicle is in well condition), this is the device you need.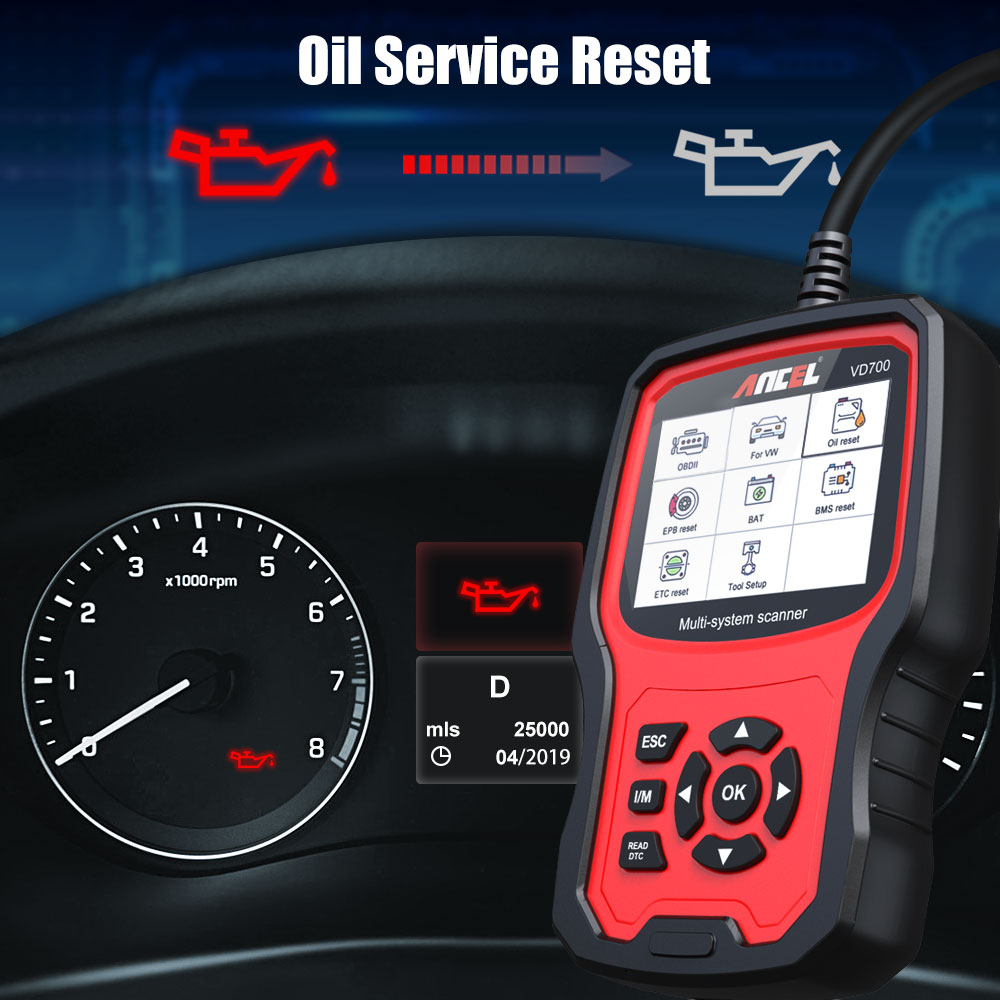 Multi-language Available
English, French, Spanish, German, Russian, Swedish, Portuguese, Finnish, Norwegian, Danish.
Lifetime free update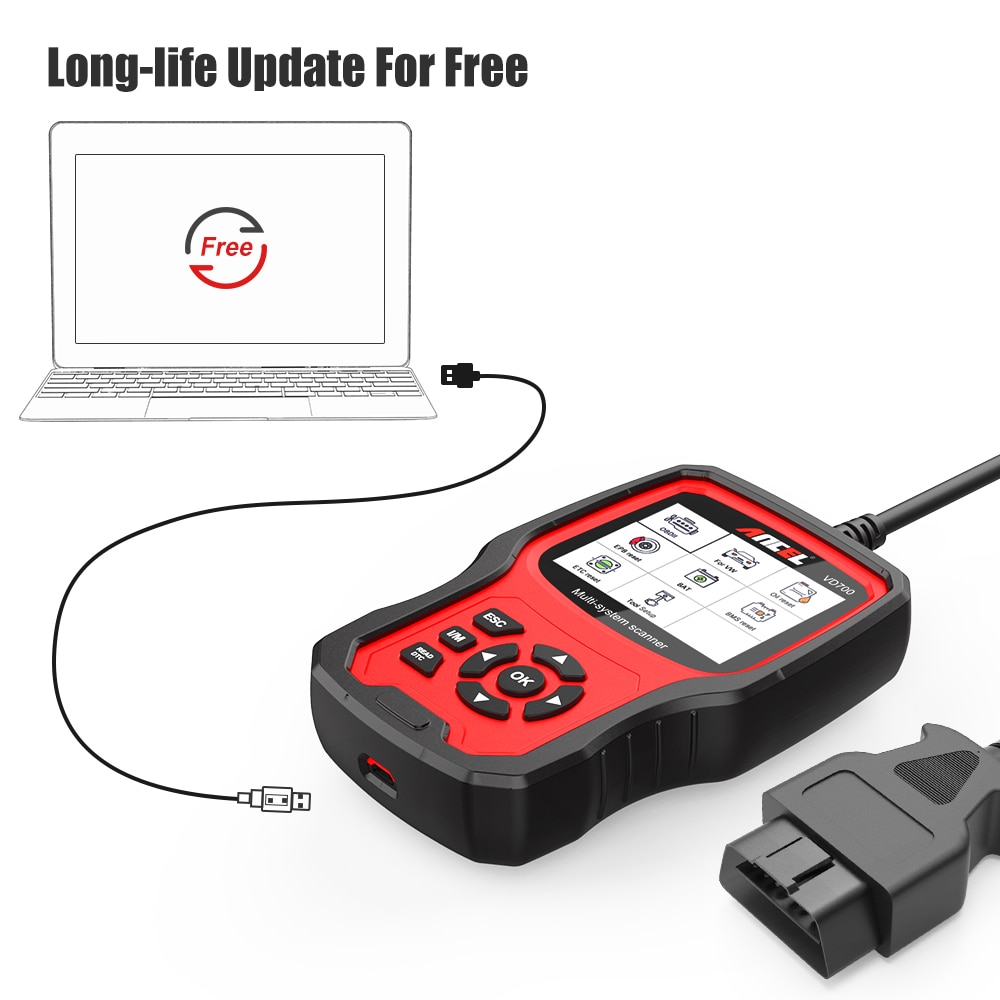 Previous: ANCEL BM700 Full System Diagnostic Tool OBD2 Scanner Injector Coding EPB SAS Airbag ABS Oil Reset Automotive Code Reader For BMW
Next: AUTOPHIX 3910 Bluetooth OBD2 Scanner for BMW/MINI/Rolls Royce Car Diagnostic Scan Tool EPB CBS ETC Battery Check Throttle Learn