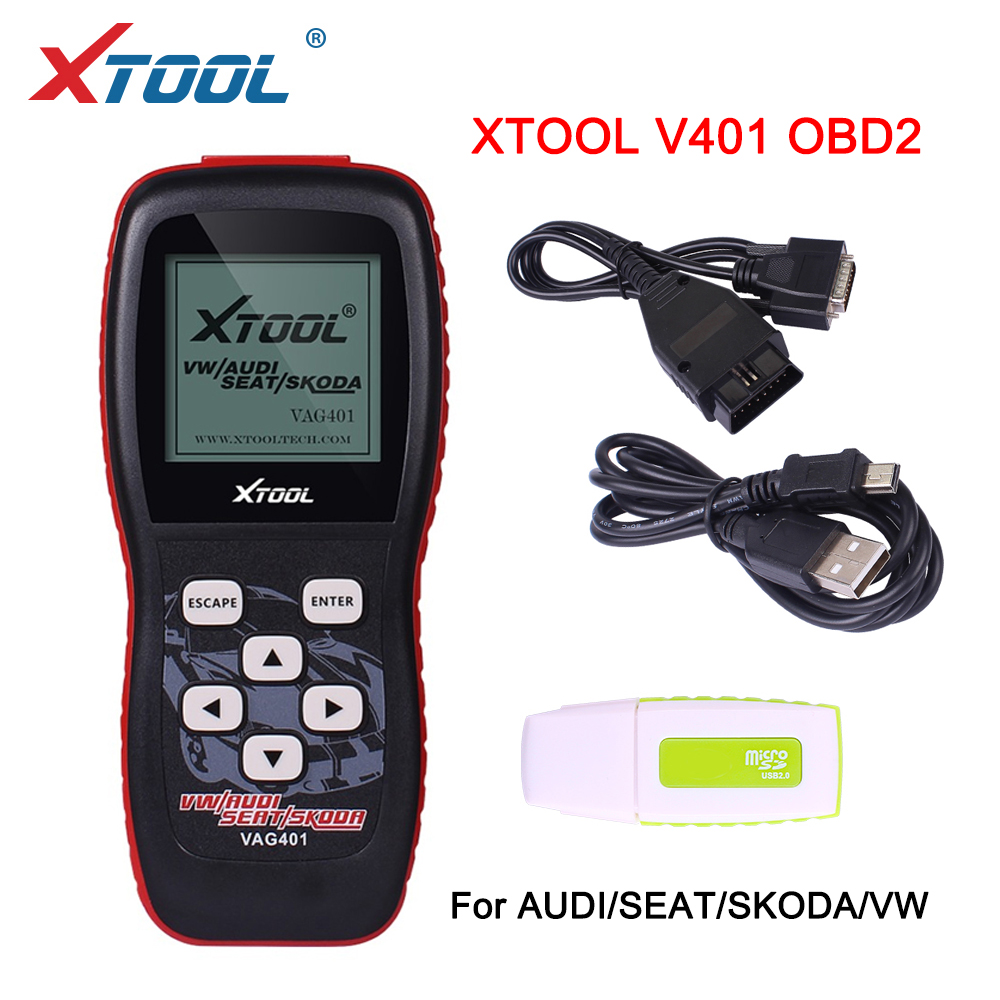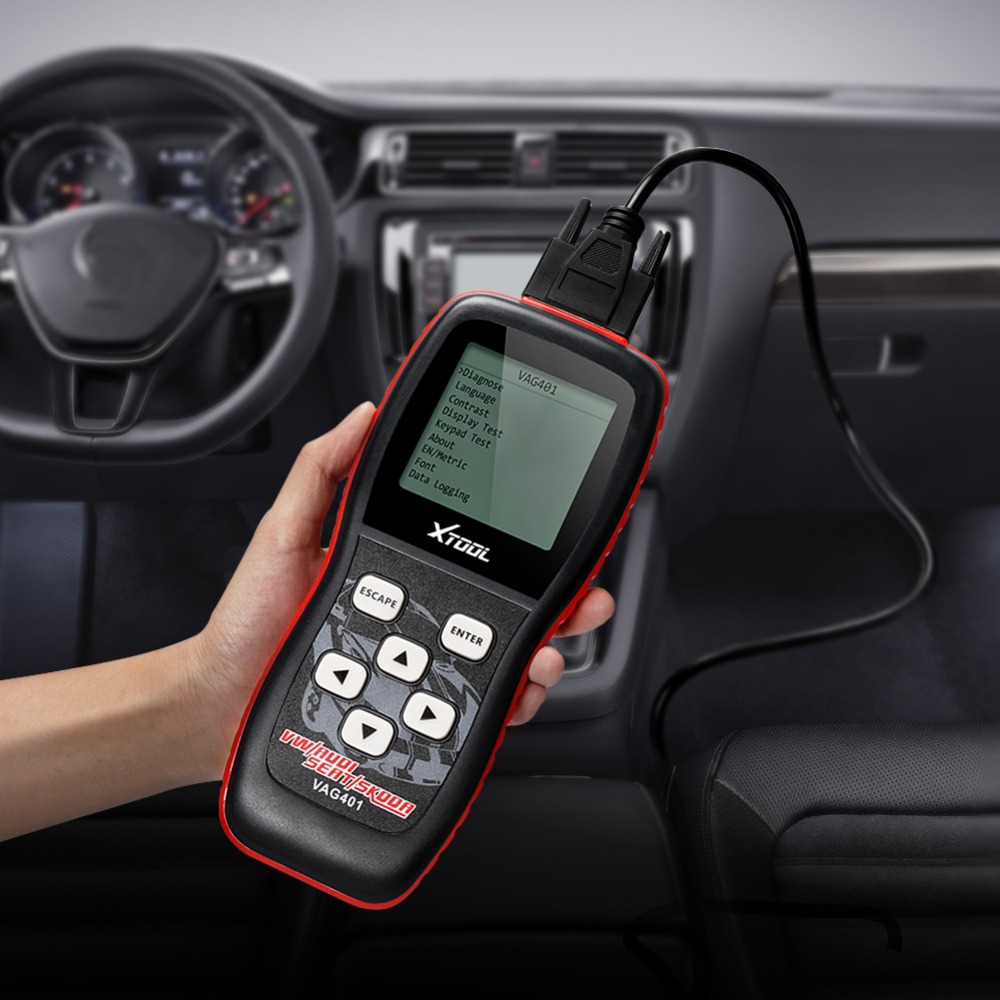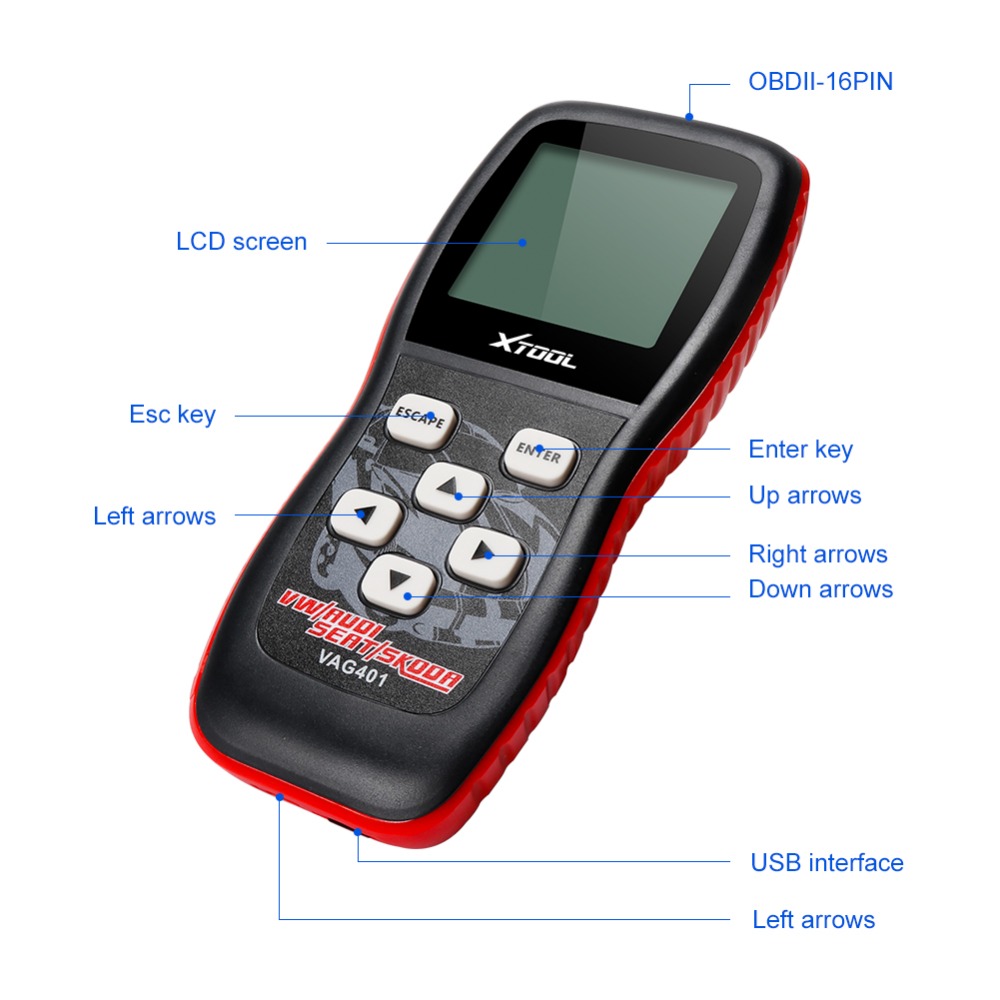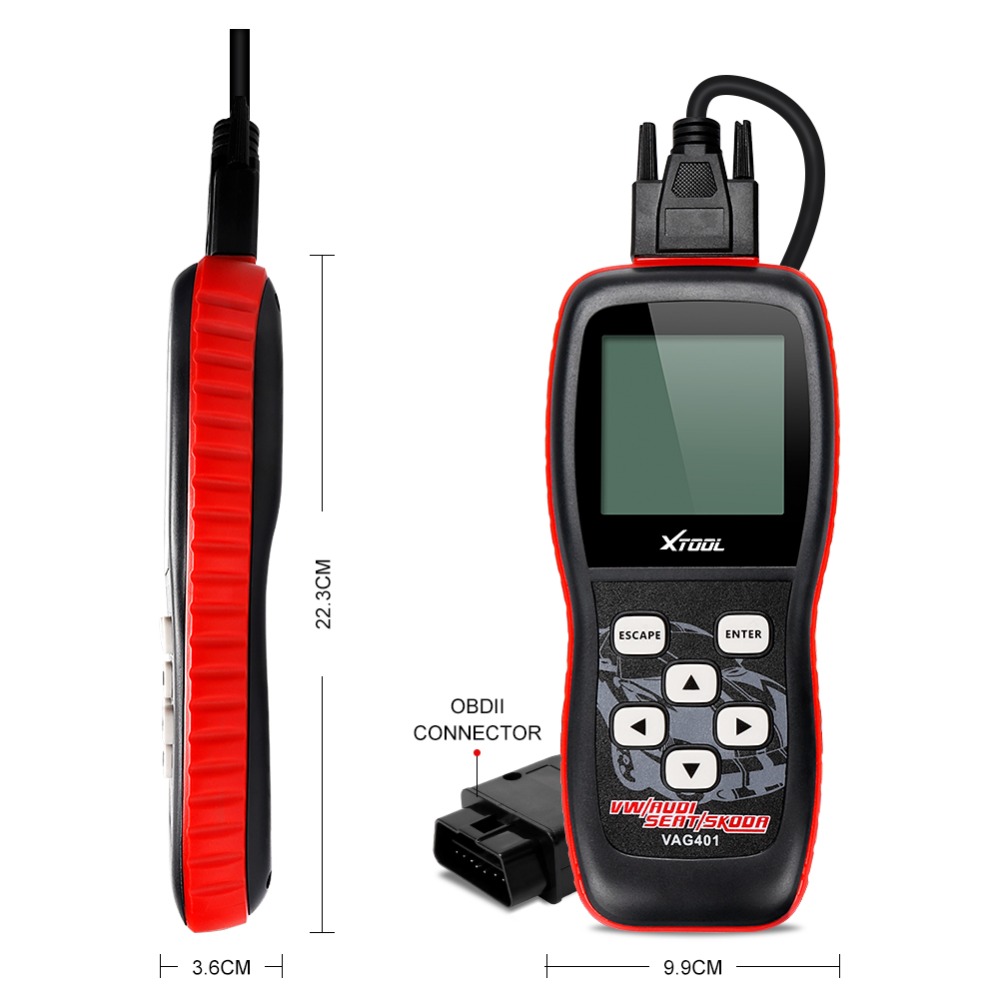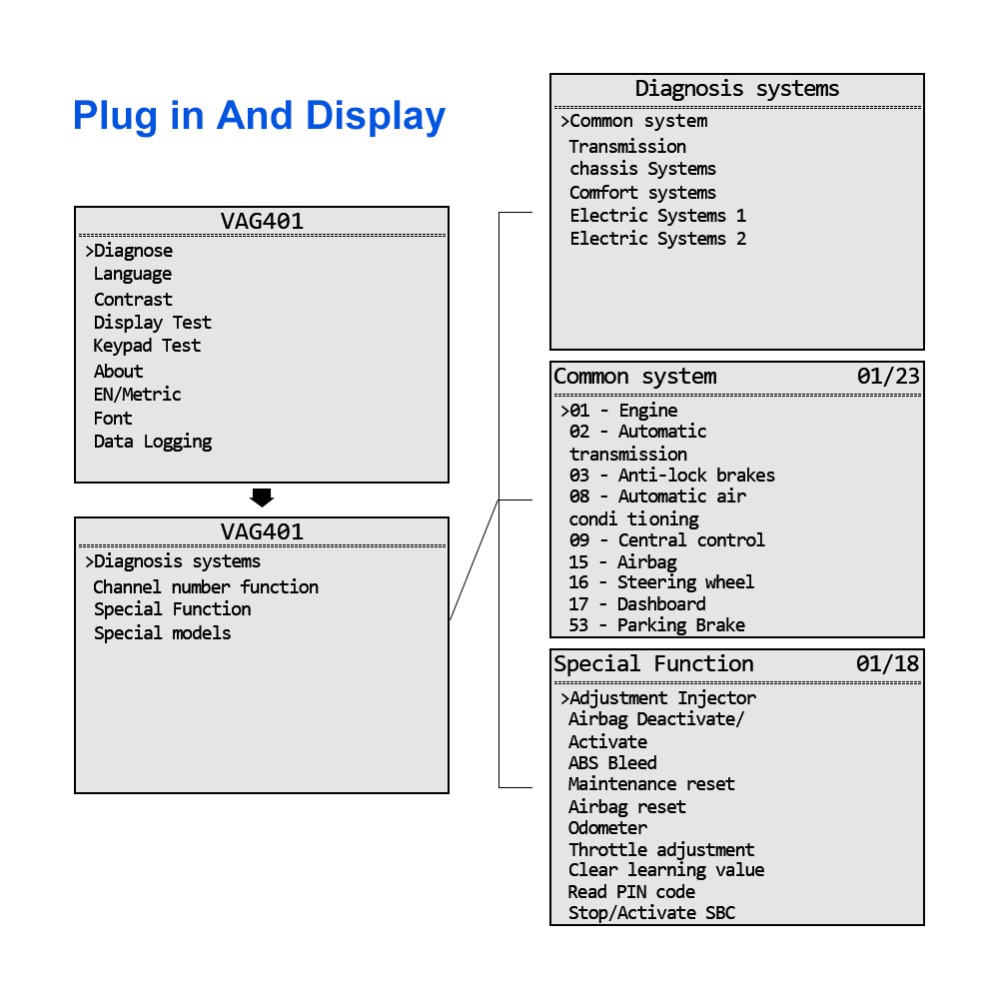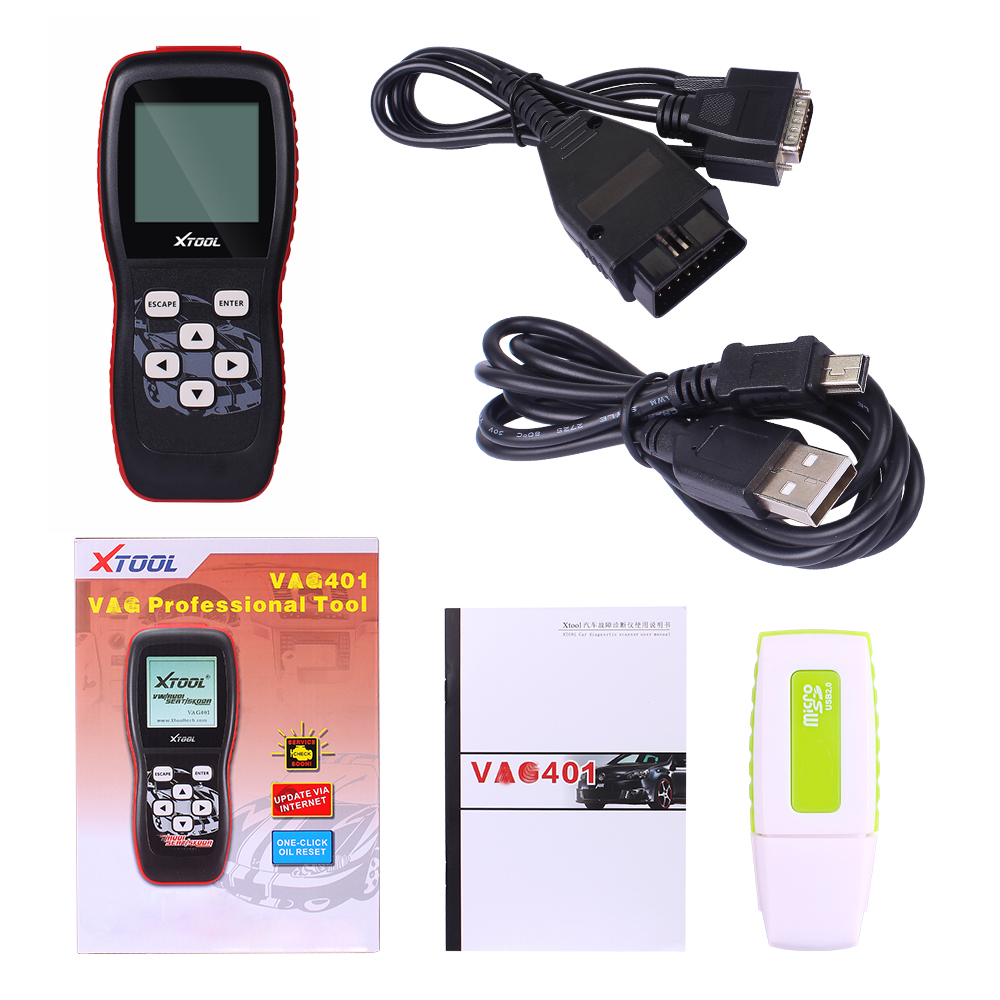 Description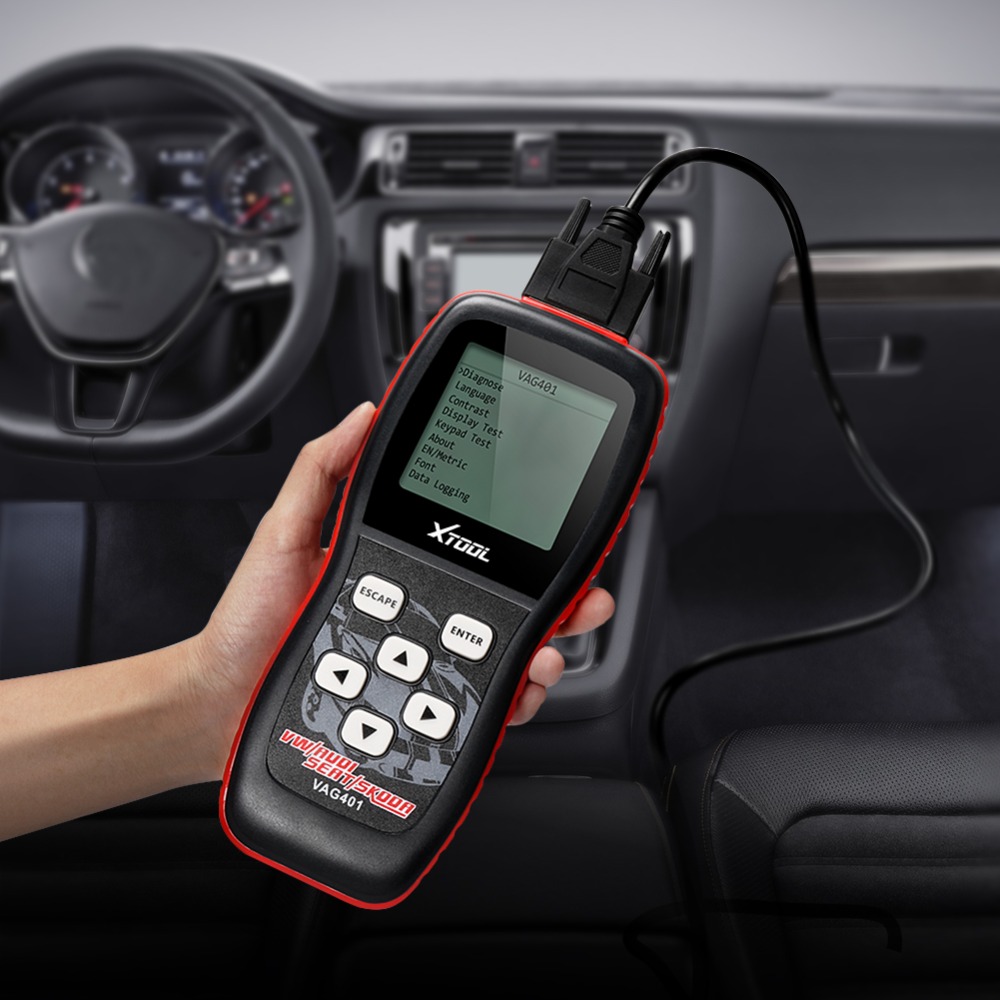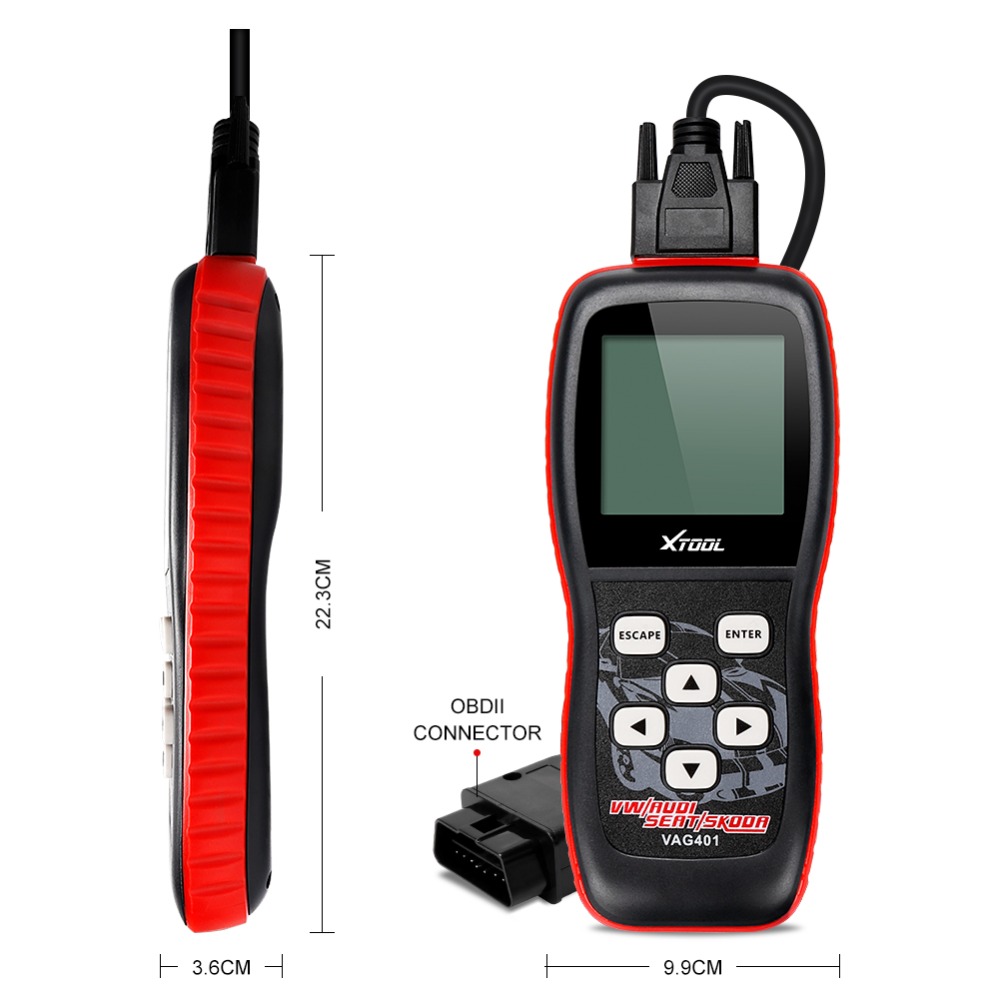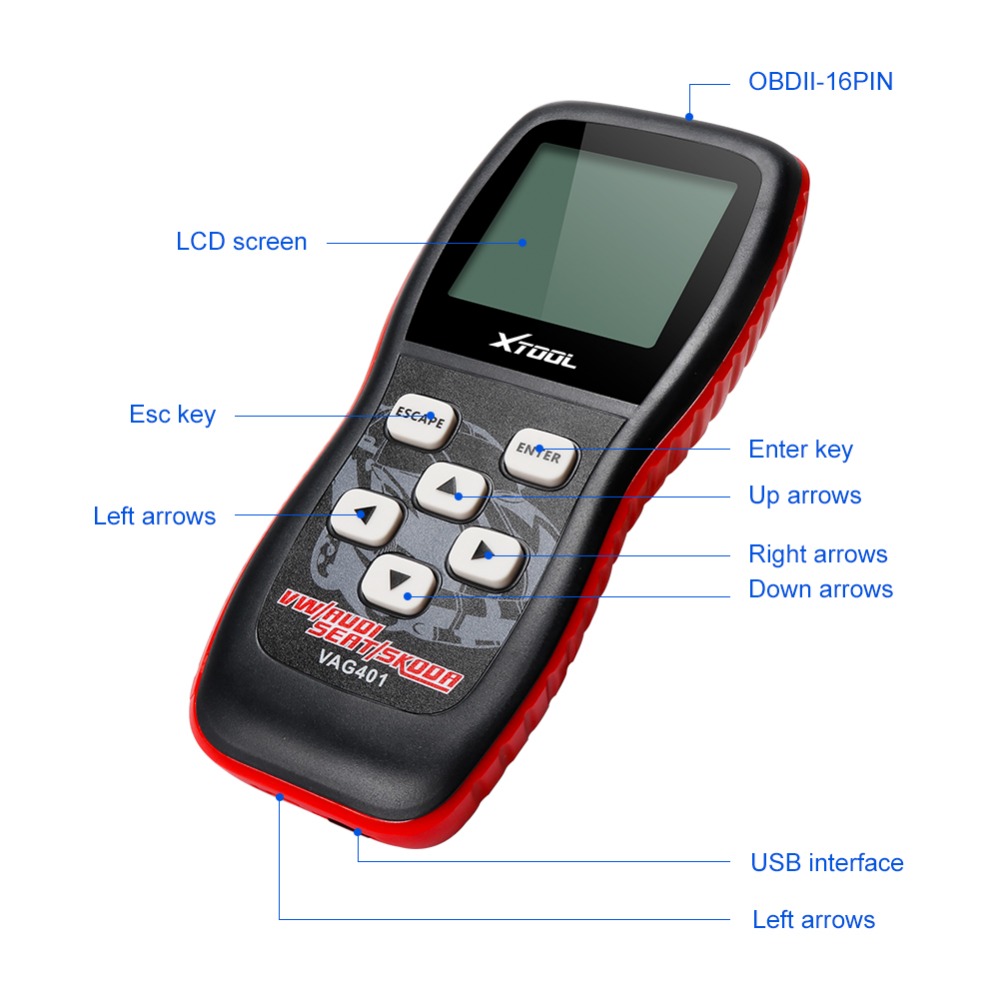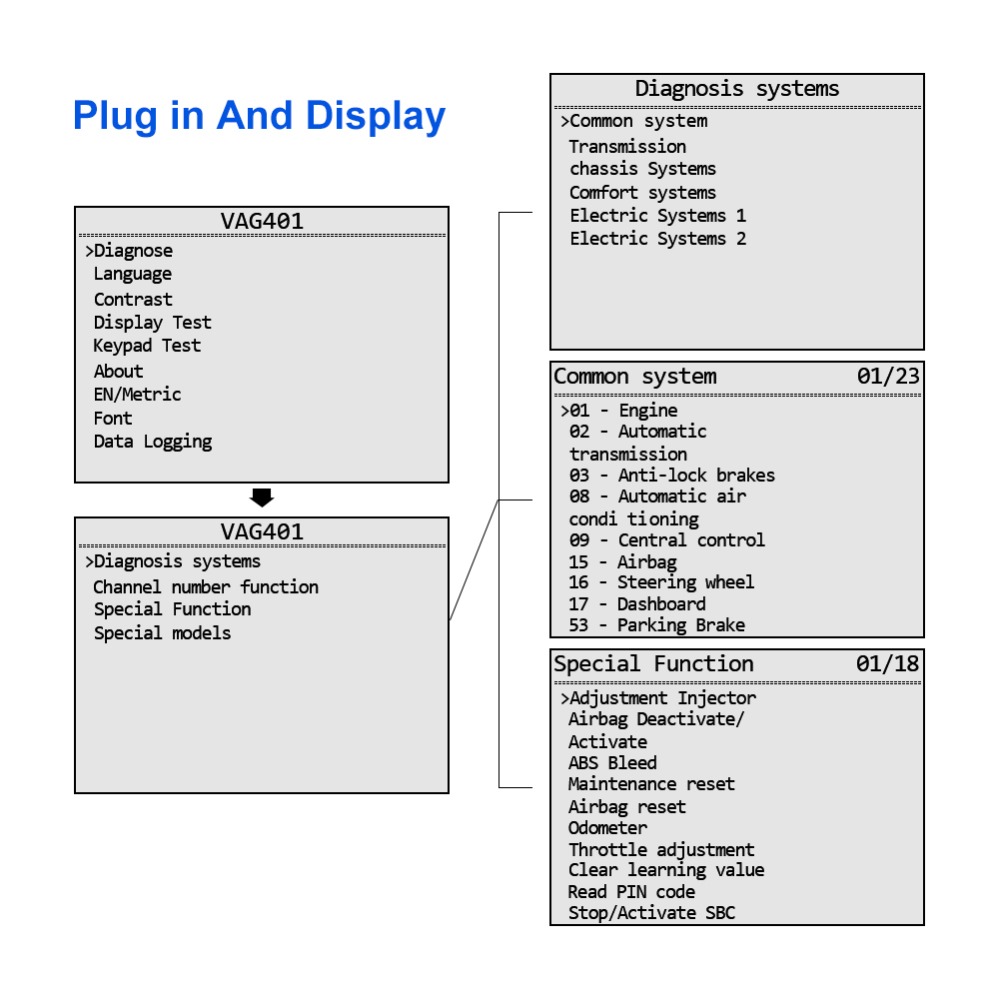 VAG401 is the higher version based on VAG5053 with powerful function. It can work on
VW
,
Audi
,SEAT and SK O DA. With its smart appearance and powerful function, it can be conveniently used and can be run detachedly without PC.
Product Features
* Natural ergonomic comfort curve design
* Easy-to-read large mono-color screen
* Easy-to-operate large buttons
* Works with Volkswagen and Audi (
Audi
/ Seat/ S ko da/ Jetta/ Golf / Beetle/ Touareg/ GTI/ Passat and more) since 1990
* Reads and erases Diagnostic Trouble Codes (DTCs) of
engine
,
ABS
, Airbags,Transmission, Radio, Climate Control (A/C), Central Electrics, Steering Wheel, Instruments, Immobilizer, etc. (over 60 Systems on VAG range ONLY)
* Reads and clears generic trouble codes – KWP-1281 ,KWP-2000(ISO 14230), TP2.0 CAN
* Turns off
engine
Warning Light, Airbags,
ABS
, A/T and other systems on VAG. (only
engine
system faults in non VAG cars)
* C.A.N.(Controller Area Network) capability
* Super fast One-Click solution of oil reset in VAG up to 2011
* Retrieves vehicle information (VIN)
* Displays I/M Readiness Status
* Displays DTC definitions on unit screen
* Full function support, including coding and adaptation
* Full system support
Supported systems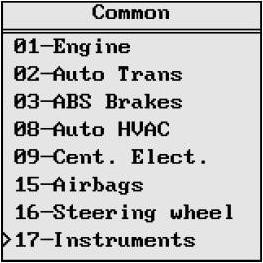 Functions:
* Retrieve controller information
* Read DTC
* Clear DTC
* View live data
* Actuation test
* System basic adjustment
* Adaptation
* Coding
* I/M Readiness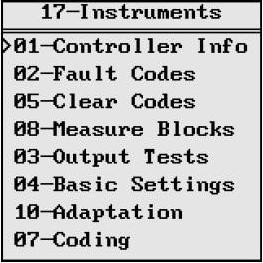 Special Function--Oil reset(may not support for some models)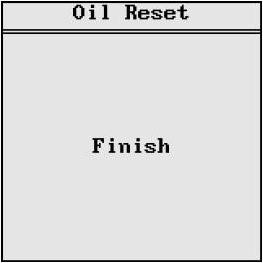 Special Function--Srs reset(may not support for some models)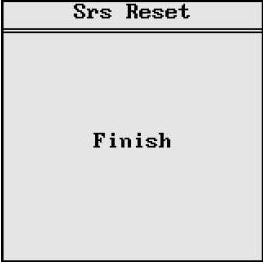 Specification
*Display: Backlit, 160 x 160 pixel mono-color screen with contrast adjustment
*Operation Temperature: 0 ~ 50°C (32~122F°)
*Storage Temperature: -20 ~ 70°C (-4~158F°)
*Relative Humidity: < 90%
*External Power: 8~18 Volts via DLC
*Power Consumption: 3W
*Mainframe Dimension: 225mm(L) x 98mm(W) x 36mm(H)
*Exterior Memory: TF Card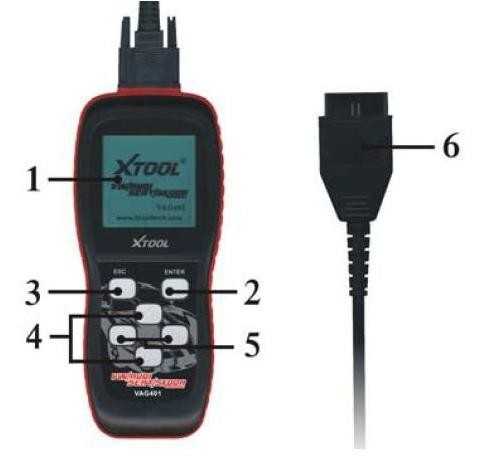 1. LCD screen: 160*160
2. Enter key: confirm selection and enter
3. Esc key: go back to the previous screens
4. up/down arrows: moves the selection pointer and scrolls up or down
5. LEFT/RIGHT arrows: move cursor.
6. Diagnostic extension cable:
OBDII
-16PIN
Packing List
1pc x VAG401 Main Unit
1pc x OBD 16Pin Cable
1pc x USB Cable
1pc x User Manual
1pc x Reader
Reviews

44
#1 Diego Pasarelli
Jun 9, 2018

Everything is ok. Thank you to the seller.
#1 Joseph Kwezi
Jun 9, 2018

the best!!!!!!!!!!
#1 skysf shaik
Feb 9, 2019

fits my machine perfectly
#1 liabSainc liabSainc
Dec 9, 2018

Equipment as far as well. I did already two cars. I am happy
#1 Jack Biddle
Dec 9, 2018

Soldering quality is good. Refinement does not require.
#1 Igor Saenko
Mar 9, 2019

fast shipping ,awesome
#1 Raul Yanez
Oct 9, 2018

pretty good to use,thanks for your help!
#1 домашнее похудение домашнее похудение
Sep 9, 2018

Very good fast delivery
#1 Audie Tagle
Feb 9, 2019

Equipment as far as well. I did already two cars. I am happy
#1 RODNEY BUBAR
Oct 9, 2018

Fast delivery, the machine good quality. Investment zwróciła after first use. Recommend.
Previous: Audi VW Micronas and Fujitsu Programmer 2.0 For VW/AUDI With Multi-Languages
Next: MINI VCI J2534 FOR TOYOTA TIS Techstream V14.20.019 Diagnostic Communication Protocols With Toyota 22Pin Connector