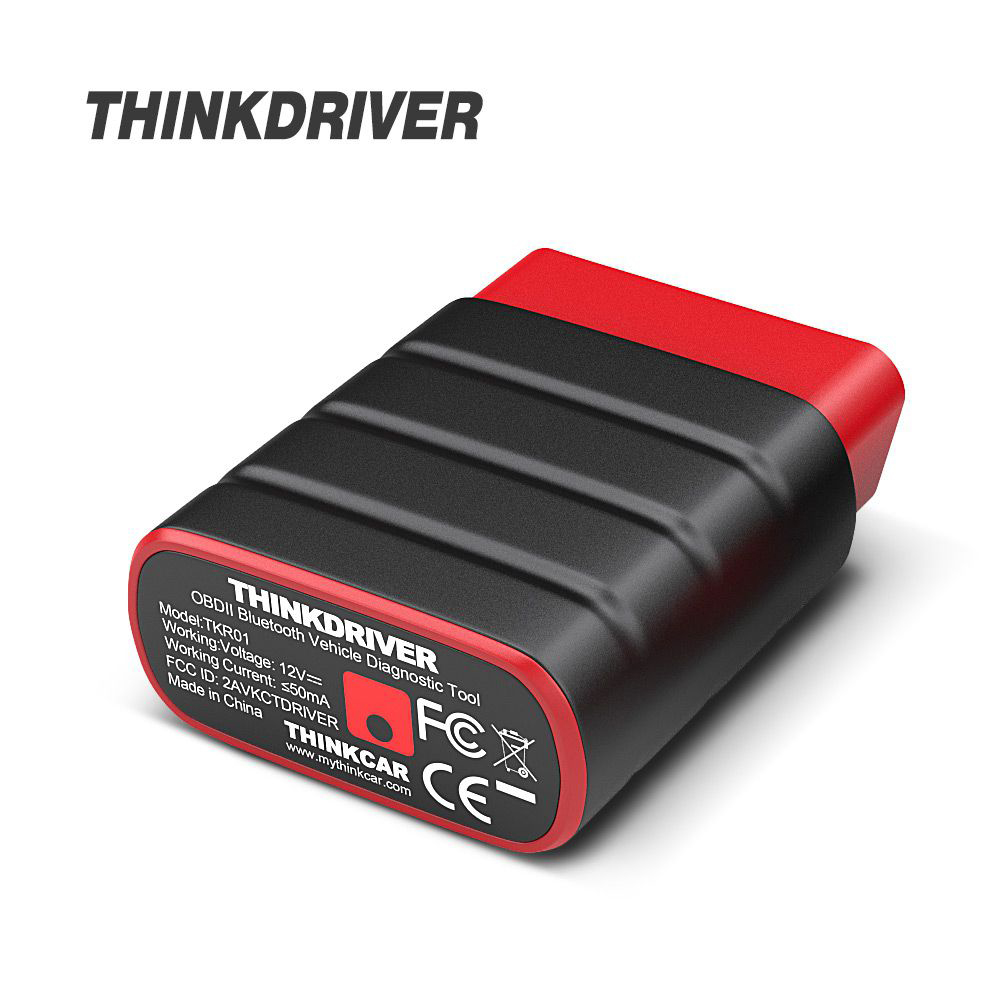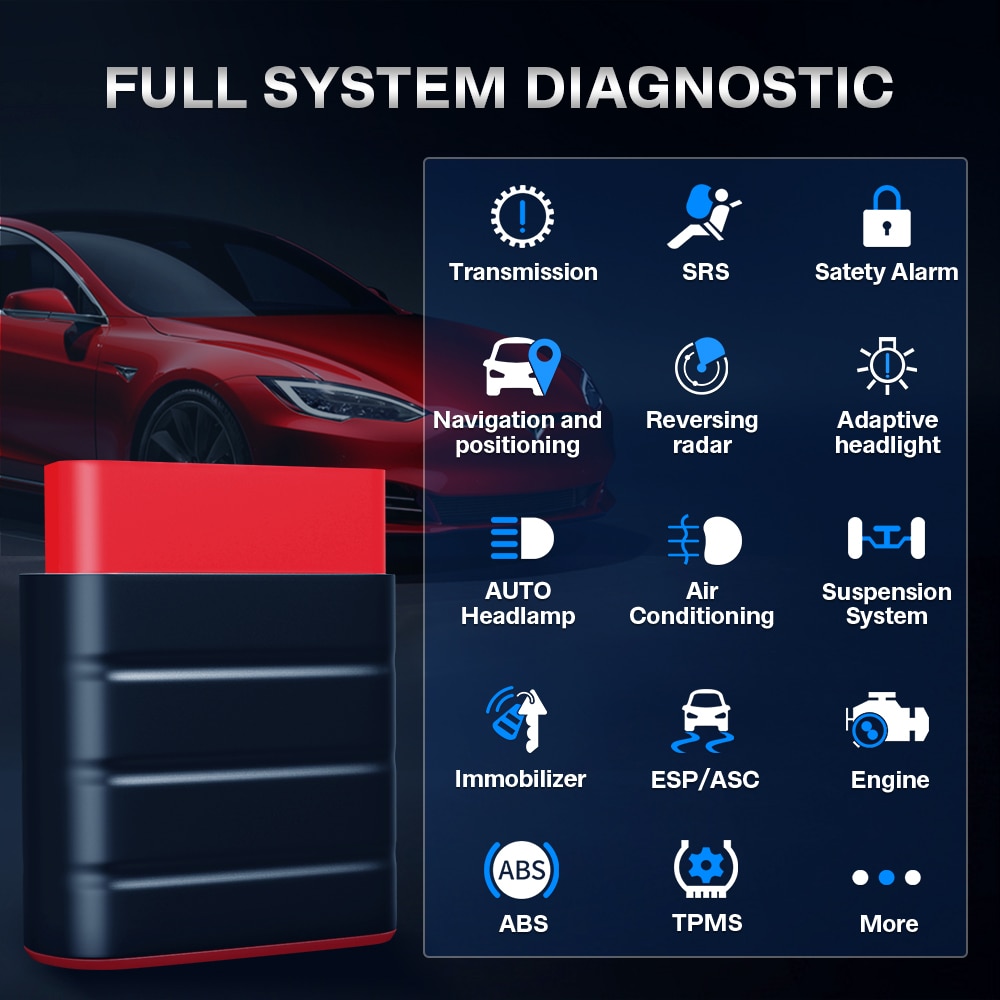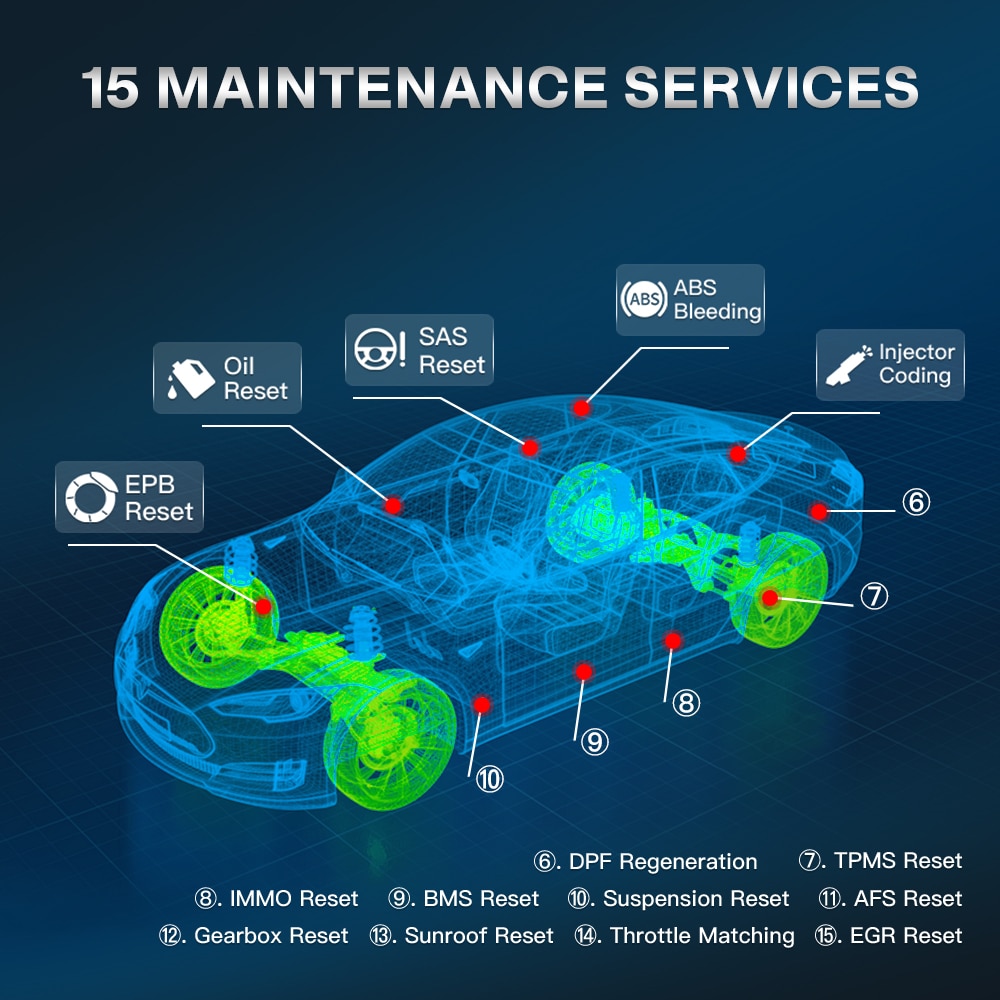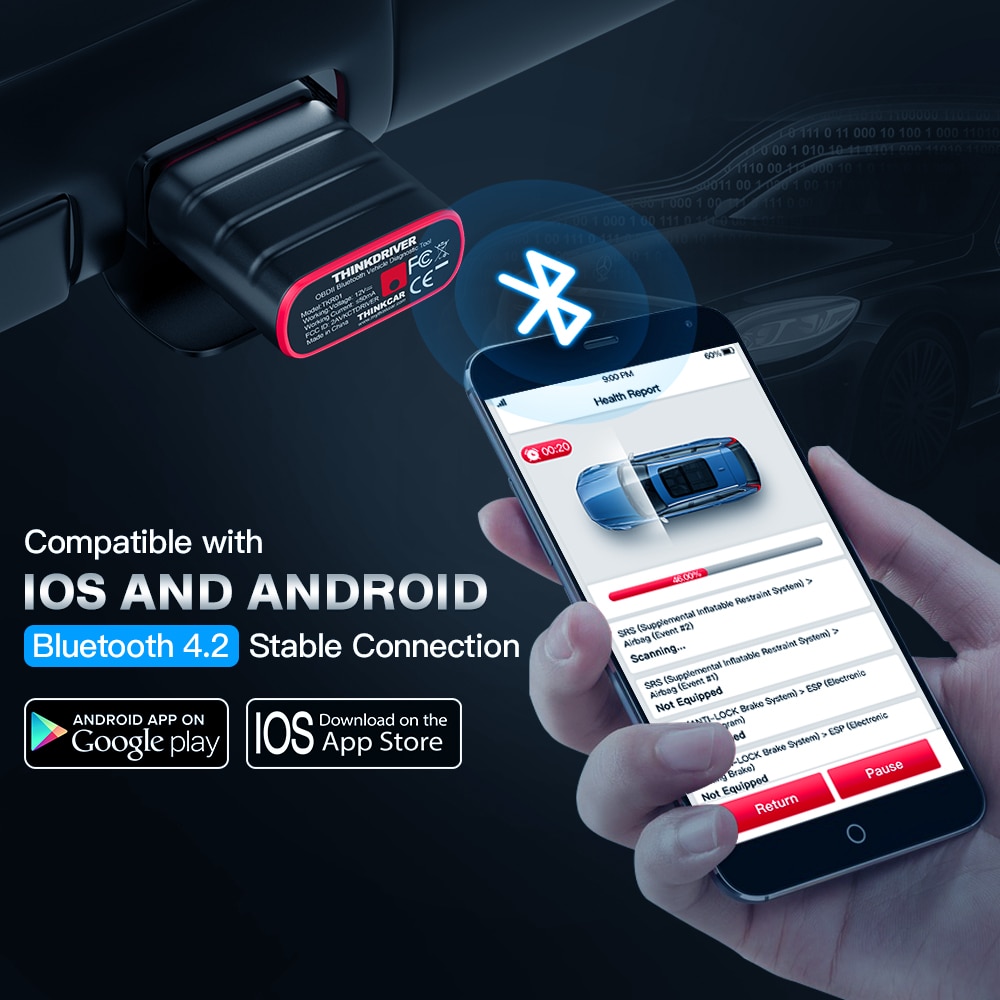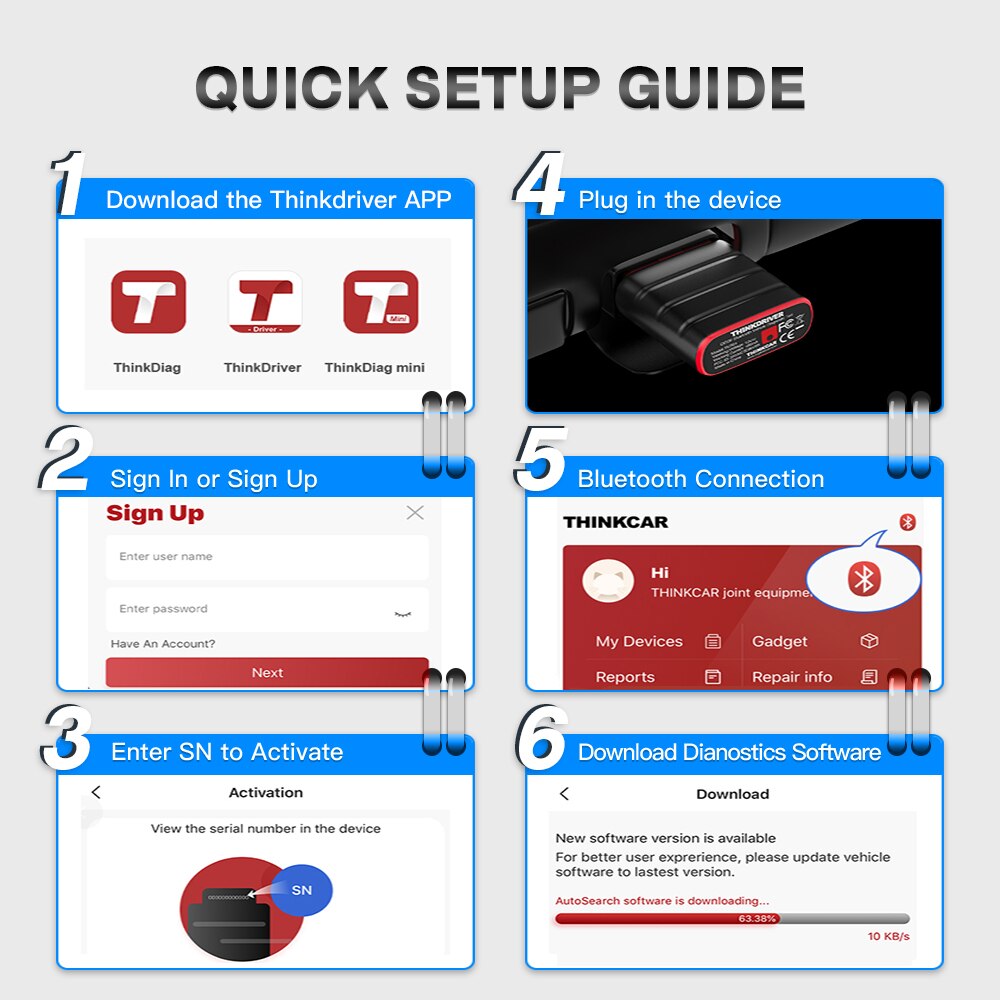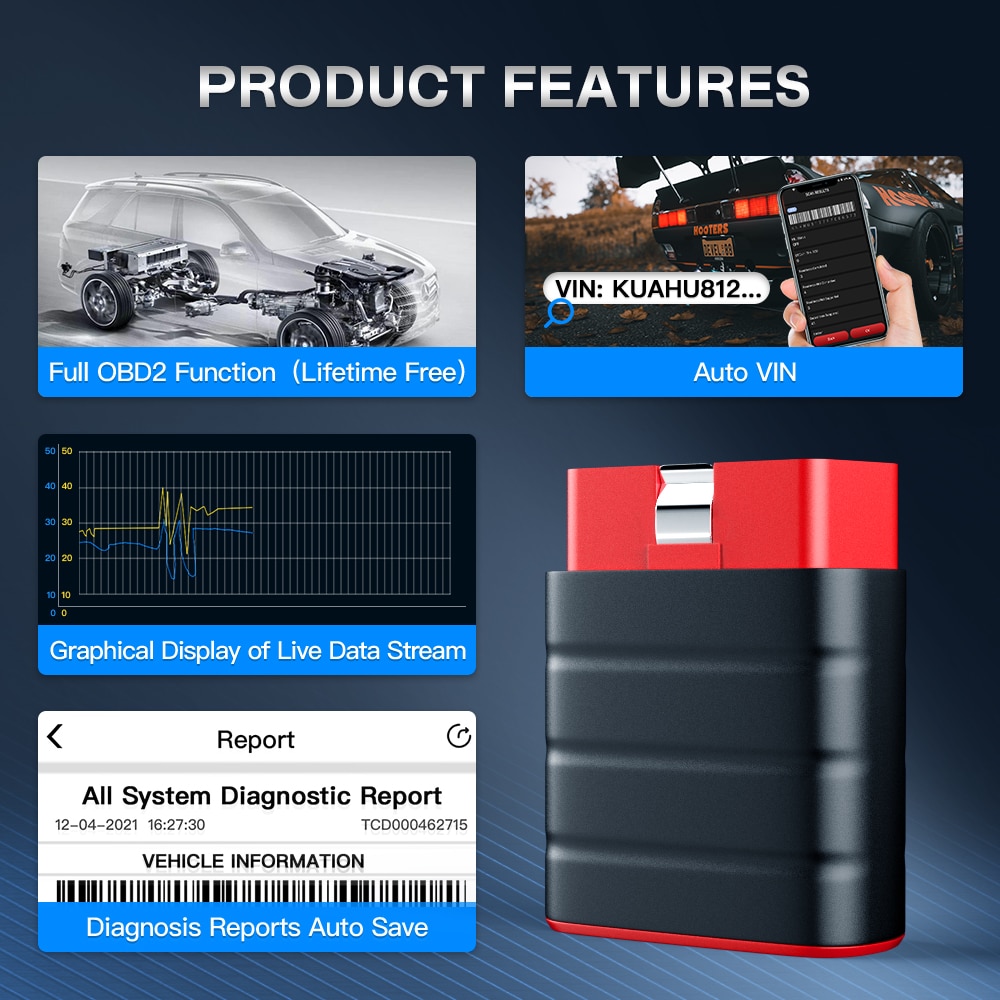 Description
THINKCAR THINKDRIVER
OBD2
Automotive Scanner Car Diagnostic Oil
ABS
EPB Reset Function EOBD OBD 2
Code Reader
Scan Tools
Why need THINKDRIVER wireless diagnose adapter ?
THINKDRIVER is a smart Bluetooth diagnostic tool from LAUNCH Tech subsidiary for DIYers and car owners, which is extremely close to professional diagnostic tools. Besides the full OBD-II diagnostic and 15 kinds of reset service functions, THINKDRIVER supports the vehicle's full system diagnostics to help you know every module in the car. THINKDRIVER is perfect to use with our unique Android & IOS App. Easy and convenient, anytime and anywhere. it's time to say goodbye to normal OBDII dongle diagnostic adapter!
THINKDRIVER ALL 10 Mode OBDII/EOBD Functions:
Mode 01---Request current powertrain diagnostic data.
Mode 02—Request freeze frame information.
Mode 03—Request emissions-related diagnostic code
Mode 04—Clear/reset emissions-related diagnostic information.
Mode 05—Request oxygen sensor monitoring test results.
Mode 06—Request on-board monitoring test results for specific monitored systems.
Mode 07—Request emission-related diagnostic trouble codes detected during current or last completed driving cycle
Mode 08—Request control of on-board system, test or component.
Mode 09—Request vehicle information.
Mode 0A—Request emissions-related diagnostic trouble codes with permanent status after a clear/reset emission-related diagnostic information.
THINKDRIVER Car All System Diagnose Function:
With superior all systems diagnoses, this multipurpose OBD2 scanner can be used to read all available systems' ECU information to facilitate the vehicle diagnosis. The complete systems vary from different cars and they usually include engine, transmission, ABS, SRS, SAS, TPMS, EPB and chassis / body / electrical equipment system etc.
* Examinate your car like a professional mechanical technician
*Read DTCs from the vehicle's all electronic control systems to locate problem areas, and offer solutions;
*Erase the codes easily after DTCs retrieving and certain repairs have been carried out and turn off fault Indicator lamp;
*Live data shows each sendor parameter item displayed in analog, text, waveform graph modes etc.;
*The active test used to access vehicle-specific subsystem and component tests.
15 Maintenance Reset
This OBD2 scanner is specially designed to provide you with quick access to the vehicle systems for various scheduled service and maintenance performances. There is some commonly-used special reset services are listed for your reference:
1.Oil Lamp Reset Service :
allows you to perform reset for a new calculation of engine Oil Life system once changed the oil.
2.EPB service:
it is important in the maintenance of electronic braking system's safety and efficiency.
3.BAT battery service :
allows the scan tool to evaluate the battery charge state, monitor the close-circuit current, register the battery replacement, and activate the rest state of the vehicle.
4.DPF service :
specially works for Diesel Particulate Filter system with DPF regeneration, DPF component replacement teach-in and DPF teach-in after replacing the engine control unit.
5.SAS service:
helps clear the fault steering angle sensor memories and plays an important role in the steering angle sensor calibration.
6.TPMS service :
makes sense in displaying sensor IDs from the vehicle's ECU, inputting TPMS sensor replacement IDs and testing sensors.
7.IMMO Key Programming:
the unique car key programming and read pin code function, it is mainly used to disable the lost vehicle keys and program a new replacement key fob.
8.ABS Bleeding :
ABS brake bleeding to get a firm brake pad after air exhaustion after repair ABS pump system
9.Sunroof Reset:
The sunroof memory generally needs to be reset when the vehicle's battery is replaced or the car dies
10.Suspension Reset:
Try reset electronic suspension air ride with the massage system close all doors koeo flip through measage system go to suspension reset or on off
11.Gearbox Reset
Procedure Reset Transmission Adaptive Learning DIY. Start the car and drive. Once you perform this procedure the Engine Control Unit (ECU) and Transmission Control Unit (TCU) will work together to learn how you drive by monitoring your driving pattern. After you follow this programing method of the TCU / ECU drive the car.
12.AFS Headlamp Reset
'AFS' means Adaptive Front lighting System (at night with the Bi-Xenon headlights) it swivels either side, pressing that button means they stay pointing straight ahead and don't turn when you turn the steering wheel
13.Injector Coding
Leaking injectors and some dead injectors can be missed even when an injector is disabled. Otherproblems with the ignition system and mechanical components also may not show an rpm loss when aninjector is turned off
14.Throttle Adaptation
The throttle body is a tube containing a pivoting flat valve (butterfly) that is used to control the amount ofair entering an engine. In an electronically fuel injected car, a throttle position sensor and air flow sensorcommunicate with the computer, which supplies the corresponding amount of fuel needed at the injectors. It must need re-learning throttle sensor position after clearing or repair
15.Gear Learning:
The scan tool monitors certain camshaft position sensors signals to determine if all conditions are met to continue with the procedure for Engine running
15 Kinds of Reset Service
Full System Diagnosis
Full OBD2 Functions
Free One Vehicle VIN Software
The OBD function is free for life, and the reset function is $9.9 per function per year, which can be added as required.
NEW Updates
Free Full System Diagnose for 3 Car's VIN
More Car Brands were Contained
Easy to Use
Compatible With US, ASIAN and EUROPEAN 1996 and Never Vehicles
Thinkdriver Automotive Scanner APP menu supports languages:
Chinese, English, Italian, German, Japanese, Russian, French, Spanish, Portuguese
THINKCAR Thinkdriver OBD2 Scanner Professional Support more than 105 Car Brands
In order to deliver on its vehicle diagnosis features, THINKDRIVER requires the purchase by your vehicle's VIN code through the app. If you have more than three vehicle, you'll need to purchase by each vehicle's VIN code, even if they are both from the same vehicle brand. Each VIN code purchase can be used for 1 year.

Notice:please kindly offer your car brands model year, and what function do you want to us , we will check it it can support your car or nor.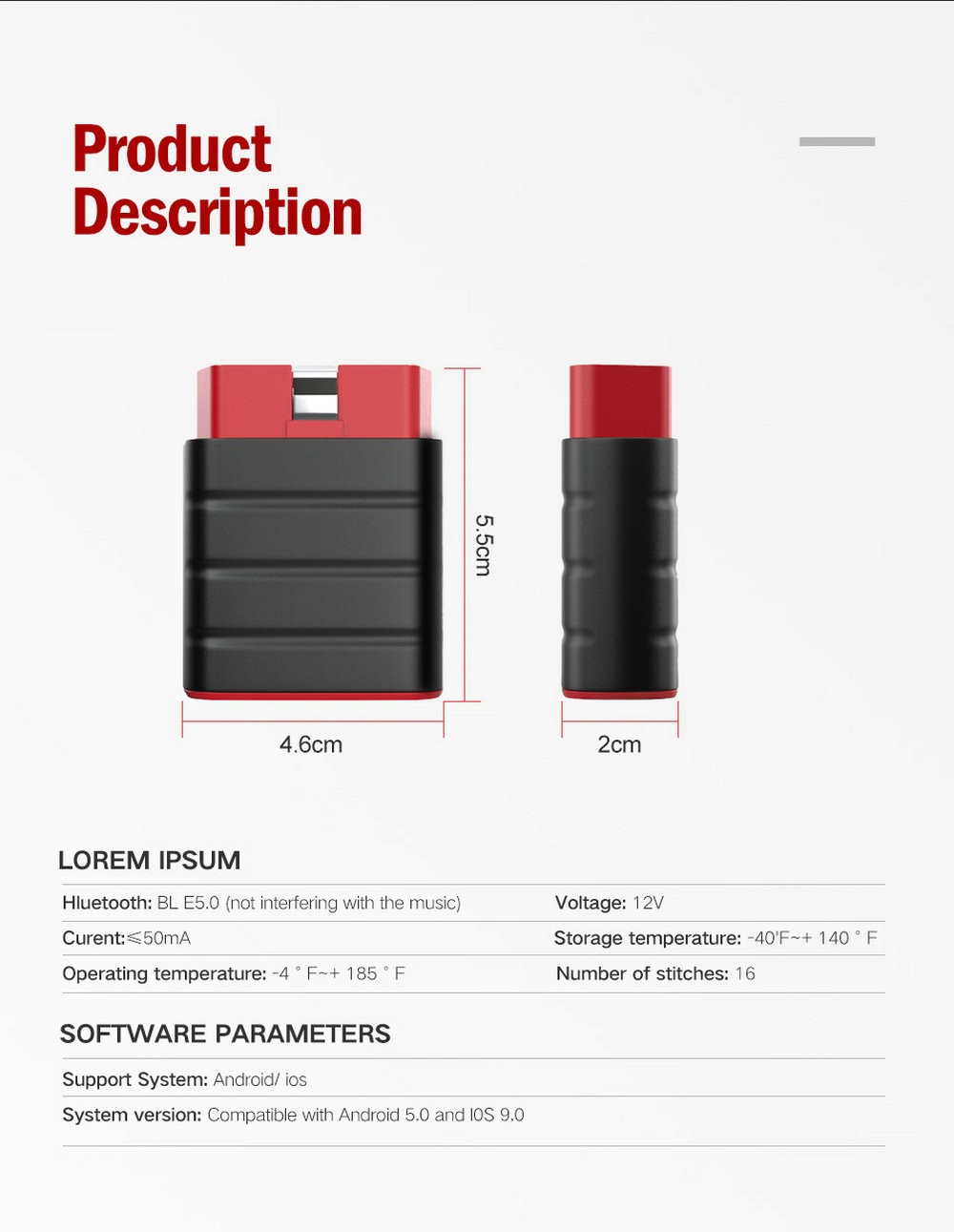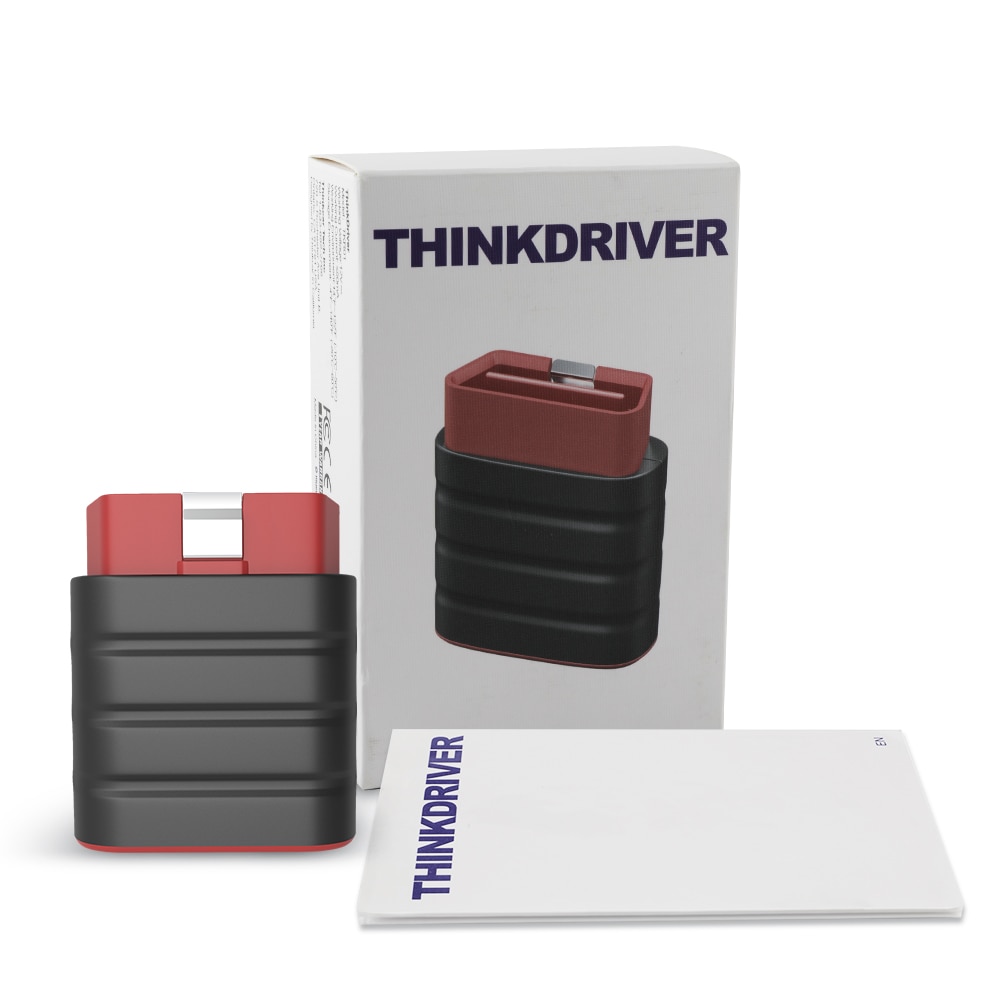 Reviews

18
#1 FaifsCawsCits FaifsCawsCits
Apr 9, 2021

Got, installed, proga found it, from the internet is untied, tomorrow i will check again, while i like everything
#1 Jesse Rawski
Apr 9, 2021

now I have the product, now i can learn to use it. NO QUESTIONS ON USE! Google is your friend, learn to search. Thank you & recomended seller
#1 Jaime Coelho
Jun 9, 2021

Very good. Arrived before the deadline.
#1 jongphil Kim
Mar 9, 2021

Product as advertised. Delivery superápida. Recommend to everyone.
#1 ASSIBA MAHJOUB
Jun 9, 2021

Good product Good quality excellent
#1 Ghatami Mir Iman
Jun 9, 2021

The goods were sent quickly.
#1 HerbertZR HerbertZR
May 9, 2021

Good seller! Super fast shiping! this THINKCAR THINKDRIVER OBD2 Automotive Scanner Car Diagnostic Oil ABS EPB Reset Function EOBD OBD 2 Code Reader Scan Tools is good quality, working very well
#1 Alex Borodin
Apr 9, 2021

very good salesman always available and very helpful. I will buy again at the seller.
#1 josh hilliker
Feb 9, 2021

fast
#1 jonnnnew jonnnnew
Apr 9, 2021

Recommended store, high quality item, best price!
Previous: ANCEL S3000 Upgraded Car Smoke Leak Detector Exhaust Smoke Meter Machines Leak Locator Automotive Diagnostic Of Pipe Systems
Next: ThinkCar 2 Professional OBD2 Auto Scanner for iOS Android OBD 2 Car Diagnostic Code Reader Function as THINKDRIVER