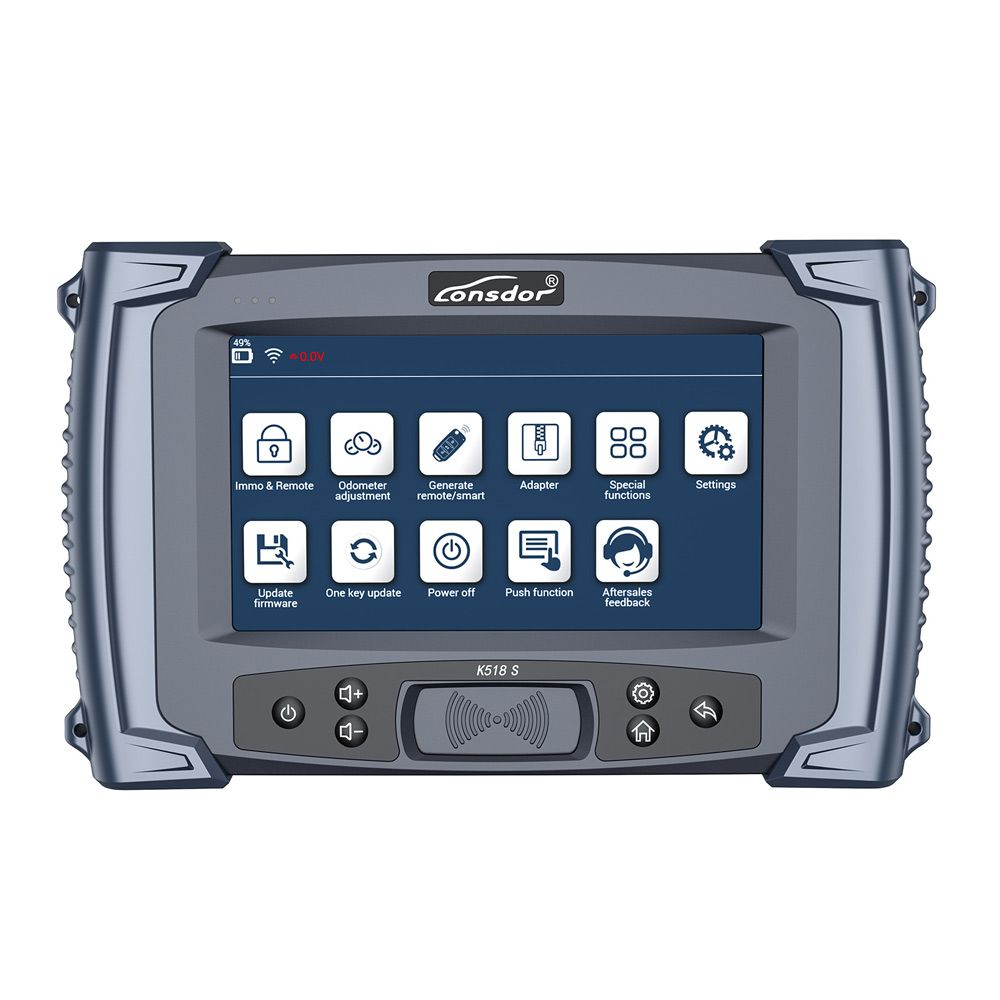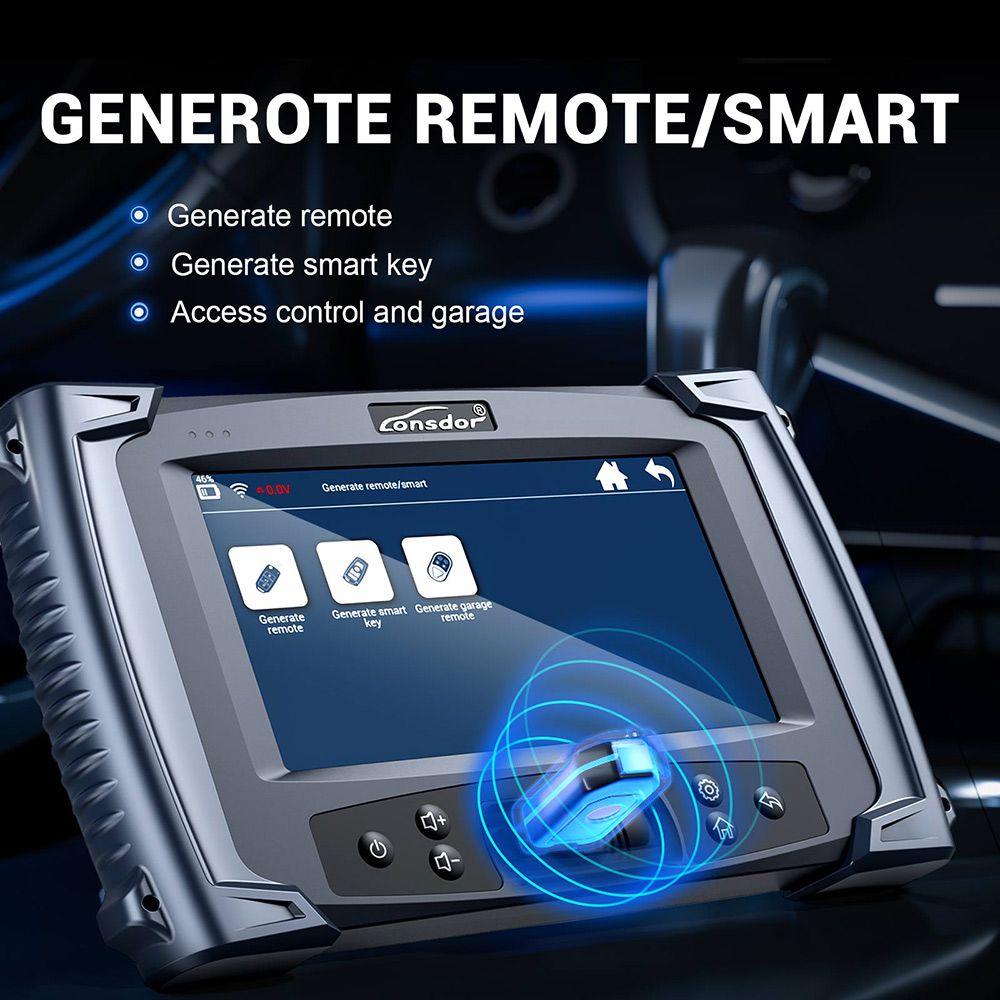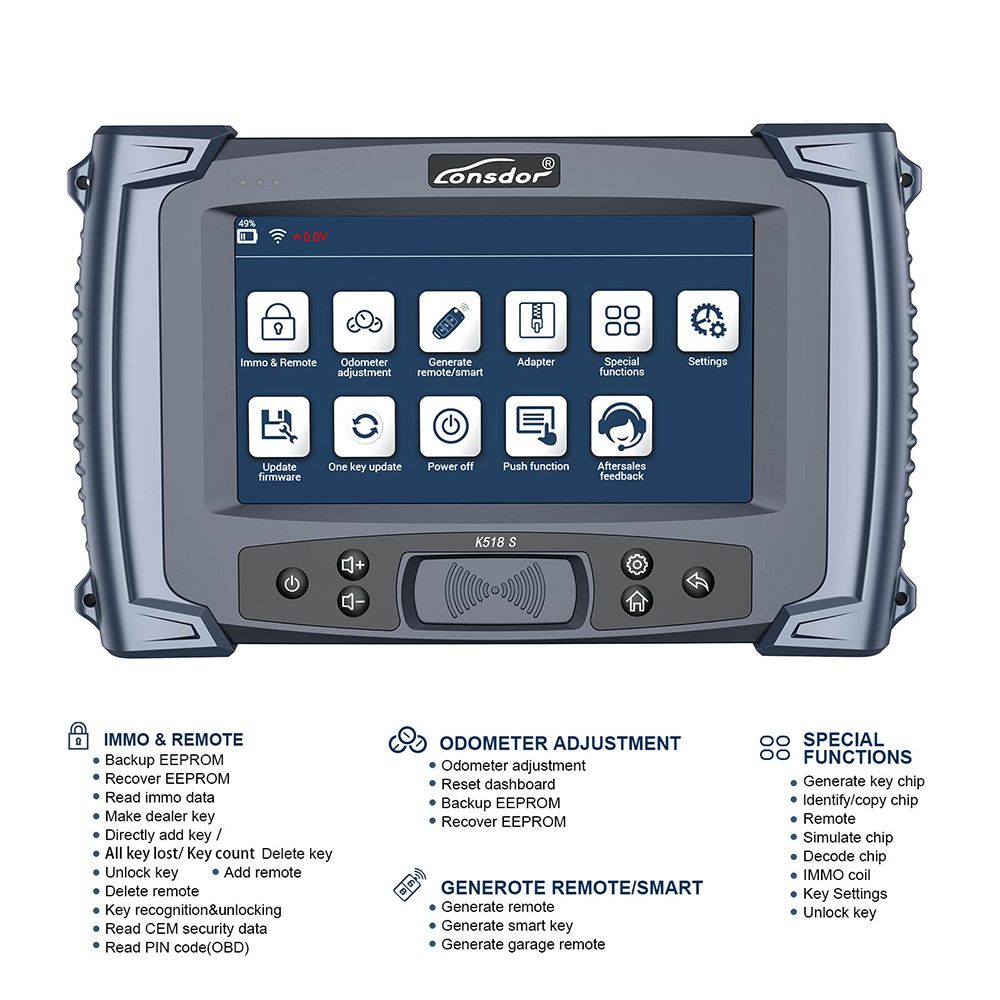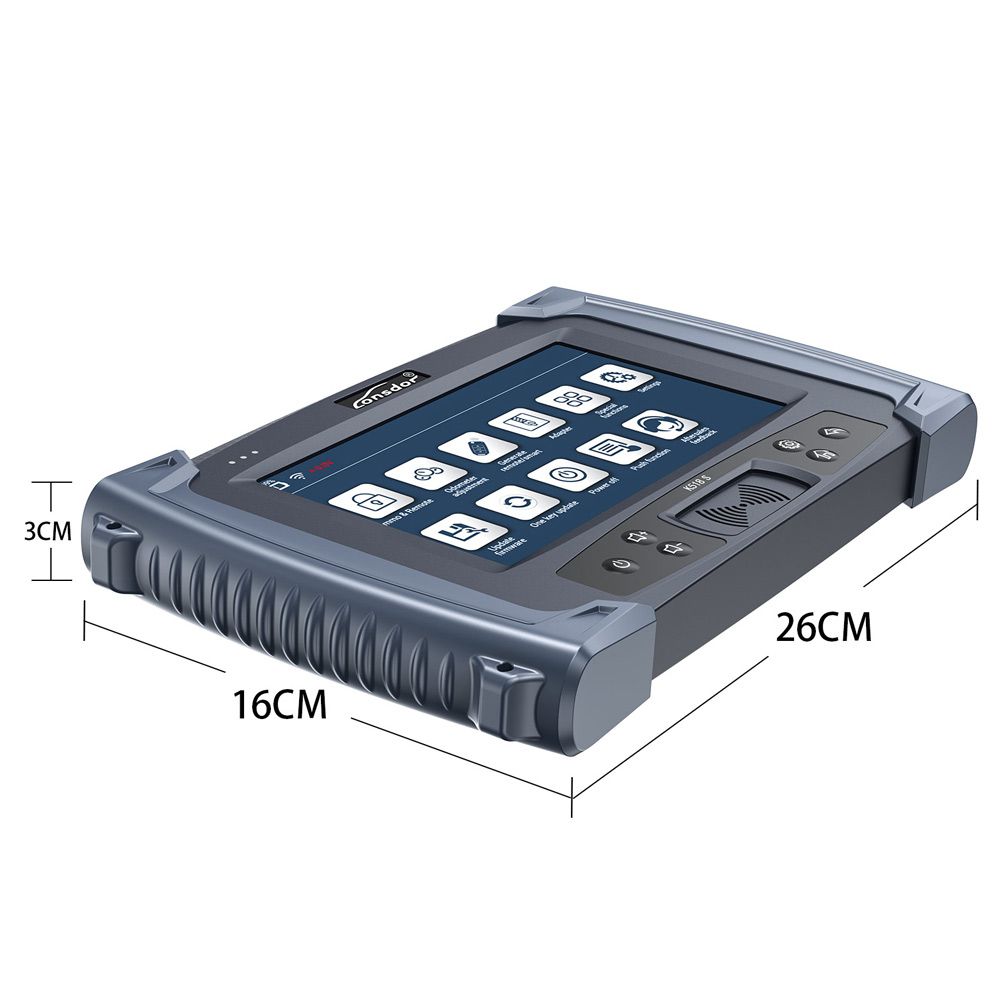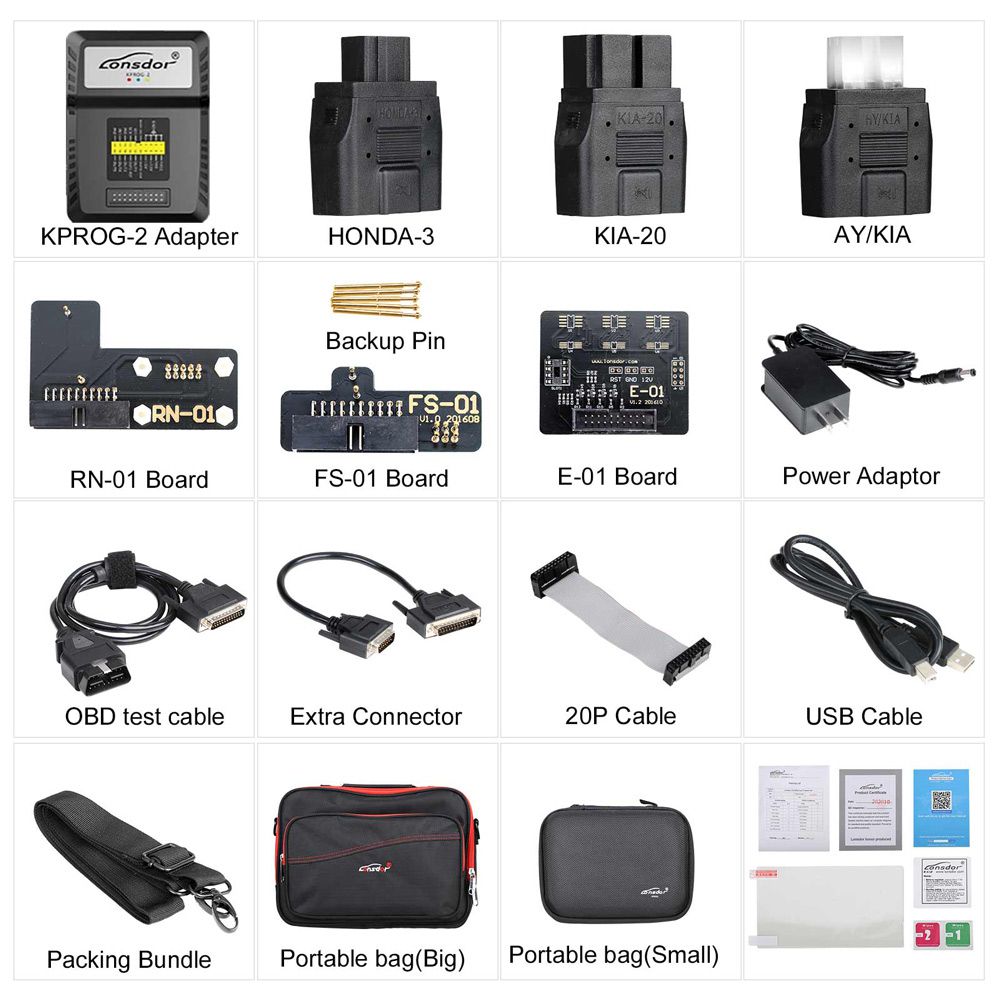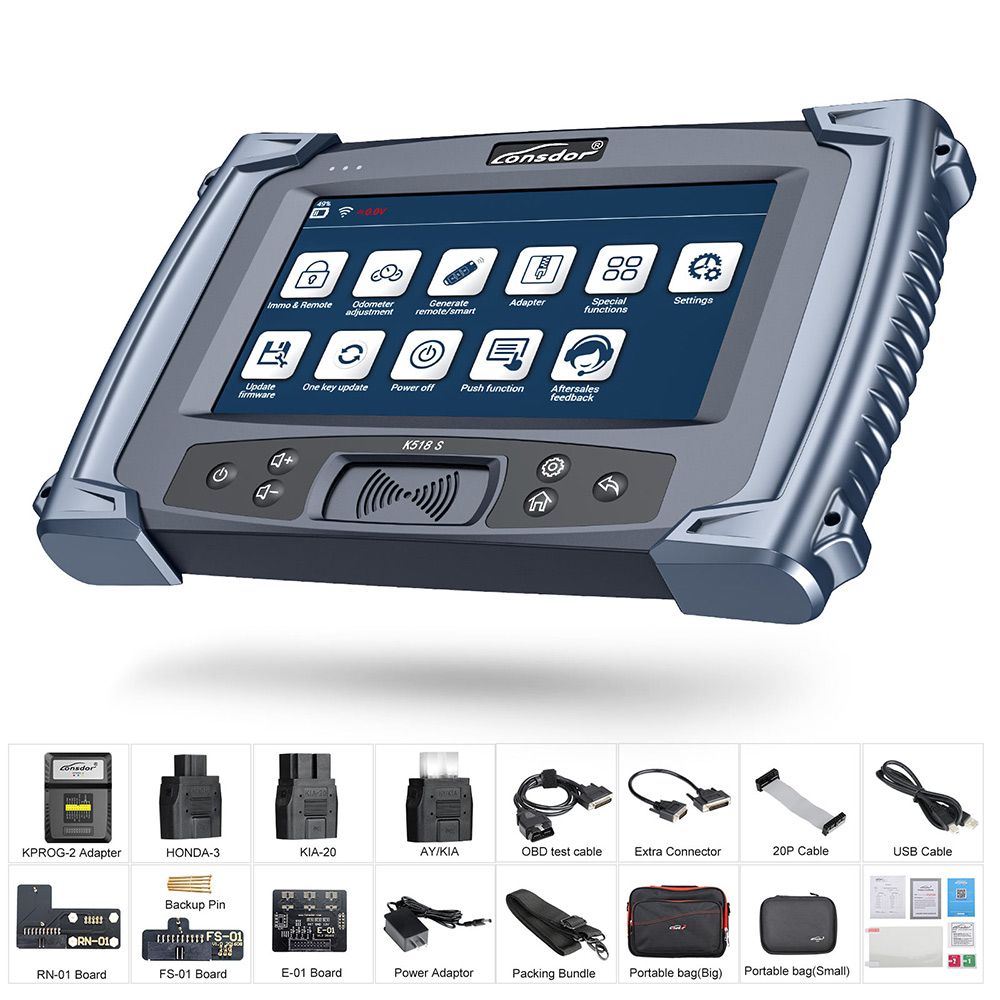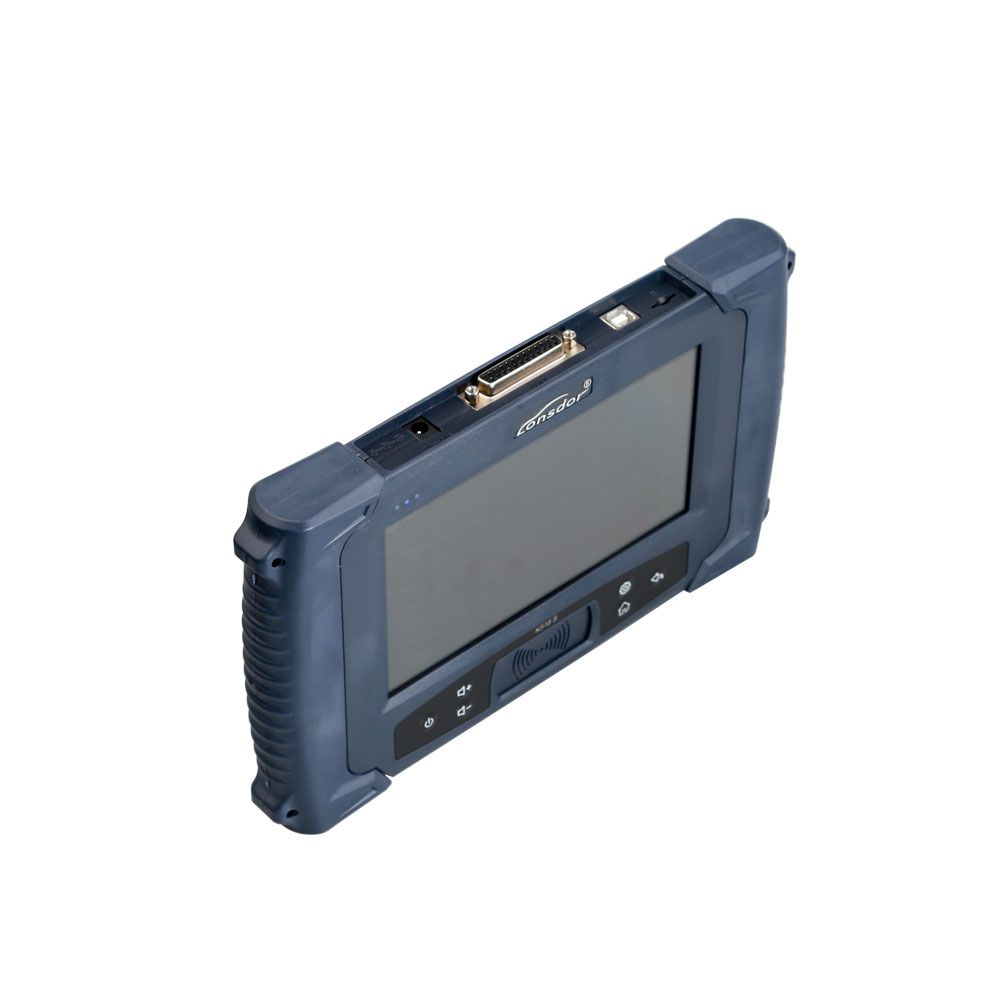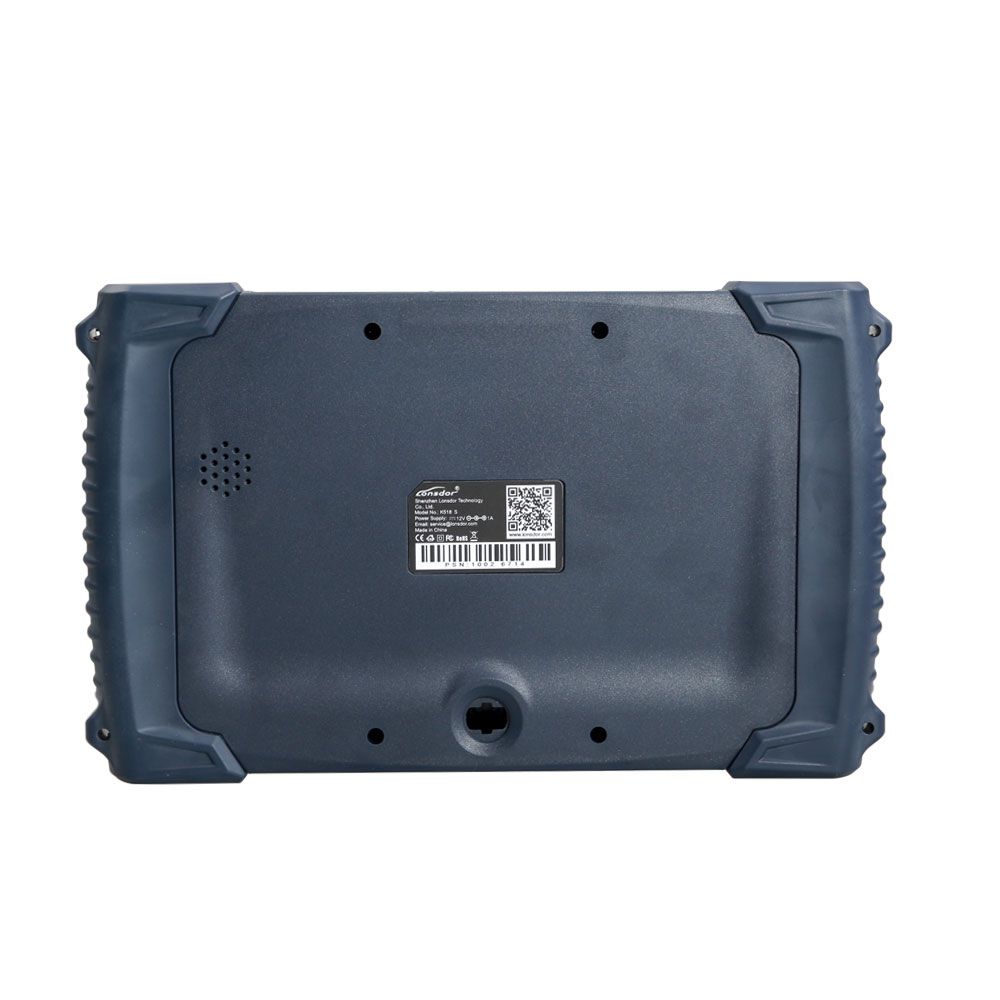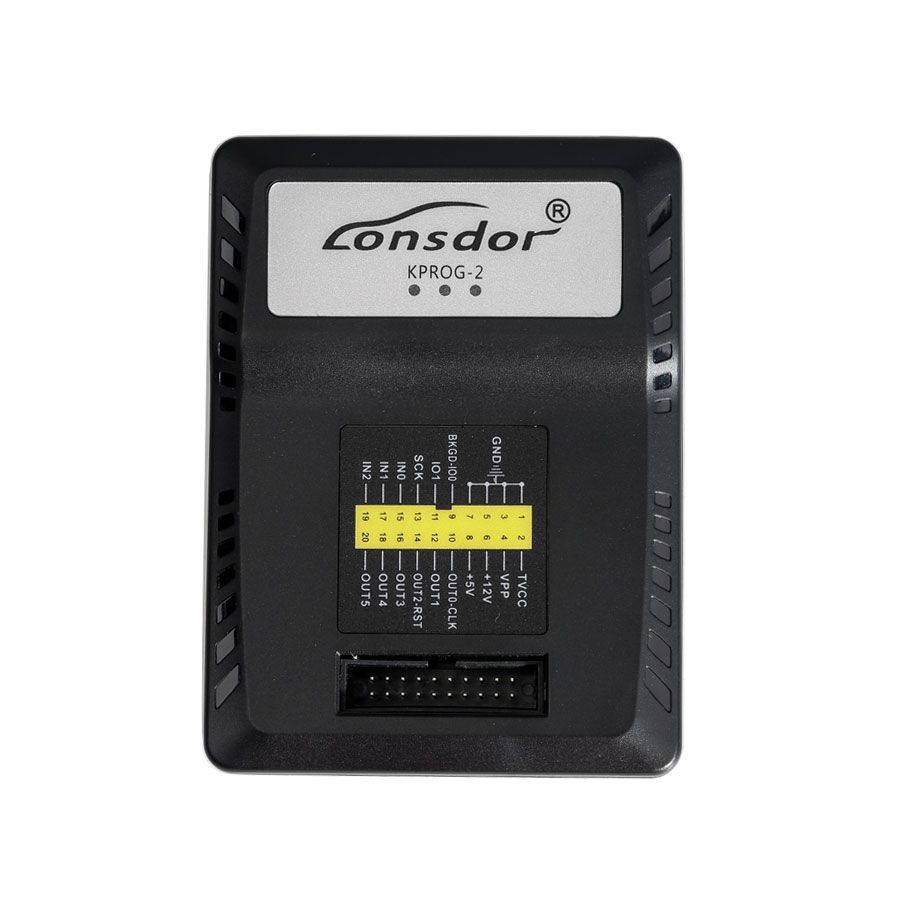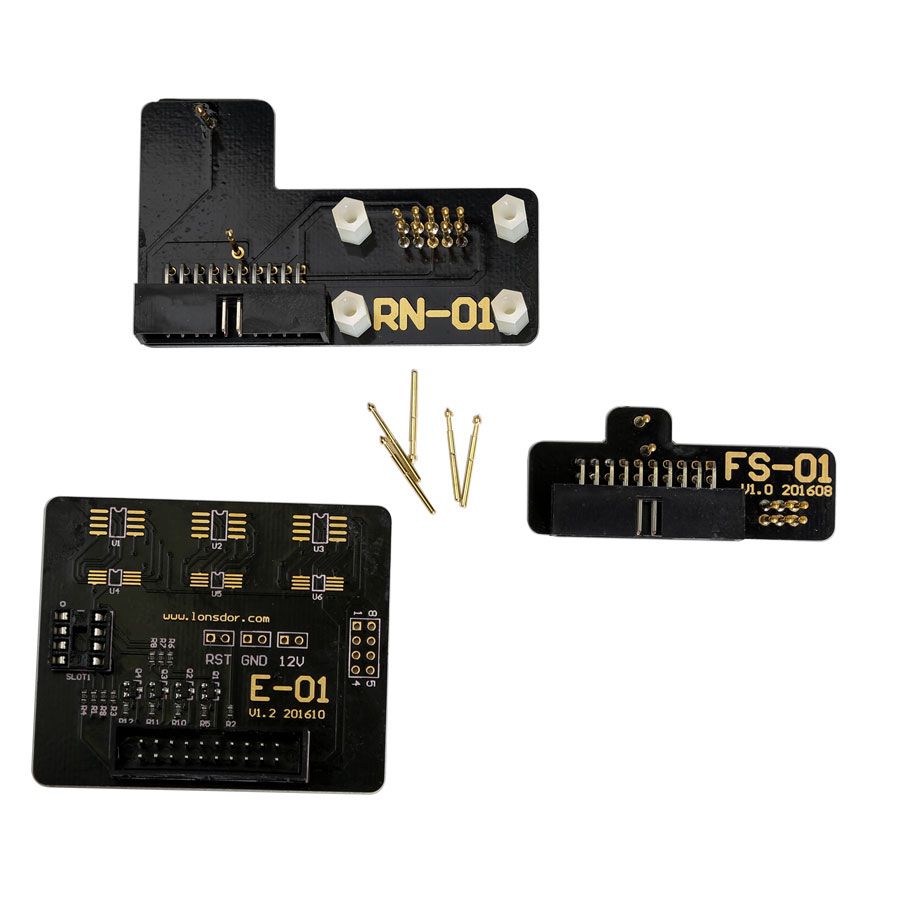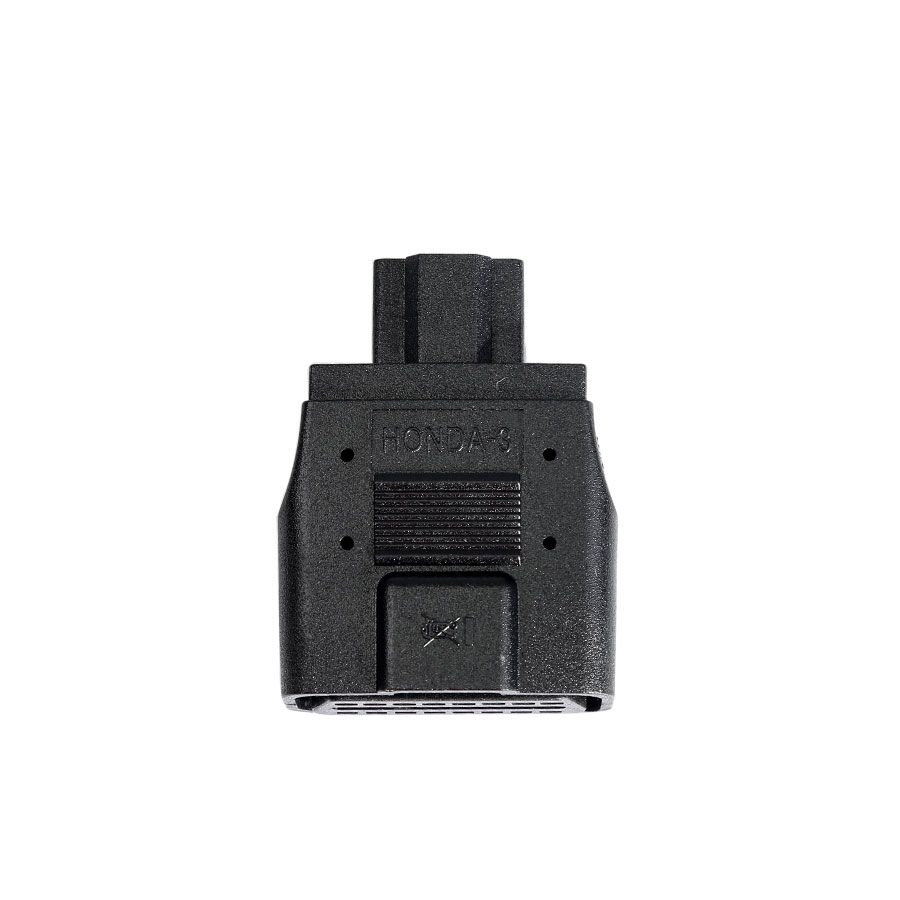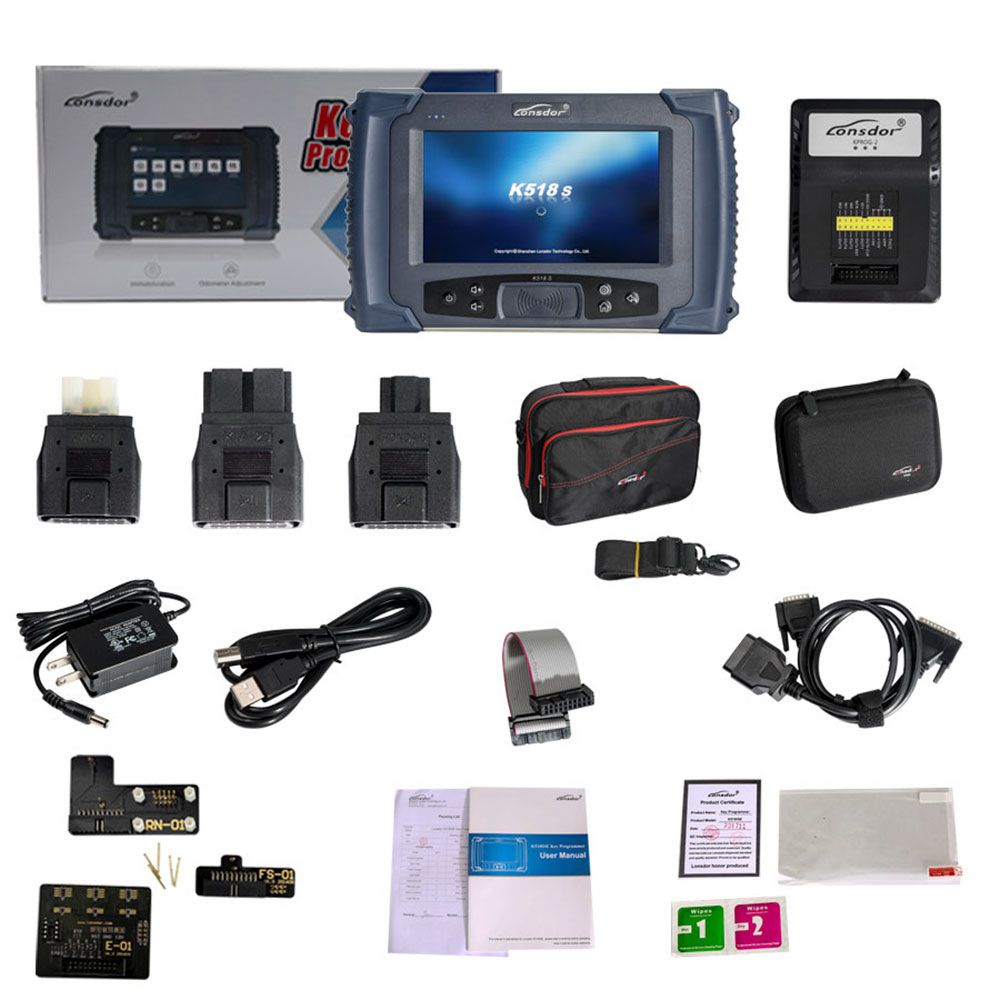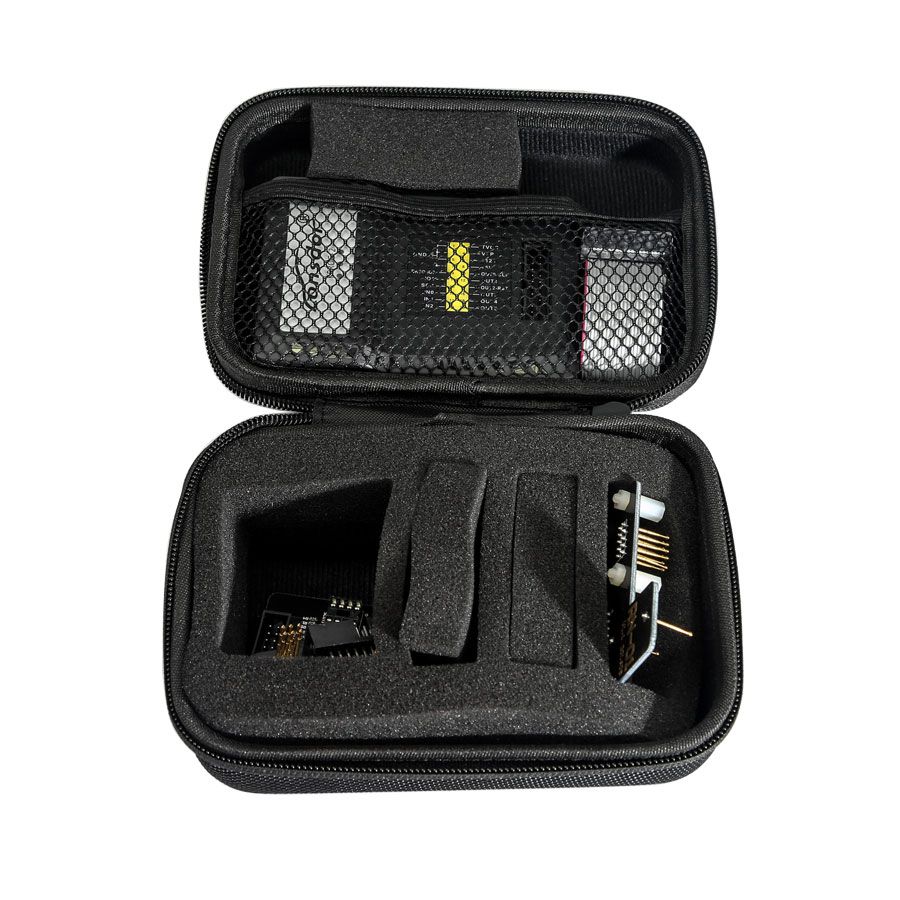 Description
Lonsdor K518S Key Programmer Full Version
Top 6 Reasons to get Lonsdor K518S Full Version:
Language: English
Update: One key update online
No Need Token for all cars
Covers all functions of SKP1000 and Lonsdor K518ISE
Support Toyota all Key lost
All menus free use for 18 months
LONSDOR K518S Key Programmer Menus are divided into two parts: free menus(black color in list) and subscribed menus (red color in list).
Free menus are free use for lifetime.
Subscribed menus can be used free for 18 months (Only for this link). You need to pay for them after the free period.
Second Year Subscription, $600
Third Year Subscription, $300
K518S main functions:
Immobilization
Built-in Volkswagen 4th 5th adapter
Built-in Chip & remote detection module.
Free BMW FEM key programming
Lonsdor K518S Key Programmer Special features:
Volvo (S40, S60, S80, XC60, XC90, C30, C70, V40, V60, V70) key programming.
Toyota/Lexus: smart key all key lost - via OBD ( without dismantle)
BMW CAS3/CAS3+/CAS3++: direct OBD programming
BMW CAS4/CAS4+: dismantle & read data programming
16 -New Maserati: smart key programming
16 -New Ford: smart key programming
Renault ( Megane, Koleos, Scenic) without PIN code key programming
VAG group 4th & 5th immobilizer system
Ferrari (458, F12, F149): direct OBD programming
Cars coverage list for immobilization:
Europe:Audi, BMW, Benz, VW, Volvo, Citroen, Ferrari, Maserati, Fiat, Lamborghini, Jaguar, MG, Land Rover, Bentley, Lancia, Opel, Peugeot, Porsche, DS, Renault, Alfa Romeo, Smart, Borgward
Asia:Honda, Hyundai, Isuzu, KIA, Lexus, Mazda, Mitsubishi, Nissan, Ssangyong, Subaru, Suzuki,Toyota, Shigaoka Queen
China: Iveco, Trumpchi, BYD, Geely, Chery, Great Wall, Young Lotus (Basically all Chinese car models are included)
Odometer Adjustment Car List:

VW, Porsche, Ford, Jaguar, Land Rover, Mazda, Audi, Renault, Hummer, Hyundai, Kia...
Note: more high-end cars will be updated very soon.
Note: K518S is still under rapid upgrading, more functions and be released soon, please refer to our website www.lonsdor.com foalso you can "One key update" for the latest version by yourse
K518S Key Programmer features:
OS: based on Android
WIFI networking ensures software upgrading more convenient.
No need to plug memory card, or connect the computer with data cable, more flexible in online upgrading, updating and activating.
with USB-B2.0 standard connector, OBD-II test cable integrated with the diagnostic connector function of the adapter.
The speed is greatly accelerated, working efficiency is improved, better time saving.
7 inches high brightness, high definition color IPS capacitive screen
3800mAh polymer battery
Support external memory expansion, better within 32G
Built-in professional, powerful operation assistant system
K518S Key Programmer Function Description:

Please pay attention to below function description before using the device.
Immobilization: immobilizer system diagnosis
Odometer Adjustment: mileage diagnosis and correction
Hardware testing: test if the hardware can function well
Adapter: after dismantling, diagnose certain car models
Setting: set up basic device information
Update firmware: adapter firmware upgrade & update (connect KPROG adapter
with OBD test cable and connect K518ISE with 12V power supply)
One key upgrade: click to update to the latest system data
Shutdown - turn off the device
Lonsdor K518ISE can program Toyota/Lexus smart key all key lost via OBD by working with Lonsdor LKE Smart Key Emulator 5 in 1 (optional)
Lonsdor LKE Smart Key Emulator=SKE-LT Smart Key Emulator 4pcs+ SKE-LT-DSTAES 128 Bit Smart Key Emulator 1pc
SKE-LT: Smart Key emulator - Toyota/Lexus smart key for all key lost via OBD.
Black: SKE-LT-DST40(94/D4) -Supports 94/D4 smart key.
Red: SKE-LT-8A(88/A8)-Support 88/A8 smart key.
Green: SKE-LT-DST80(98)-Supports 98 smart key.
Blue: SKE-LT-8A(A9)-Supports A9 smart key.
Orange smart key emulator for chip 39 (128bit) test car models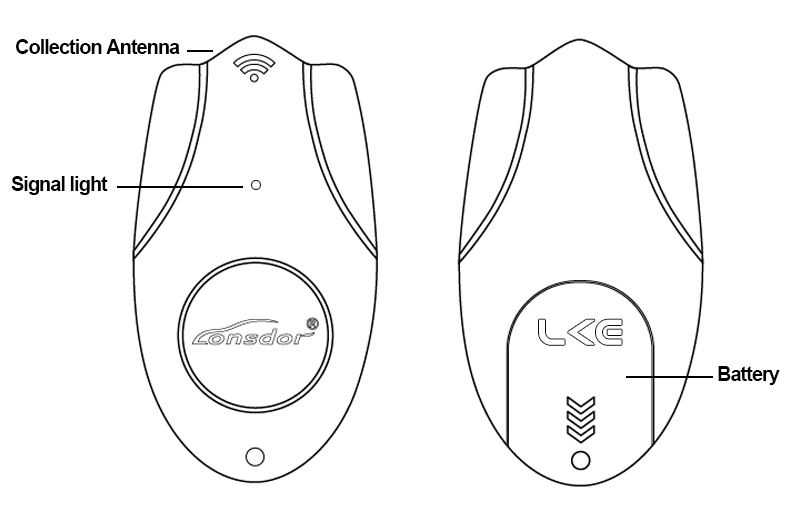 Collection Antenna: place one end of antenna into K518 card slot to operate.

Signal light: State ① start to work. (the light will go on)
State ② collecting...( the light will flash)
State ③ finished. ( the light will go out after 3 secs)

Battery: standard CR2032

Lonsdor K518ISE Main interface: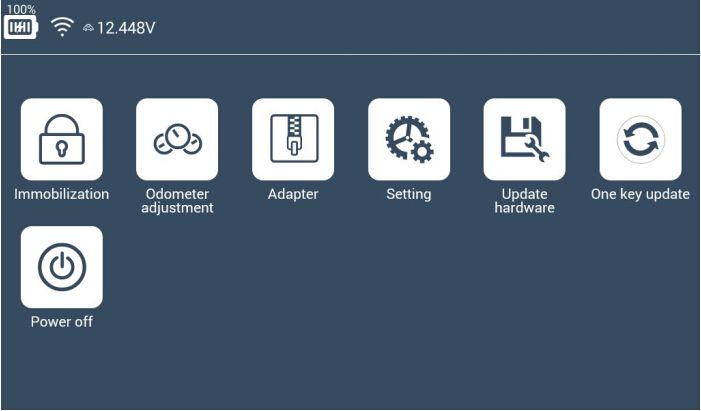 Lonsdor K518ISE Setting interface: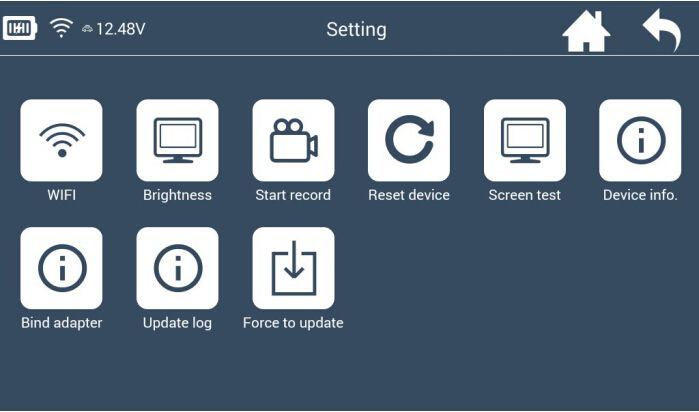 K518S Key Programmer Technical Parameter:
RFID Support: 125KHz ASK;
134.2KHz FSK
Battery capacity :3800mAh
CPU:ARM Cortex-A7 Quad-core
Processor Speed 1.34GHZ
Power supply :DC12V 1A
WIFI communication distance :10m
Power port:5.5x2.1mm
Display:1024x600, 7 inch IPS
capacitive screen
OBD port: OBD-II
Memory :eMMC 8G RAM 1G
Comm port: USB2.0-type B
KPROG: support programming MCU and EEPROM on ECU circuit board.
Package includes:
1 x Portable Bag(big)
1 x Main Host
1 x Power Adaptor
1 x USB Cable
1 x Packing Bundle
1 x OBD Test Cable
3 x Extra Connector
1 x Londor K518 S User Manual
1 x Portable Bag(small)
1 x KPROG Adapter
1 x RN-01 Board
1 x E-01 Board
1 x FS-01 Board
1 x 20P Cable
5 x Backup Pin
1 x Certificate
Reviews

16
#1 gerometta stephane
May 9, 2018

All OK very fast delivery…
#1 sanga sangakey
Nov 9, 2018

Everything is ok. Thank you to the seller.
#1 Daniele Grilli
Dec 9, 2018

Okay.
#1 marc verville
Aug 9, 2018

Equipment as far as well. I did already two cars. I am happy
#1 Vincent Frenette
Aug 9, 2018

The product is excellent all works
#1 gdrinkardsprin John
Jul 9, 2018

fits my machine perfectly
#1 Dennis Lucas
Mar 9, 2019

works just as the original this LONSDOR K518S Key Programmer Full Version Support Toyota All Key Lost 2019 New Car Key Programming Tool is good quality, working very well
#1 Conor Murphy
Dec 9, 2018

Great product very attentive wonderful store will negotiate more times with this team am very satisfied.
#1 keith owen
Jan 9, 2019

All is ok, very fast shipping and good quality.
#1 tautbalrY tautbalrY
Dec 9, 2018

super voundre
Previous: SD Connect 16PIN OBD2 Cable for MB SD C4 Connect Compact 4 Star Diagnosis
Next: LONSDOR K518S Key Programmer Basic Version No Token Limitation Support All Makes Update Version of SKP1000