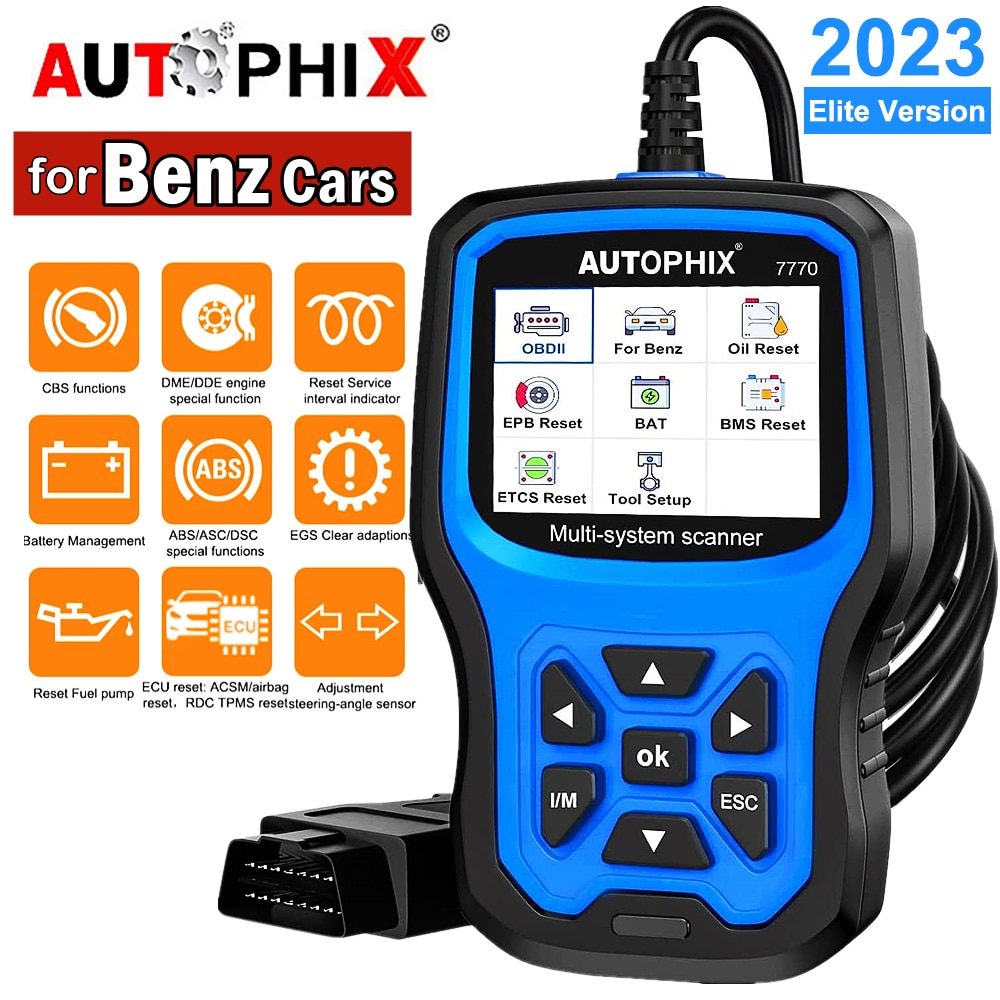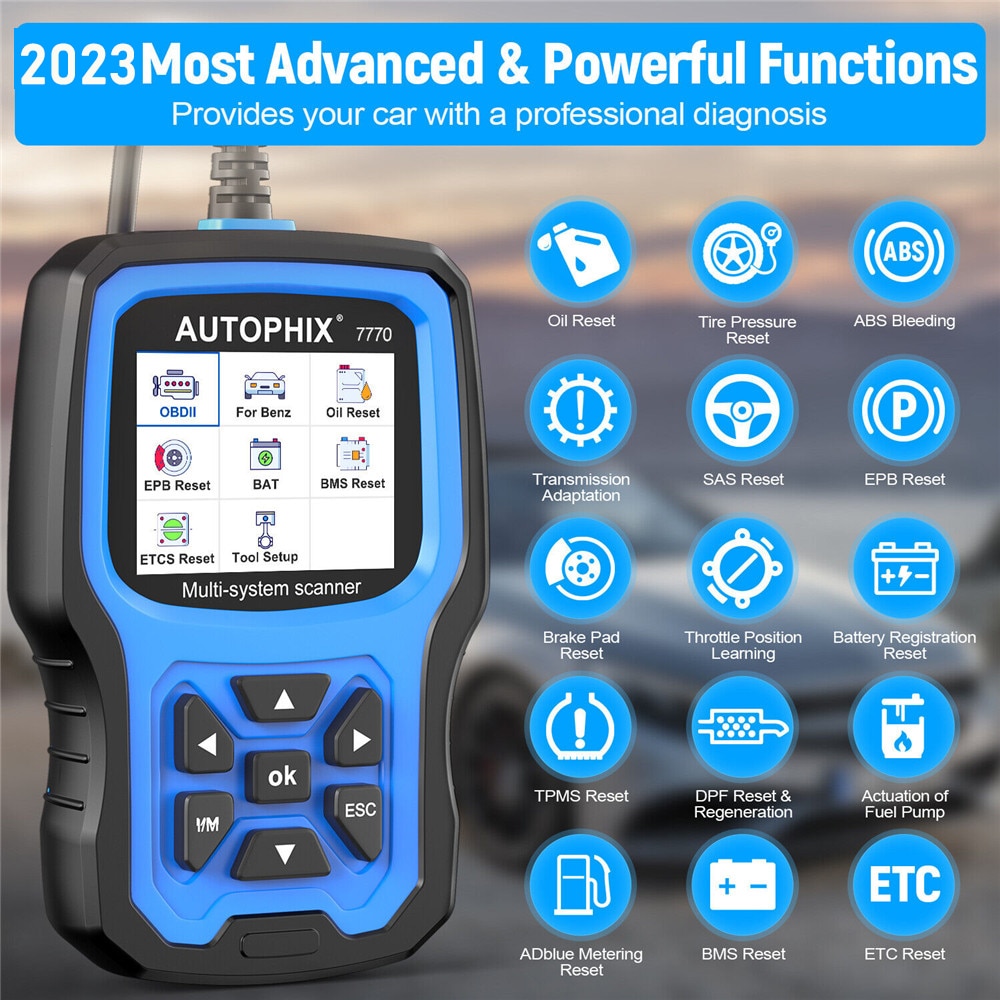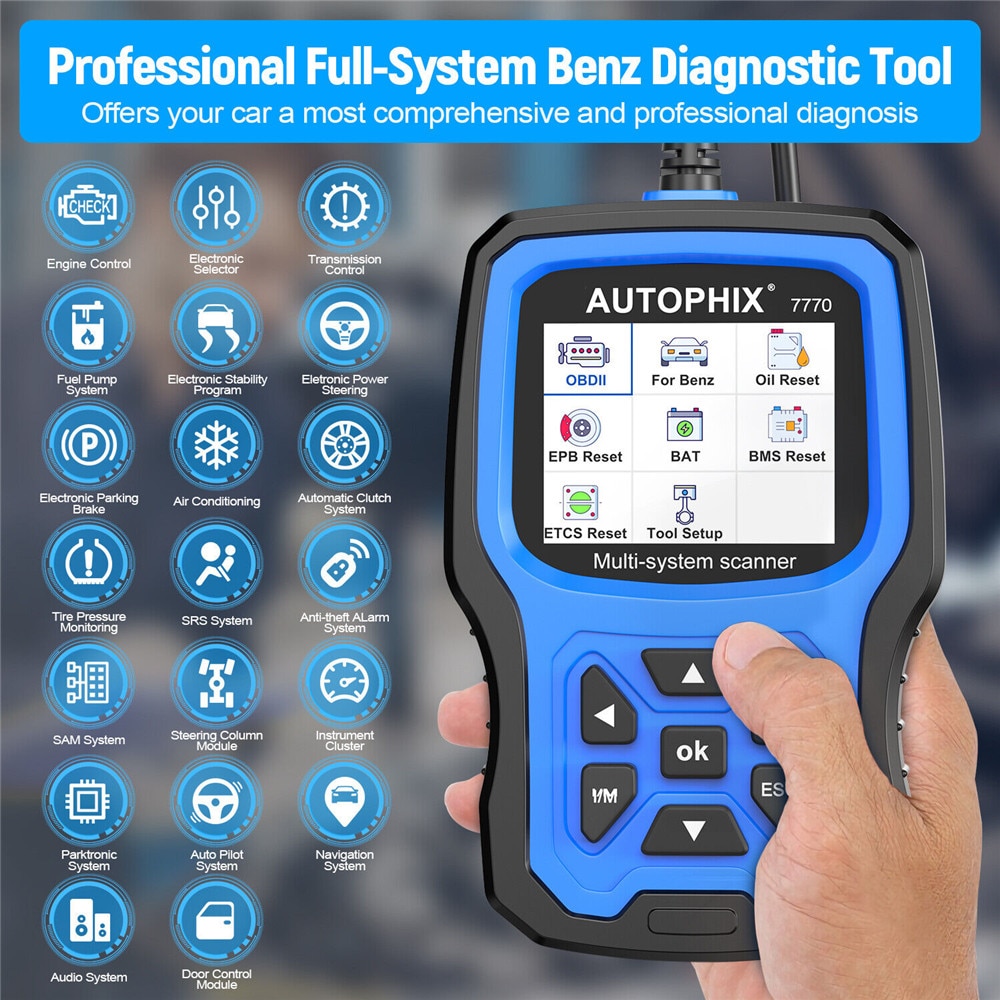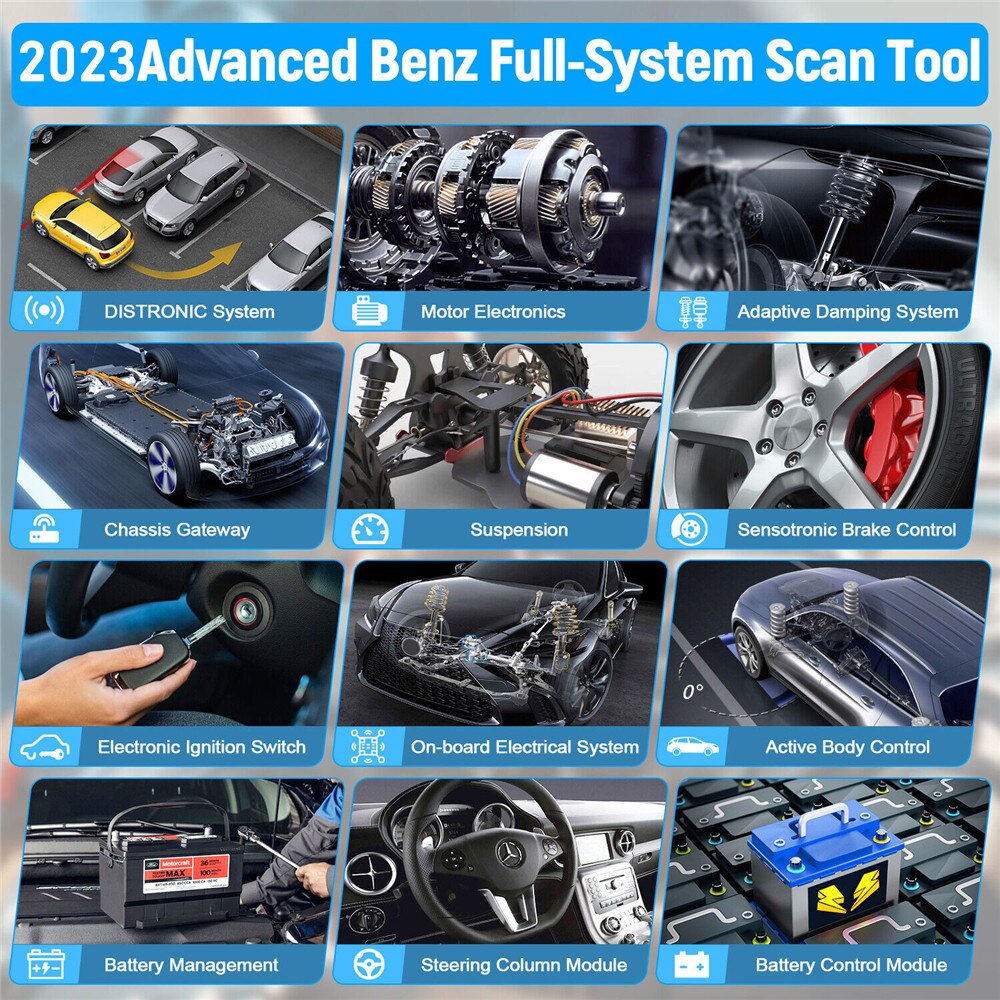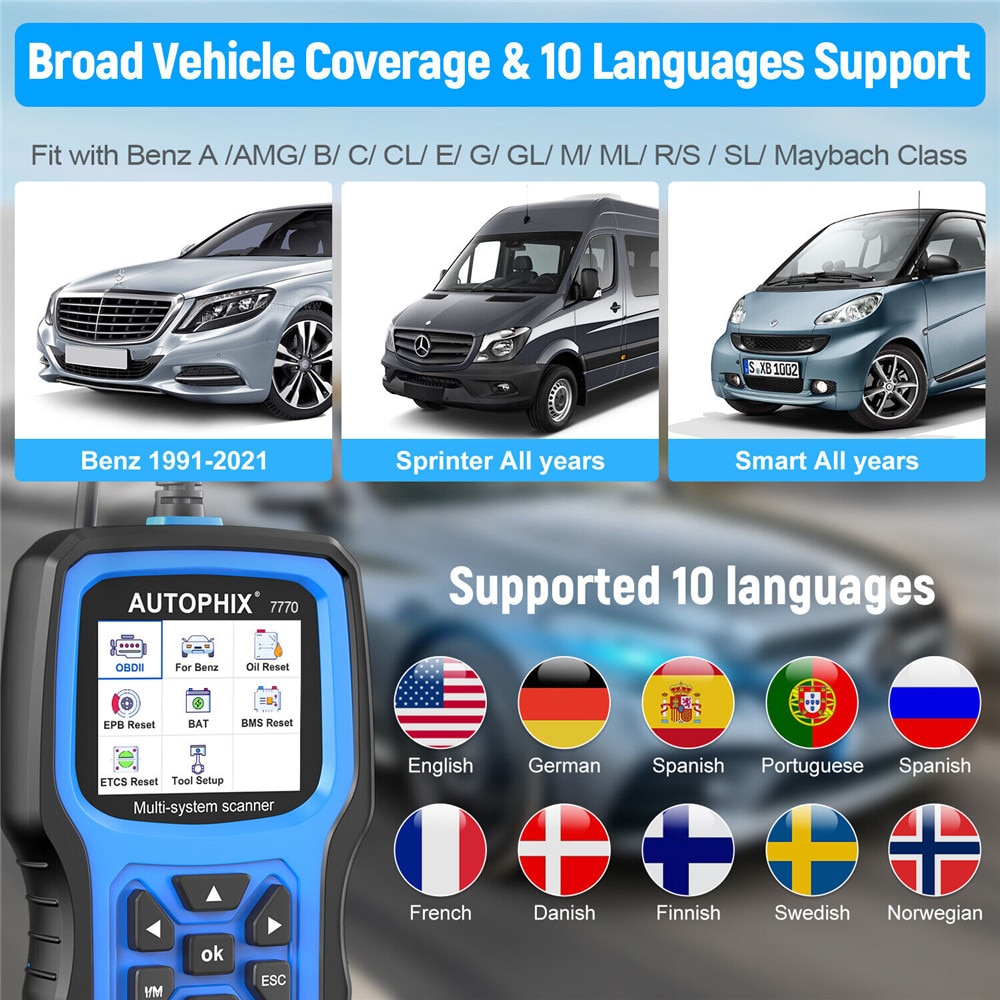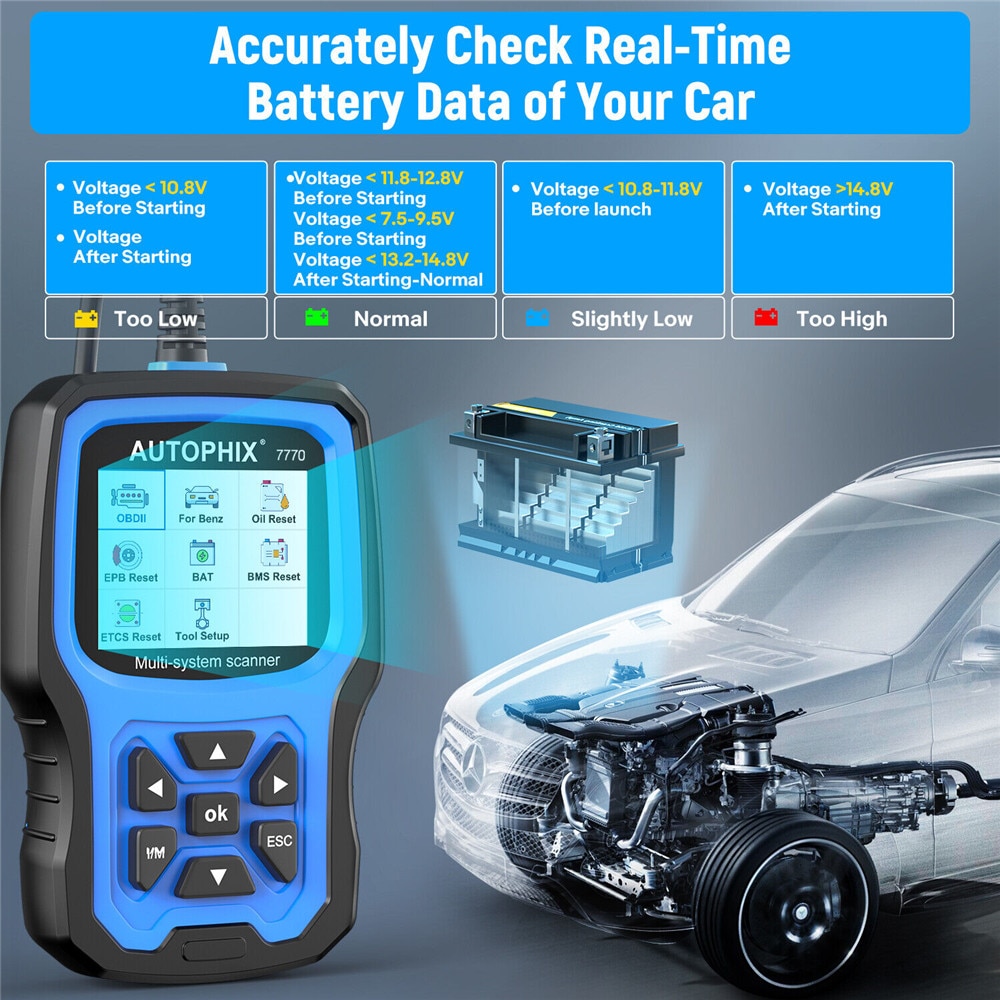 Description
Autophix 7770 is a professional for
Benz
vehicles most systems, that quickly detects
engine
,
ABS
, airbags, transmission, instruments and other control systems.. and also a universal tool to detect
engine
system for other brand vehicles.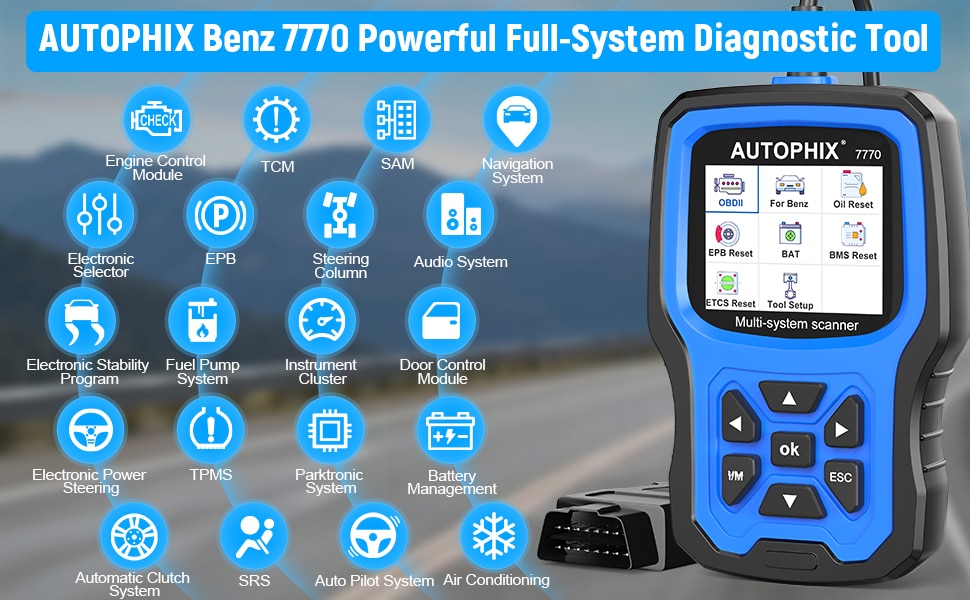 Supports models
Only compatible with Mercedes cars whose
OBDII
interface is 16-pin and voltage 12V from 1991 to 2020. Not compatible with Mercedes-Benz cars with 38PIN interface and new models after 2020.
Notice
1. The OBDII interface of Mercedes-Benz vehicles must be 16PIN to support;

2. Vehicle support range of Mercedes-Benz series: 2000-2020. (Old cars before 2000, new cars after 2020 are not supported.)

3. Vehicles with 38PIN are not supported ( doesn't work for older Mercedes-Benz cars) ,as follow:

107 (1971-1989),
124 (E Class 1984-1994)
129 (SL Class 1989-2001)
126(S Class 1979-1991),
140 (S Class 1991-1998),
170(SLK Class 1996-2004),
201 (190 1982-1993)
202(C Class 1993-2000),
208 (Up to 2002),
210(E Class 1995-2002),
461 (G Class)
463(G Class 1990-)

4. All the functions described in the product, not necessarily all cars have these functions, please consult before purchasing.

5. There are special functions, but the support functions of different cars are definitely different.
After the customer purchases, upgrade first and then test.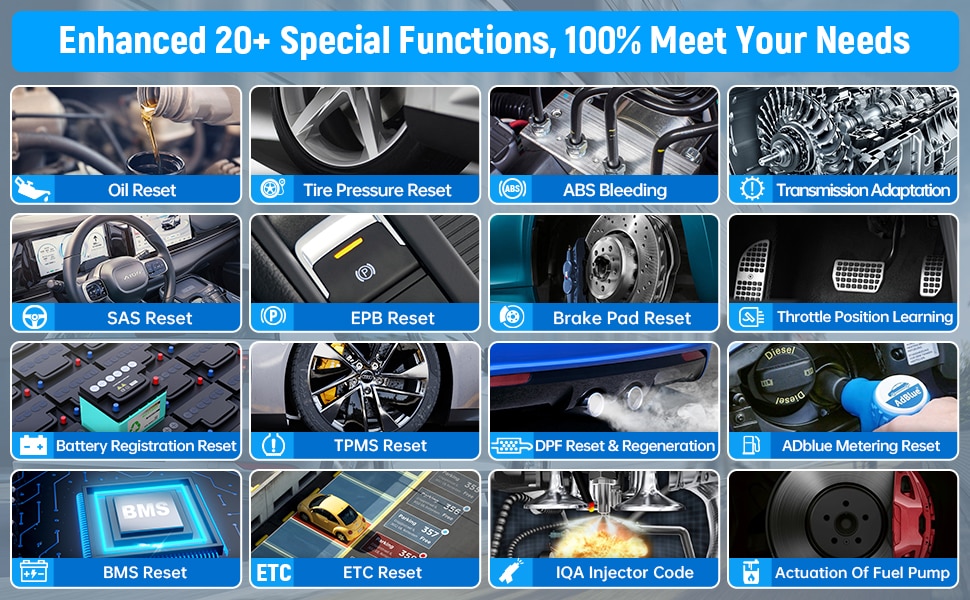 Basic functions:
Read Fault Codes, Erase Fault Codes, Read Datastream, Version Information.
Support All Car Module:
engine
Control Module, Electronic Selector Module, Electronic Stability Program, Transmission Control Module, Steering Column Module, Instrument Cluster.
Electronic Parking Brake:
Reset the brake pad after repairs in electronic parking brake system are done. Deactivate and activate the brake control system, assist with brake fluid control, open and close brake pads, etc.
Electronic Power Steering:
When the vehicle is unstable, based on the calculation of the CPU, the electronic power assist system can independently brake each wheel and participate in the management of the engine system to ensure the safety of driving.
Allows you to check the tire sensor IDs from the vehicle and to perform
TPMS
programming and reset after tires sensors are replaced or rotated.
SRS is a device that expands the airbag to protect the passenger before the second collision occurs called Supplemental Restraint System (
SRS
).
ABS
automatically control the braking force of the brake when the car is braking, so that the wheels are not locked and in the state of edge rolling slip (slip rate is about 20%) to ensure the maximum adhesion between wheels and ground.
SAS System:
Allows you to perform calibration of the steering angle sensor, which permanently stores the current steering wheel position as straight-ahead in the sensor EEPROM. After calibrate sensor successfully, its fault memory will be automatically cleared.
Battery Matching System:
Allows the scan tool to evaluate the battery charge level, monitor the short circuit current, register the battery change, activate the vehicle hibernation mode and charge the battery via the diagnostic socket.
A/C (Air Conditioner) System:
Supports routine maintenance of air condition modules, such as air conditioning system adaption reset, rese air conditioning compressor, run in air conditioning compressor, stepper motor initialization.
Basic Function for Benz vehicles
Read Fault Codes
Clear Fault Codes
Read Data stream
Version Information
Special function for Benz vehicles
1. Oil Service Light Reset: Allows you to reset the service lamps on the instrument cluster.
2. Tire Pressure Reset: Makes sense in displaying sensor IDs from the vehicle's ECU, inputting
TPMS
sensor replacement IDs and testing sensors.
3. ABS Bleeding: When the ABS contains air, the ABS bleeding function must be performed to bleed the brake system to restore ABS brake sensitivity.
4. EPB Replace Brake Pads: Allows you to perform service and maintenance, including deactivation and activation of brake control system, bleeding brake fluid, opening and closing brake pads, and setting brakes after disc or pad replacement, on where electronic brake systems are fitted. Diagnoses EPB caliper functionality, initializes the wear indicator if new pads installed and deactivates or re-activates brake control system.
5. Brake Pad Reset: EPB will be placed in maintenance mode with this function, and replacement of brake, brake disc and brake shoes are allowed. Electronic brakes need to do this action, but traditional mechanical brakes does not need to do it.
6. Battery Registration Reset, Transmission Adaptation.
7. Steering Angel Reset: Make the steering wheel in the middle position, that is to say the direction of the steering wheel is consistent with the straight forward position of the vehicle If steering wheel runs away or reset the sensor, do this corrective action.
8. DPF reset and regeneration: Clear PM (Particulate Matter) from the DPF filter through continuous combustion oxidation mode to stabilize the filter performance.
9. BMS Reset: Any electronic system that manages a rechargeable battery (cell or battery pack).
10. ETCS Reset: Reset learned value of Intake valve, when updating specific components, the parameters in the module should be reset or configured.
11. ADblue metering Reset: Some diesel vehicles may need to add urea, and the urea warning light needs to be reset after the addition is complete.
12. Actuation Of Fuel Pump: Diesel vehicles perform this function when the new fuel pump needs to be emptied or the fuel tank needs to be emptied after the fuel pump is replaced.
13. IQA injector code: Code new injector numbers to replace the previous one when installing the new injectors or after the replacement is completed.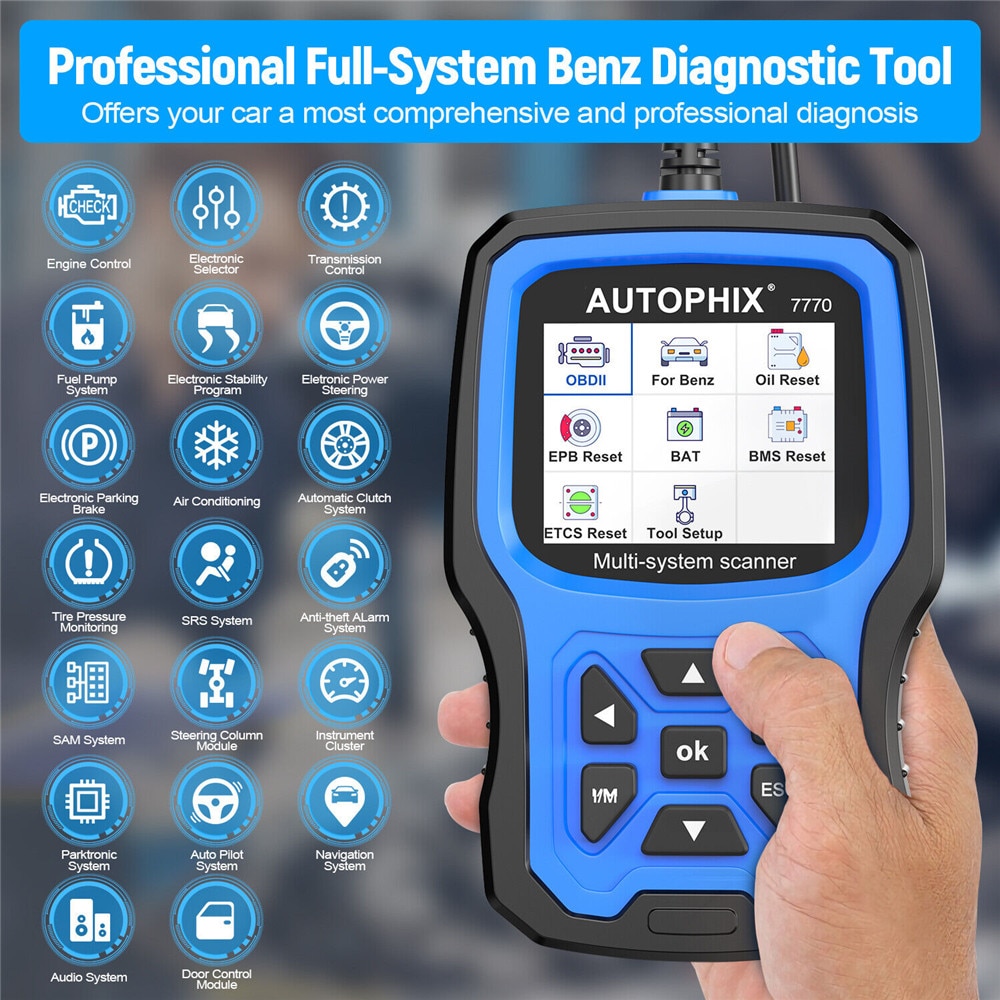 NOTICE:
Special functions not universal function , doesn't work for all car models , please confirm with us before purchase . thank you
OBDII Features
Read fault codes
Clear fault codes
Retrieve data stream
EVAP test
Vehicle information
I/M Readiness
BAT TEST
Graphical Battery Inspection
Better know your car's status with the live time battery voltage.

Before Ignition: <10.8V-- Battery Voltage Too Low, Need to Change Battery;

10.8V--11.8V-- Voltage Slightly Low, Maybe Difficult to Start Ignition;

11.8V--12.8V—Normal Battery Voltage, Good Battery Status!

After Ignition: 12.8V--13.2V-- Battery Voltage Too Low, Alternator Might Not Able to Charge;

13.2V--14.8V-- Normal Battery Voltage, Alternator Charging Normal.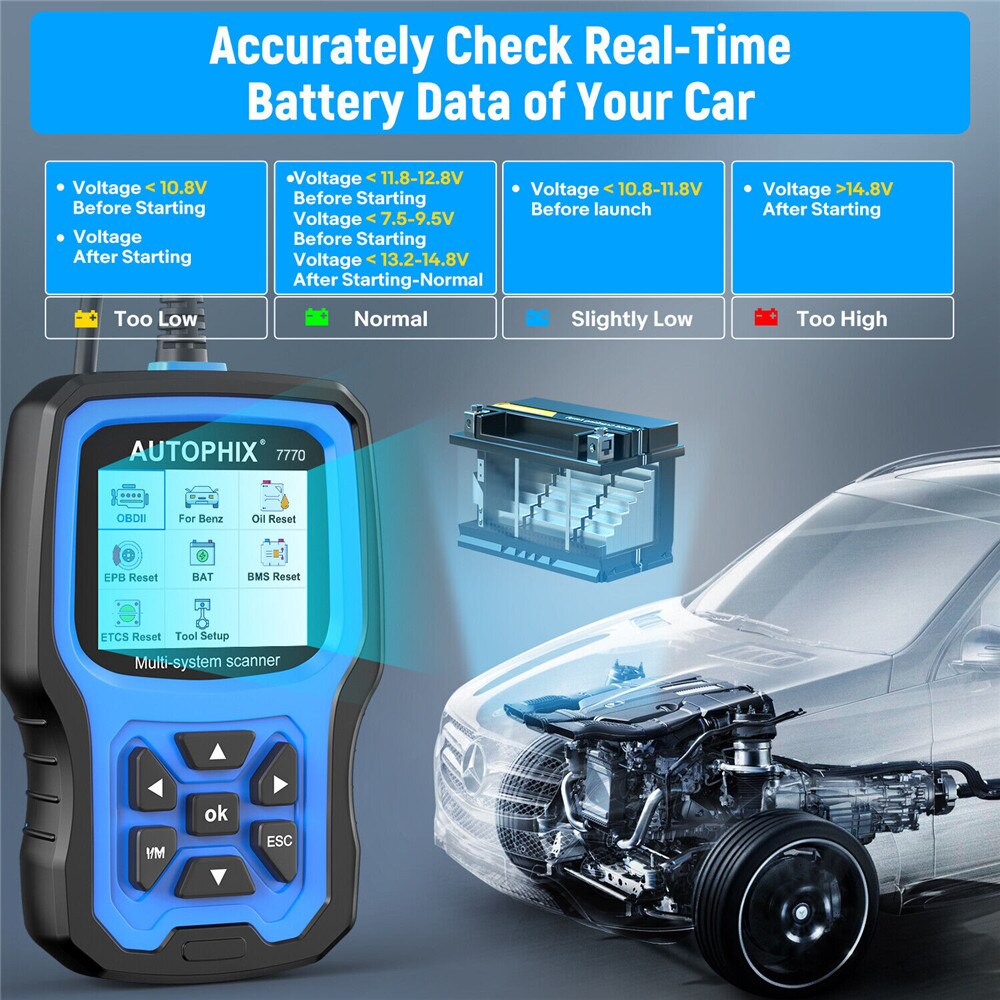 Features:
Display: Backlit, Colorful, 320x240 pixel
Operating Temperature: 0 to 60°C (32 to 140 F°)
Storage Temperature: 0 °C to 80°C (32 to 176 F°)
External Power: 8.0 to 18.0 V power provided via vehicle battery
Dimensions:170*97*29mm
Weight: 0.58kg
Previous: AUTOPHIX 3910 Bluetooth OBD2 Scanner for BMW/MINI/Rolls Royce Car Diagnostic Scan Tool EPB CBS ETC Battery Check Throttle Learn
Next: ANCEL A202 Automotive On-board Computer OBD2 Car Digital Speed Fuel Consumption Temperature Gauge OBD2 Scanner Tools