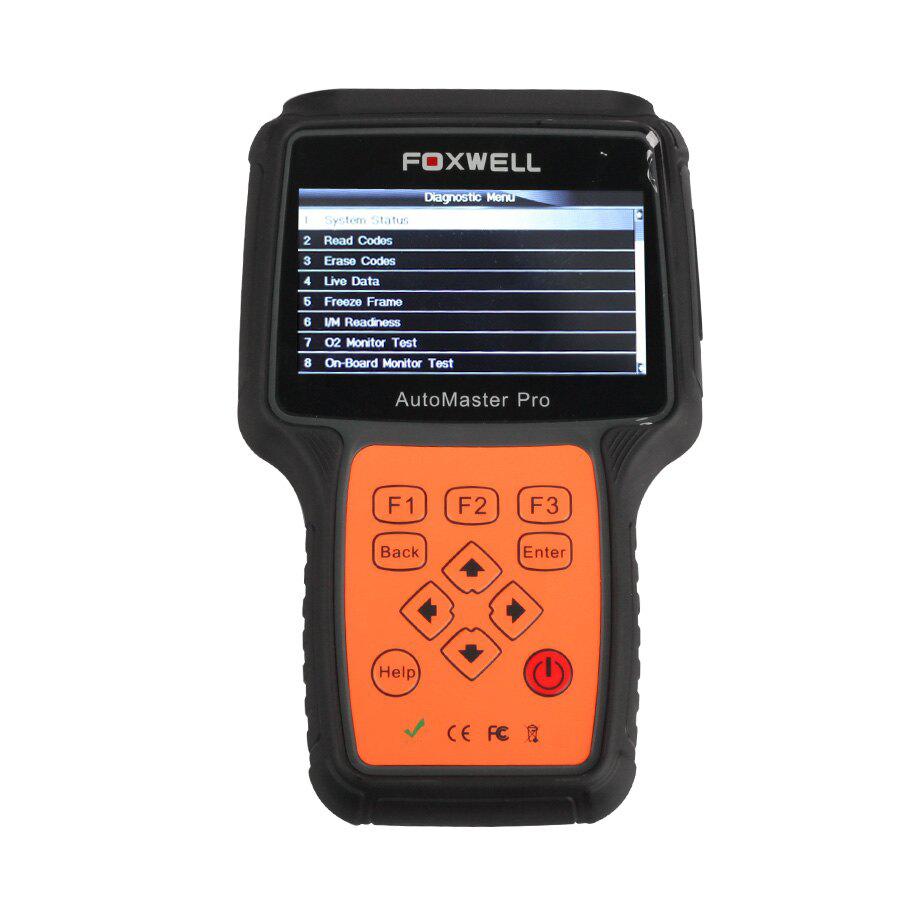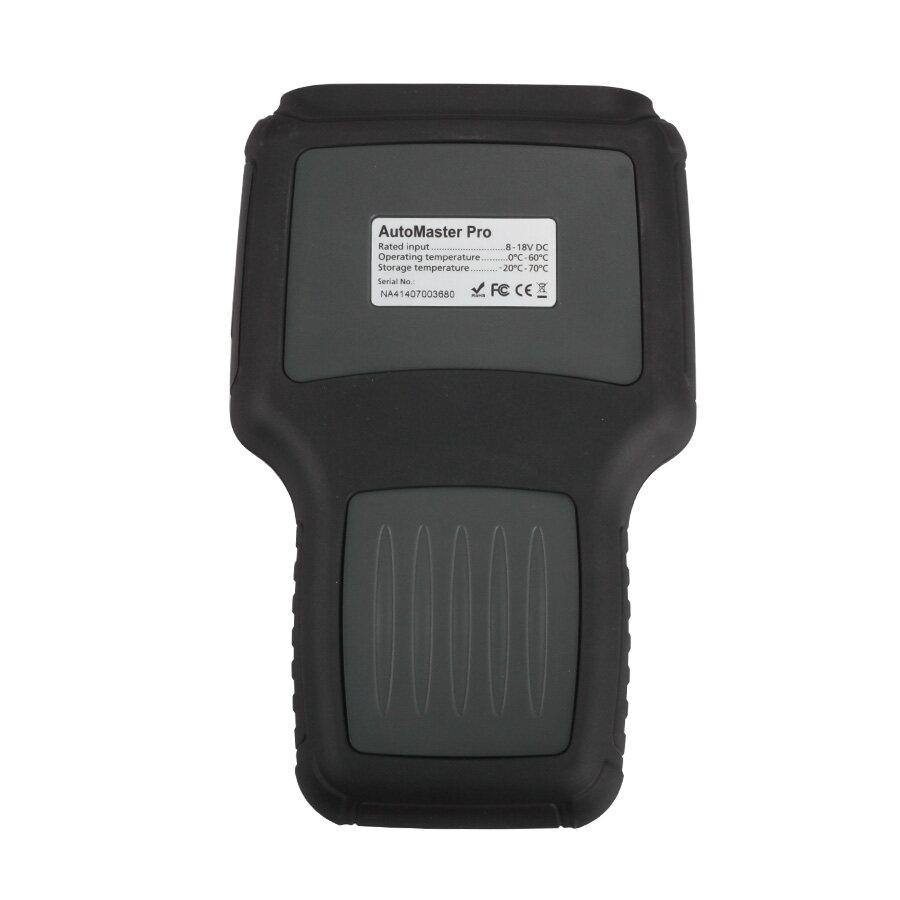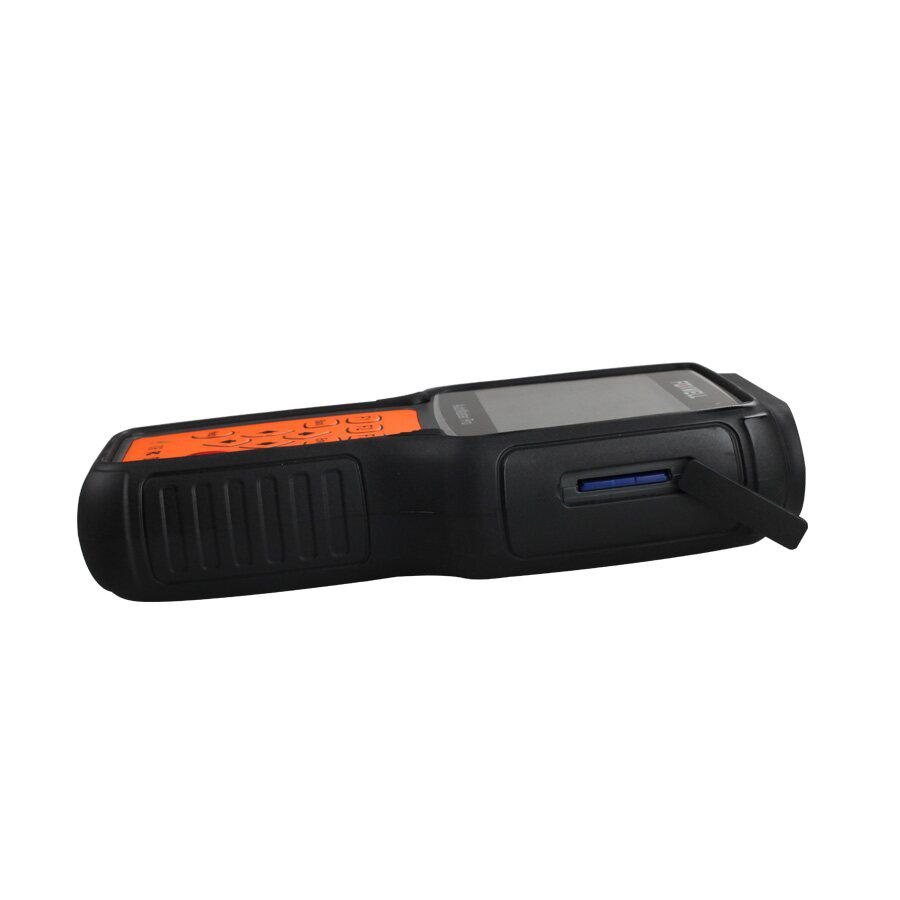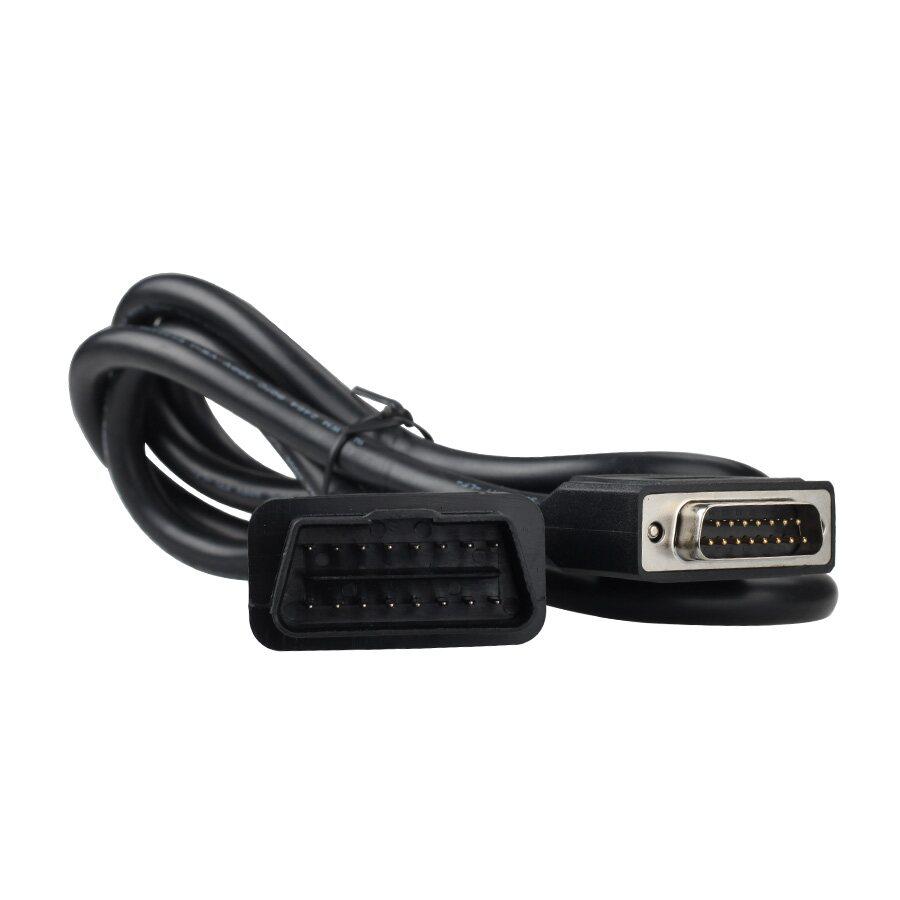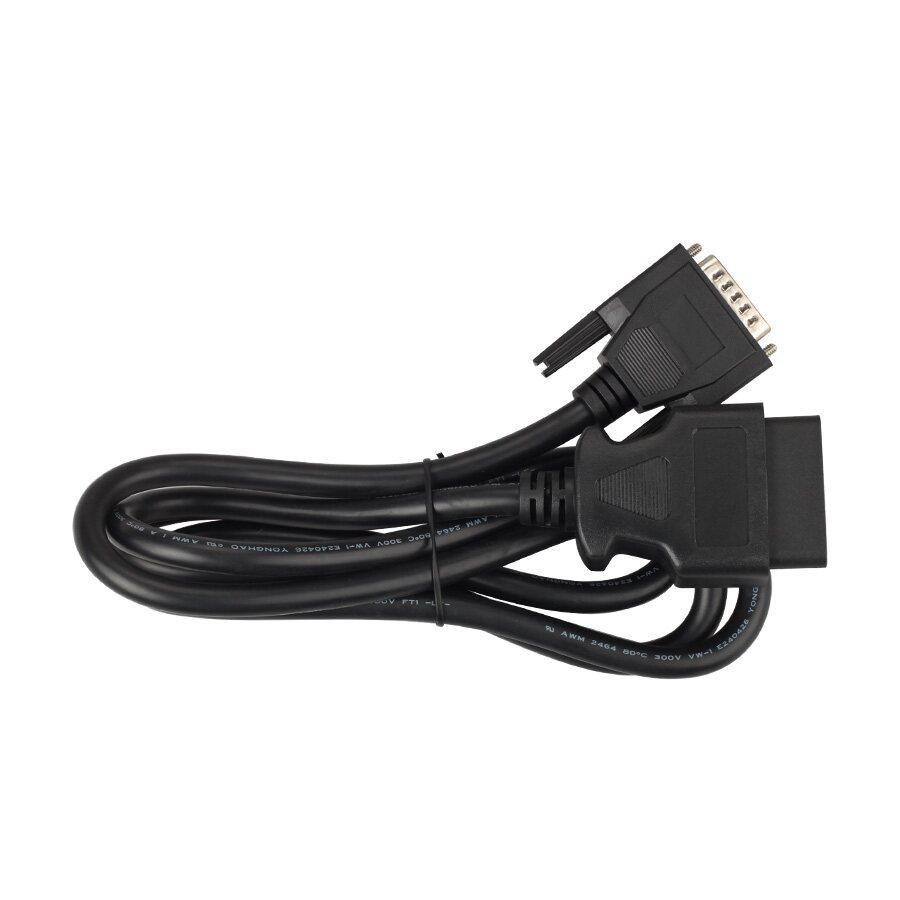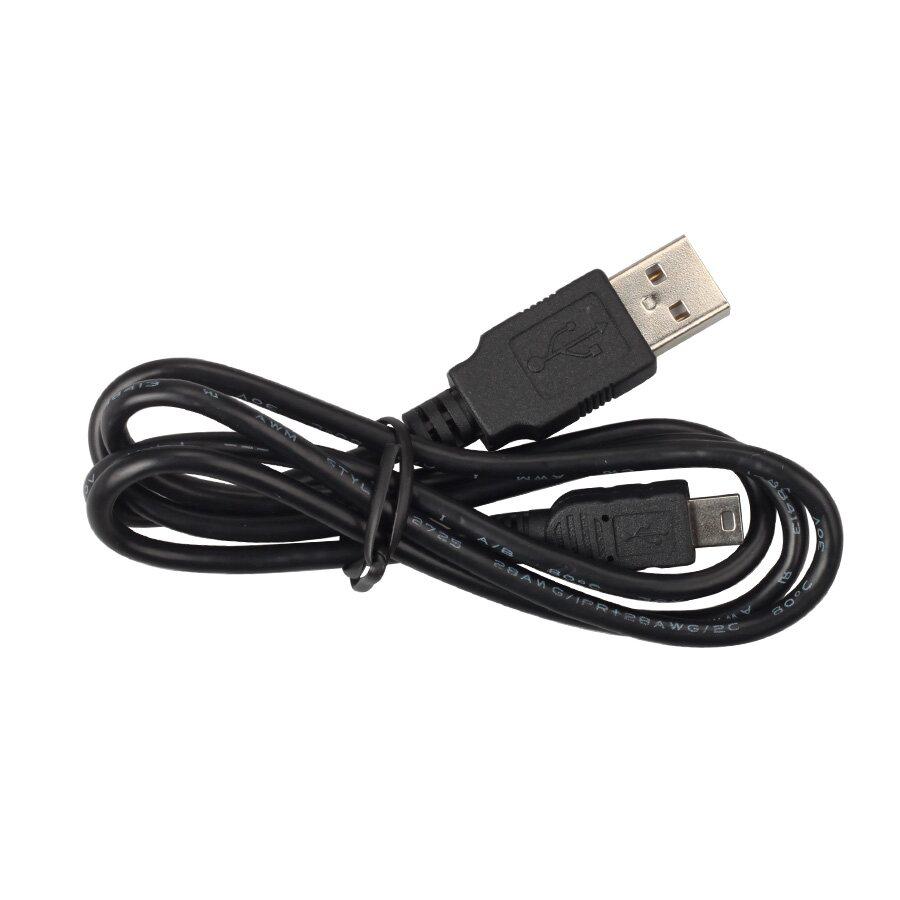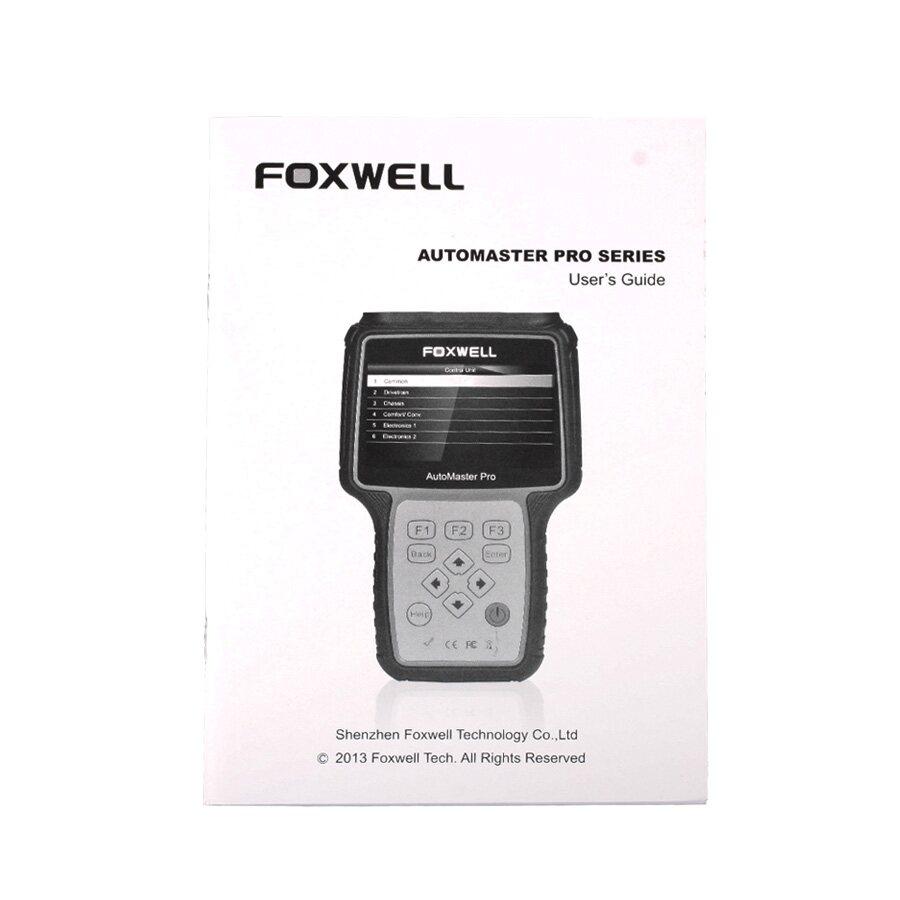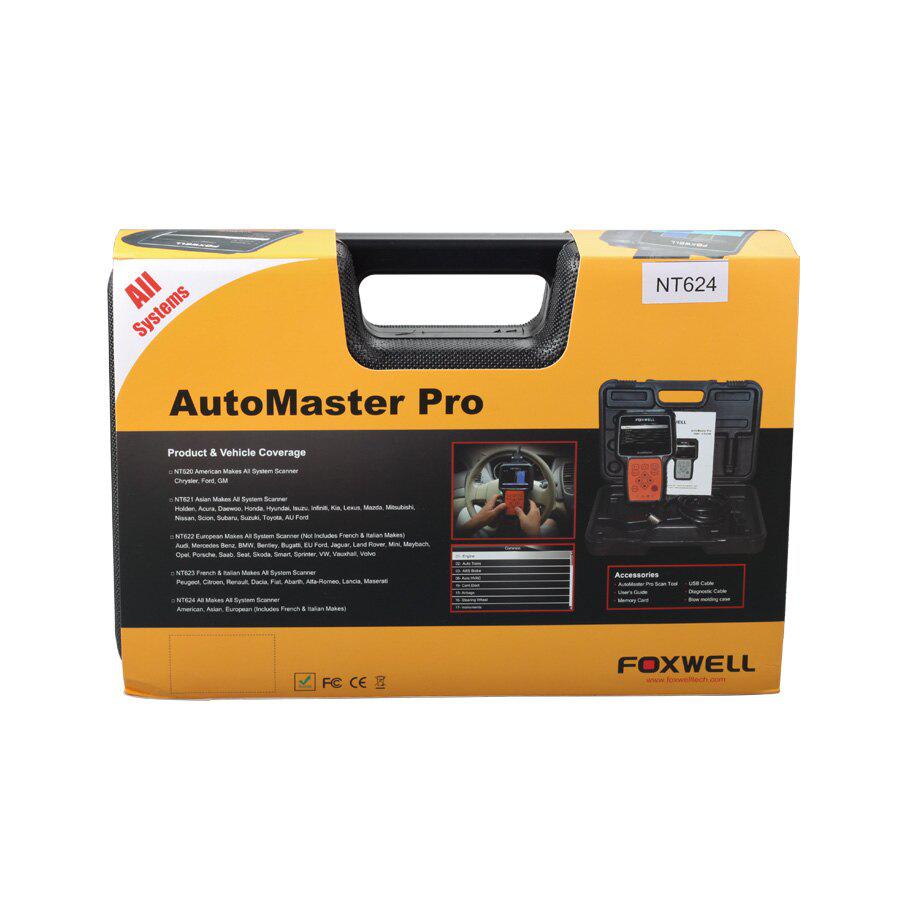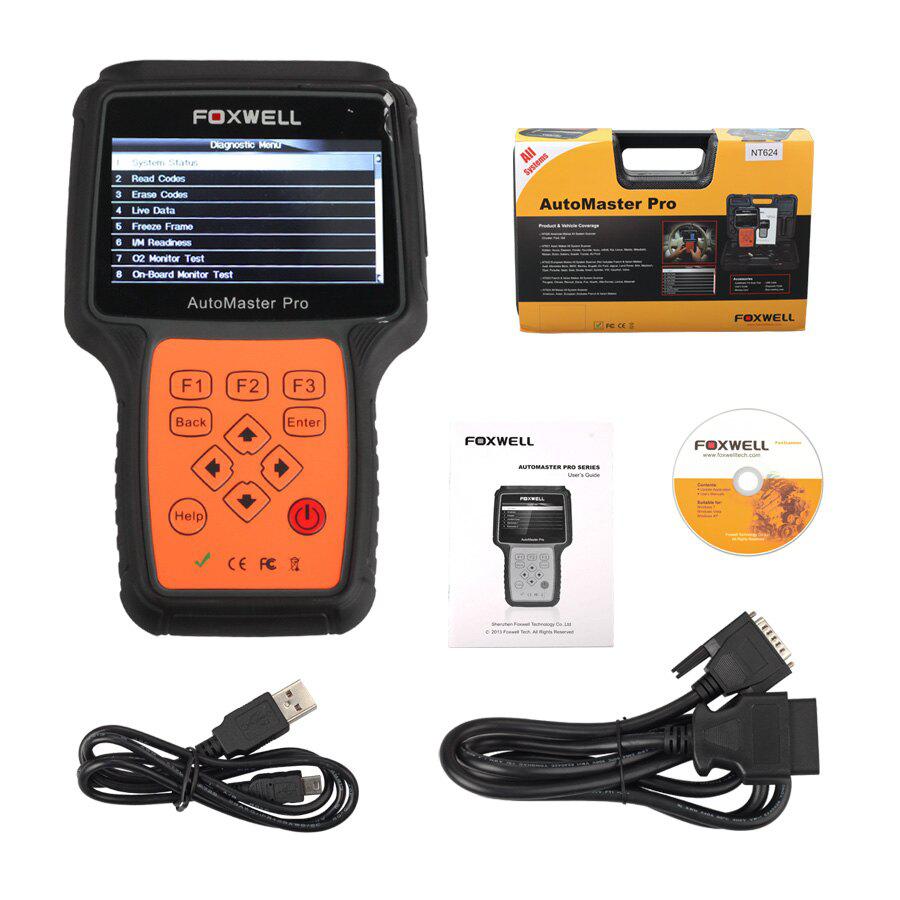 Description

Foxwell NT624 AutoMaster Pro All-Makes All-Systems Scanner Can Support Cars In 2015

Foxwell Multi-System Scanner Function List
Foxwell NT624 Features and Benefits:
Coverage includes 49 manufacturers
Works on cars till 2015 or 2016
Compatible with both OBDI and OBDII cars, SUVs, minivans, light-duty trucks sold worldwide
Reads and clear codes and turns off MILs of all systems
Requests and records live sensor data
Provides live data graphing
Merges PID graphs for easy and intuitive diagnosis
Displays freeze frame data
Retrieves ECU information
Supports all 10 OBDII test modes, such as live data, O2 sensor test, component test and more
Enhanced OBDII Mode 6 functionality
Code troubleshooters provide you faster and easier diagnosis
Multilingual menu options and code definitions
SD memory card for data backup and software update
As easy as 1-2-3 with large TFT color screen and menu-driven operations
Ergonomic design and ruggedly built for both shop and road tests
Foxwell NT624 Specifications:
Display: Backlit, 480*272 TFT color display
Working Temperature: 0 to 60℃ (32 to 140℉)
Storage Temperature: -20 to 70℃ (-4 to 158℉)
External Power: 8-18 Volts powered by vehicle battery
Dimensions: 200*130*40mm (L*W*H)
Blow molding case: 330*220*80mm (LWH)
Weight: 1.8KG
Vehicle Coverage:
Area Manufacturer
Asia Acura, Daewoo, Honda, Holden, Hyundai, Infiniti, Isuzu, Kia, Lexus, Mazda, Mitsubishi, Nissan, Scion, Subaru, Suzuki, Toyota, AU Ford
Europe Abarth, Alfa-Romeo, Audi,BMW, Citroen, Dacia, EU Ford, Fiat, Jaguar, Lancia, Land Rover, Maybach, Mercedes Benz, Mini, Opel, Peugeot,
Porsche, Renault, Saab, Seat, Skoda, Smart, Sprinter, Vauxhall, Volvo, VW, Maserati, Bugatti, Bentley
Package list:
1 pc x NT624 Scan Tool
1 pc x User's Guide
1 pc x Memory Card
1 pc x USB Cable
1 pc x Diagnostic Cable
1 pc x Blow molding case
Reviews

17
#1 Monteforte Denny
May 9, 2018

Fast delivery, the machine good quality. Investment zwróciła after first use. Recommend.
#1 Shubovskiy Sergey
Mar 9, 2019

works just as the original
#1 Evarist Mulumba
Feb 9, 2019

All the best works great!
#1 John Paulus
Jun 9, 2018

All perfect, as always. Free. blisteringly fast
#1 raymond duckett
Nov 9, 2018

Very good product
#1 Bernt Johansson
Oct 9, 2018

Perfect. Communication at all times. Very fast sent
#1 joshua garrison
May 9, 2018

Quality is good. I will test function later. this Foxwell NT624 AutoMaster Pro All-Makes All-Systems Scanner Support Cars In 2015 is good quality, working very well
#1 Musaab Khalifah
Aug 9, 2018

Could you put low value as import duty for the package?
#1 MARIA VOLCHANINA
Apr 9, 2019

Item arrived quickly and guality was good.
#1 Oleksandr Maslov
Mar 9, 2019

fast shipping ,awesome
Previous: Foxwell NT630 ABS Airbag Reset AutoMaster Programmer
Next: Remote Key Shell for Honda 3+1 Button(Without Logo and Paper Sticker) 5pcs/lot