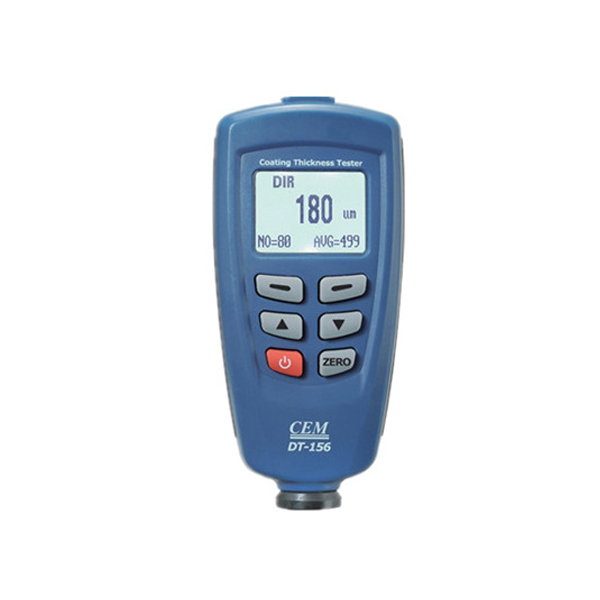 Description

CEM DT-156 Pro Paint Coating Thickness Meter Gauge Auto F/NF Probe Tester 1250um V-groove
This professional Coating Thickness Meter (DT-156) is a compact and handy gauge designed for non-destructive, fast and precise coating thickness measurement with measuring range 0 ~ 1250 μm / 0 ~ 50 mil. It works either on the magnetic induction principle or the eddy current principle, depending on the type of sensor probe selected (Fe or No Fe). With the two types of probe equipped, only one gauge is required to measure non-magnetic coatings on a magnetic substrate (ferrous, Fe) or insulating coatings on a non-magnetic conductive substrate (non-ferrous, NFe). The V-groove in the sleeve of the probe facilitates reliable measurements on small cylindrical parts.
This gauge has two measuring modes, CONTINUE & SINGLE and two working modes, DIRECT & GROUP to meet your various needs. DIRECT mode is recommended for simple, quick and occasional measurement while GROUP mode permits storage of maximum 400 data for statistical analysis. It provides statistic functions including AVG, MAX, MIN, S.DEV. USB cable and software CD are included for connection and work with PC. Other important features are backlight LCD, high/low alarm, auto power off and calibration foils included.
This professional equipment is ideal for manufactures and their customers, for offices and specialists, for paint shops and electroplaters, for chemical, automobile, shipbuilding and aircraft industries and for light and heavy
engine
ering. It is also suitable for laboratory, workshop, and outdoor use.
CEM DT-156 Features:
Two types of probe equipped, Fe & No Fe
Measuring Coatings: Non-magnetic coatings (e.g. paint, zinc) on steel; insulating coatings (e.g. paint, anodizing coatings) on non-ferrous metals
Wide measuring range (0 ~ 1250 μm / 0 ~ 50 mil) and high precision
Two measuring modes: CONTINUE & SINGLE
Two working modes: DIRECT & GROUP (4 groups)
Max 400 data memory
One point calibrating and two points calibrating independently for each working mode
Statistic display: AVG, MAX, MIN, S.DEV
LCD with blue backlight
V-groove in the sleeve of the probe facilitates reliable measurement on small cylindrical parts
Probe made of hard and durable material
High and low alarm
Low battery and error indication
Auto Power off (can be disabled)
Substrates & calibration foils included
USB cable and software CD included (compatible with Windows 98/2000/XP/Vista/7)
CEM DT-156 Specifications:
Sensor Probe

F

No Fe

Working Principle

Magnetic induction

Eddy current principle

Measuring Range

0~1250µm

0~49.21mils

0~1250µm

0~49.21mils

Guaranteed Tolerance

(of reading)

0~850µm

(±3%+1µm)

850µm~1250µm

(±5%)

0~850µm

(±3%+1.5µm)

850µm~1250µm

(±5%)

0~33.46mils

(±3%+0.039mils)

33.46mils~49.21mils

(±5%)

0~33.46mils

(±3%+0.059mils)

33.46mils~49.21mils

(±5%)

Precision

0~50µm(0.1µm)

50µm~850µm(1µm)

850µm~1250µm

(0.01mm)

0~50µm(0.1µm)

50µm~850µm(1µm)

850µm~1250µm

(0.01mm)

0~1.968mils

(0.001mils)

1.968mils ~33.46mils

(0.01mils)

33.46mils ~49.21mils

(0.1mils)

0~1.968mils

(0.001mils)

1.968mils ~33.46mils

(0.01mils)

33.46mils ~49.21mils

(0.1mils)

Minimum Curvature Radius

1.5mm

3mm

Diameter of Minimum Area

7mm

5mm

Basic Critical Thickness

0.5mm

0.3mm

Working Temperature

0°C ~40°C (32°F~104°F)

Working Relative Humidity

20%~90%RH

Item Size

110 x 50 x 23mm

Item Weight

100g
Packing List:
1 x Coating Thickness Gauge
5 x Calibration Foils
1 x Aluminum Substrate
1 x Iron Substrate
1 x USB Cable
1 x Software CD
2 x 1.5V AAA Battery
1 x Instruction Manual
1 x Small Storage Box
Standard Factory Package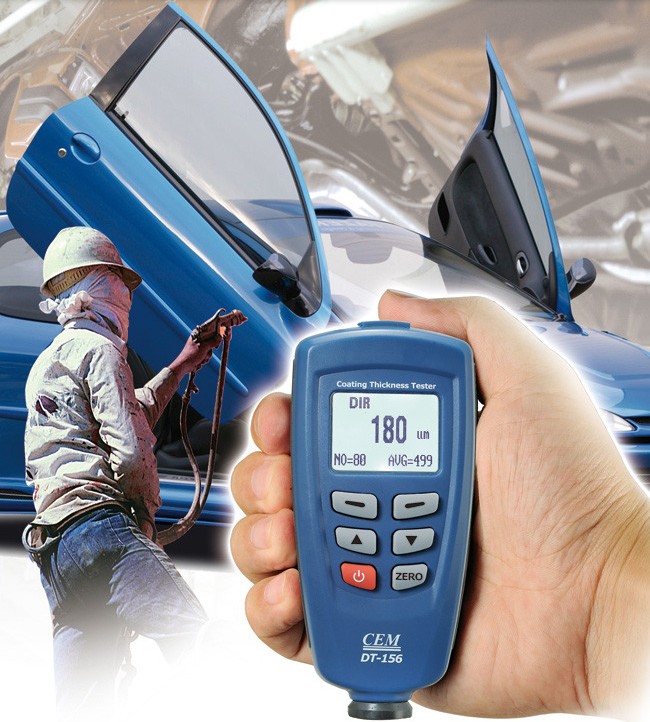 Previous: V6.08 TM100 Transponder Key Programmer with Basic Module Update Online