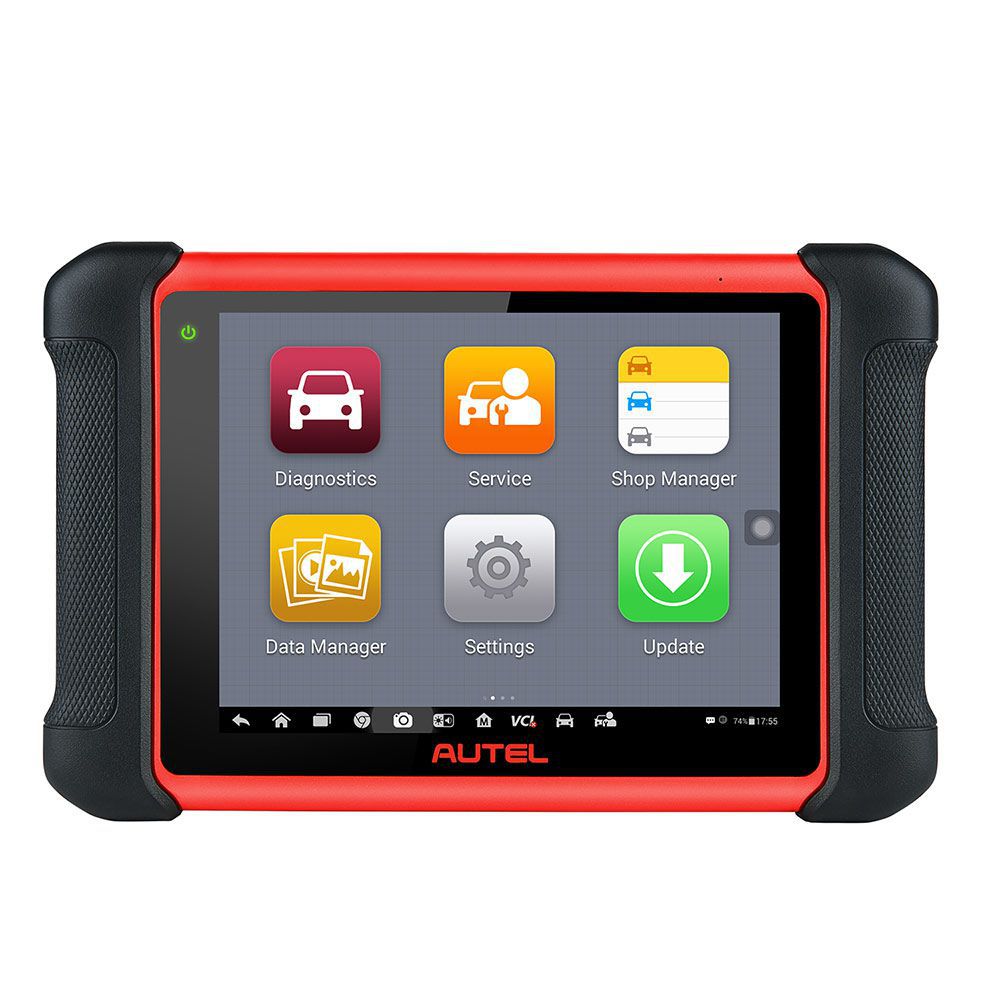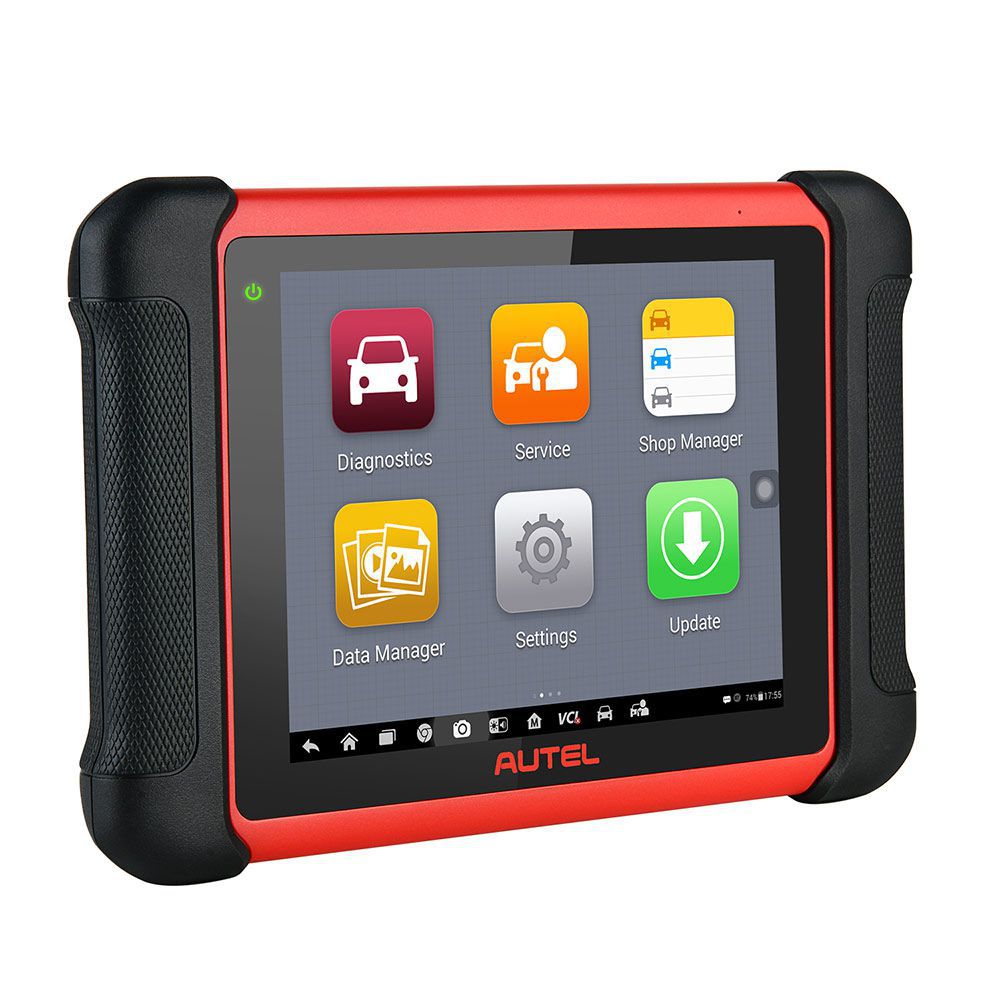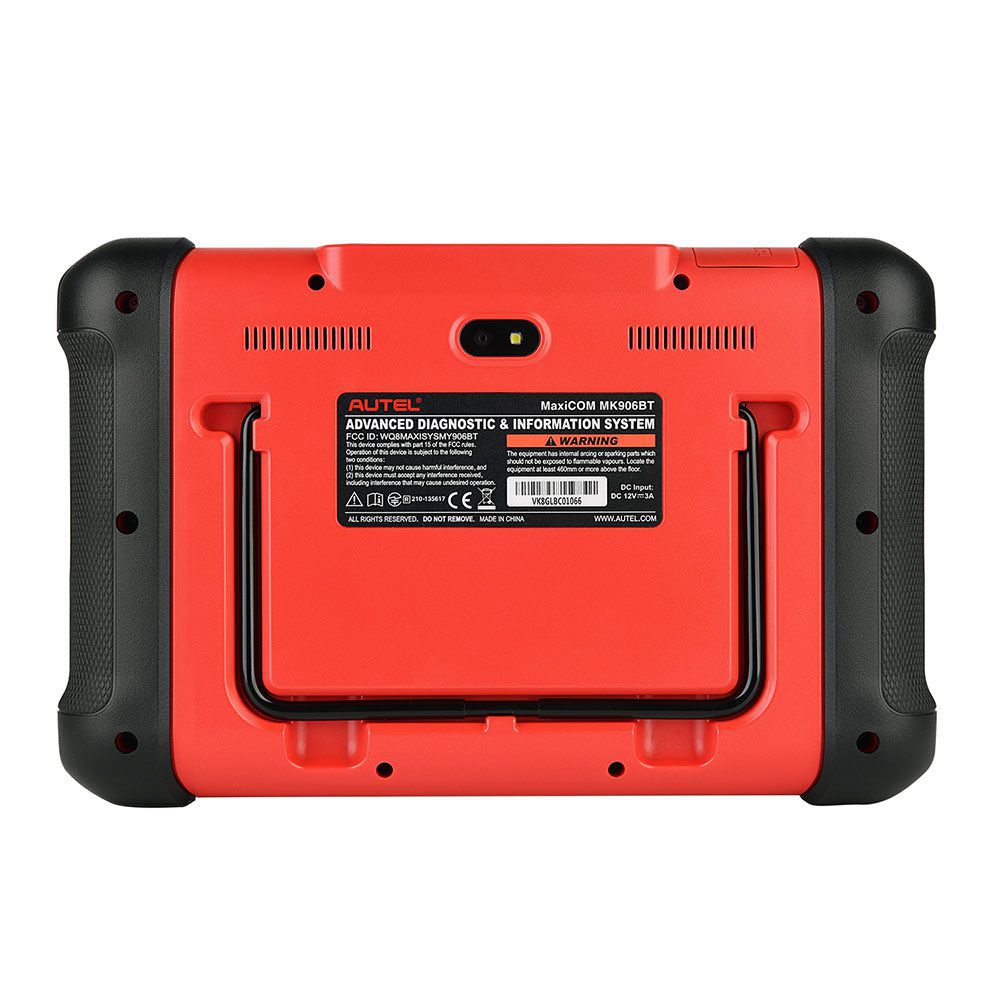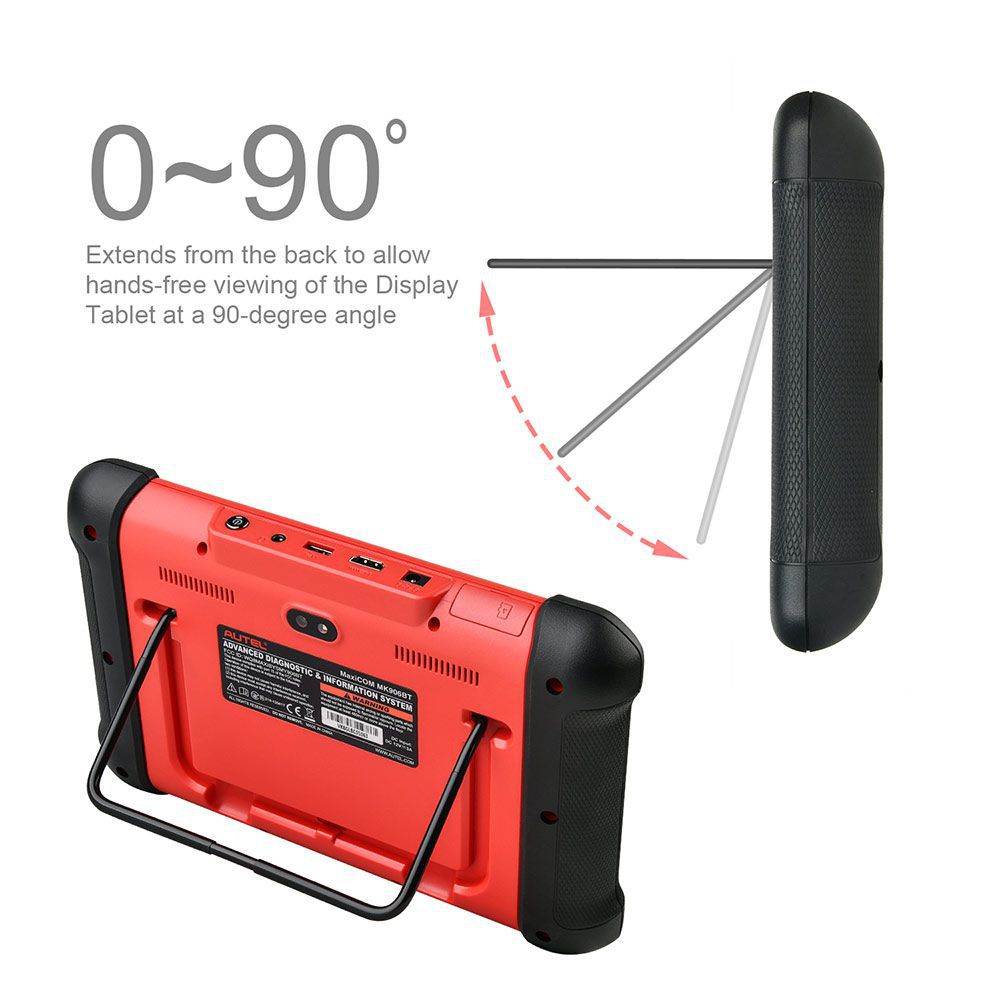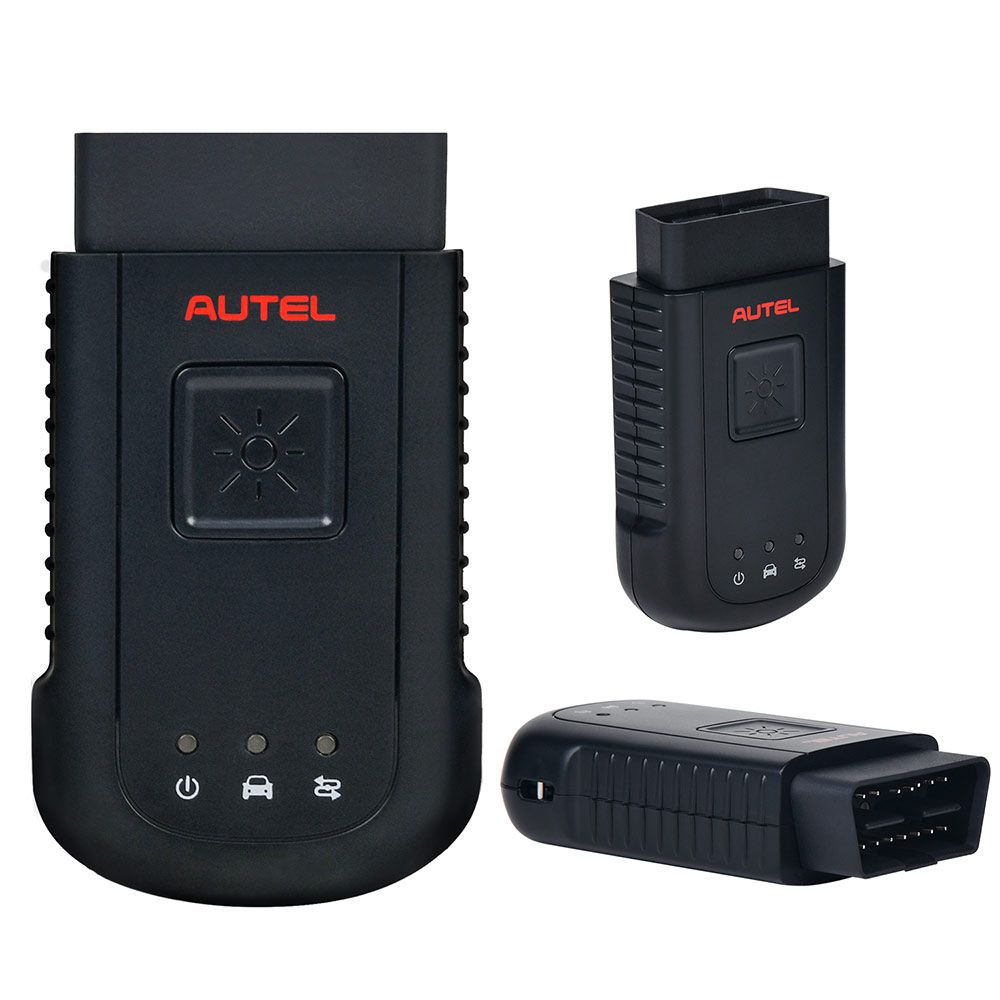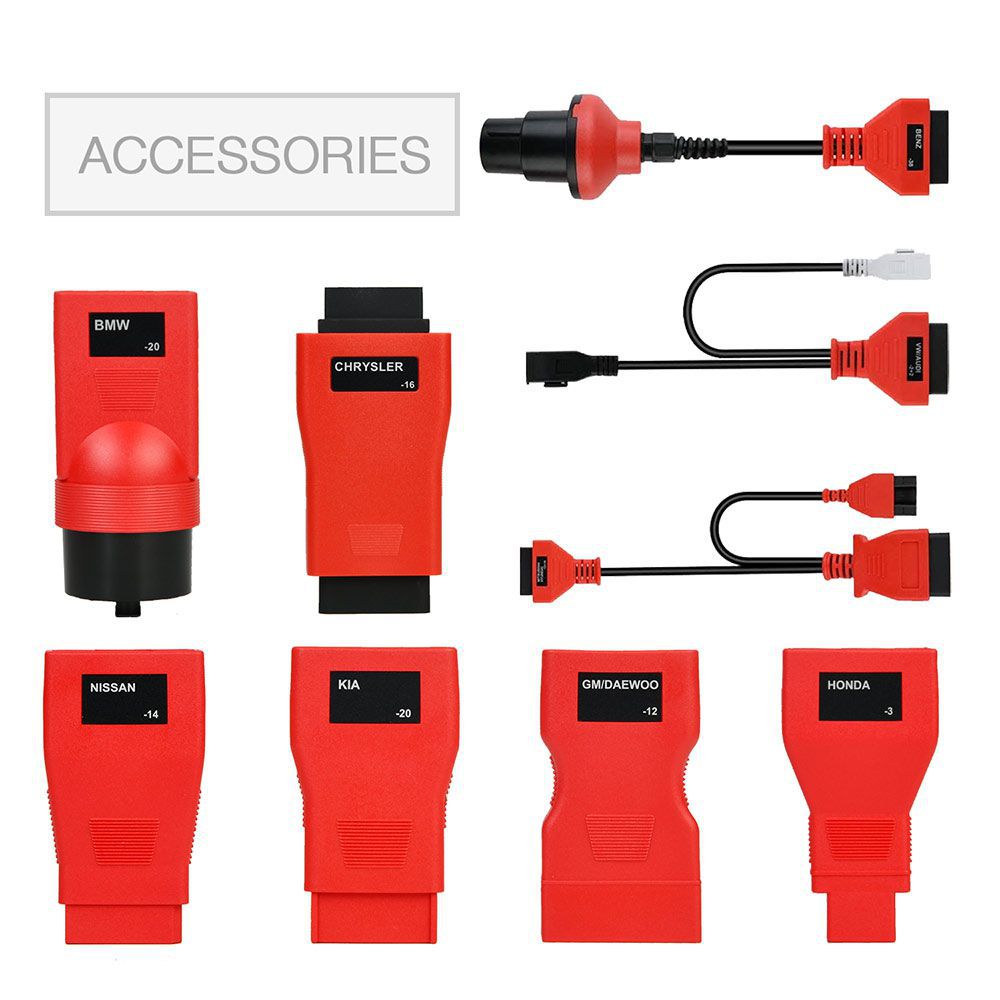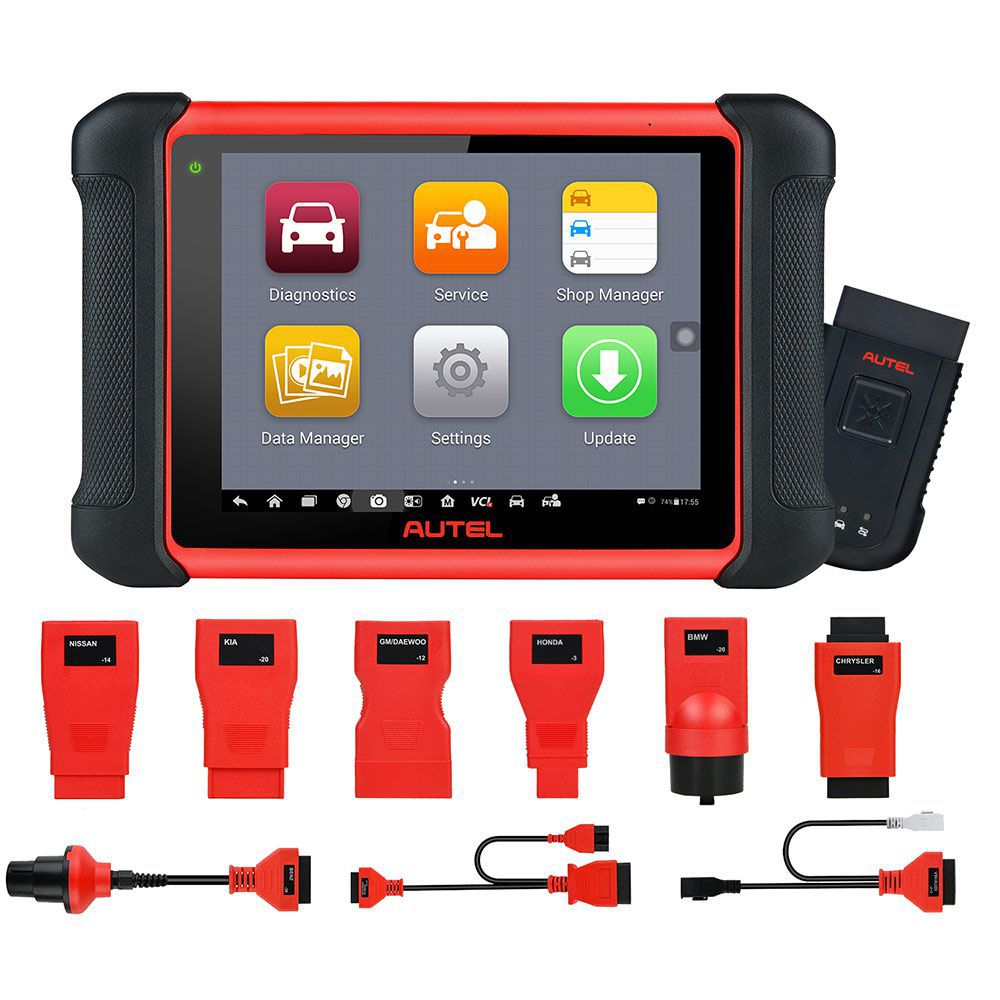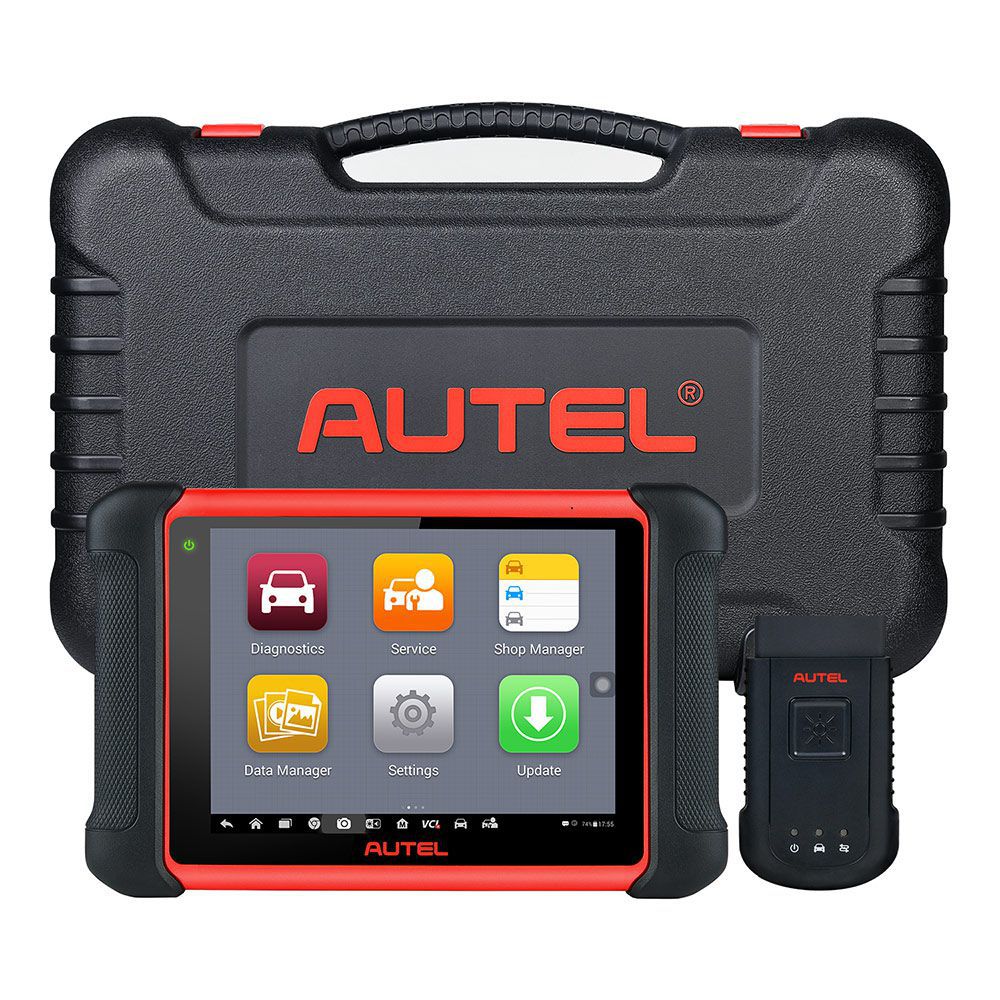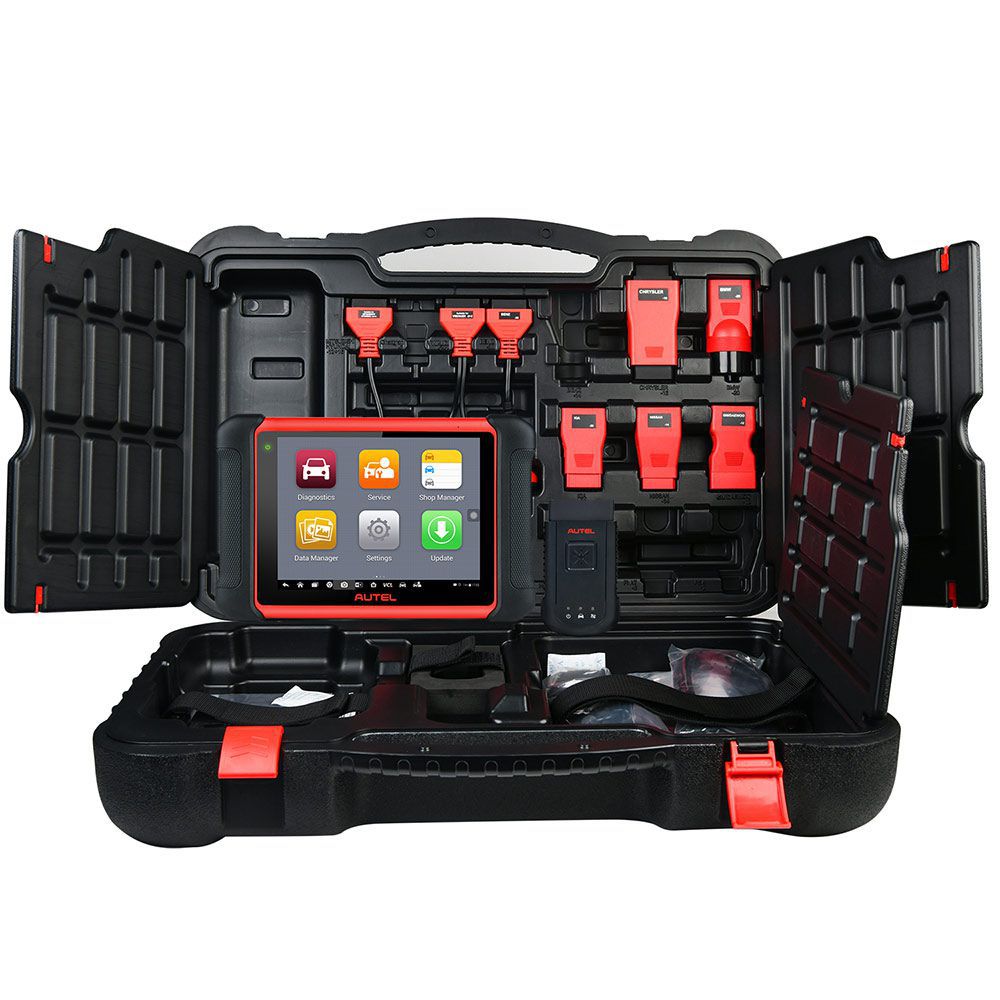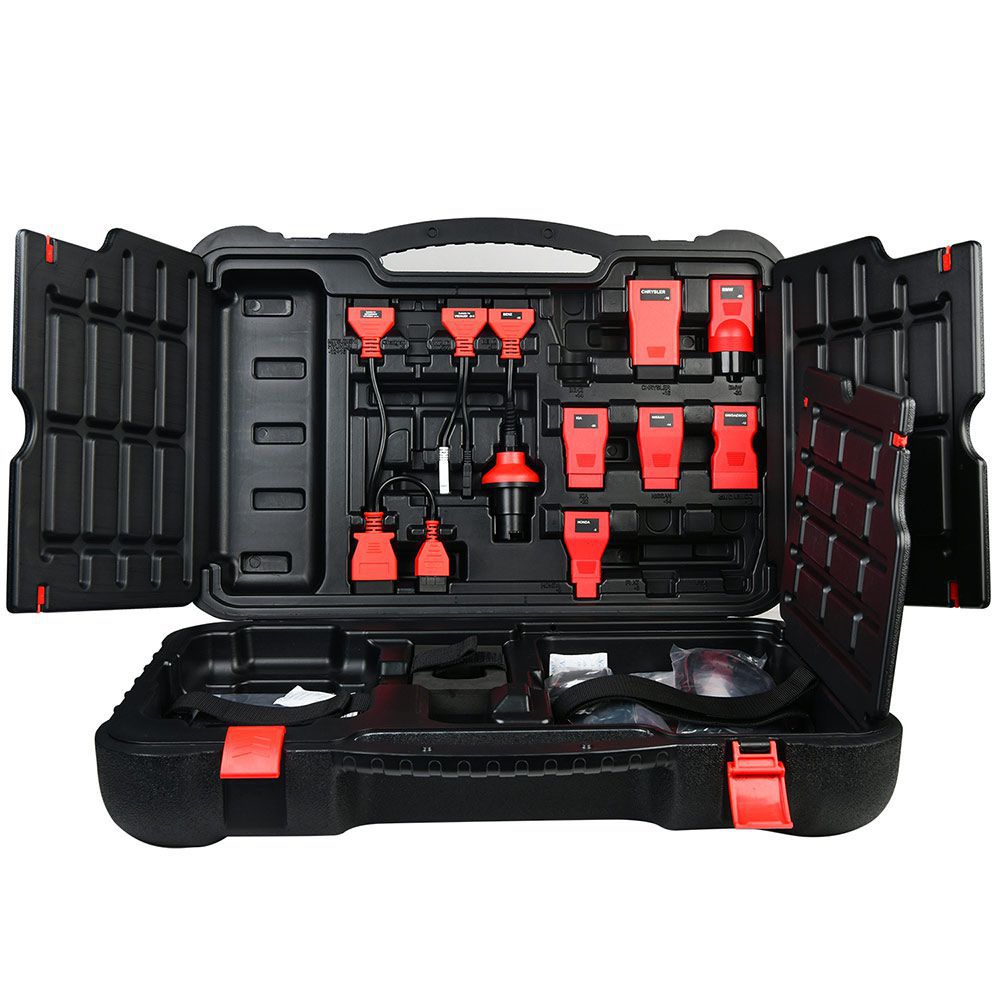 Description
Autel MaxiCOM MK906BT 2021 Newest Diagnostic Scan Tool ECU Coding, Bi-Directional Control, All System Diagnostics & 31 Services, ABS Bleed, Same Function as MS906BT
MaxiSys MK906BT is the latest addition to the MaxiCOM product line of advanced wireless diagnostic devices. The device is based on the
Android
operating system featured with the best possible coverage of OE-level diagnostics and ECU coding capability. Utilizing the powerful Exynos 5260 6-core processor (1.3 GHz quad-core ARM Cortex-A7 + 1.7 GHz dual-core ARM Cortex-A15), an 8" capacitive HD touch screen, and long-distance wireless communication, the MaxiCOM MK906BT efficiently provides comprehensive vehicle diagnostics and analysis.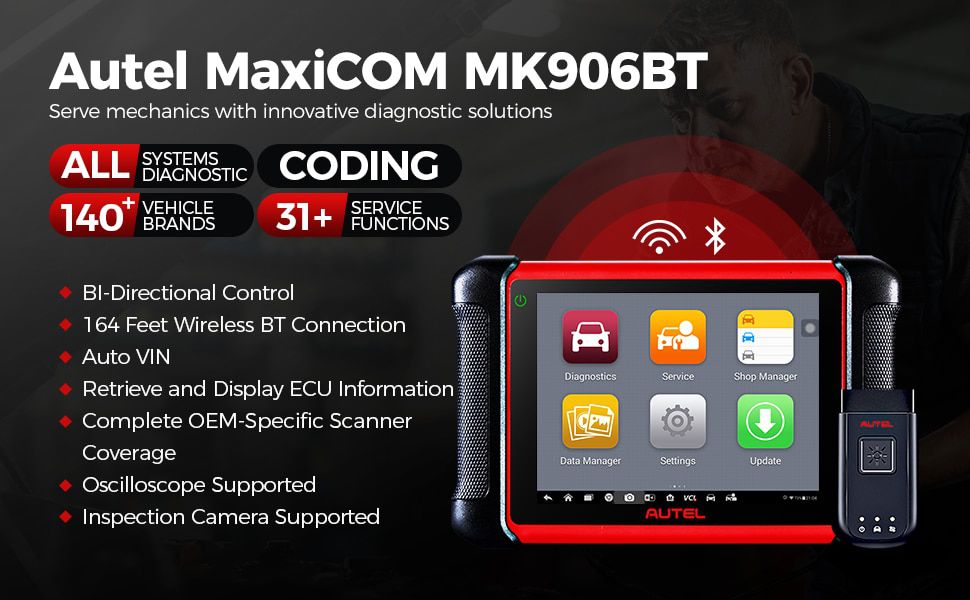 Language
English, Simplified Chinese, Traditional Chinese, Spanish, French, German, Polish, Italian, Japanese, Korean, Dutch, Portuguese, Swedish, Russian
Update Service & Warranty
1 year free upate service 1 year warrantry for any quality problem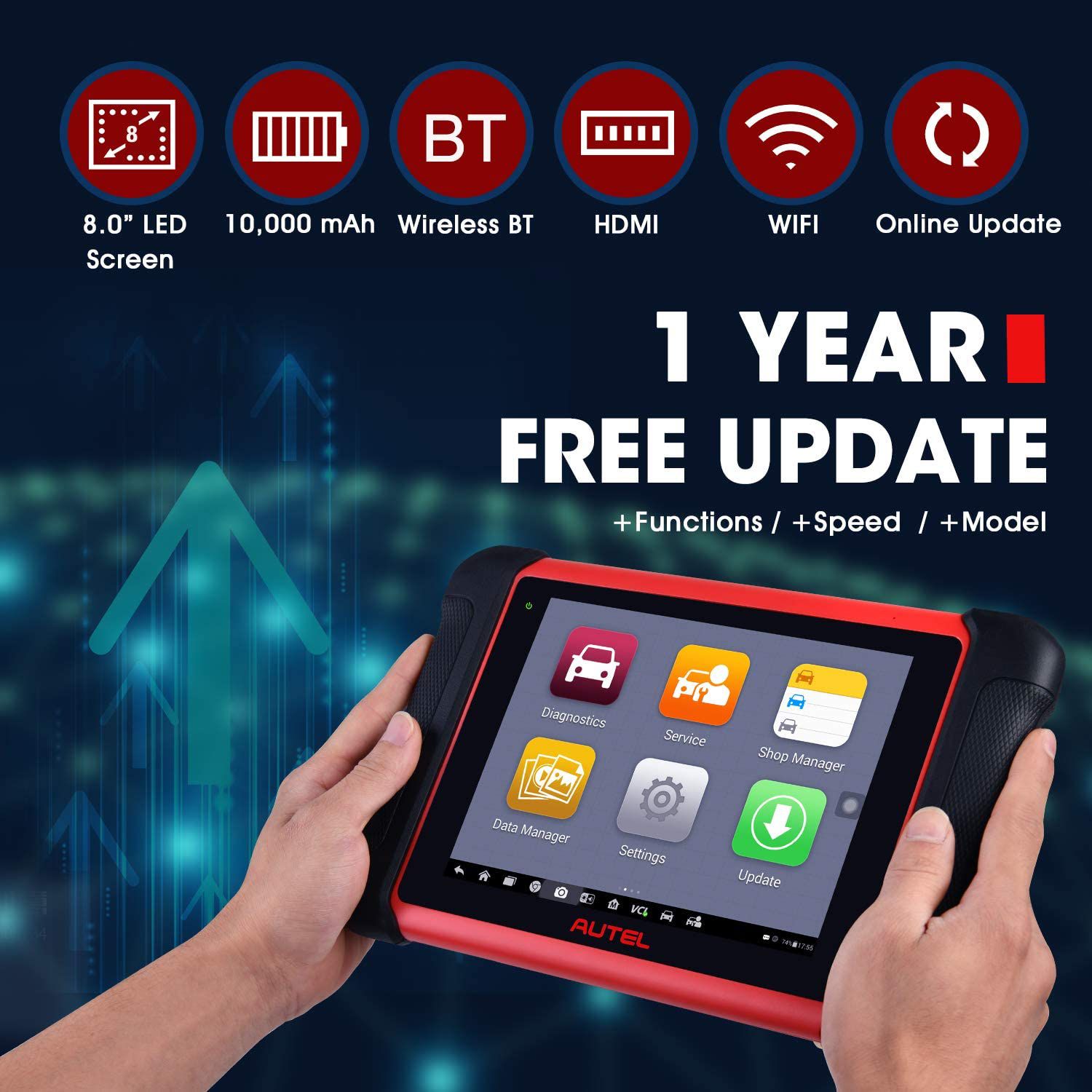 Top reasons why you should get one MK906BT for your diagnostic tool arsenal:

√ Same functions as MS908, upgraded version of MS906
√ Advanced ECU coding
√ 31 service options
√ OE all systems diagnotics
√ Active tests/Bi-Directional Control
√ 140+ brands, and 10,000+ models
√ 164 feet wireless + lined connection
√ No IP restrictions
√ Complete Connector Kit(9 Adapters)
√ other languages available at 100 bucks each(default English)
√ Auto VIN & auto scan features
√ Cloud-based Data Manager, Shop Manager, Remote Support, MaxiFix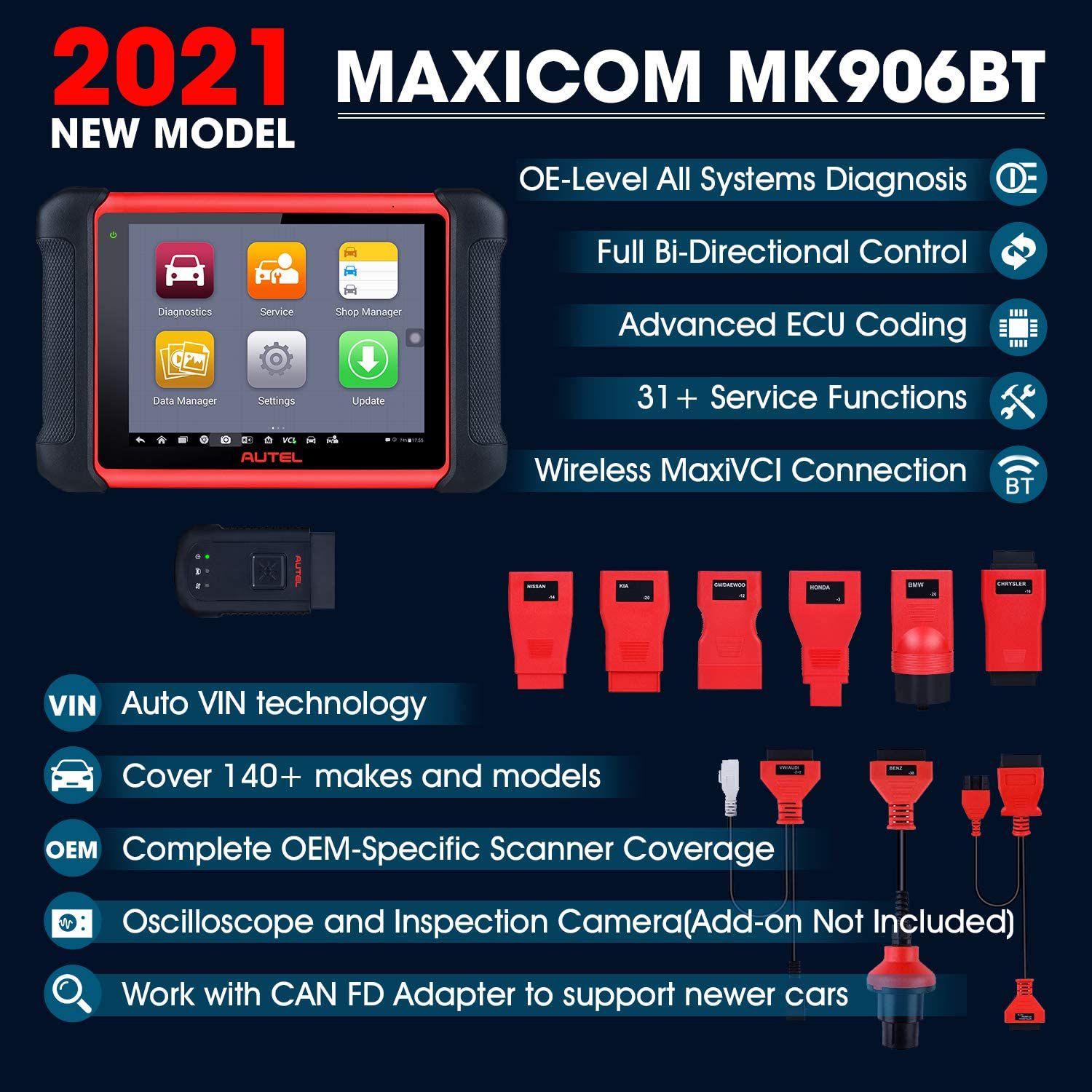 Enhanced ECU Coding
With the advanced ECU coding function, the MK906BT professional diagnostic scanner empowers you to establish full data links with electronic control units via VCI for vehicle diagnosis, repairs, or coding. It also features online coding and personalization for high-end vehicles:
Support online coding for
BMW
;
Support online coding, guided function, modifications for Volkswagen;
Support ECU coding, ECU online coding, and guided function of providing repair tips after reading DTCs for Porsche;
Support ECU online coding for Renault;
Support customized configuration for Toyota,
Nissan
,
Peugeot
, and more.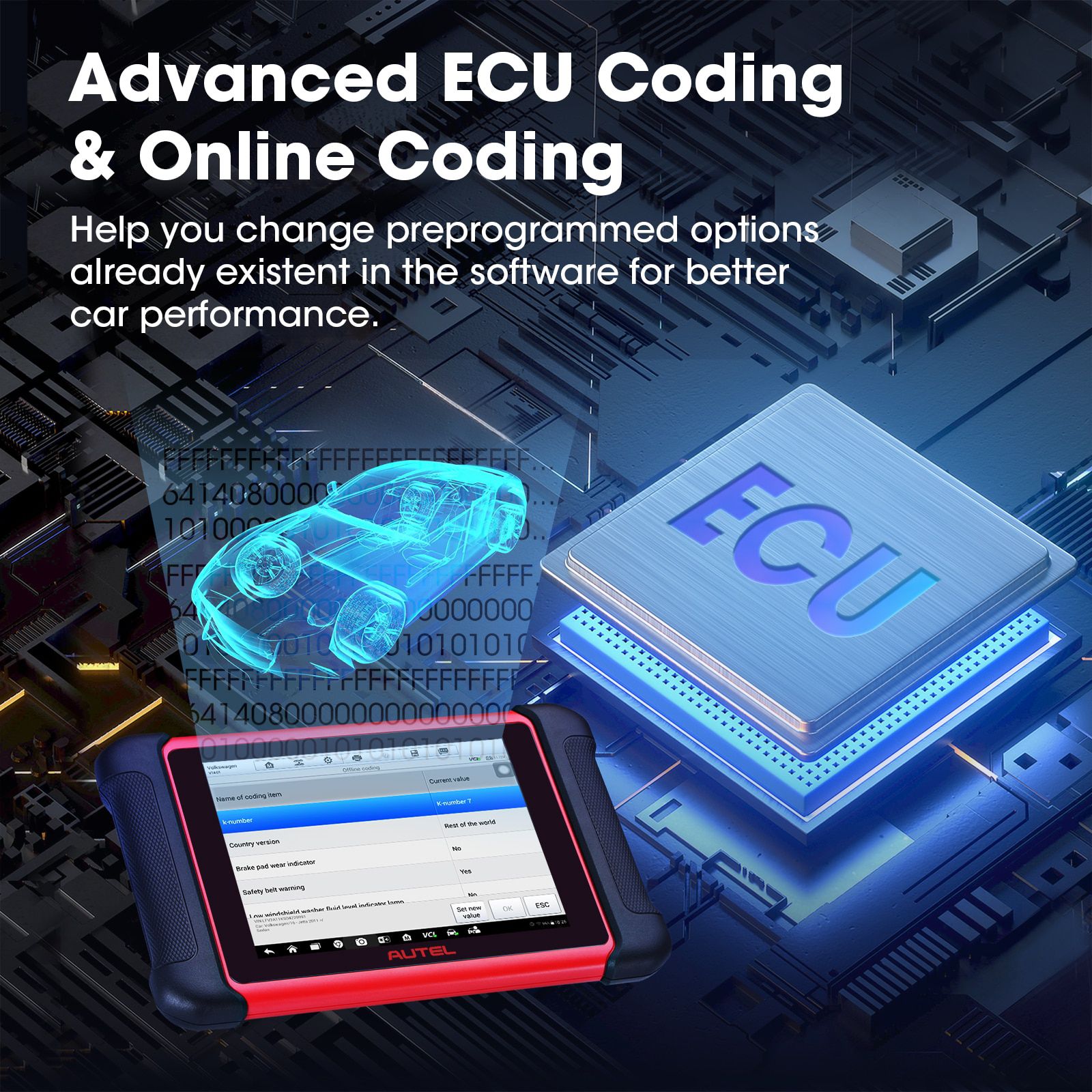 Active Test
Bypassing the electronic control module and communicating directly with the control unit is an efficient diagnosis method. The MK906BT car scanner can perform active tests to check the vehicle's running states by receiving information from ECUs or by monitoring actuators (e.g., switching solenoids, relays, or on-off between two operations) to control the system or parts (e.g.,
ABS
, windows, doors, roof).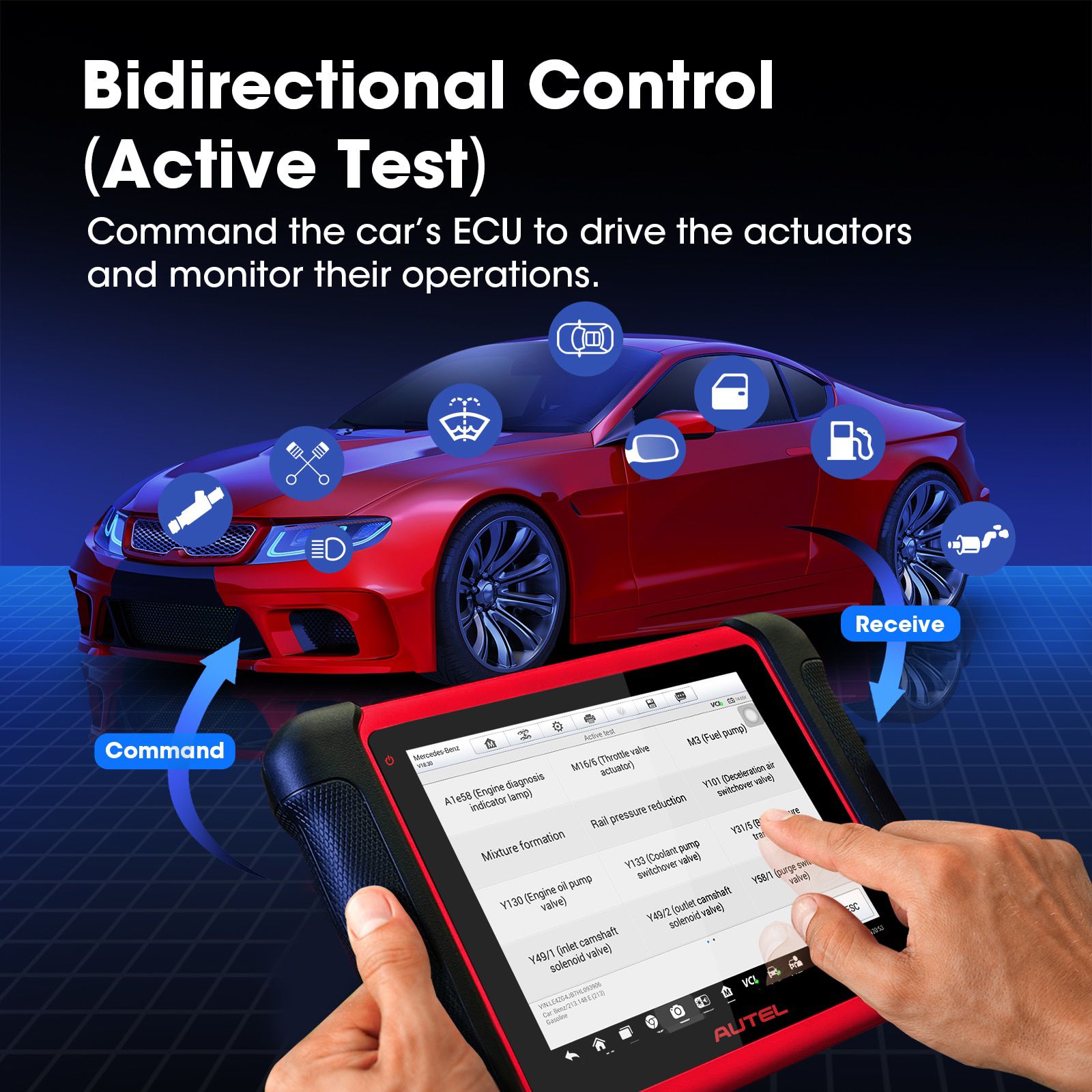 OE-Level Full-System Diagnostic
By penetrating all available ECUs, including but not limited to
PCM
,
ECM
, EPS, PDM, TPM, BCM,
ABS
, SCCM, etc., MK906BT retrieves information and performs OE-level diagnostics on all available vehicle systems, like read and clear codes, view data stream and vehicle information, ECU Replacement, Zero Point Calibration (Toyota), Signal Check (Toyota), Initialization (ECU), and Guided Function (VAG). It not only enables you to troubleshoot promptly but also makes you customize the configuration.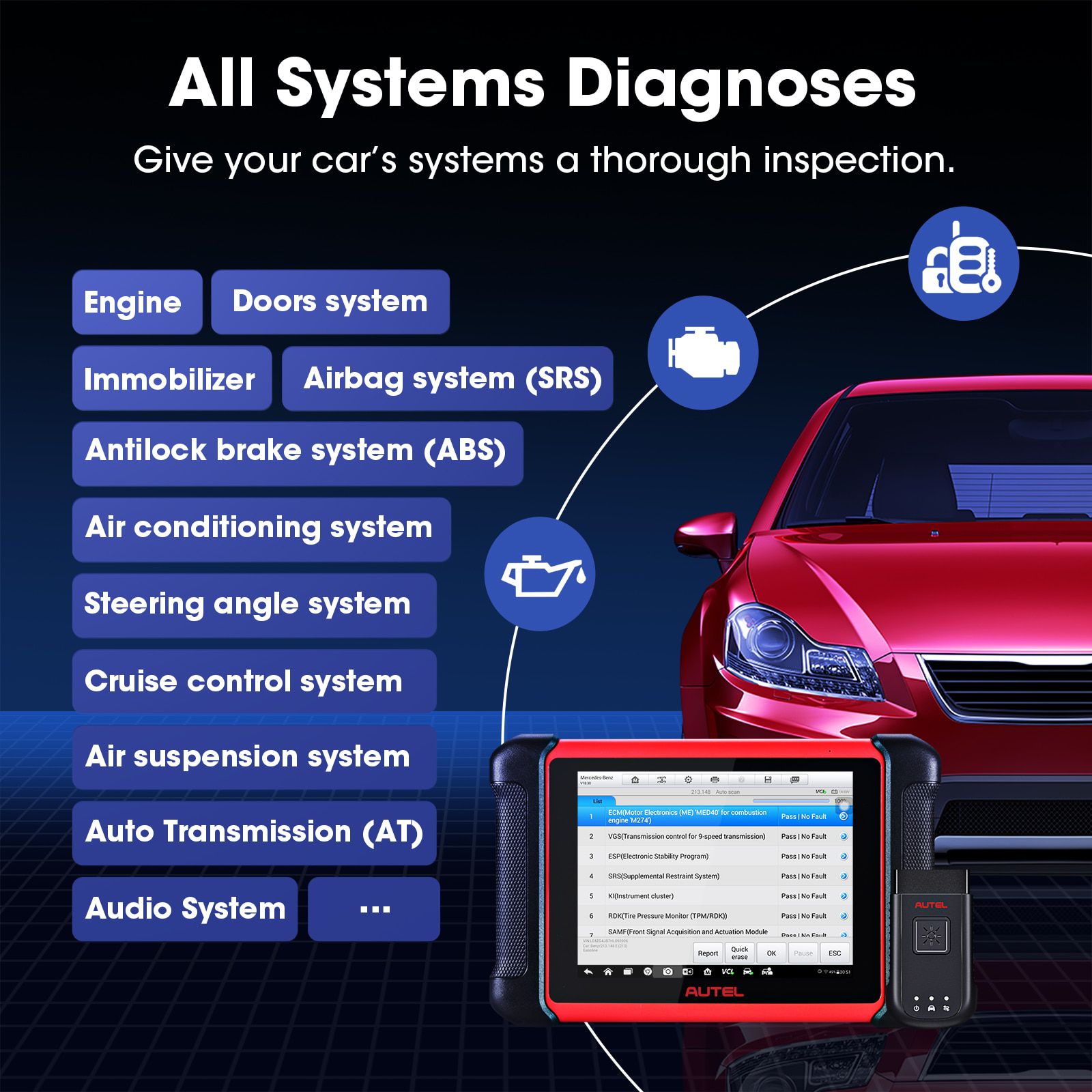 31+ Maintenance Functions
As the latest version of 2021, the diagnostic tool is competent to perform
Oil Reset
, Injector Coding, Throttle Matching, ABS Bleeding, BMS Service, SAS Reset,
IMMO
, Key Fob Coding, and more. MK906BT diagnostic scanner is an all-around maintenance scanner for effectiveness and efficiency.
Oil Reset
Service
to reset service mileage and service intervals for the
engine
Oil Life system;
TPMS
Service
to look up the tire sensor IDs from ECU, as well as to perform
TPMS
programming and reset procedures after sensor replacements;
*Note: The
TPMS
function cannot program sensors.
EPB Service
to deactivate and activate the brake control system, assist with brake fluid control, open and close brake pads, and set brakes after disc or pad replacement, etc.;
ABS/
SRS
Services
to perform bi-directional tests to check the operating conditions of ABS and
SRS
, such as Automated Bleeding, Pump Motor Test, and checking Module information, etc.;
SAS Service
to perform calibration for the Steering Angle Sensor, and clear fault memory;
DPF Regeneration Service
to clear the blockage through the continuous burning of the particulate matter captured in the DPF filter
BMS Service
performs a reset on the vehicle battery for clearing the fault information and re-match the battery;
Brake Bleed
performs various bi-directional tests to check the operating conditions of Anti-lock Braking System (ABS), and turn off the warning light;
IMMO
Service
clear the
lost
car key's information and program the new key into the ECU database to protect user's car from being stolen;
Injector Coding
writes the new code to the ECU after replacement of injector, so that the injector works;
Throttle Adaptation
initialize the throttle actuators to the default state for regulating throttle (or idle
engine
) operations accurately;
Headlamp / Suspension / CHG tire size / TEC learn / WIN DR ROOF /
Seat
s / Odometer / Lang change
and many more......
ABS Brake Bleed
MK906BT auto bleed scan tool can perform ABS Brake Bleed function to cycle the ABS pump to bleed the air out of the ABS module to get firm brake pedals.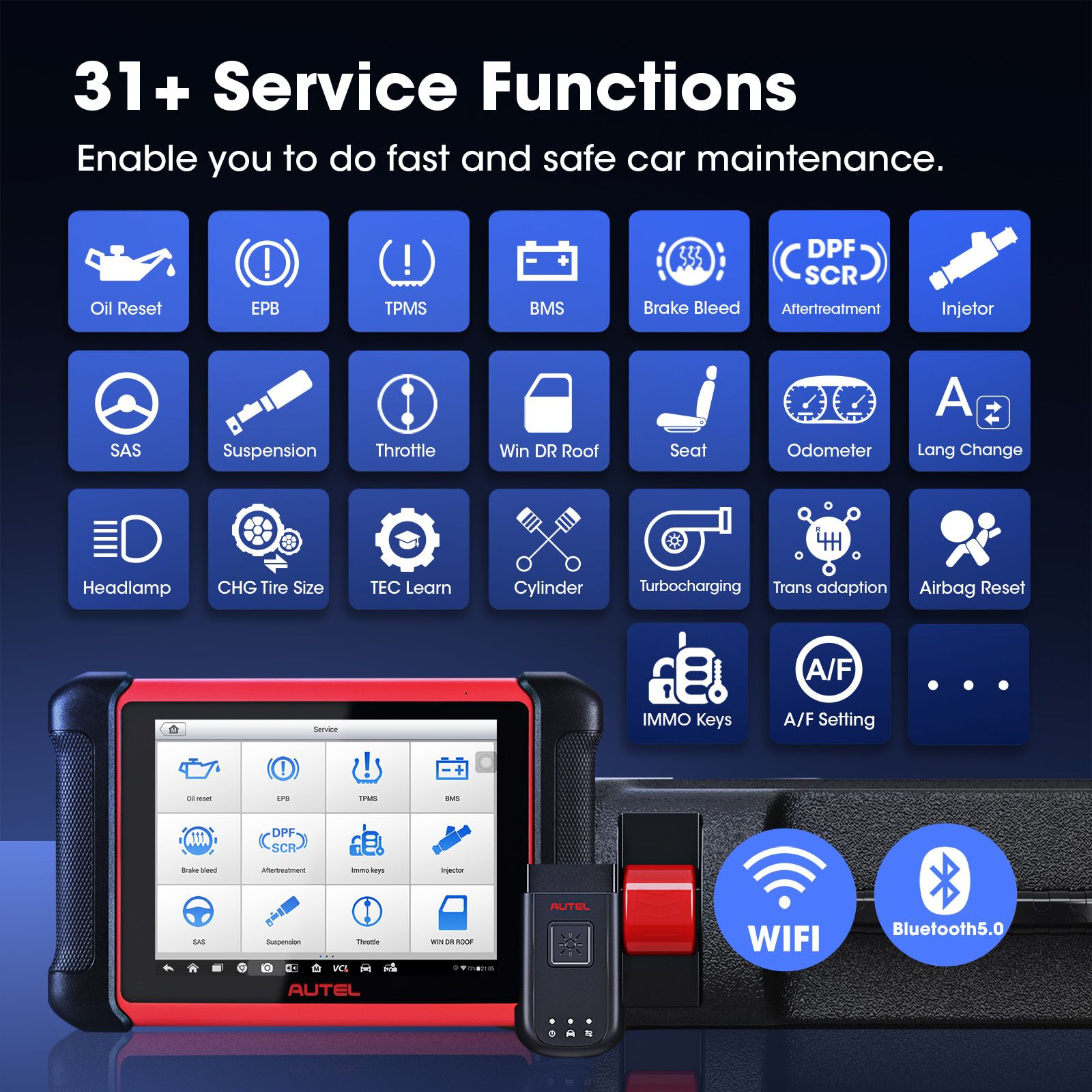 Wide Coverage & Easy to Use
Wide Coverage
No need to worry about compatibility issues. The device currently supports 80+ car manufacturers and 140+ car brands worldwide. Also, you will be able to get more new car models through subsequent high-frequency software updates.
It is compatible with:
Chrysler
, Dodge, Ford,
GM
, Jeep, Abarth, Alfa,
Citroen
, Fiat, Lancia, Opel,
Peugeot
, Porsche, Renault, Saab, Vauxhall, Volvo, Aston Martin,
Audi
, Bentley,
Benz
, Sprinter,
BMW
, Bugatti, Ferrari,
Jaguar
, Lamborghini,
Land Rover
, Maserati, Maybach, Mini, Rolls-Royce, Seat,
Skoda
, Smart, VW,
VW
CV, Dacia, Ford EU, LT3,
Acura
, Daewoo, Daihatsu,
Honda
, Hyundai,
Hyundai
CV, Infiniti,
Kia
, Lexus, Maruti Suzuki,
Mazda
,
Mitsubishi
, Nissan,
Nissan
GTR, Samsung, Scion, Ssang Yong, Subaru, Suzuki, Toyota, Isuzu, Mahindra, Perodua, Proton, TATA, HINO, UD, Fuso.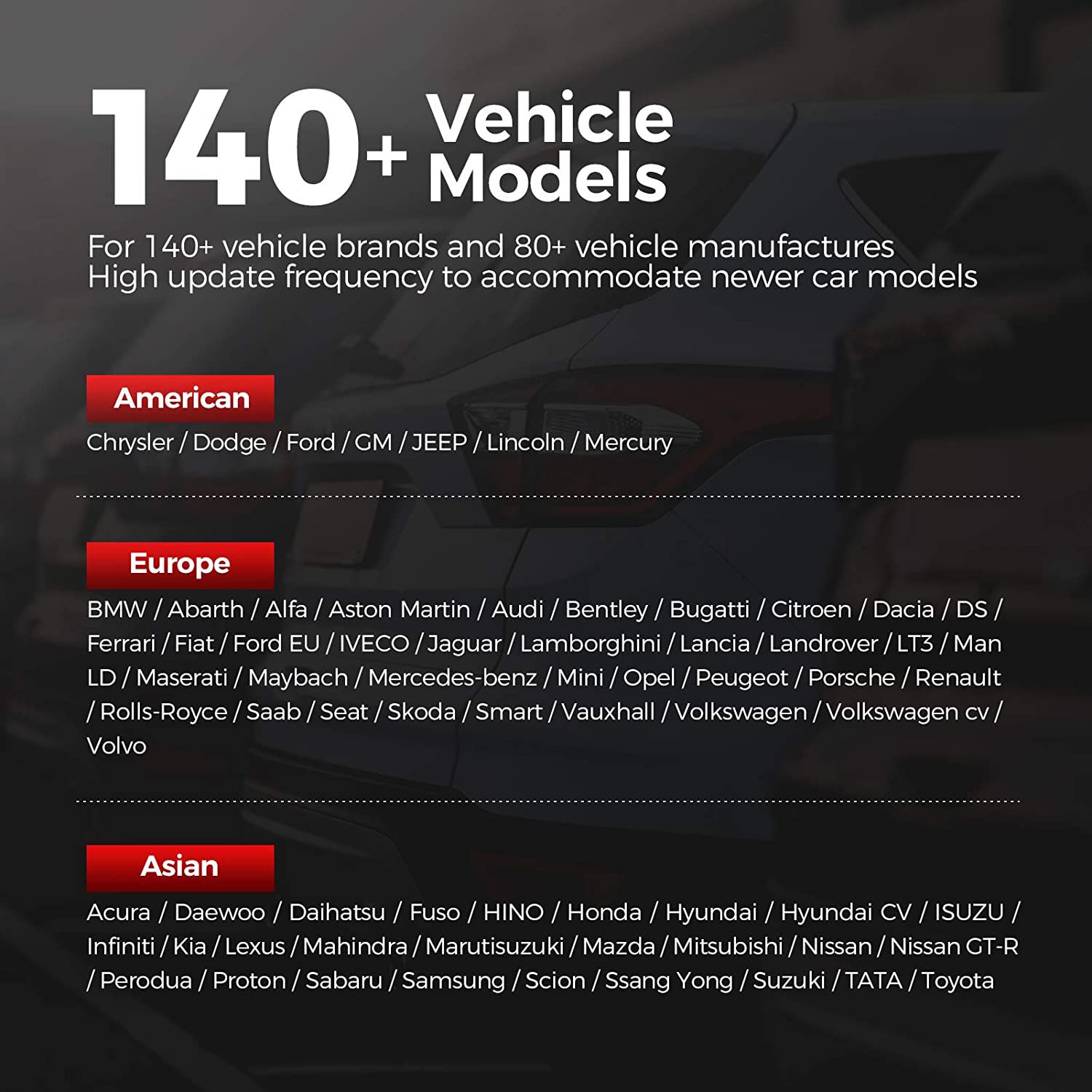 Technology Optimum Combination
We have always been seeking a comprehensive way of vehicle diagnosis. MK906BT can record digital images and videos, so we subtly combine different diagnostic tools to make it possible. It works with oscilloscopes to provide you with an insight into the inner workings of a vehicle's electronic circuits, with an inspection camera to access the desired point of difficult-to-reach car interiors, with TPMS tool to program
Autel
MX-sensors or OE sensors.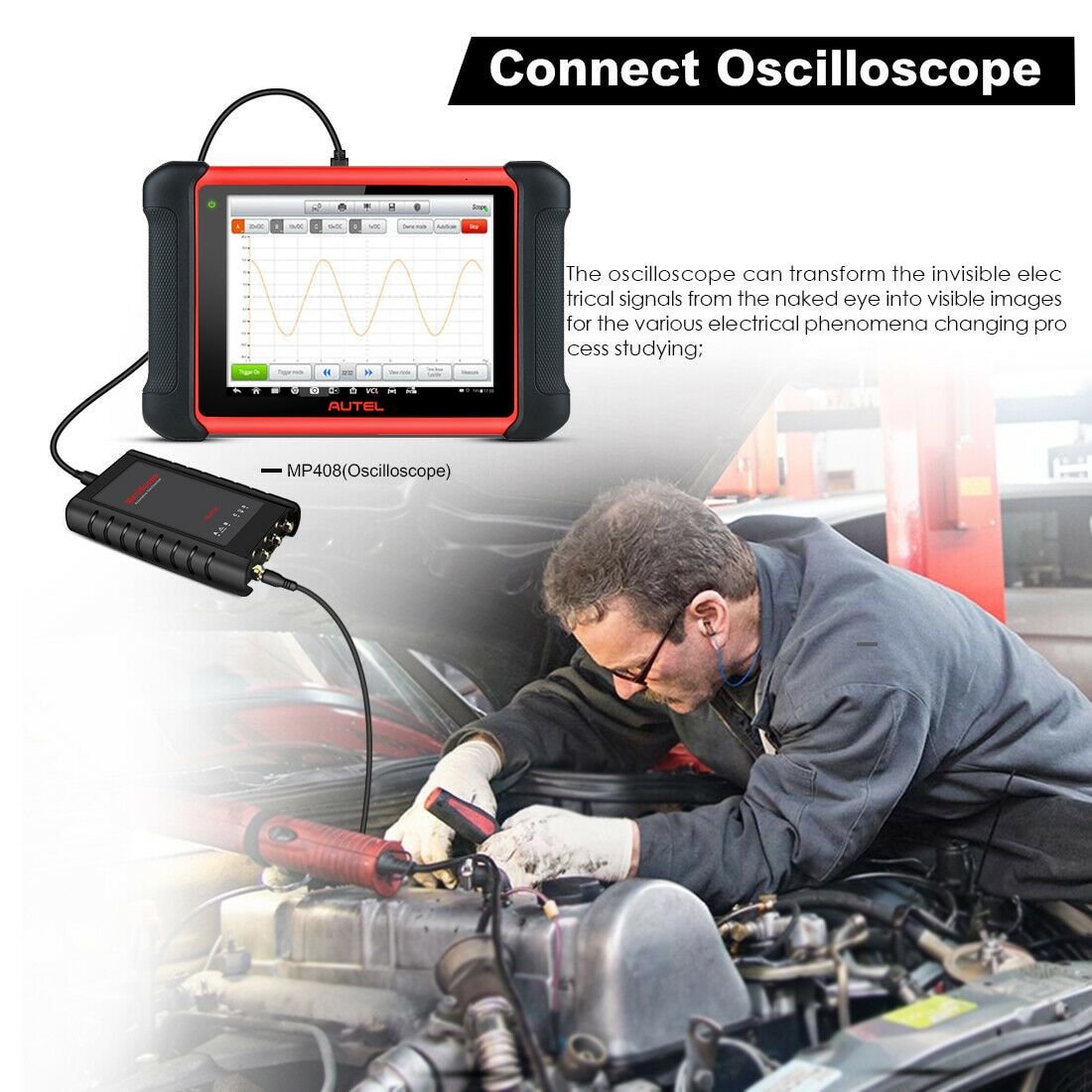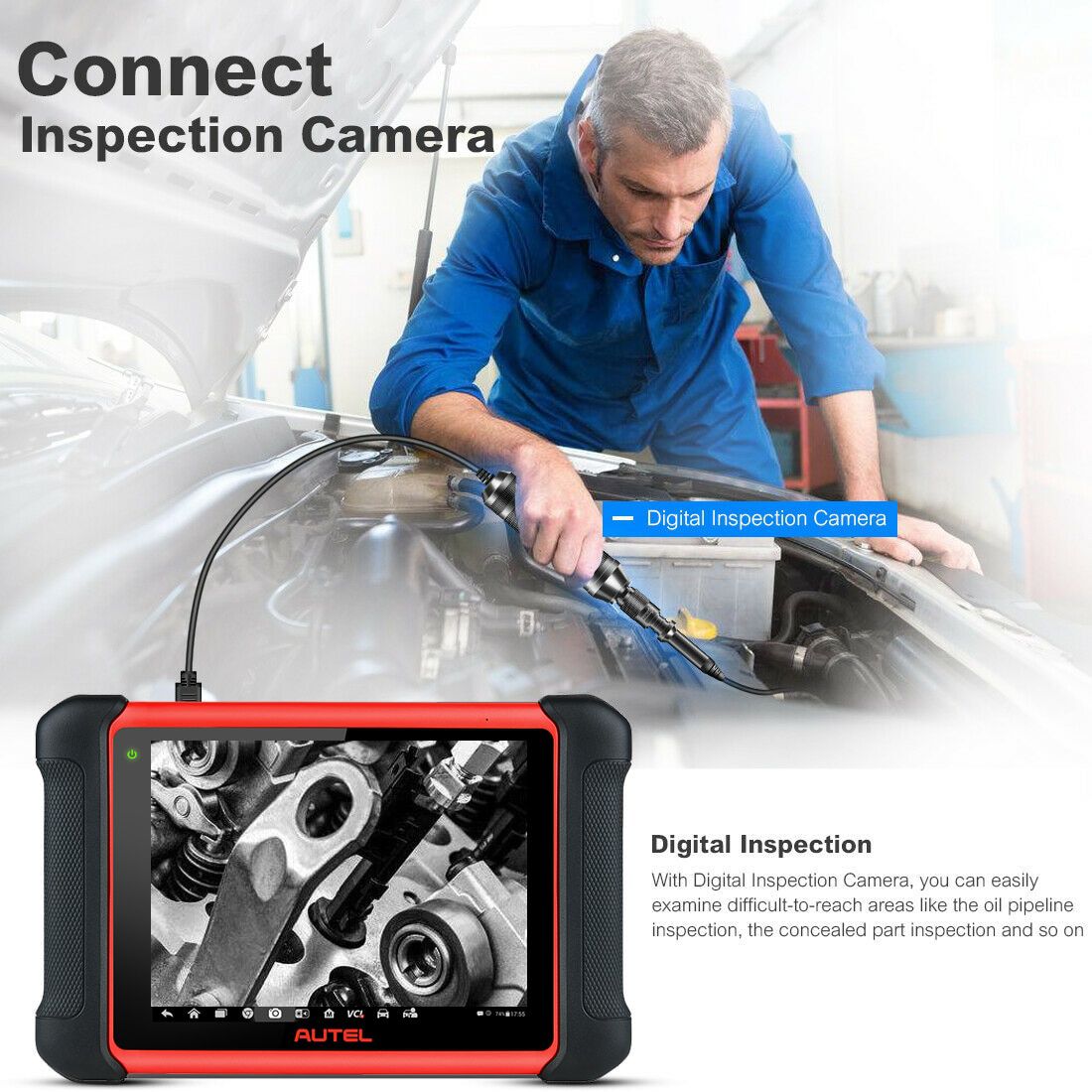 Auto VIN
Just one click can facilitate the vehicle diagnostic process. MK906BT scanner tool incorporates the latest Auto VIN technology that allows technicians or repairmen to easily identify vehicle information such as manufacturer, model, year and place of manufacture, etc.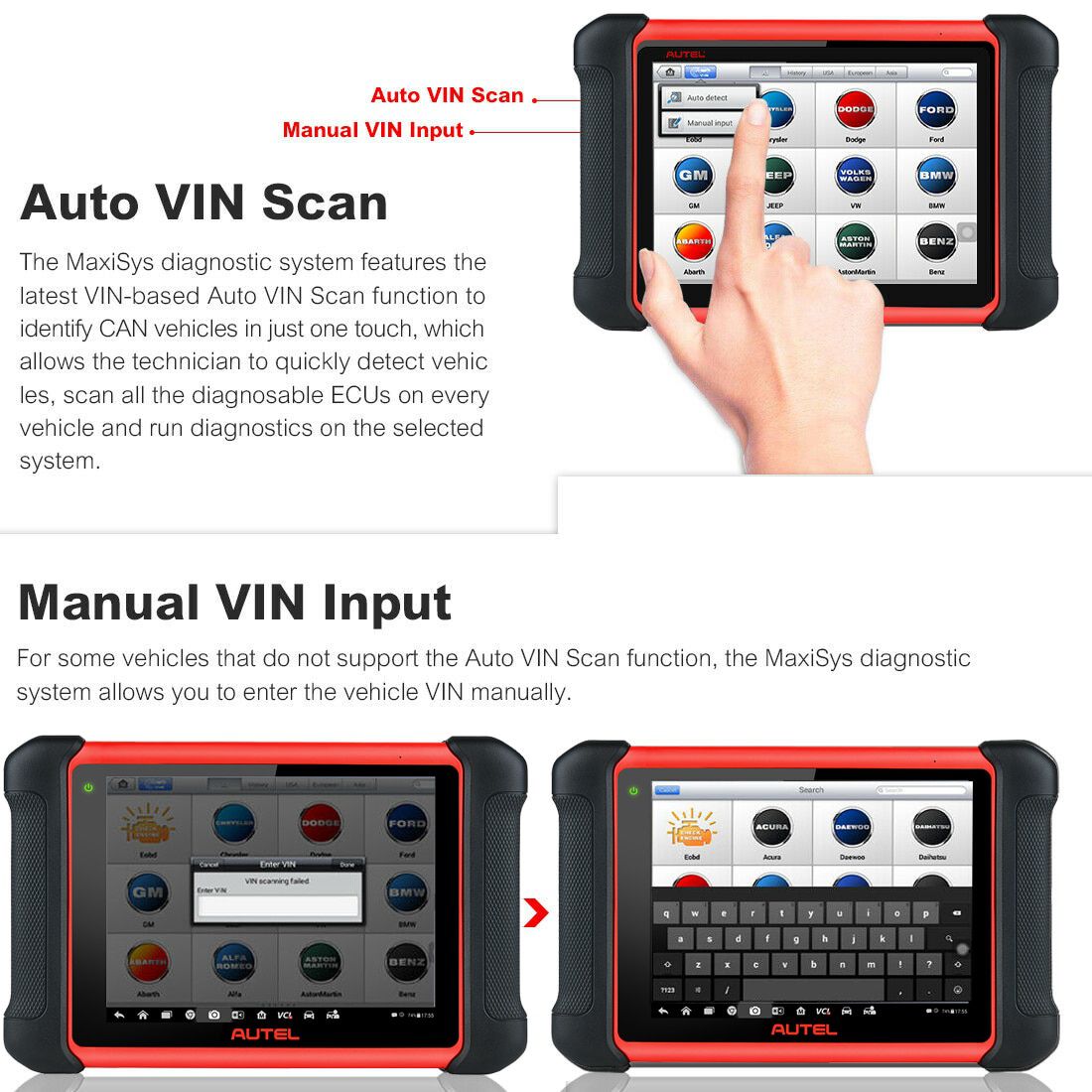 Additional Functions
The MK906BT automotive scan tool has additional features that take smart diagnostics to a new level: remote control support at any time, from anywhere, real-time push notifications and software updates over the Internet, Shop Manager to record customer and vehicle information and for easy access and management, Data Manager to uninstall manufacturer software, delete pictures and edit diagnostic records, MaxiFix (an online troubleshooter database) to access a vast database of repair and diagnostic tips along with proven filed fixes.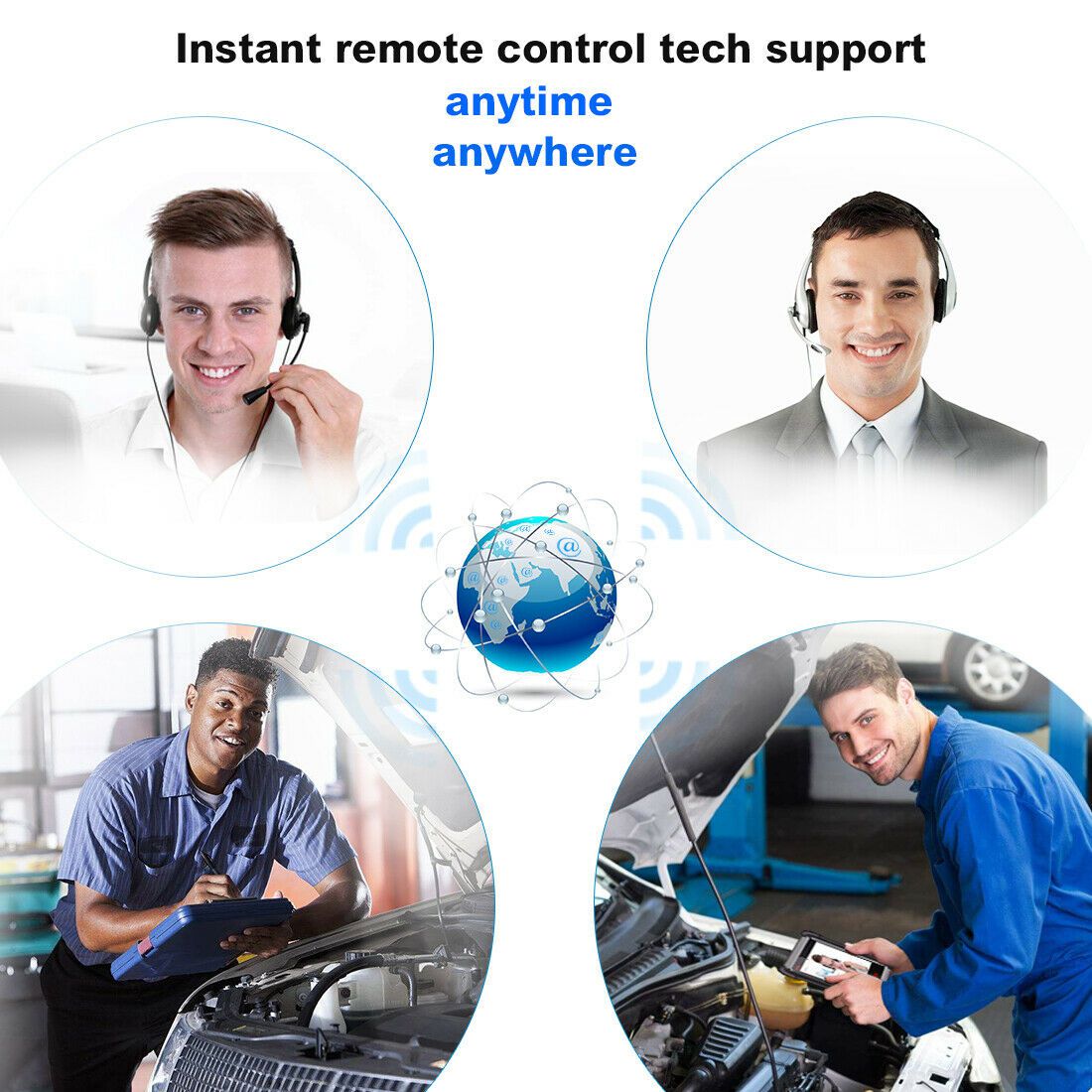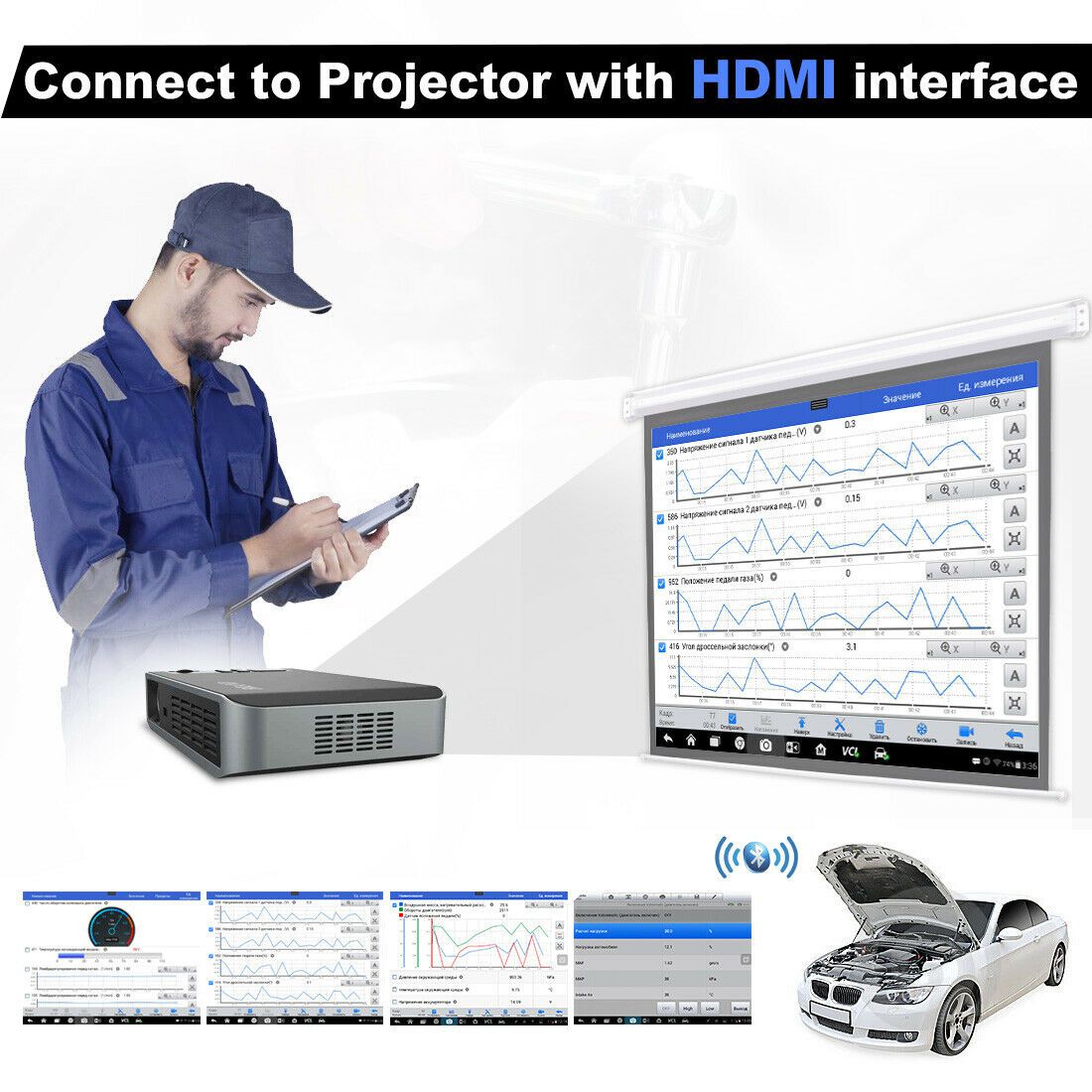 VAG Guided Function
Designed with VAG Guided Functions,
Autel
maxicom MK906BT provides on-screen instructions for you to complete some complicated maintenance or functions (SAS calibration, ECU Coding, etc.) gradually on
VW
,
Audi
, Seat,
Skoda
, etc.
Key Fob Programming
With
IMMO
Keys function, automotive diagnostic scanner MK906BT can disable or clear info of the
lost
vehicle keys, add new keys, program the replacement key fob for most Asian and American vehicles. Note: Not available for
BMW
, Benz,
Audi
, etc.
Sit Down and Take a Breath
Work hard; Play hard! The Autel MK906BT is not only a diagnostic tablet but also an entertainment tablet. Given its
Android
-based OS, you could install Twitter, Telegram, Spotify, Instagram, etc.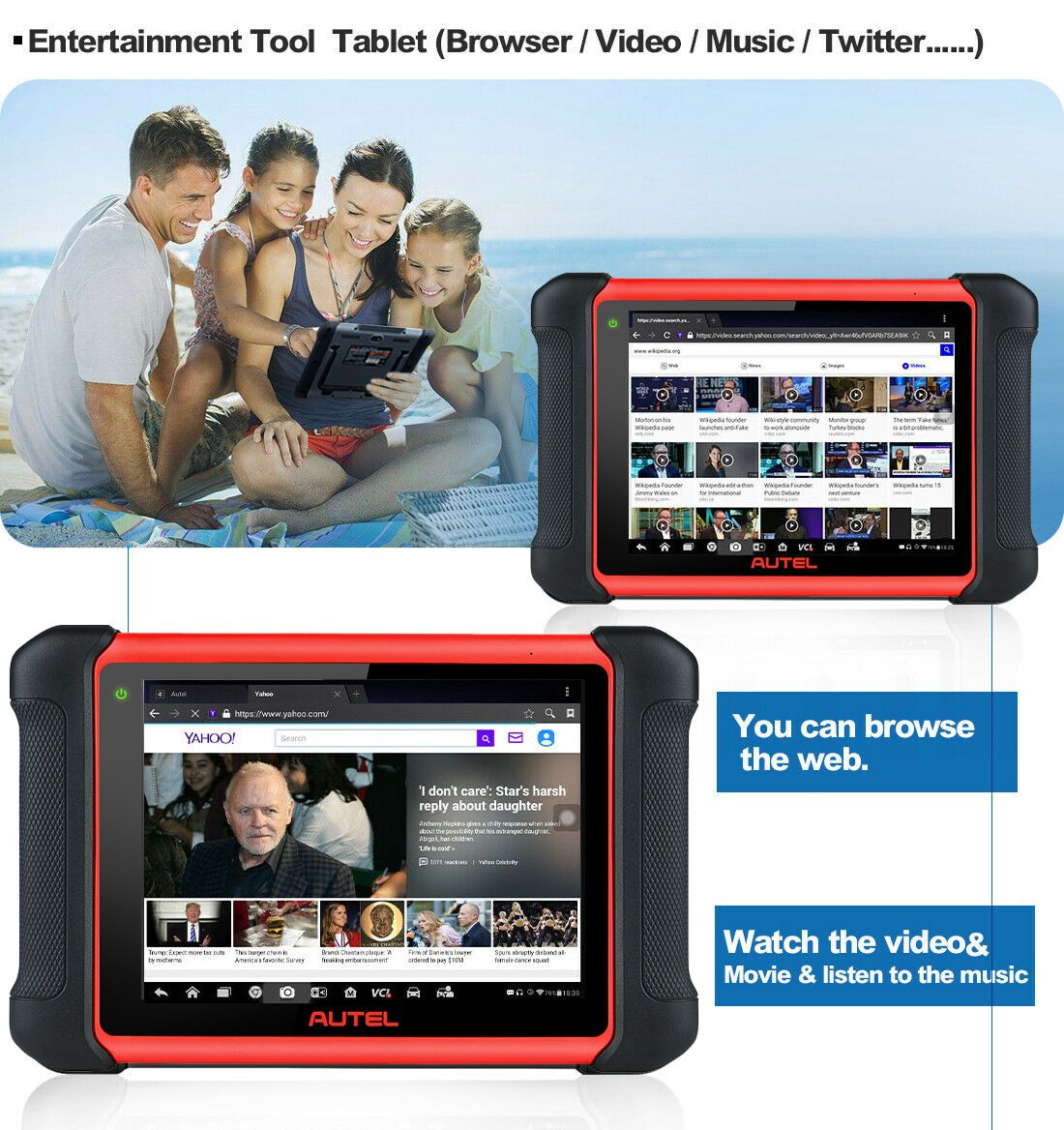 Updated Version of MS906/MK908
MK906BT contains most of the functions of MS906/MK908 with performance improvements over MS906BT: faster wireless pairing, longer
Bluetooth
range (164ft/50m), and fastest software update frequency among its peers on the market.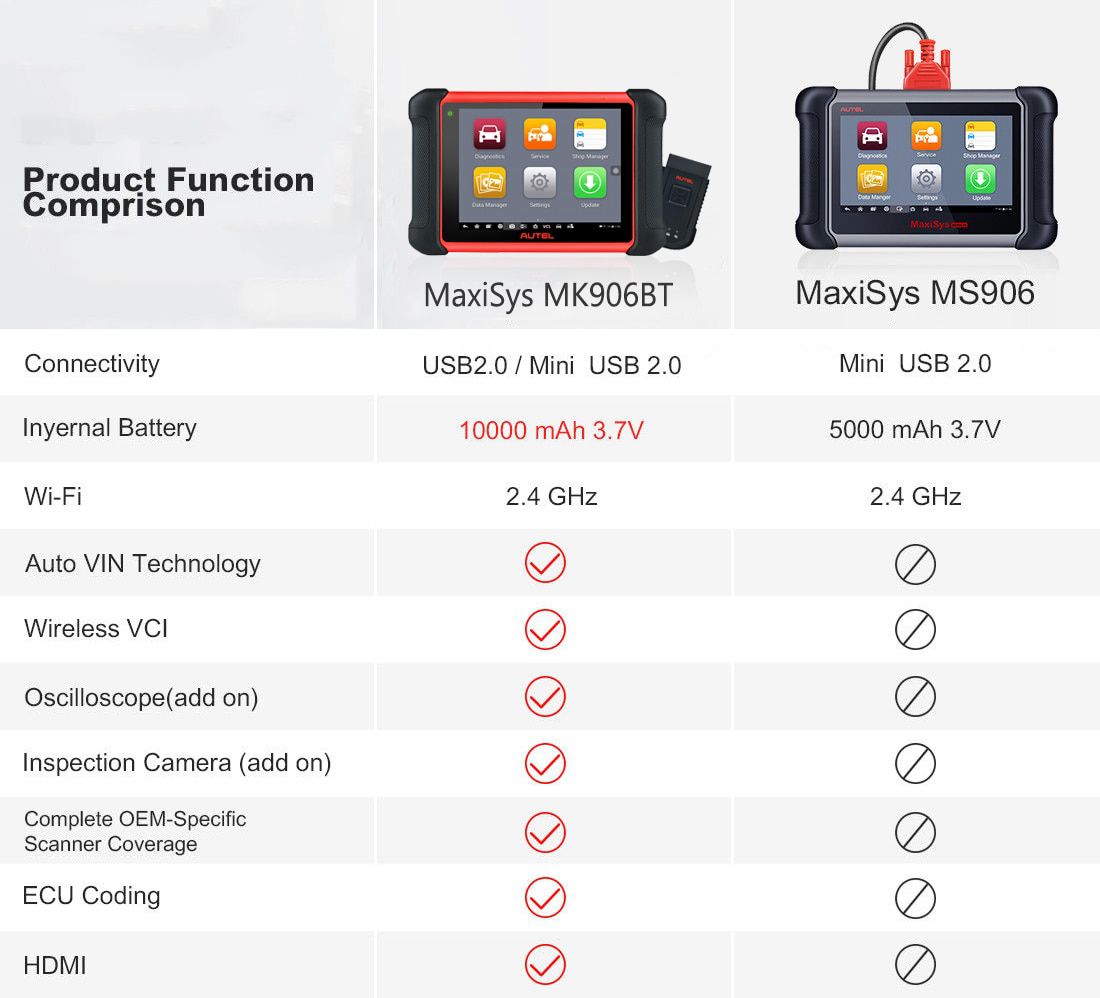 Specifications
Operating System:
Android
TM 4.4.2, KitKat
Processor: Samsung Exynos T5260 6-Core Processor (1.3 GHz quad-core ARM Cortex-A7 + 1.7 GHz dual-core ARM Cortex-A15)
Memory: 2 GB RAM & 64 GB ROM
Display: 8.0 inch LED capacitive touch screen with 1024x768P resolution
Connectivity:
Wi-Fi (802.11 b/g/n)
USB: 2.0
Mini USB 2.0
Wireless BT V2.1+EDR, Class1
HDMI 1.4a
SD Card (support up to 32GB)
Camera (rear):Rear-facing, 8.0 Megapixel, AF with Flashlight
Sensors: Gravity Accelerometer, Ambient Light Sensor (ALS)
Audio Input/Output:
Microphone
Single Speakers
3-Band 3.5 mm stereo/standard headset j
Power and Battery: 10,000 mAh 3.7 V lithium-polymer battery
Charging via 12 V AC/DC power supply
Input Voltage: 12 V (9-35 V)
Power Consumption: 5 W
Reviews

15
#1 Tamara Marzoeva
Jul 9, 2021

Excellent!
#1 AddennyEnhava AddennyEnhava
Feb 9, 2021

very good salesman always available and very helpful. I will buy again at the seller.
#1 Jaffar Alkhabbaz
Feb 9, 2021

Product as described request. Very fast. Recommend all p.
#1 Sanjay Marx cipriano
May 9, 2021

works like charm
#1 Jennifer Callaway
Apr 9, 2021

All on time .. I recommend the seller 5 of 5
#1 Alan Clarke
May 9, 2021

Very good ! I recommend !
#1 Aleksey Svezhenets
Mar 9, 2021

All the best works great! this Autel MaxiCOM MK906BT OBD2 Diagnostic Scanner Multi-Language Support ECU Coding/ Injector Coding is good quality, working very well
#1 Manuel Garcia
Apr 9, 2021

Arrived super fast delivery. The best they have representative here in Brazil P make delivery. Good seller. Recommend.
#1 ambons ambons
Mar 9, 2021

Very good ! I recommend !
#1 андрей антонов
Jun 9, 2021

Received the parcel in good condition. Delivery is fast.
Previous: Original Autel Robotics EVO II Drone 8K HDR Video Camera Drone Foldable Quadcopter Rugged Bundle (With One Extra Battery)
Next: Latest Volvo Premium Tech Tool PTT V2.8.150 Full Development With New ACPI Plus