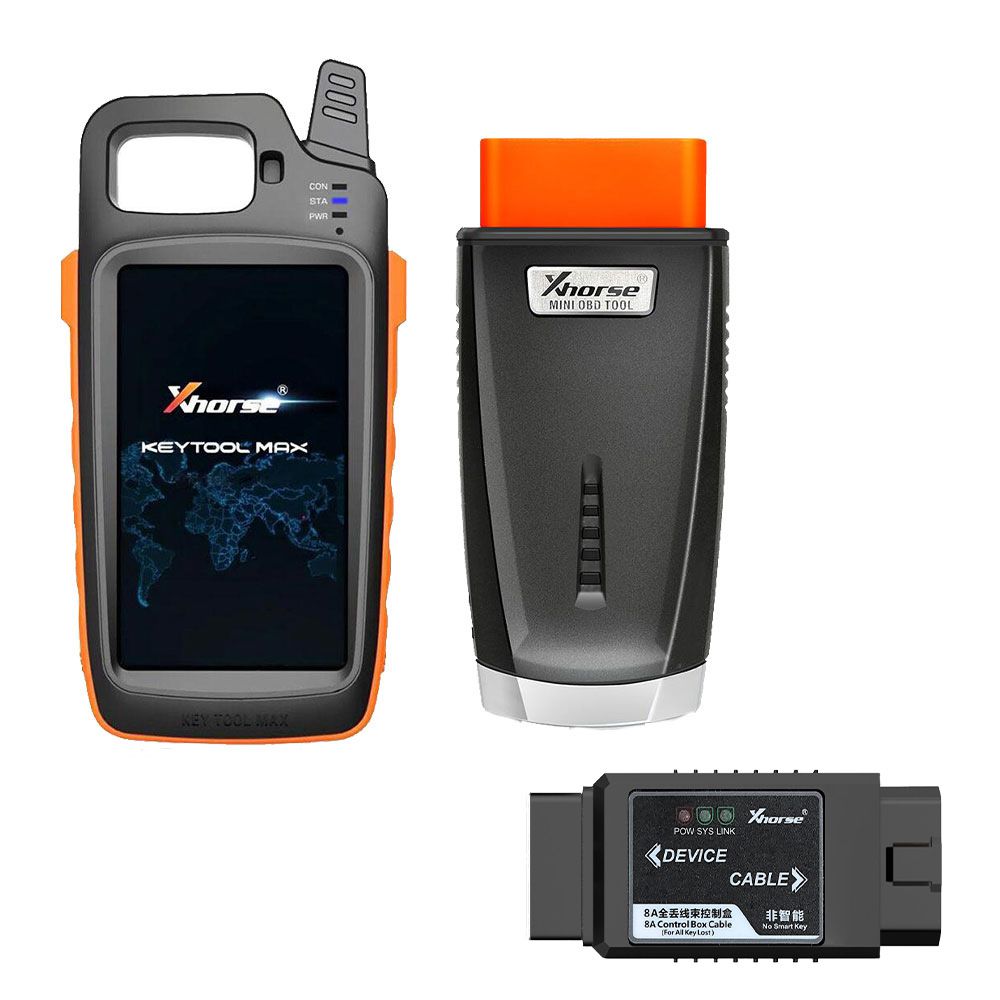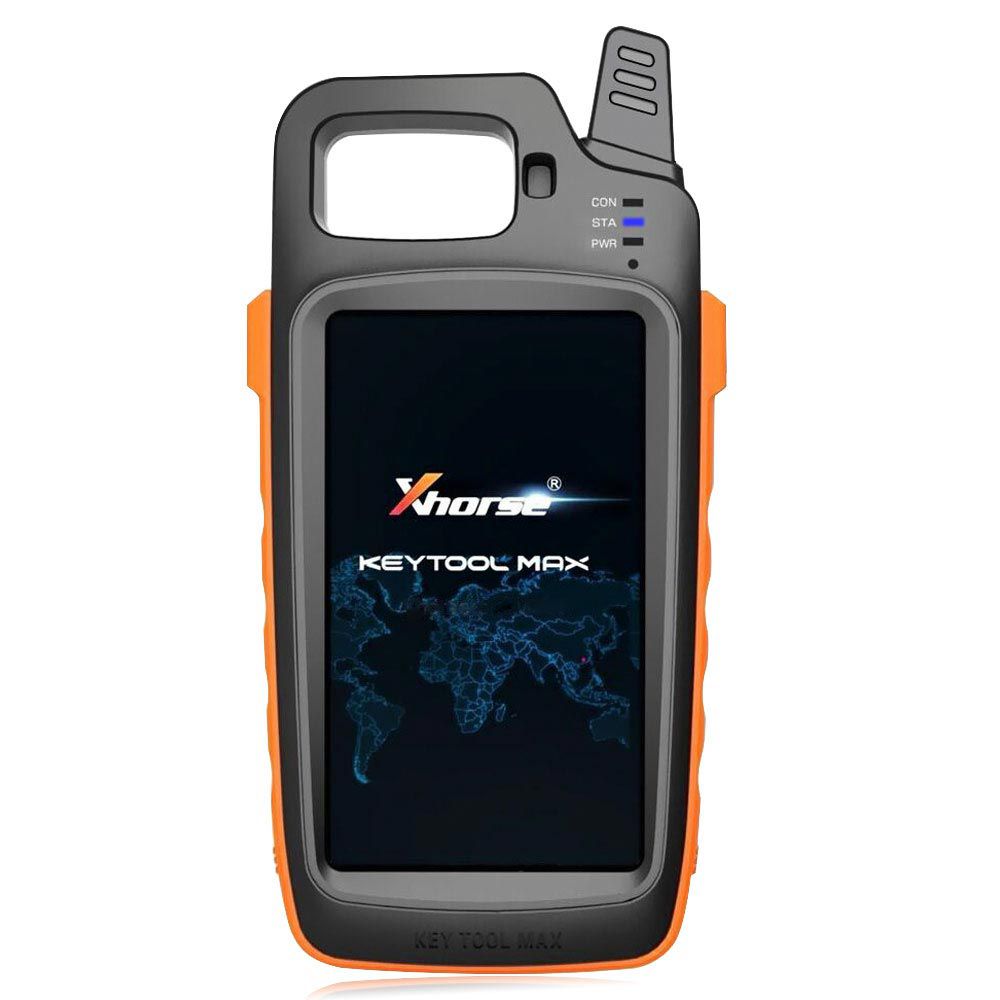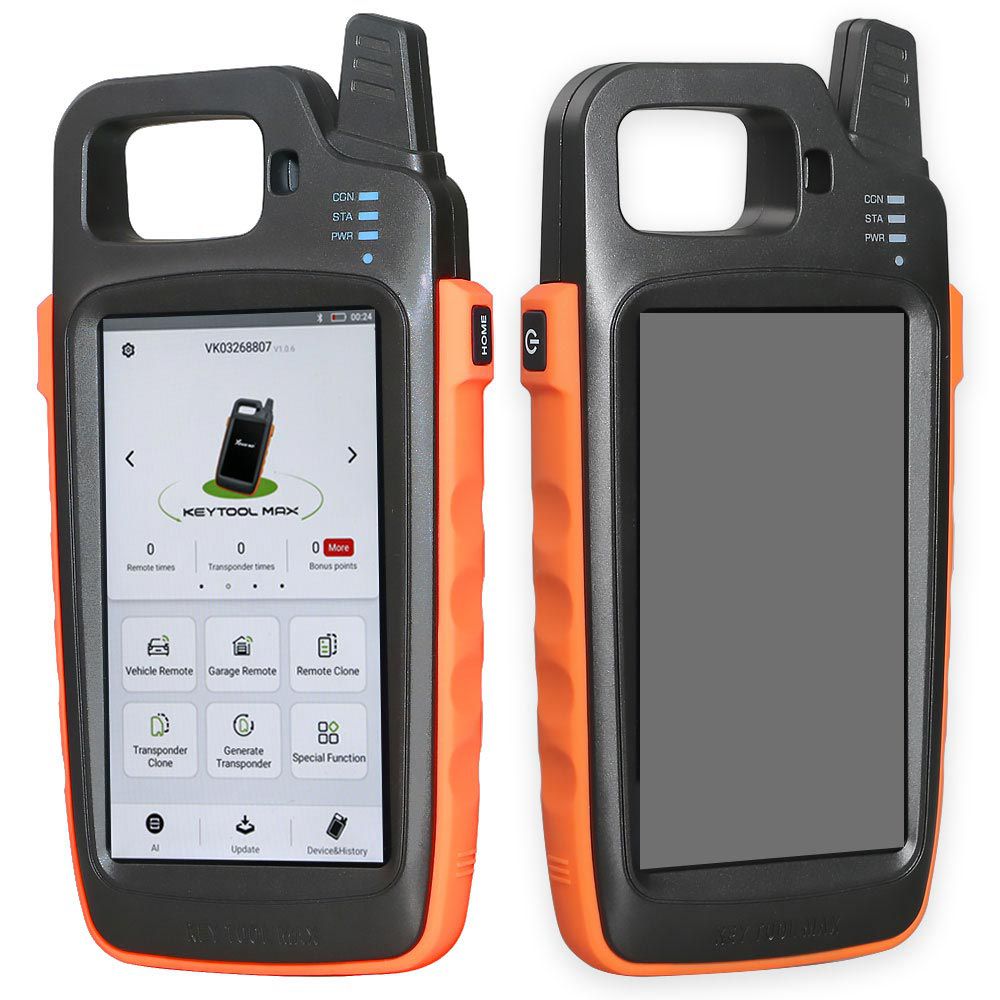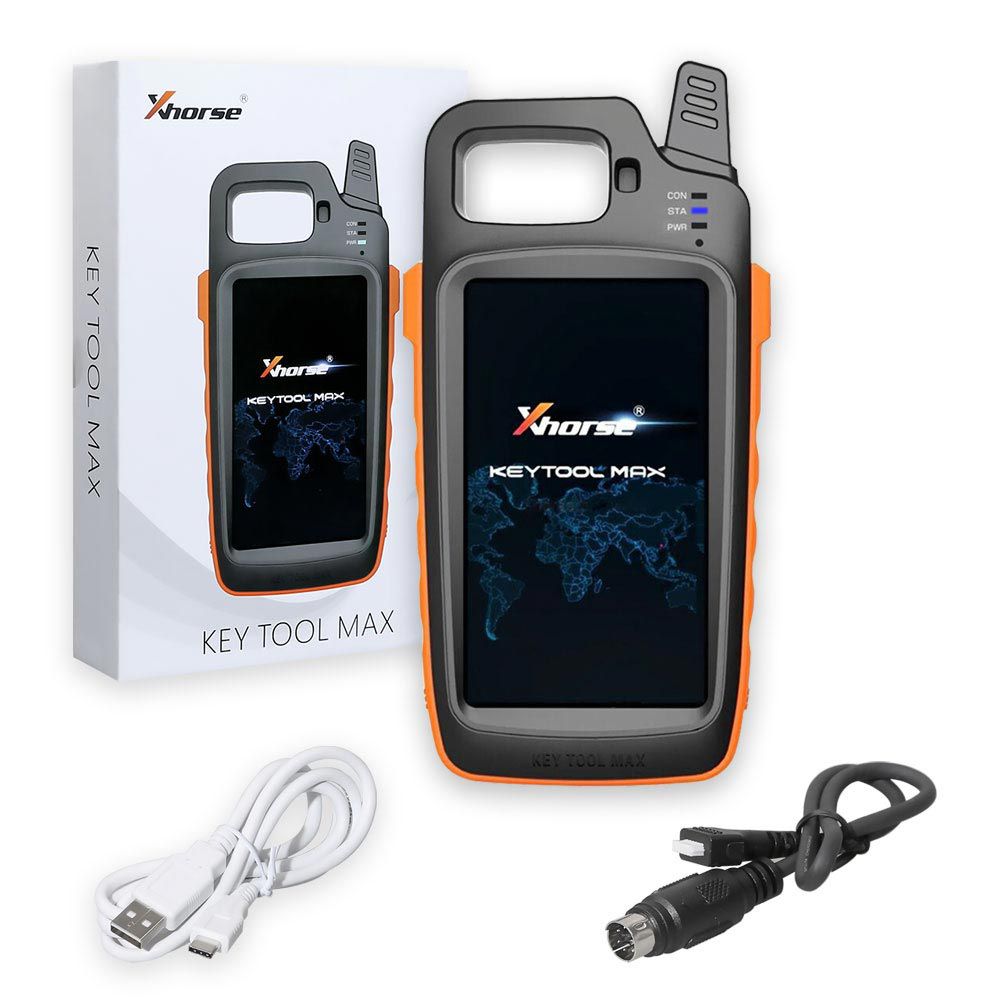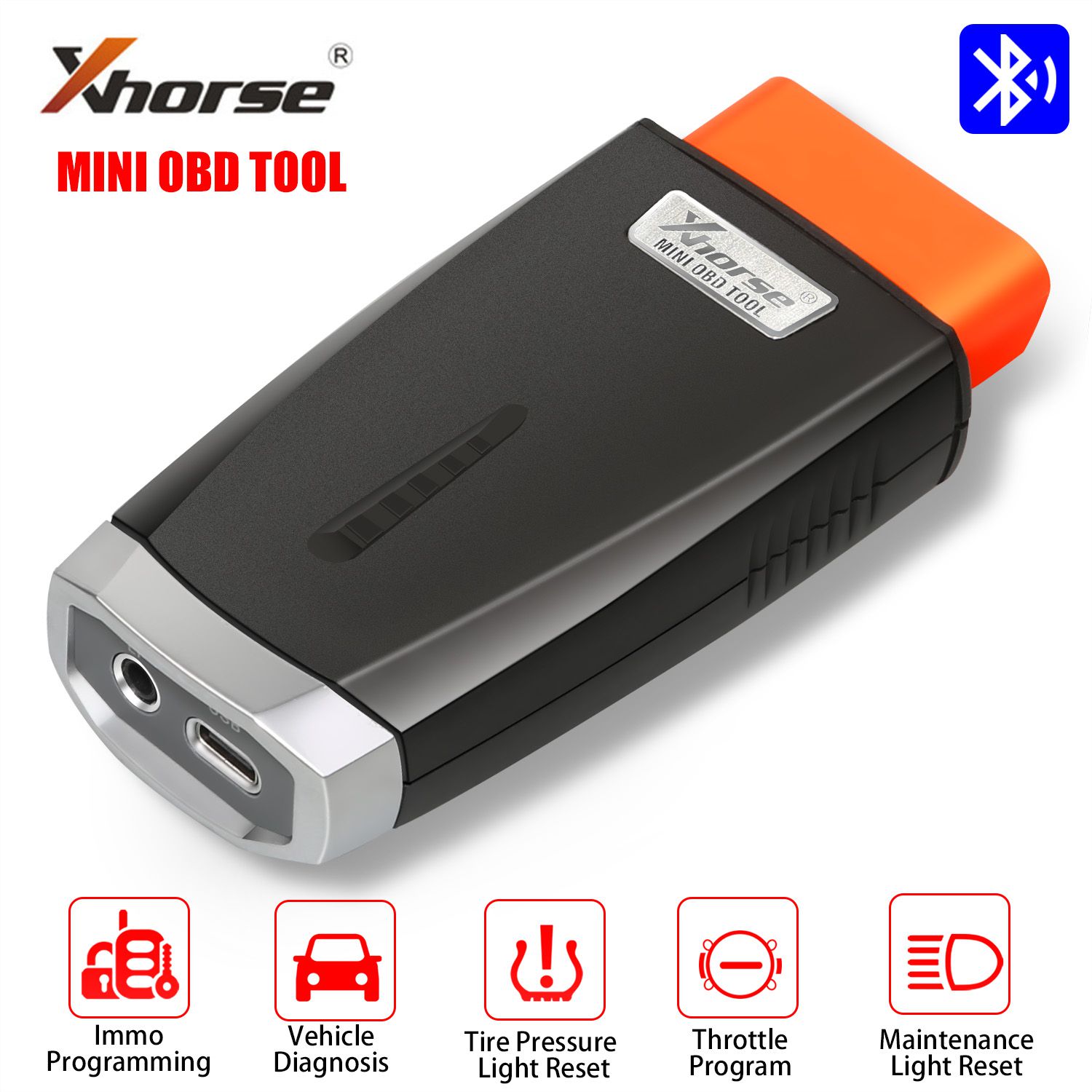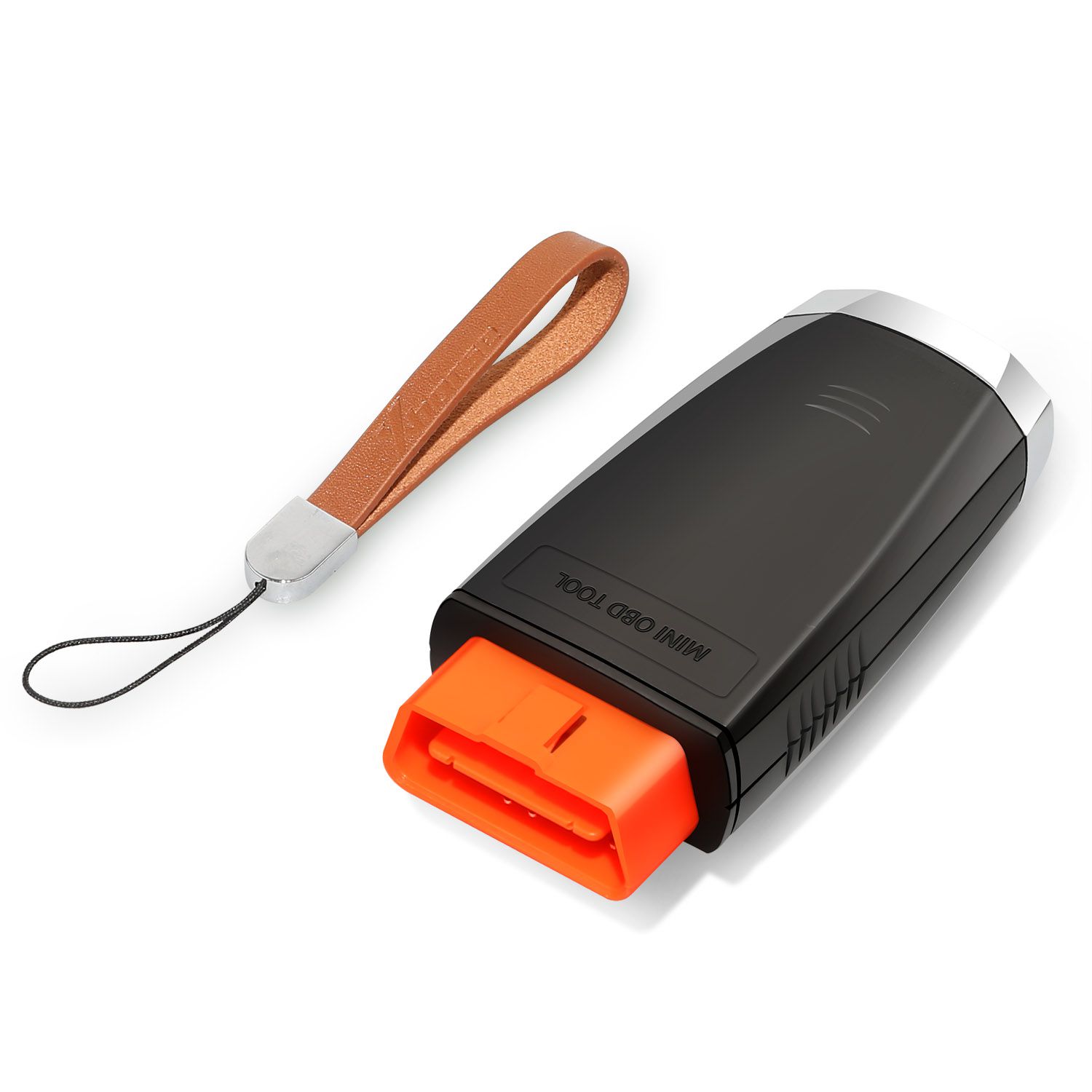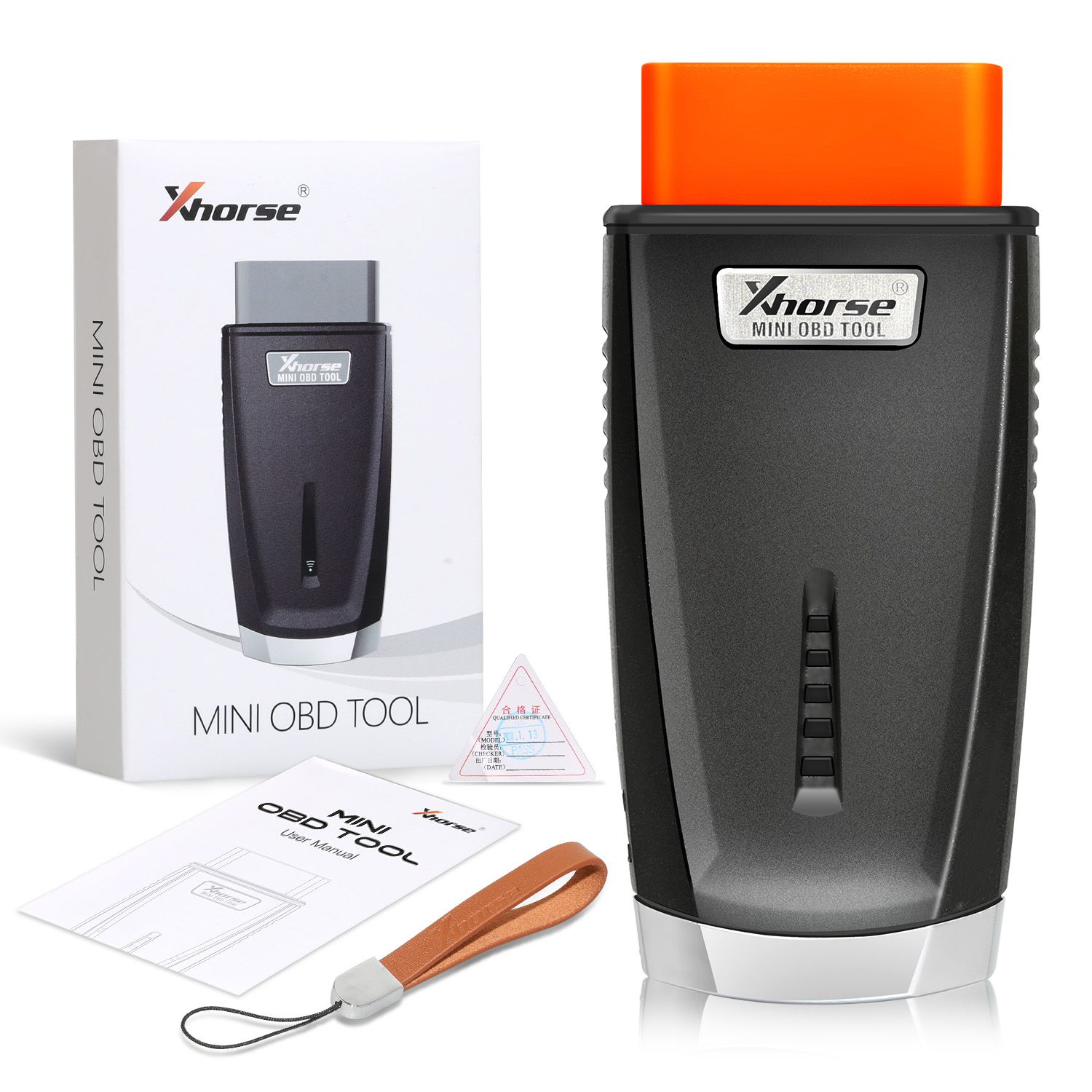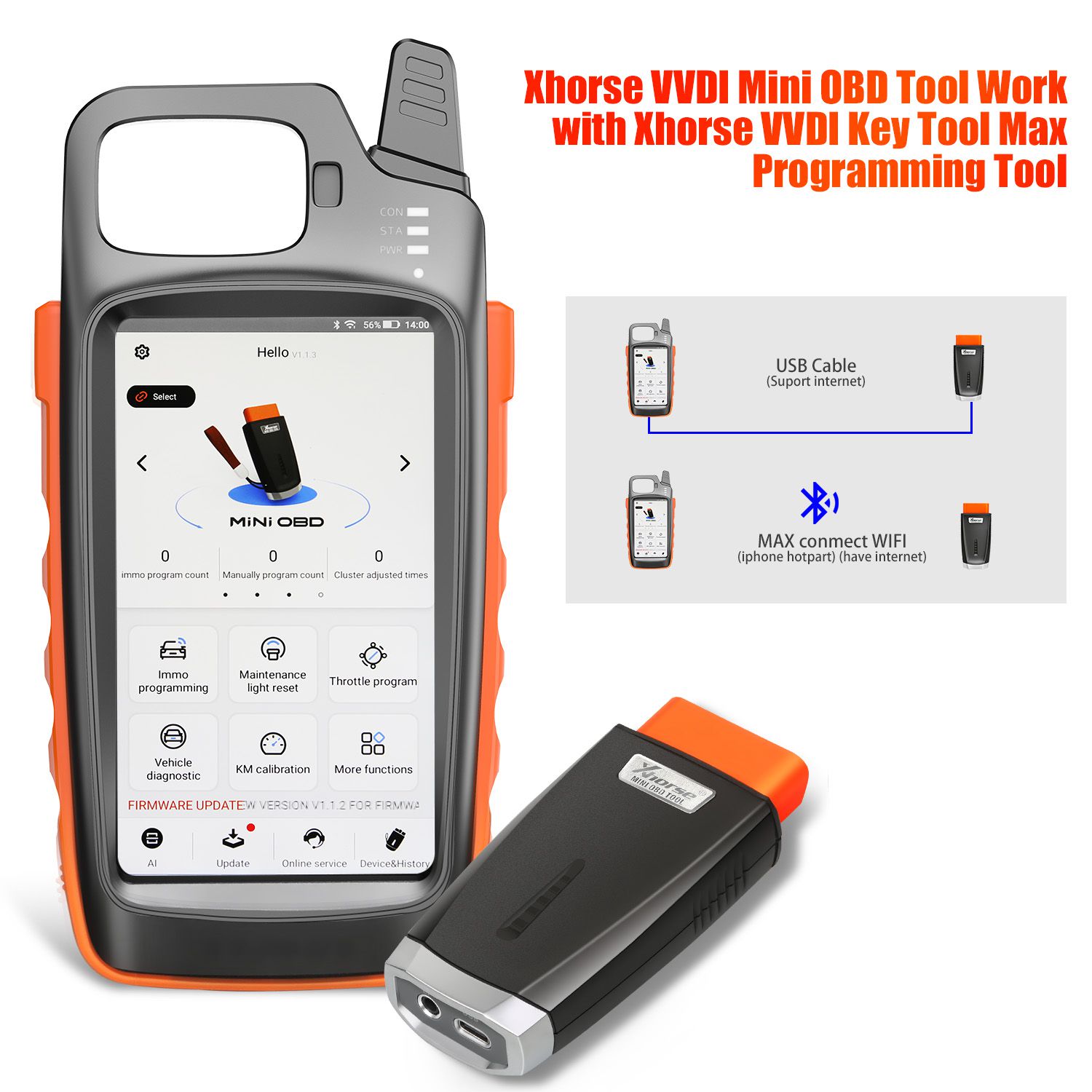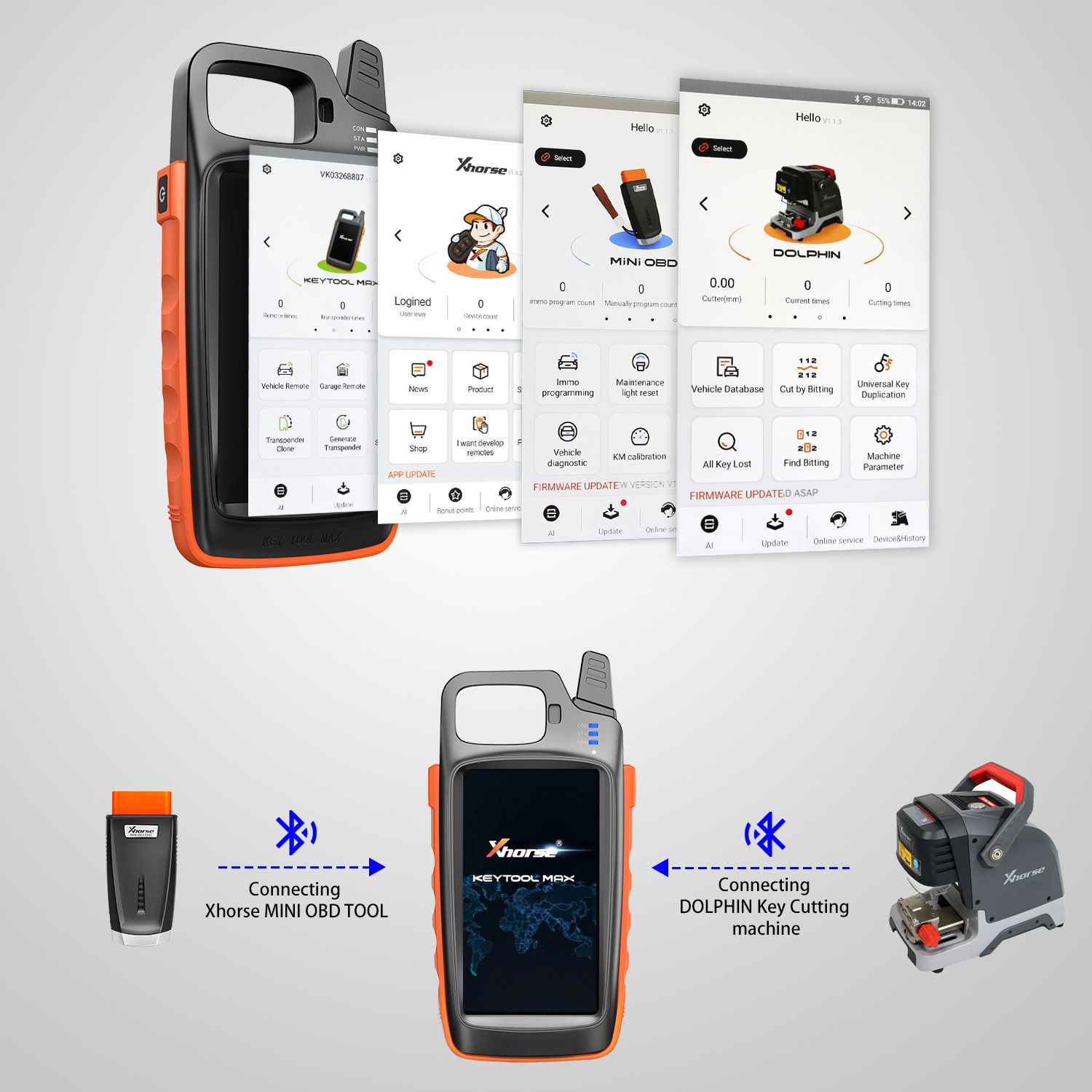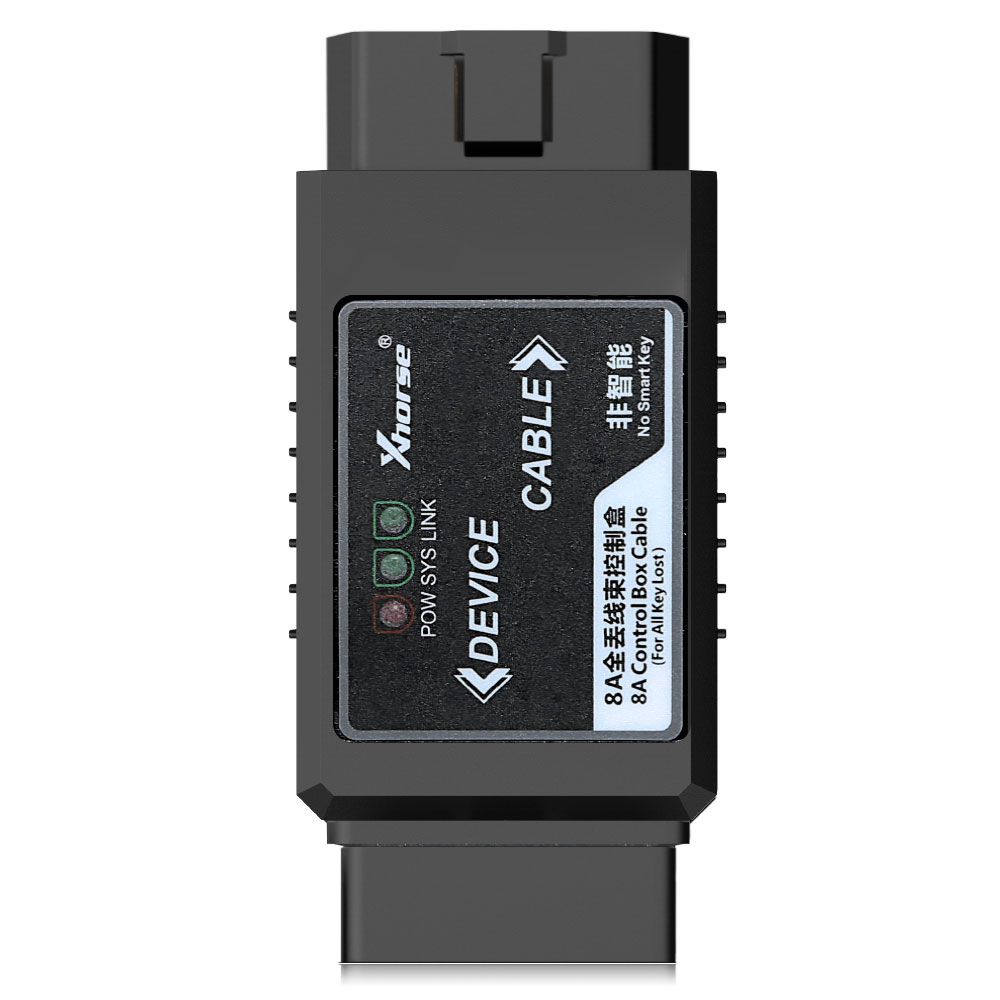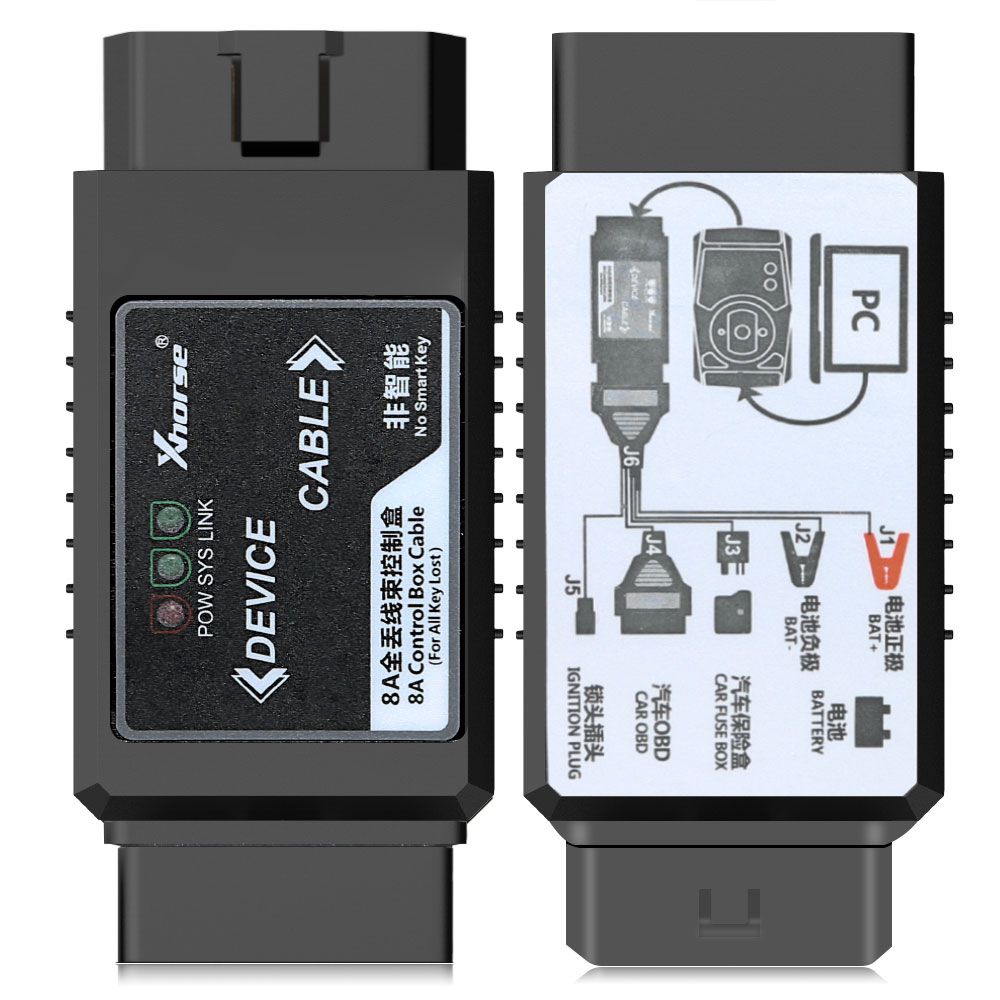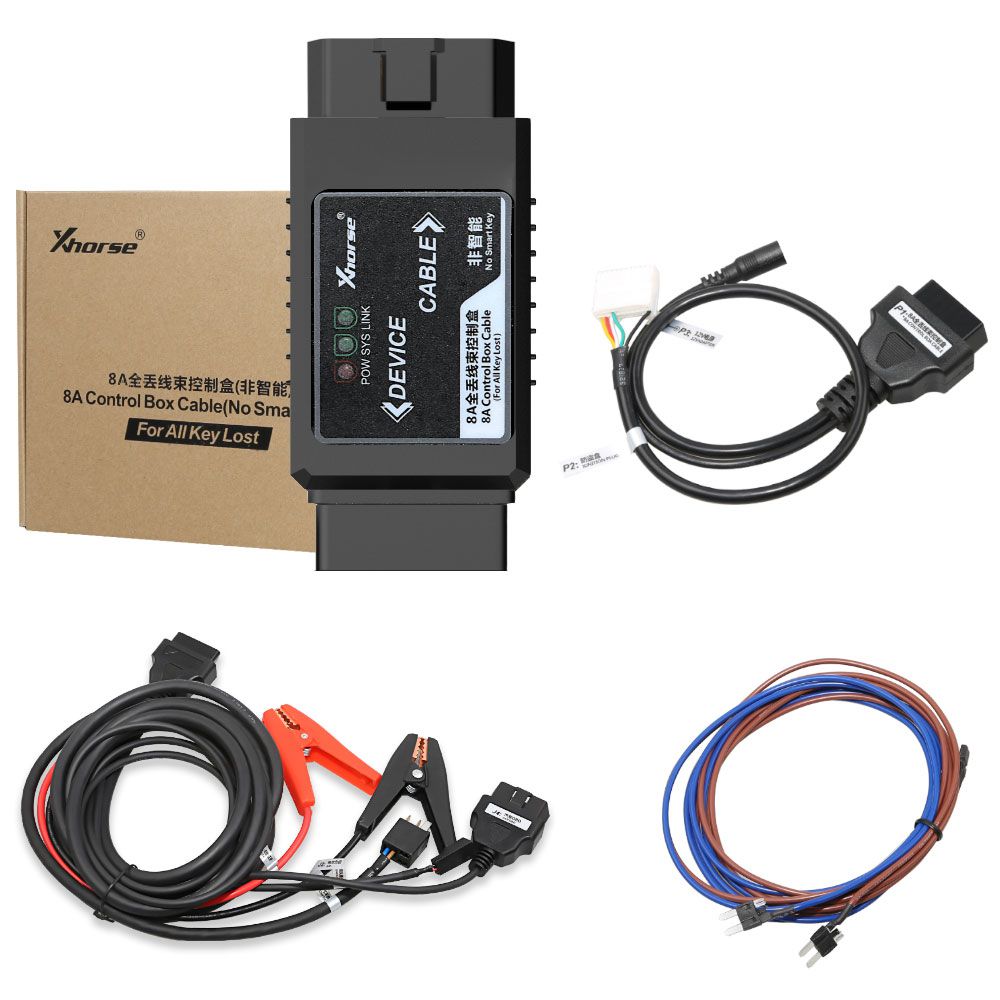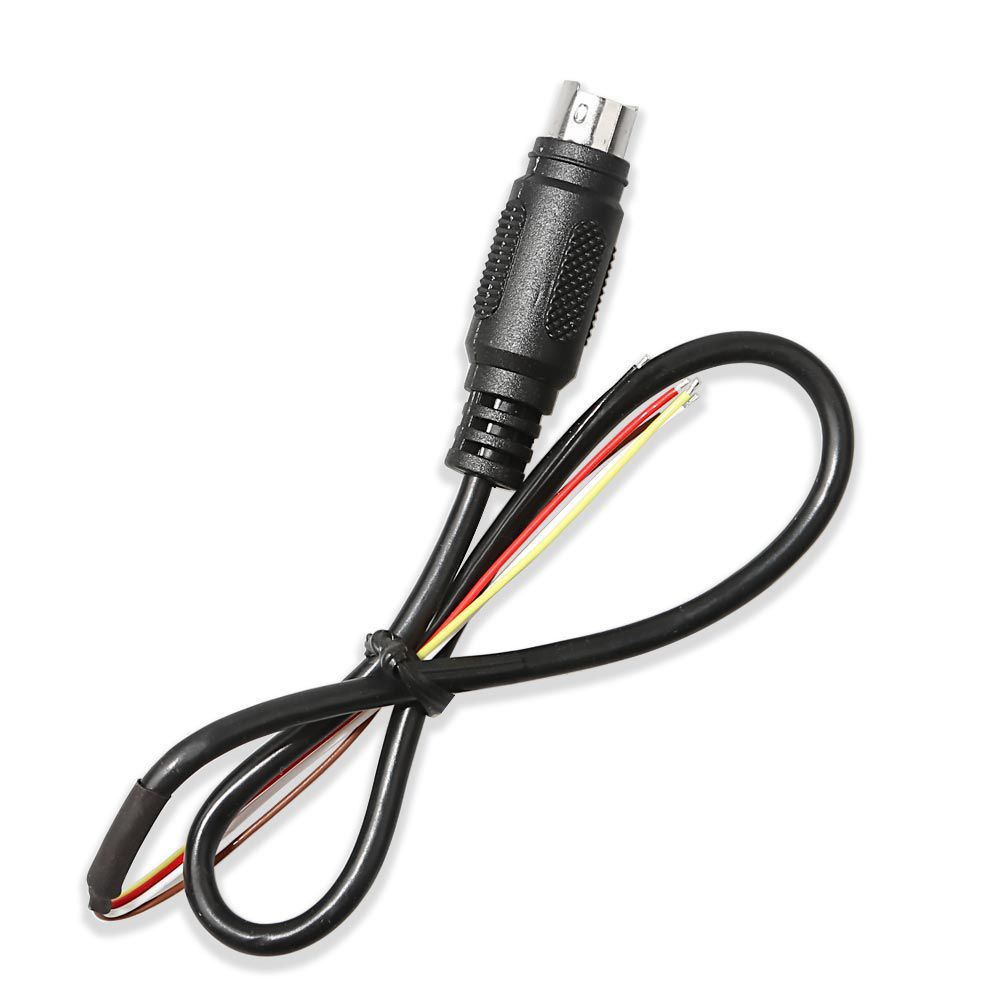 Description
Xhorse VVDI Key Tool Max + MINI OBD Tool + Toyota 8A All keys lost Adapter Get Free Renew Cable

Promotion:
Buy Xhorse VVDI Key Tool Max + MINI OBD Tool + Toyota 8A All keys lost Adapter Get Free Xhorse Renew Cable.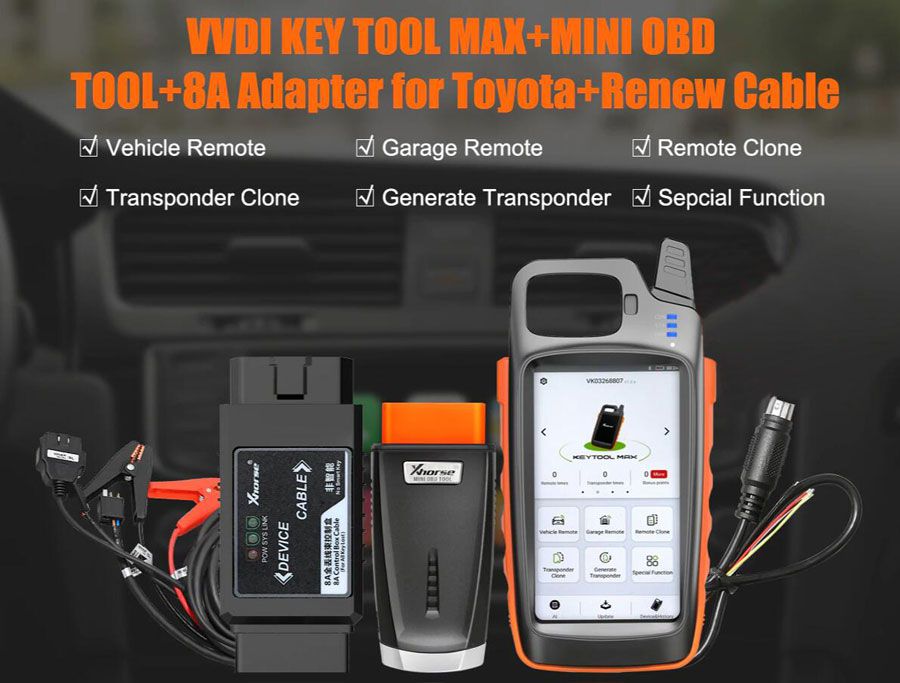 VVDI Key Max Features:
1. Use KEY TOOL MAX to connect the dolphin to cut the key for the customer.
2. Support Generate transponder and remote.etc
3. Enter the car directly using KEY MAX+MINI OBD for matching. The entire process can be seamlessly connected without switching devices.
4. KEY TOOL MAX +MINI OBD TOOL can not only match the chip remote control of imported domestic cars, smart card, but also Toyota H chip will be released first on KEY TOOL MAX.
5. Language: English, Spanish and French
Key Tool Max Function:
Generate remote and smart key
Program and Immo transponder
Generate speical transponder
Renew remote
Recognize and copy access card
Generate and copy garage remote
Frequency detection and copy remote
Connect to Xhorse key cutting machine
Special function (VVDI Special TP, Unlock Toyota Smart Key, Special 4D to 4C, ID63 to ID83,
VVDI smart key clone, VVDI remote repair calibration etc)
Generate transponder,Transponder Clone, Generate Remote,Remote Clone, OBD matching, transponder/remote/smart card, Clone IC/ID card.VVDI Mini OBD Tool Function
Key Programming
Battery Programming
Odometer Correction
Steering Angle Calibration
Key Code Learning
E
ABS
Programming
Remote Manual Programming
OBD2 Diagnostic, Immo Programming, Maintenance Light Reset,Throttlebody Learning, KM Calibration and more functions are under development.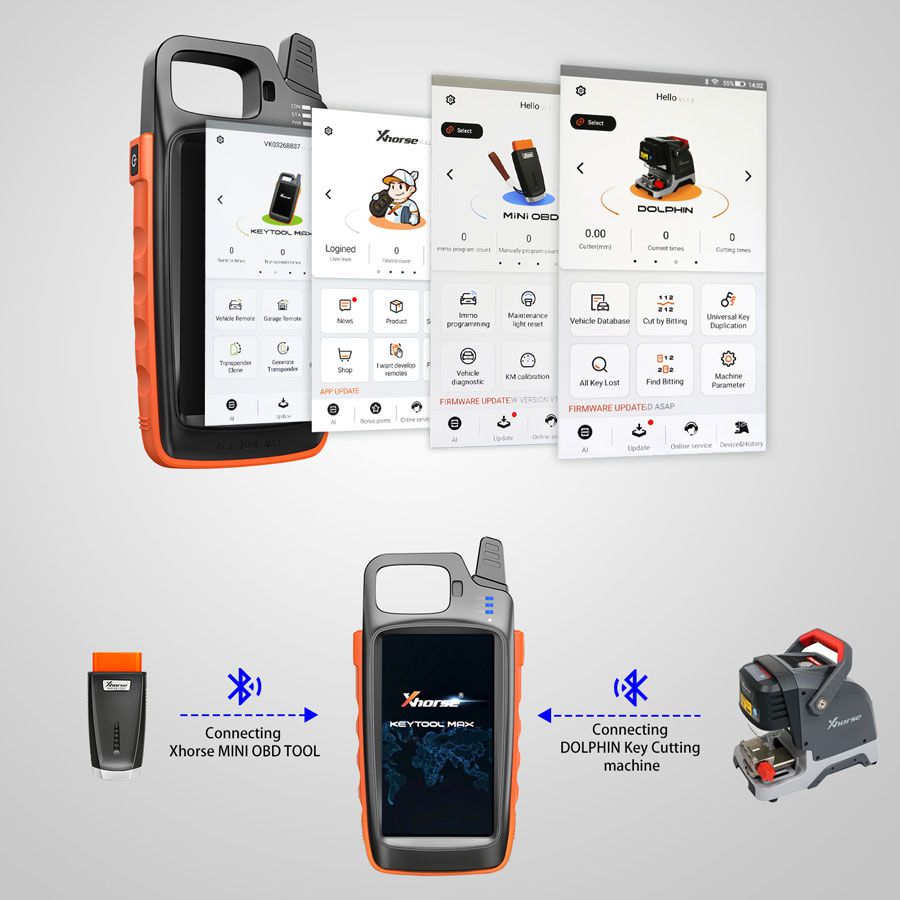 Toyota 8A Non-Smart Key All keys lost Adapter
For Toyota 8A
All keys lost
, without disassembling Immibilizer box
Supports VVDI2, Key Tool Max+ Mini OBD Tool
Toyota 8A Non-Smart Key Car Models:
Levin, Corolla, Rav4, Prado, Land Cruiser,Camry, Highlander, Reiz, Sienna
How to Connect 8A Adapter with Key Tool Max+ Mini OBD?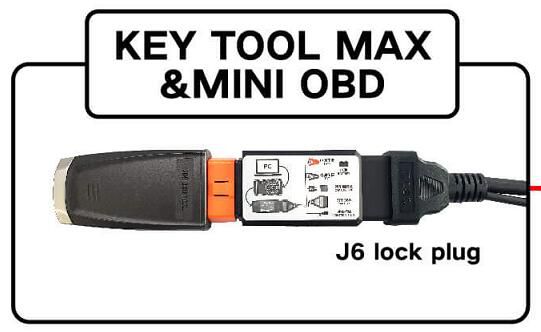 Package List:
1x VVDI Key Tool Max tablet
1x USB-C cable
1x Remote generation cable
1x User Manual
1set x VVDI MINI OBD Tool
1set x Toyota 8A
All keys lost
Adapter
1pc x Renew Cable
Previous: KTM FLASH KTM BENCH KTM OBD1.20 67 in 1 ECU Programmer Update Version of KTM Bench V1.20
Next: Original Viecar ELM 327 V1.5 Bluetooth 4.0 ELM327 OBD2 Scanner PIC18F25K80 For Android/IOS OBD OBD2 Car Diagnostic Auto tool