Related Accessories/Similar Items
Description
Newest software provide: JLR V145
Most cost competitive Land Rover pass-thru
Best suited for current and future vehicles
Easy to update for J2534 new functionality
Multi Languages: Deutsch,English,Espano,francais, italiano ,nederlands, Portugues(European) Russian,Japanese,Chinese

Jaguar & Land Rover Vehicle Coverage: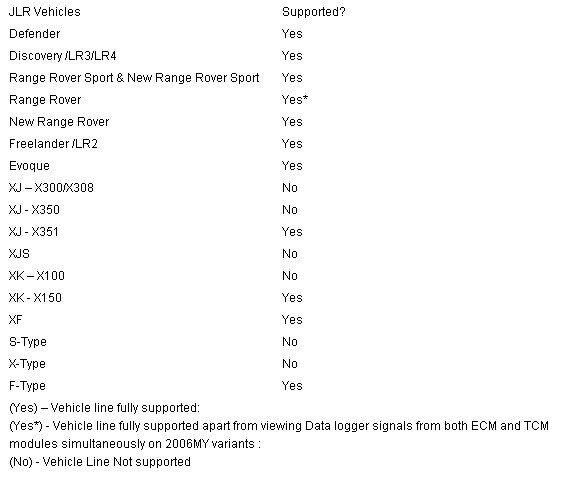 VCM2 for LandRover Functions:
The VCM2 for Land Rover connects directly to the vehicle OBDII (diagnostic) connector and then to a laptop via a USB cable for use with SDD.
Once the J2534 DLL files are loaded, this product will allow normal operation with the JLR SDD diagnostic tool.
The device is designed as a replacement pass-through vehicle communications device that can be used for the majority of the JLR SDD diagnostic applications.
Only SCP communications are not possible with this device.
Please read the user manual firstly before using, install the software after watching the video or user manual in the DVD
Connect the J2534 device to the vehicle OBDII connector (the device powers from the vehicle).
Connect the 12ft USB cable to the J2534 device and the other end to the SDD laptop.
The red vehicle power (PWR) LED will illuminate to show that the device is powered.
During communication with the vehicle the status (STS) LED will flash green.
The device interacts with the SDD diagnostic tool in the same way as the existing VCM.

Package including:
1pc x VCM II interface
1pc x USB Cable
1pc x OBDII Cable
3pcs x CD Software
1pc x Carrying Case
Previous: J-Link JLINK V8+ ARM USB-JTAG Adapter Emulator Plus NXP LPC2478FBD208 Chip for KESS V2/KTAG CPU Repair
Next: VCM II VCM2 IDS V115.01 OEM OBD2 Diagnostic Tool for Ford VCM 2 IDS Support Key Programming and Multi-langauge