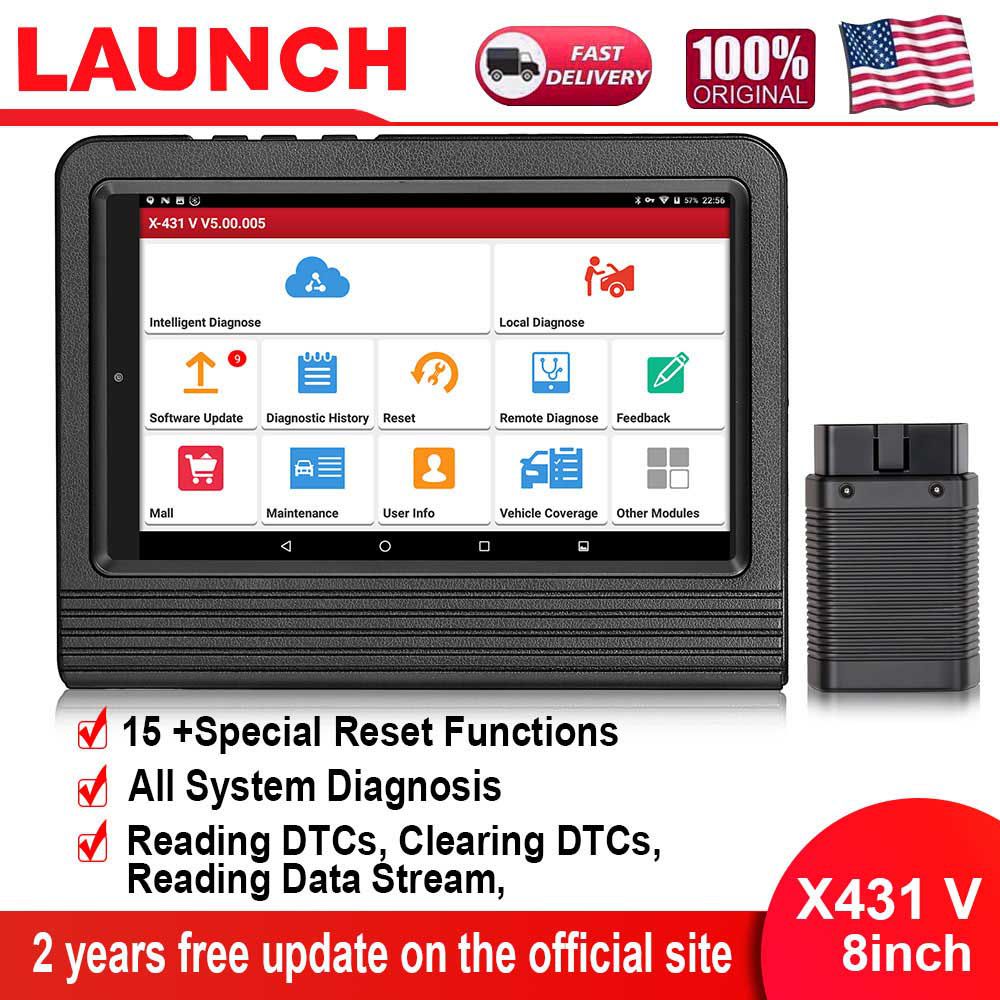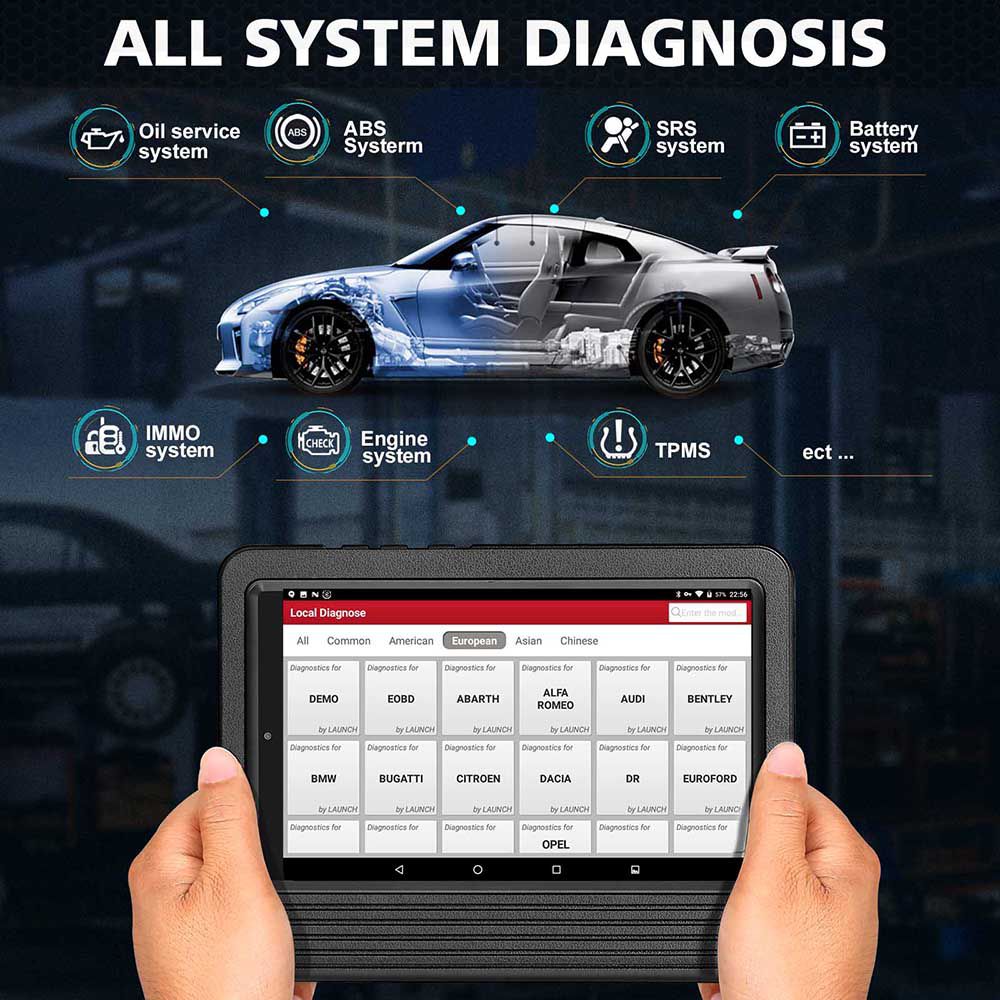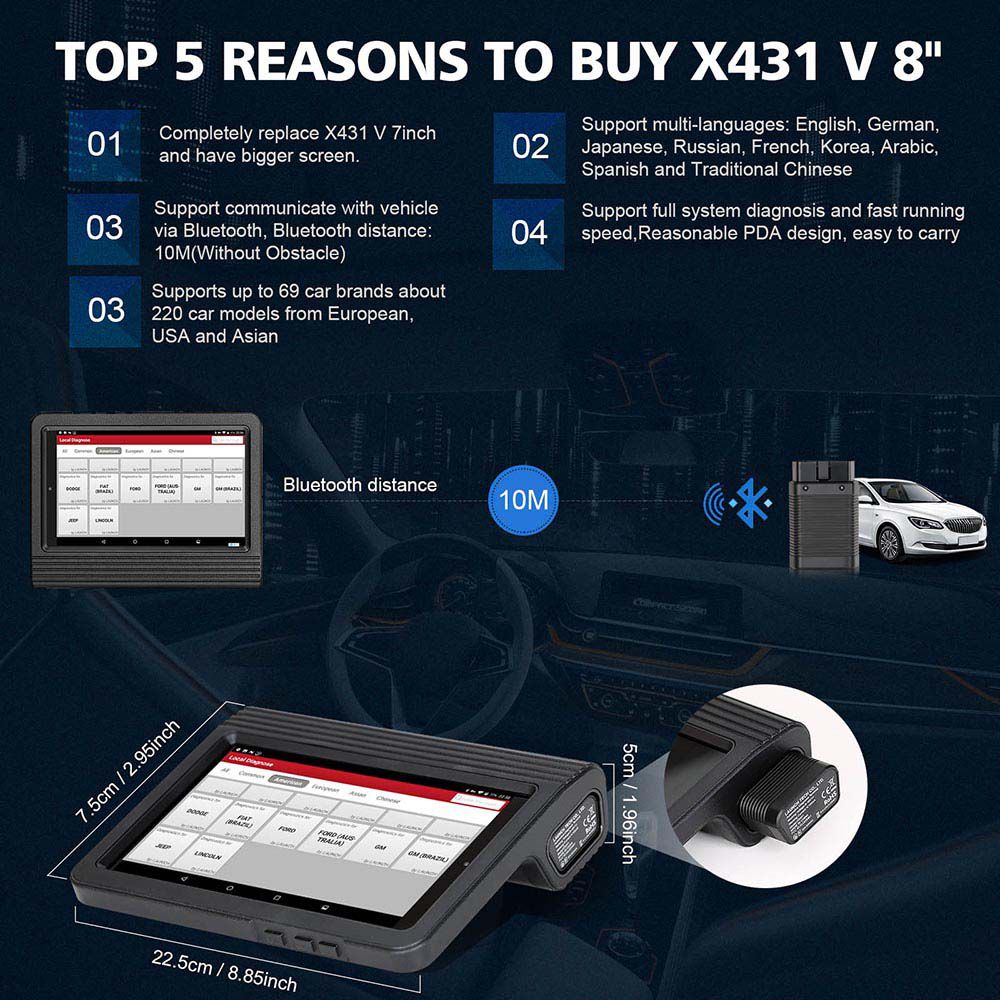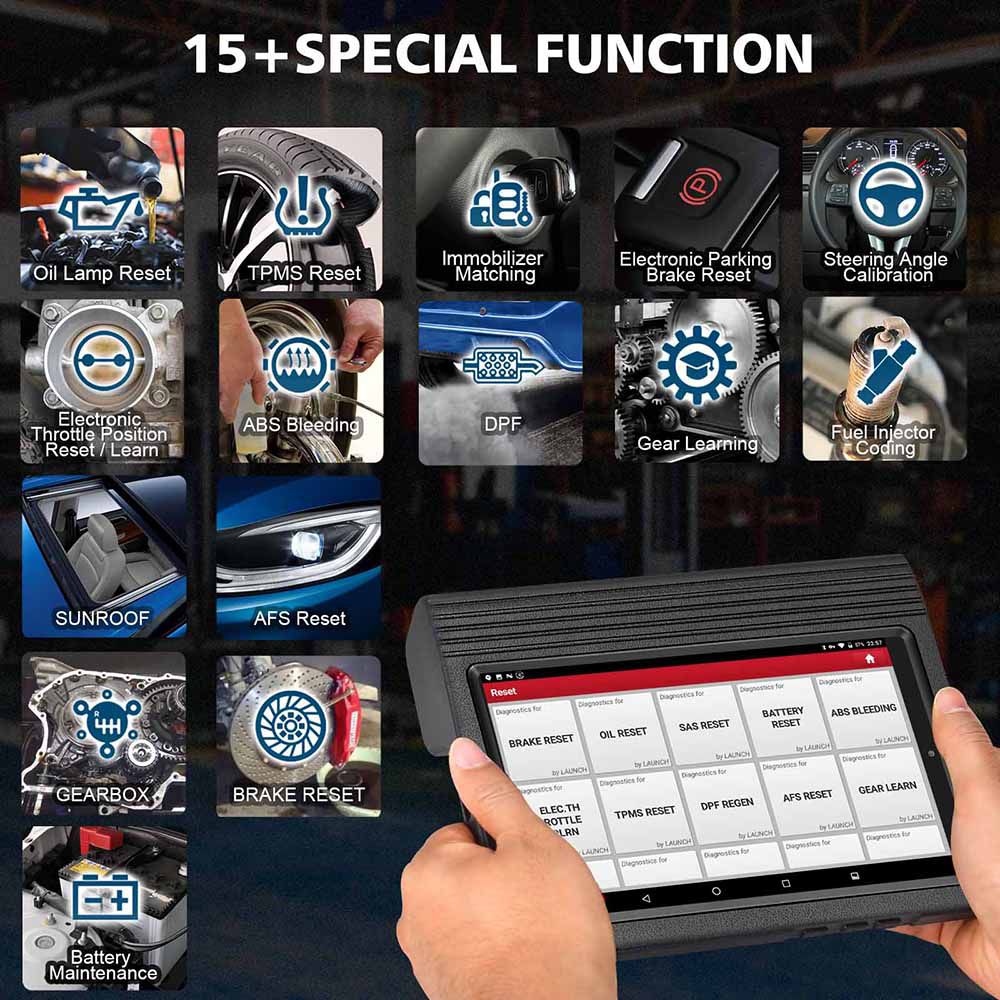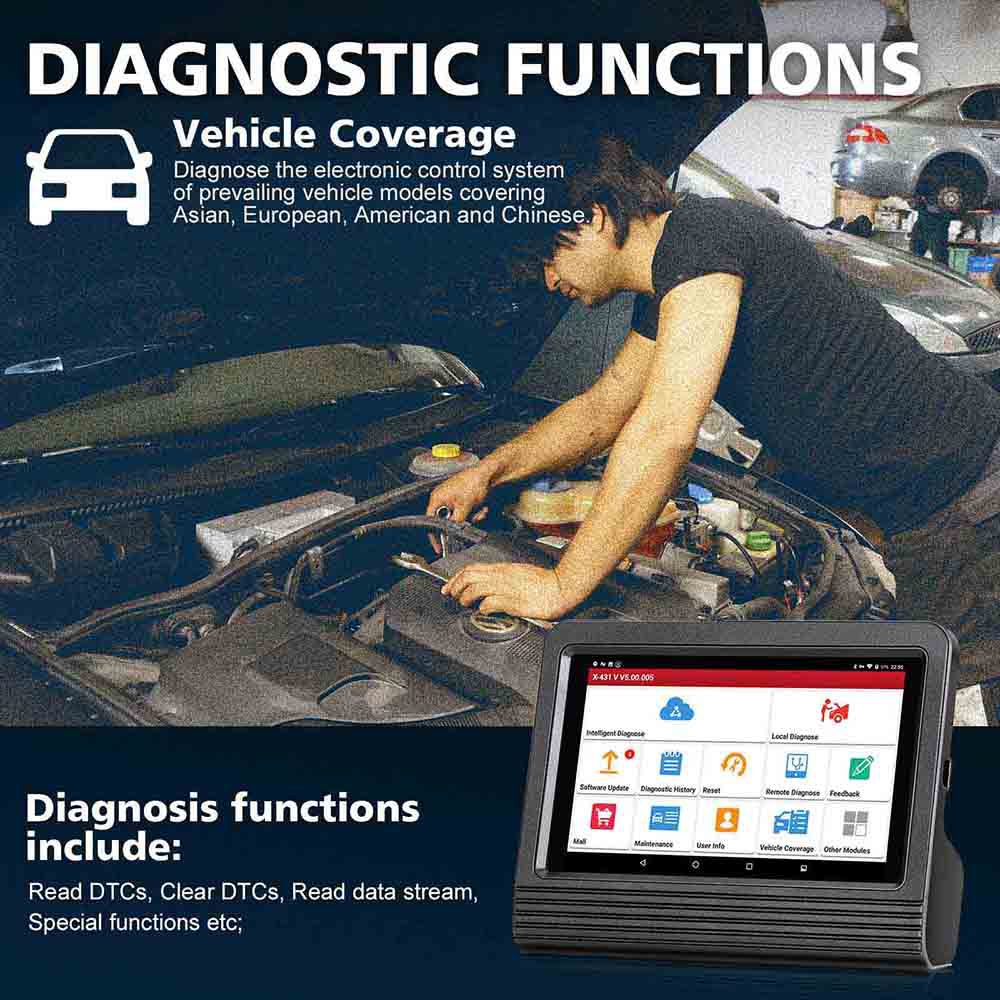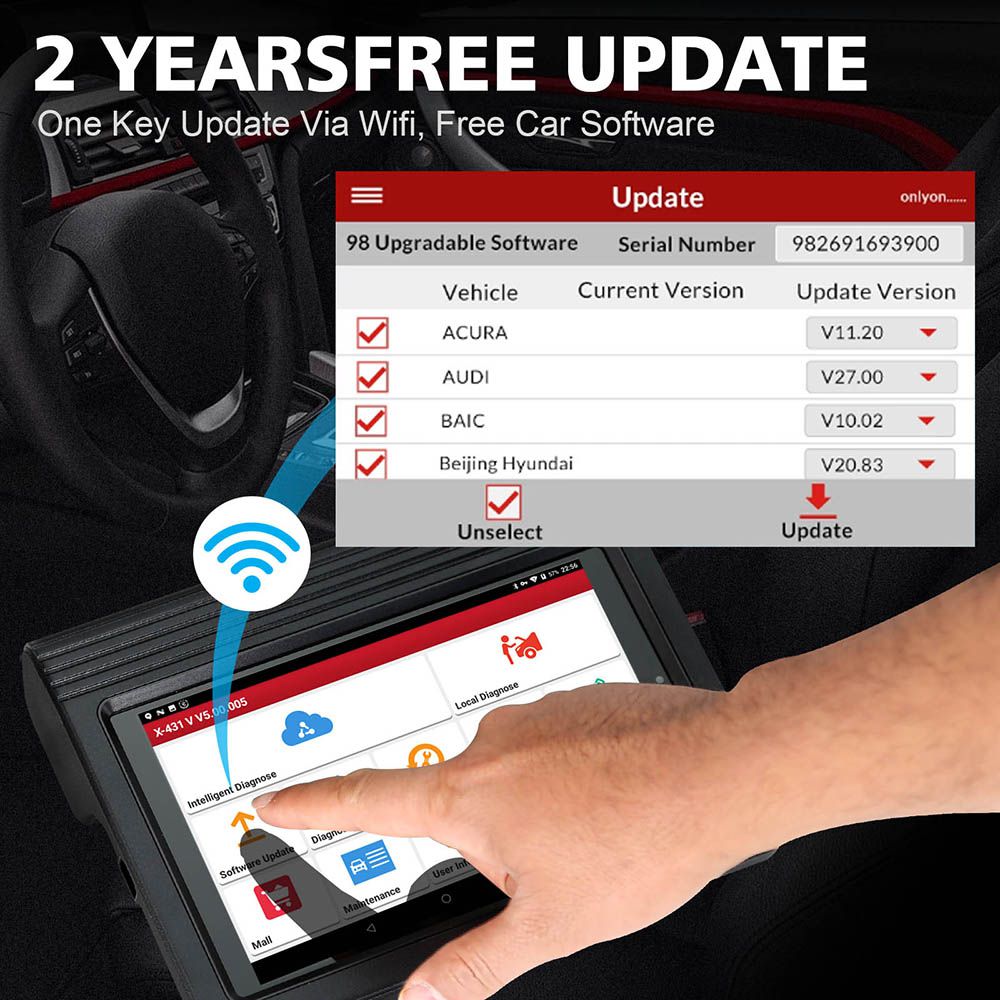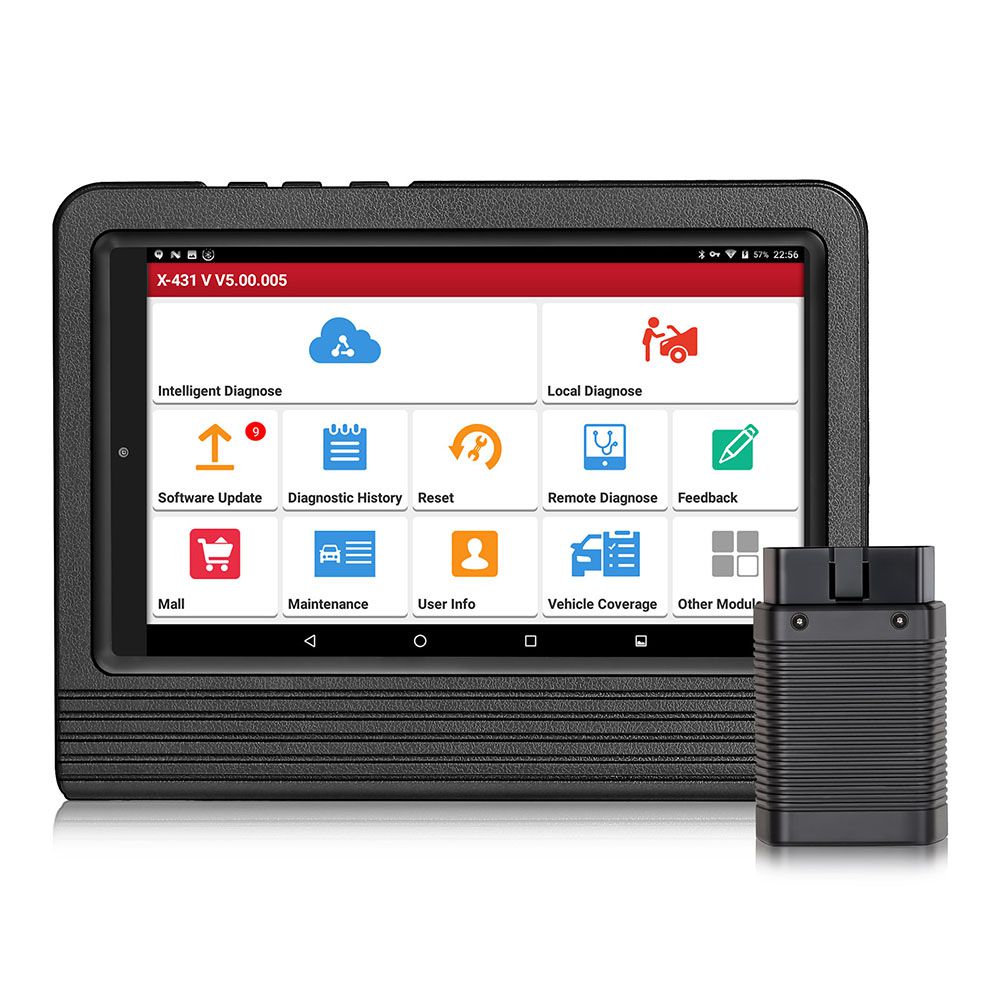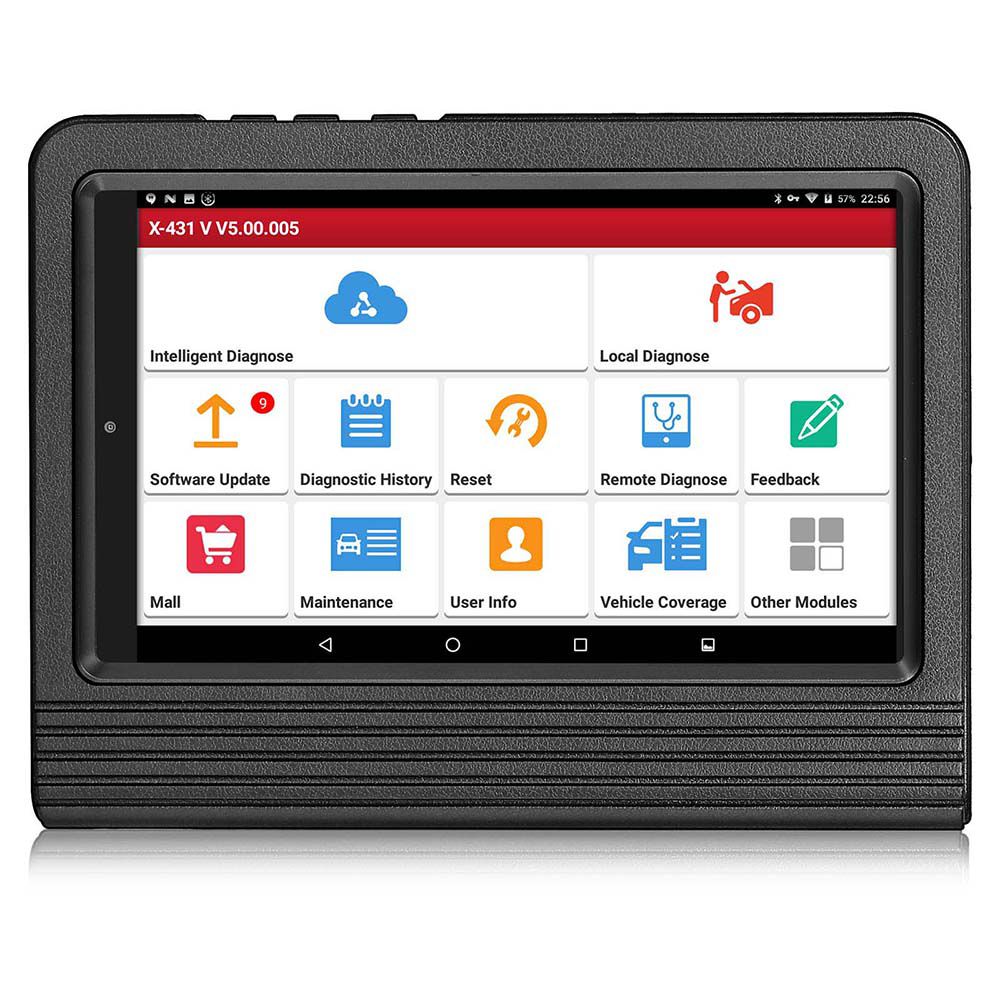 Related Accessories/Similar Items
Description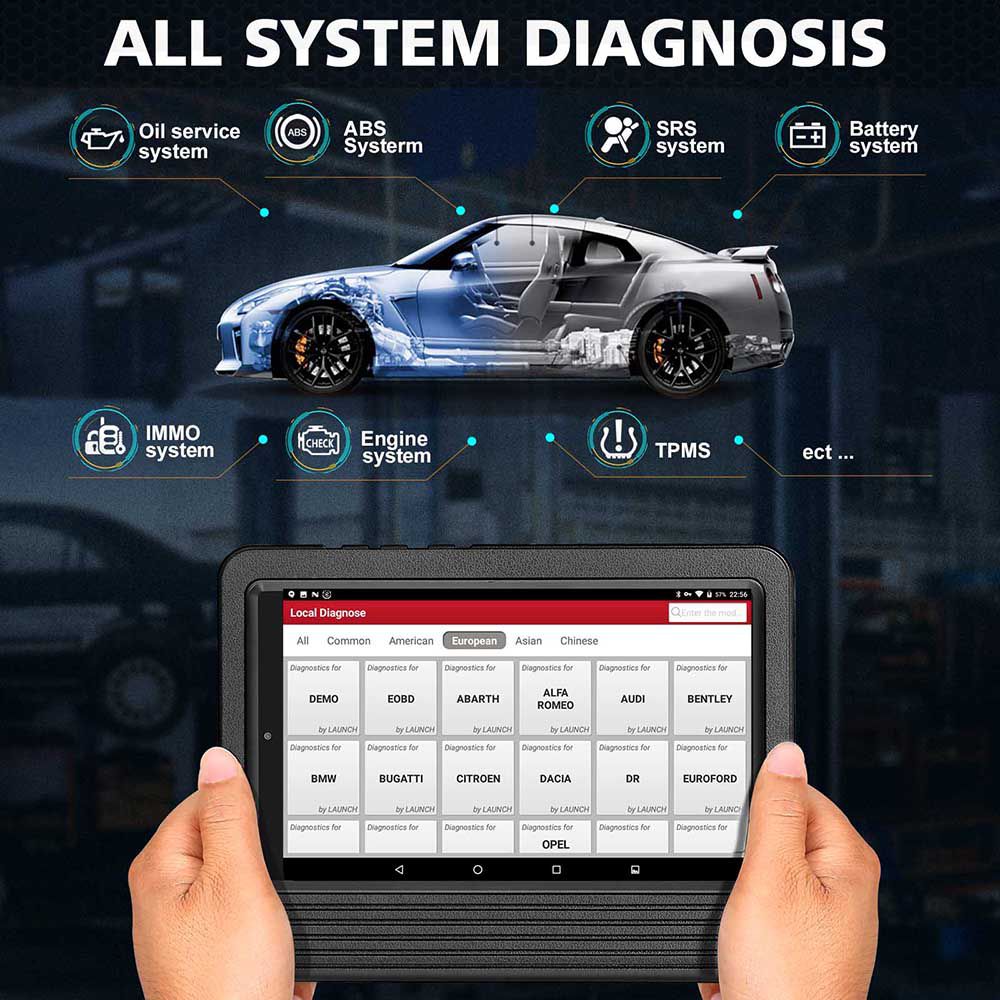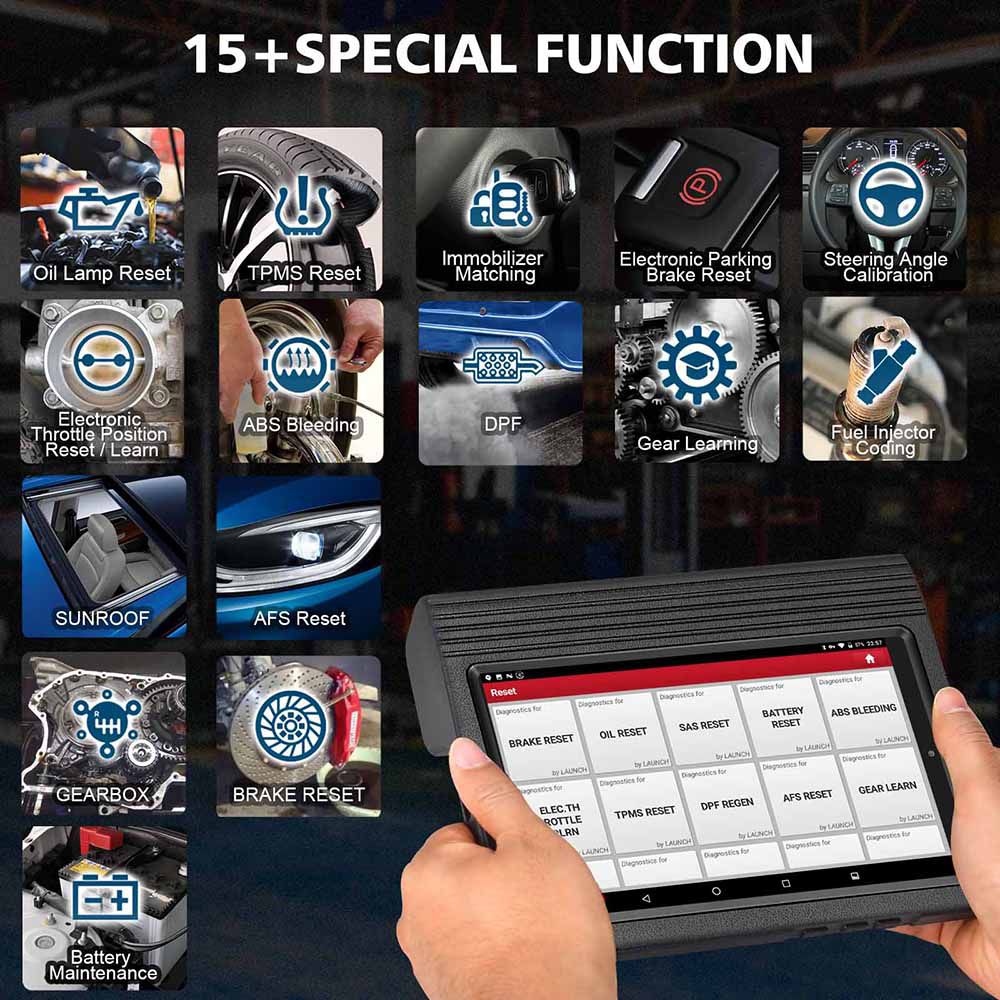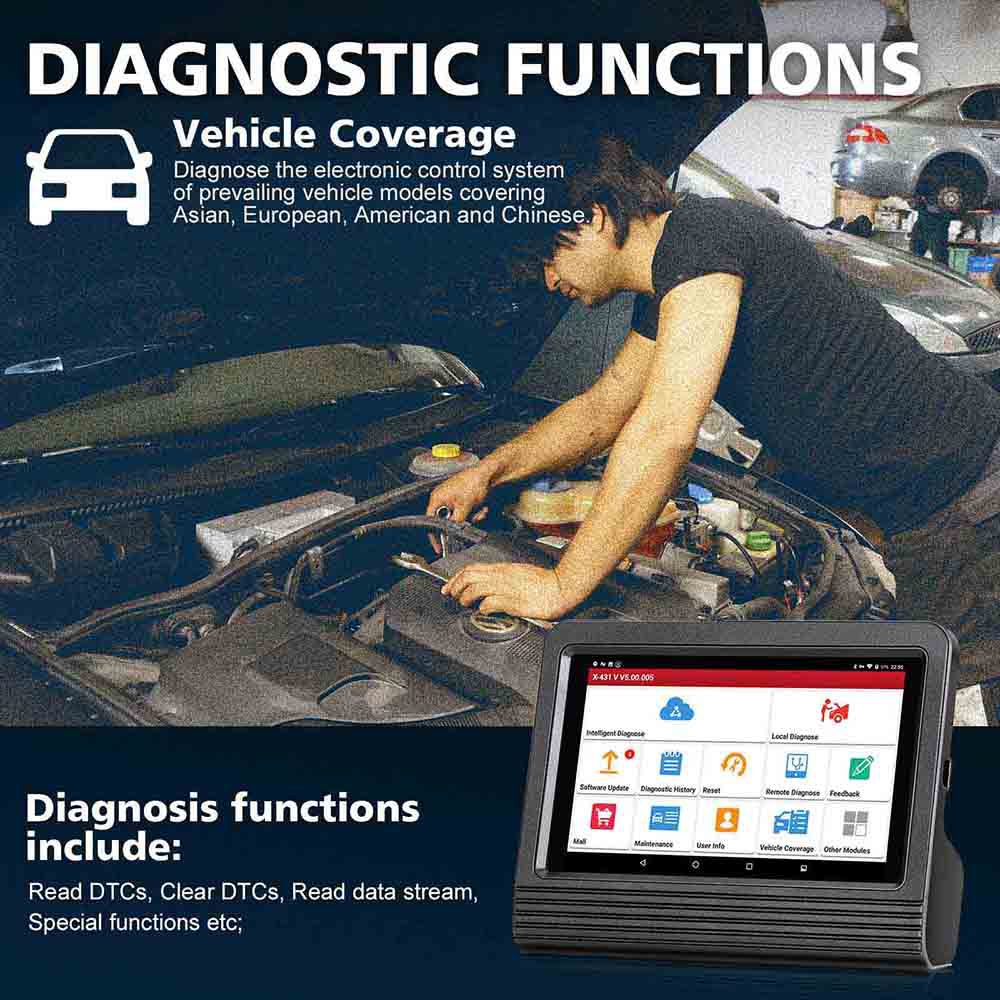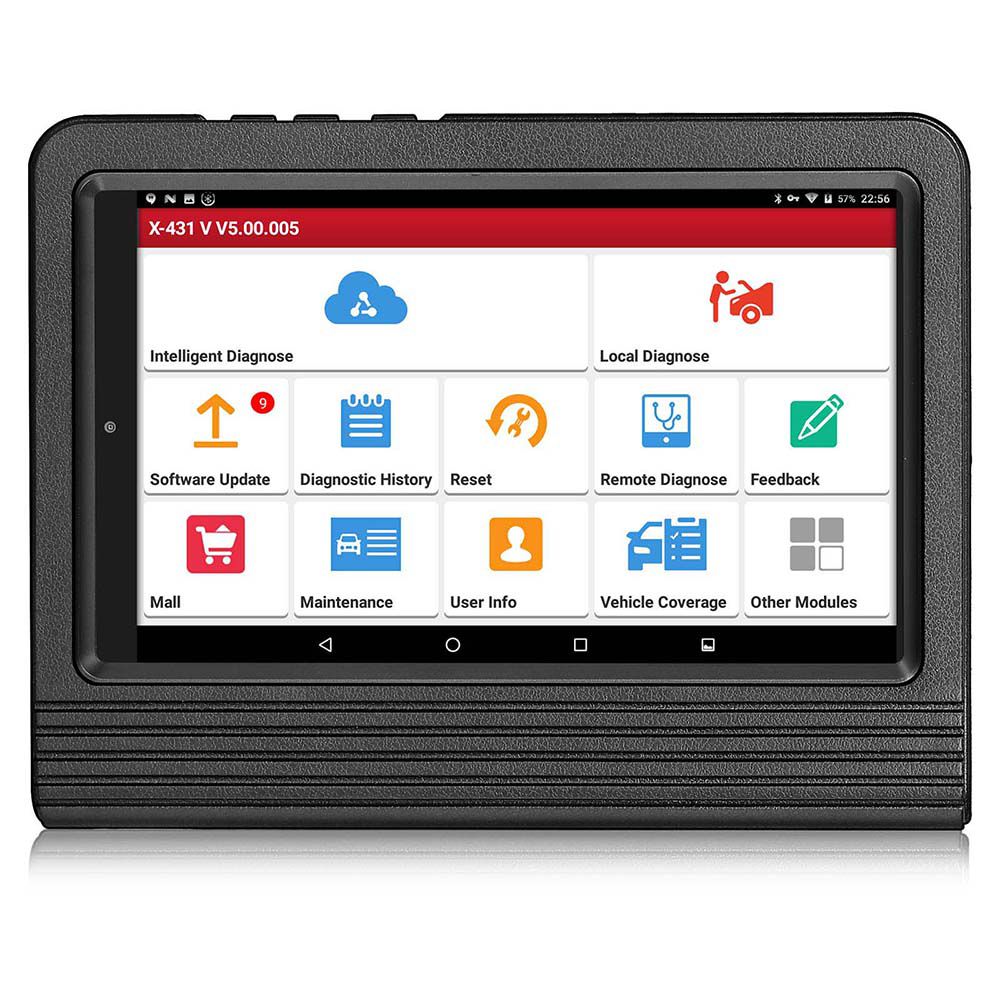 launch x431 V 8inch Tablet WIFI/Bluetooth Full System Diagnostic Tool

Top 8 Reasons to Buy x431 V 8":
Completely replace x431 V 7inch and have bigger screen.
Support multi-languages: English, German, Japanese, Russian, French, Korea, Arabic, Spanish, Italian, Portuguese, Polish, Turkish, Dutch, Greek, Hungarian, Arabic, Danish, Persian, Romanian, Serbian, Finnish, Swedish and Czech
Support full system diagnosis and fast running speed, Reasonable PDA design, easy to carry
Supports up to 69 car brands about 220 car models from European, USA and Asian
Dealer Code: 755D
No need authorization, no IP and language limitation, customer can use it directly when receive the package, much more convenient
Support Australian, Indian and Malaysia Car Models
Comparison between X431 V 7" and X431 V 8":
X431 V 8" have bigger screen size, better view.
X431 V 8" has bigger Bluetooth adapter with LED indicator.
X431 V 8" has higher hardware configuration.
launch X431 V Update:
launch X431 V8 inch Table update by One-Click Update ,it make the device update efficient and convenient.And free update online within 2 years.
Launch X431 V Vehicle List:
Nissan,DAIHATSU,HYUNDAI,HOLDEN,PROTON,DACIA,PERODUA,USAFORD,PEUGEOT,SUBARU,ROMEO,HAFEI,LANDROVER,GM,
SAAB,VOLVO,SPRINTER,H(HM),ZHONGSHUN,HONDA,RENAULT,OPEL,MARUTI,SSANGYONG,MITSUBISHI,VW,LIUWEI_TY,ZHONGXING,
XINKAI,BXFIAT,AUDI,PORSCHE,ISUZU,FIAT,CHRYSLER,JIAO,INFINITI,TLISUZU,DAEWOO,FLYER,CITROEN,HAOQING,GAZ(GAZ),JINLONG,
TATA,BXGM,ROVER,Benz,CHANGCHENG,GMSA(GMSA),CHANGHE,ZHONGTAI,ACURA,SEAT,MAZDA,SUZUKI,MAHINDRA,JACTY,BMW,
CHANGAN,LANCIA,QIRUI_TY,TOYOTAl,JPISUZU,SMART,HUACHEN,XIALI,SKODA,EUROFORD,VAZ(VAZ),JAGUAR,KIA,LEXUS,RESETIMMO,WEILI
,AUTOSEARCH,FORD,MASERATI,FERRARI,ECUAID,BUICK,CHEVROLET,CADI,LLAC,ROLLSROYCE,BENTLEY,MAYBACH,BUGATTI,AUSTFORD.
What is X431 V Original?
X431 V is a new diagnostic tool released by Launch tech. It is composed of an X-431 V pad computer, a protection sleeve, a DBScar diagnostic connector and many OBD1 to OBD2 connectors. It communicates with your car by connecting DBSCAR with Bluetooth, it reads car DTCs and perfoms diagnosis by the X431 Pro Pad computer, it achieves X431 series full car model and full-system diagnose function, it can replace X431 Diagun III or X431 IV. Meanwhile, taking advantage of mobile internet, it integrates more application and service, such as creating maintenance data base and case library, providing instant maintenance information, establishing public and private maintenance social circle etc. As a result, it builds a broad vehicle diagnostic community, which helps you to share vehicle maintenance knowledge online, exchange vehicle maintenance experience online and provide vehicle maintenance related service support online. This will be another revolution raised by Launch in the vehicle diagnosis industry.

Powerful diagnosis Function:

1. Full Diagnosis Function:

X431 V can diagnose the electronic control system of prevailing vehicle models covering Asian, European, American and Chinese. Full range car models and full car system diagnosis make it a professional automotive diagnostic tool.
Diagnosis functions include: Read DTCs, Clear DTCs, Read datastream, Special functions etc;

X431 V-series product have so many advantage such as widely coverage at vehicle model, powerful test function, more special function, more accurate test data etc.
With special function such as BMW idle study, BMW injection rate adjustment, BMW battery replacement, Nissan matching key.
In addition to support Benz, BMW, FORD and other mainstream models, also support IRKIA, PERODUA, Proton, TATA, Maruti, Lancia and other domestic model from all over the world.
Full system Diagnosis.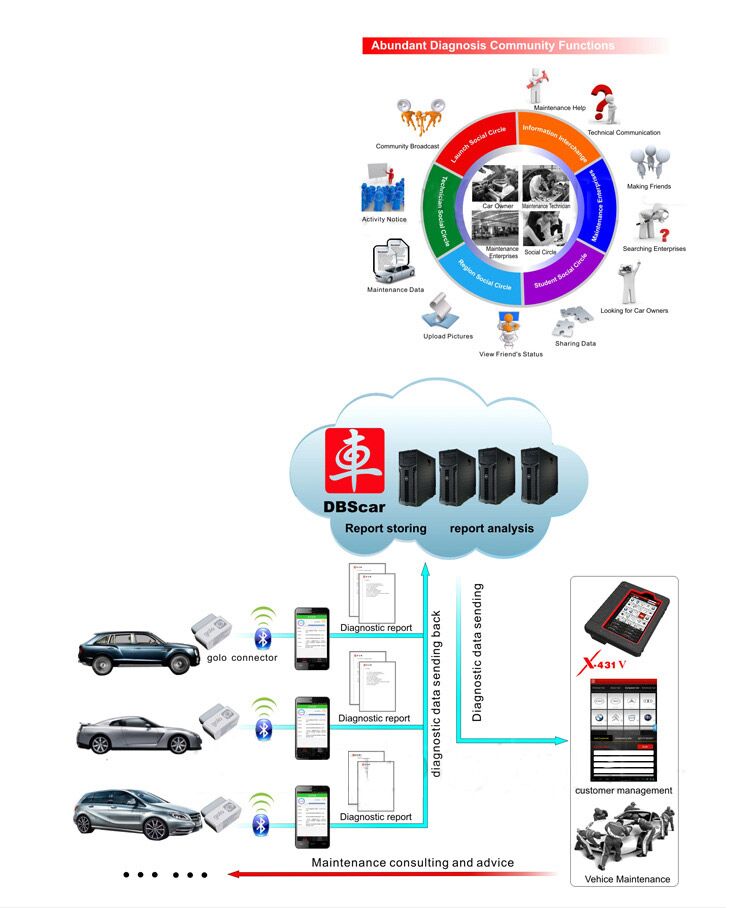 Launch X431 V Special Function
This option allows you to detect whether the system parameters are normal or not. It mainly includes: Injector test, fuel pump test, purge control solenoid and so on.
Take "1# injector" as an example. To detect whether 1# injector works normally or not, tap "1# injector", the system will automatically carry out the function. After complete, a prompt dialog box will pop up on the screen.
Reset Service
In addition to amazing & powerful diagnostic function, X-431 V also features various service functions. The most commonly performed service functions contain:
Oil Reset Service
Steering Angle Calibration
Electronic Parking Brake Reset
Battery Register / Battery Maintenance
ABS Bleeding
Electronic Throttle Position Reset / Learn
Diesel Particulate Filter (DPF) Regeneration
Tire Pressure Monitor System Reset
2. Connecting by Bluetooth

X431 V communicates via Bluetooth, it is very easy to use. X431 V Pad computer is specially designed for Android platform with clear and user-friendly interface. X431 V Pad computer is equipped with an exclusive X-431 V protection sleeve to prevent it from being damaged;

The owner can use golo connector to connect to his smart phone, then he can do a all system fault diagnosis of vehicle at any time, then form a diagnosis report, and transfer the report to maintenance technicians and related personnel through the account management interface, then he get the remote consultation and repair advice.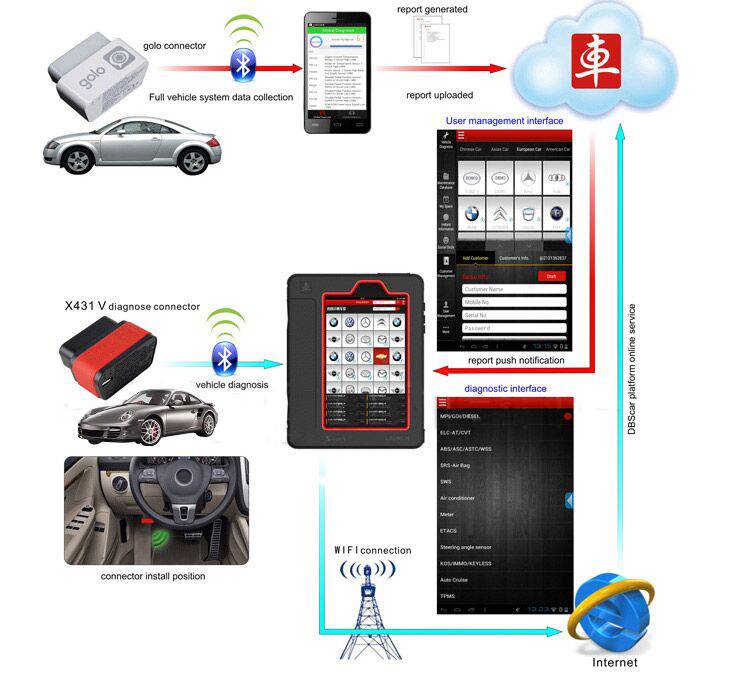 3. Browser:
Built-in Wi-Fi module makes surfing on the internet freely;

4.Settings:
Through the settings, you are allowed to configure the personalized X-431 V;

5. Search:
Enables you to locate your target quickly and conveniently;

6. Email:
Allows you to send and receive email. External POP3 or IMAP email account for some common Web email service provider can be added;

7.File Manager:
You can manage the files or downloaded files stored in SD card efficiently;

8. Other Additional Functions:
Alarm, calendar, calculator etc.

9. Applications:
Operating system
Android 4.2
CPU
Quad core 1GHz
Display
8" 1280 x 800 IPS display with 189 ppi
RAM
1 GB
Capacity (internal / SD card)
16GB (expandable by up to 32 GB)
Battery
4200mh rechargeable polymer lithium battery
Camera
Front-facing 2 MP camera and rear-facing 5 MP
camera with 1080p HD video recording
Communication
Wi-Fi: WLAN 802.11b/g/n
Bluetooth: Bluetooth 4.0
Working temperature 0℃ ~ 45℃
Storage temperature -10℃ ~ 50℃

Launch X431 V 8 inch vs. X431 V Pro vs. Oversea Version vs. X431 Pro Mini
| | | | | |
| --- | --- | --- | --- | --- |
| Picture | | | | |
| Item | X431 V PRO | X431 V 8 inch | X431 V 8 inch overseas version | Launch X431 Pro Mini |
| Automotive Diagnostics | √ | √ | √ | √ |
| upgrade | √ | √ | √ | √ |
| Remote Diagnosis | √ | √ | √ | √ |
| Recording and playback | √ | √ | √ | √ |
| special function | √ | √ | √ | √ |
| Waveform Display | √ | √ | √ | √ |
| VIN Identification | √ | √ | √ | √ |
| feedback | √ | √ | √ | √ |
| Diagnostic Software | 100, click for software list | 100, click for software list | 108, click for software list | 108, click for software list |
| OS | Android | Android 4.2 | Android 4.2 | Android 5.1 |
| SIZE | 7-inch Tablet,1024X600 | 8" 1280 x 800 IPS display with 189 ppi | 8 inch Tablet | 6.9 inch 1280 x 720 |
| CPU | Dual core 1GHz | Quad core 1GHz | quad-core 1.3 GHz | Quad core 1.3 GHz |
| RAM | 512MB | 1 GB | 1GB | 2GB |
| Capacity (internal / SD card) | 2GB | 16GB (expandable by up to 32 GB) | 16GB | 16GB |
| Battery | 3000mh, rechargeable polymer lithium battery | 4200mh rechargeable polymer lithium battery | 4290 mAh | 3.7V/3000mh rechargeable polymer lithium battery |
| Pixels | 2 mega rear and 0.3 mega front | Front-facing 2 MP camera and rear-facing 5 MP camera with 1080p HD video recording | Front 2 mp / Back 5mp | Front-facing 2MP camera + rear-facing 5MP camera |
| Communication | WIFI/Bluetooth | Wi-Fi: WLAN 802.11b/g/n Bluetooth: Bluetooth 4.0 | WiFi/Bluetooth | Wi-Fi: WLAN 802.11b/g/n, Bluetooth: Bluetooth 4.1 |
| Upgdate | one-click update online for 2 years free | one-click update online for 2 years free | one-click update online for 2 years free | one-click update online for 2 years free |
Launch X431 V Diagnostic Connector:
Working voltage: 9 ~18V
Average working current: About 35mA
Standby current: About 25mA
Working temperature: -20 to 55℃
Storage temperature: -30 to 70℃
Storage humidity: <80%
Working humidity: <60%
Launch X431 V Packing List:
While opening X-431 V package for the first time, please carefully check the following components:
1pc x X-431 v handset
1pc x Password envelope
1pc x X-431 v protection sleeve
1pc x DBScar diagnostic connector (For connecting OBD II vehicles)
1pc x OBD II extension cable
1pc x Cigarette lighter cable
1pc x Power adaptor
1pc x USB data cable
1pc x Non-16pin connector (For connecting non-OBD II vehicle)
Launch X431 V FAQ:

Q:What's X431 V Dealer Code?
A: 755D

Q: How many car brands can it support?
A: It can support for 72kinds of car brands,such as Asian,European and American ect.

Q: Which website can I update my machine?
A: dbscar.com
Reviews

105
#1 fiendazed fiendazed
Apr 9, 2019

All perfect, as always. Free. blisteringly fast
#1 Murle Webb
Sep 9, 2018

Quality is good. I will test function later.
#1 jose angel rosario
Aug 9, 2018

I received the Item within 5 days. So the shipping was much faster than expected. Quality is very good and it works just fine. On the CD is a little gift of usable Software. Would buy here again.
#1 juan rivera
Nov 9, 2018

The goods came quickly enough, packed perfectly, checked works!
#1 Oleksiy Timofeev
Apr 9, 2019

works Perfect Thank You
#1 Victor James
Nov 9, 2018

Super fast, tried on my car works perfect. Great seller.
#1 Donald Peters
Nov 9, 2018

works just as the original
#1 Scott Ridenoure
Apr 9, 2019

It works perfectly! Very good product, i recommend shop and seller.
#1 Chris Moodley
Jan 9, 2019

Received it, but not tried it yet
#1 Michel Robert
May 9, 2018

Good afternoon my dear, Very fast shipping. All material arrived. Good communication. Recommended seller. I am happy because all works well. Thank You for all attention. Best Regards.
Previous: Promotion Version BDM FRAME with Adapters Set Fit Original FGTECH