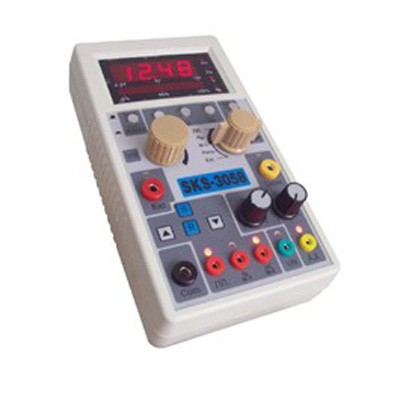 Description
SKS-3058 Auto EECS and ECU Examine-Analyzing

Description:

SKS-3058 is a handset and also can be used at worktable. It includes electric-control analyzing equipment and signal generator. According to the common characteristic if automobiles EECS, the equipment can simulate 8 kinds of signals to meet the demands of diagnosing work. Moreover the equipment can simulate 3 kinds of independent, changeable signal combination at the same time.
SKS-3058 is designed on the basis of electric-control principle and repairing regularity, so it can also be a useful teaching tool to grasp Automobile-Electric technique in automobile repairing skill training.
SKS-3058 has been stopped production, and replaced by SKS-3058N
Functions:

Panels Display:
1. Digital display of signals frequency.
2. Strip display of DUTY.
3. LED display of signal output.
4. Digital display of injection pulse width.
5. Strip display of output voltage.
6. LED display of drive signal output.
7. LED display of external signal input.
The function of simulating sensor signal:
1. 58+2 signal (58Hz900Hz), simulate crankshaft position signal.Have 2 shifts: 5Vpp, 10Vpp.
2. Sin wave signal (20Hz900Hz), simulate car speed,gear speed, have 2 shifts: 5Vpp, 10Vpp.
3. Rectangle wave (10Hz10KHz), simulate various kinds ofdigital signals, have2 shifts: 5Vpp, 10Vpp.
4. One way changeable resistance signal(50Ω10KΩ),simulate cool water temperature, loopy electric potential
utensil knob(12) precisely adjusts tooutput
5. Oneway changeable voltage signal(0-10V),simulate various kinds of voltage signals; loopy electric potential
utensil knob (12) precisely adjusts to output.
6. PWM signal (5Hz200Hz; 5%90%), frequency, DUTY can be adjustedindependently. Puls and quite the contrary output.(simulate Cylinder Identification signal, ignition module input signal.
7. PWM drive signal (5Hz200Hz; 5%90%; 20A), driveinjector, ignition coil, EGR solenoid, IAC MOTOR, etc.
The function of measuring:
1. Examine external injection pulse width. (0.0099.99ms)
2. Examine external voltage (010V).
3. Examine external signals frequency (09999Hz).
4. Examine external signals DUTY (5%100%).
5. Examine external impulse with flashing LED.
The function of active testing:
1. When simulating signals like voltage, resistance, frequency, you can observe
injection pulse width simultaneously.
2. You can examine the injection pulse width of an
engine
s starting status.
3. By means of observing injection pulse width (ms), you can do these tests to the:
Electronic Fuel Injection
engine
:
Add rich mixture at cold starting;
Add rich mixture at running;
Add rich mixture at Idle;
Adjust AFS;
Feed back capability test of Oxygen signal under closed loop status;
Sever Fuel test;
MAP test; etc.
4. You can test the battery voltage of the
engine
s stating status.
5. When observing signals frequency and pulse width, you can examine signals voltage and DUTY at the same time.
6. he blue LED can do the induce test of ignition high tension.
Package lncluding:
1pc x SKS-3058 Auto EECS and ECU Examine-Analyzing
Reviews

46
#1 Mr.Michael
Feb 2, 2019

can you deliver the SKS 3058?

Best Regards
#1 Rami Wassaf
Apr 9, 2019

The goods were sent quickly.
#1 Severin Friedl
Oct 9, 2018

Everything ok again
#1 john karem
Jun 9, 2018

product like a description the cd working correctly recomended seller thank you
#1 Carl Luther
Mar 9, 2019

works just as the original
#1 lherman parker
Jan 9, 2019

Good product Good quality excellent
#1 margaret swann
Jun 9, 2018

Prishol very quickly everything works counts until he poured everything ok. Recommend seller
#1 George O'Dale
Oct 9, 2018

Ok , happy
#1 Yuriy Shalamov
Dec 9, 2018

Okay okay thanks
#1 kyle gibney
Jun 9, 2018

Super fast, tried on my car works perfect. Great seller.
Previous: VAG HU49 2 in 1 Auto Pick and Decoder
Next: Main Test Cable for Toyota Intelligent Tester IT2 with Suzuki