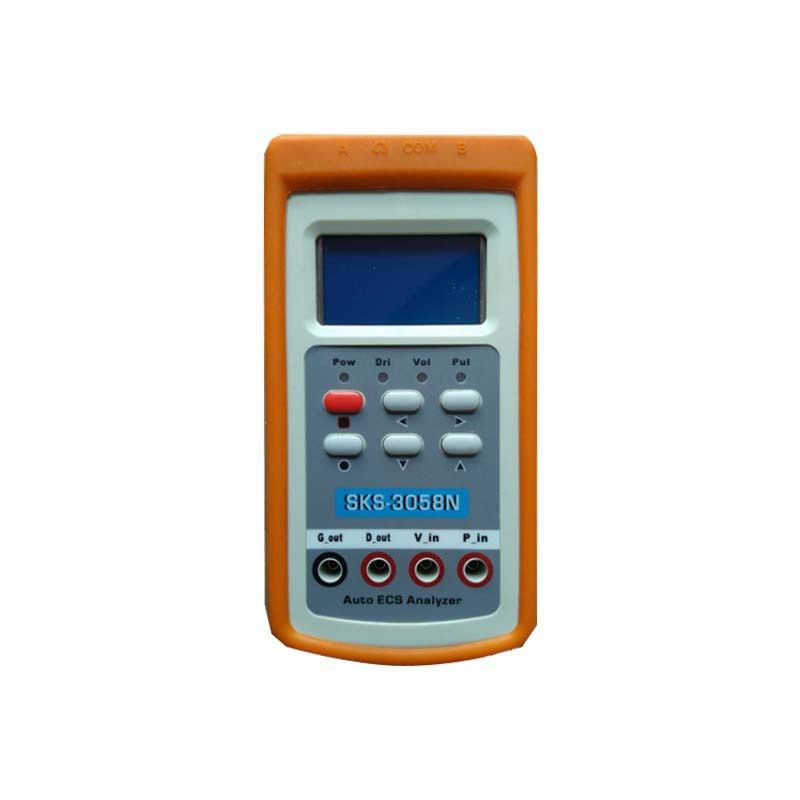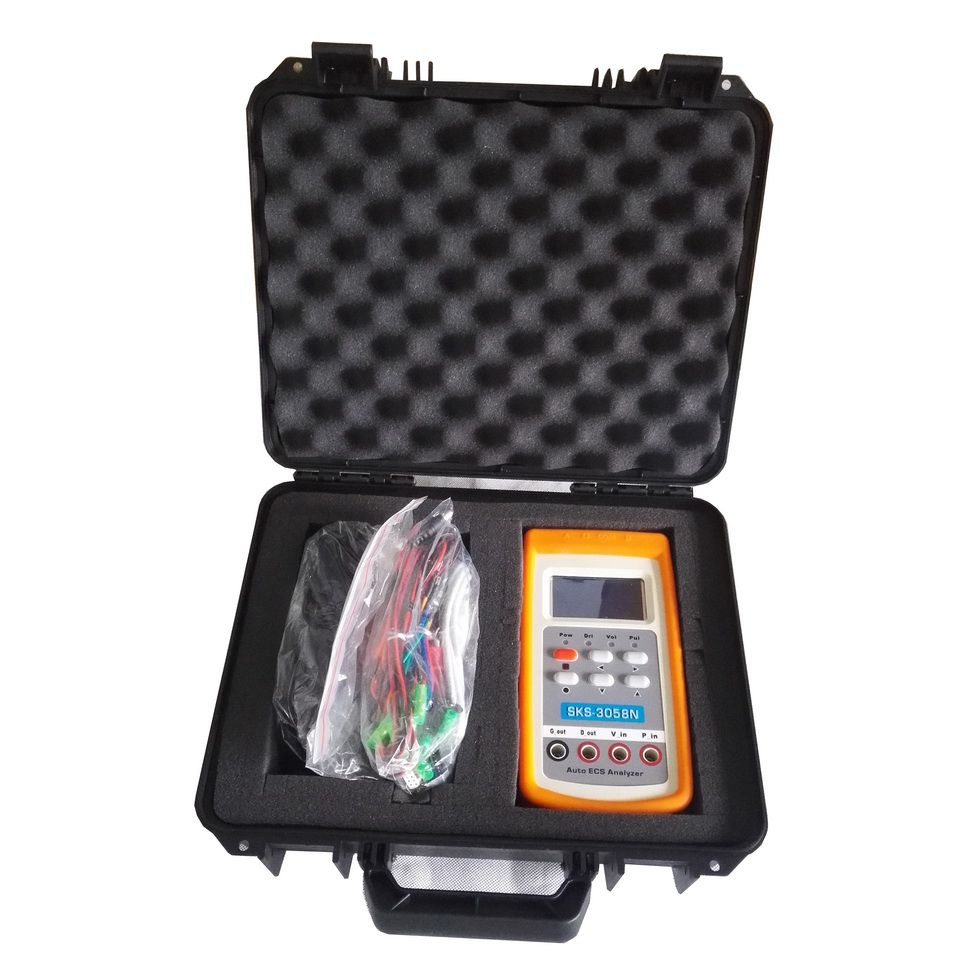 Related Accessories/Similar Items
Description
Description of SKS3058N Automobile Electronic Control System Analyzer
SKS-3058Nthe analyzer of ECS, is well-desiged for top auto repair technicians.
It includes funtions of signal measurement, signal generatr, power drive; display in both Chinese and English; simple interface, simple operation, easy to carry.
The instrument can be widely used in the field of fault diagnosis of automobile, automobile computer repair, automotive electronic control system teaching and other related field of automotive electronics.
Characteristics of the instrument

According to the diagnosis of auto site rules and actual demand, it has the following new features.

1.The unique characteristics of the pulse measurement and analysis functions:
Except the functions of real-time fuel injection pulse width and square wave frequency measurement, it increases function of the width and speed synchronous display and waveform analysis, which has very important practical value in the automobile field diagnosis,auto computer repair, auto repair teaching etc.
(Fig.3)3ms/1200rpm injection pulse waveform
(Fig. 4)3MS injection pulse width measurement
(Fig.5) 980KHz square wave
(Fig.6) 980KHz analysis of
interface of square wave
2.Real-time adjustable of the signal characteristic:
During the signal output time, the fine adjustment of amplitude, frequency, phase, the number of teeth, missing teeth number and shape index can be arbitrarily adjusted, which is greatly facilitates the judgment of fault of automobile computer repair process.
3.Signals multiple outputed:
The instrument is developed by adopting high performance microprocessor. It can output seven signals, which is convenient for the automobile repair technician to diagnosising and analysising the difficult miscellaneous diseases of automotive electronic control system;
cess.
4.Multiple information display in the same interface:
In order to real-time analyze the faul automotive electronic control system, the instrument is especially designed to display
engine
current speed when it is testing fuel injection pulse width at the same time; During the voltage analog output and oxygen signal simulation output,at the same time in the same interface it display current injection pulse width.
Using this function, technicians can master a variety of electronic control system of automotive
engine
associated data information in the first time.
5.Actuator comprehensive driving function:
The instrument can detect the injector, the automobile electronic control ignition module, ignition coil, a pulse electromagnetic valve actuators as well as other aducator when they are in different speed conditions.
This function is convenient for technician judgment or execution the device in the first time.
Using this function, technicians can master a variety of electronic control system of automotive
engine
associated data information in the first time.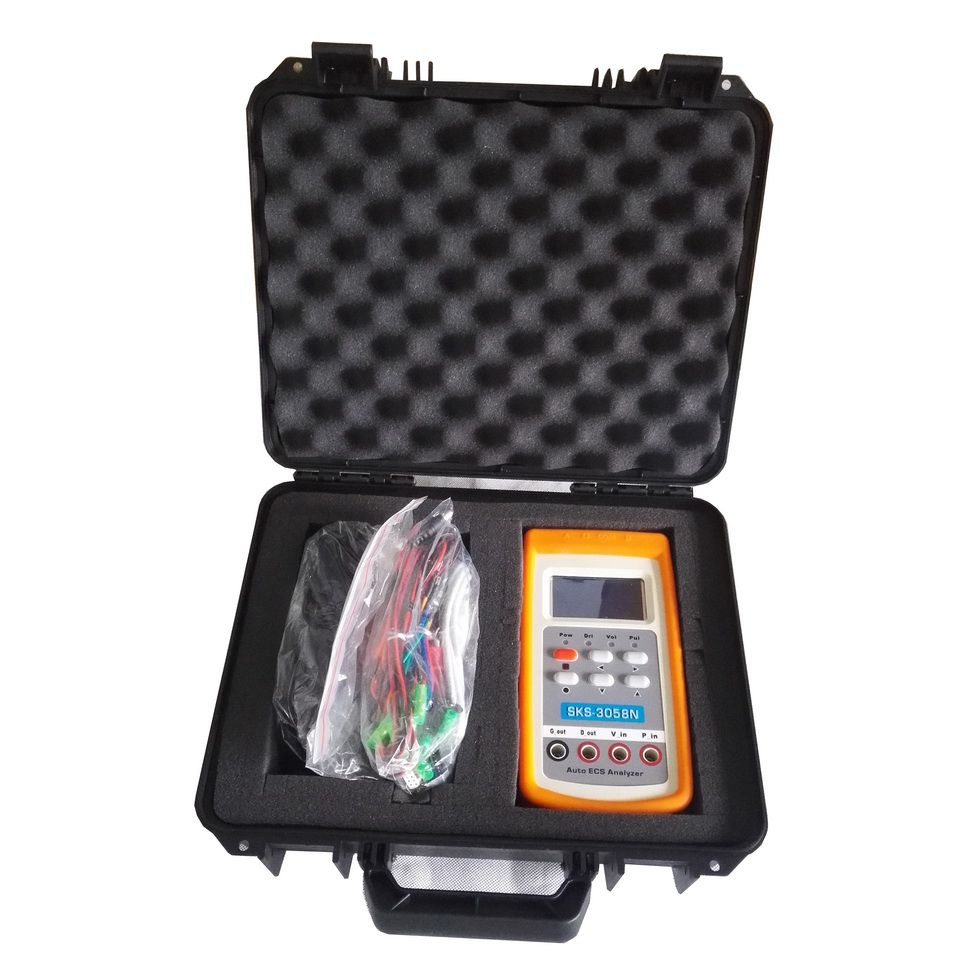 Reviews

18
#1 David Brooks
Dec 9, 2018

Thank You for your great communication - i will recommend your store to friends.
#1 Alexandr Kerner
Apr 9, 2019

I received the goods, i liked the quality.
#1 Dragan Dojcinoski
Mar 9, 2019

As the product description, only think the seller could give a support
#1 Rickie Chang
May 9, 2018

Quality is good. I will test function later.
#1 Halfani Ngatwanga
Jan 9, 2019

Equipment as far as well. I did already two cars. I am happy
#1 ROBERT KYTTLE
Jul 9, 2018

Will be than to check, i will add. So everything is wonderful.
#1 MIKHAIL NICHEPURKOV
May 9, 2018

Perfect. Communication at all times. Very fast sent this SKS-3058N Automobile Electronic Control System Analyzer Auto Repair Technicians Signal Measurement is good quality, working very well
#1 Frank Biank
Nov 9, 2018

Got, installed, proga found it, from the internet is untied, tomorrow i will check again, while i like everything
#1 Elmar Ringler
Apr 9, 2019

Delivery fast everything works!!!
#1 Darren Winsley
Dec 9, 2018

The goods were delivered quickly.
Previous: MS309 OBD2 OBDII EOBD Scanner Car Code Reader Data Tester Scan Diagnostic Tool
Next: OBDSTAR H105 Hyundai/Kia Auto Key Programmer Support All Series Models Pin Code Reading