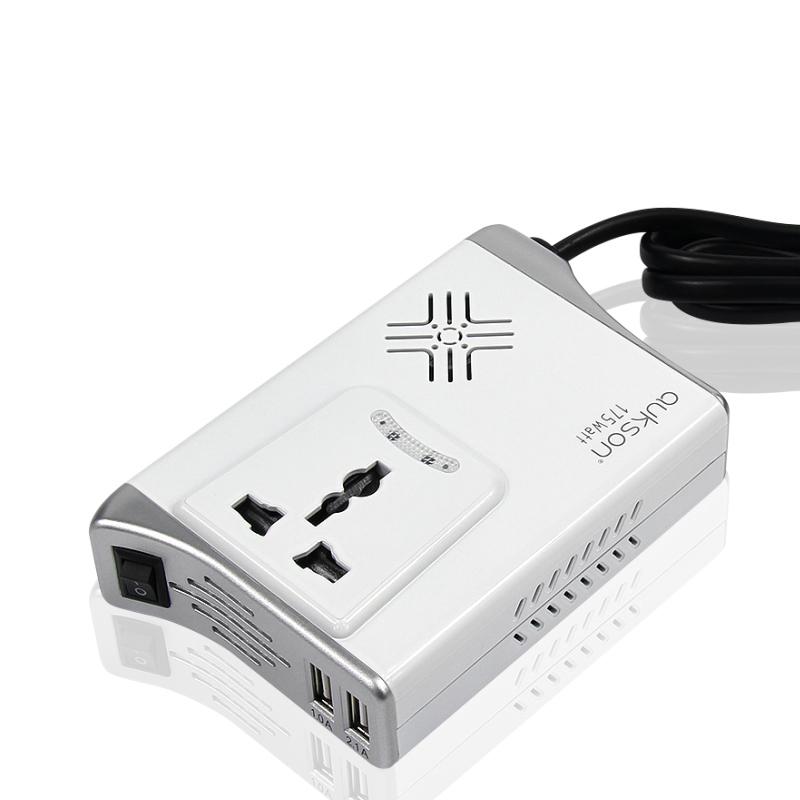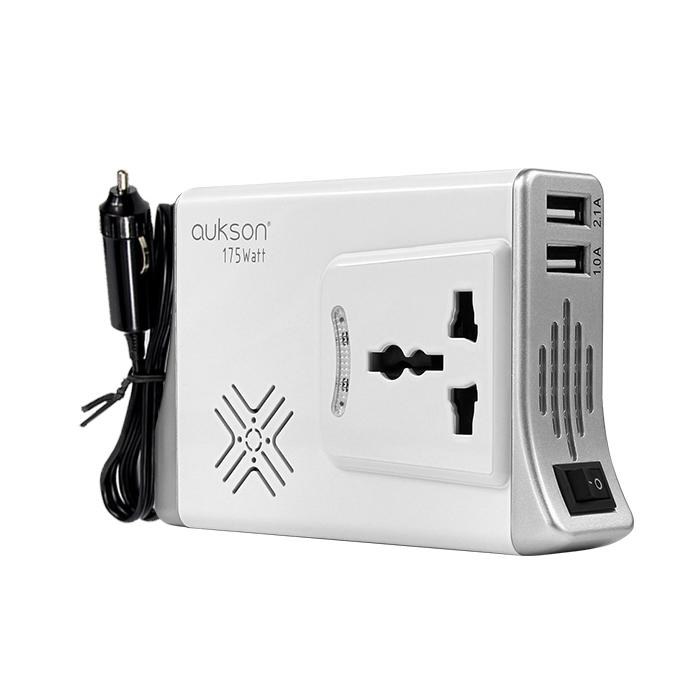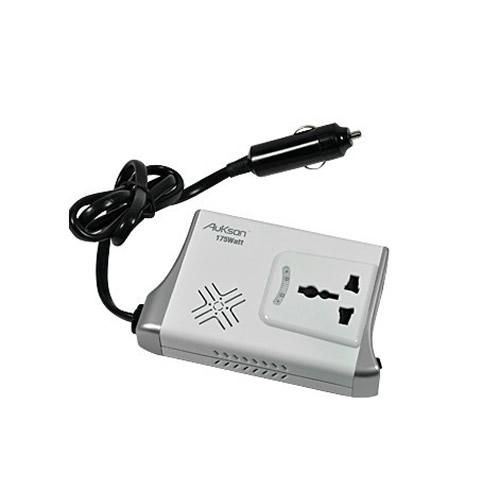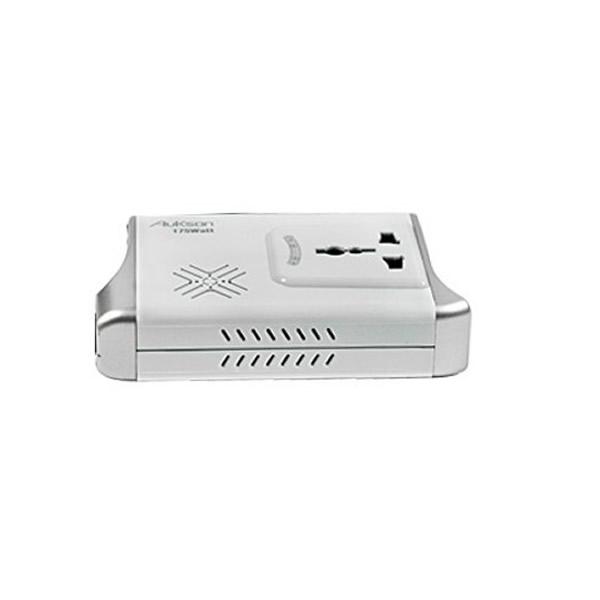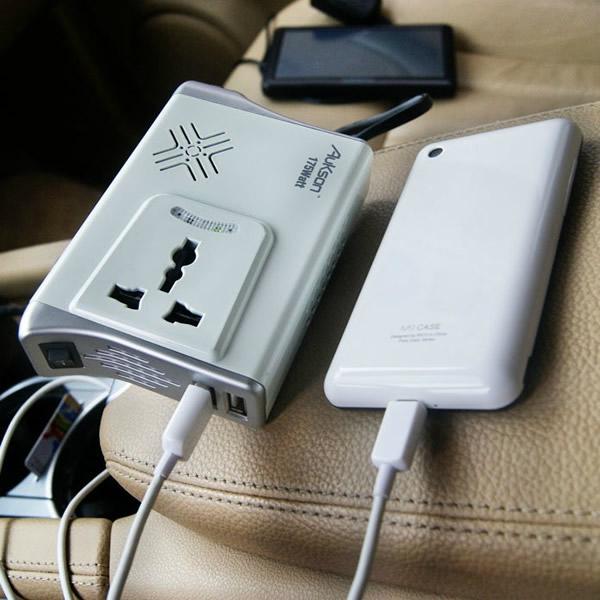 Description
175W Power Inverter 12v 220v car power adapter switch Car Charger Car Inverter
Travel Companion
The ultimate car travel charger for road trips, vacations, outdoors, emergency kits and more; Few products come close for sheer on-the-go versatility. Easy to use, simply plug the 1750W inverter straight into the vehicle's cigarette lighter. Enjoy 2 USB ports (2.1A/1A) and 2 standard plug outlets (e.g. for laptops) for convenient charging on the road.
Ultimate Versatility
It can be used for camping, outdoors, vacations, road trips, remote job sites, and even charging household items. Dual USB ports effortlessly charge two devices (including any smart phones and tablets) at once while the outlets can power a wide range of power-hungry items on the road. For maximum utility, stay in charge at all times and add this to your travel emergency kit.
Design Evolved
Crafted with premium materials for durability, this all-in-one power inverter matches any vehicle interior. With an ultra-compact form factor, store it in the glove compartment when not in use. Usable with a vast variety of mobile devices (e.g. smartphones, tablets, laptops, monitors, consoles and more); Just plug in and start charging for extra juice. Get it all: from entertainment, staying in touch or maintaining your productivity edge on the road.
Specifications:
Rated Power: 175W
Peak Power: 300W
Input: DC 12V
AC Output: 220V
USB Output1-2: DC 5V/2.1A/1A
Size: 130*80*30mm
Weight: 254.6g
Output frequency: 50-60HZ
Measured Use: Mobile phones, PHS, notebook computers, walkie-talkies, digital cameras, video cameras, lighting, lamps, TV, CD / DVD, PAD, game consoles, printers, all kinds of razors, some of the medical aid, field exploration and other electrical appliances (inverter models, power is different can have different electrical drive)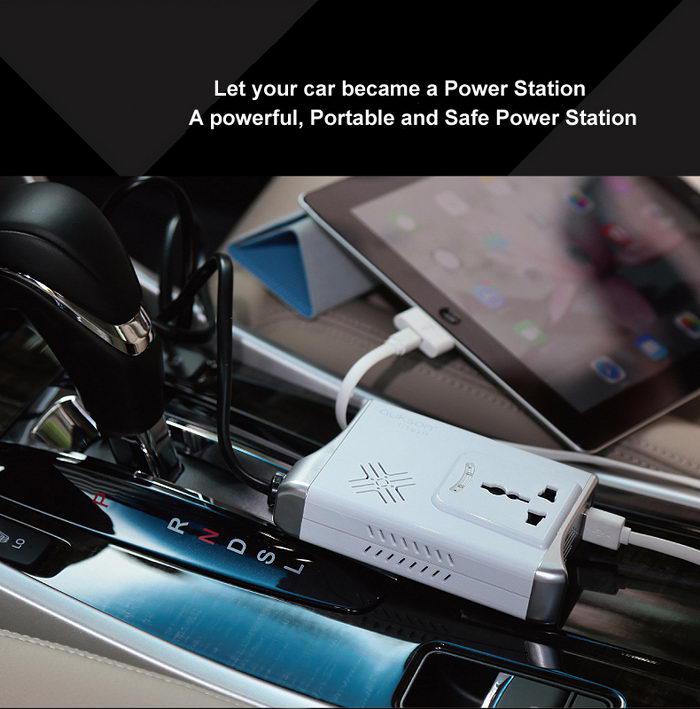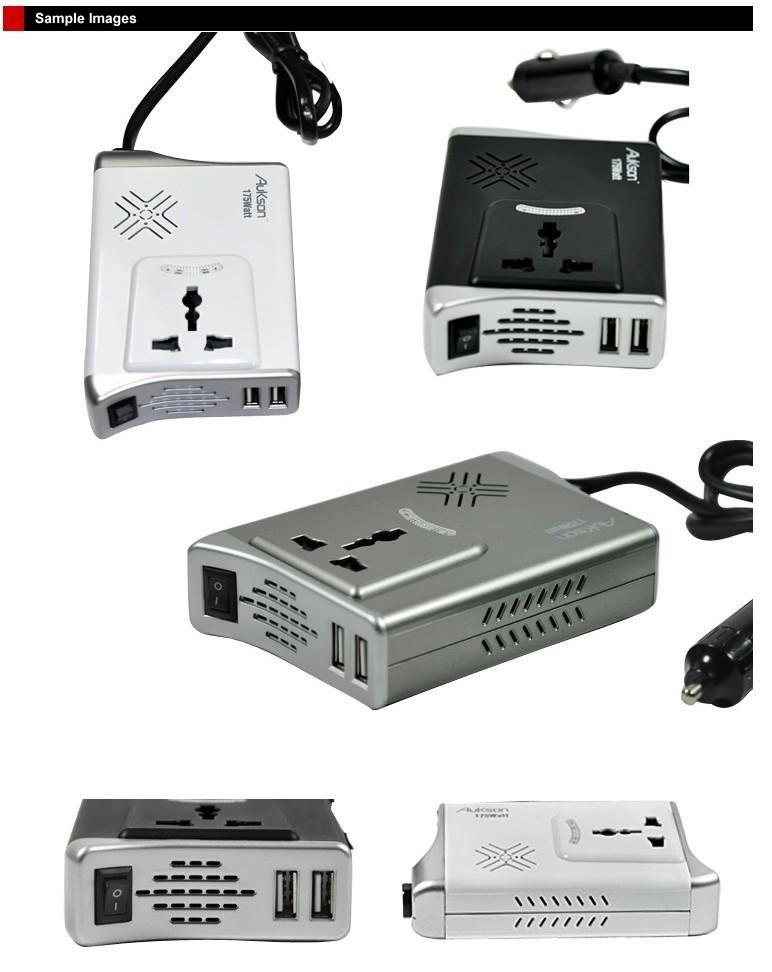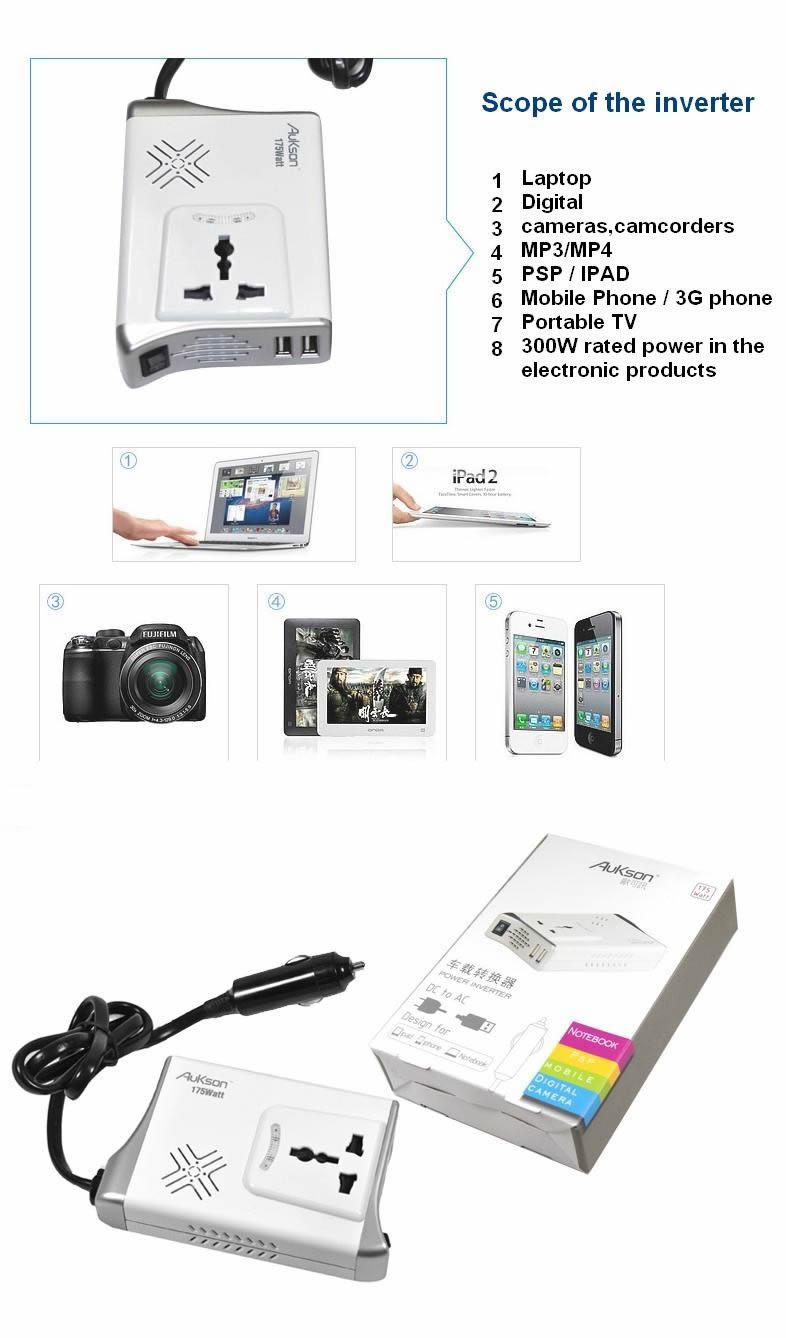 Frequentiy Asked Questions:
Q: What Car AC power supply?
A: Car AC Power Supply (Power Inverter), also known as vehicle power supply, power inverter, power converters, which can be low (DC12V or DC24V) and direct current into alternating current mains AC220V same for general electrical use , is a convenient vehicle power converter.
Q: Car AC Power Supply There 100W 175W, 350W: Car AC power supply uses?
A: Car AC power supply can be applied in the following situations:
· Car: audio, chargers, game consoles, laptop notebook computers
· Field operations: lighting, drilling, etc.
· Hospital emergency rescue: surgical lighting, equipment use, etc.
· Family Emergency lighting: Electronic energy-saving fluorescent, incandescent, small television sets.
Q: What is a continuous output power?
A: Continuous power is AC-powered device in the car under normal circumstances, be able to work continuously power.
Q: What is the peak output power?
A: Peak power is AC-powered device in the boot instantly be able to withstand the power, usually refers to the type of motor load. When activated, the current is higher due to start-formed instant starting power, called the peak output power.
Q: Car AC power supply of continuous output power with peak output power What is the difference?
A: continuous and peak power expressed its significance and different.
Continuous load = current value × 220 (AC voltage)
Start load = 2 × power value
Generally, appliances or power tools startup load determines whether your AC power supply has the ability to drive it.
Q: What is the inductive load?
A: Under normal circumstances, the general parameters of the load with inductive load, that is consistent with current leads the voltage characteristics of the load, as inductive loads. In layman's terms, the application of the principle of electromagnetic induction produced by high-power electrical products, such as motors, compressors, relays, lamp and so on. These products require a ratio of at startup current required to maintain normal operation is much larger (approximately 3-7 fold) of the starting current. For example, a power consumption during normal operation of about 150 watts refrigerators, its starting power up to 1000 watts or more. Further, since the inductive load or disconnect the power supply is turned on the moment, will produce counter electromotive voltage, this voltage is much greater than the peak AC power supply board can withstand a voltage value, it is easy to cause the inverter drive instantaneous overload affecting the life of the inverter. Therefore, such an appliance to the power supply waveform demanding.
Q: Car AC power supply 220V, output voltage and the output waveform What's the difference?
A: AC power supply output is an analog sine wave, while electricity is true sine wave.
Q: Car AC power supply output voltage and output voltage 220V, What's the difference?
A: 220V AC power supply output voltage value and the market value of exactly the same voltage.
Q: Car AC power supply failure is most prone to what? How do I exclude?
A: Car AC power supply is used, if the phenomenon of stop and alarm, check the following:
1) driven by electrical power exceeds the inverter rated power values.
2) Car AC power supply is connected to the battery and electrical good.
3) use of the process down, whether the temperature alarm, then can continue to use a period of inactivity.
Q: AuKson car AC power supply, such as 100W, 175W, 350W, etc., power refers to what?
A: The on-board AC power supply, the rated continuous output power generally refers to the effective power; which is in the normal working environment can continue to work for maximum power. Vehicle power rated power is the most important one of the parameters, the rated power is, the load power supply device can have more. Rated power in watts (W), referred watts. Car AC power supply of electricity from the car's battery generally, so it's rated power is not too large, generally between 100W to 800W, but not for the average power consumption of electrical appliances such as mobile phones, laptops, handheld computers , digital cameras, etc. have been enough. 175W AC power supply vehicle as the maximum output power is 350W, continuous power is 175W.
Q: Car AC power supply output frequency refers to what? The output frequency is the number?
A: Car AC power supply output frequency is output AC square wave cycle. Its frequency is 50 Hz. National Power Standard is 50 Hz. Generally, the period of 20MS, F = 1 / T = 50HZ.
Q: If the car in the stationary state, the ability to use the car AC power supply work? Where available input power?
A: The car in the stationary state, you can use the car AC power supply to work, driven by electrical lower than 150W can be directly obtained from the cigarette lighter socket output power greater than 200W when to use special cable clamps for car battery power.
Previous: Promotion Total 20 softwares Alldata 10.52 + ELSA 4.0 + BOSCH ESI+ Mitchell 2012..
Next: Promotion 350W DC 12V to AC 220V Car Power Inverter car power adapter Car Charger Car Inverter