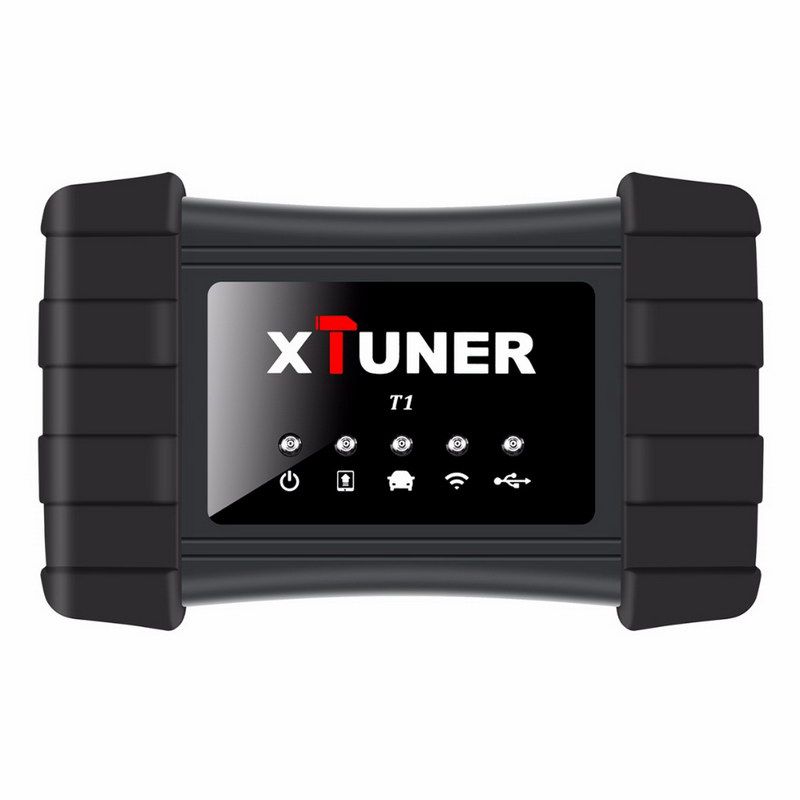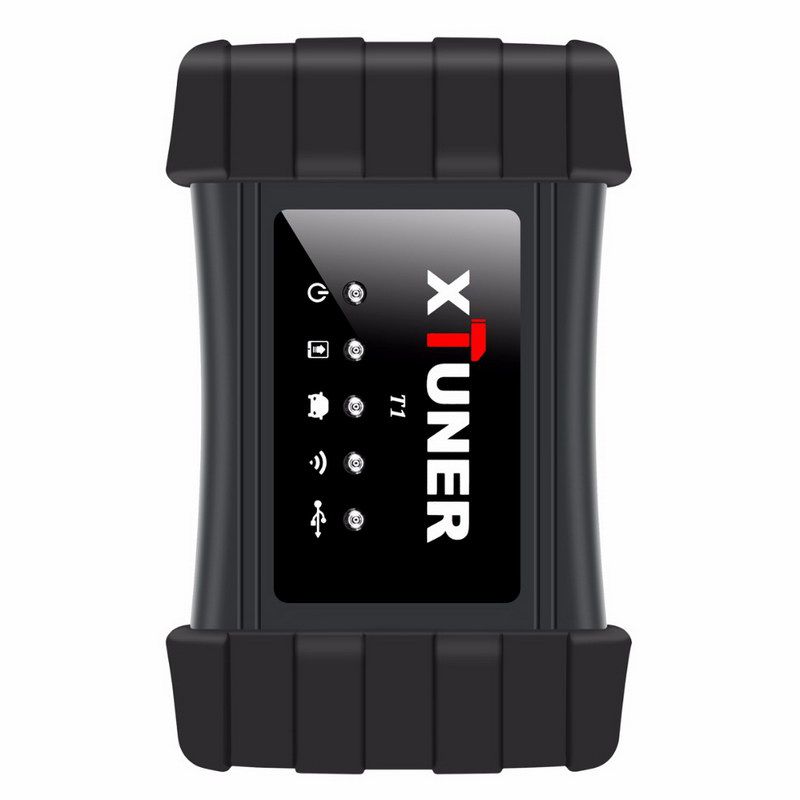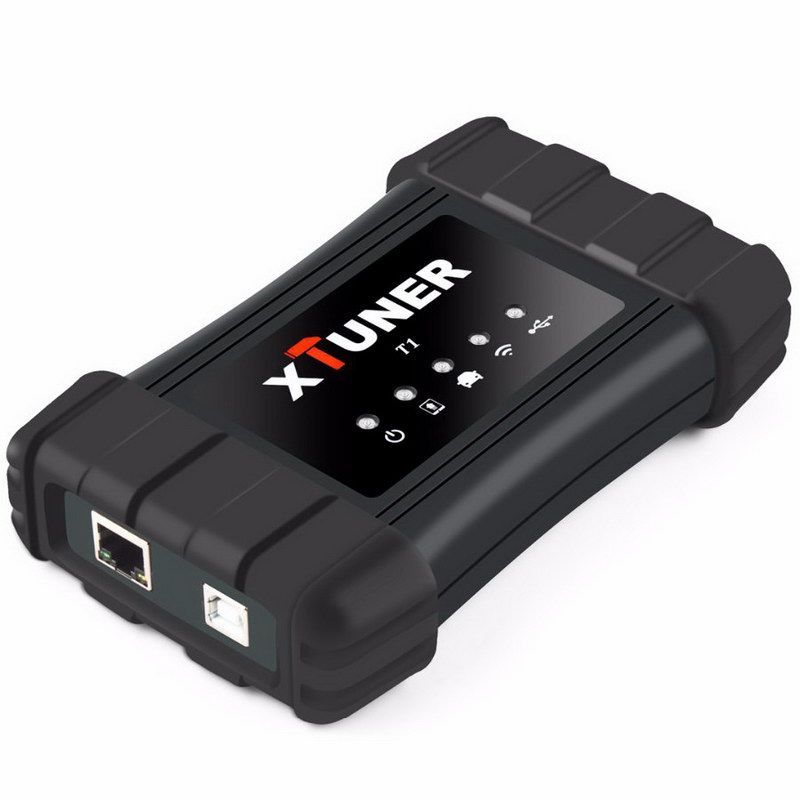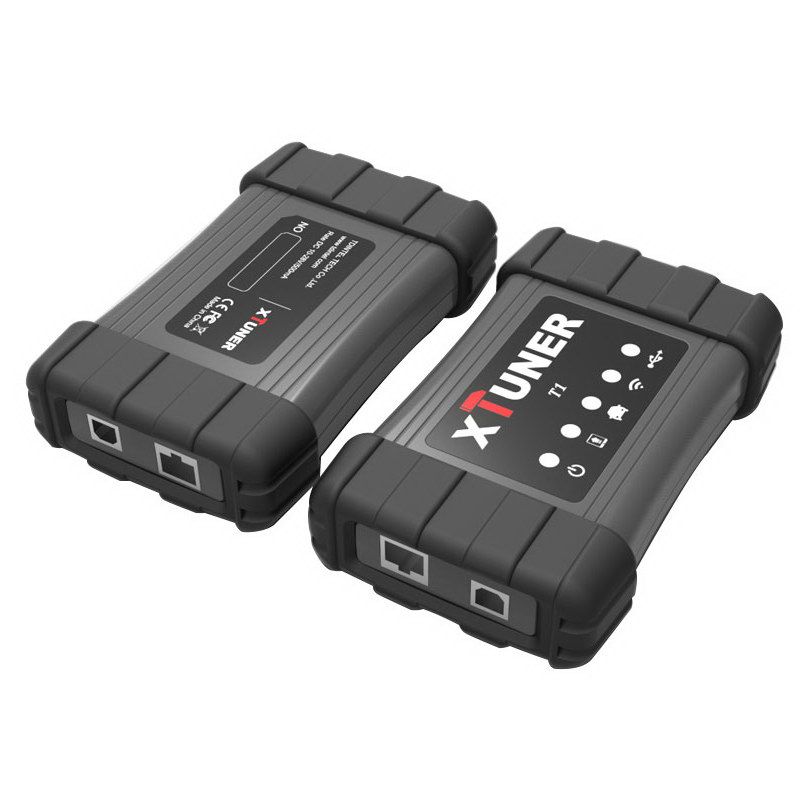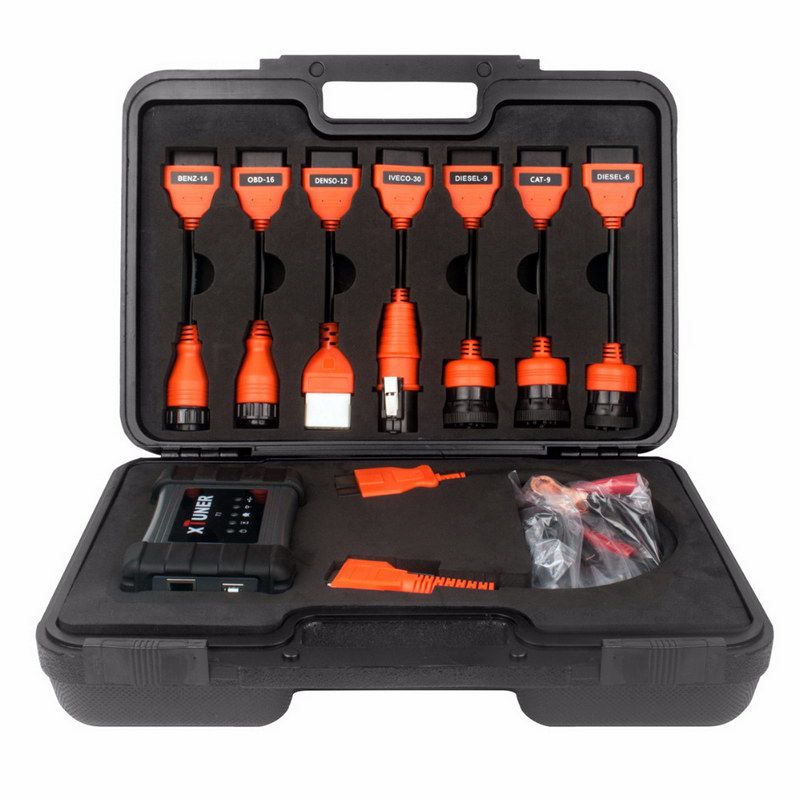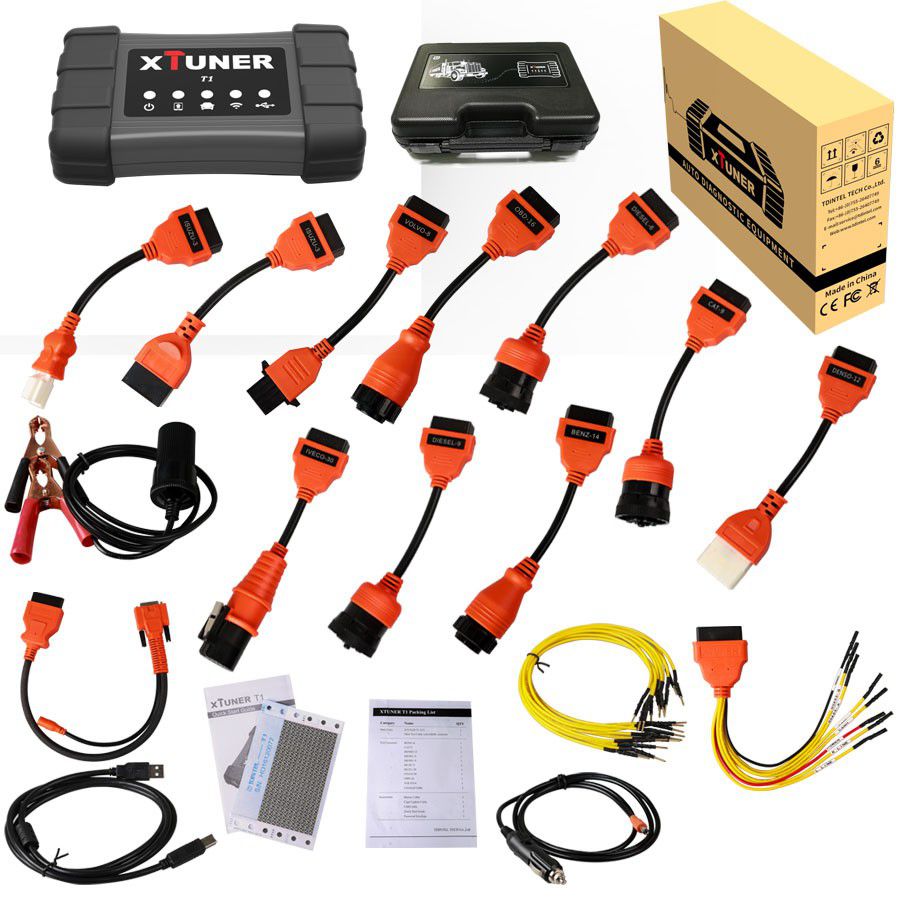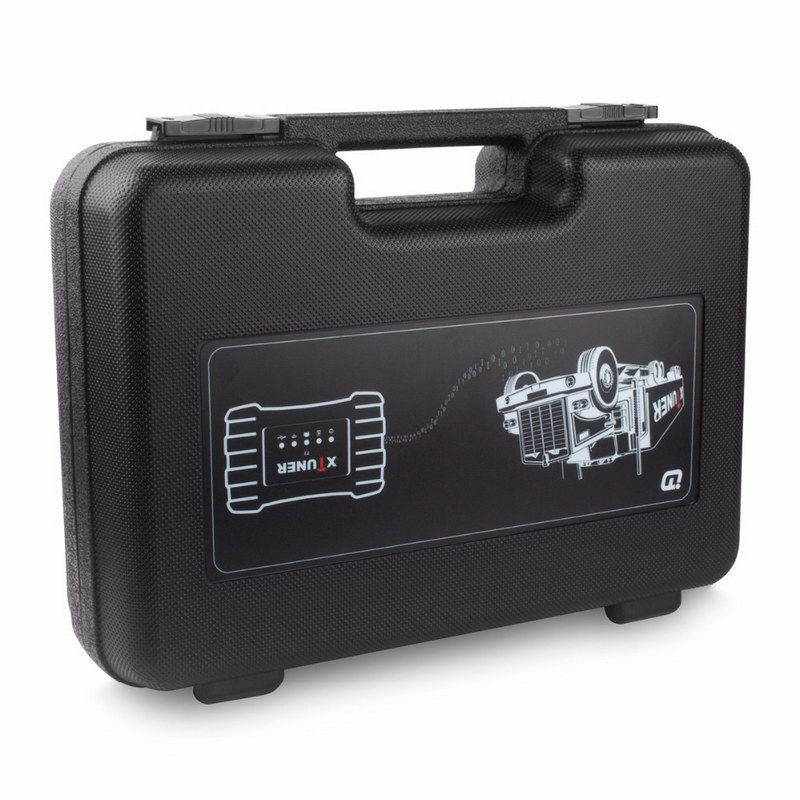 Related Accessories/Similar Items
Description
XTUNER T1 Heavy Duty Trucks Auto Intelligent Diagnostic Tool Support WIFI
Language: English Only (will add more languages in the future)


Top 10 Reasons to Get XTUNER T1 Heavy Duty Trucks Auto Intelligent Diagnostic Tool:
Extensive vehicle coverage for heavy-duty trucks.
Complete function including DTC, DTC freeze Info, Live data, Actuation test and Special function.
Support standard protocol J1939, J1708 and J1587.
Communication: USB or WIFI connection for the VCI.
XTUNER T1 Update: New software update on the internet www.tdintel.com.
Supply OBDII and other 10 connector.
With brand-new design, the hardware features in stability and anti-interference.
The built-in overvoltage protection module is able to protect scanner and vehicle against accidental damage during checking.
Work stably and smoothly in high and low temperature environment..
Operation System: Windows XP, Windows 7, Windows 8, Windows 10, which allows for more stable performance, better compatibility and expandability.
XTUNER - T1 DIESEL OBD function updated!
Add system information function.
Add I/M readiness data function.
Update the database support to 2017.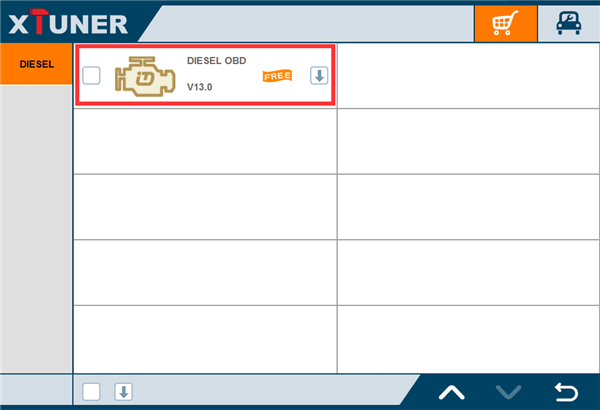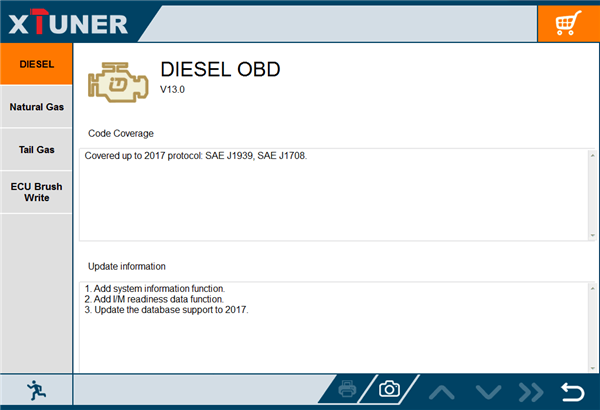 XTUNER-T1 UI Upgraded!!!
1. Improve the communication layer.
2. Improve the print report.
3. Fix the bug of the setting function.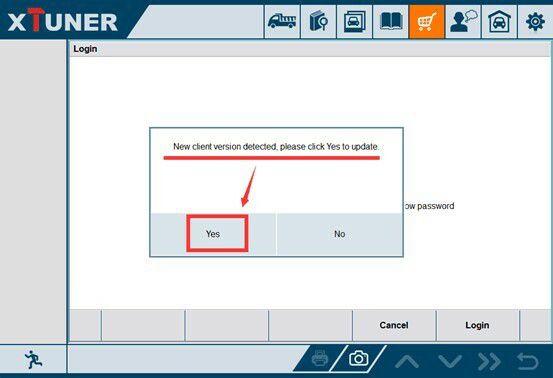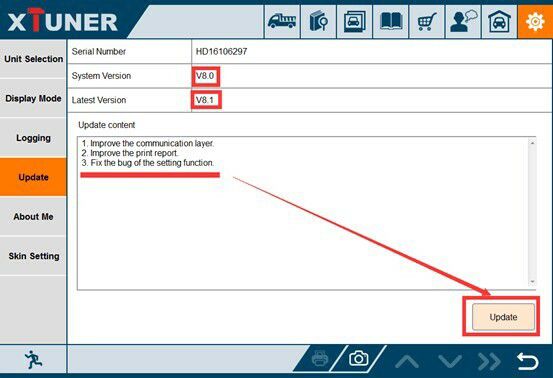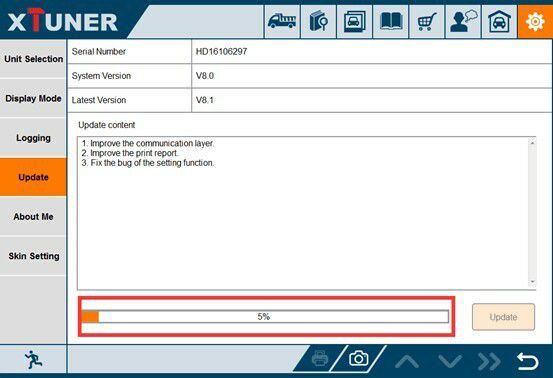 XTUNER T1 Function List:
Read ECU Info, Read DTCs, Erase DTCs, Clear learning value, Data Stream, Actuations, Read freeze frame data, Read/Write VIN, Basic Reset, Control unit adaptations, Air bleeding, Level calibration, Oil change, Idle speed learning, Idle speed Adjustment, Camshaft timing control learning, Broken cylinder test, Dpr Manual Forced Regeneration, Injector Codes, etc.
XTUNER T1 Special Functions:
DPF Reset、Nozzle Or Injector、Fuel Pump、Exhaust Pressure Adjustment、EGR、
ECM
、Vehicle Speed CONTROL、Cylinder、VIN、Write Engine Serial Number、Turbo Control
XTUNER T1 Hardware Environment:
Windows laptop, PC or PAD
CPU speed: more than 1.0G Hz
Memory: more than 1GB
Disk: more than 32 GB
Communication port: Wi-Fi or USB
XTUNER T1 Warranty: One Year
XTUNER-T1 software is free updating within 1 year from the date of product activation.
XTUNER System Coverage:
ABS
(anti-lock brake system), After treatment system, Airbag, Airconditioning system, ATA Anti-theft alarm system, ATA(Auxiliary heating system air-to-air), AUS(
Audi
o system), Behr independent air-conditioning system, BMS(Brake Management System), Body control system, Bosch DENOX AdBlue System, Break control system, BWS(Preparation system), CCS(Climate control system), CLS/ATA central locking system with anti-theft alarm, Comfort/assistance/safety systems, Compressed Air Reserve system, CSS(Collision safety system), CTS(Clock and Time System), EBS(Brake System), EBS(Electronically Controlled Brake System), Electrohydraulic steering system(EHLA), EMS(Engine Management System), Engine management system, Engine System, FLA Flame starting system,
GM
S(Gearbox Control System), Instrumentation System, Lane departure alarm system, LAS(Lock and alarm system), LGS(Lane Guard System), MAN Marine Diagnostic System(MMDS), Meritor Wabco Brake System, MTS Modular door control system, RAS-EC1 steering system, Security System,
SRS
Supplemental restraint system, Suspension System, Torque converter and clutch system, TPM(Tires pressure Monitoring System), Transport Information System, Vehicle control system, Vehicle elctrical system power converter, VIS(Visibility System), VRDU Driver assistance system, WS Maintenance System, WTA(Auxiliary heating system water-to-air), ZVA Central locking system, etc.
XTUNER T1 Vehicle Coverage List:
ALLISON, ASTRA, BENZ, BREMACH, DAF, DETROIT, ERF, FOTON, FREIGHTLINER, FUSO, HINO, HYUNDAI, INTERNATIONAL, ISUZU, IVECO, KENWORTH, KIA, MACK, MAN, MaxxForce, NAVISTAR, RENAULT, SCANIA,
TOYOTA
, UD, VOLVO, WABCO, ect.
Electronic Control System:
BENDIX, CUMMINS
Standard OBD:
DIESEL
OBD
XTUNER T1 Software Display: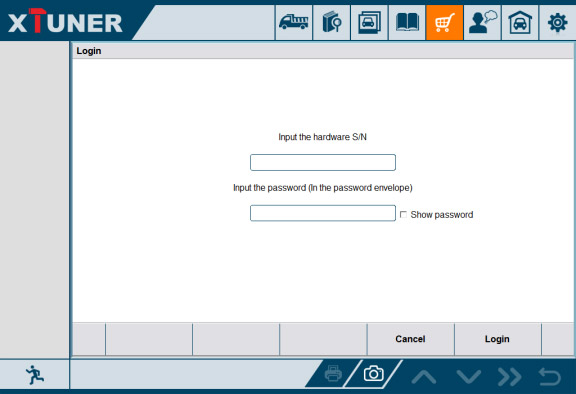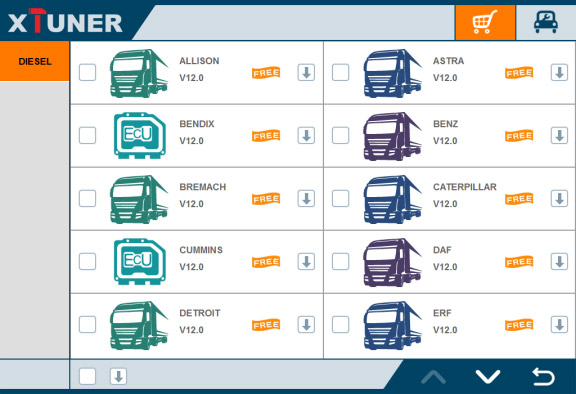 \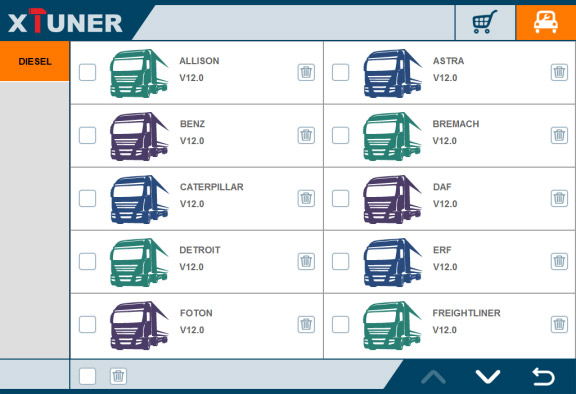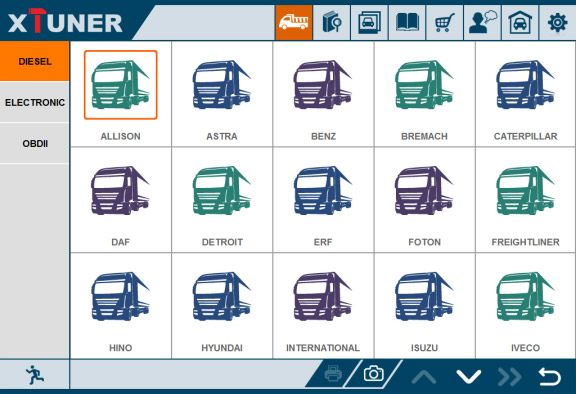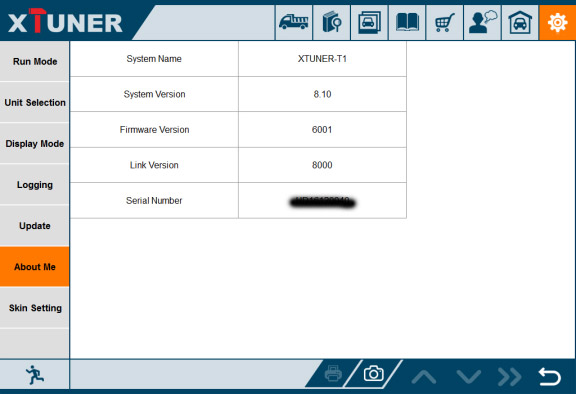 XTUNER T1 Package List:
1PC x XTUNER T1 VCI
1PC x Main Test Cable with OBDII connector
1PC x BENS-14 Connector
1PC x CAT-9 Connector
1PC x DENSO-12 Connector
1PC x DIESEL-6 Connector
1PC x DIESEL-9 Connector
1PC x ISUZU-3 Connector
1PC x ISUZU-20 Connector
1PC x IVECO-30 Connector
1PC x OBD-16 Connector
1PC x VOLVO-8 Connector
1PC x Universal Cable
1PC x Battery Cable
1PC x Cigar Lighter Cable
1PC x USB Cable
1PC x Quick Start Guide
1PC x Password Envelope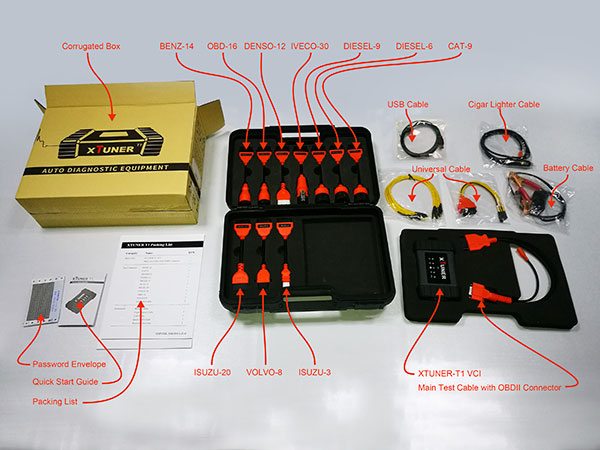 Reviews

49
#1 Jean Dasilva
Jul 9, 2018

Delivered quickly to the threshold,Connected the first time. Counted recorded without problems.
#1 benbouzid moktar
Aug 9, 2018

It works perfectly! Very good product, i recommend shop and seller.
#1 DD Holyfield
Feb 9, 2019

Everything works. Delivery is super fast. Disk c to read. Seller recommend!
#1 Marko Rautiainen
Jan 9, 2019

Very good fast delivery
#1 nuno miguel machado
Dec 9, 2018

has not been tested yet but everything looks perfect
#1 Pavel Tomm
Dec 9, 2018

Do not have time to test right now, looks great
#1 JOSE MAIA
Dec 9, 2018

Perfect! Thank you. Not yet tested but happy
#1 mohamed zeriouh
May 9, 2018

all perfect ! Items came to me 3days! I would buy it again, from this seller
#1 Tomasz Bronowicki
Sep 9, 2018

Ok , happy
#1 david peterson
Jun 9, 2018

Super recommended arrived just as it is posted very fast shipping
Previous: MD103 Security Calculator of The Key Pro M8 Auto Key Programmer
Next: Foxwell GT80 Mini OBDII Car Diagnostic Scanner Tool support ABS SRS Airbag Engine Transmission