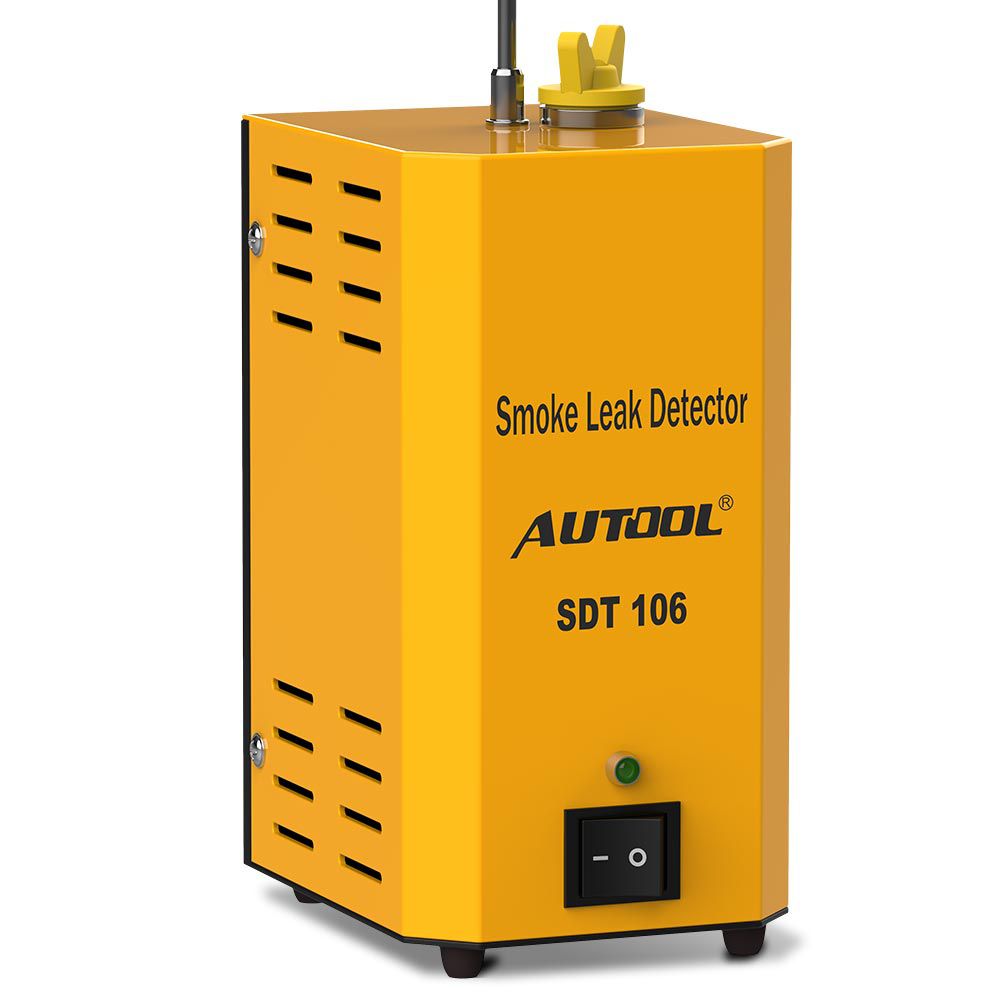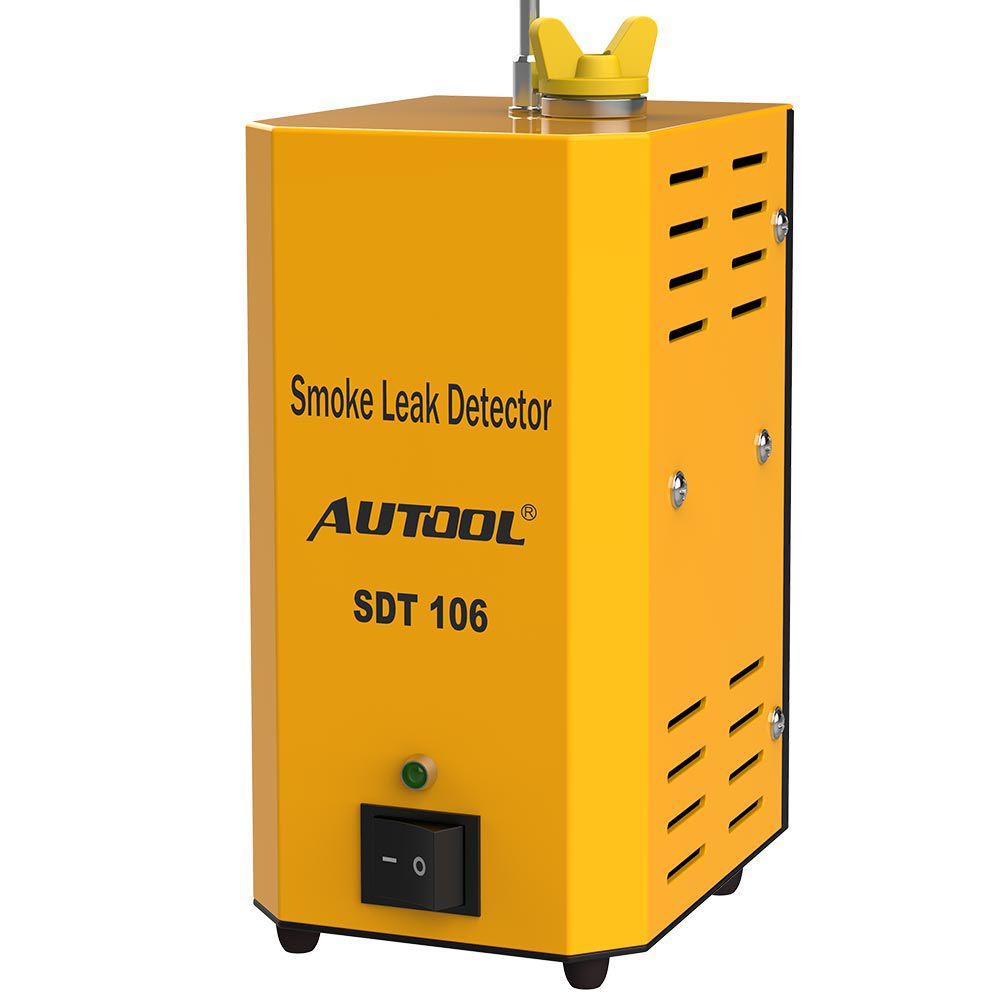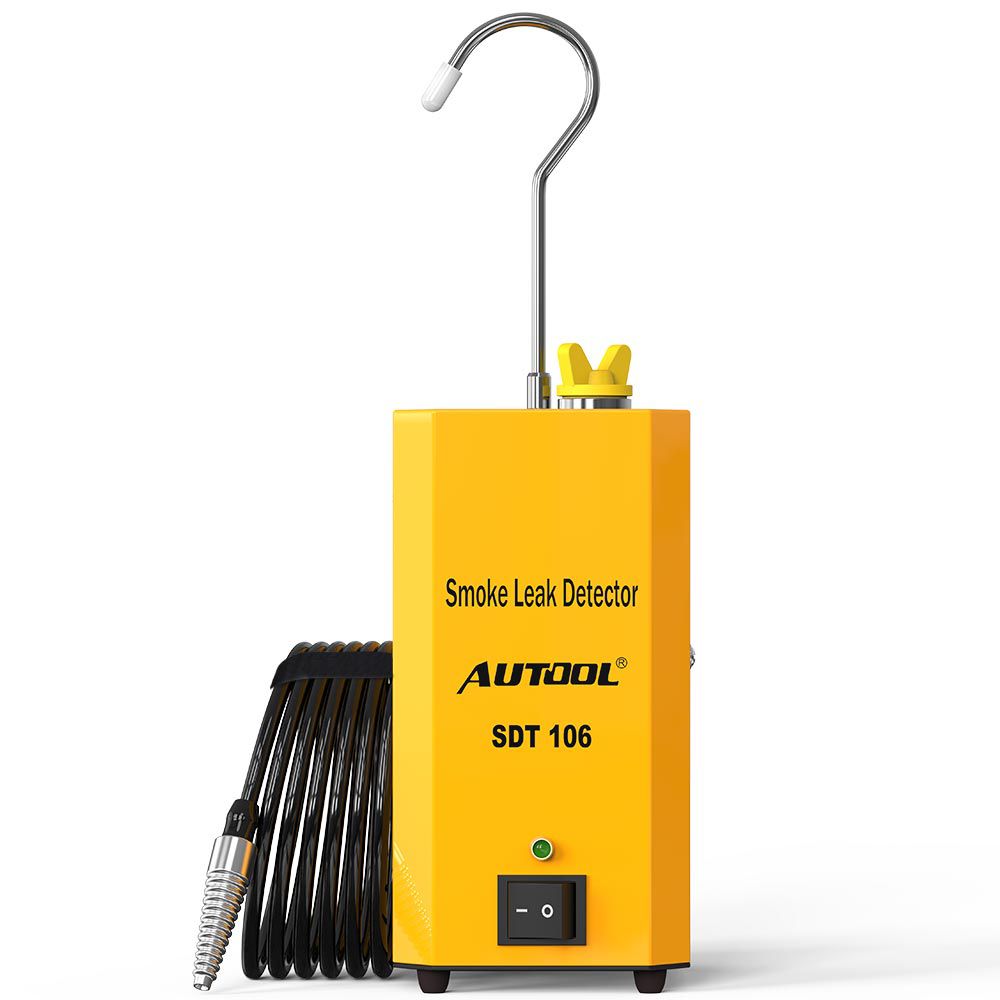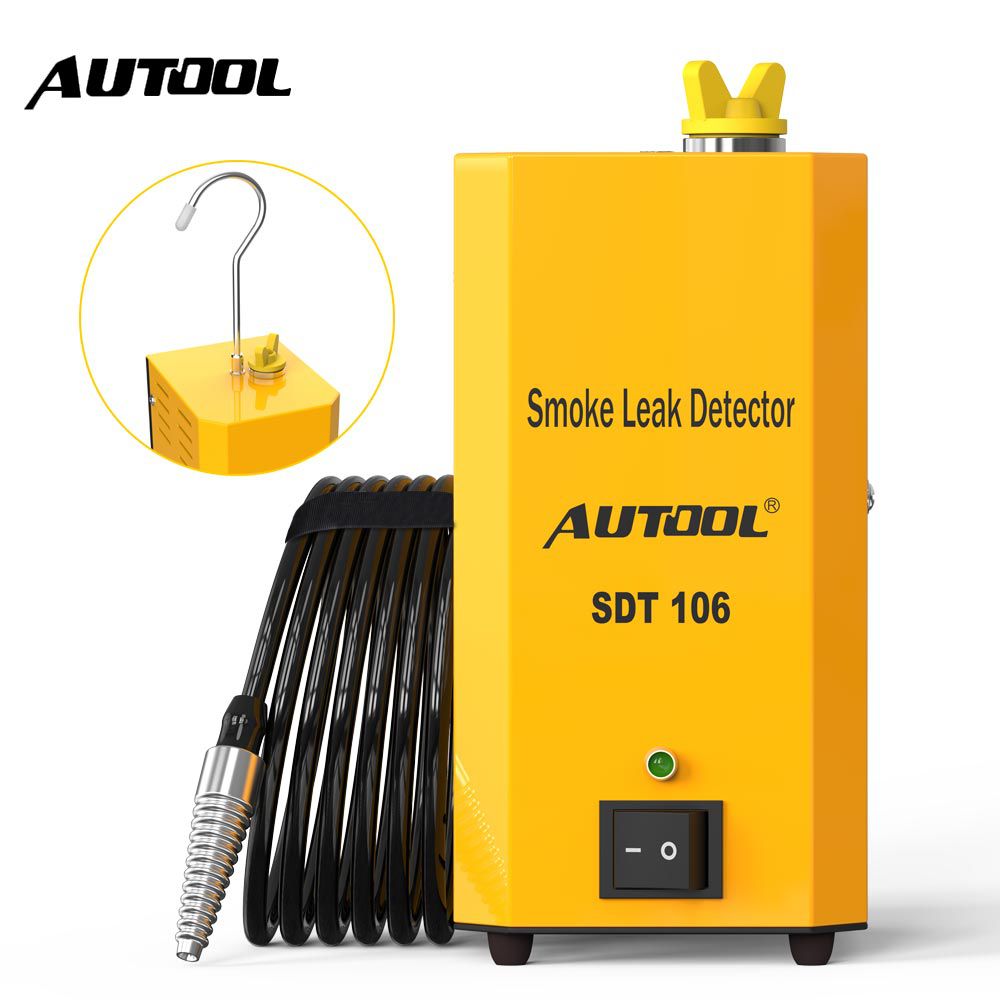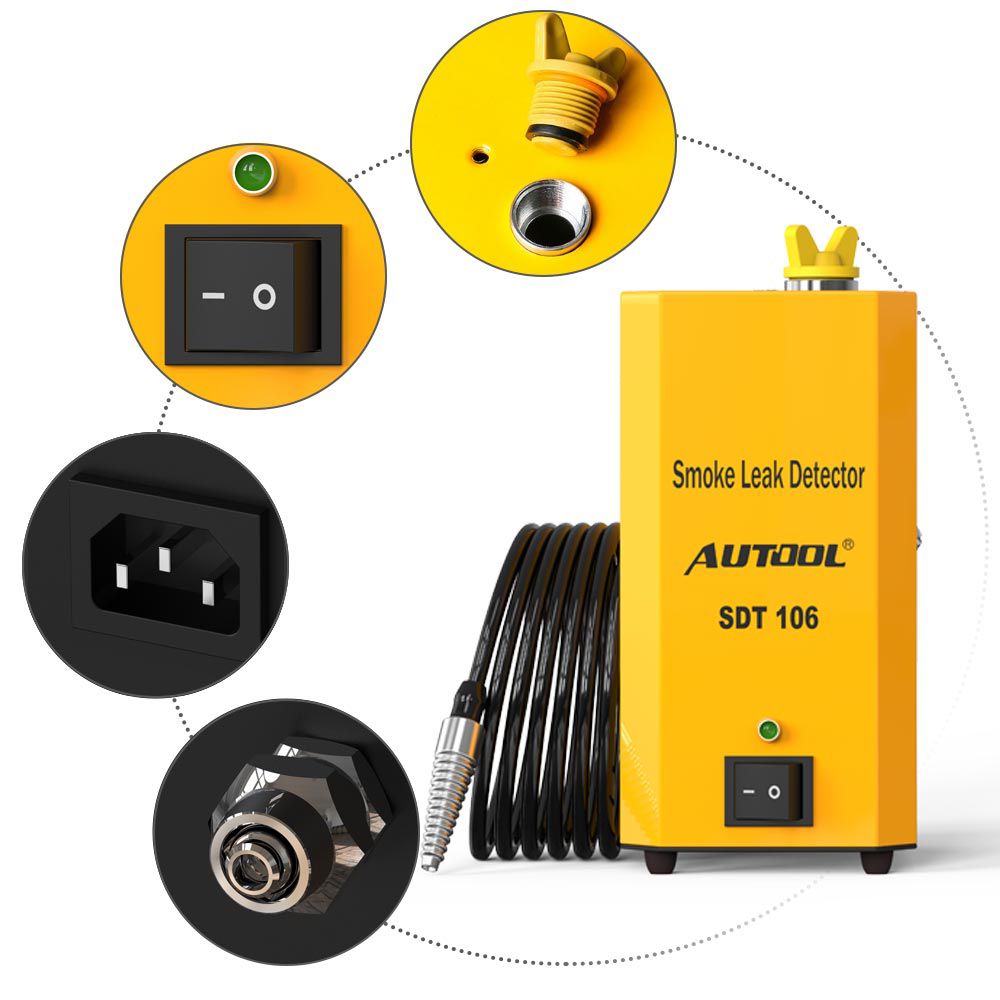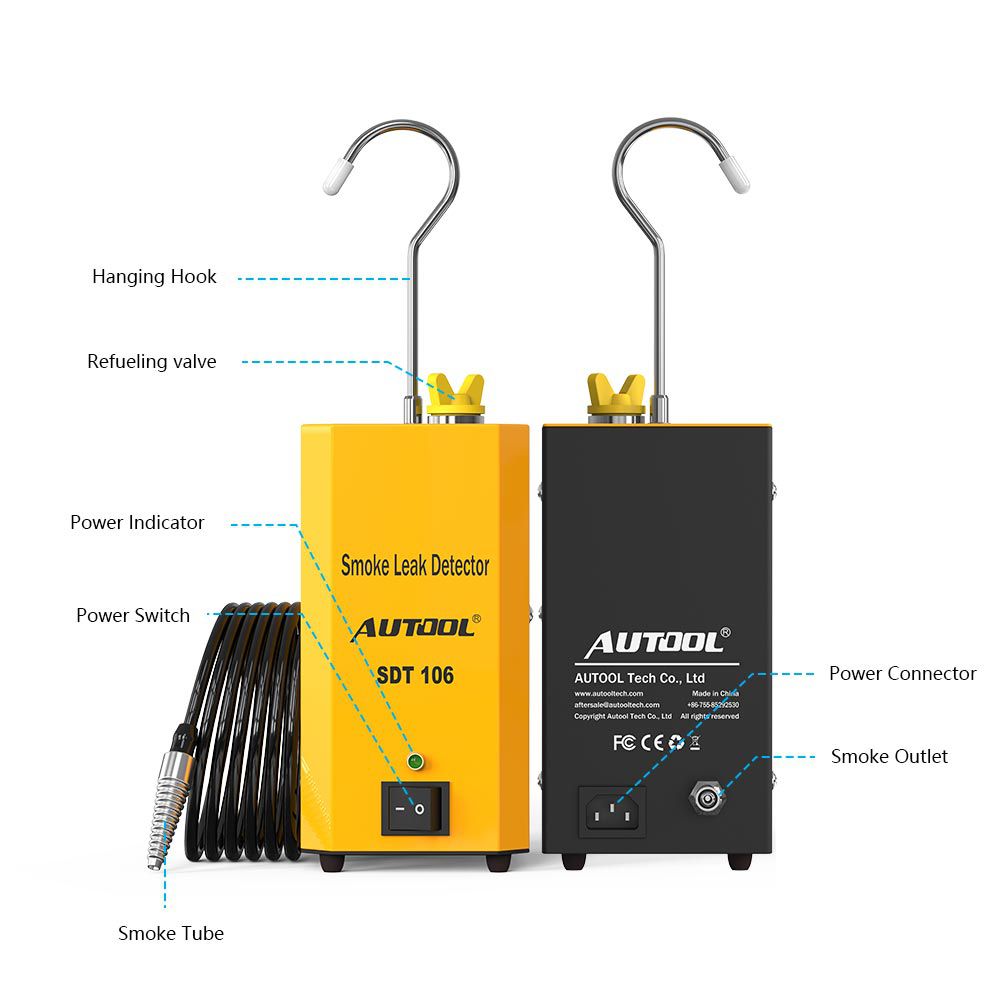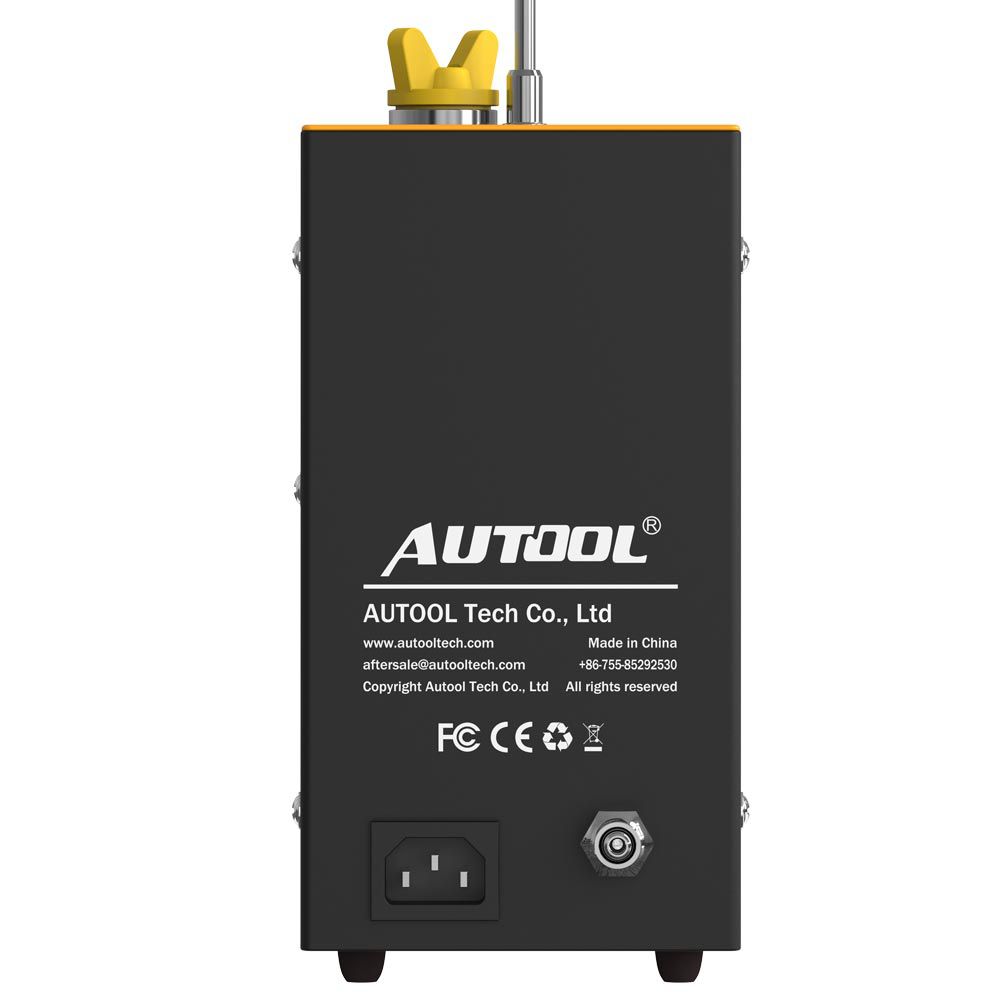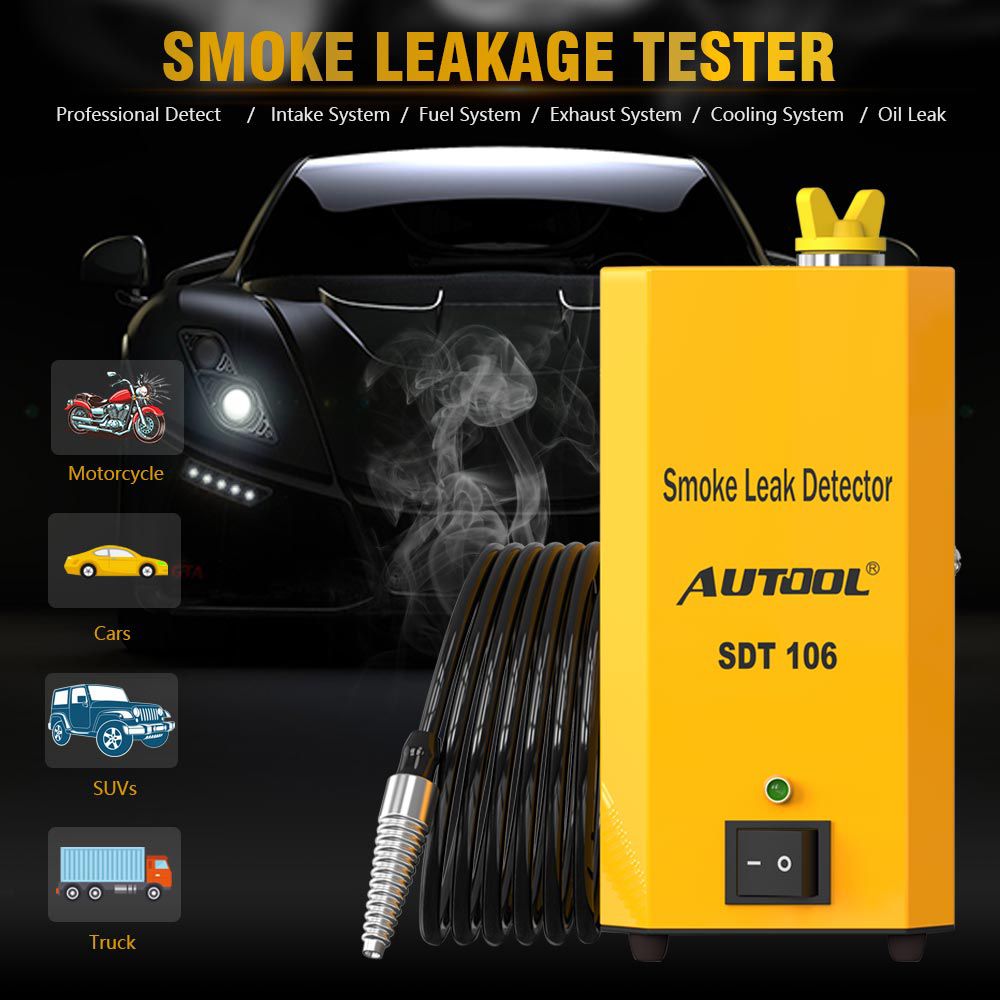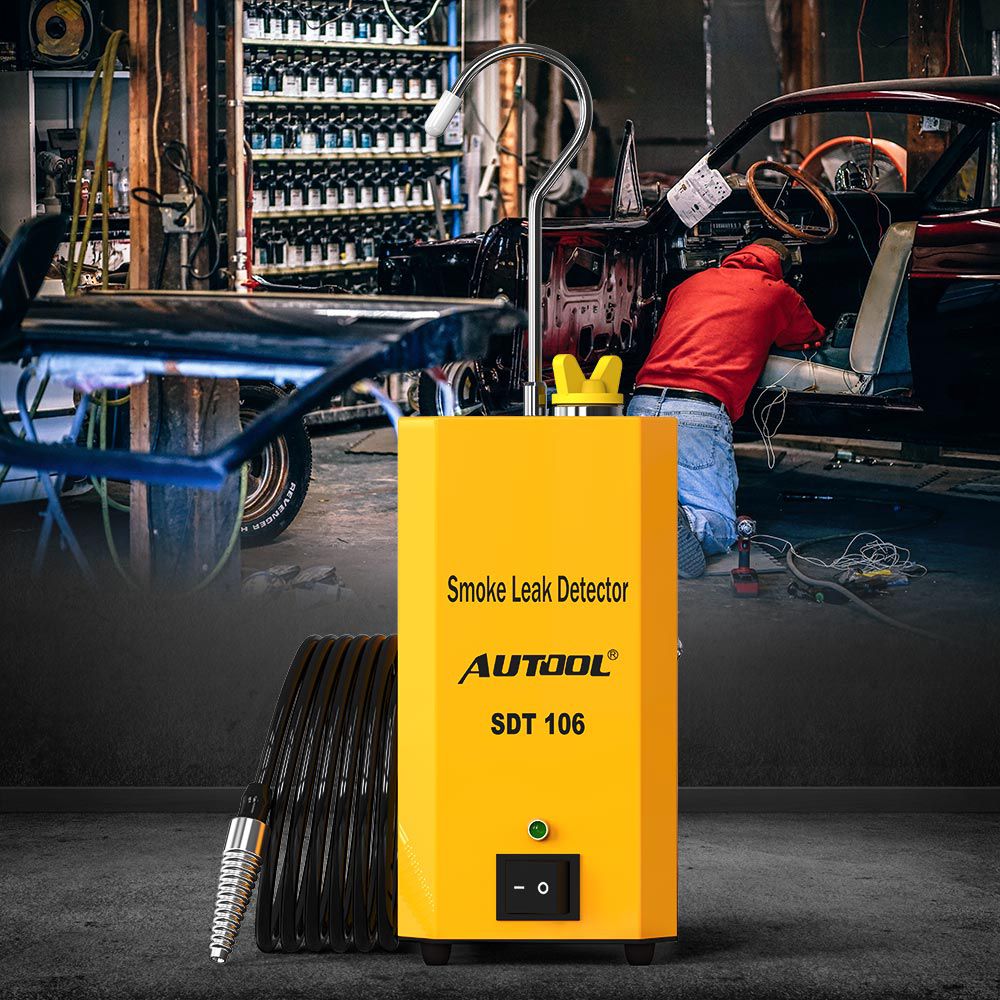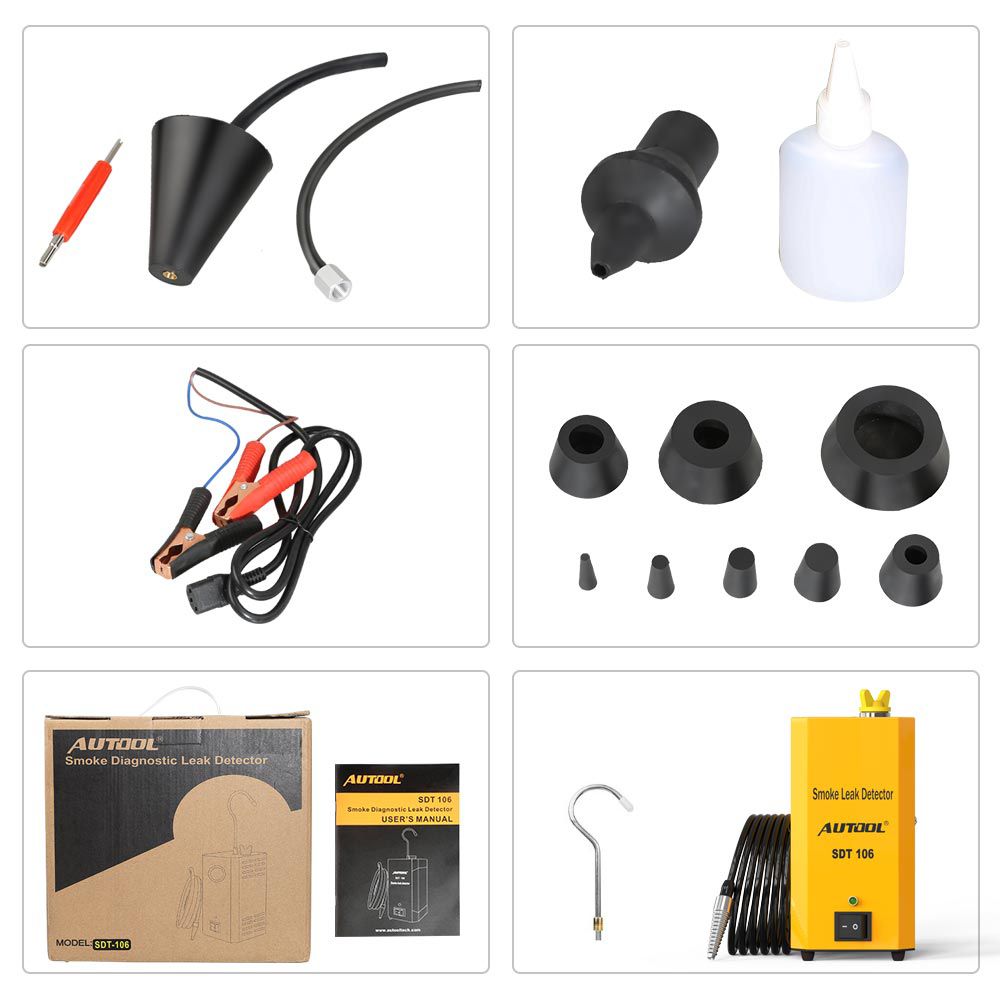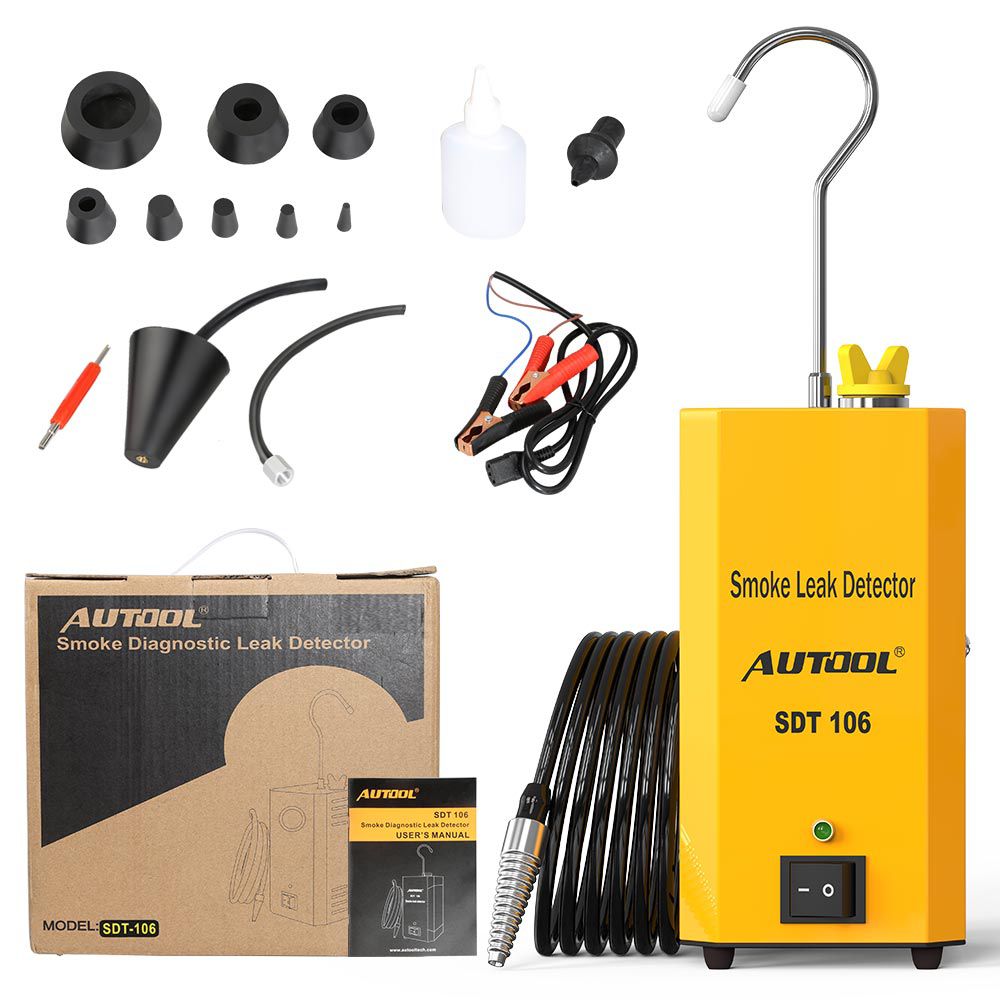 Description
AUTOOL SDT-106 Diagnostic Leak Detector of Pipe Systems for Motorcycle/Cars/SUVs/Truck Smoke Leakage Tester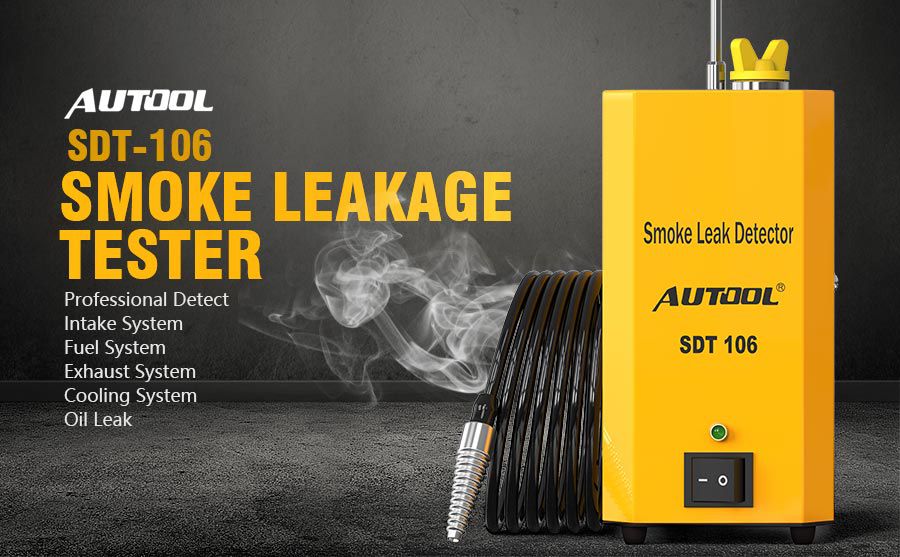 Attention:
1.When you use this detector for the first time, please fill 20-30ml oil into a car, NOT MORE THAN the amount.
2.New oil can be filled with only when the smoke is light, and it can't be filled over 15ml every time.
3.Before filling new oil, please pour out the remaining oil in the detector.
4.Please replace the detector oil regularly.
AUTOOL SDT-106 Operation:
1.Open the
engine
cover, and hang the detector in the cover.
2.Disconnect the pipe that needs to be connected with detector. If the pipe needs to be disconnected in the middle. Please
secure the other side with a rubber stopple.
3.Secure this side with proper taper stopple/pipe, and connect it with smoke output tube.
4.Connect the detector with DC12V battery: red with positive, black with negative. Do not connect in a contrary way.
5.Turn on the power switch, and detector starts to work.
6.In about 3 minutes, the pipe will be filled with smoke. Check the leak points. Please use head lamp if necessary.
7.After leak detection, please connect well the wires and pipe.
8.
Notes:
* Please do leak detection away from smoke-sensitive parts.
* Not suitable for EVAP.
* Do not run the detector over 8 minutes. It needs interval rest.
* The detector has protector. If it exceeds working limit, it will power off automatically. In this condition, please operate it
later.
* The round parts of this detector is with temperature, be careful to avoid scalding injury.
AUTOOL SDT-106 Maintenance:
With longtime high temperature, the smoke and oil will oxidize and deteriorate. It will infect the service life of smoke
generated part, so please change smoke and oil regularly.
1.Before filling new oil, please pour out the remaining oil in the detector.
2.When the smoke output has water drops, please replace with new oil.
3.Liquid paraffin and baby oil are OK.
4.Please fill new oil with equipped oil bottle
AUTOOL SDT-106 Product Information:
Power: DC12V, vehicle battery
Smoke output value: 6l/min
Buil-in air supply
Kindly Note:
SDT-106 is for all pipe systems except EVAP.
Hook:
To hang the detector when detecting
Working Indicator:
It is lit when the detector works
Power Switch:
Power it on, and the detector works
Smoke output tube:
The smoke outlet which connecting with detection port
Power clip:
To connect with vehicle battery. The voltage is DC12V.
Package List:
1pc x Main Unit
1pc x Hook
1pc x Rubber stopples
1pc x Taper stopple
1pc x Taper pipe
1pc x 30ml oil bottle
1pc x User manual
Reviews

11
#1 Joao Silva
Feb 9, 2019

Arrived super fast delivery. The best they have representative here in Brazil P make delivery. Good seller. Recommend.
#1 Harun Yakubu
Sep 9, 2018

Very good. Arrived before the deadline.
#1 RUPERT ROMERO
Dec 9, 2018

As the product description, only think the seller could give a support
#1 Barbara Monsanto
Dec 9, 2018

It came quickly. The device is kind of working.
#1 BryannaFooterv BryannaFooterv
Jun 9, 2018

The order came for 3 days, everything would be so!!!! I'll check, i'll add a review.
#1 Gulam Mortuja
Aug 9, 2018

Ok. Thank you very much.
#1 blessing chabika
Dec 9, 2018

Recommended store, high quality item, best price! this AUTOOL SDT-106 Diagnostic Leak Detector of Pipe Systems for Motorcycle/Cars/SUVs/Truck Smoke Leakage Tester is good quality, working very well
#1 CARLOS VERDEJO GOMEZ
Jun 9, 2018

Good seller! Super fast shiping!
#1 Unfineeicex Unfineeicex
Dec 9, 2018

Everything is super, very fast. from moscow to peter 2 days. p The parent put a tester for the brake as a gift. Many thanks to the seller, that's what quality and speed means.
#1 mustapha mhamdi
Feb 9, 2019

Received it via DHL,all good.thank you.
Previous: AUTOOL OL129 Battery Monitor And OBD/EOBD Code Reader OL129 Auto Engine Diagnostic Tool
Next: VAG506 VAG Professional Scan Tool with Oil Reset and Airbag Reset Function