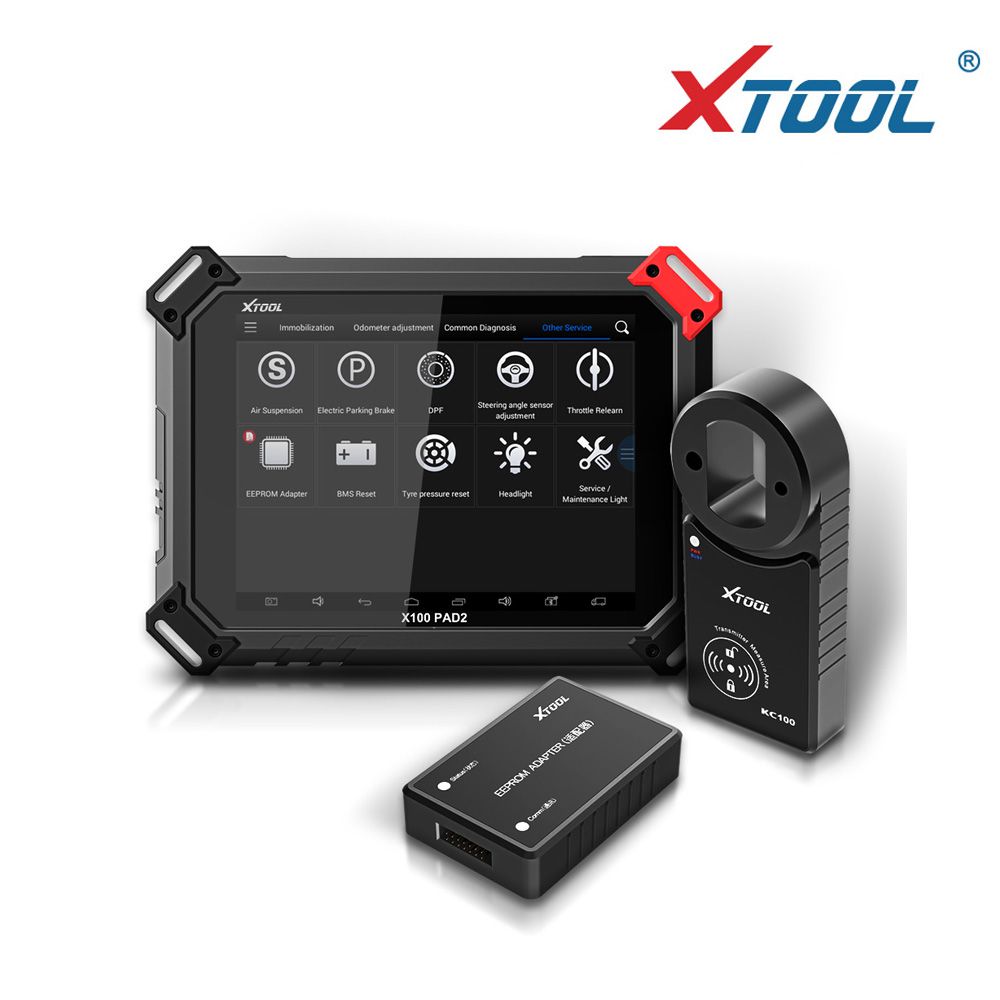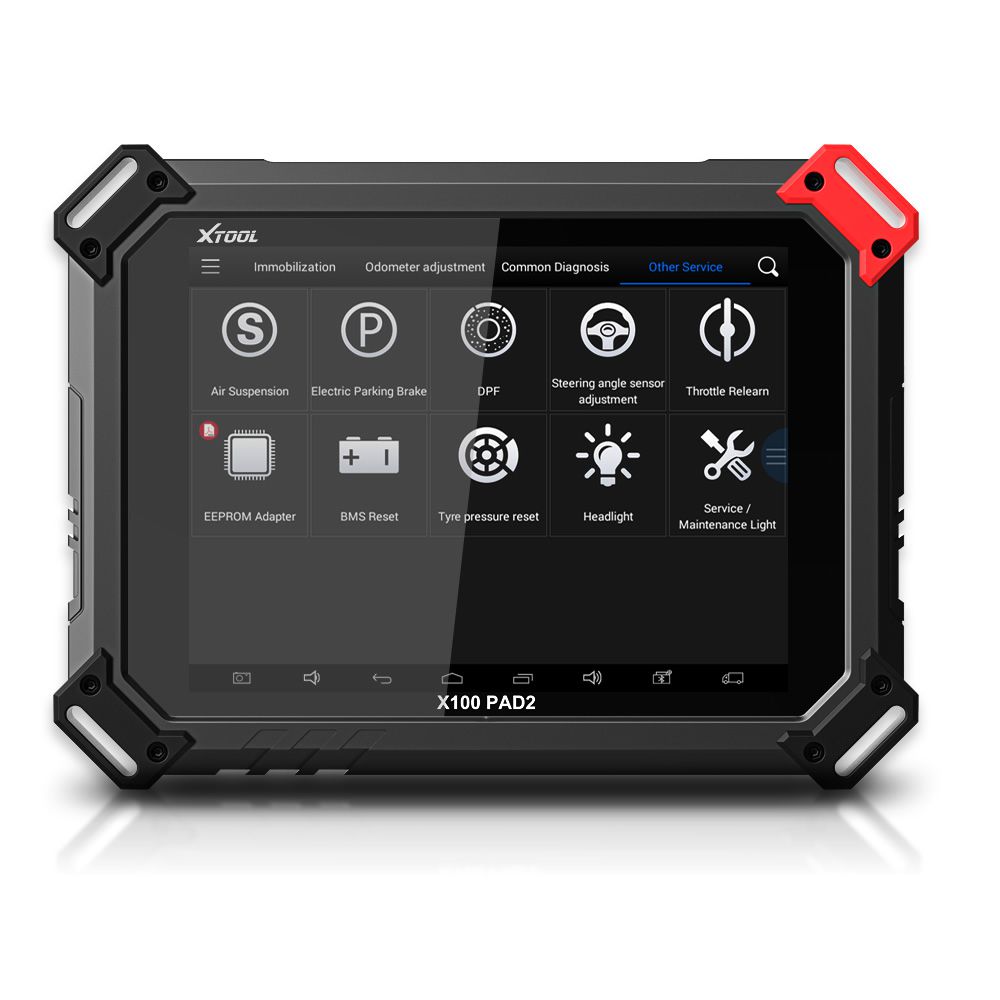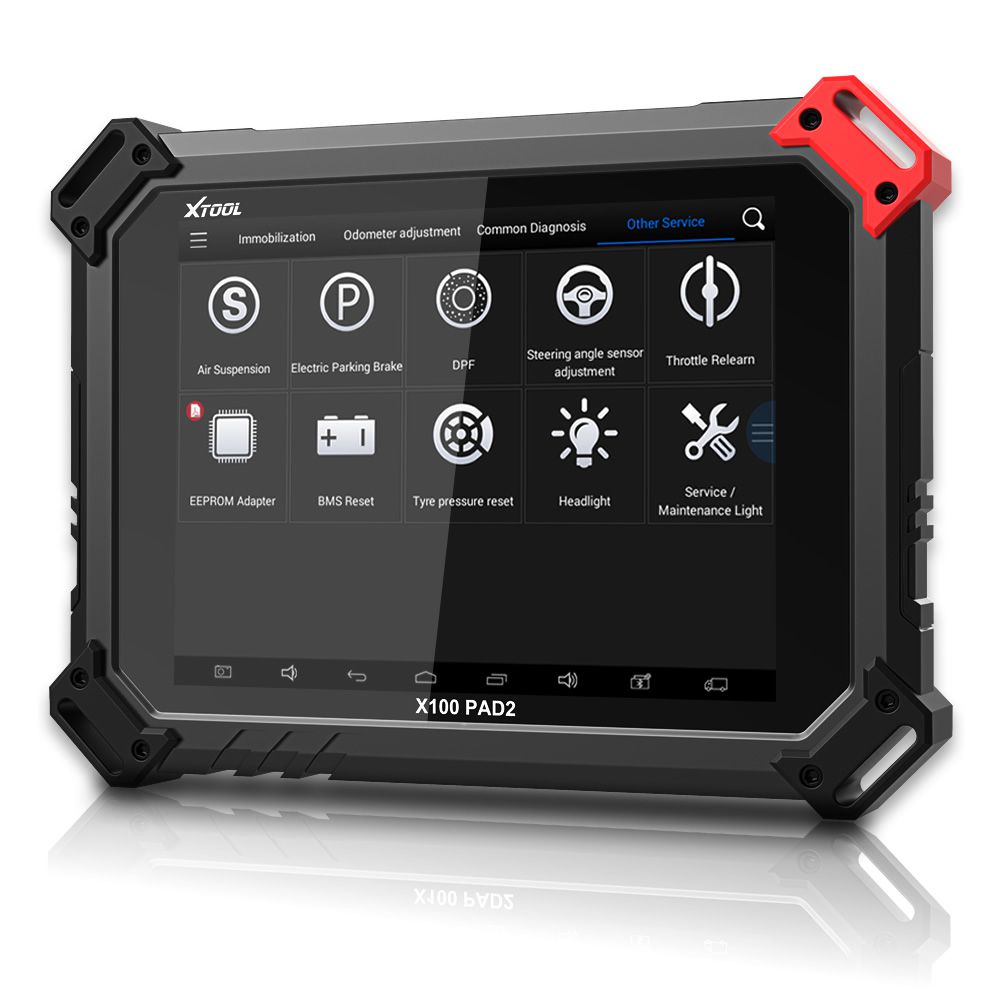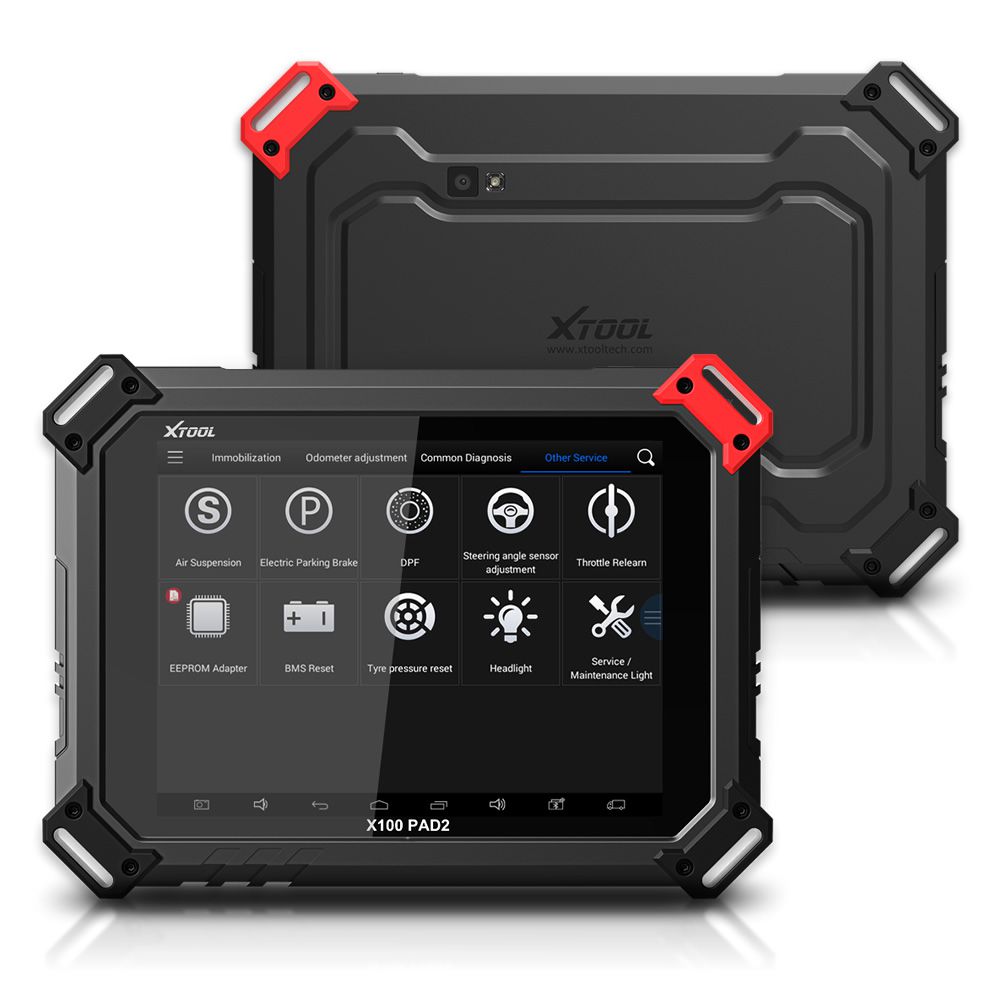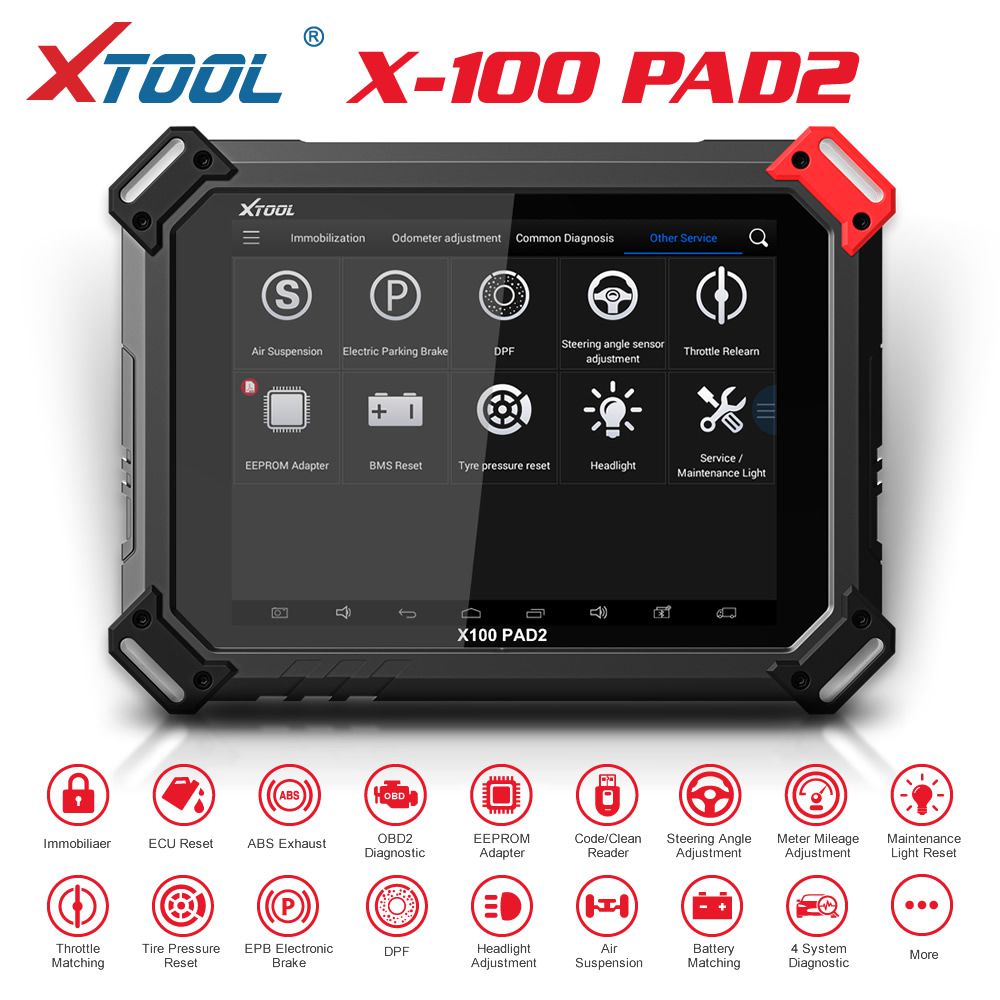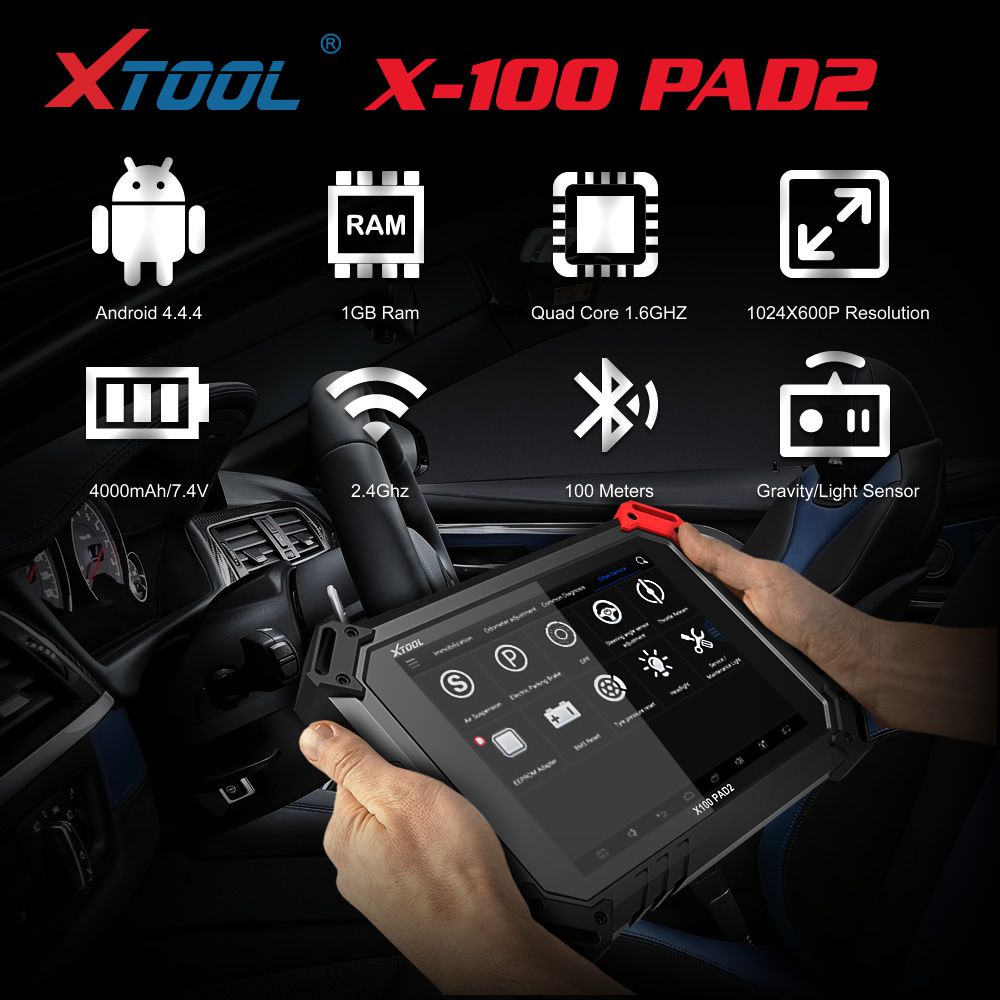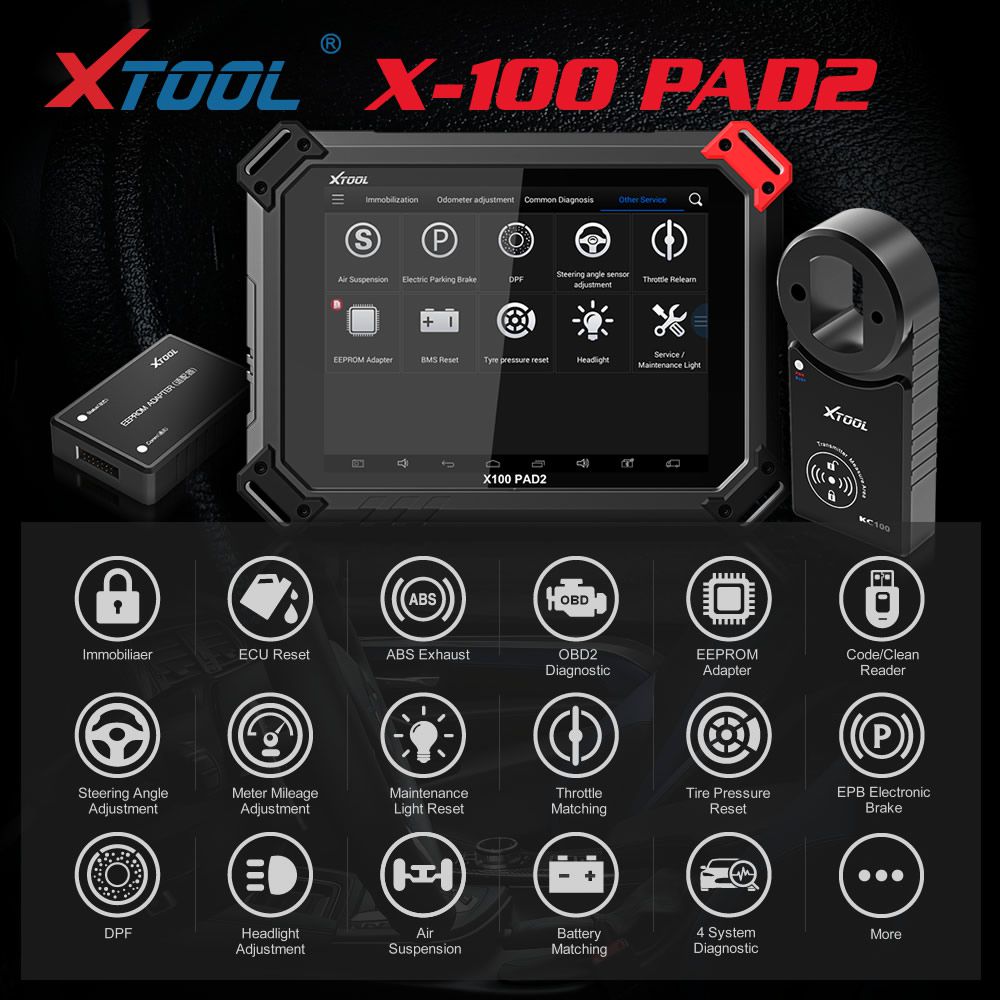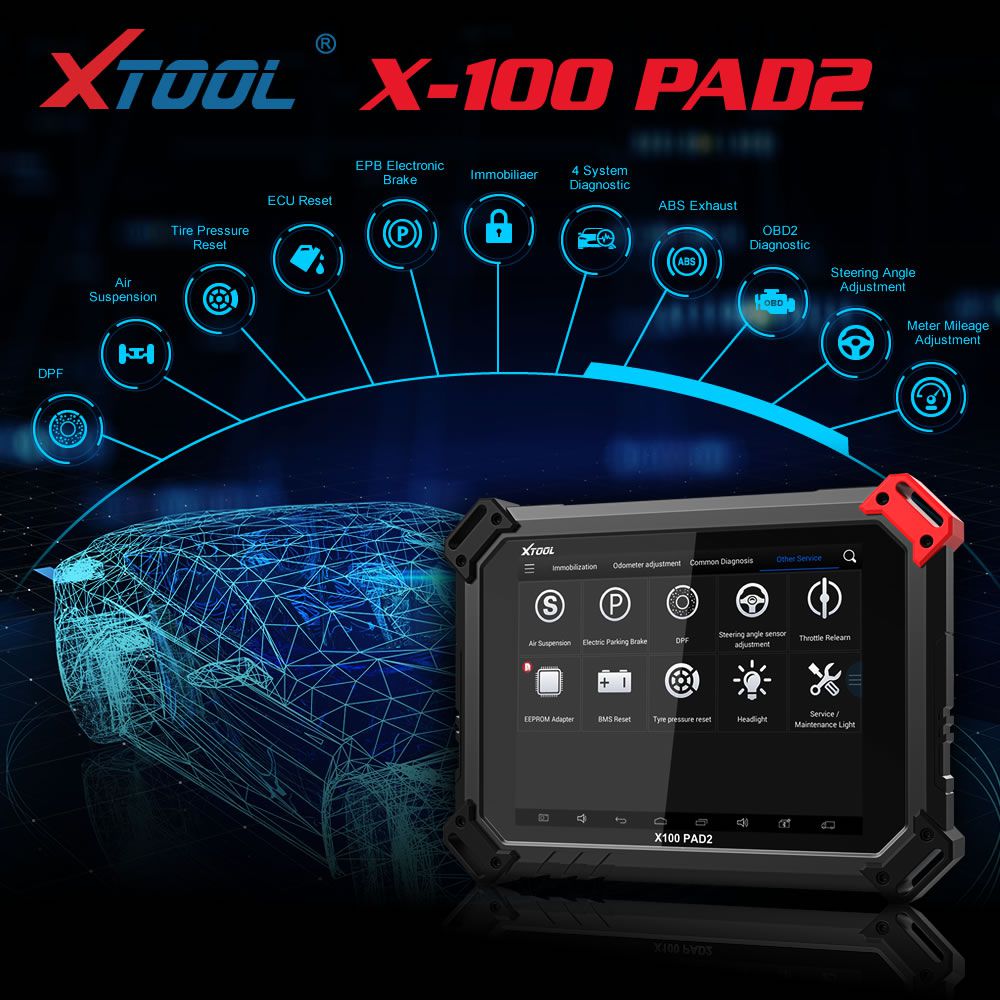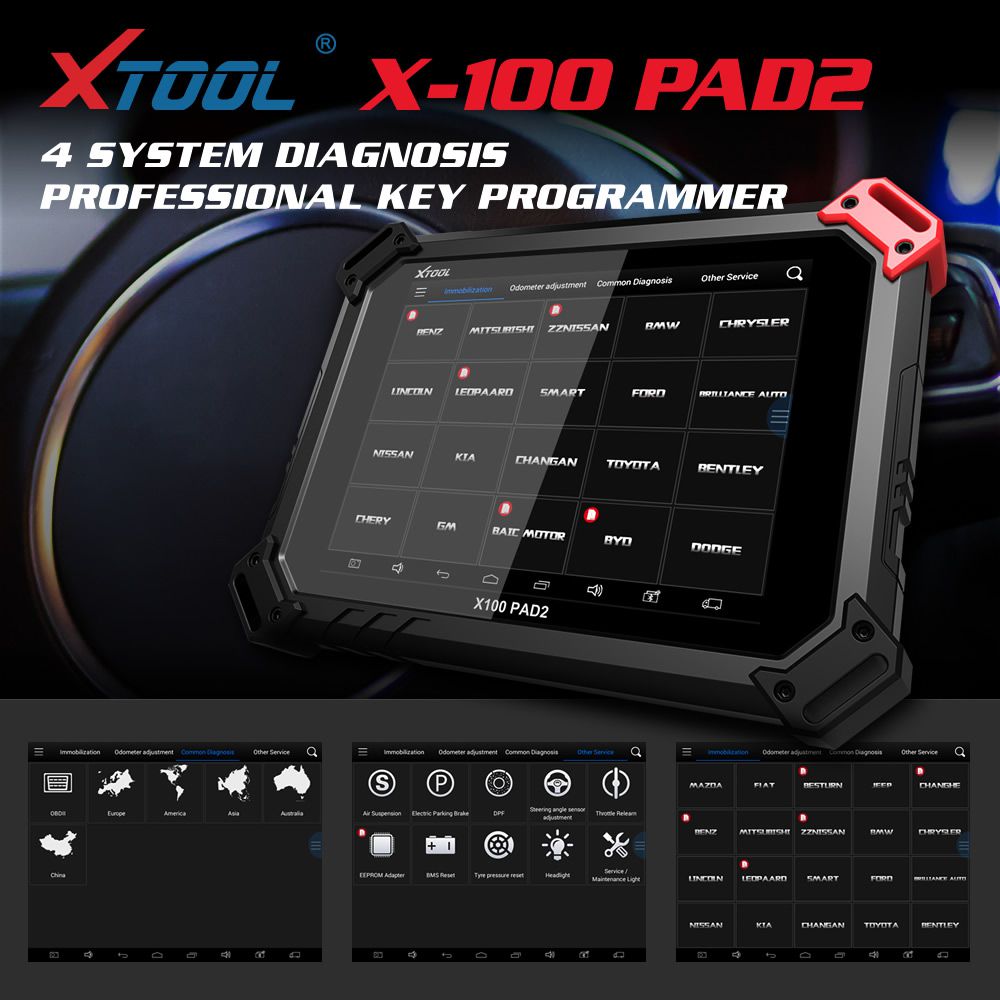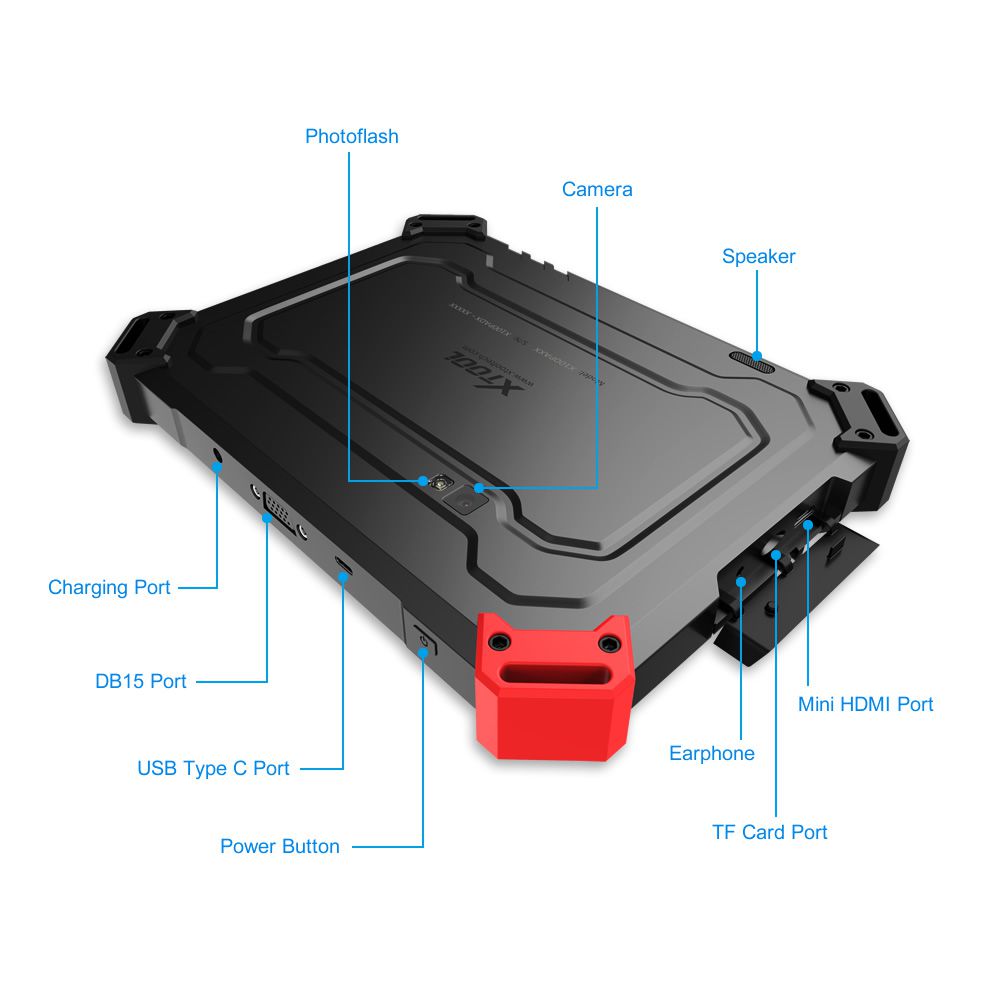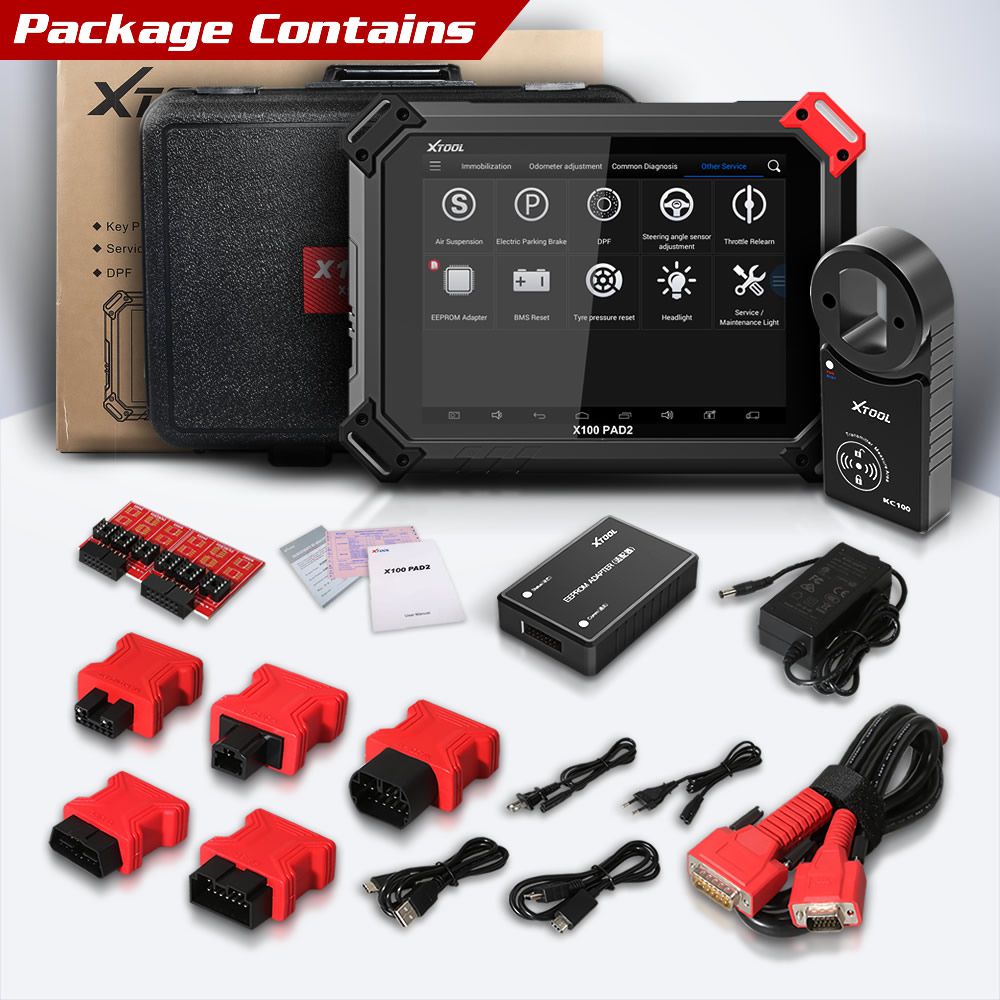 Description
XTOOL X100 PAD2 Pro Key Programmer Special Functions Expert Full Version Supports VW 4th & 5th IMMO
Top Reasons to Get XTOOL X100 PAD2 Pro Key Programmer
Multi language: French, Arabic, Spanish, Persian,German,Russian,Portuguese ,Turkish,English
OBDII diagnosis: 4 systems diagnosis, Read & Clear codes for engine, Brakes, Central Electrics, Airbag System
PIN Code Reading , Oil Reset/engine oil light reset ,Odometer Adjustment
Tire Pressure Warning Light Reset Timing belt light reset (Manual Operation)
EPB Electrical Parking Brake Adaptation ,TPS Throttle Body Adaptation ,Steering Angle Calibration
Battery Reset ,DPF,Hexadcimal editor(Win Hex)
CDC24C32,NEC24C32,9S12,NEC24C64,NEC24C64 color screen,Jiangsen,NEC95320,NEC24C64 white screen.
How to Change XTOOL X-100 PAD2 Langauge?

XTOOL X100 PAD2 Key Programming Features:

1. New keys programming

2. PIN Code Reading with EEPROM

3.Hexadcimal editor(Win Hex)

4.Keys reading from immobilizer's memory

5.New immobilizer programming

6.Vehicle Identification Number programming

7.ECM reset& immobilizer reset

8.New remote controller programming

9.With full and strong database for the most important vehicle makes

10.Remote key's frequency test through MB506(433MHZ)

11.Original key's information can be read and copied to new keys through PCF7991AT and TMS3705 (125KHZ) Frequency.

12.Host's Type C connector can be connected with KC100 Via Micro USB.
Oil Reset Functions and Features:
Innovative one-click Oil Reset for VW, Audi, BMW, Mercedes Seat, Skoda, Volvo, etc.
Eengine oil, spark plugs, front brake pads, back brake pads, air conditioner, brake liquid, coolant liquid, vehicle checking , etc.
Resetting for BMW and the supported BMW modele are F01/F02/F03/F04/F07/F10/F11/F12/F13/F18/F20/F30, etc.
Support Mercedes Benz new C Class, E Class models and Mercedes Benz VITO/VIANO/SPINTER.
Lifespan percentage resetting of engine oil for Buick, Cadillac etc.
Supports PORSCHE Cayenne, Panamera up to 2012
Maintenance light reset for Volvo, Land Rover.

Oil Service Light Reset Coverage:
America: Buick, Cadillac, Chevrolet, Chrysler, Chevrolet/GMC, FORD/ Mercury/Lincoln, Oldsmobile, Pontiac, Saturn, GM, Jeep and more…
European: VW, Audi,PORSCHE, BMW, Mercedes-Benz, Volvo,Land Rover, Peugeot,Citroen,SAAB, Seat, Skoda and more…
Asia:Toyota/Lexus, Nissan/Infiniti, Honda, Acura, Isuzu, Chery, FORD Transit, Roewe, MG and more…

Odometer Adjustment:
VW /AUDI/EAT/SKODA, Buick, CADILLAC, CHEVROLET, Chrysler, FORD, Mazda, Nissan, SUZUKI, KIA, Hyundai, Jaguar, Land Rover, PORSCHE and more…

EPB Electrical Parking Brake Adaptation:
VW ( R36, CC, Magotan etc.), Audi ( A4L, A6L, Q5 etc.), Seat, Skoda…

Tire Pressure Warning Light Reset (Manual Operation):
Mercedes-Benz, GM,VW, BMW, Toyota and more…
Timing Belt Light Reset (Manual Operation)

EEPROM Adapter Features:
1. PIN Code Reading
2. ECU Initializing
3. Chip Programming
Cars Coverage List for Immobilization:
America:Buick, Cadillac, Chevrolet, Dodge, GM, GMC, Hummer, Pontiac, Saturn, FORD
Asia:Acura, Honda, Hyundai, Infiniti, Isuzu, KIA, Lexus, Mazda, Mitsubishi,Nissan, Ssangyong, Subaru, Suzuki, Toyota
China:BYD, Great Wall Motor, Brilliance, JAC, Geely Cars, Lifan Cars, Chery
Europe:Audi, Benz, Citroen, FORD, Fiat, Jaguar, Lancia, Land Rover, Opel, Peugeot,PORSCHE, Renault, Romeo, Seat, Skoda, Smart, VW
Key programming for 4th , 5th immobilizer of VW/Audi/Seat/Skoda: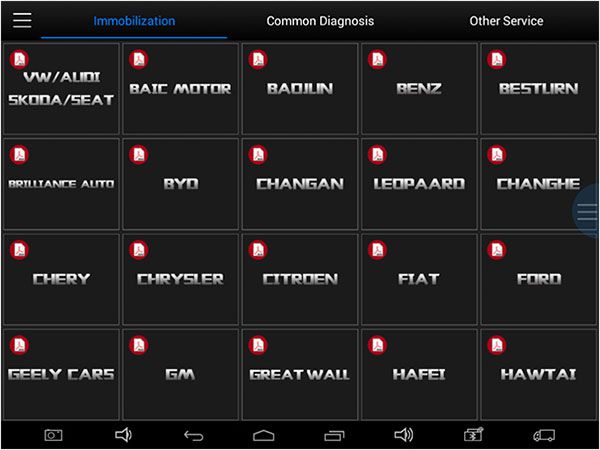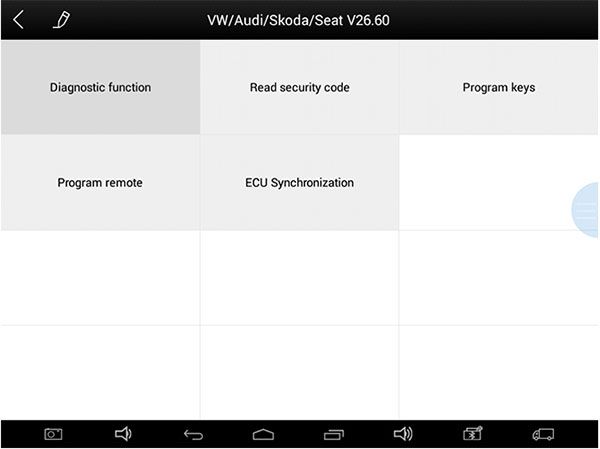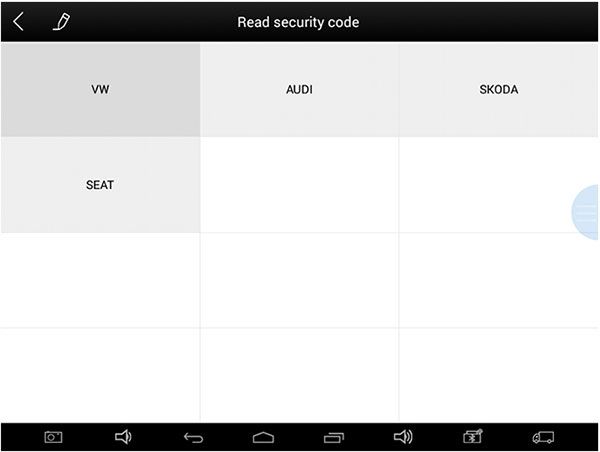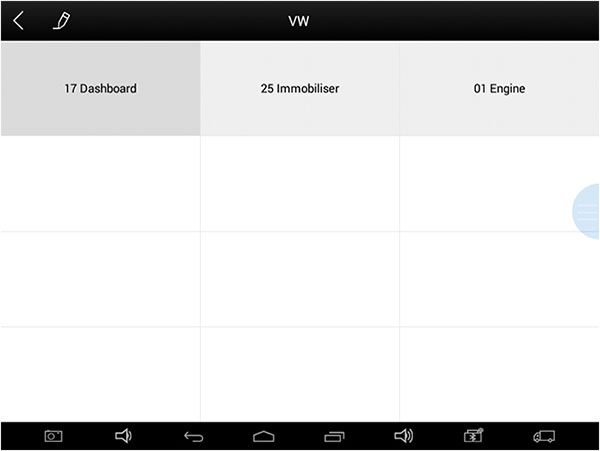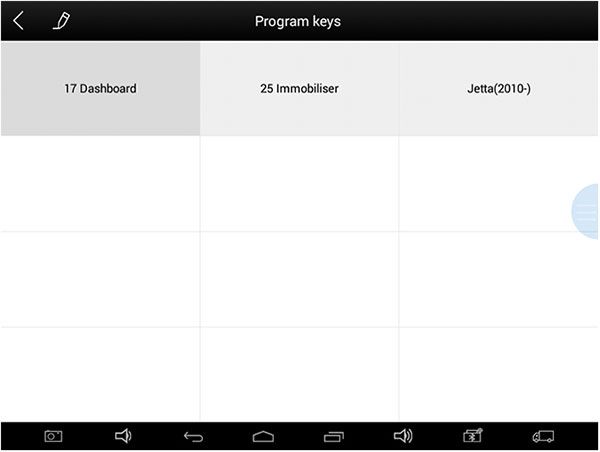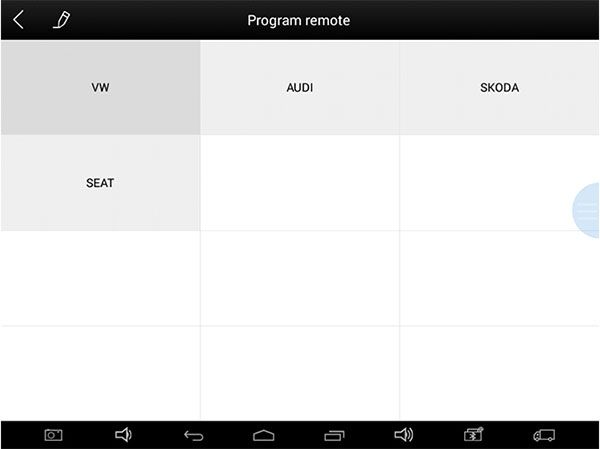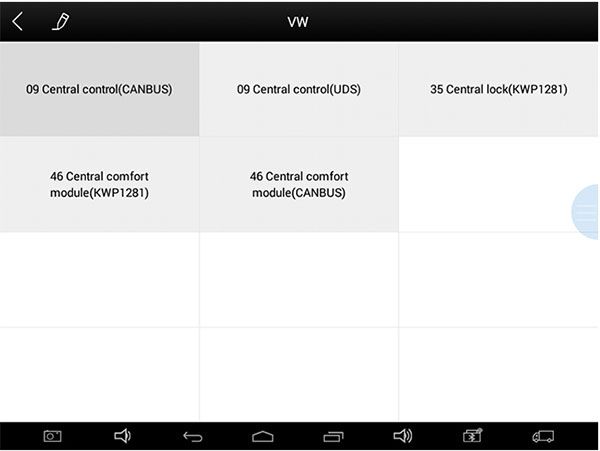 More software display for X100 PAD2
1pc x OBD II-16
1pc x HONDA-3
1pc x MAZDA-17R
1pc x KIA-20
1pc x HYUNDAI/KIA-10
1pc x DB15_Male To VGA_Male
1pc x USB_TYPE-C
1pc x KC100
1pc x EEPROM adapter
1pc x USB_TYPE-C and Mini_USB
1pc x Charger for Tablet
1pc x US Power Adapter
1pc x EU Power Adapter
1pc x Certificate of Quality
1pc x X-100 PAD2 Key Programmer
Previous: G-IDSS 2018 For ISUZU Truck Bus on-high Way engine Diagnostic kit
Next: V75 Consult III Plus Auto Diagnostic Programming Tool For Nissan With Immobiliser Security Card for Vehicles till 2018