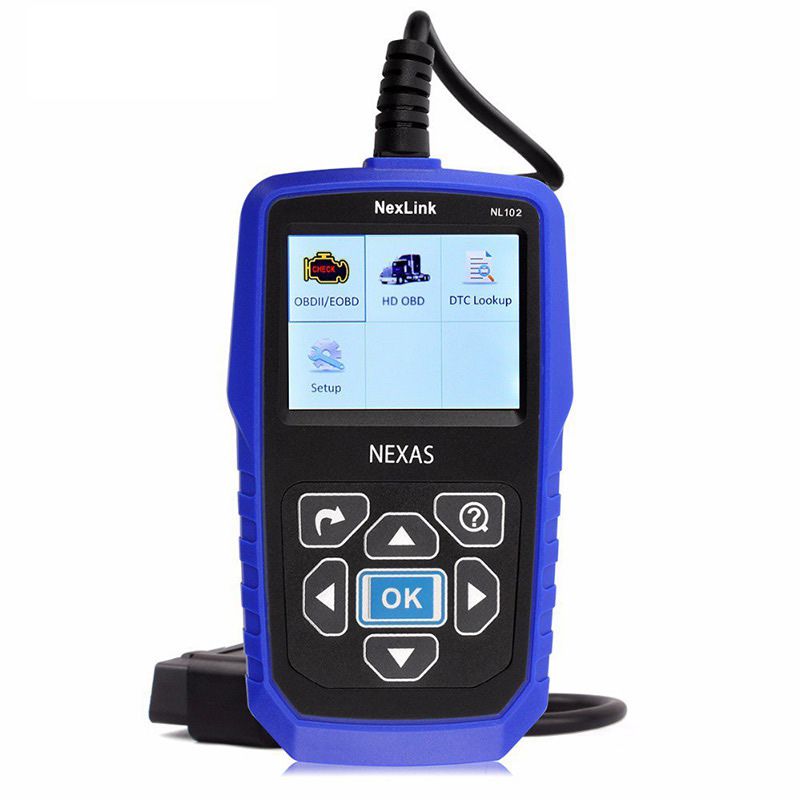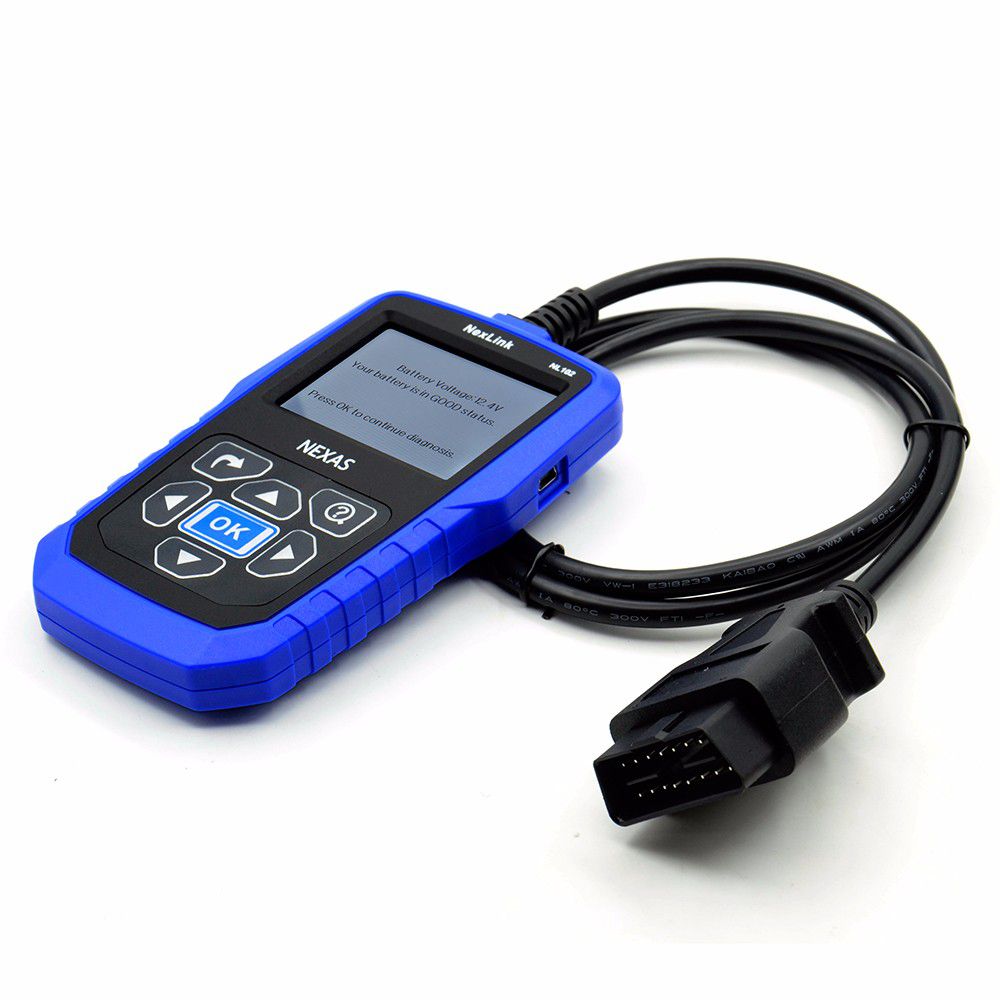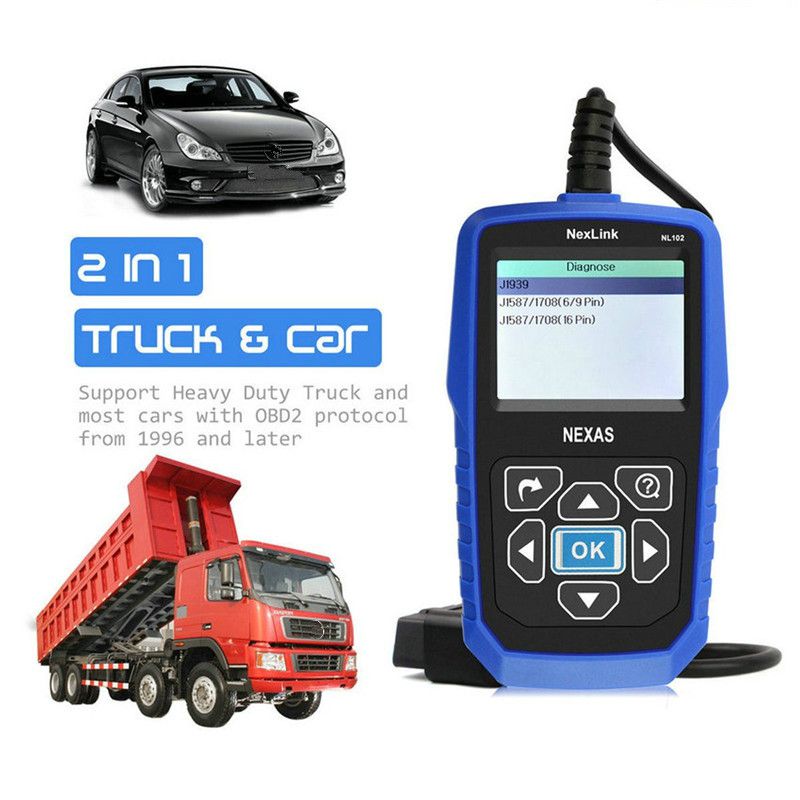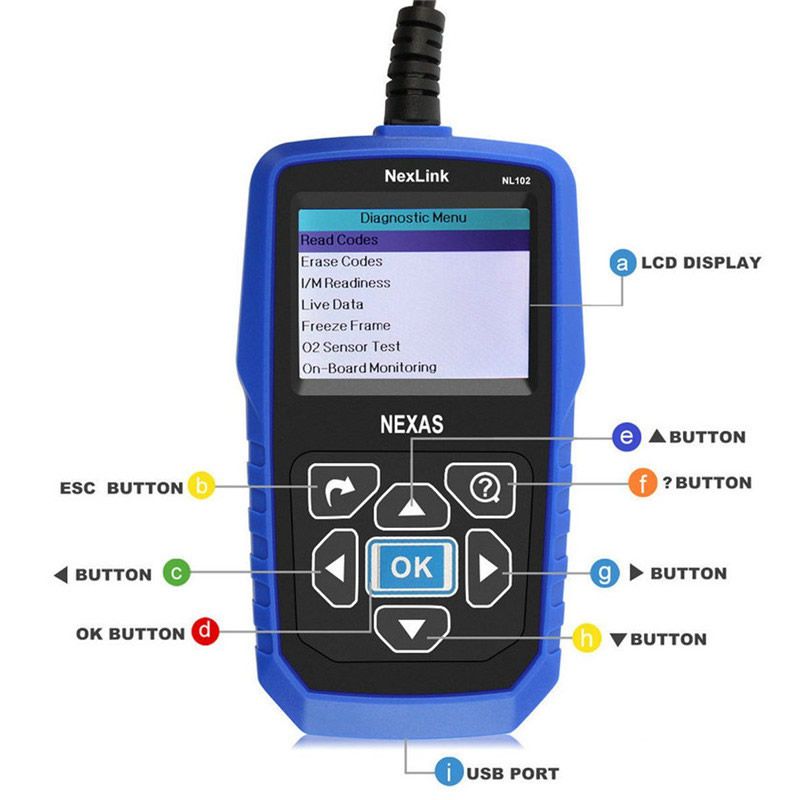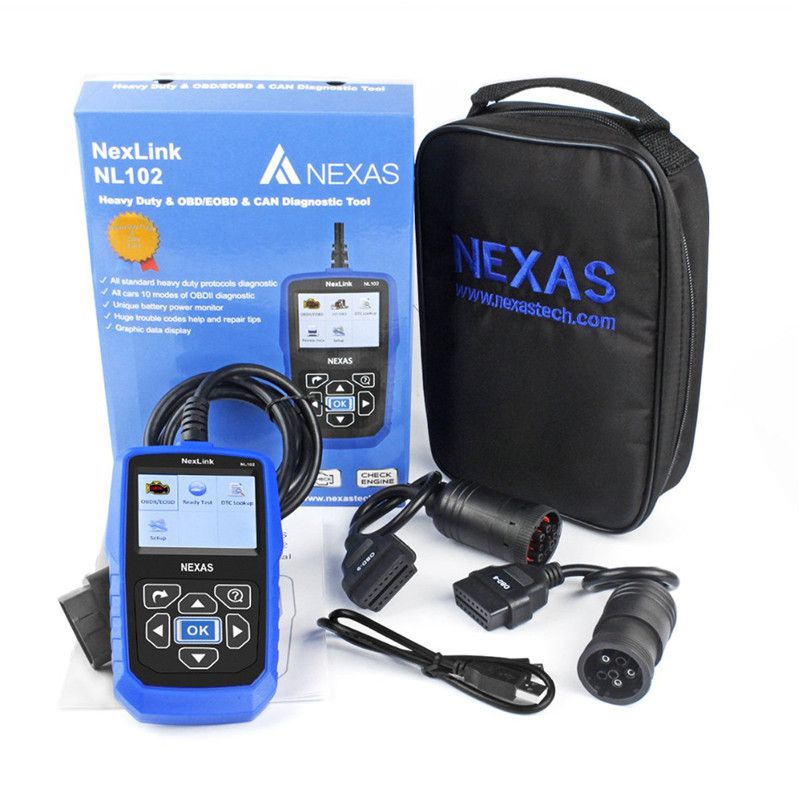 Description

NEXAS NL102 Languages: English, French, Spanish
Support 6PIN, 9PIN (trucks), and 16PIN(cars & trucks) diagnostic connectors

Basic Description
NexLINK NL102 is a professional Diagnostic Scanner for both cars and trucks. For cars, it can do the function read/ Erase Fault codes, Graph live data display, retrieve vehicle information, EVAP Test, O2 Sensor Test..etc. For Trucks, it contain some trucks with standard Truck protocols ( J1578, J1939 and J1708), Easily determin incluing
engine
, Transmission, Brake...fault codes, erase code, and live data.

NL102 Features & Functions
1. Support new heavy duty trucks in compliance with standard protocols ( J1578, J1939 and J1708)
2. Work on almost all cars, mini vans and light duty vehicles (
OBDII
& CAN) from 1996 on and latest – European, American and Asian
3. Support all OBDII protocols: CAN, J1850 PWM, J1850 VPW, ISO9141 and KWP2000
4. Uniquely featured with battery power monitor function
5. Troubleshooting tips guide technicians to the root of problems faster, saving diagnosis and repair time
6. Read and erase generic codes (P0, P2, P3 and U0), manufacturer specific codes(P1, P3 and U1), and pending codes
7. Easily determine the cause of the Check Engine Light(MIL) and turn off Check
engine
Light (MIL), clear troubles codes and reset monitors
8. Display DTC definition, freeze frame data, monitor and I/M readiness status (emissions), and vehicle information (VIN, CIN and CVN)
9. Read, store and playback live O2 sensor test data
10. Read
PCM
live data stream, with graphic data Display
11. Enhanced OBDII Mode 6
12. Multilingual menu and DTC definitions – English, Spanish and French, German, Italian, etc.
13. Software upgrade via internet

Vehicle Coverages:
Heavy duty trucks in compliance with standard protocols ( J1578, J1939 and J1708), and should have year requirement.
Support Truck Vehicles:
for Cummings, for Detroit, for Caterpillar, for Freightliner, for International, for Kenworth, for John Deere, forPeterbilt, for Sterling, for Mack, for Mecedes
Benz
, for VOLVO, for
Scania
, For ISUZU, for Brilliance and more diesel trucks;
Support Truck Systems:
engine, transmission, instrument panel, drivetrain, braking system, suspension,
ABS
, ESP, EPS, fuel system and etc
Support Cars Vehicles:
American Car from 1996 up to now
European Car from 2001 up to now
Asian Car from 2008 up to now
System Functions: Read codes, erase codes, I/M Readness, Live data, EVAP Test, O2 sensor Test...etc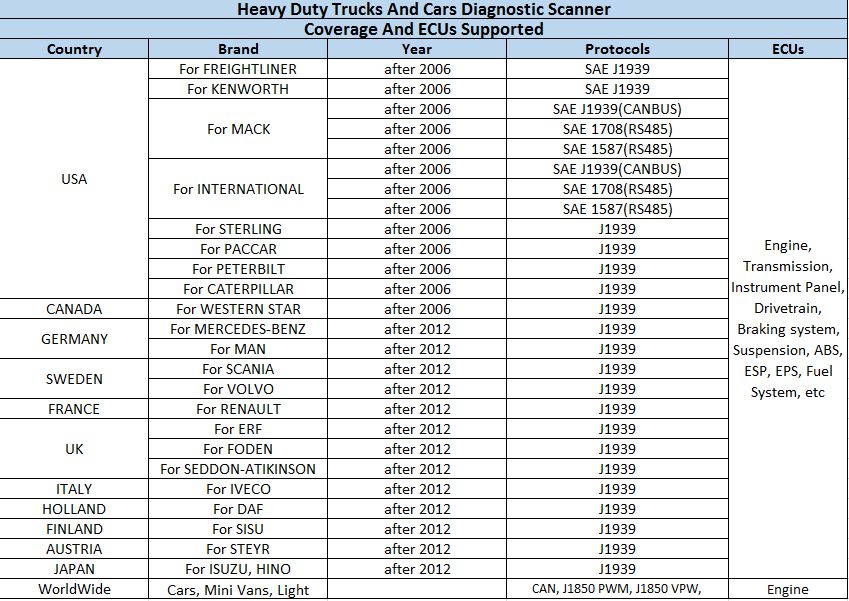 NEXLINK NL102 Demonstration

1. Car Scan Module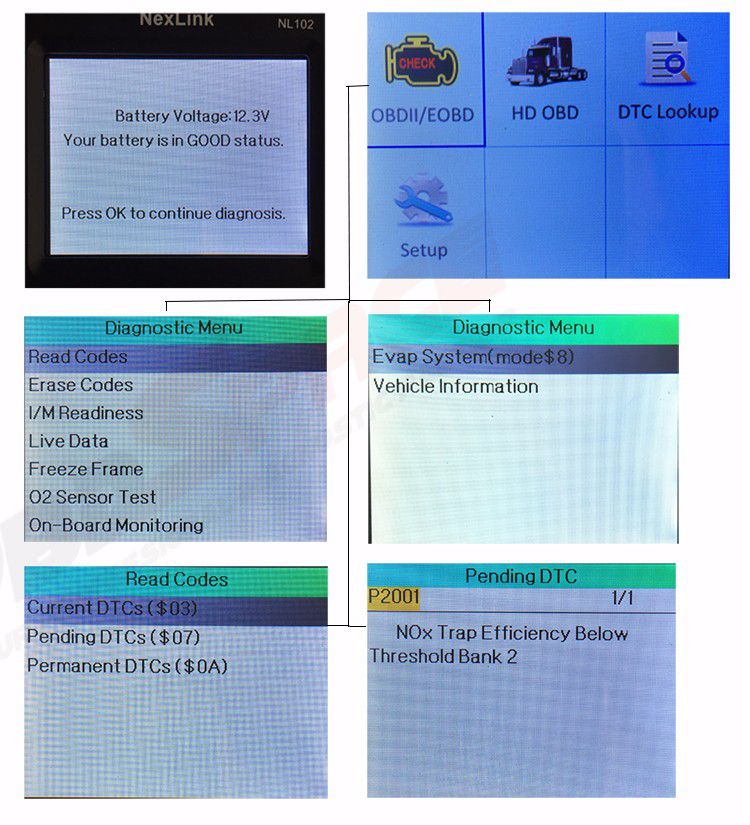 2. Truck Scan Module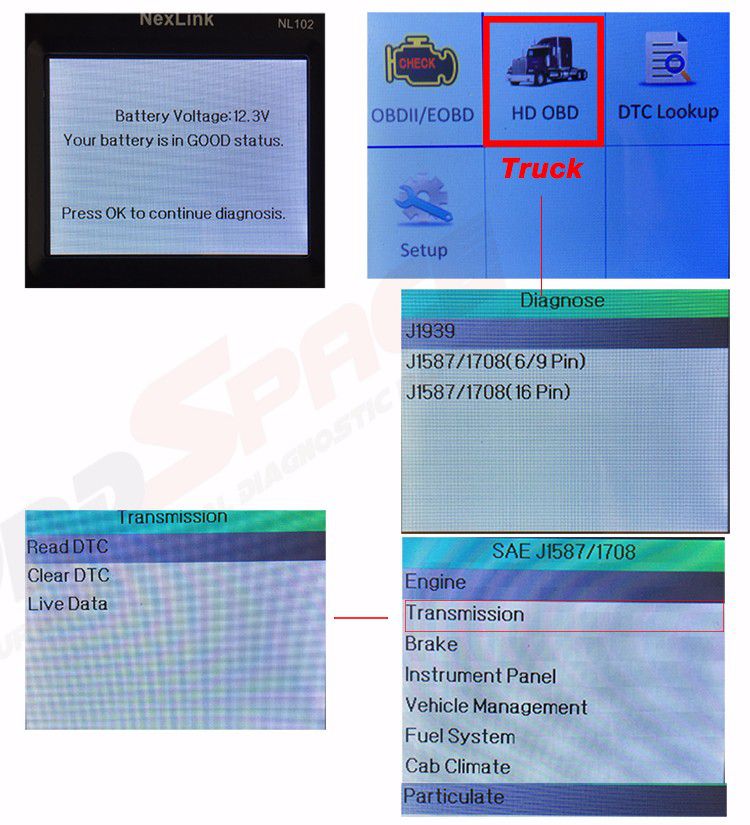 3. Special Features: Troubleshooting tips guide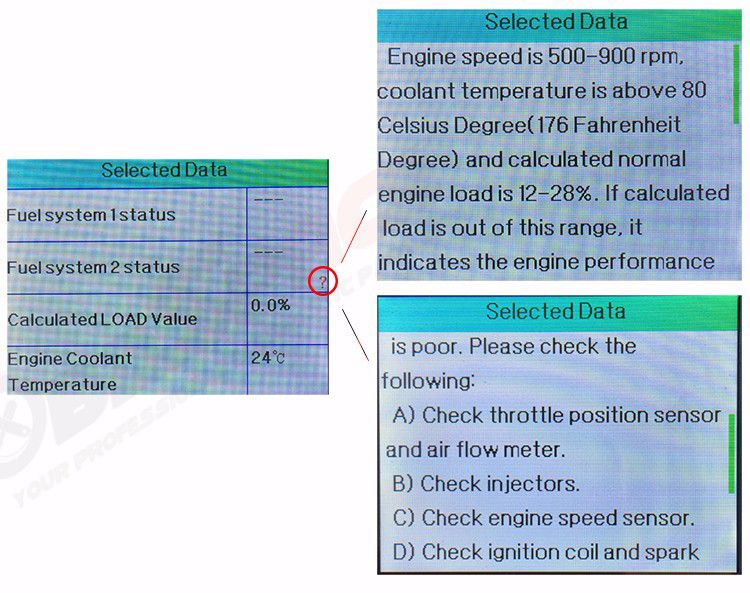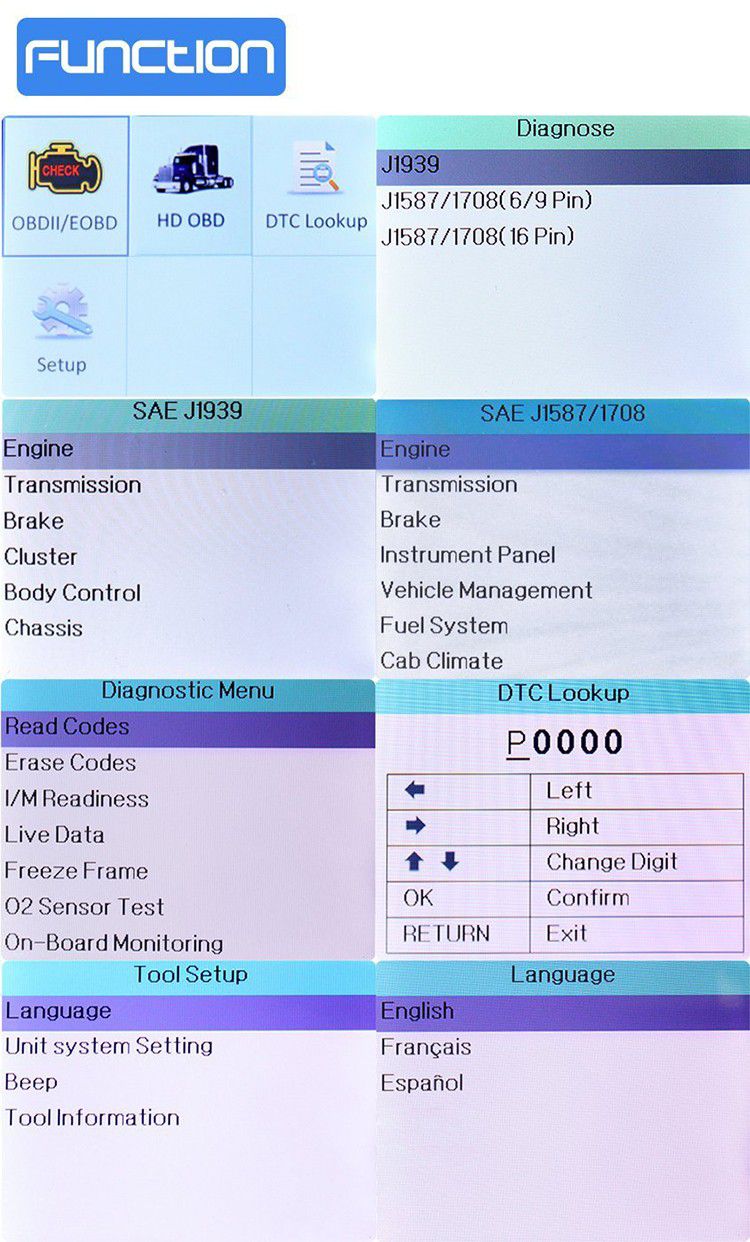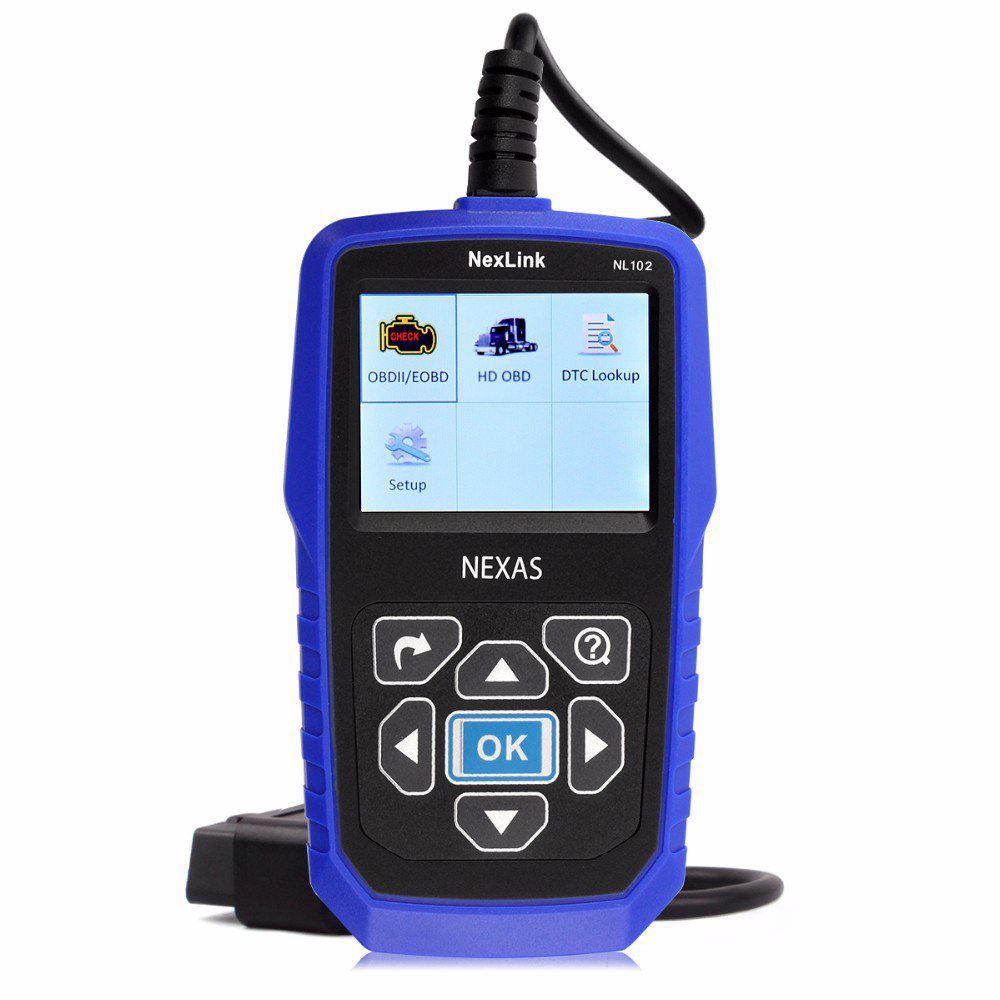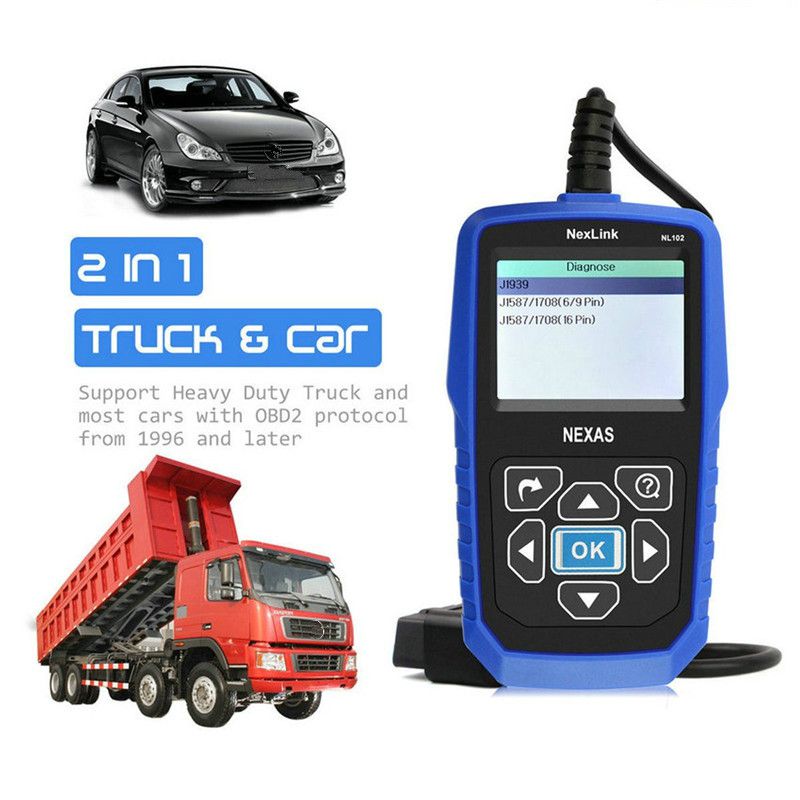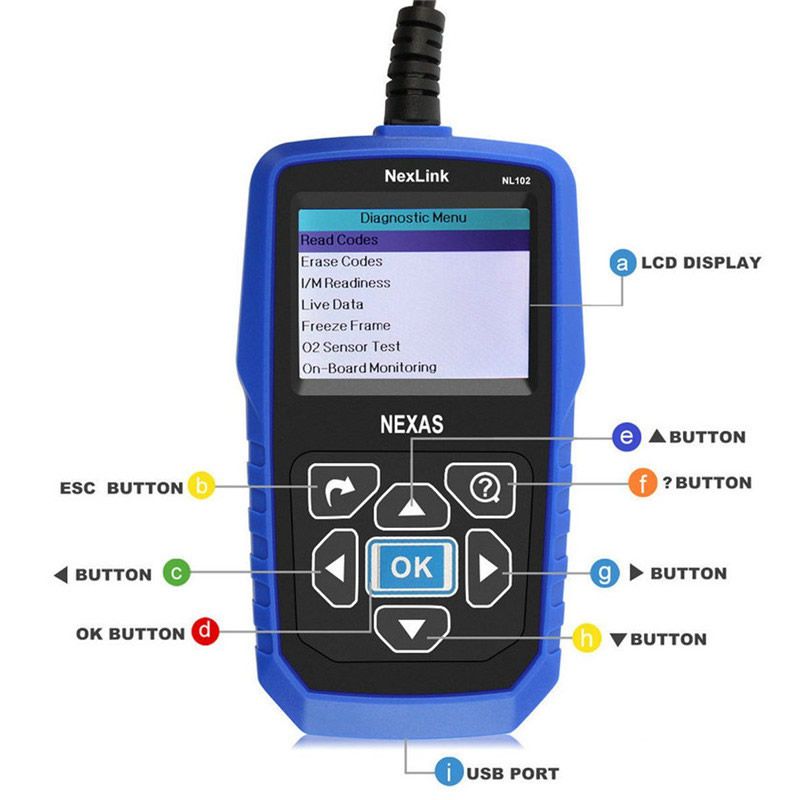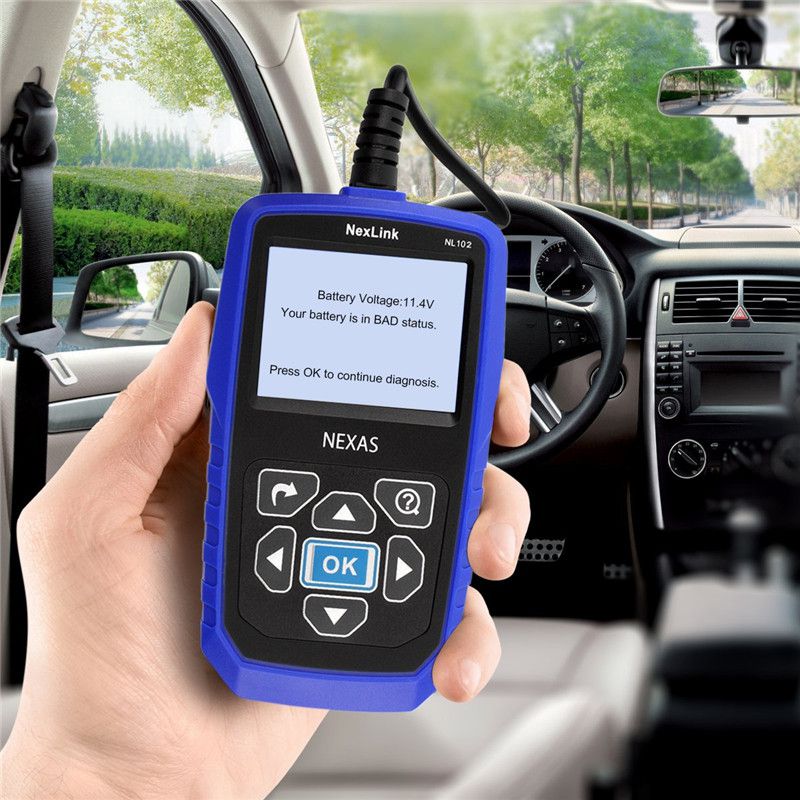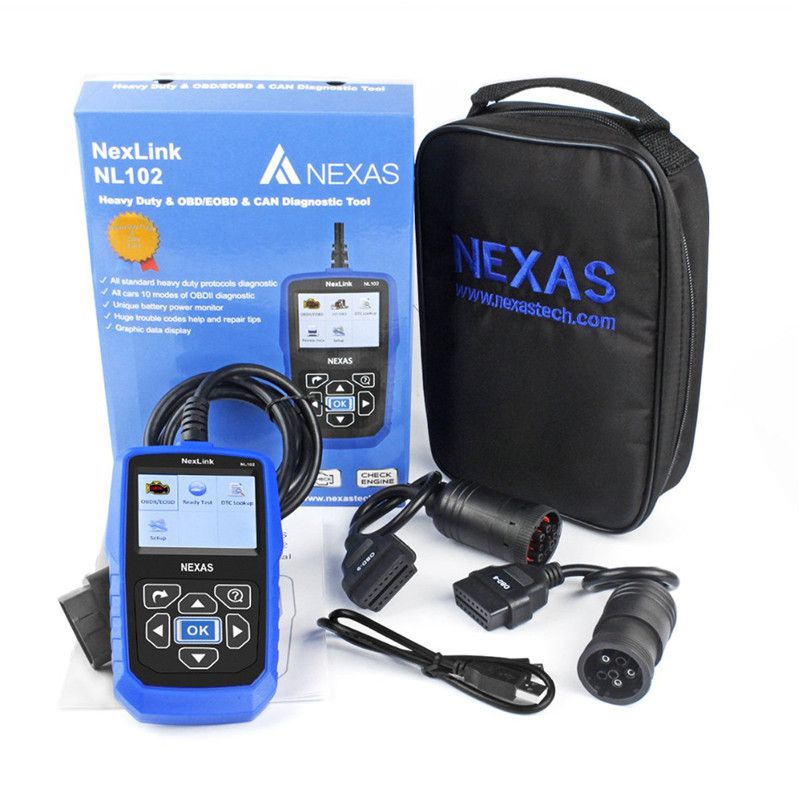 Package List:
1pc x NexLink NL102
1pc x USB Cable
1pc x User Manual
1pc x 6pin Connector For Trucks
1pc x 9pin Connector For Trucks
1pc x Nylon Carry Bag
Reviews

17
#1 Arbatsky Stanislav
Feb 9, 2019

Do not have time to test right now, looks great
#1 Angelo Silva
Feb 9, 2019

Arrived super fast delivery. The best they have representative here in Brazil P make delivery. Good seller. Recommend.
#1 NitMeeftPeeno NitMeeftPeeno
Aug 9, 2018

Everything works. Delivery is super fast. Disk c to read. Seller recommend!
#1 industrial rey david
Dec 9, 2018

Works, everything is fine!
#1 larry swab
Oct 9, 2018

Great product very attentive wonderful store will negotiate more times with this team am very satisfied.
#1 Willie Gomez
Sep 9, 2018

As the product description, only think the seller could give a support
#1 celso Baruffi
Oct 9, 2018

The goods came quickly enough, packed perfectly, checked works! this Heavy Duty Truck Diagnostic Scanner NEXAS NL102 OBD OBD2 for Volvo Scania Renault Truck Diesel Engine ABS Brake Diagnostic Tool is good quality, working very well
#1 Seema Zahid
Apr 9, 2019

Great product arrived super fast via office for Brasil recommend.
#1 james mitchell
Dec 9, 2018

Fast delivery, good quality.
#1 william ridley
Oct 9, 2018

Everything ok again
Previous: JDiag BT200 Universal 12V Battery Analyzer Digital Tester Detect Bad Cell Test
Next: QUICKLYNKS T89 All Systems+OBDII Diagnostic Tool for Land Rover