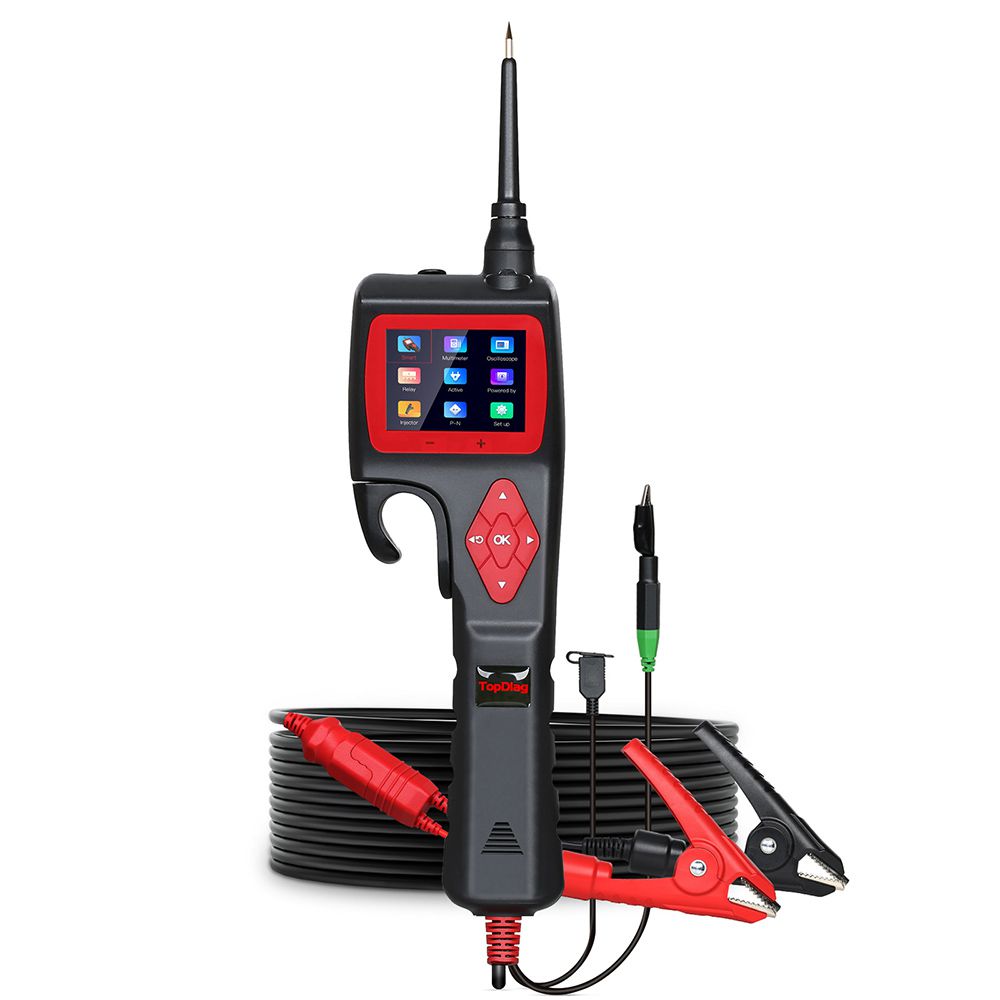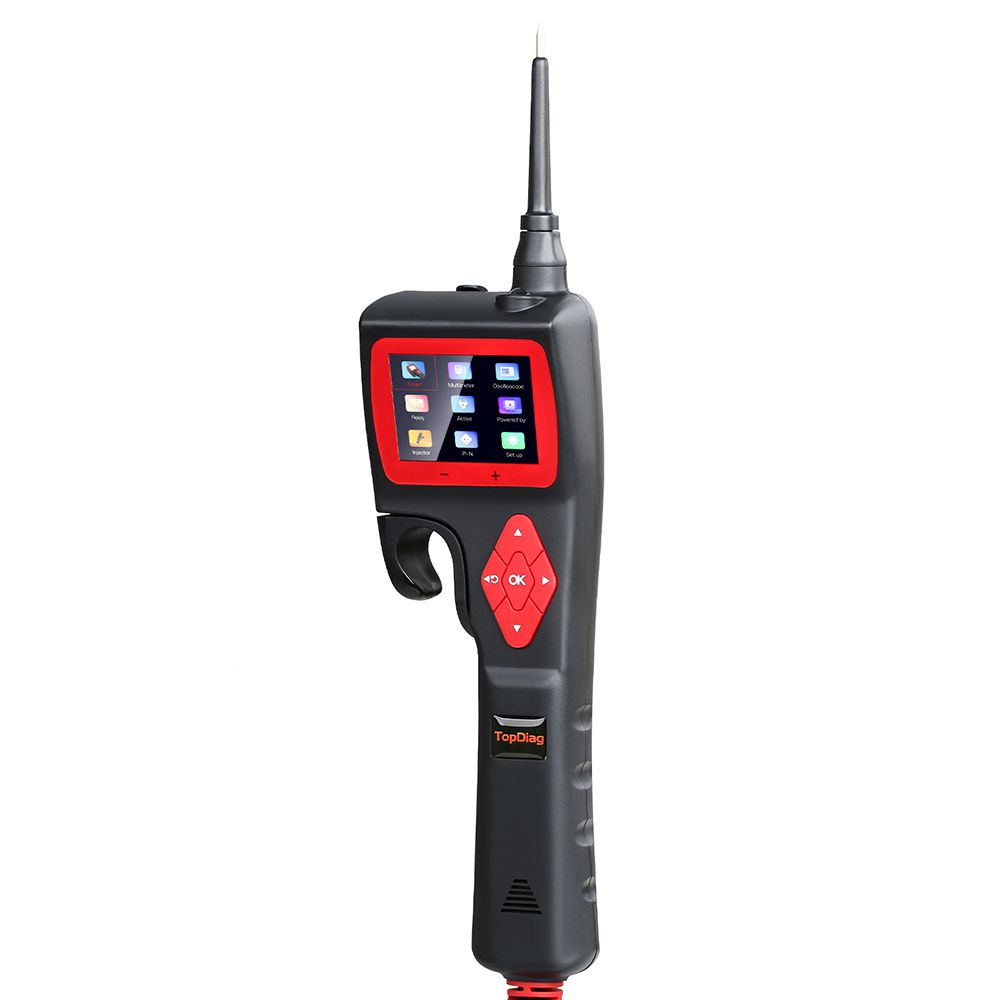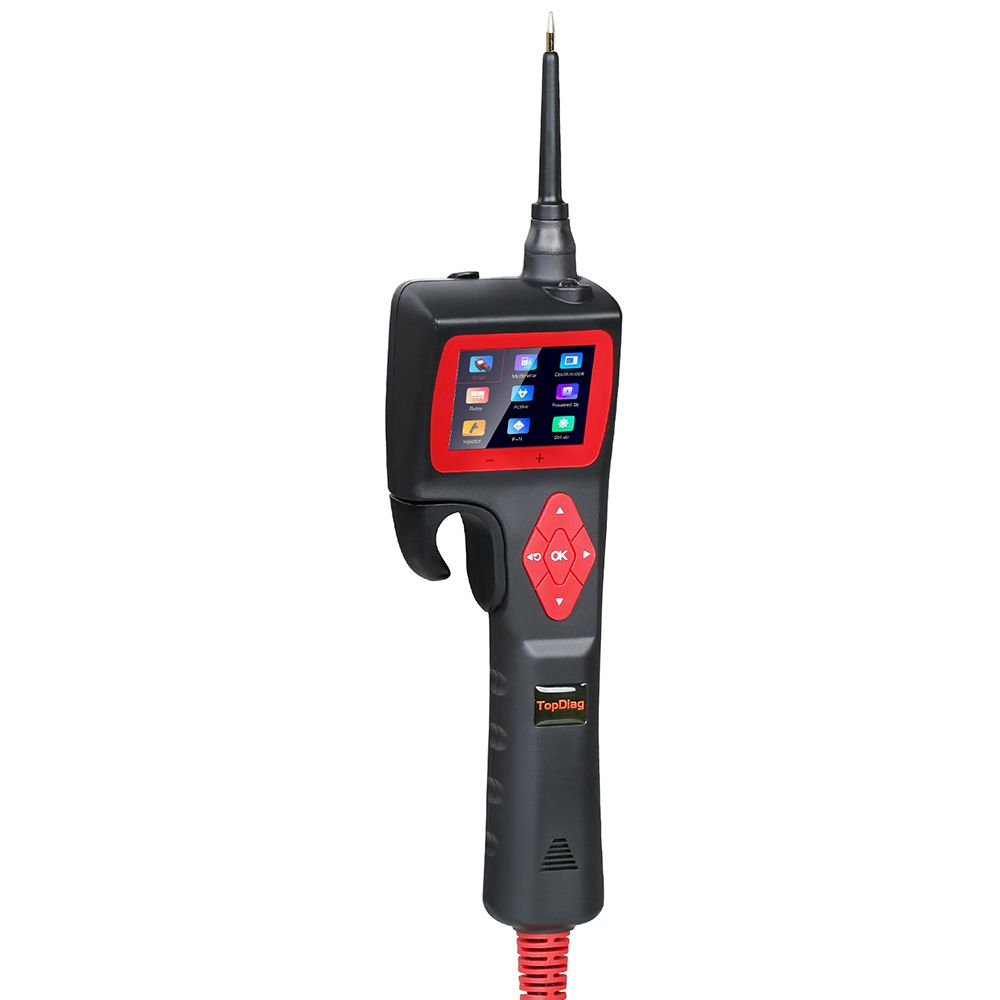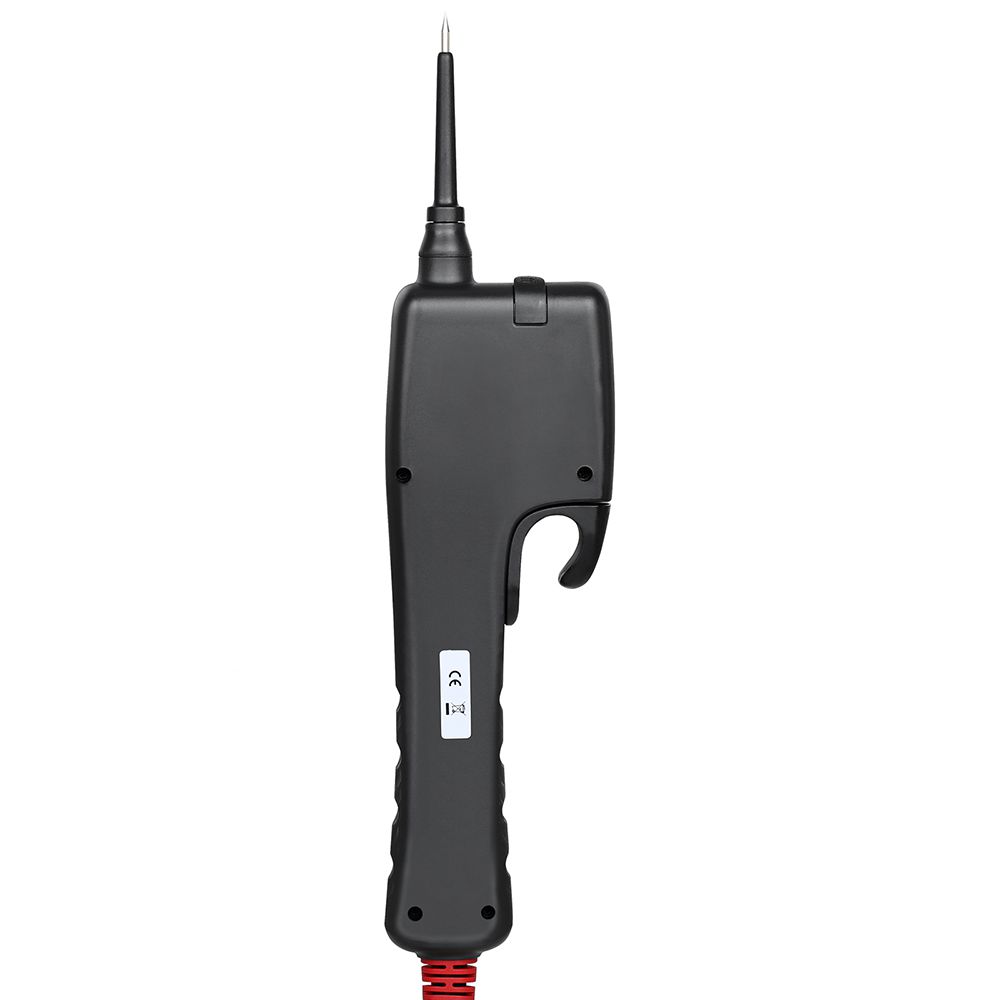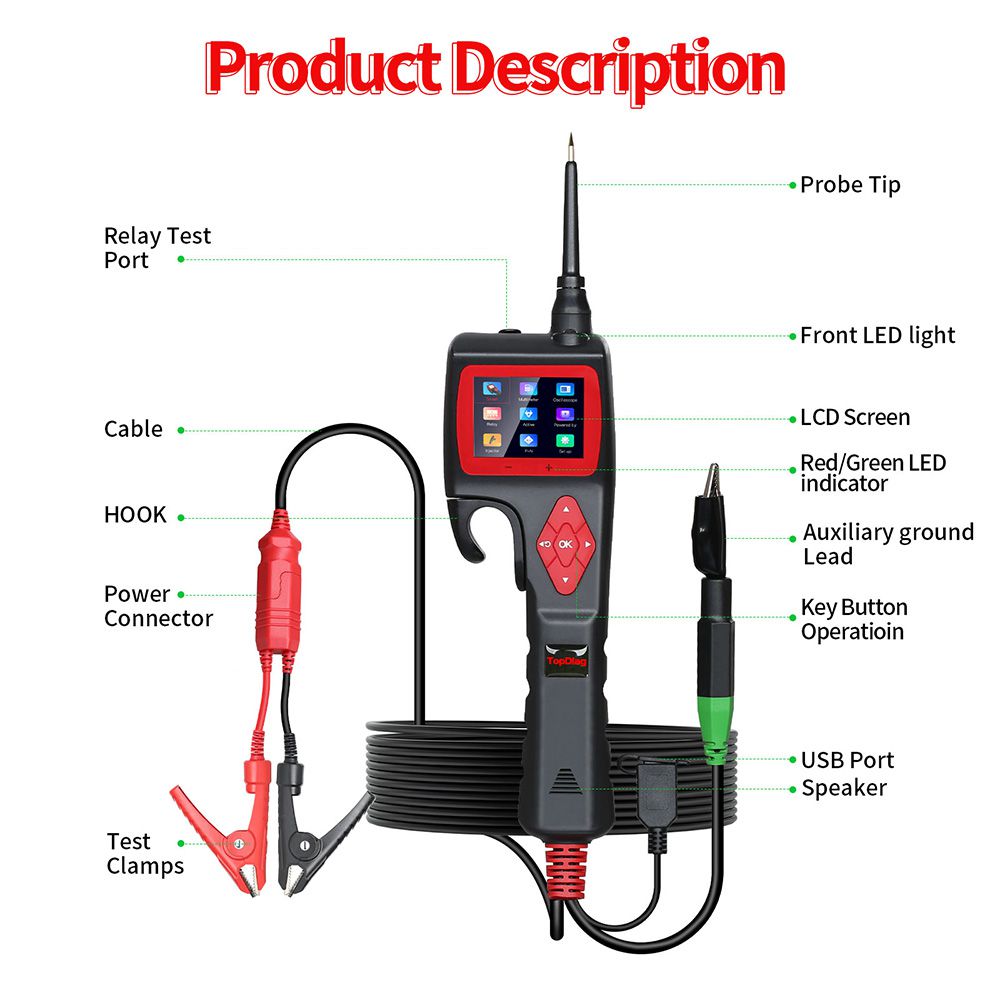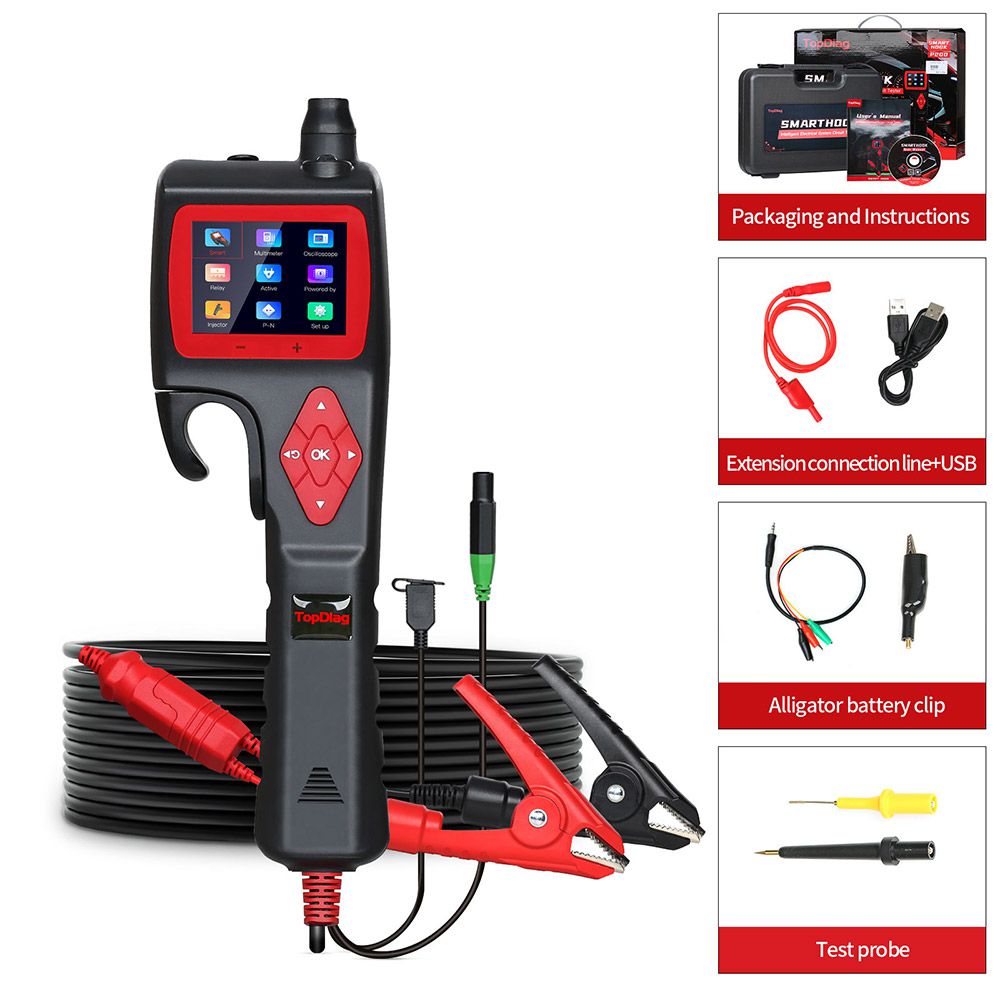 Description
JDiag P200 SMART HOOK Powerful Probe
JDiag
P200 SMART HOOK Powerful Probe, the new generation of intelligent circuit analyzer, is the only circuit tester that can be upgraded in the market. It can test all 9V-30V electronic systems quickly. The test time can be greatly shortened, making it more convenient, faster and smarter!
JDiag P200 Highlights:
1. Free Update Online
2. Cable length: 6.0Meters. With connector,it is more than 6.0 Meters.It makes work more easier.
3. The test time is greatly shortened, convenient, fast and smarter!
4.For all 9V-30V electronic systems, Supports Car Truck
Motorcycle
Boat
5. Multi-languages: English, Spanish, Dutch, French, Italian, Portuguese, Polish, Russian, Vietnamese and Chinese.You can change launguese by yourself any time.
6. One Year Warranty.
7. Ship from US/EU Warehouse Tax Free.
JDIAG P200 Functions:
1. Intelligent identification of voltage/resistance
2. Multimeter mode (measure voltage, resistance, diode, continuity, current and frequency)
3. Relay test
4. Injector test
5. Diode test
6. Oscilloscope function
7. 0-5V adjustable power supply
8. Activation of vehicle components
9. Positive and negative polarity test
10. Intelligent circuit breaker protection (adjustable overload)
11. Screen style background optional
12. Network can be upgraded online
13. Built-in Multi-lingual settings.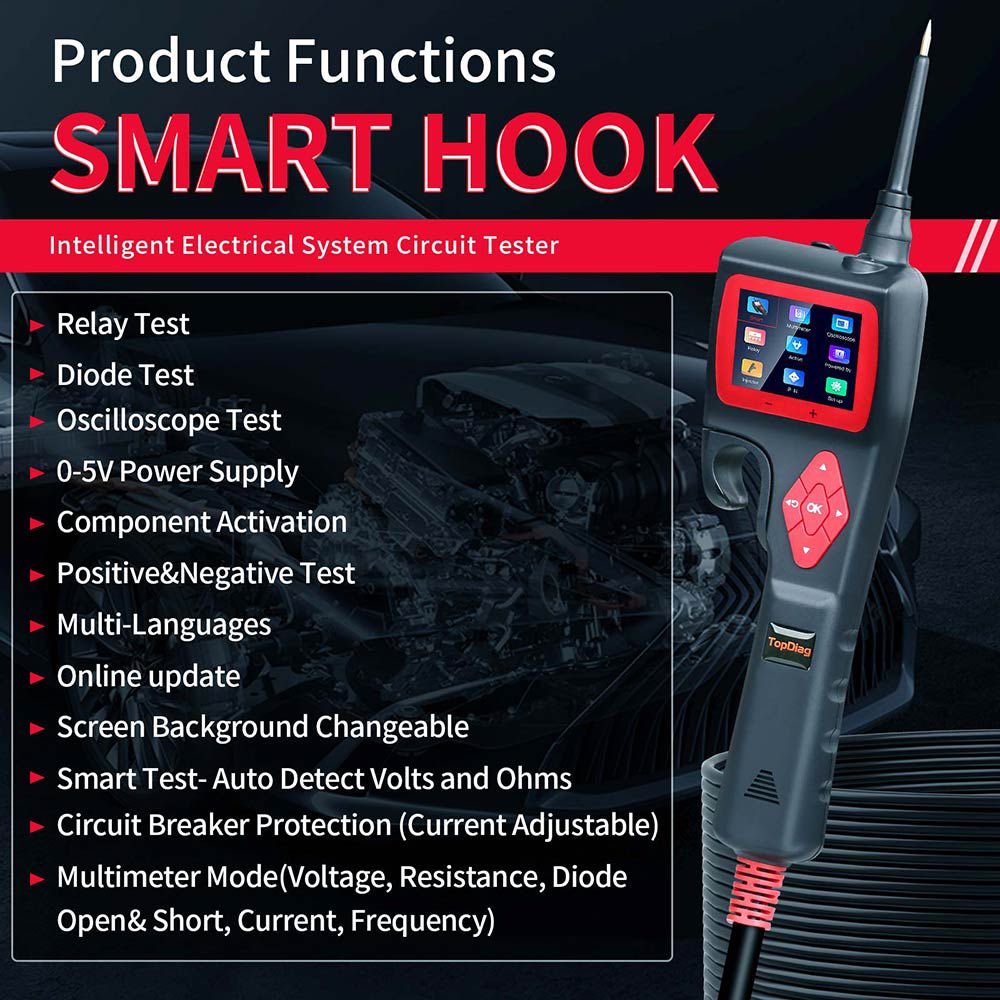 JDiag P200 Working Mode Display: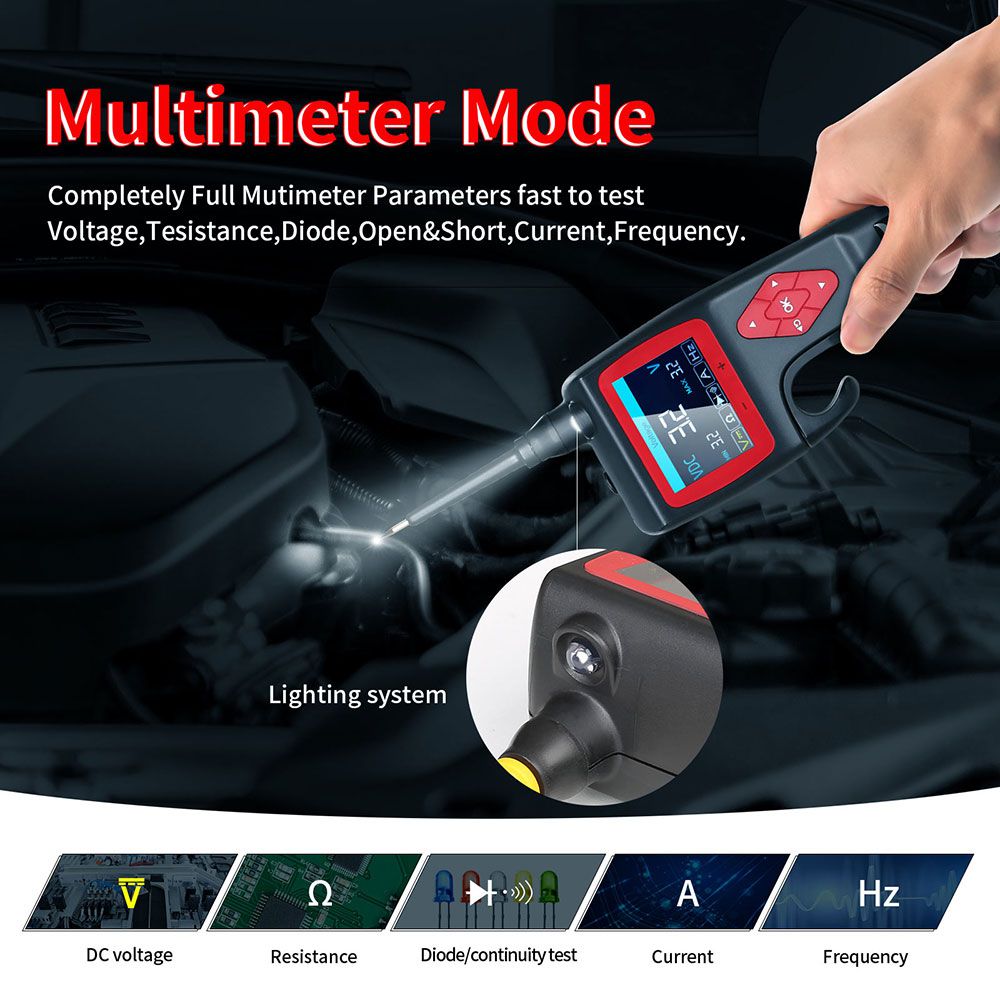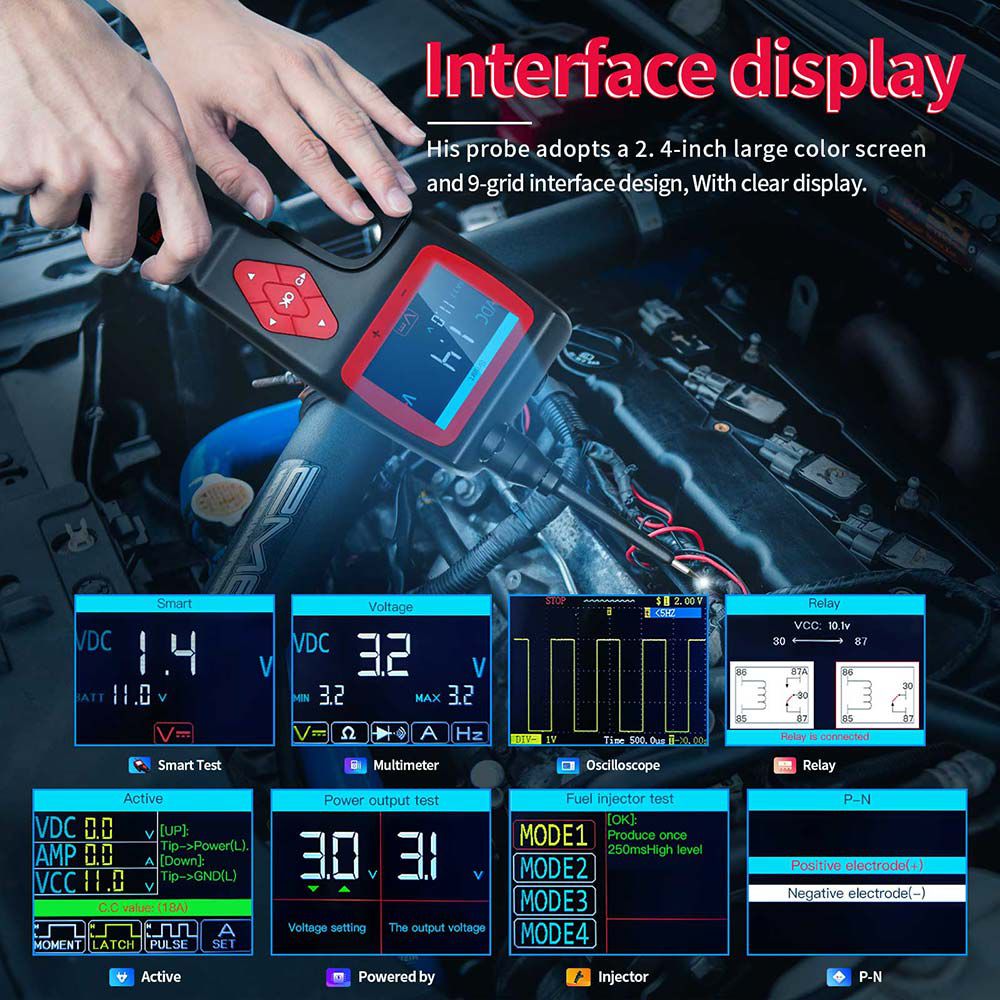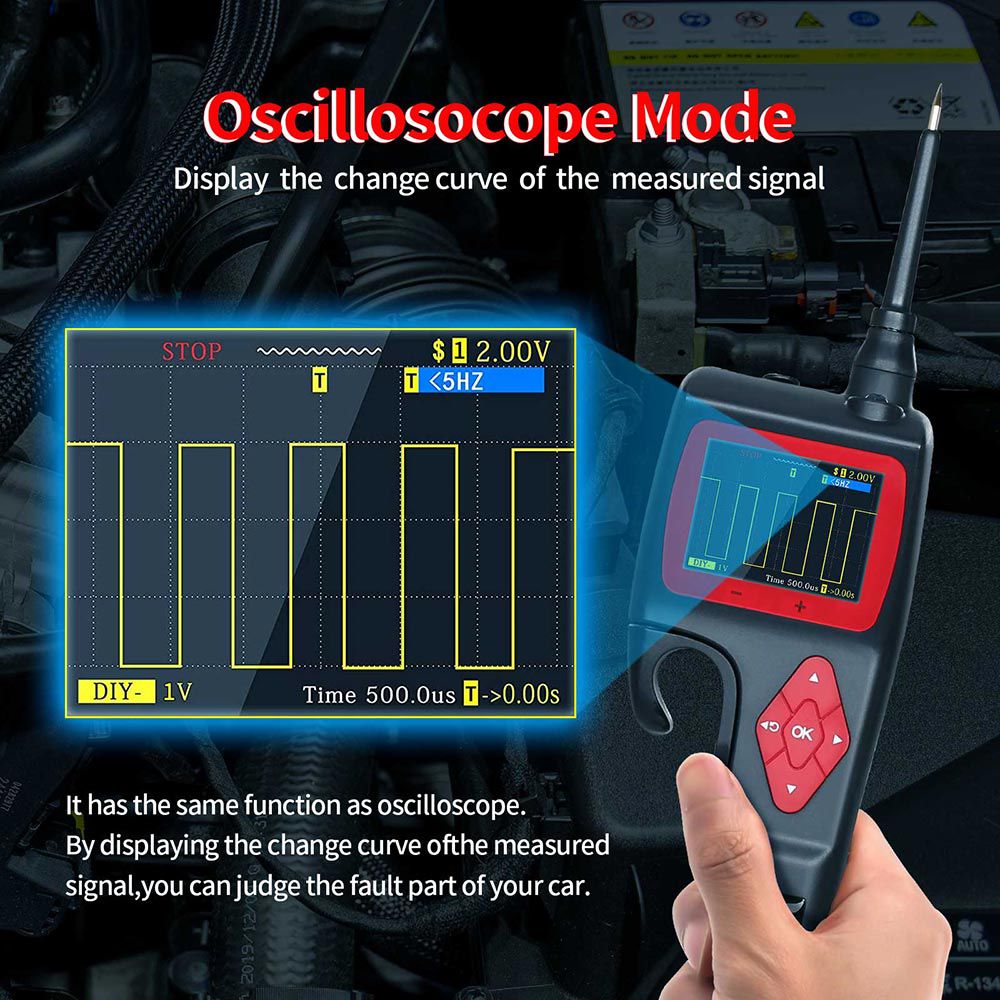 JDIAG P200 vs. PPH1 vs. Autel PowerScan PS100: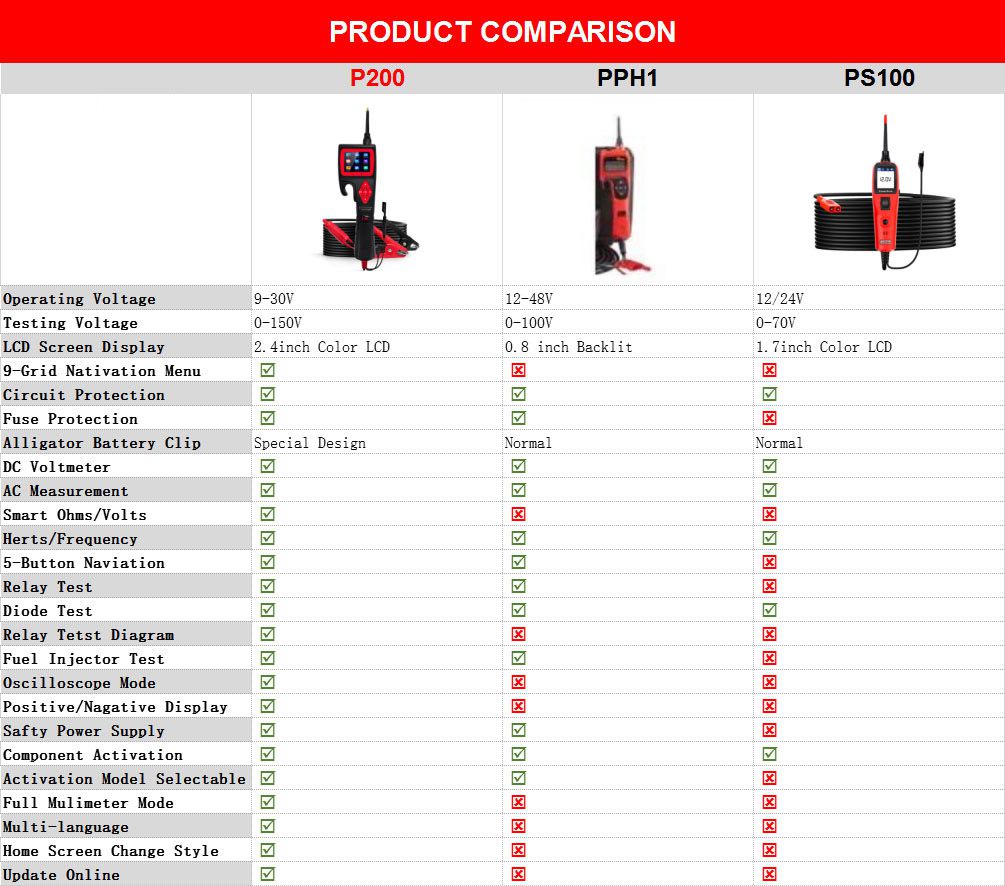 JDIAG P200 Specifications and Parameters
1) Display............ (320*240 DPI) TFT true color display
2) Working temperature: ........... 0-60°C (32-140 F°)
3) Storage temperature:...........40-70°C (-40-185 F°)
4) External power supply: ... 12V or 24V powered by battery
5) Minimum working voltage:...9V
6) Maximum working voltage: 30V
7) Maximum measuring voltage: 150V
8) Minimum measuring voltage: .....................0.1V
9) Resistance measurement range:... 1 ohm~200K ohm
10) Current measuring range: ..................... 0~18A
11) Maximum continuous current: ..................... 18A
Package includes:
1pc x Solid copper test probe tip
1pc x Extension connection line
1pc x Alligator battery clip
1pc x Relay test line
1pc x Probe adapter
1pc x 25Amp fuse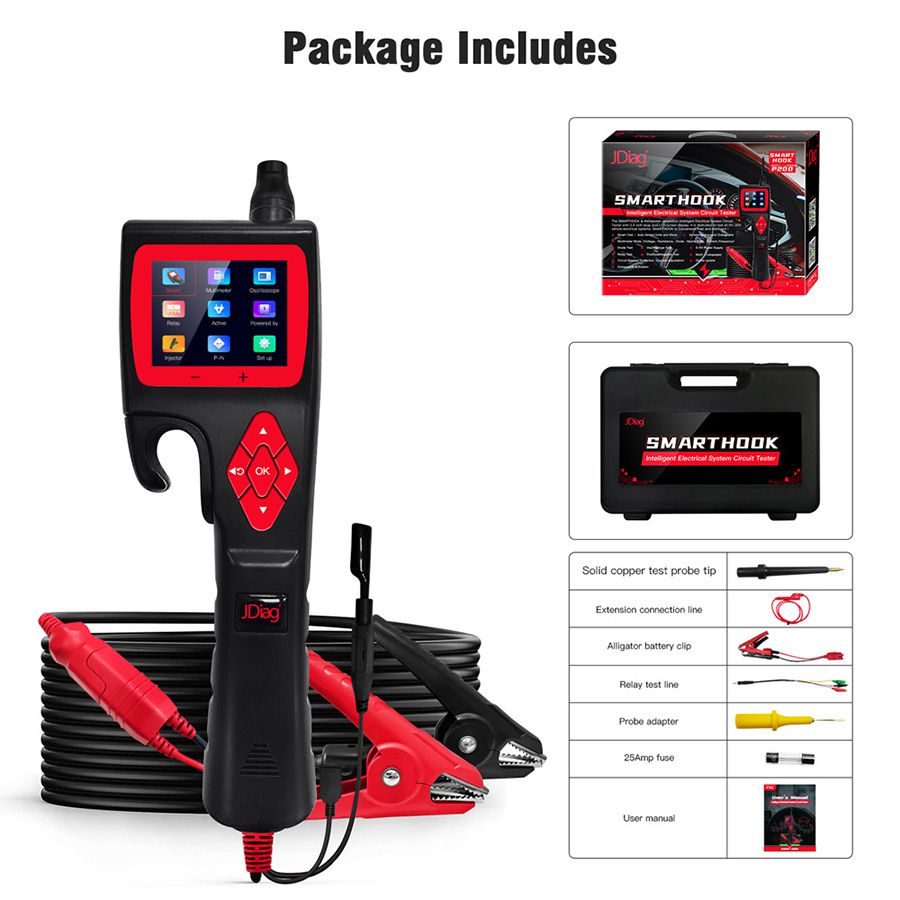 Reviews

17
#1 xkbsuleyu xkbsuleyu
Apr 9, 2022

Everything's okay.
#1 Bernet patricer
Sep 9, 2021

super voundre
#1 Michael Benson
Jan 9, 2022

Perfect. Communication at all times. Very fast sent
#1 joao roberto ferreira marques ferreira marques
Apr 9, 2022

Fast delivery, the machine good quality. Investment zwróciła after first use. Recommend.
#1 Voinilovich Aleksei
Jan 9, 2022

It arrived in time. Packed qualitatively. Test write off
#1 Shivaan Bachu
Aug 9, 2021

Great product very attentive wonderful store will negotiate more times with this team am very satisfied.
#1 neil
May 9, 2022

All as in the description. this JDiag P200 Probe Circuit Tester Tools Car Herramientas Diagnose Ferramentas SMARTHOOK Electrical System For Truck Boat Free Update Online is good quality, working very well
#1 sett edward
Apr 9, 2022

Works just great, I am totally inpressed! very good!
#1 Jaime Castle
Aug 9, 2021

Is ok!
#1 Donatas Tamasauskas
Aug 9, 2021

Fast delivery, the machine good quality. Investment zwróciła after first use. Recommend.
Previous: Yanhua Mini ACDP Module14 MPS6 Gearbox Clone for Volvo/Landrover/Ford/Chrysler/Dodge
Next: OBDSTAR MS80 Intelligent Motorcycle Diagnostic Tool Support IMMO Programming