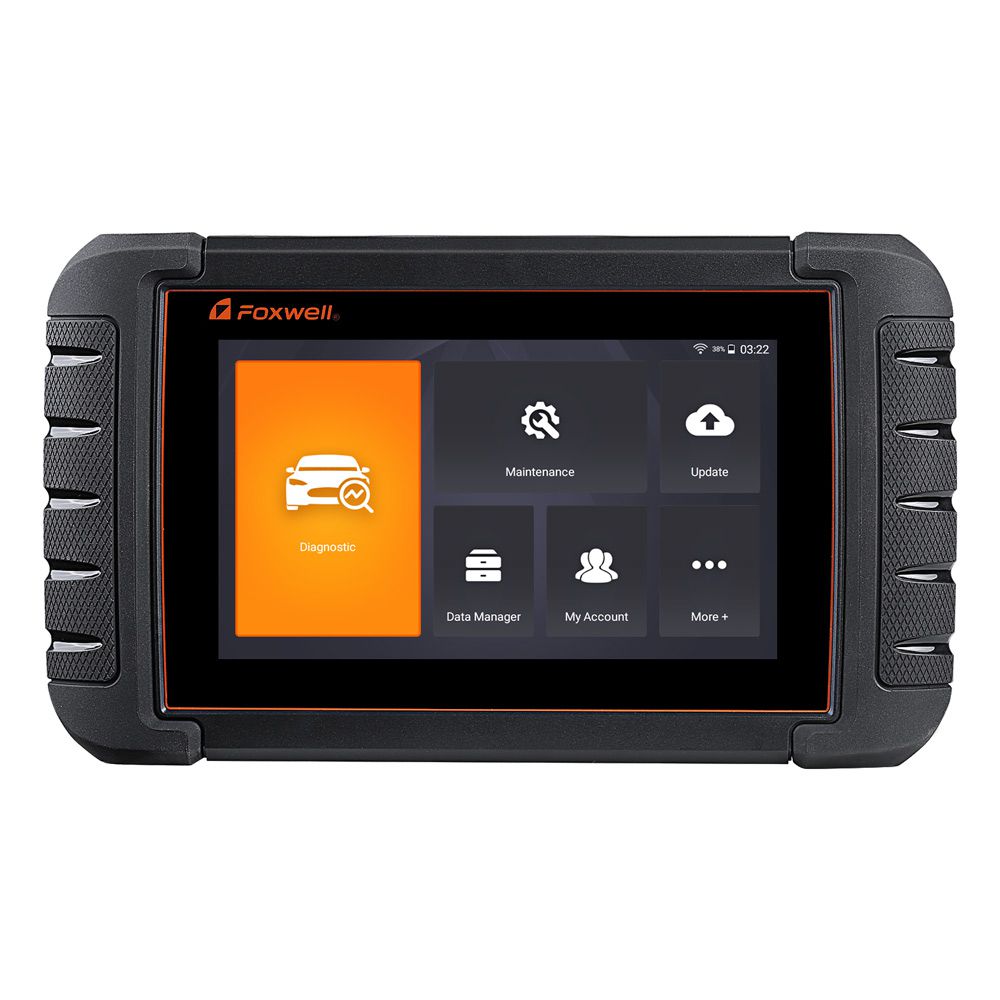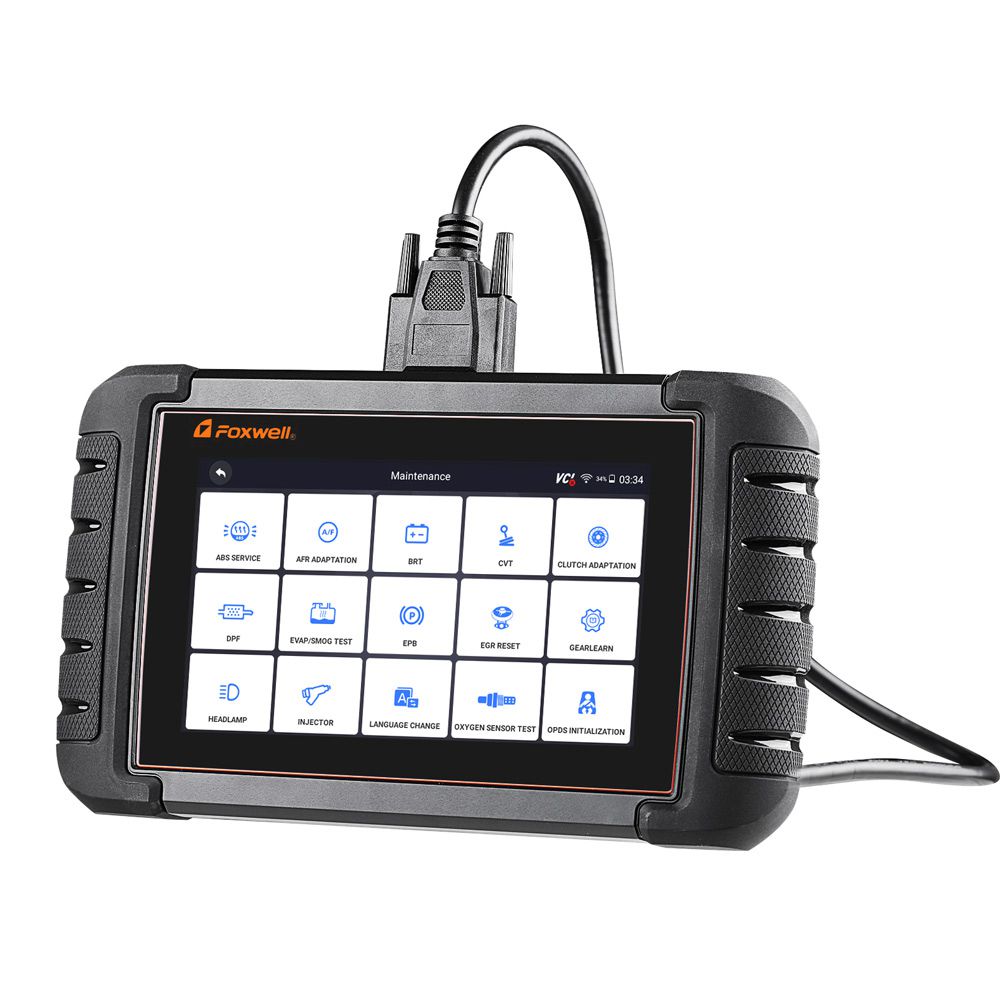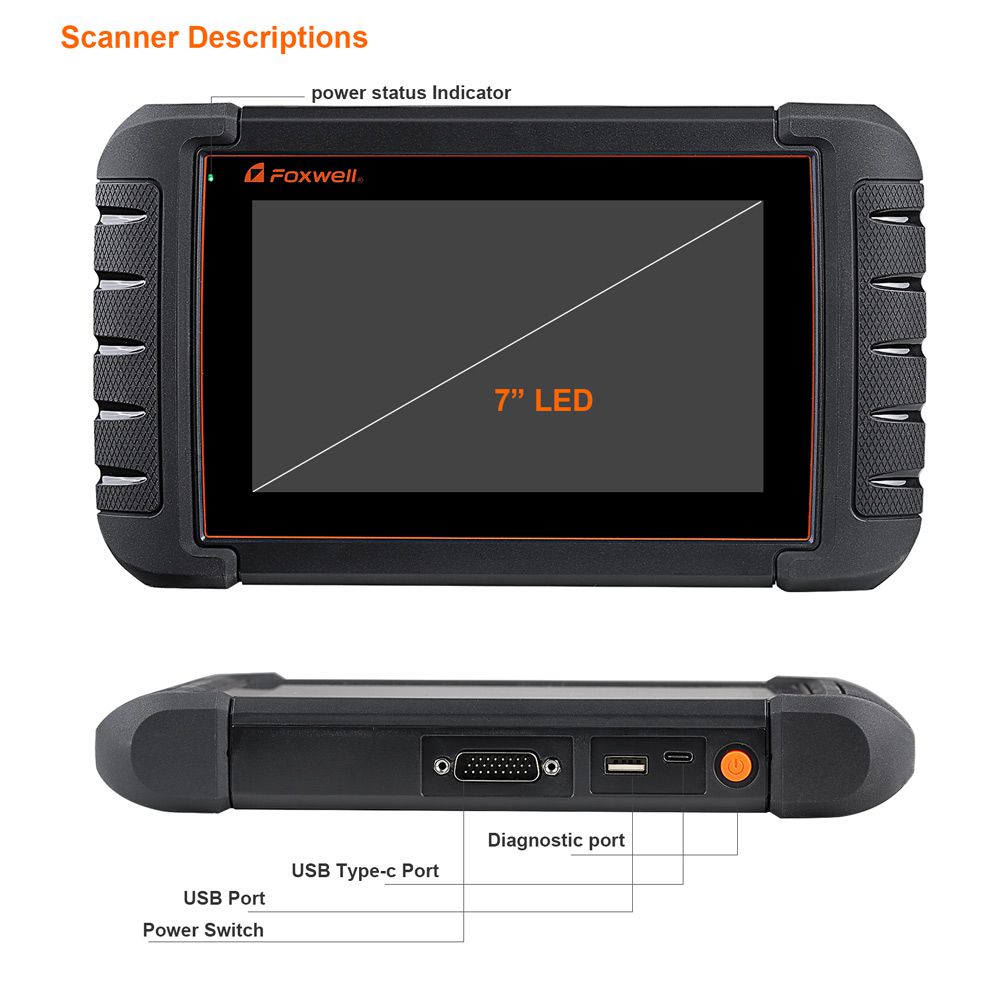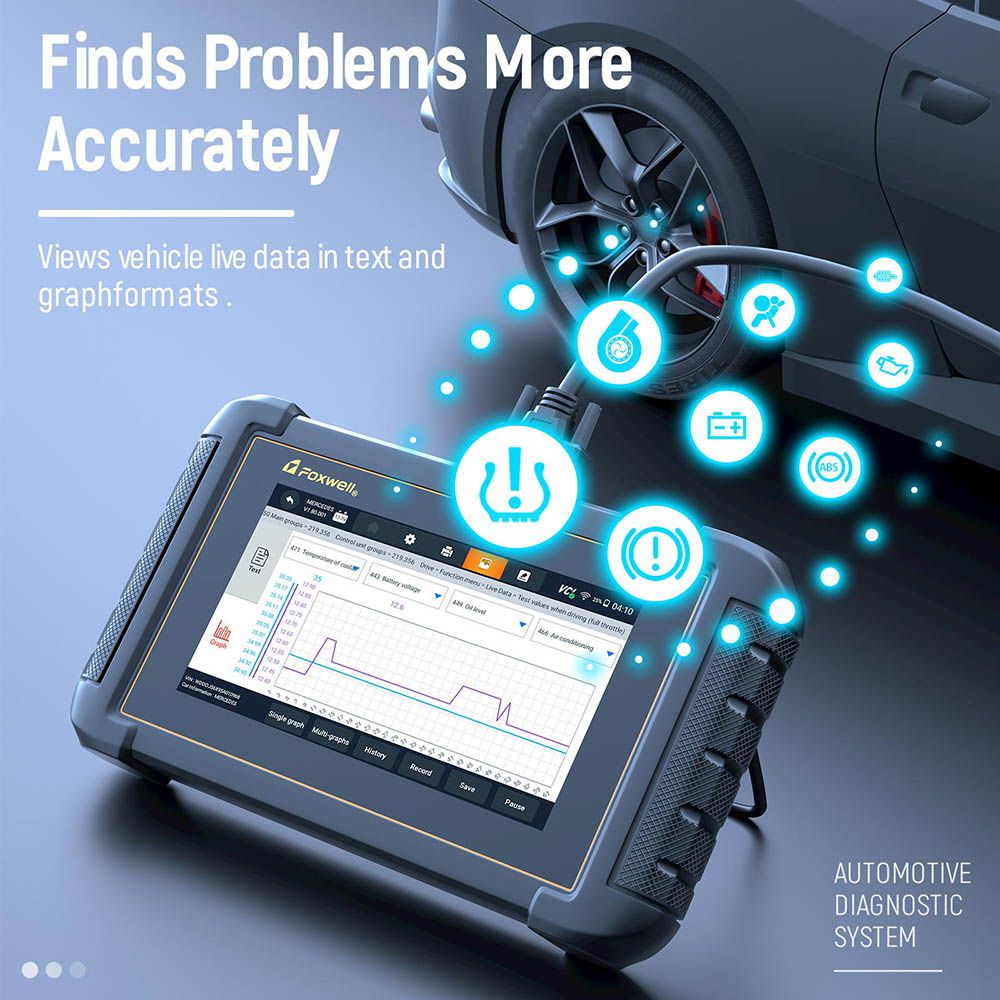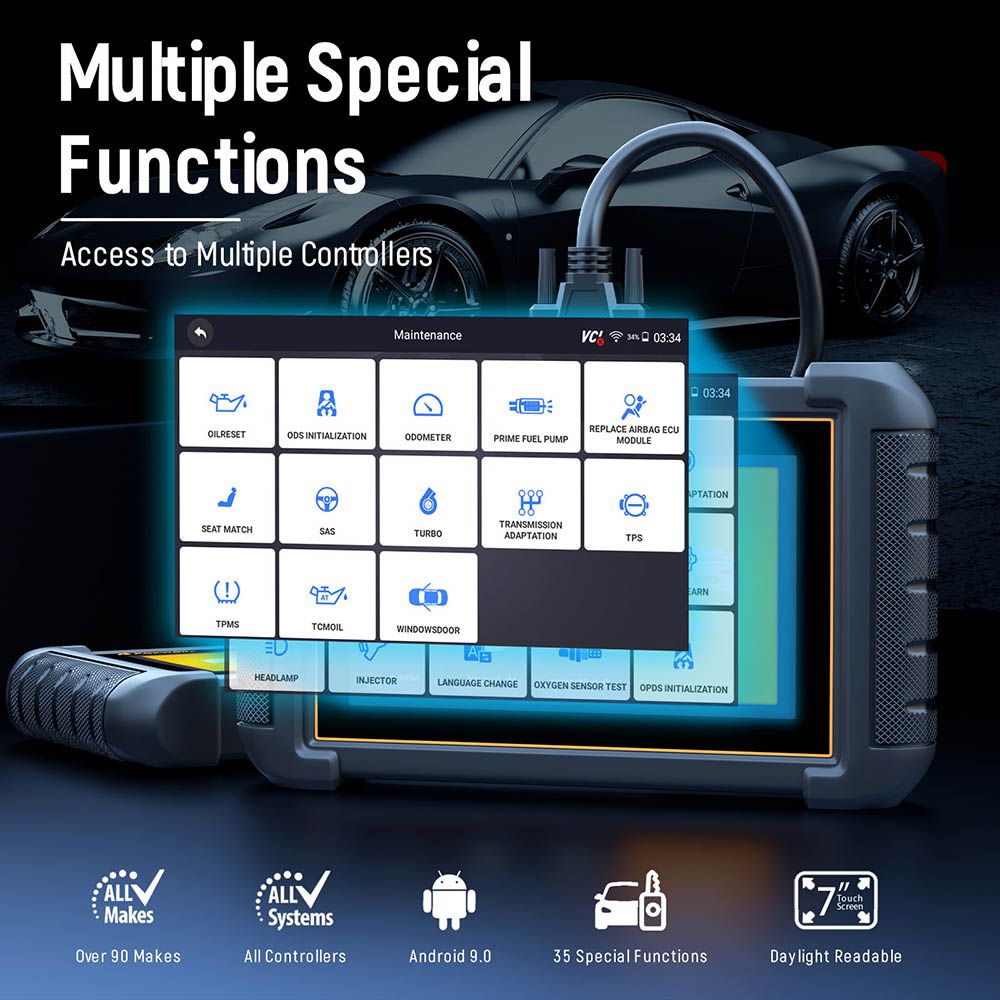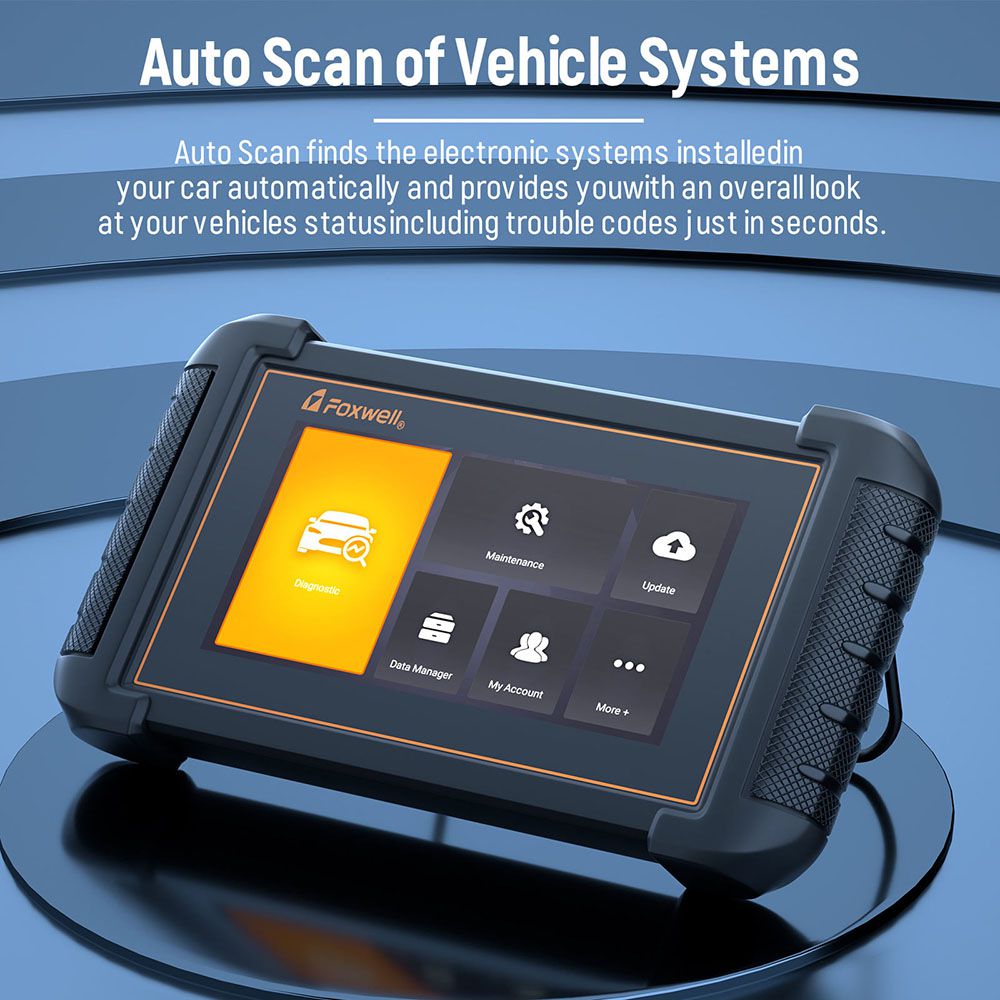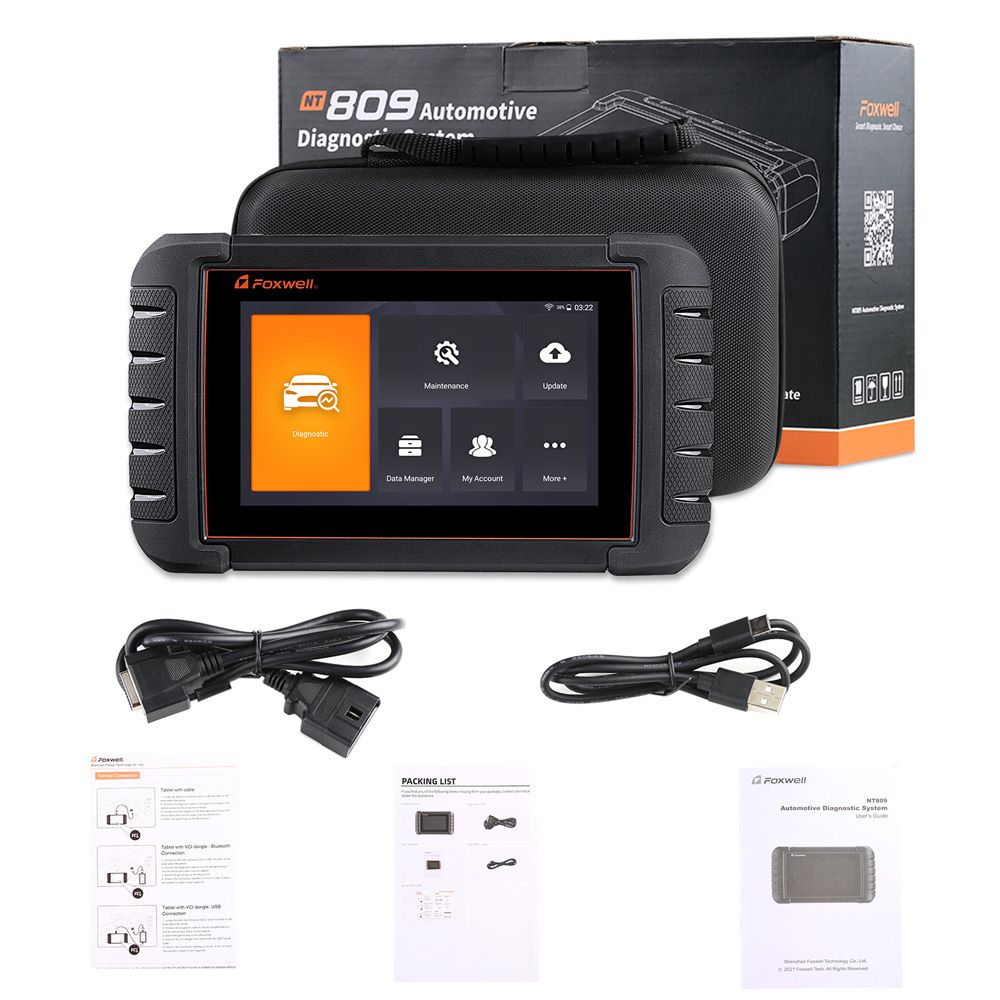 Description
Foxwell NT809 All System Diagnostic Tool with 28 Reset Service Functions
Foxwell NT809 is newly developed diagnostic scanner with
Android
9.0 operating system. It inherits the same Foxwell advantages in car fault diagnostic tech, such as multi manufacturer coverage, service functions and accurate test data, making it the perfect tool for busy garages or workshops, who need the latest technology at unbeatable value.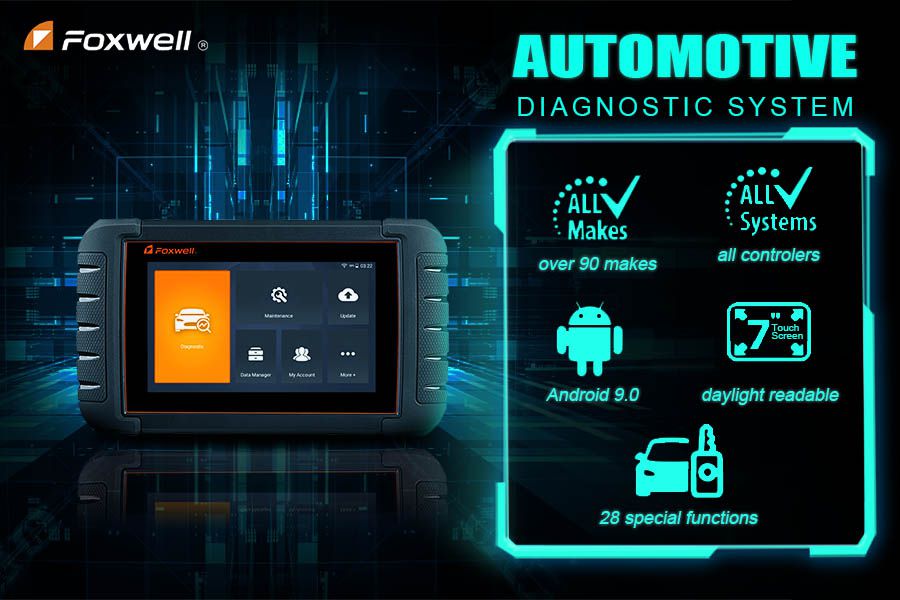 Foxwell NT809 Highlights:

1. Compatible with the latest 2020/ 2021 models:
including cars, SUVs, minivans, light-duty trucks sold worldwide.it is important for automotive repair shops to get as much coverage as possible to effectively and quickly service any vehicle .NT809 provides quick and easy diagnosis on more than 90 American, Asian and European vehicle makes .
2. The most affordable combination of ALL systems diagnostics and 28 (still growing) service functions in one Android based 7"touchscreen tablet tool.
3. A full detection for ALL systems (ABS, SRS, engine, Transmission, Brake System, Emission System, Fuel system, Light system, Wiper System etc.).
4. 28 commonly used hot services functions covered for complete diagnosis and reset functions in routine maintenance.
5. Supports 10 Modes of OBDII operations in 4 display modes (Analog Gauge, Text, Waveform Graph, Digital Gauge).
6. Extensive coverage of over 105 car brands worldwide.
7. One Touch AutoVIN & AutoScan for smart diagnostics.
8. One Click Software Update via Wi-Fi.
9. TeamViewer: Instant support available from our technical team by TeamViewer remote control.10. Free update online for 18 months.
When it is expired, $200 for 1 year, $320 for 2 years, $400 for 3 years. You can still use your currect version if you do not update.
11. One Year Warranty.

12. Multiple Language Support: English, French, German, Spanish, Portuguese, Dutch, Polish, Swedish, Korean, Japanese, Russian, Italian and Traditional Chinese.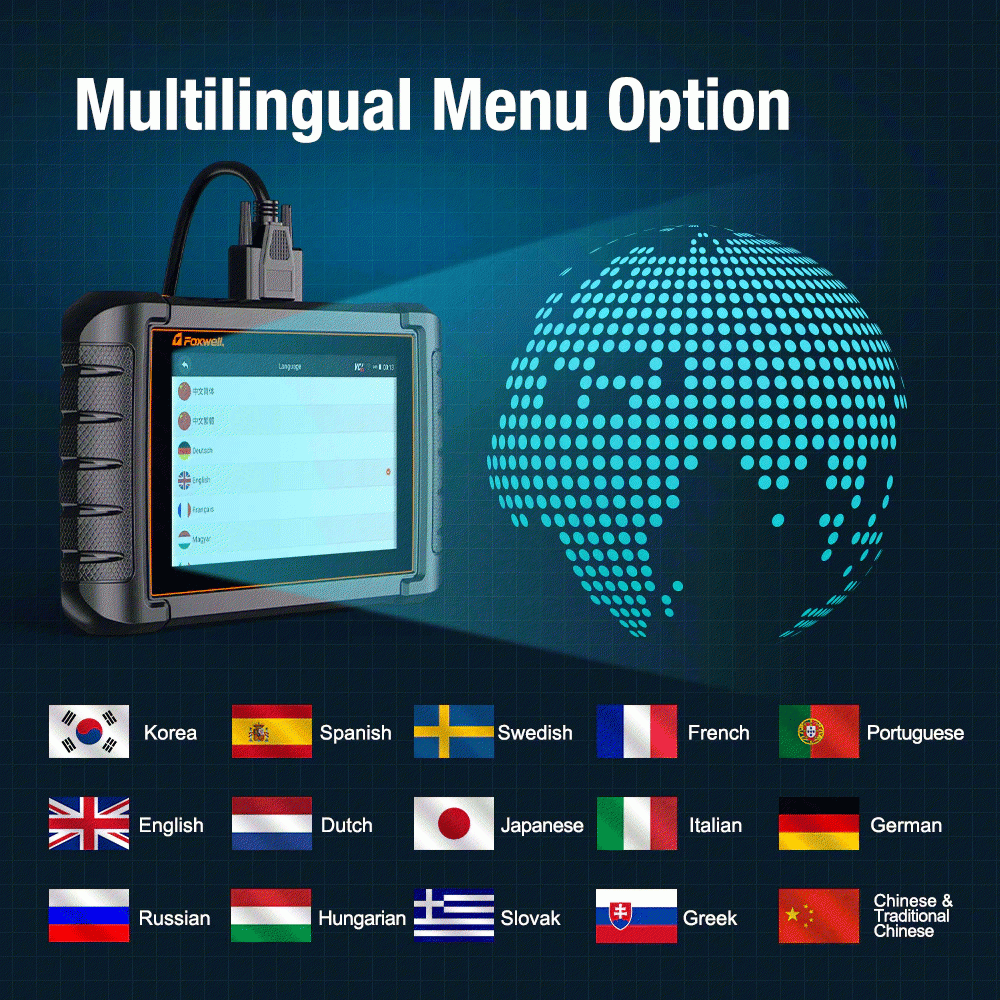 Foxwell NT809 Functions Introduction:
●
Full System Diagnose: Read and Clear Codes of All Electronice Modules, Help you accurately identify car's problem!
This option allows you to detect whether the system parameters are normal or not which Include :
ABS System,
engine System,
SAS System ,
TPMS System ,
IMMO System ,
Battery System ,
Oil Service System ,
SRS System
DPF System
Air Conditioning System
Transmission System
ect...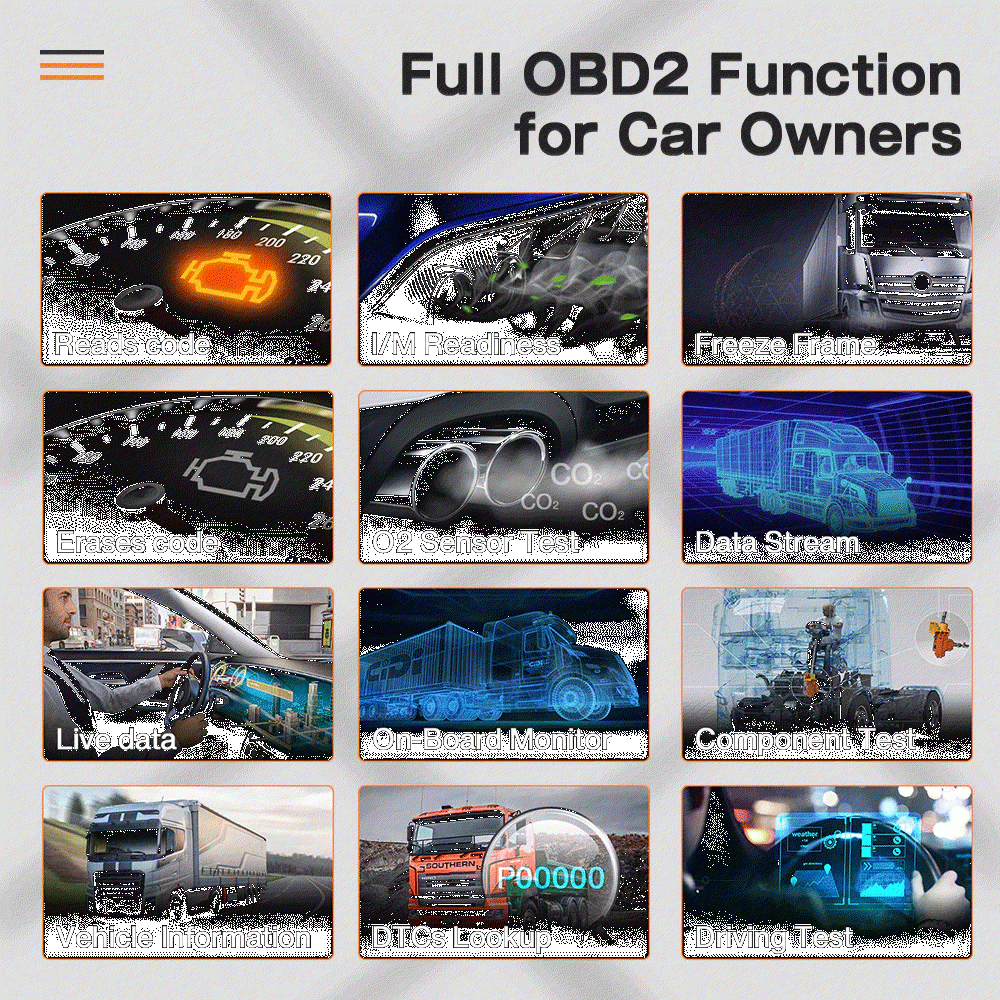 ● FOXWELL NT809 Support 28 Special Reset Functions

1. BAT Battery Service
Allows the scan tool to evaluate the battery charge state, monitor the close-circuit current, register the battery replacement, and activate the rest state of the vehicle.

2. CVT (Continuously Variable Transmission)
On these CVT transmissions, the timing of the release and application of elements (clutch packs and bands) is controlled by the transmission control module (a microprocessor).

3. DPF Diesel Particulate Filter Reset
Specially works for Diesel Particulate Filter system with DPF regeneration, DPF component replacement teach-in and DPF teach-in after replacing the engine control unit.

4. EPB Electronic Park Brake Reset
It is important in the maintenance of electronic braking system's safety and efficiency.

5. Gear Learning
The scan tool monitors certain camshaft position sensors signals to determine if all conditions are met to continue with the procedure for Engine running.

6. Injector Coding
Leaking injectors and some dead injectors can be missed even when an injector is disabled. Other problems with the ignition system and mechanical components also may not show an rpm loss when an injector is turned off.

7. Cluster Calibration
This function allows you to revise the data and write the original data into new instrument.

8. Oil Reset
Allows you to perform reset maintenance mileage and data intervals for a new calculation of Engine Oil Life system once changed the oil.

9. SAS Reset (Steering Angel Sensor)
Helps clear the fault steering angle sensor memories and plays an important role in the steering angle sensor calibration.

10. TPS System
Also called TBA, throttle body alignment. Using the throttle position sensors in the throttle body, the ECU learns the full open and full closed positions through various states (idle, part throttle, WOT) known as a Throttle Body Alignment (TBA).

11. TPMS Reset (Tire Pressure Monitoring Sytem)
Makes tpms senser in displaying sensor IDs from the vehiclersquos ECU, inputting TPMS sensor replacement IDs and activate TPMS sensors.

12. ABS Bleeding ( Antilock Brake System)
Helps clear the fault Airbag memories to reset.

13. PFP

14. Seat Match
A memory seat is essentially an electrically-adjustable car seat which can be moved into pre-set positions at the push of a button. As a result of the removal of the DCC fuse, the "driving position memory" function of the driver and passenger side seat will be inoperative due to the loss of seat.

15. A/F Adjust
Correspondingly change the fuel supply to change the steam production of boiler and maintanin the energy balance in the combustion process.

16. CLUTH Adaptation
Importance of clutch pedal free-play. Anything less than the correct amount of free play (or clearance) will result in clutch slip, because the pressure plate will be unable to exert its full pressure on the friction plate, clutch linkage adjustment to compensate for clutch wear.

17. Language Change
This function is used to change the system language of the vehicle central control panel.

18. Windows Calibration
This feature is designed to perform door window matching to recover ECU initial memory, and recover the automatic ascending and descending function of power window.

19. Turbo
The routine is required if the secondary turbo charger is repleased. This will learn the pffset values for the turbine shut-off value.

20. Headlamp
Allowing for adaptive headlights to be relearnt.

21. Transmission Adaption
This command allows the adaptive shift points to be relearnt.

22. TCMOIL
This routine is used to clear the oil degradation and downgrade counter.

23. Airbag Reset
This function resets the airbag data to clear the airbag collision fault indicator.

24. EVAP Test/Smog Test
The EVAP system monitor checks for fuel vapor leaks by performing either a pressure or vacuum test on the fuel system.

25. EGRRESET(Exhaust Gas Recirculation)
(1)Reduce the exhaust temperature, reduce the production of NO compounds and CO carbon monoxide.
(2)Can appropriately reduce fuel consumption and improve engine efficiency

26. ODSINIT

27. ODSINIT

28. OSTEST
Nox sensor is a sensor used to detect the content of nitrogen oxides (Nox) in engine exhaust. lf the Nox fault is re-initialized and the Nox catalytic converter is replaced, it is necessary to reset the catalytic converter learned value stored in the engine ECU.
● Full OBD2 Basic Function
01 - Request Current Powertrain Diagnostic Data
02 - Request Powertrain Freeze Frame Data
03 - Request Emission-Related Diagnostic Trouble Codes
04 - Clear/Reset Emission-Related Diagnostic Information
05 - Request Oxygen Sensor Monitoring Test Results
06 - Request On-Board Monitoring Test Results for Specific Monitored Systems
07 - Request Emission-Related Diagnostic Trouble Codes Detected During Current or Last Completed Driving Cycle
08 - Request Control of On-Board System Test or Component
09 - Request Vehicle Information
10 - Request Emission-Related Diagnostic Trouble Codes with Permanent Status
● Read ECU Info. & Auto Vin Scan
ldentifies cars quickly and easily with one-key VIN reading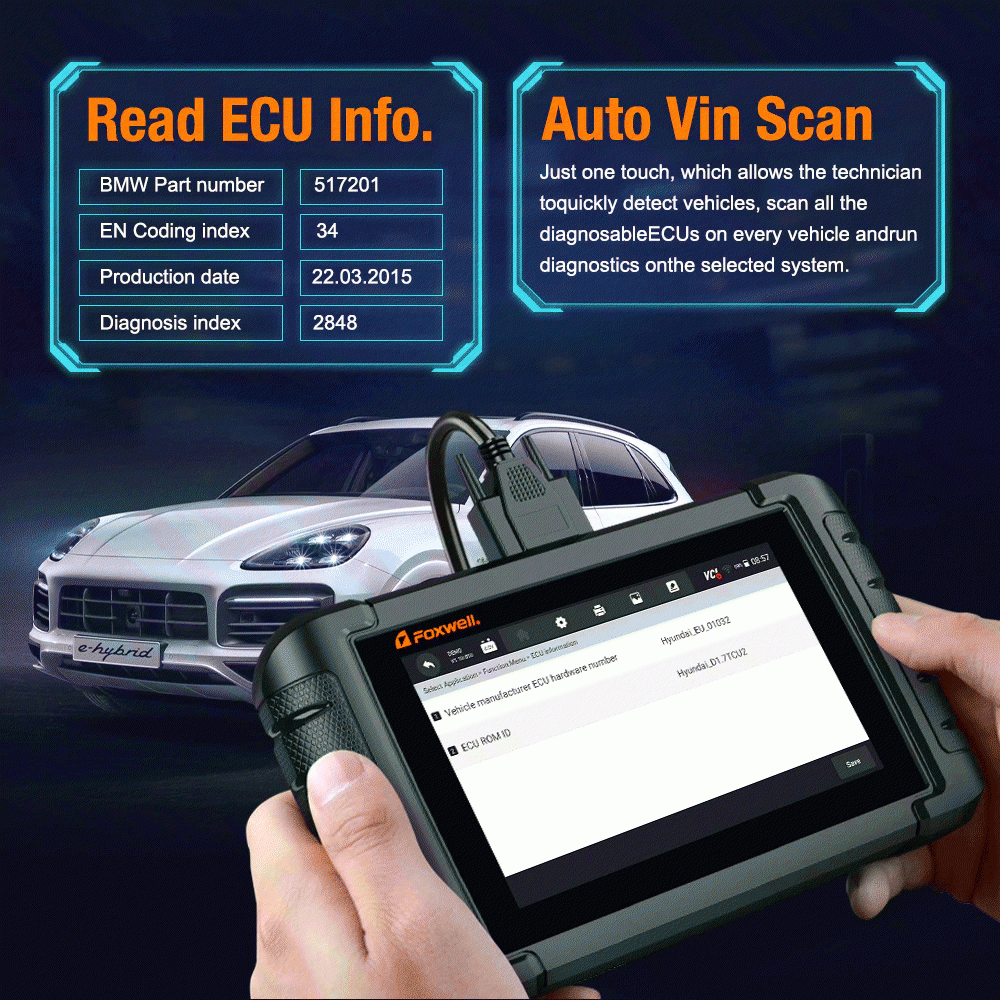 ● Diagnosis Health Report Share & Print
You can share the health report of your car with others via email, and you can also send it to yourself. find out the problem quickly and easily, assist your car repairing!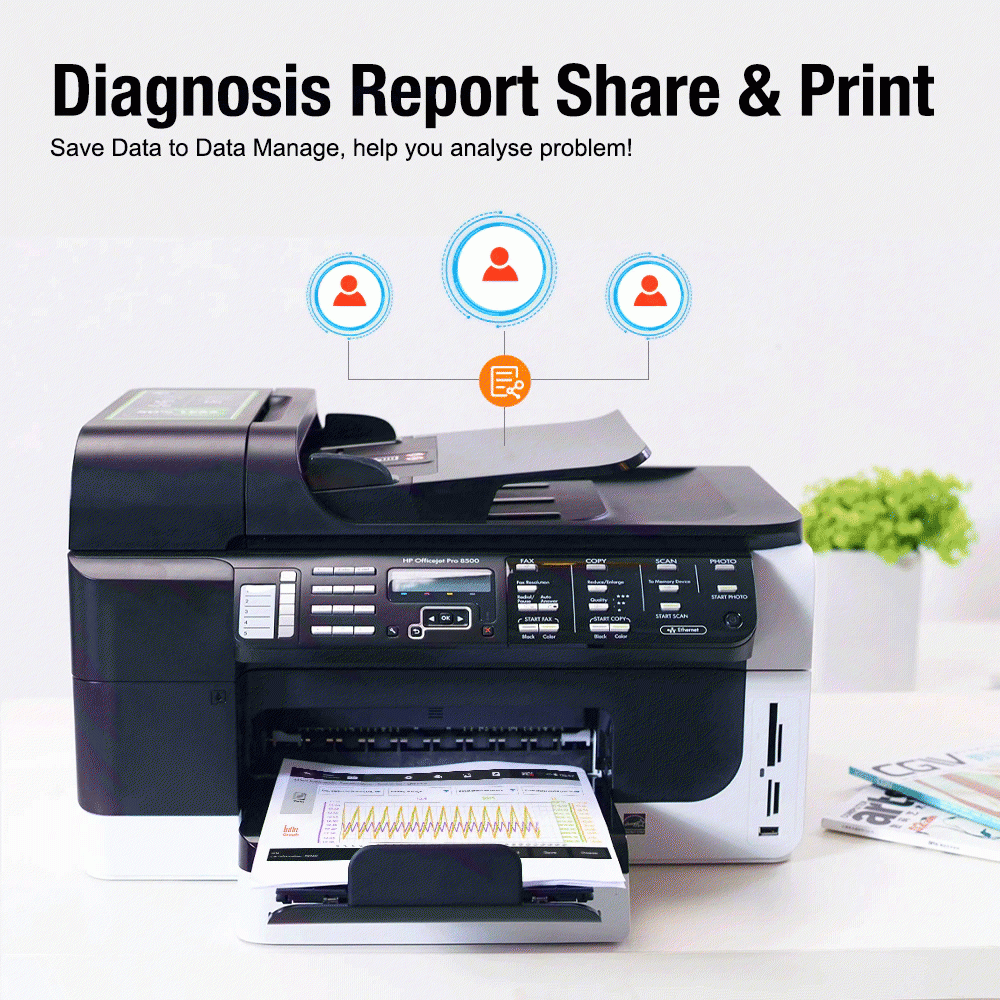 ● One Touch Upgrade Via WiFi
Easily download software upgrades, simple operation, one-click connection to your car, solve almost all problems of your car!

Foxwell NT809 Vehicle Coverage:
Support Over 90 Makes, Over 20000+ car models, Include Newest 2020/2021 Car Models
American Coverage:
For Chrysler,For Dodge,For Jeep,For Ford,For GM,For GMbrazil(For Brazilian Market Only)

Asian Coverage:
For Acura,For Daewoo,For Daihatsu,For Fordau,For Fuso,For Hino,For Holden,For Honda,For Hyundai,For Hyundaicv,For Infiniti,For Isuzu,For Isuzu Truck,For Kia,For Lexus,For Maruti,For Mazda,For Mitsubishi,For Nissan,For Perodua,For Proton,For Scion,For Ssangyong,For Subaru,For Suzuki,For Toyota,For GTR,For Ford AU, For Holden(For Australia Market Only),For Mahindra, For Tata(For India Market Only)

European Coverage:
For Abarth,For Alfa,For Astonmartin,For Audi,For Bentley,For Benz,For Bmw,For Bugatti,For Citroen,For Dacia,For Ferrari,For Fiat,For Fordeu,For Jaguar,For Lamborghini,For Lancia,For Landrover,For Maserati,For Maybach,For Mini,For Opel,For Peugeot,For Porsche,For Renault,For Rolls-Royce,For Saab,For Samsung,For Seat,For Skoda,For Smart,For Sprinter,For Vauxhall,For Volvo,For Vw,For Vw_Cv
FOXWELL NT809 Specifications
Screen : 7"diagonal, daylight readable color LCD screen; 1024*600pixel
Operating system: Android 9.0
communication interface: WiFi
Connection: Bluetooth-Compatible
Built-in battery: 4000mAh
Memory+SSD Hard Drive: 1G+32G
Working Temperature:-10 to 70℃
Storage Temperature:-20 to 80℃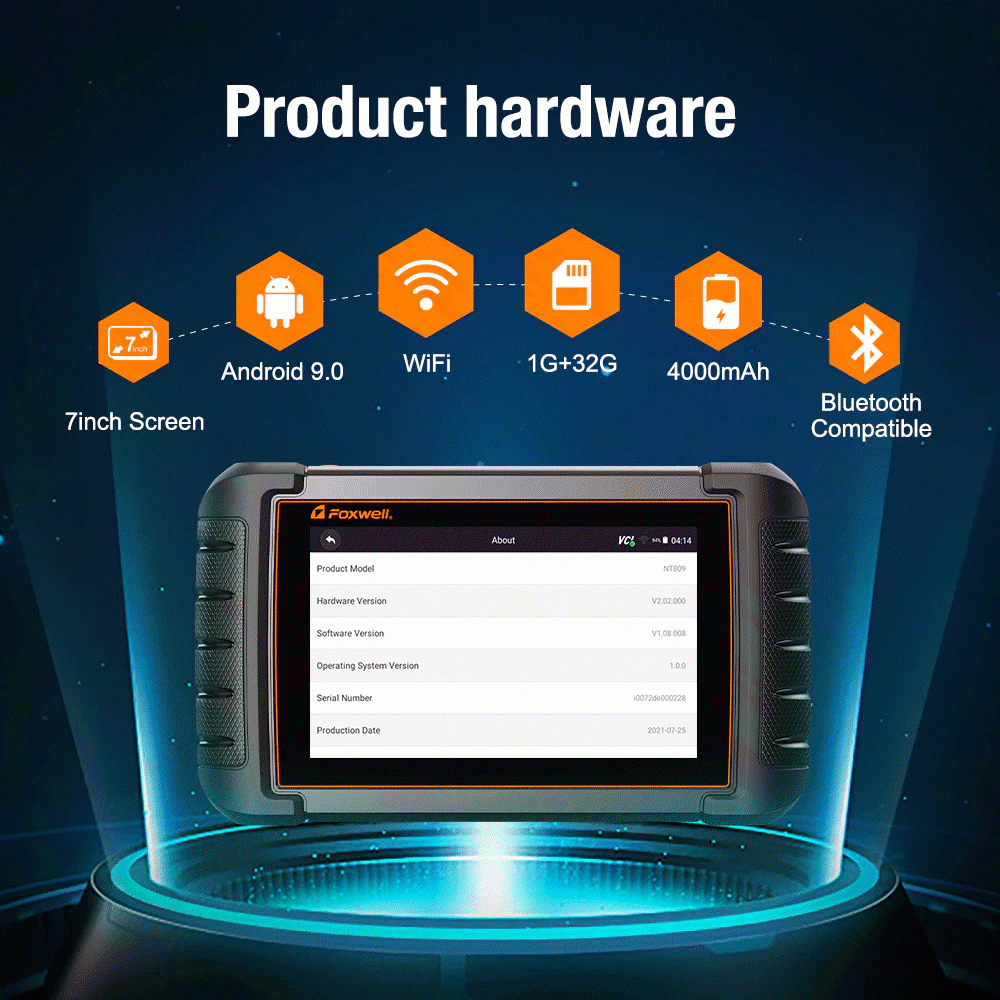 Foxwell NT809 Packing list:
1*NT809 Main unit
1*Diagnostic Cable
1*OBDII Adapter
1*USB TYPE C Cable
1*USB Charging Adapter
1*User's Manual
1*Quick Start Guide

Previous: Car Repair Sucker Tool Car Dent Repair Mend Puller Pull Bodywork Panel Remover Sucker Car Suction Cup Sucker Repair Tool
Next: HUMZOR NS666S OBD2 Scanner Bluetooth Full Systems ABS Airbag DPF IMMO Oil Reset Car Diagnostic Tools