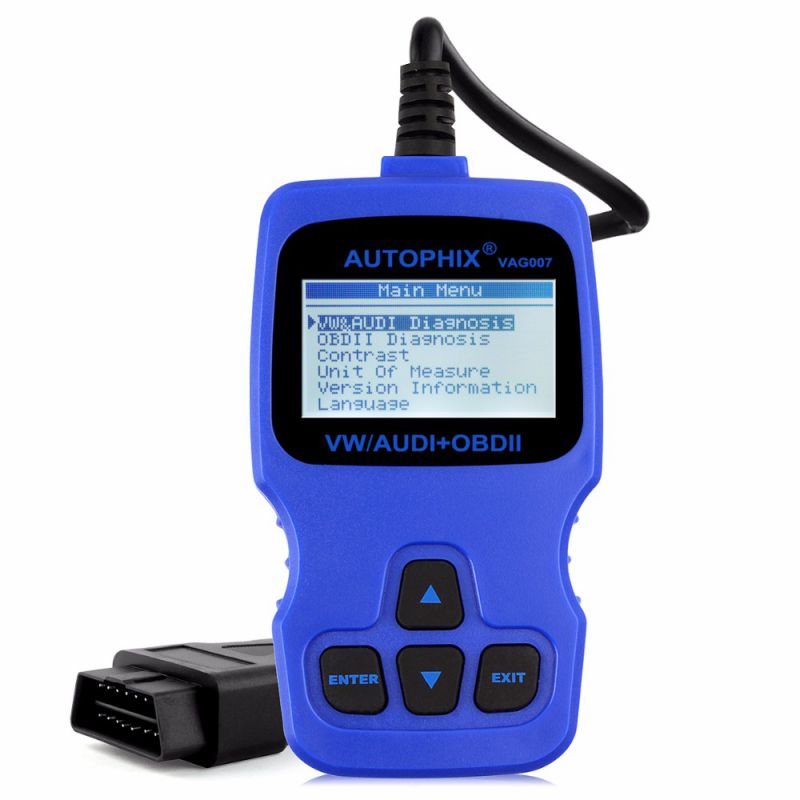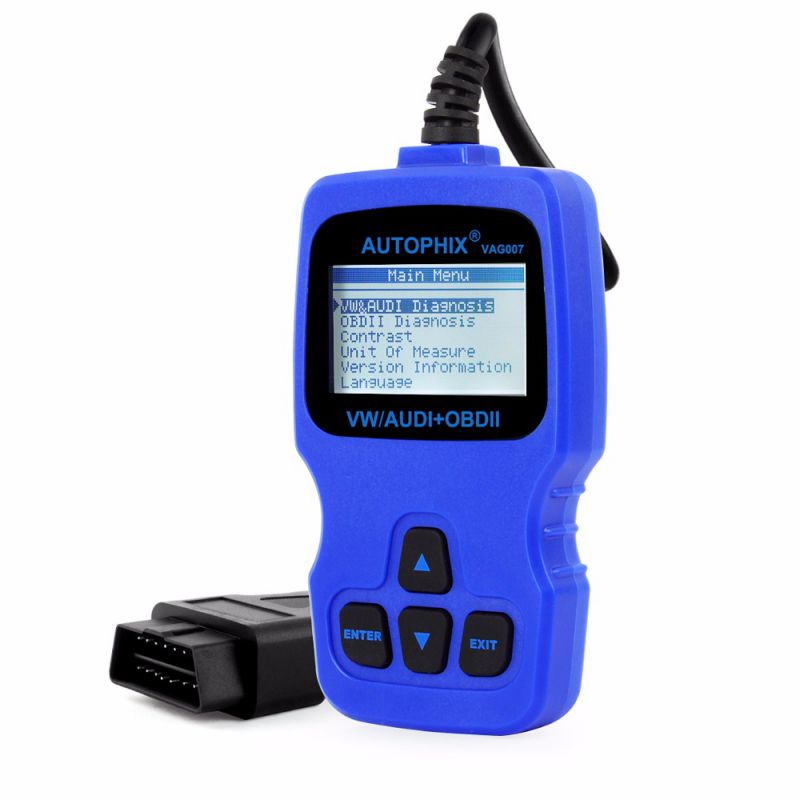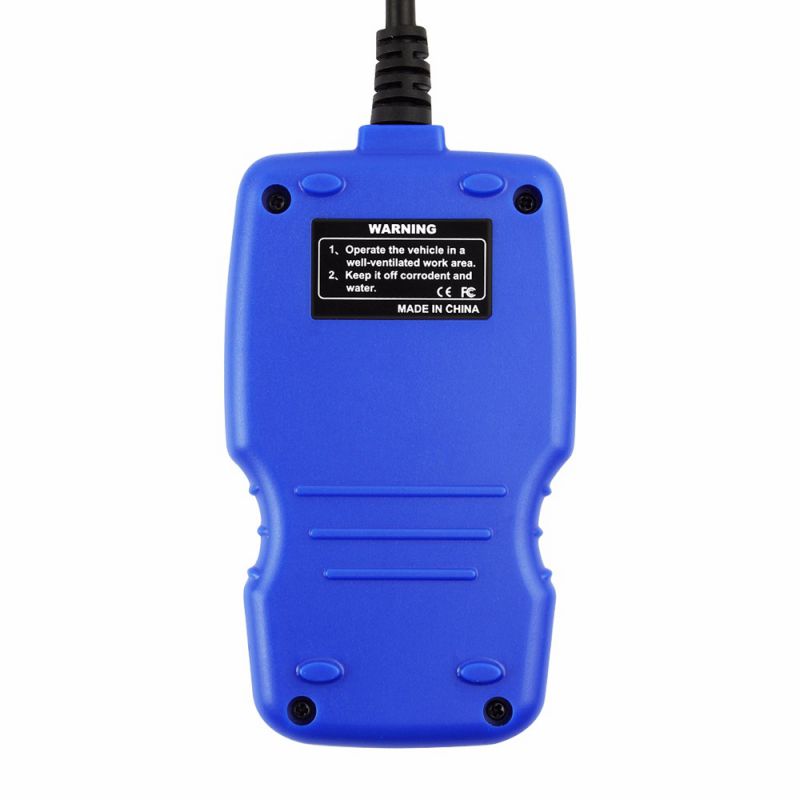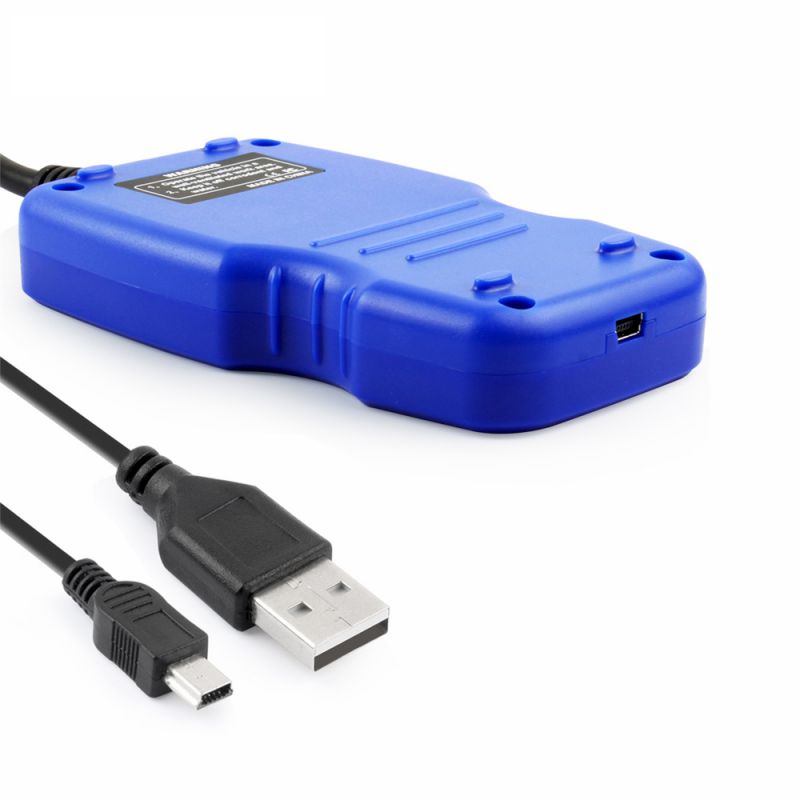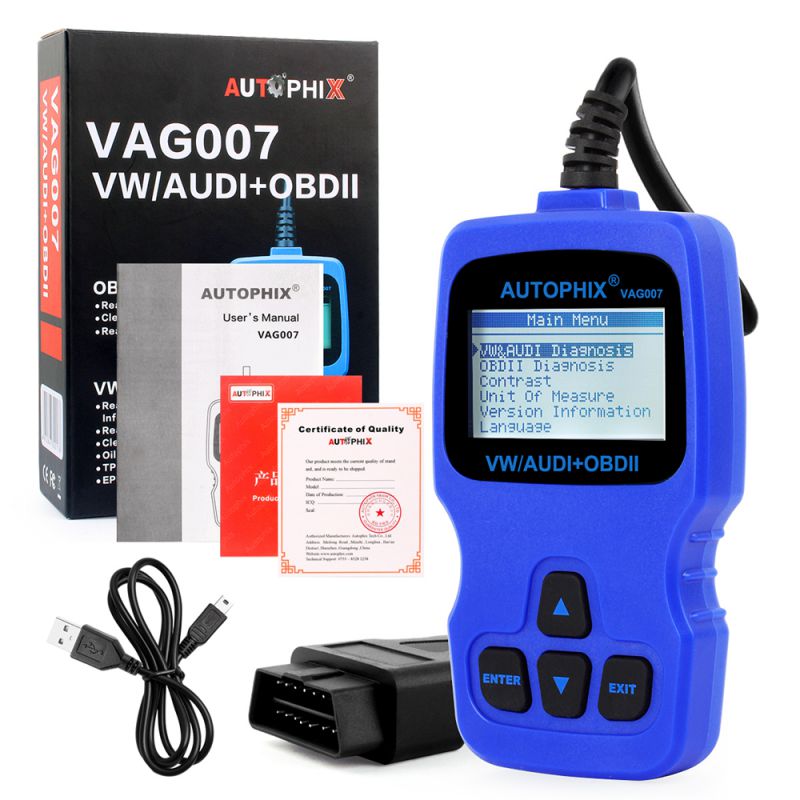 Description
Top 6 Reasons to Get VAG007:
Delicate and Portable
Automatic Scanner System,easy to operate
Multilingual Menu: English, German
Economical and practical
Fast diagnosis and get data quickly
VAG 007 VW/AUDI OBDII Scan Tool Compatible Vehicles:
VW/ AUDI/ SEAT/
Skoda
/ Jetta/ Bora/ Santana/ Sagitar/ Magotan/ Golf/ Beetle/ Tiguan/ Touareg/ Passat and so on .
VAG 007 VW/AUDI OBDII Scan Tool Function:
Read fault codes
Erase codes and turn off the malfunction indicator light
Retrieve vehicle information
VW/AUDI
Control unit info.
Read fault codes
Clear fault codes
TP Position check
EPB ReplaceBrakepads
OBD II Function:
Work on all after 1996 OBD II
Compliant US, European and Asian vehicles
VAG 007 VW/AUDI OBDII Scan Tool Feature:
Supports All VW Diagnositc protocols (KWP1281\ KWP 2000\ TP-CANBUS \ NEW UDS) and ALL OBD II protocols
(CAN, J1850 PWM, J1850 VPW, ISO9141 and KWP 2000)
The maintenance of volkswagen series vehicles , such as
Oil Reset
, TPS function,brake pad reset and so on.
Fuctions for Volkswagen Series:
01. MENUCOMM: engine, Auto_Trans, ABS_Brakes, Auto_HVAC, Cent_Elect, Airbags, Steering_Wheel, Instruments and so on.
02. MENUDRIV: Engnie, DieselPump, AutoTrans, AWD etc.
03. MENUCHAS: ABSBrakes, Susp_Elect, ChassisControl, Airbags, SteeringAssist, TirePressure and so on.
04. MENUCOMF: AutoHVAC, PositionSensing, Steeringwheel, Aux_Heat, LaneChange, CentralConv etc.
05. MENUELEC1: Immobilizer, Instruments, Cent_Elect, Navigation, CANGateway, Towprotection etc.
06. MENUELEC2: DataTransfer, MediaPlayer, CtrlHeadDash, Inform_Electr etc.
VAG 007 VW/AUDI OBDII Scan Tool Specifications:
Display: 2.8" TFT 262K true color320*240 QVGALCD display
Operating Temperature: 0 to 50 C (32 to 140 F )
Storage Temperature:-20 to 70 C (-4 to 158 F )
External Power: 8.0 to 18.0 V power provided via vehicle battery
Dimensions: 120mm (5.21") 70mm (3.38") 22 mm (0.8")
Weight NW: 0.23kg (0.57lb), GW: 0.35kg (0.77lb)
Package Including:
1pc x AUTOPHIX VAG 007 VW/AUDI OBDII Scan Tool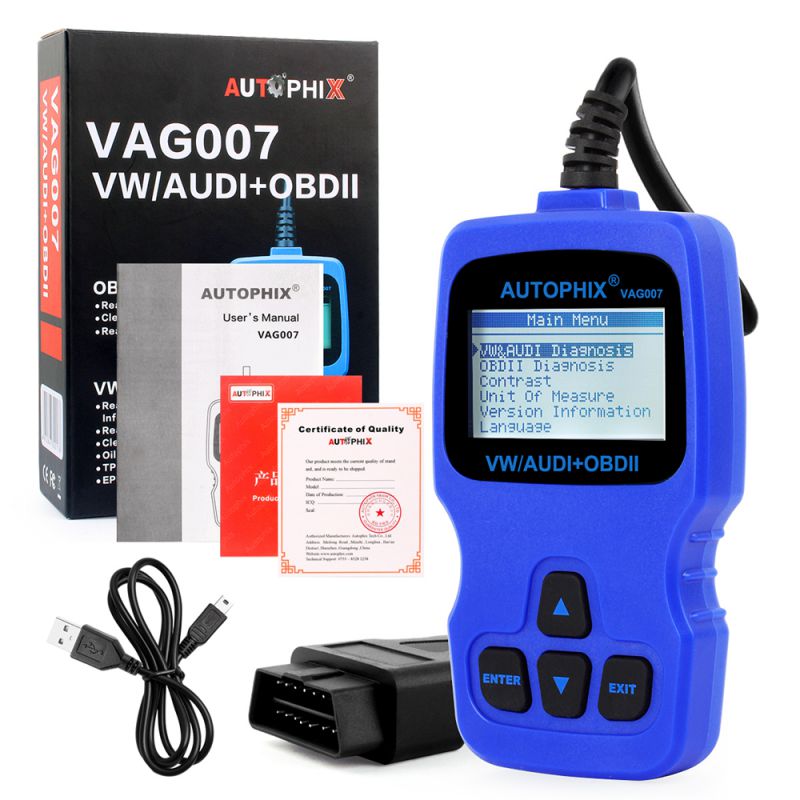 Previous: VBOX-BMW E Series and F Series Diagnostic Tool
Next: Autometer Gauges GT911 2016 Automotive Horsepower And Torque Analyze and Diagnose