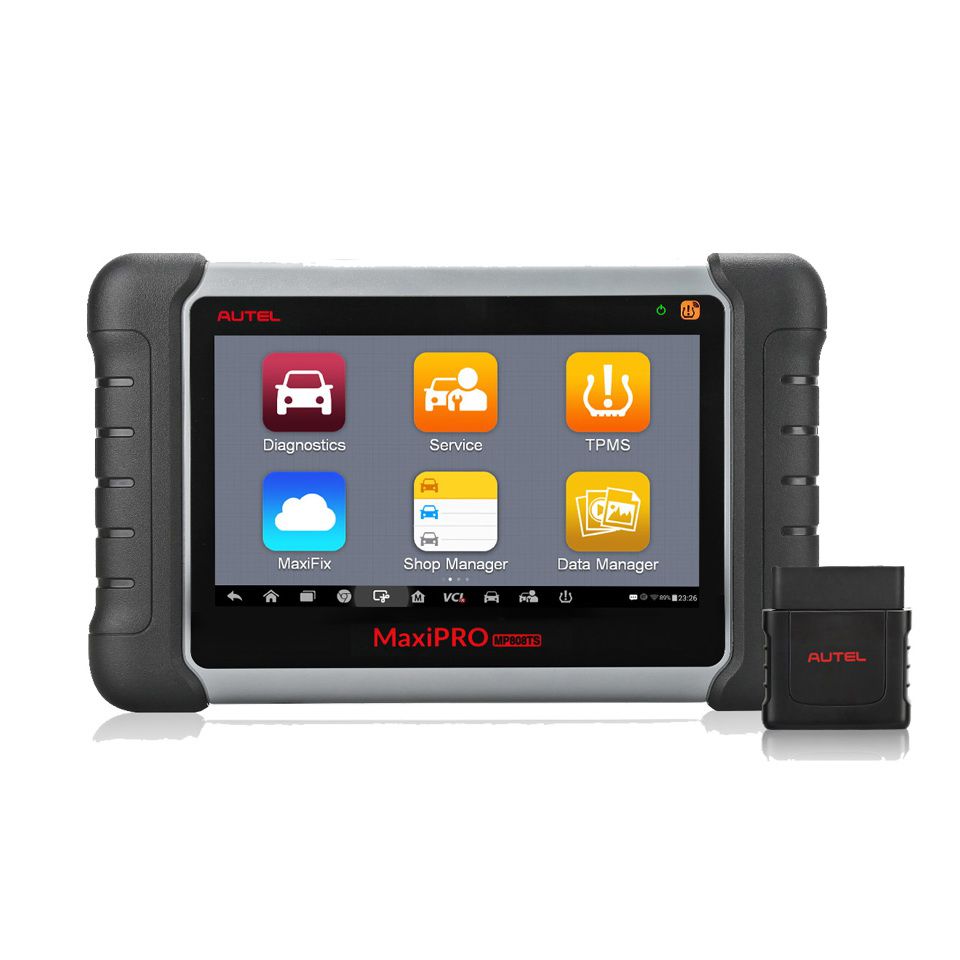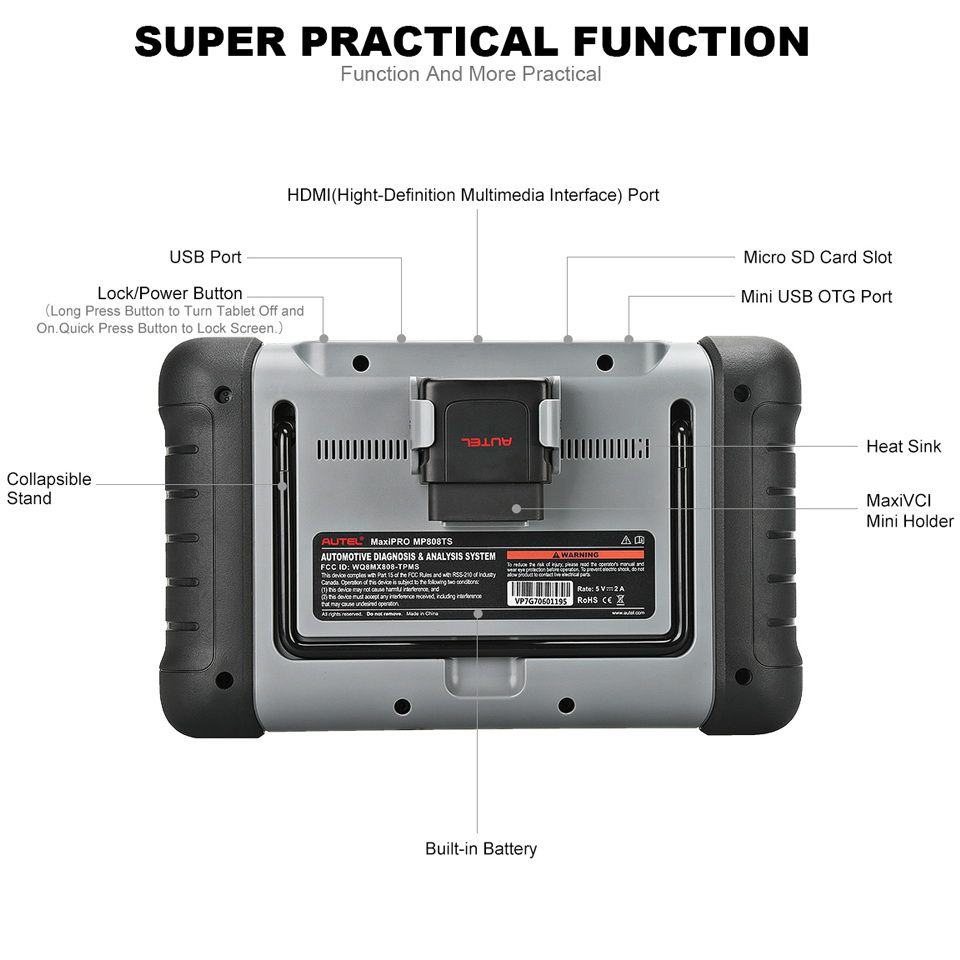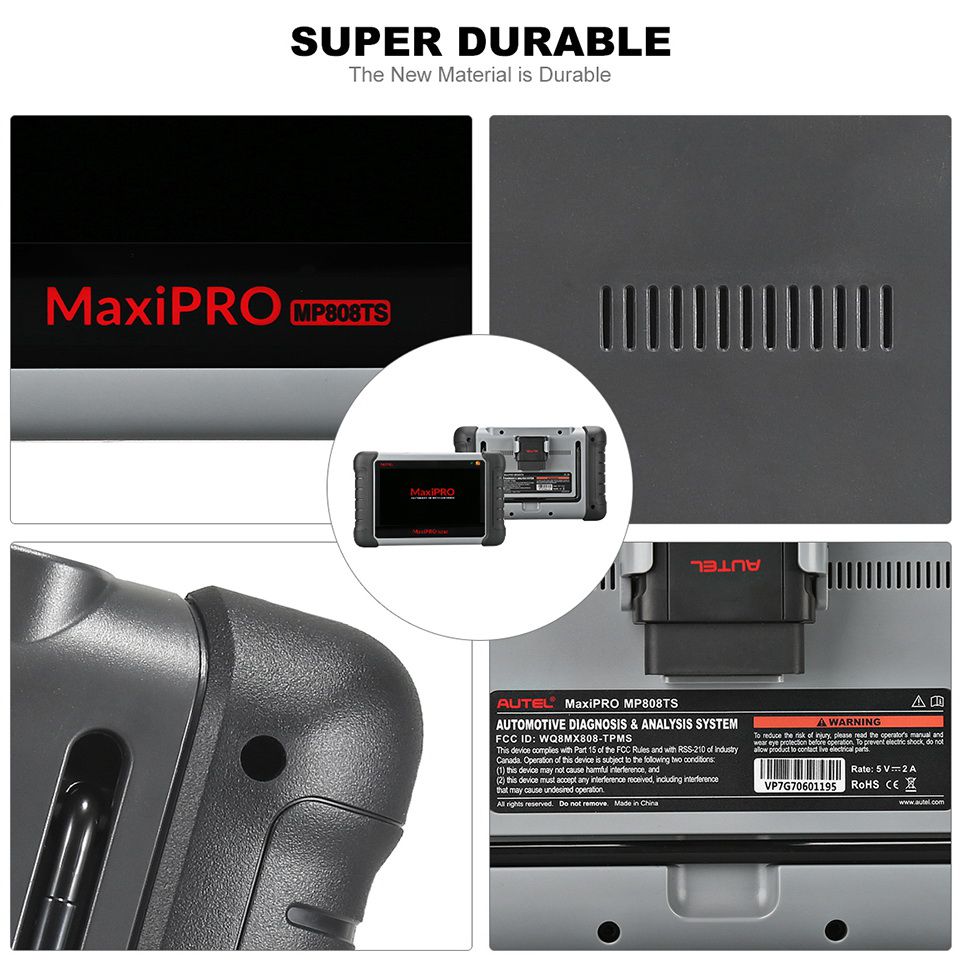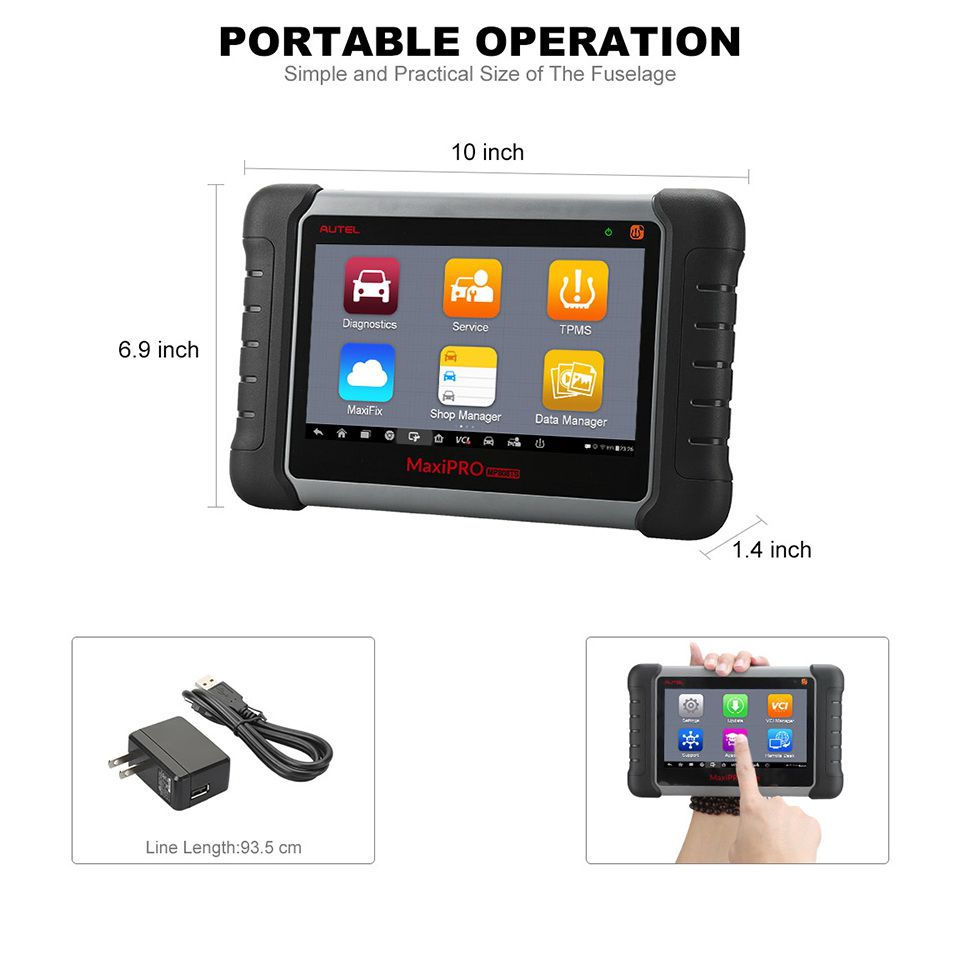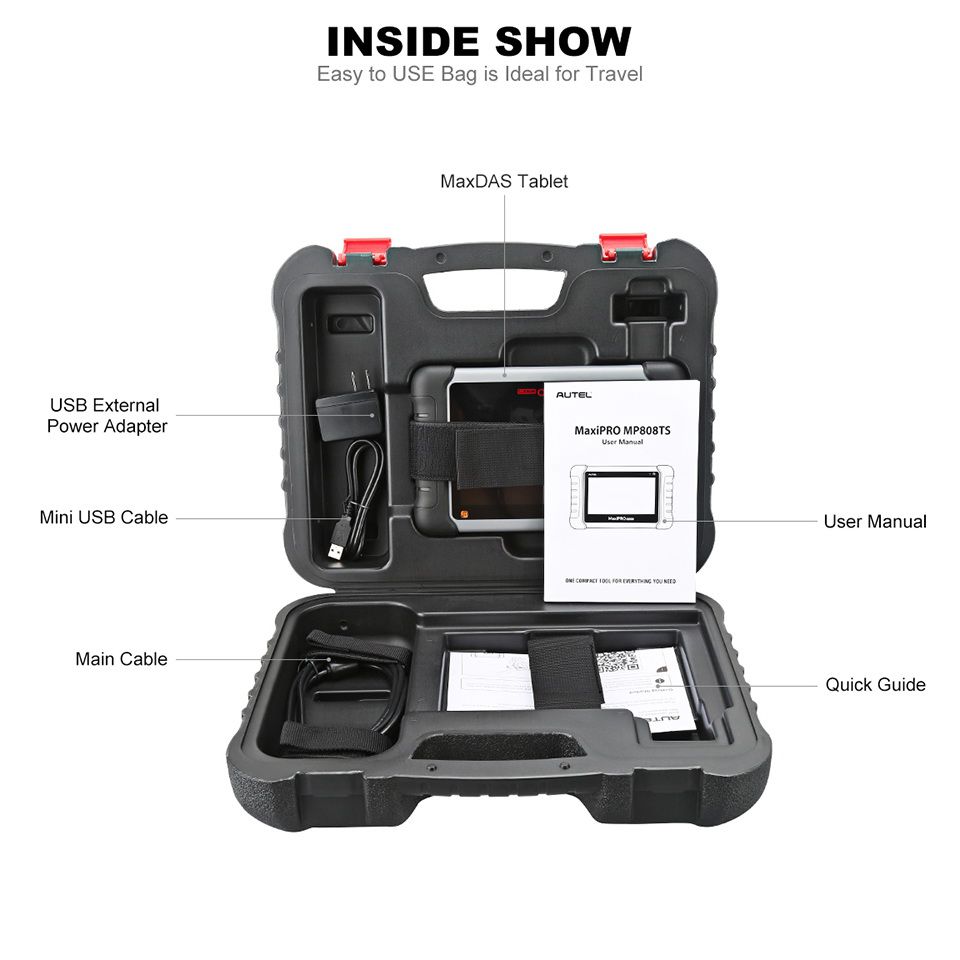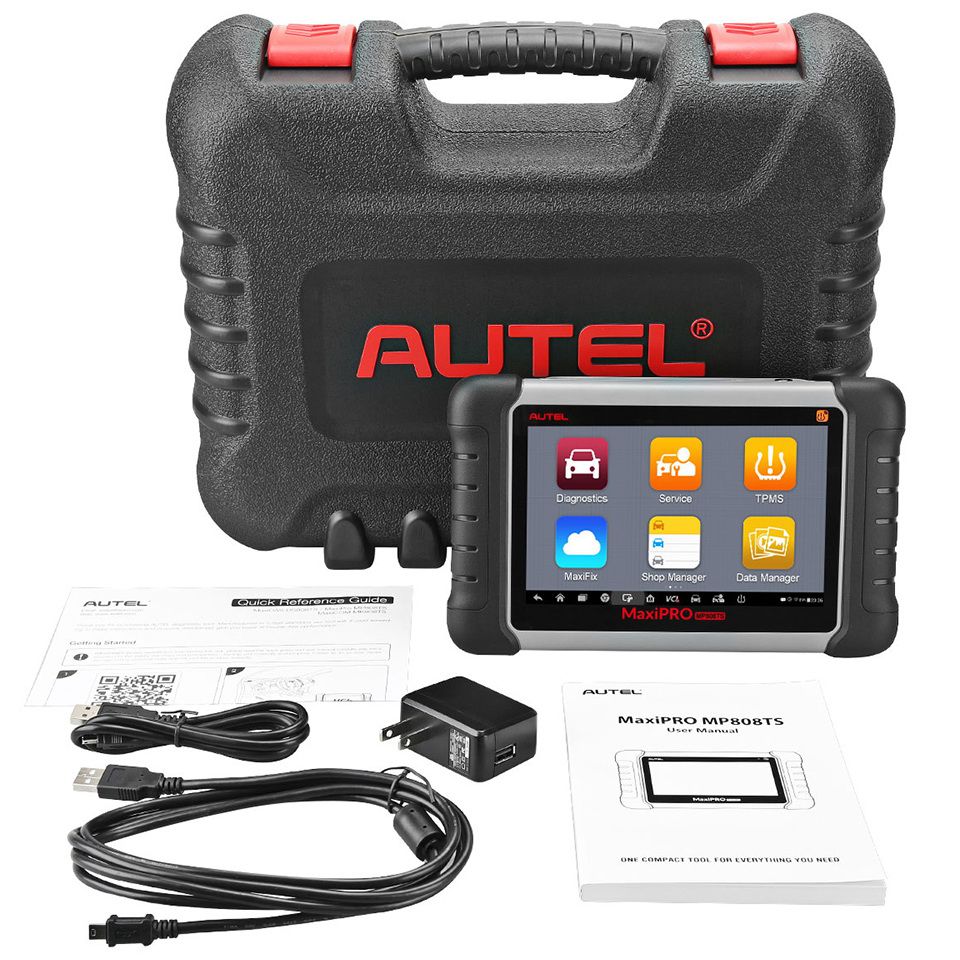 Related Accessories/Similar Items
Description
Autel MaxiPRO MP808TS Automotive Diagnostic Scanner with TPMS Service Function and Wireless Bluetooth (Prime Version of Maxisys MS906TS)
All Systems Diagnoses of this Diagnostic Tool
By establishing a data link to the electronic control units (ECUs) of the vehicle being serviced directly, MP808TS can access the ECU for various vehicle systems, such as Engine, Transmission, ABS, Body, Chassis and more, together with smart technology to facilitate your diagnoses.

1. Auto VIN scan function enables instant vehicle make, model and year identification in just one touch
2. Retrieves module information from Body, Chassis, Powertrain, Information & Communication of vehicles
3. Supports to read&erase codes, display freeze frame and live data, perform active tests and Adaptations
4. Supports four-mode live data processing for your convenience –viewing, printing, storing, and playback
5. Full-screen waveform graphing analysis of up to three system parameters with trigger-type recording modes
Complete TPMS Services of this Diagnostic Tool

MP808TS, same as other tpms tool, provides comprehensive TPMS services for technicians to quickly solve TPMS related problems, which can be divided into 5 parts:
1. Check by embedded antennae activating 98% of all known TPMS sensorsto view data
2. Diagnoses TPMS ECU for complete health check with specific DTC definitions
3. Programsnew MX-Sensor to replace OEM sensors by 4 methods
Copy by Activation – Program the sensor ID retrieved from activated sensor
Copy by OBD – Program the sensor ID retrieved from TPMS ECU
Copy by Input – Manually input the original sensor ID for programming
Auto Create – Create a random ID to program MX-Sensor
4. Perform
OBDII
Relearn by writing sensor IDs into ECU for sensor recognition; Displays manufacturer-specific TPMS Relearn procedures.
5. TPMS by OEM Part No- this ideal method allows you to program up to 20 sensors at the same time.
MaxiPRO MP808TS Features:Professional Repair Solutions
MP808TS offers quick access to the vehicle systems for various maintenance tasks like Oil reset, SAS calibration,
IMMO
Keys,
ABS
Bleeding and services of EPB, BMS, and DPF etc. Enter correct values or data, perform necessary actions, to complete selected service operations.
Bluetooth Maxi-VCI Mini
Latest compact size wireless
Bluetooth
MaxiVCI Mini OBDII Connector, transmits vehicle data to the tablet without a physical connection, giving mechanics greater service mobility and easier TPMS sensor interaction while the tablet is still OBDII connected to the vehicle for data transmission.
Superior User-Friendly Designs
7-inch Full HD screen– easy view
7-hour battery life – anytime use
Quad-core processor – fluent operation
One-stop multitasking –time saving
MaxiFix online community– tips sharing
Instant tech support–quick solutions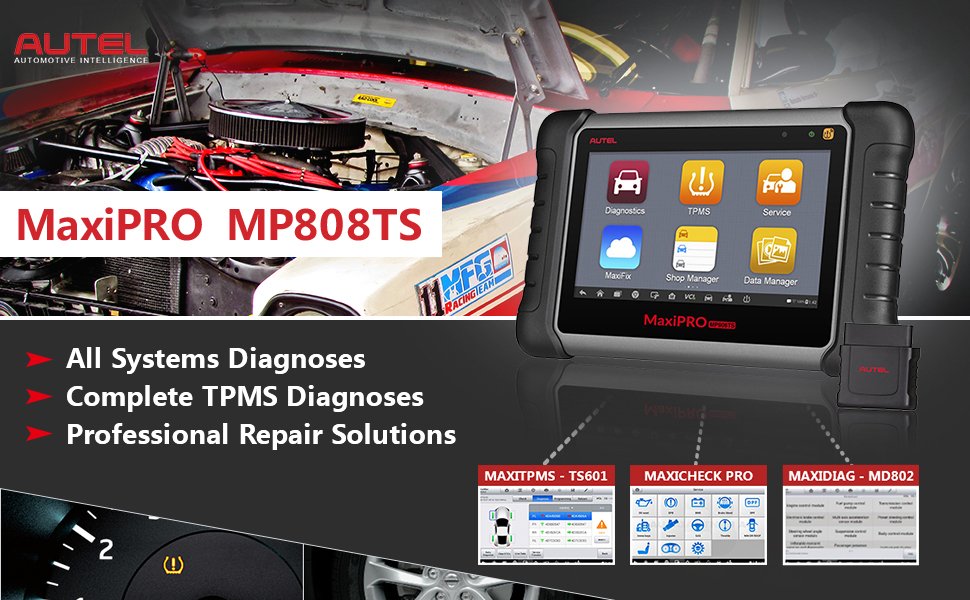 MaxiPRO MP808TS Specifications:
Recommended Use
Indoor
Operating System
AndroidTM 4.4.2, KitKat
Processor
Cortex-A9 quad-core processor (1.4 GHz)
Memory
32GB
Display
7-inch LCD capacitive touchscreen with 1024x600 resolution
Connectivity
 Mini USB 2.0 USB 2.0
Wi-Fi
HDMI Type A
Micro SD card slot (supports up to 32GB)
Sensors
Light sensor for brightness auto adjust
Audio input/output
Input: N/A
Output: Beep
Power and Battery
3.7 V/5000 mAh lithium-polymer battery
Charges via 5 VDC power supply
Tested Battery Life
Around 7 hours of continuous use
Battery Charging Input
5 V/1.5 A
Power Consumption
600 mA (LCD on with default brightness, Wi-Fi on) @3.7 V
Operating Temp.
0 to 55°C(32 to 131°F)
Storage Temp.
-20 to 60°C (-4 to 140°F)
Operating Humidity
5% - 95% non-condensing
Dimensions (W x H x D)
270.8 mm (10.0") x 176.0 mm (6.9") x 36.0 mm (1.4")
Net Weight
885 g (2.31 lb.)
Protocols
ISO9141-2, ISO14230-2,ISO15765, K/L-Line, Flashing Code, SAE-J1850 VPW, SAE-J1850PWM,
ISO11898 (Highspeed, Middlespeed, Lowspeed and Singlewire CAN, fault-tolerant CAN),
SAE J2610,GM UART,UART Echo Byte Protocol, Honda Diag-H Protocol, TP2.0, TP1.6
Package includes:
1pc x USB Cable (for charging)
1pc x USB Cable (for test)
1pc x MaxiVCI Mini
1pc x USB External Power Adapter
1pc x User Manual
1pc x Quick Reference Guide
1pc x Carry case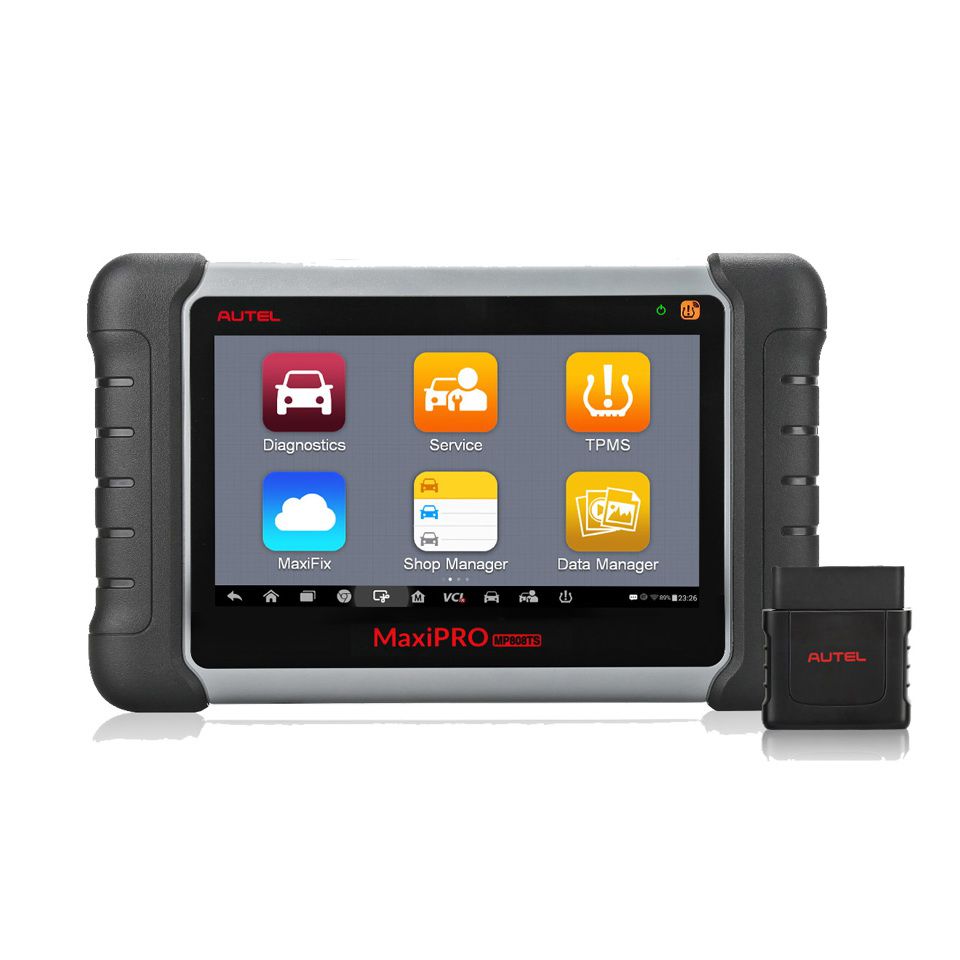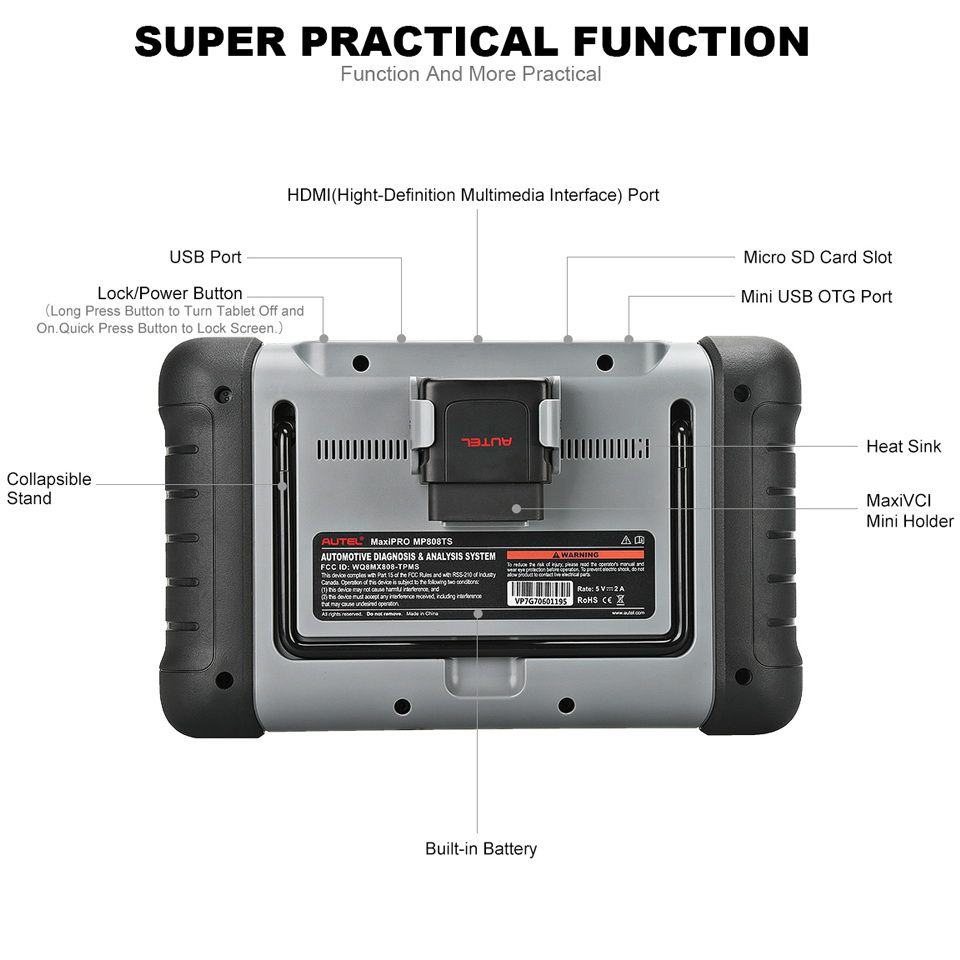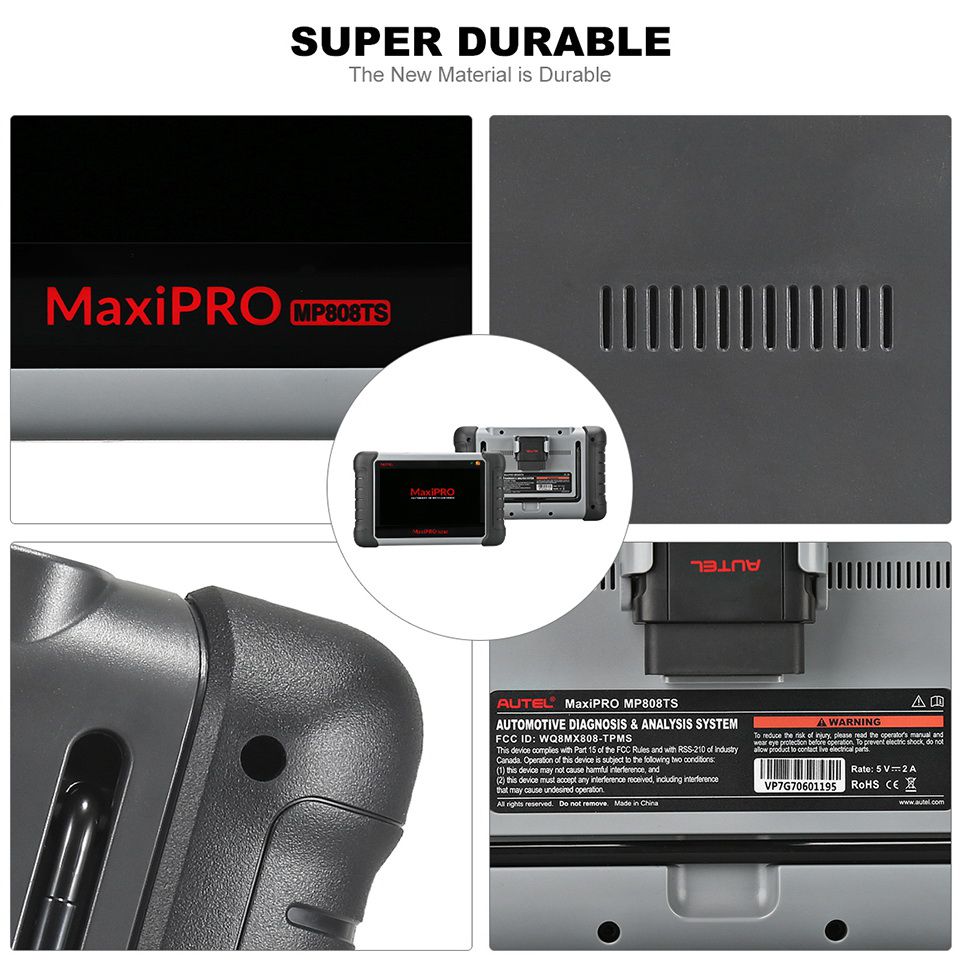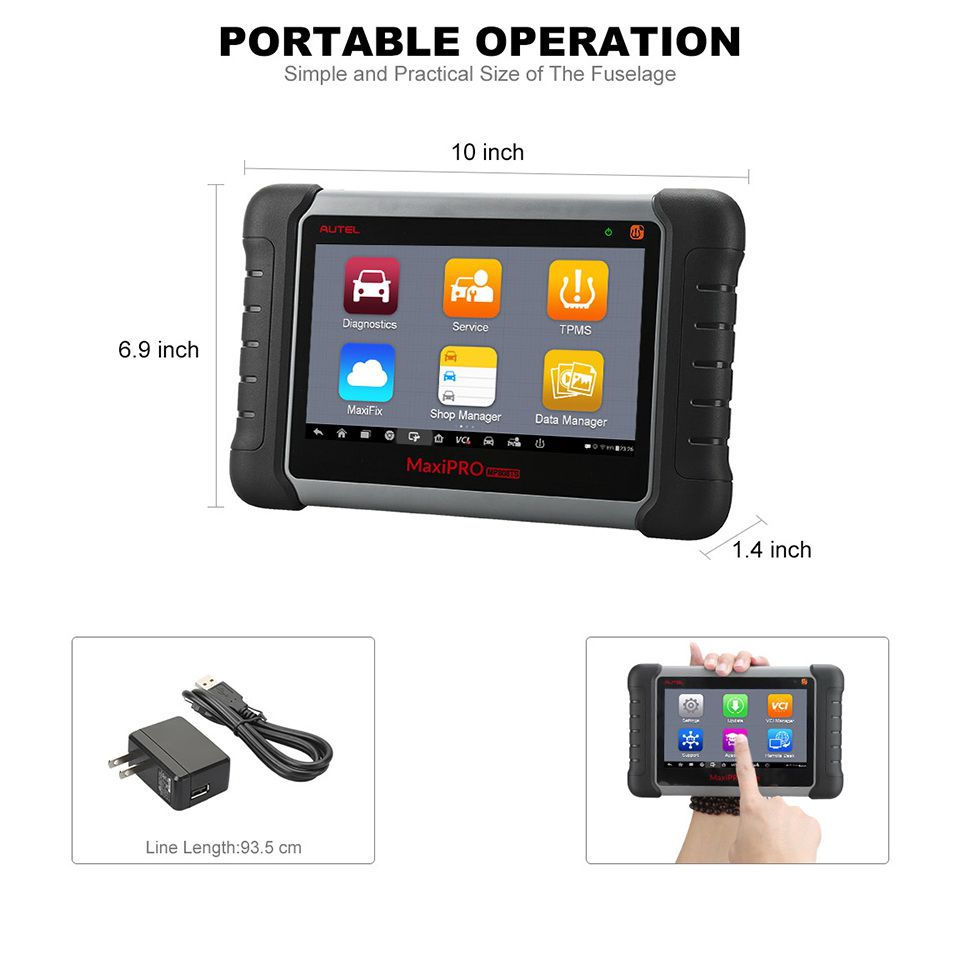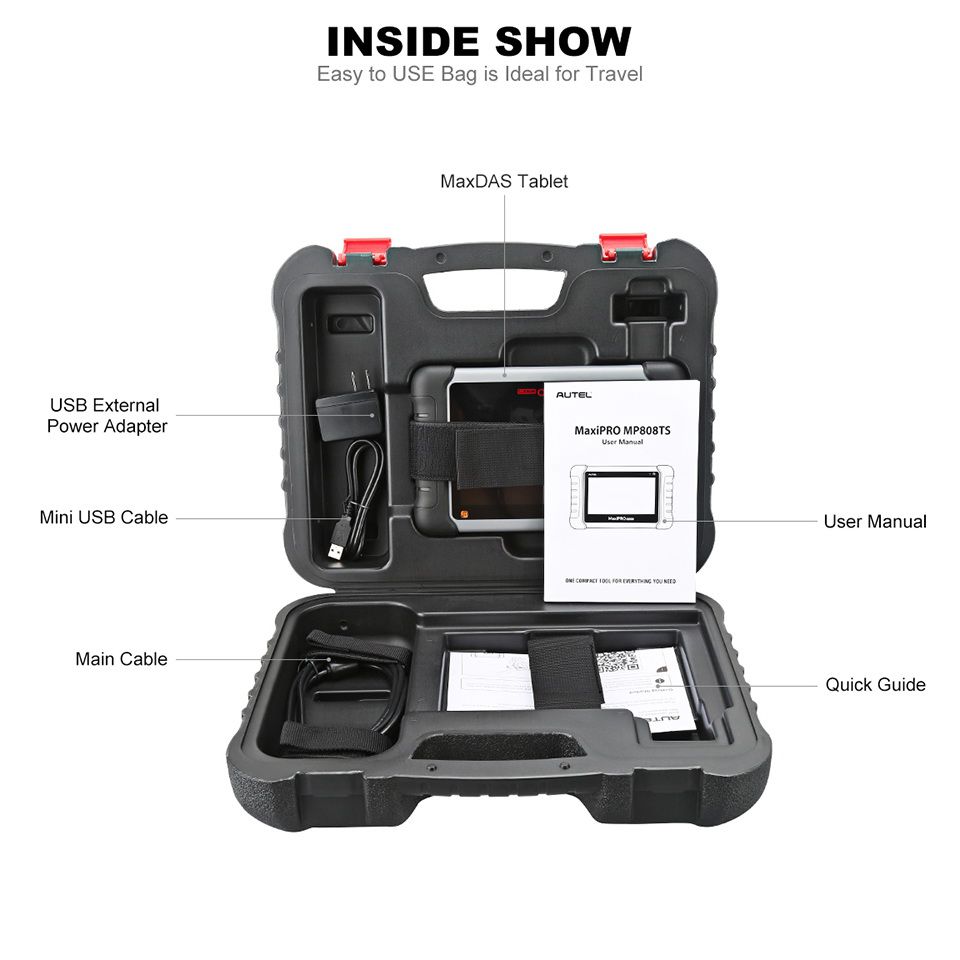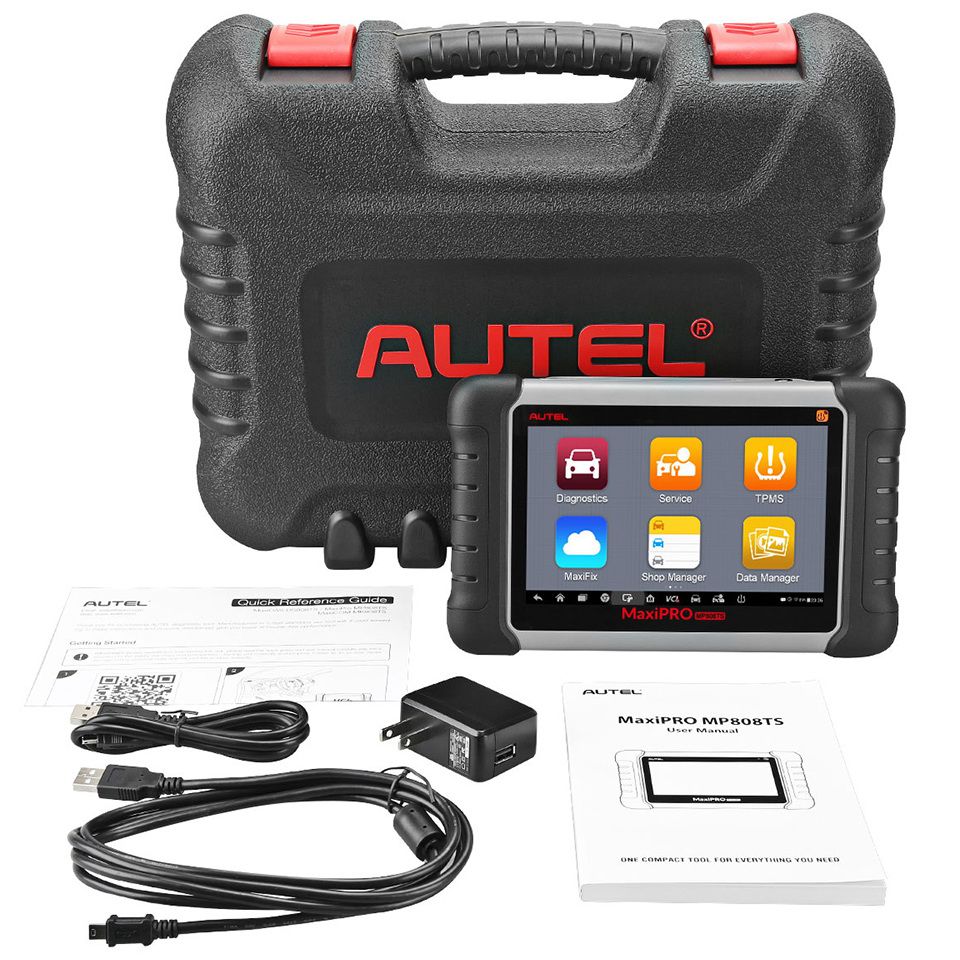 Reviews

17
#1 Stephen Bavington
Nov 9, 2018

All as in the description.
#1 Virginio Rodrigo Santos
Jan 9, 2019

very good are satisfied with fast shipping
#1 carlos oliveira
Jan 9, 2019

Super fast, tried on my car works perfect. Great seller.
#1 saoleosenyalo saoleosenyalo
Jul 9, 2018

Everything's okay.
#1 Pedro Ayudant
Feb 9, 2019

Everything ok again
#1 Fatima EL BAROUDI
Dec 9, 2018

Super fast! Works
#1 Mark Lemay
Nov 9, 2018

tools work perfect. this Autel MaxiPRO MP808TS Automotive Diagnostic Scanner with TPMS Service Function and Wireless Bluetooth (Prime Version of Maxisys MS906TS) is good quality, working very well
#1 breaccurn breaccurn
Feb 9, 2019

Super fast delivery to rostov in 6 days. Checked everything works. I recommend.
#1 James Thompson
Mar 9, 2019

Okay.
#1 Joshua Bonilla
Sep 9, 2018

Everything's okay.
Previous: ALBABKC AC619 Auto Fault Detection Clear the Instrument Diagnostic Scan Tool