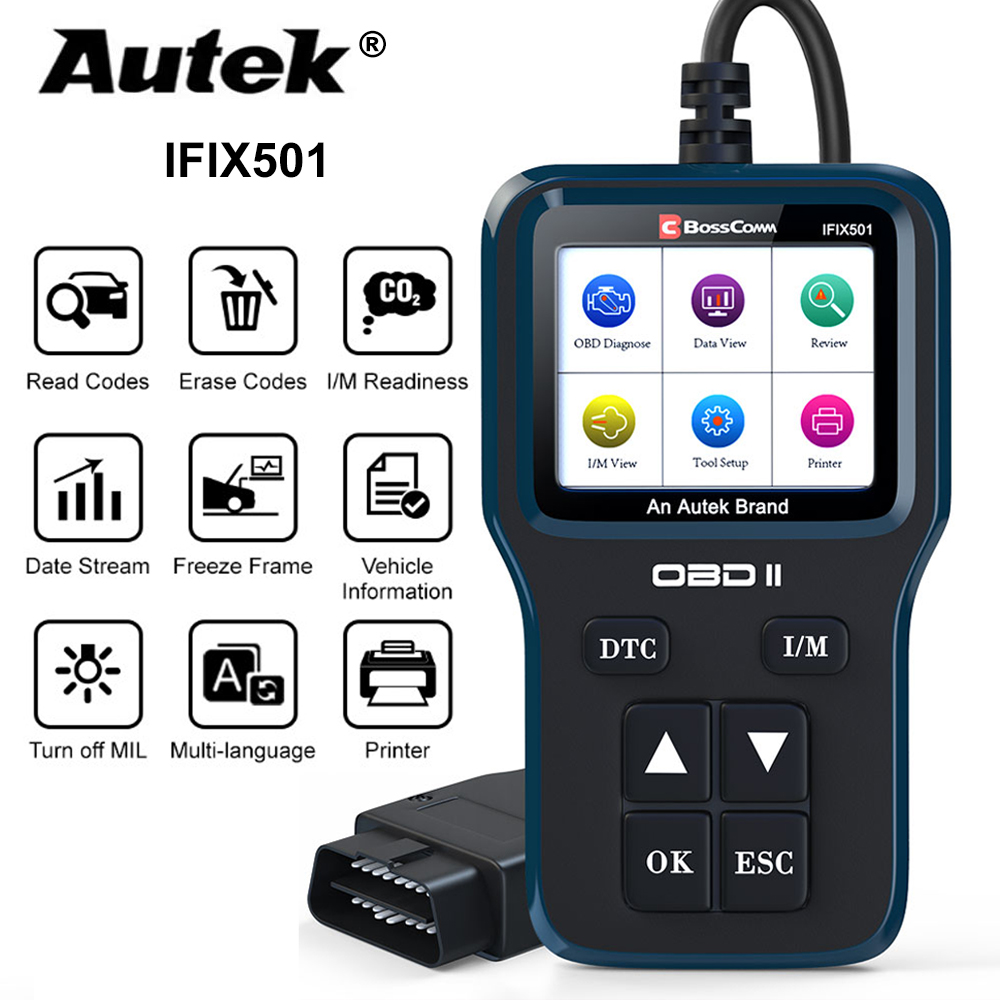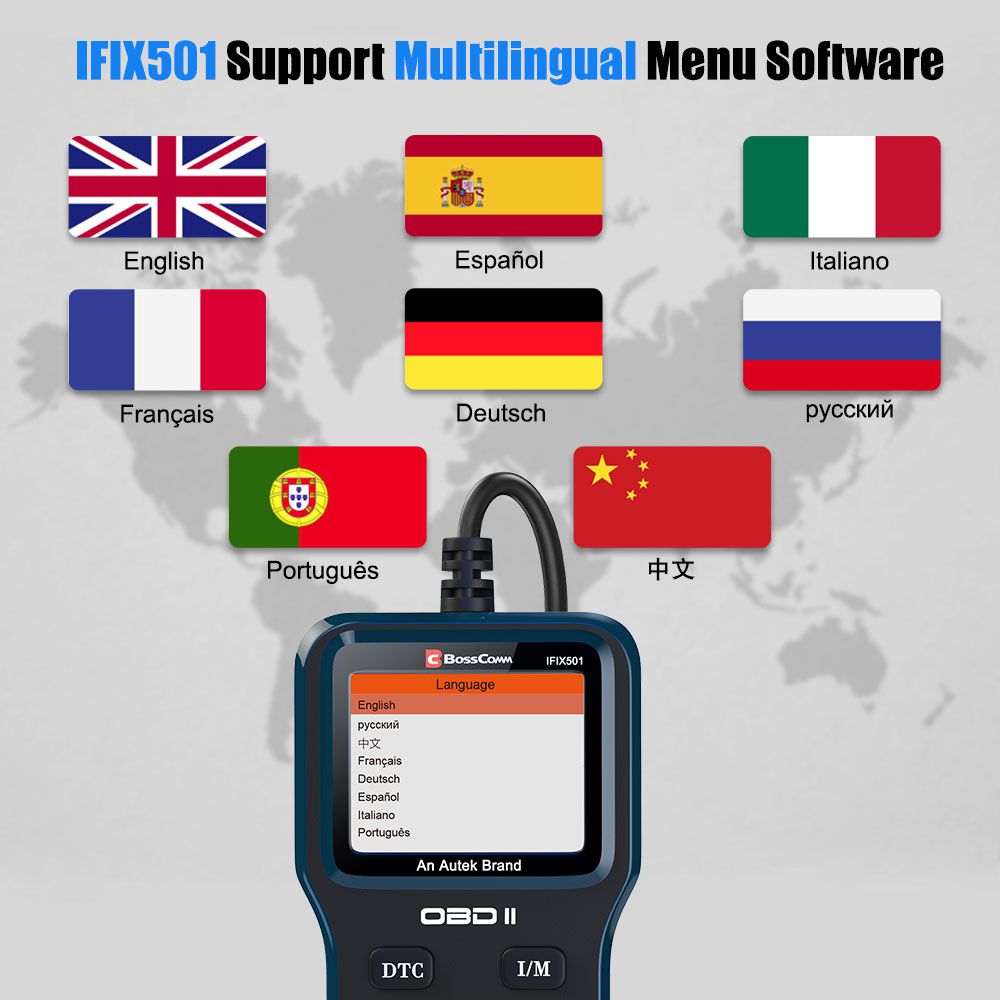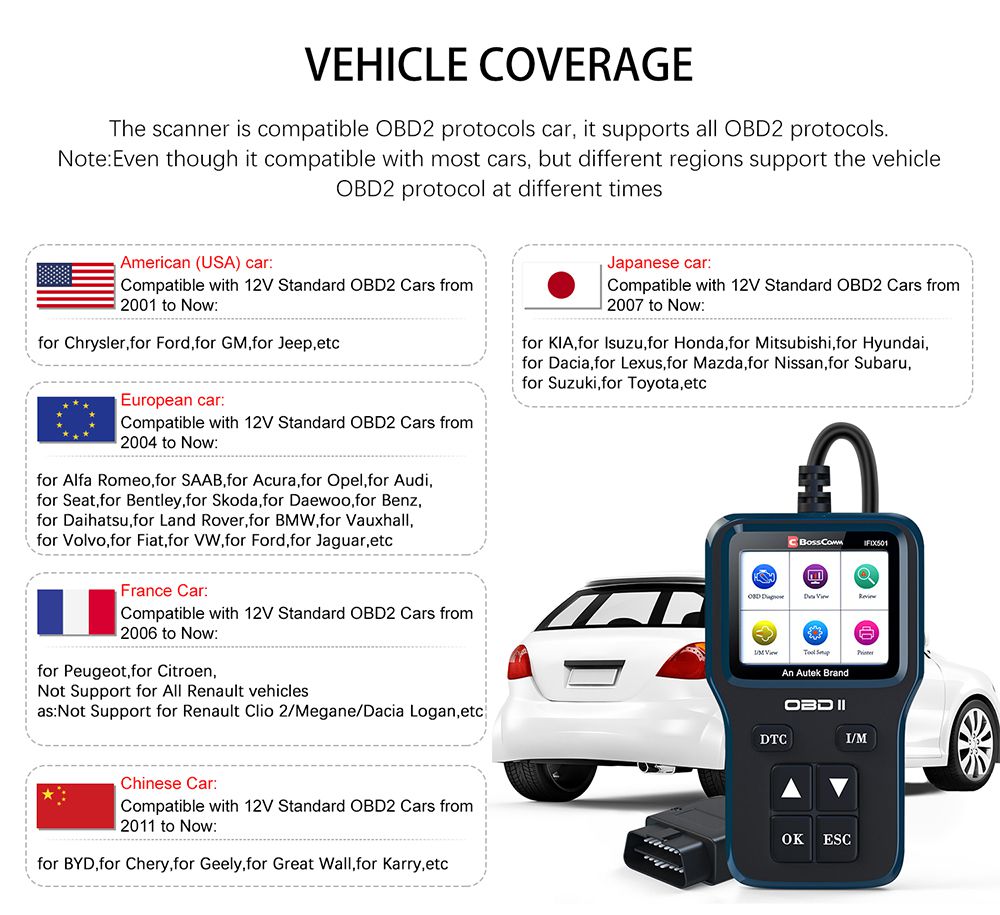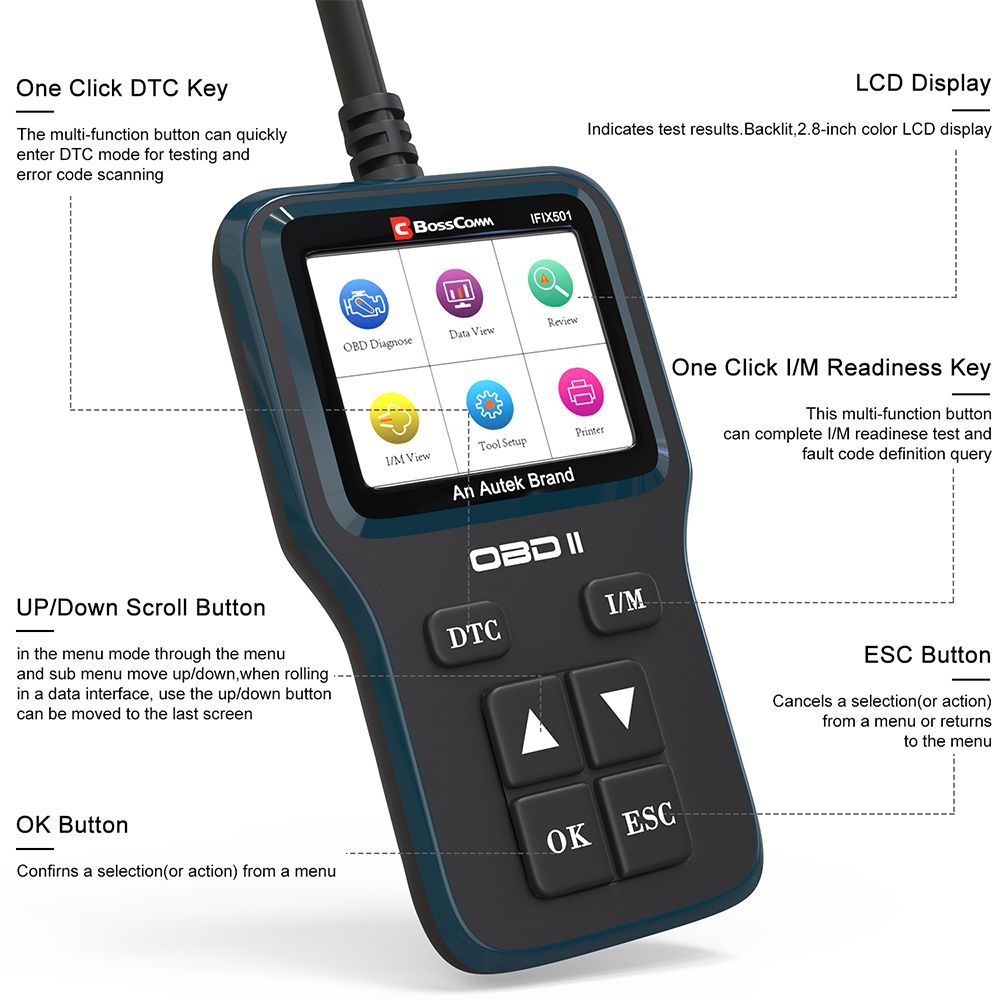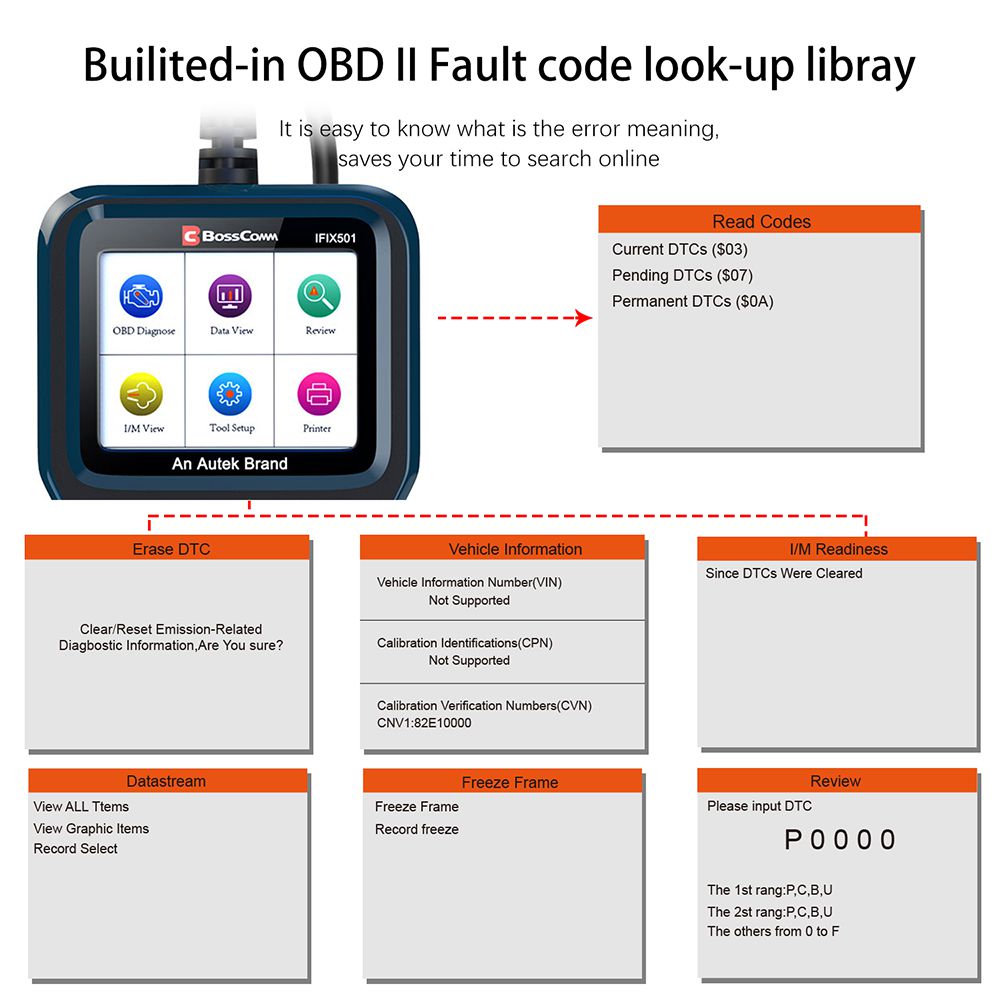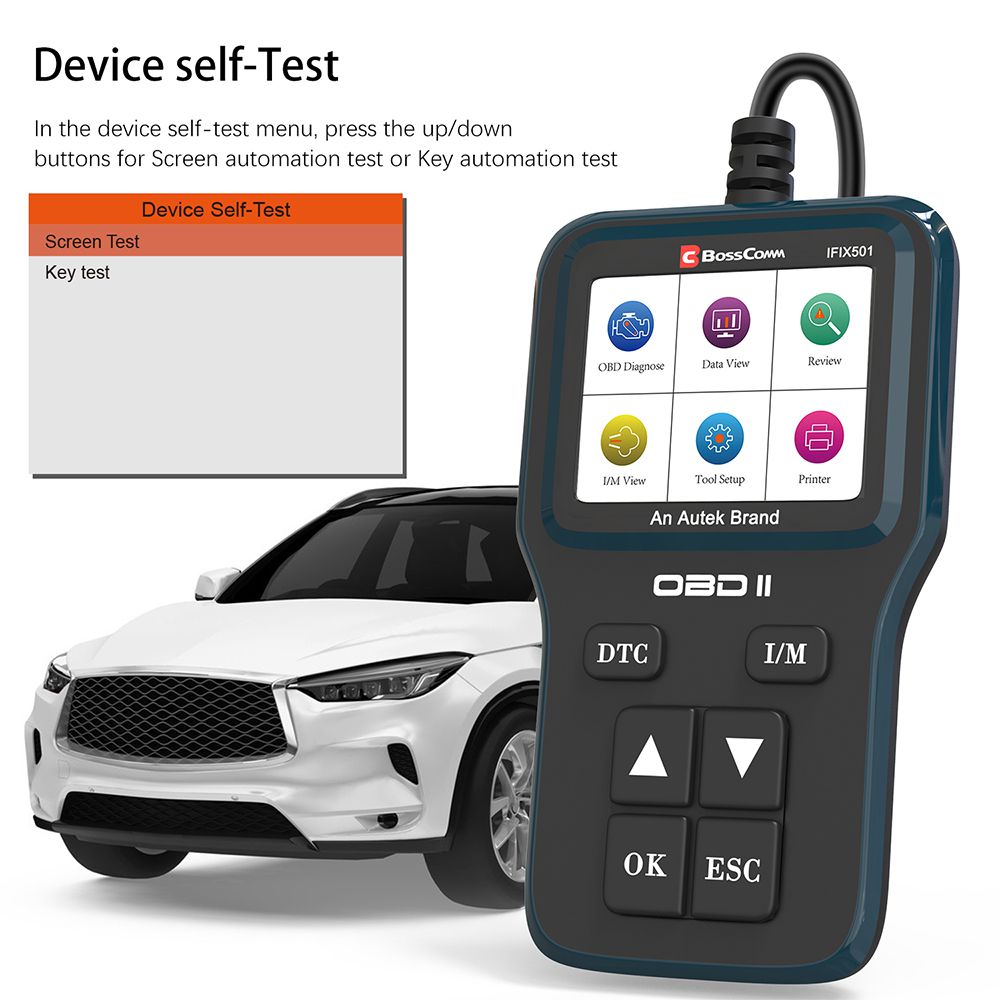 Description
Autek IFIX501 OBD2 Automotive Scanner Professional Code Reader engine Analyzer Diagnostics Car Tools OBD 2 Car Diagnostic Tool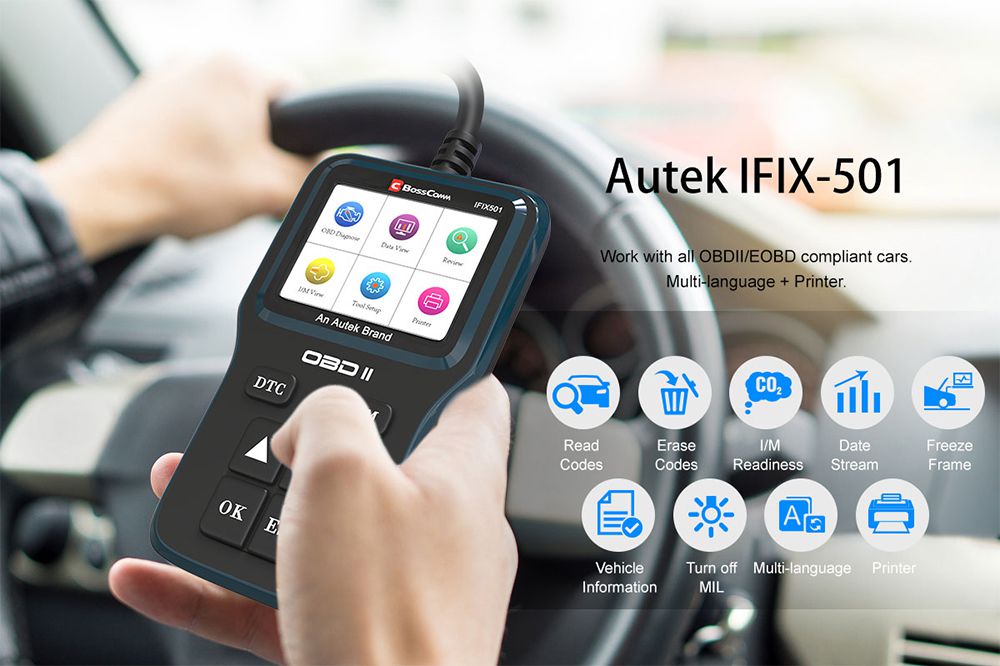 Main Functions
•Diagnose and clear car fault codes
•Data waveform display,real-time data stream
•1/M emission detection data;
•2.8-inch color LCD display
•High reliability,wide supply voltage range of 8~36V,
with stronger overcurrent and overvoltage rotection
The
engine
's round per minute(RPM)
•Computed load value
•Cooling fluid temperature
•8 languages
•Data Print
•Data Playback
•The state of the fuel system
•Speed of the vehicle
•Short-term fuel situation
•Long-term fuel situation
•Pressure of intake manifold
•Time ahead of oil injection
•Intake temperature
•Air velocity
•
ABS
olute position of throttle valve
•Oxygen detection voltage assc
•with short-term fuel state
•The state of the fuel system
•Fuel pressure
•Monitoring of fuel consumption,etc
Autek Bosscomm IFIX501
OBD2
Scanner Functions
1. I / M Readiness technology for quick viewing of system monitors
Read I / M readiness for a quick view of the system status monitors in order for the vehicle to check the status of emissions compliance
2. Erase codes
Transparent detected fault codes and turn off check
engine
light effectively
3. Reading the error code
Read extensive current until and permanent codes in OBD 2 system quickly
4. Timing flow
Real-time graphical view of vehicle extractions computer module (s) for easy analysis
5. Freezing system
Type of vehicle movement, operating parameters at the moment DTC will be detected
6. Vehicle information
Get vehicle information VIN, sins and CVNs in full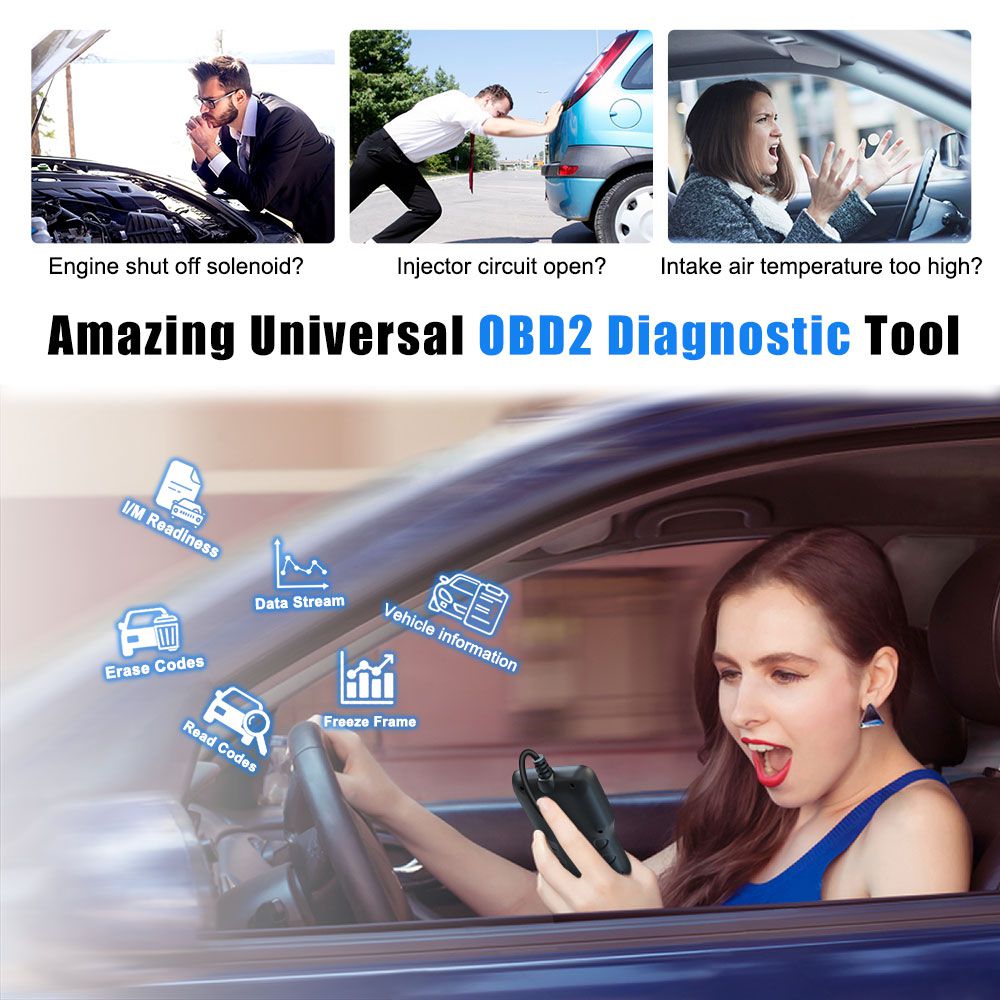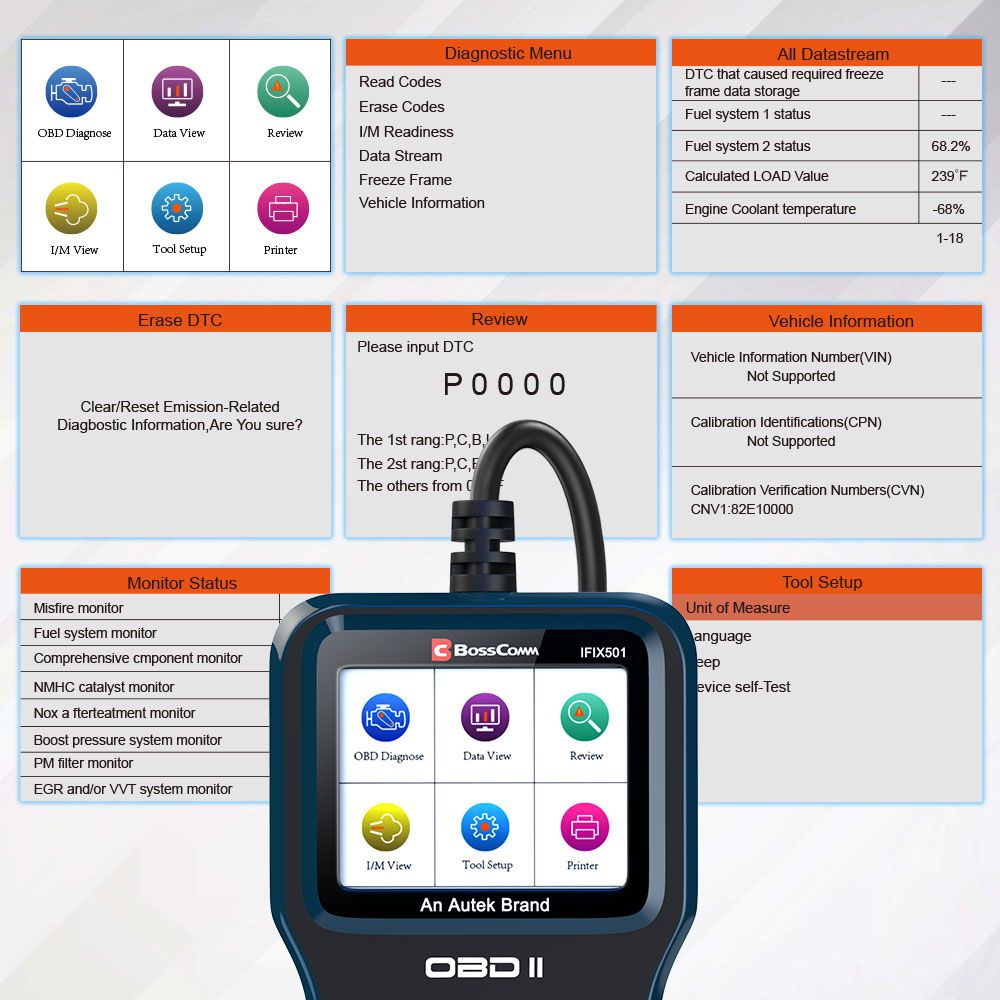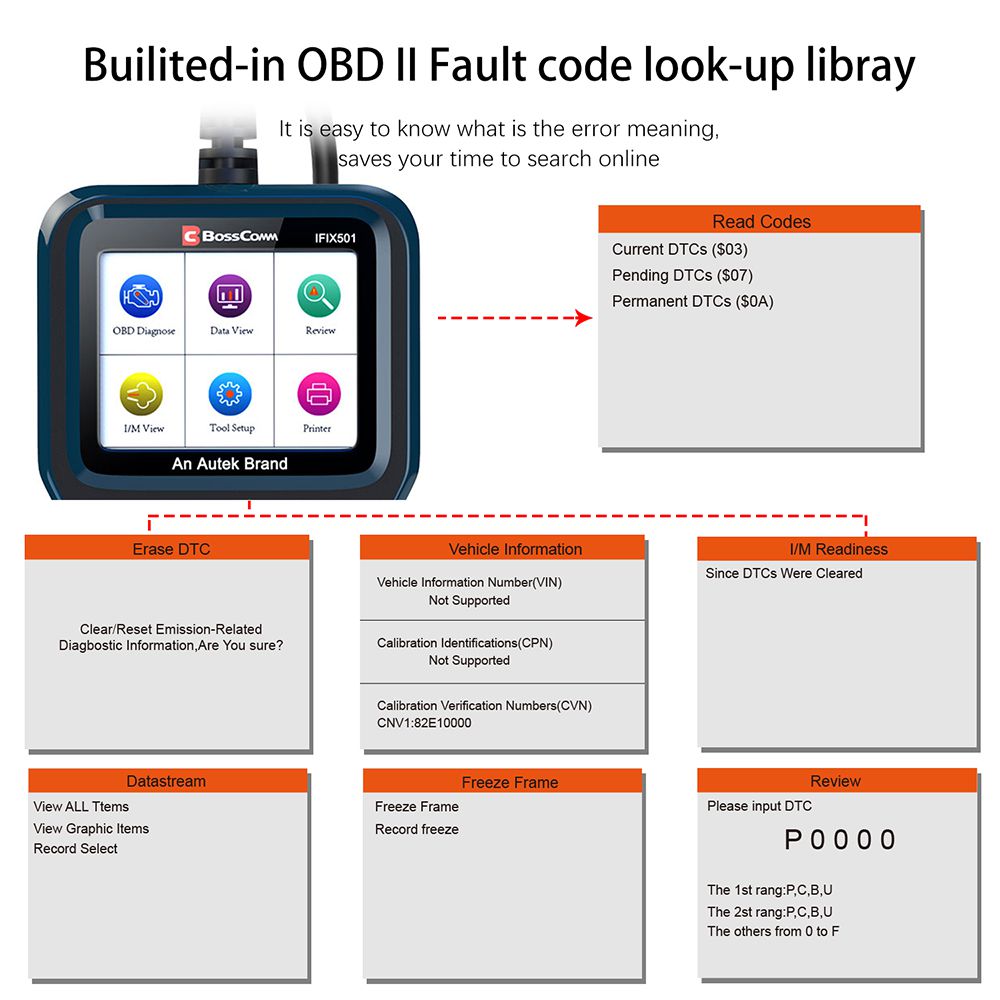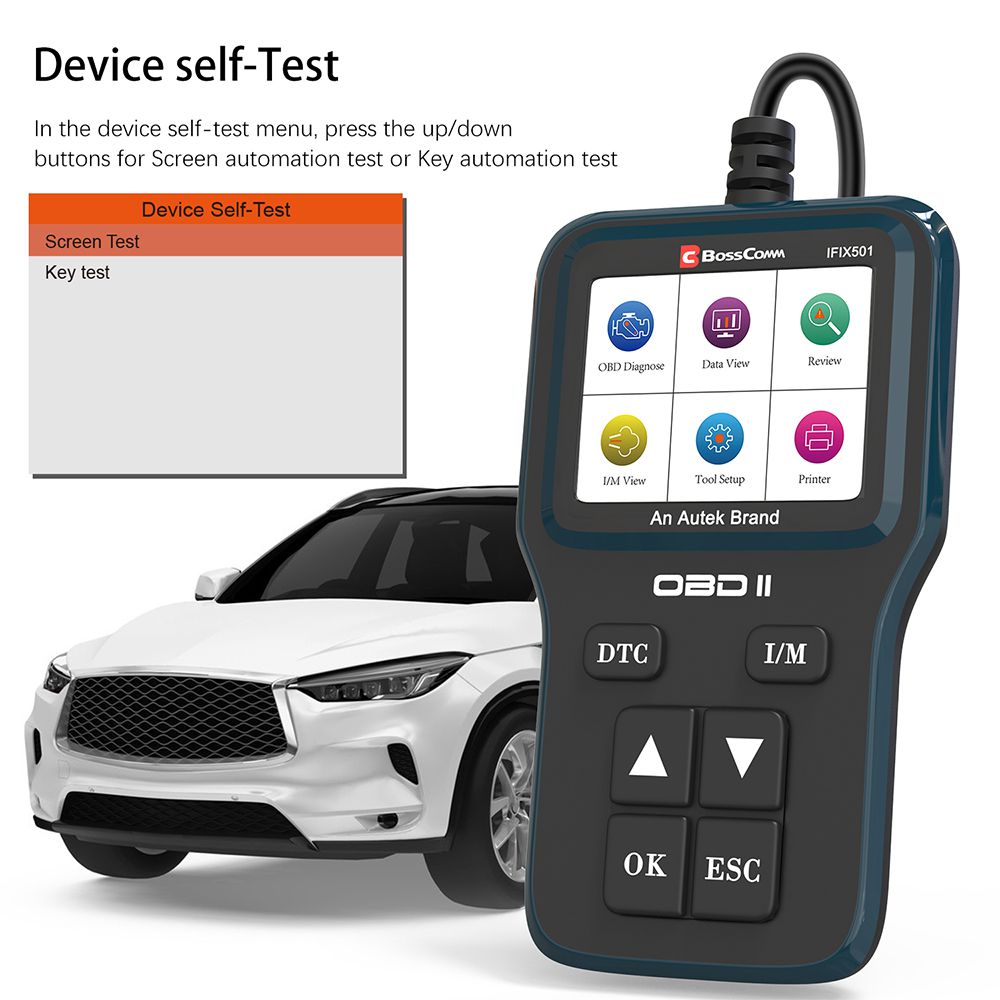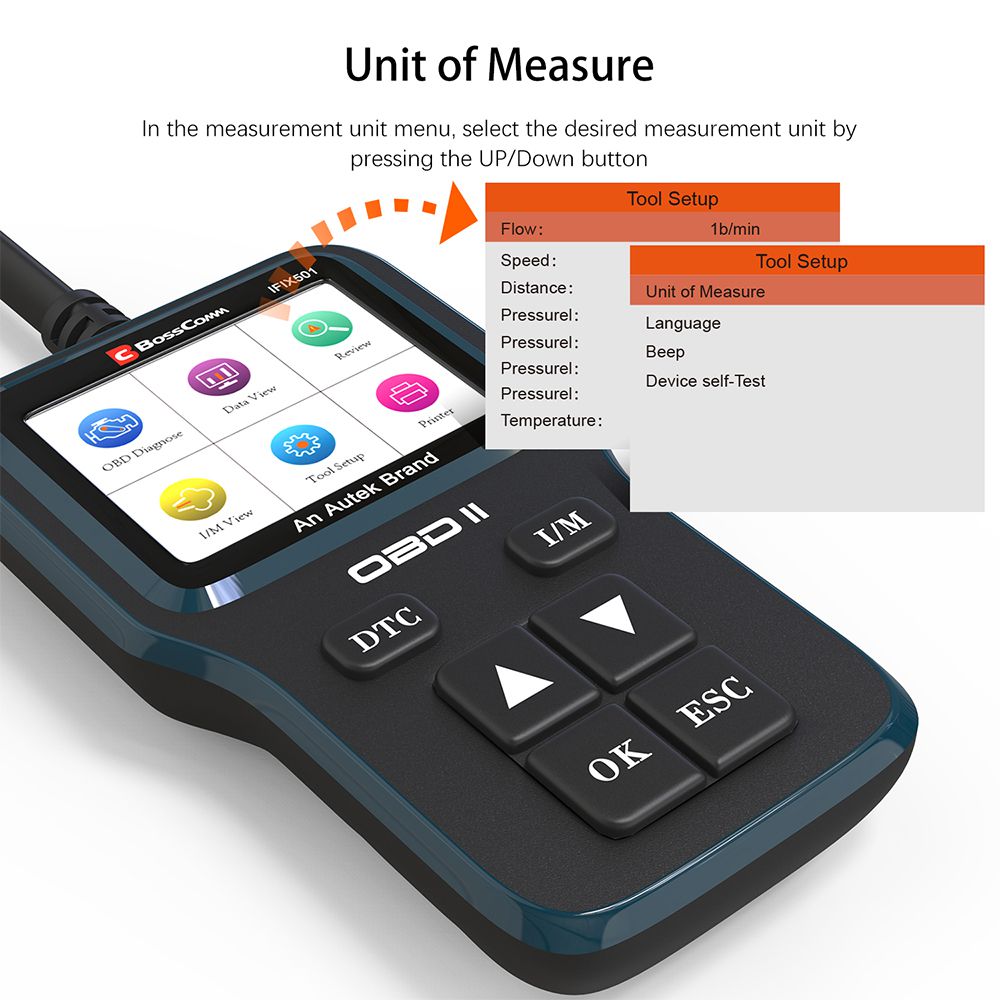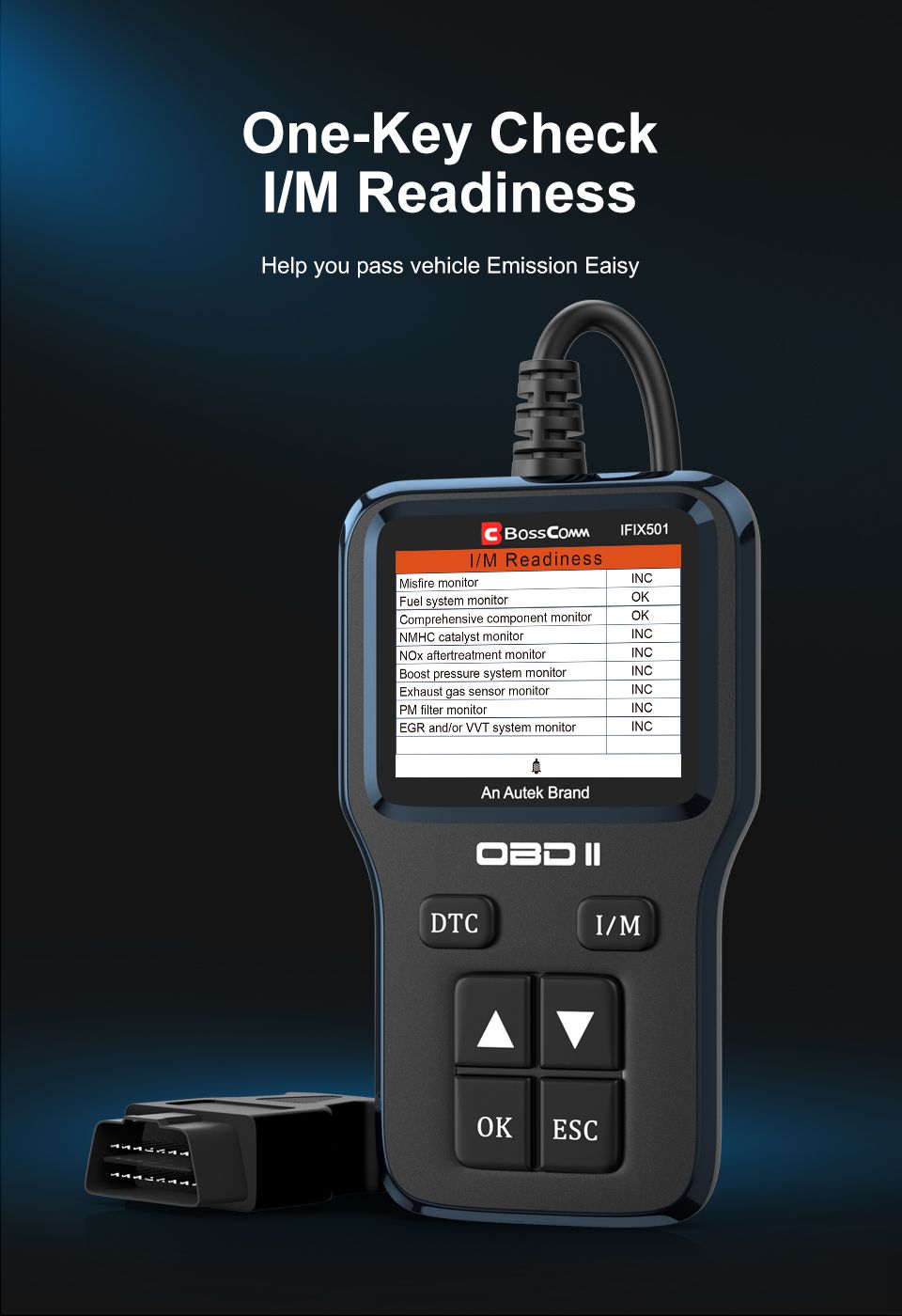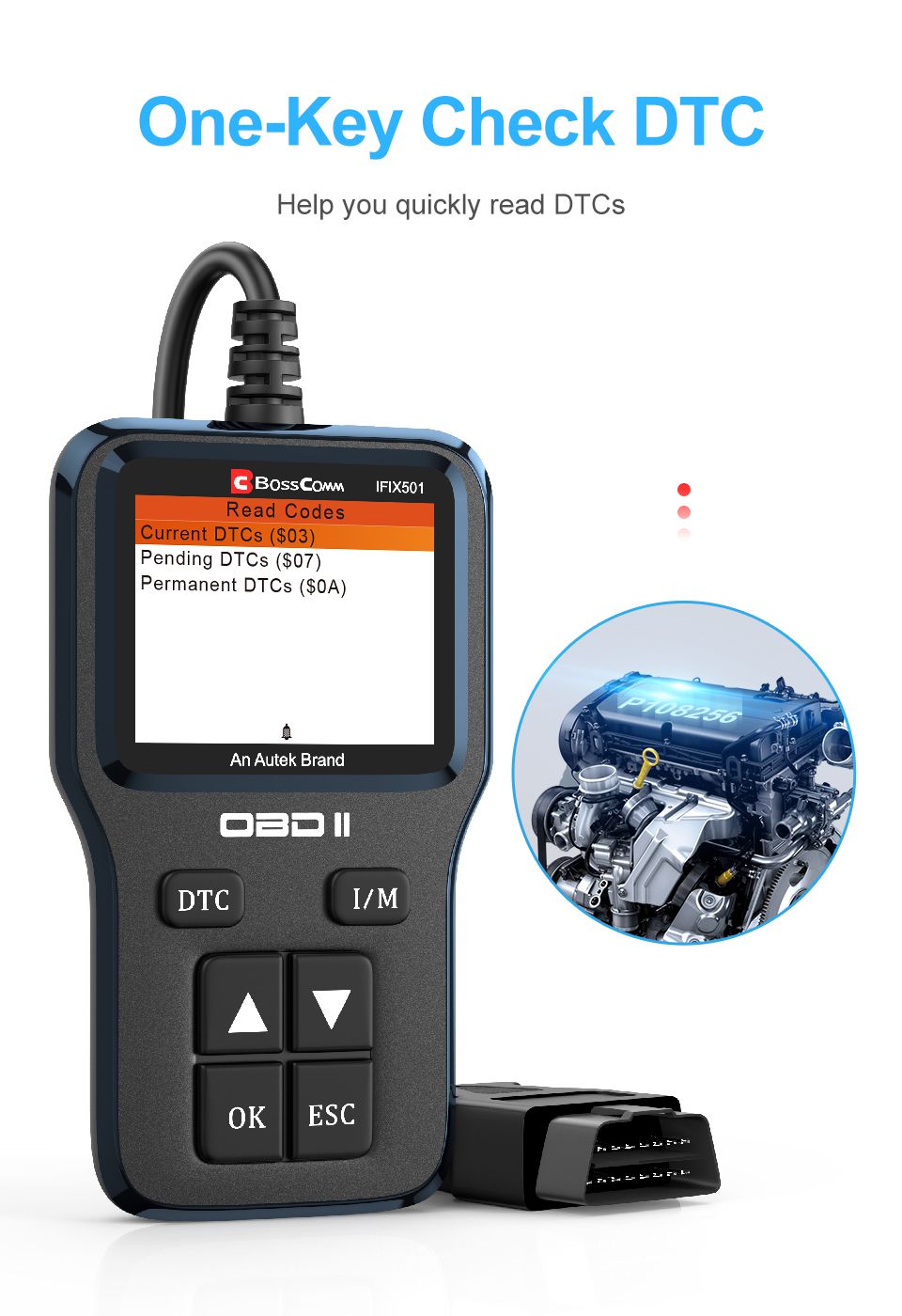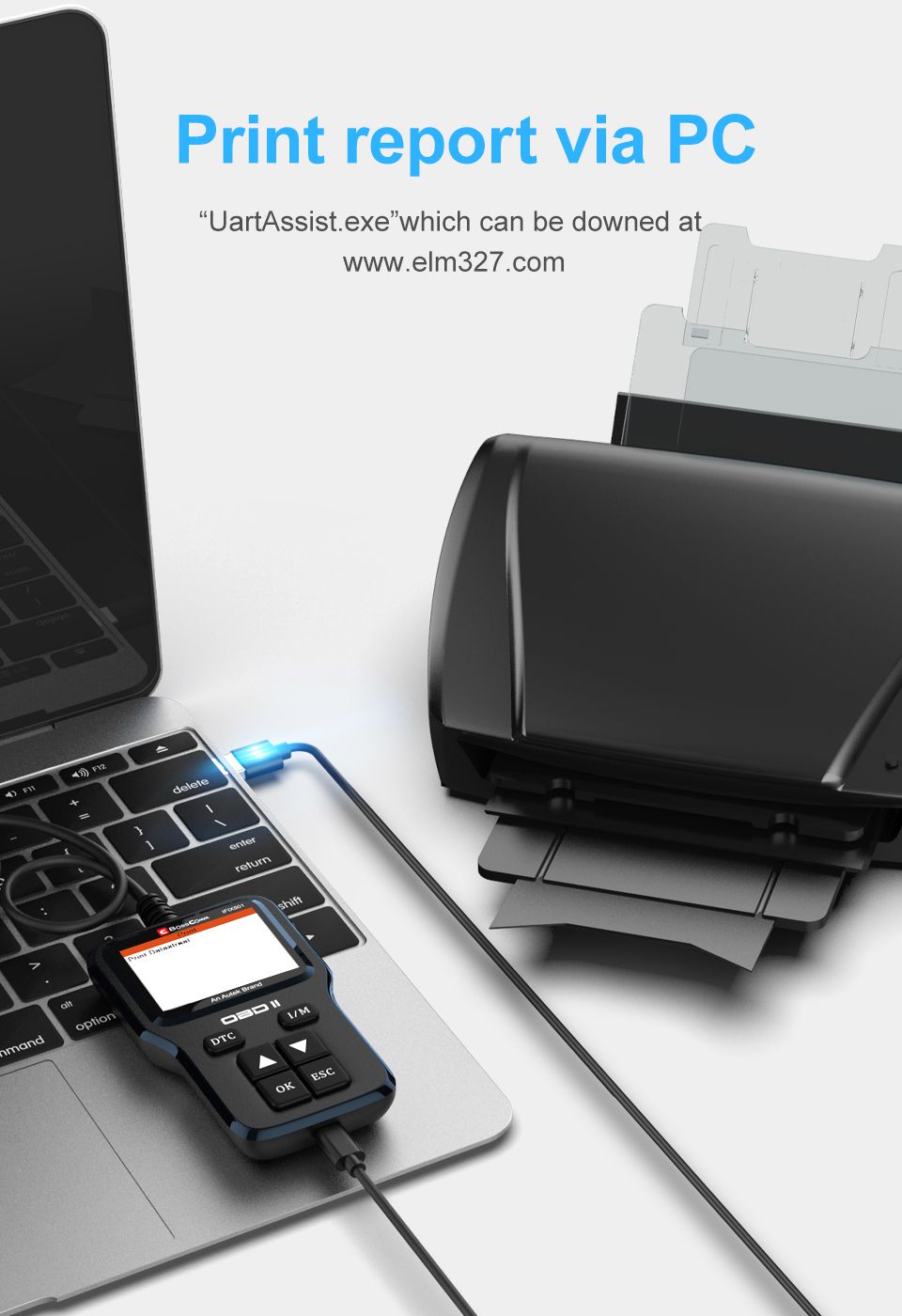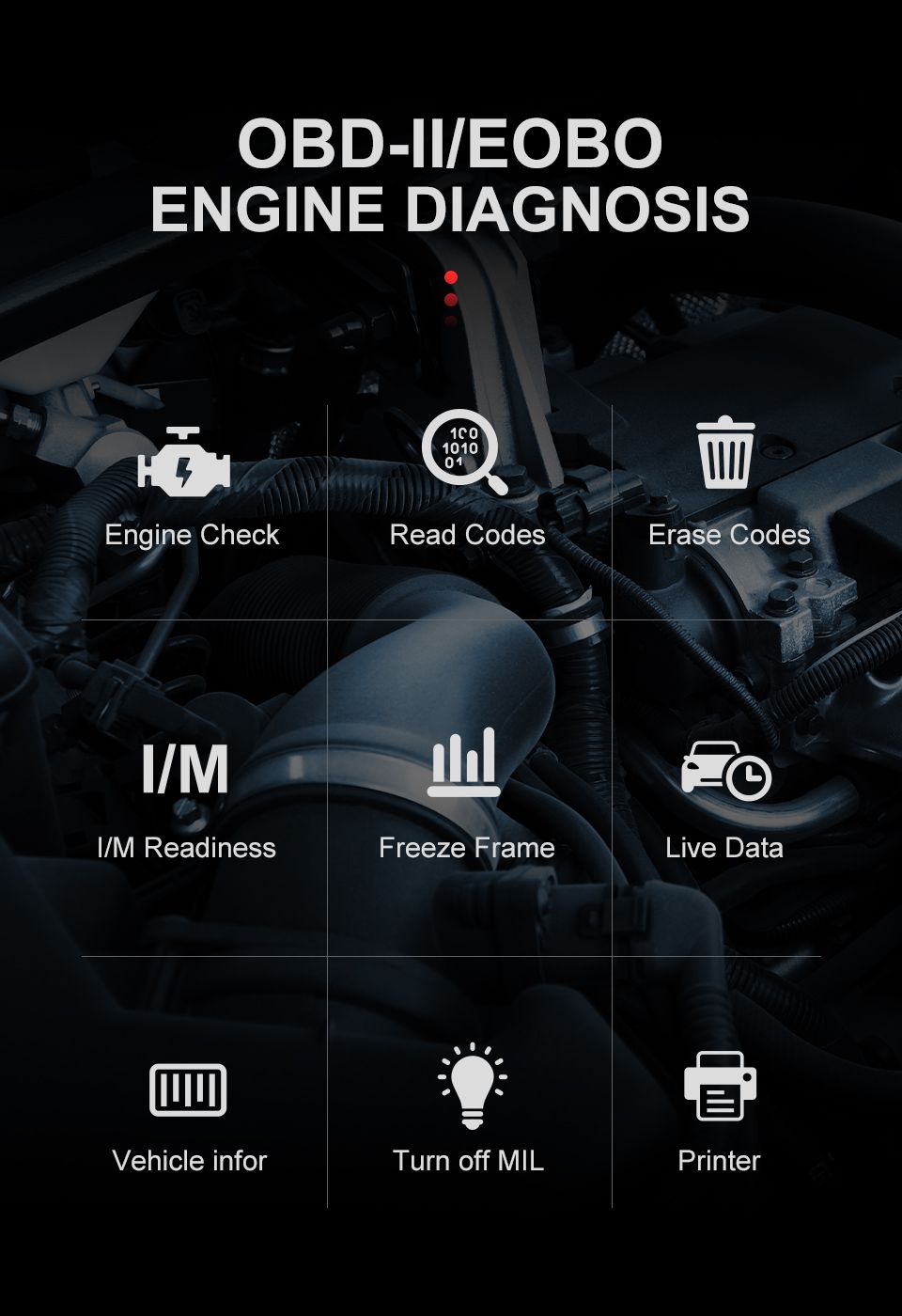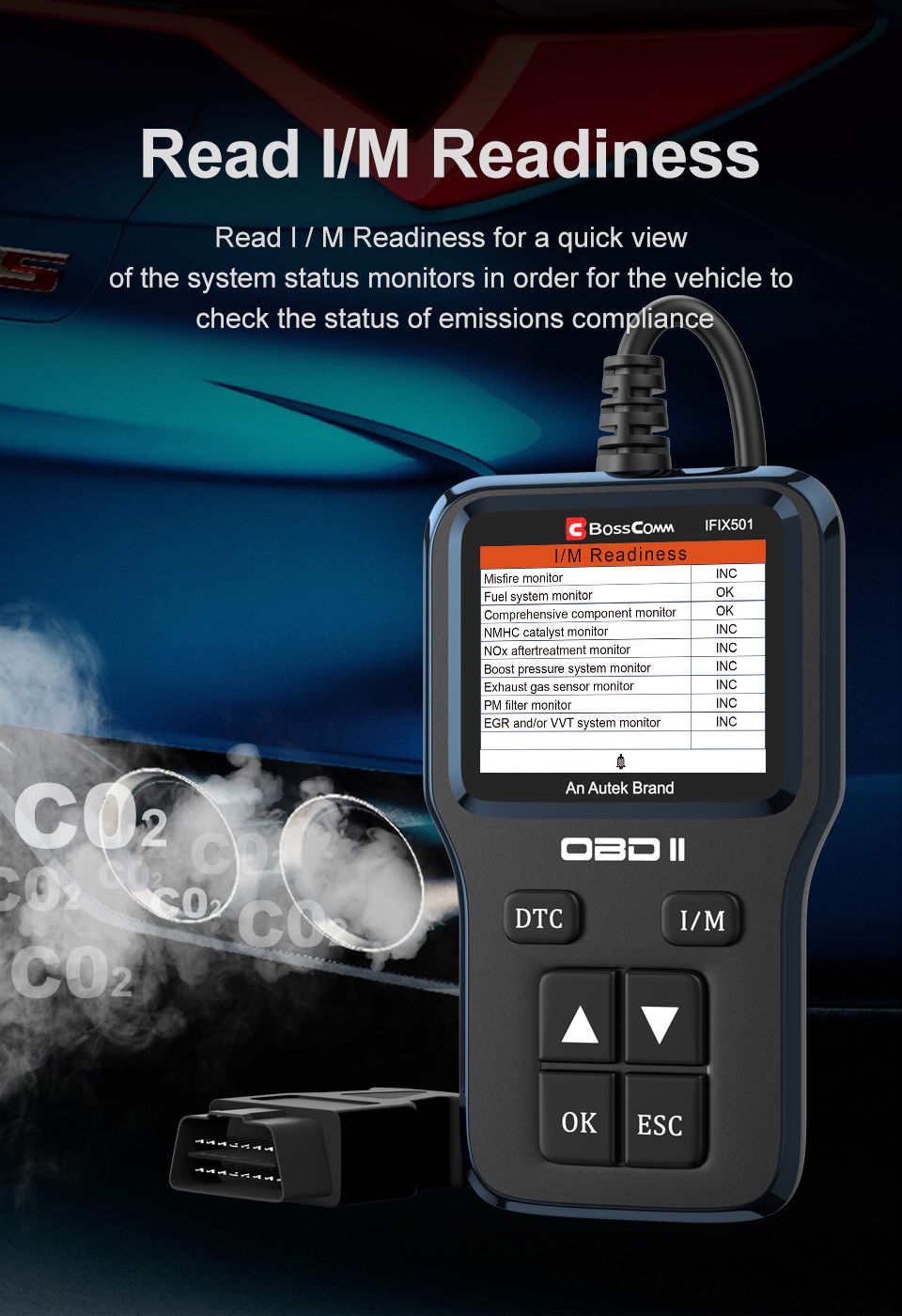 IFIX501 Support multi-language Menu Software
English;Spanish;Italian;French;German;Russian;Portuguese;Chinese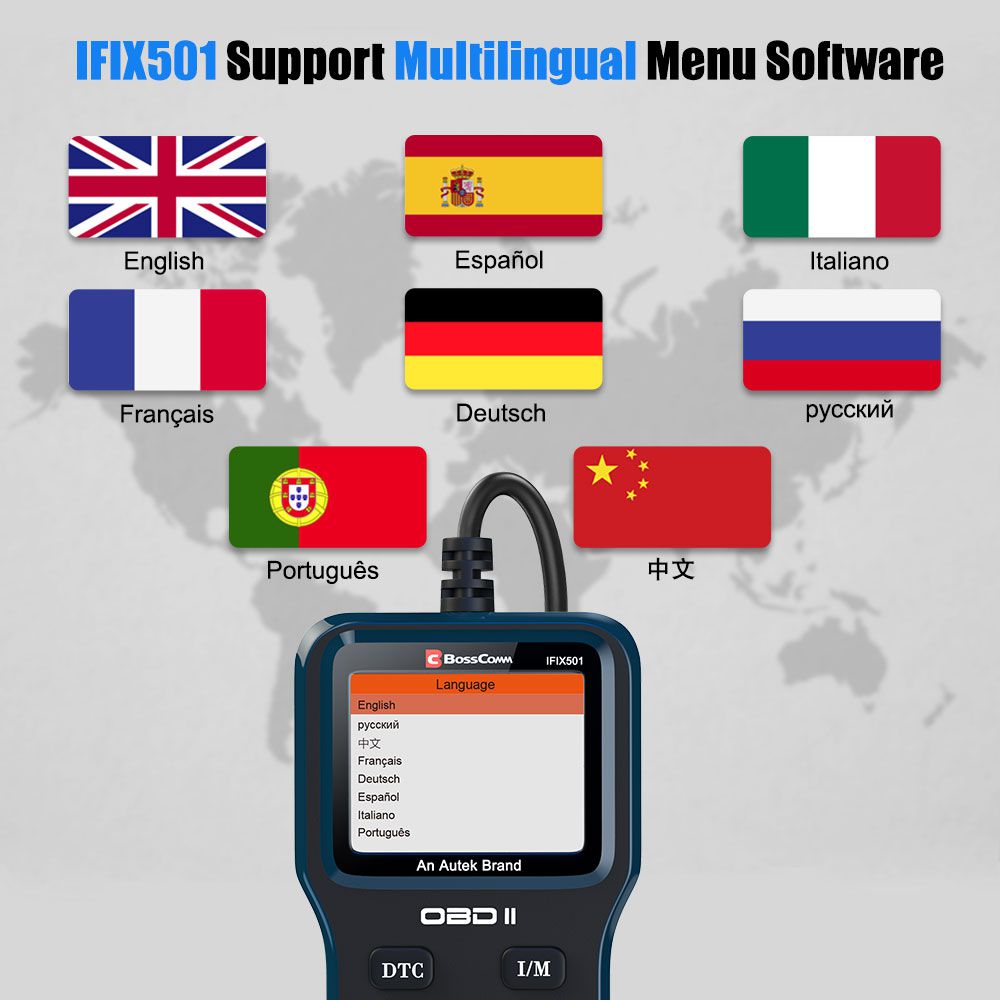 How do i know OBD2 Scanner Autek Bosscomm IFIX501 support my car or not ?
Support Protocol
ISO 9141-2 (5 baud init, 10.4 Kbaud) ISO14230-4 KWP (5 baud init, 10.4 Kbaud) ISO14230-4 KWP (fast init, 10.4 Kbaud) ISO15765-4 CAN (11bit ID, 500 Kbaud) ISO15765-4 CAN (29bit ID, 500 Kbaud) ISO15765-4 CAN (11bit ID, 250 Kbaud) ISO15765-4 CAN (29bit ID, 250 Kbaud) SAE J1850 PWM(41.6Kbaud) SAE J1850 VPW(10.4Kbaud)
American Car : from 2000 - now for Chrysler , for Ford, for GM, For Jeep , for lincoln ,for Buick ,for Cadillac ,for Chevrolet , for Dodge , for HM... European Car : from 2004 - now for BENZ ,for SMART , for SPRINTER , for BMW ,for VW ,for SKODA ,for AUDI ,for OPEL, for Lamborghini , for PORSCHE, for Maybach,for Euro Ford , for LANDROVER , for Jaguar , for ASTONMARTIN ,for Bentley , for Rolls-Royce , for ROVER , for MINI , for VAUXHALL ,for DR , for FERRARI ,for FIAT ,for Abarth ,for LANCIA ,for Alfa Romeo , for Maserati ,for BUGATTI ,for PEUGEOT ,for CITROEN ,for RENAULT , for SAAB , for VOLVO , for OPEL,for GM,for GMSA , for Dacia , for SEAT.. Japanese/Korean Car: from 2007 - now for HONDA ,for Acura ,for TOYOTA ,for SCION ,for LEXUS ,for MAZDA , for NISSAN ,for Infiniti , for JPISUZU,ISUZU , for TLISUZU for DAIHATSU , for SUZUKI , for MITSUBISHI ,for SUBARU , for SAMSUNG , for DAEWOO ,for SSANGYONG , for HYUNDAI , for KIA... Chinese Car:from 2009 to now for GREAT WALL, for HUACHEN, for GEELY, for DFHONDA, for LIFAN... Russian Car: from 2012 to now for GAZ, for VAZ ,for LADA, for IZH, for PAZ,for SeAZ ,for UAZ, for ZAZ...
NOTE:
Even though it compatible with most cars, but different regions support the vehicle OBD2 protocol at different times, or some car is special design, so it may not compatible with some cars which do not support OBD2 protocol. Especially Japanese and Korean car brand.And this device only have OBD2 Functions,don't have Special Functions,Like ABS Reset,Airbag Reset... Please Leave us message in below format, we will reply you within 8 hours. for example : xx, 2005, 2.0cc, Diesel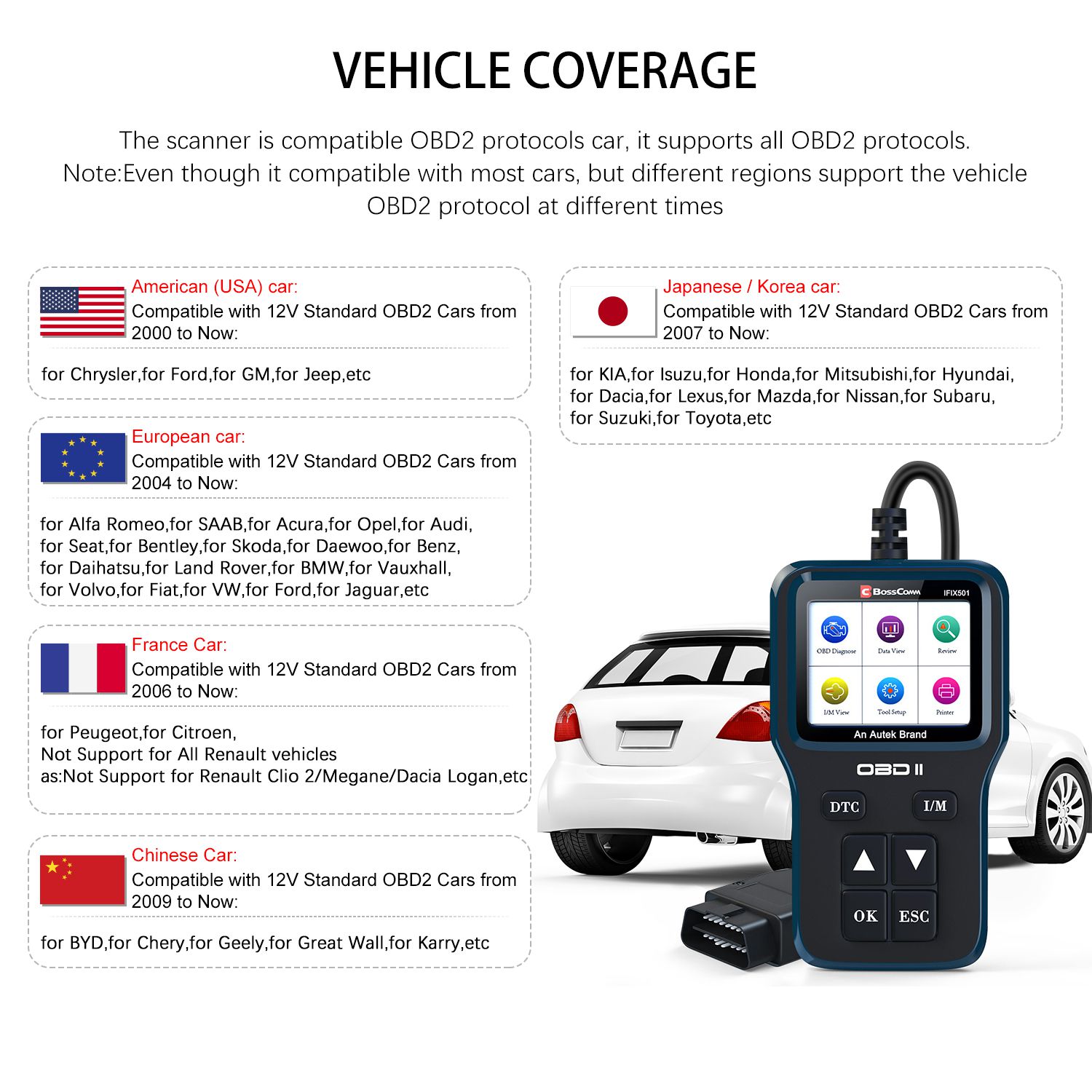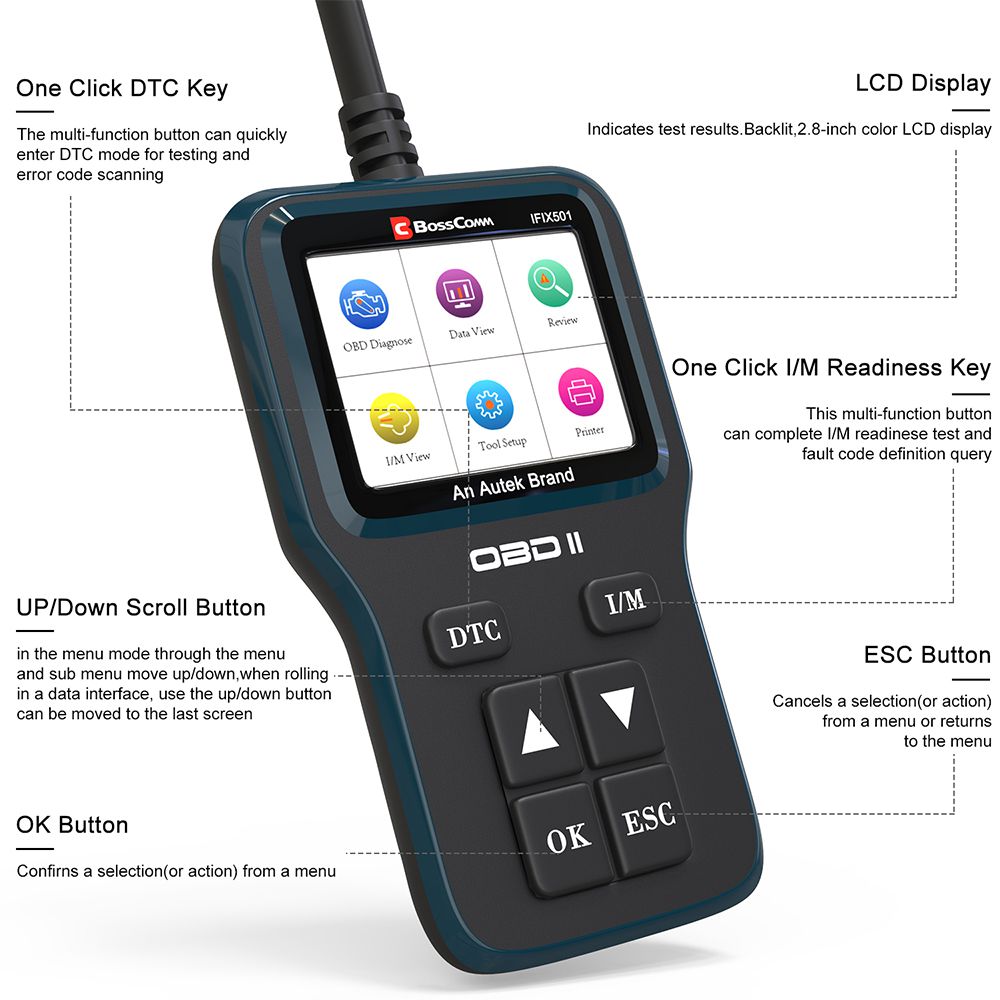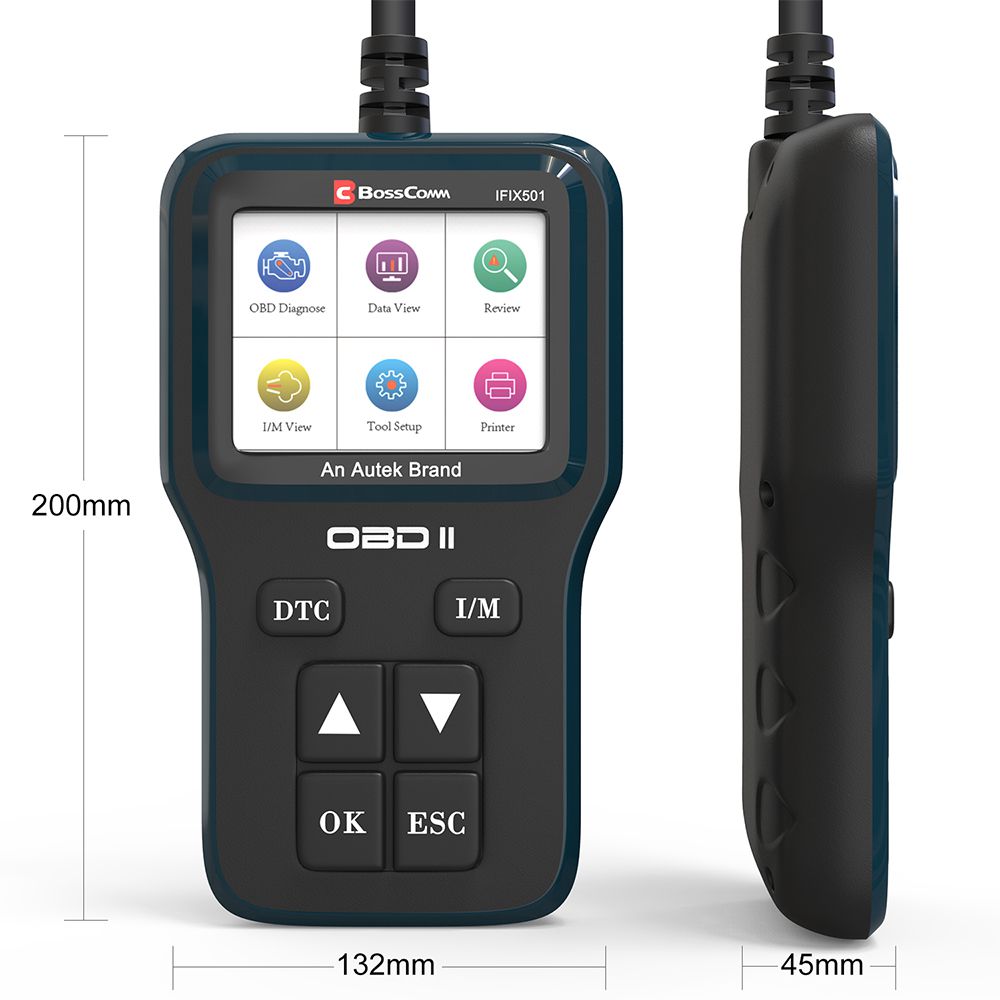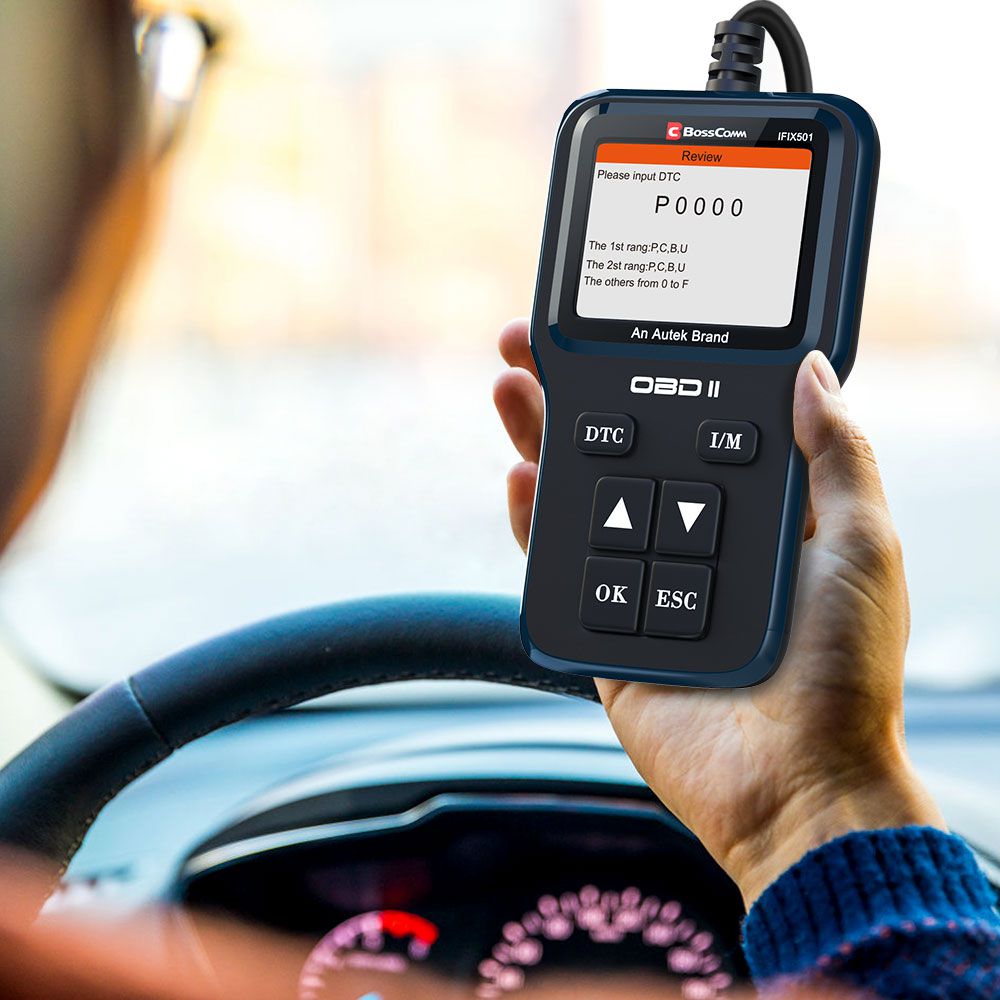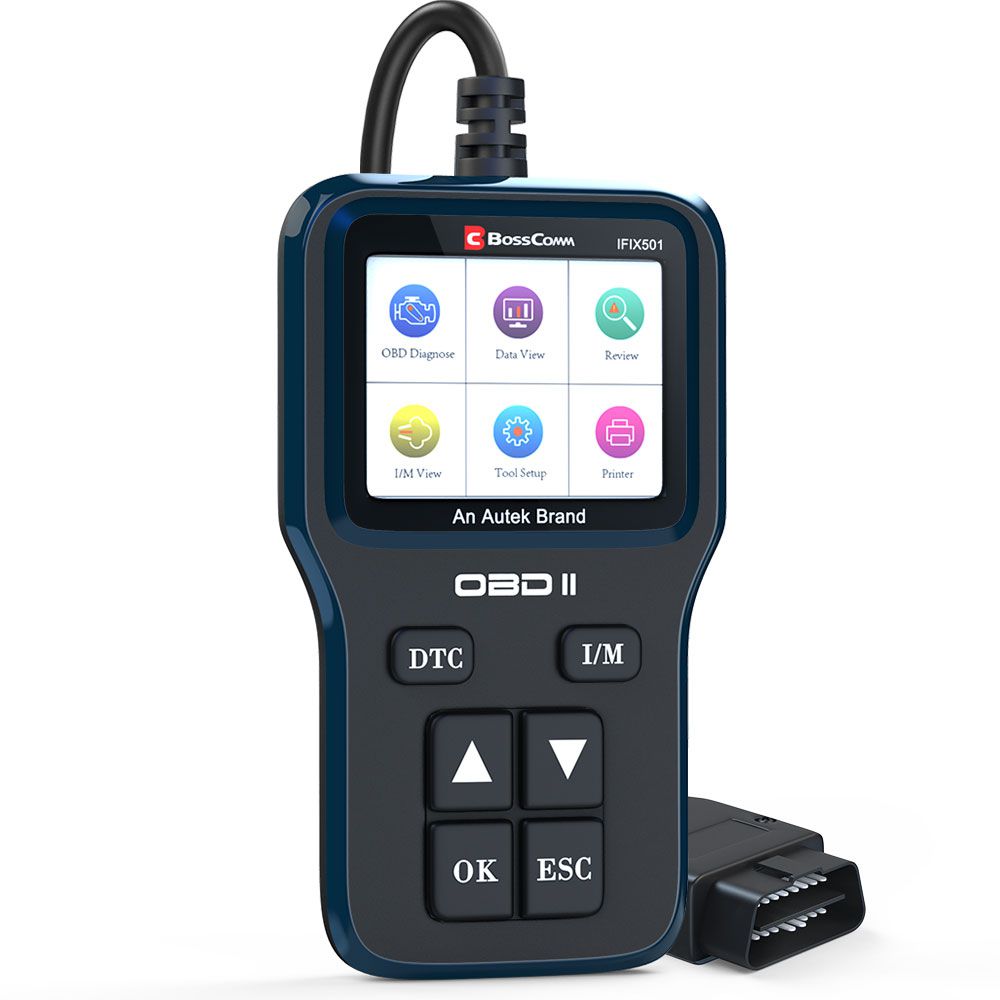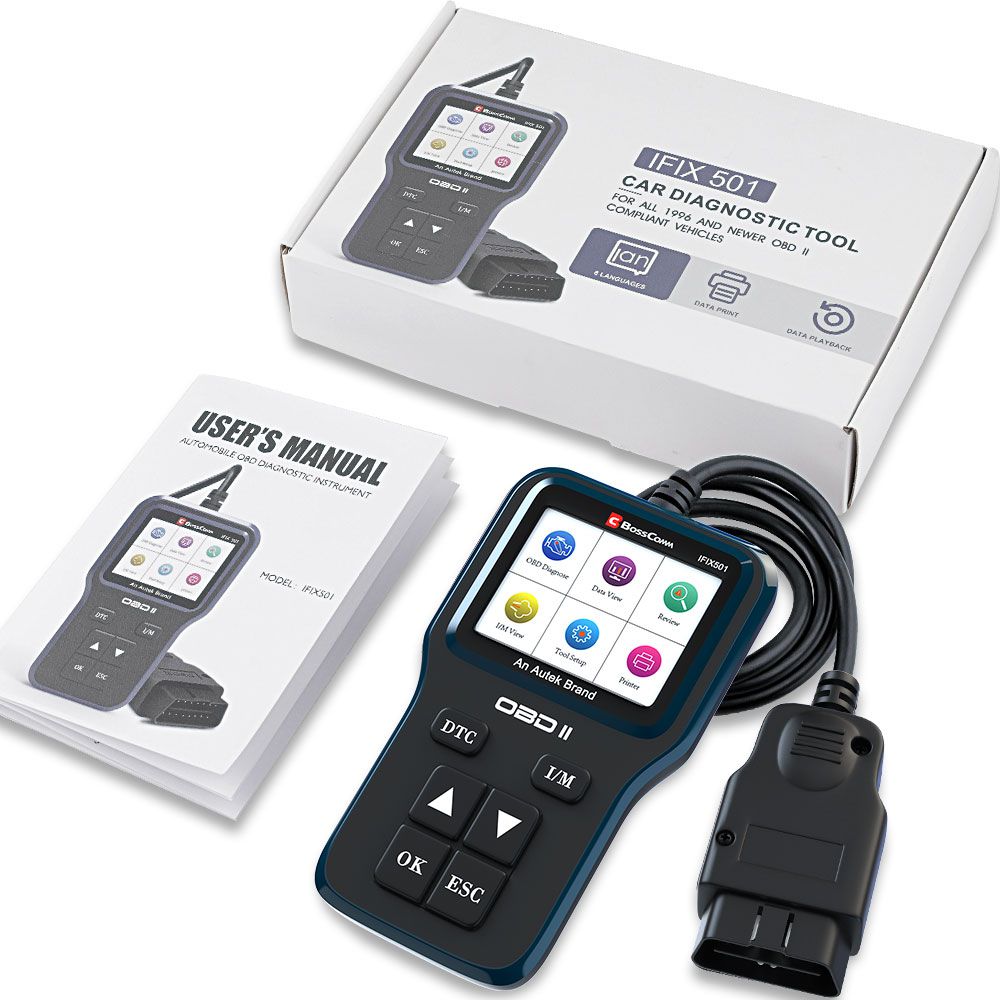 Previous: FCAR 506 Pro F506 Full Systems Scan Tool DPF Regeneration Oil Reset OBD 2 Diagnostic Tool
Next: VDIAGTOOL VC100 Car Thickness Gauge Meter Digital Paint Films For Car Paint Tester LCD Backlight Thickness Coating Meter