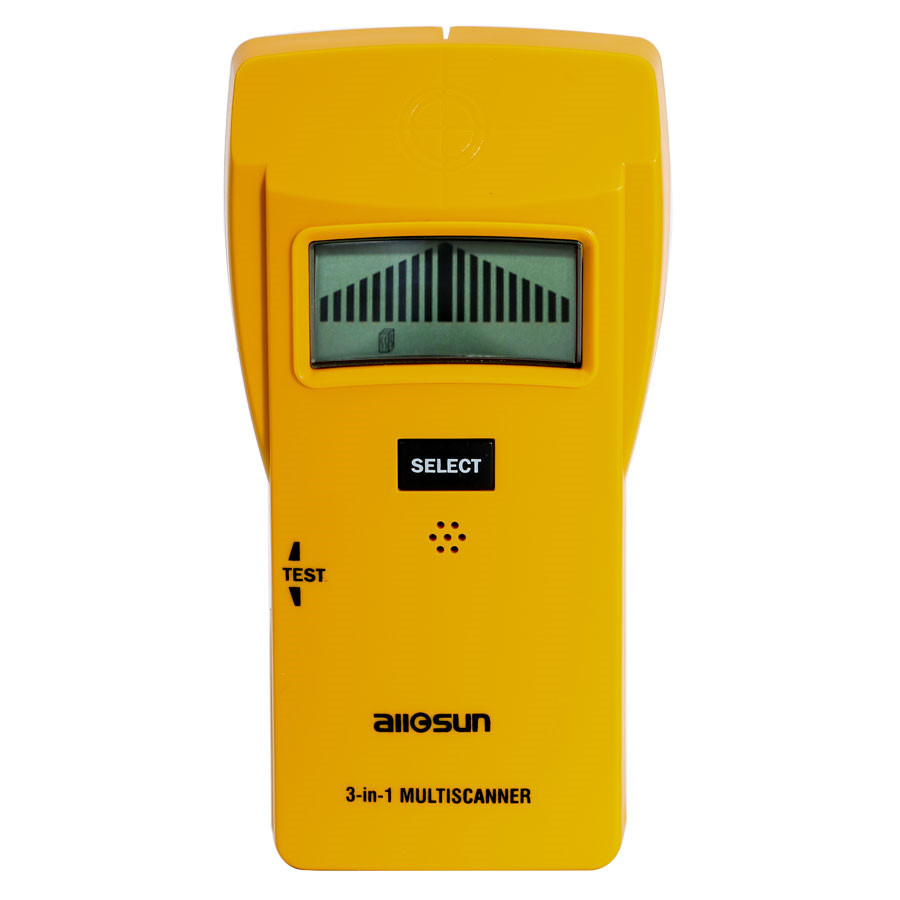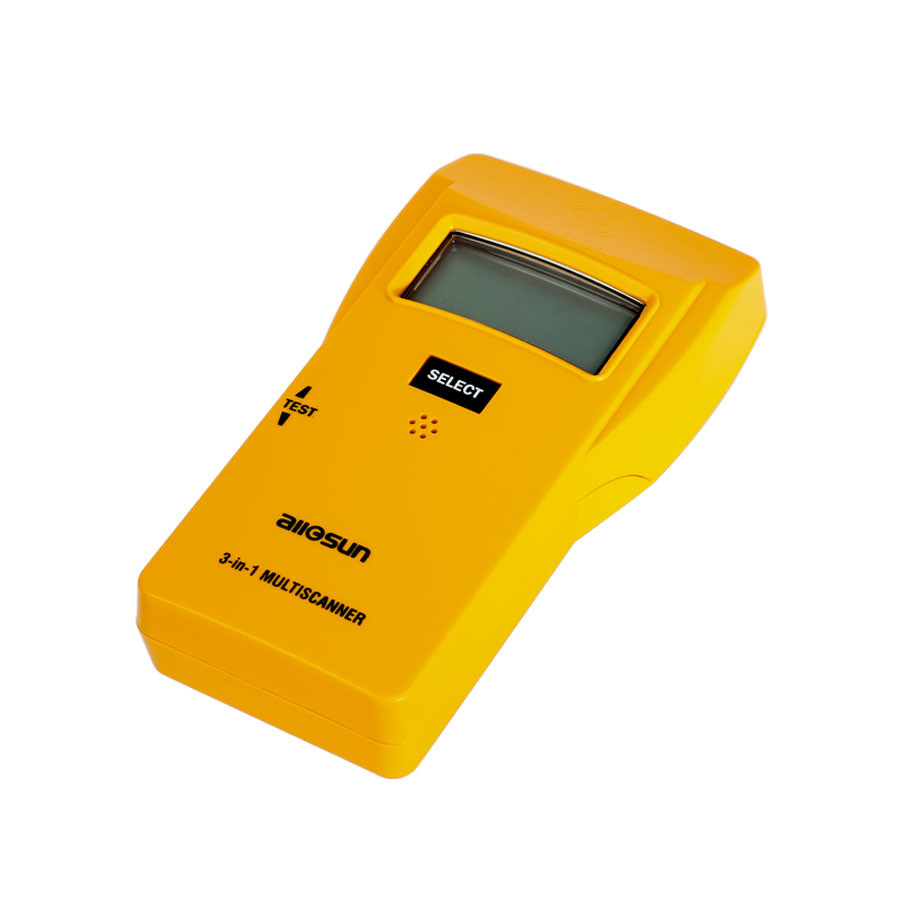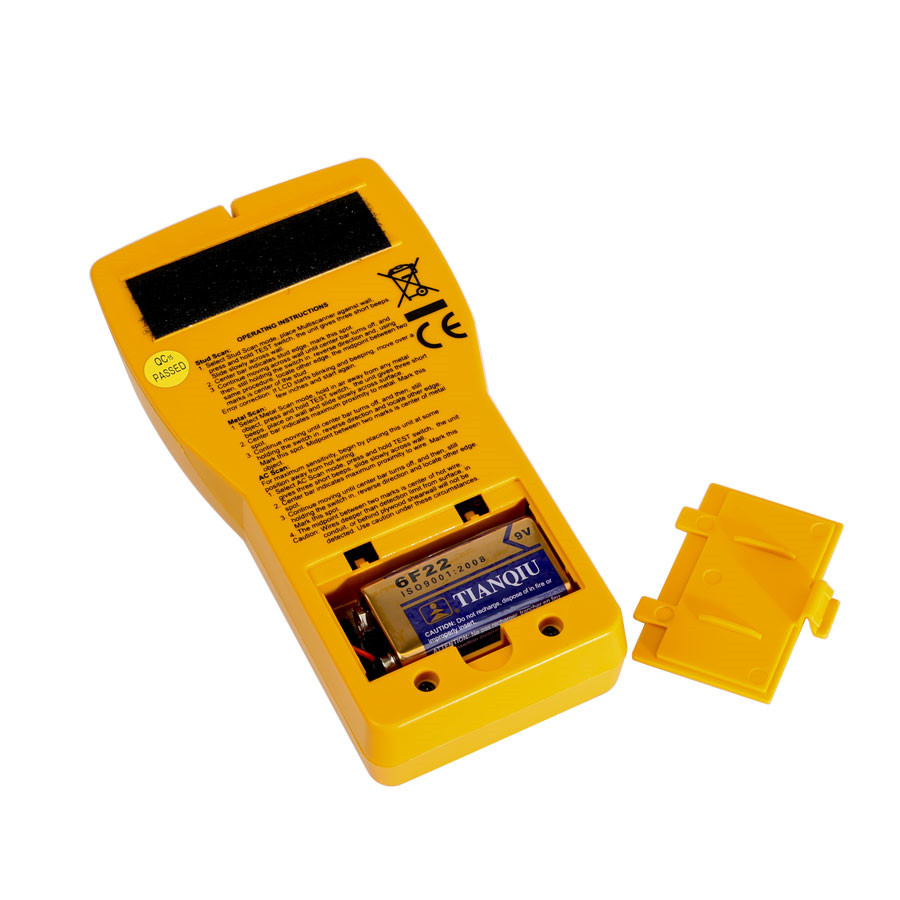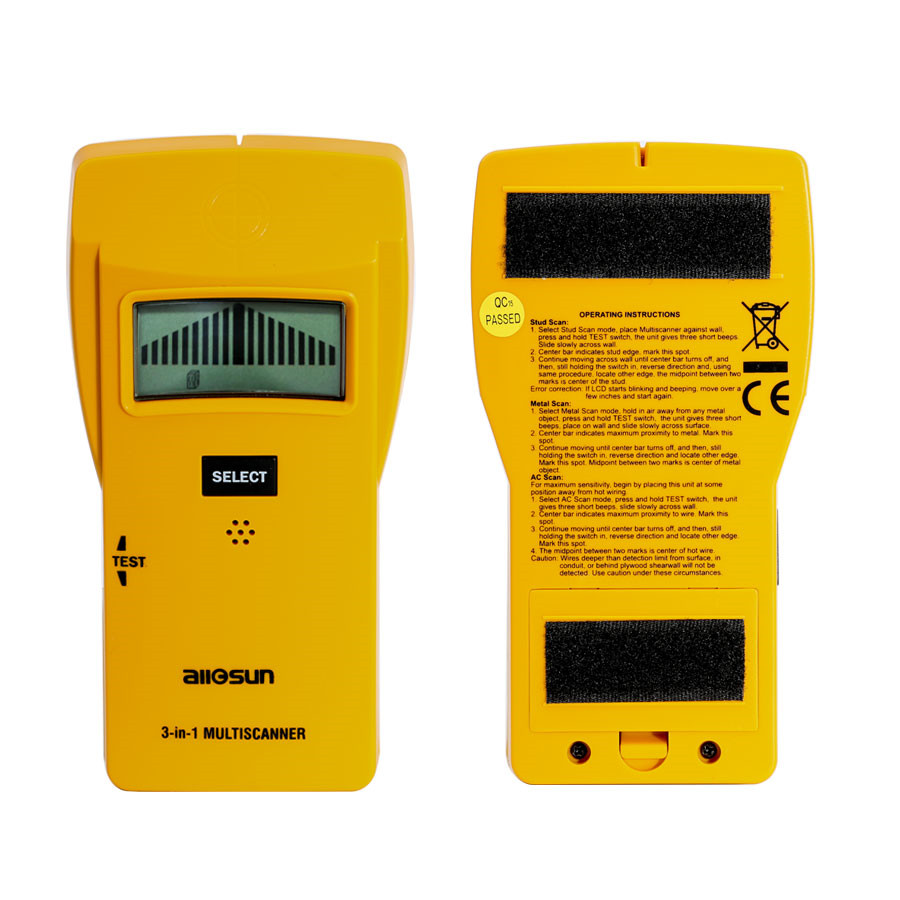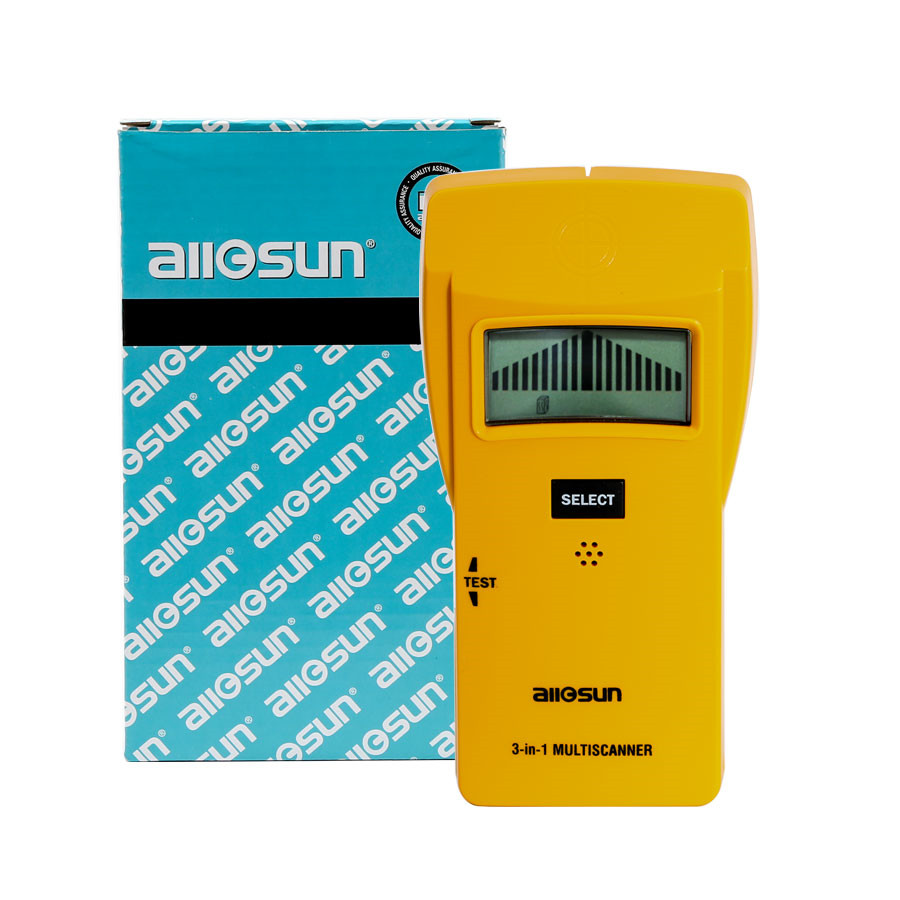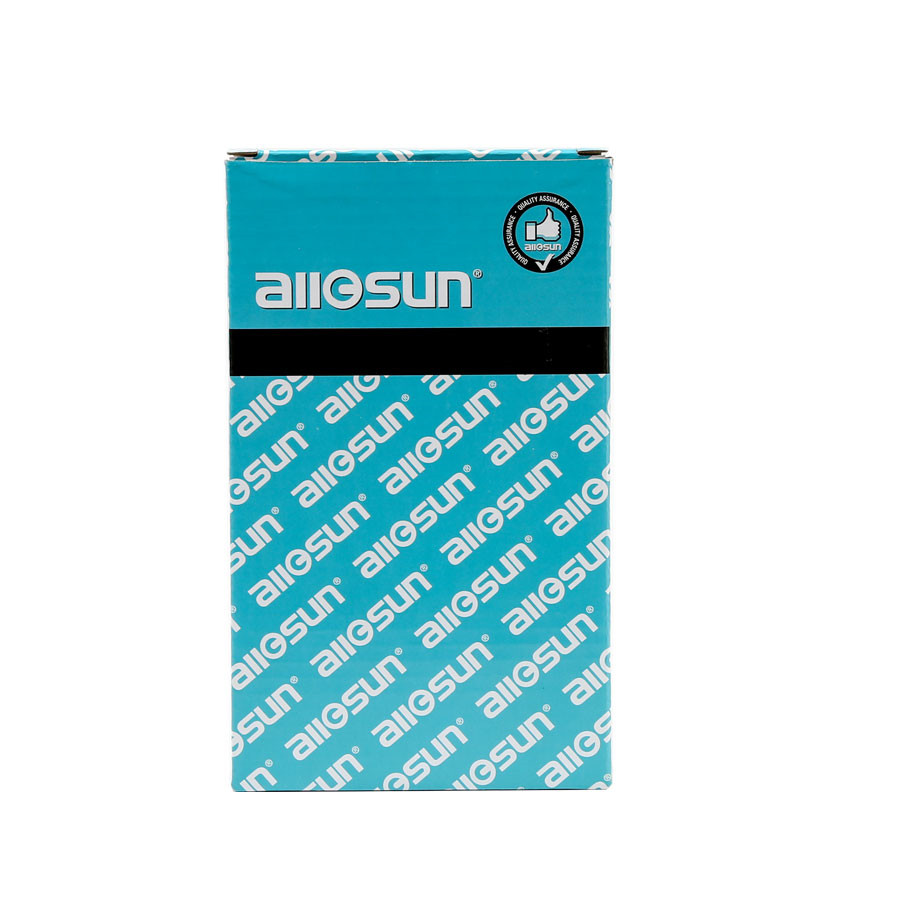 Description
All-Sun TS79 Stud/Metal/AC Detector 3 In 1
All-Sun TS79 is an advanced detector. It can detect and locate metal, AC voltage and stud.
Also, All-Sun TS79 3 in 1 can be used in construction, fitment, etc.
You can detect any material before drilling, cutting or nailing with this handy auto calibrated detector.
All-Sun TS79 Feature:
Pencil slider, pencil hole
LCD and sound signal indicate findings
All-Sun TS79 LCD indication:
When detects an edge of object, the LCD appears as an indicator.
All-Sun TS79 Spotlight & groove:
When detects an object, the spotlight appears and mark in the groove position.
All-Sun TS79 Specification:
Detection depth
Stud mode: Wood stud of 30×30mm ≤18mm
Metal mode: Iron pipe of 25mm ≤30mm
AC mode: 50mm for 90~250V at 50~60Hz
Power: 9V battery (6F22) ( NOT INCLUDED)
Dimensions(W×L×T): 82×159×315 mm
Weight: 203g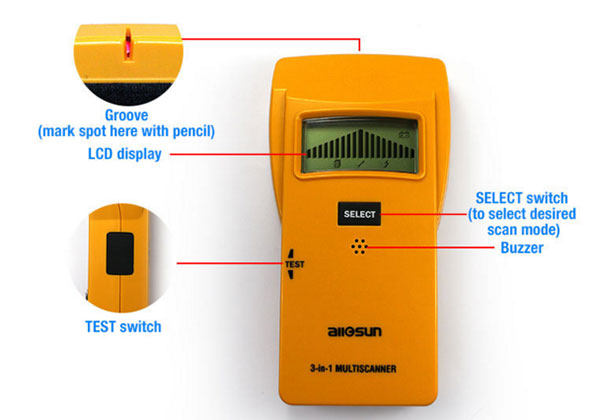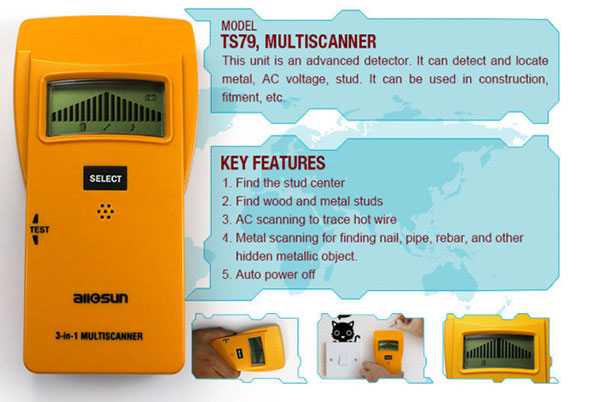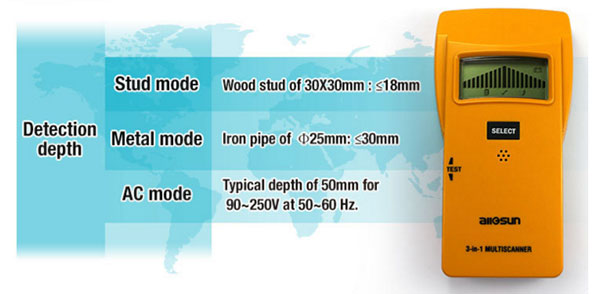 Package Includes:
1pc x All-Sun TS79 Stud/Metal/AC Detector 3 In 1
Reviews

14
#1 VLADYMIR SIZYAKOV
May 9, 2018

Very good product super fast
#1 ericka hampton
Jun 9, 2018

Do not have time to test right now, looks great
#1 Carlos Arrom
Mar 9, 2019

The best seller here on the site there are unrivaled fast and reliable
#1 Eduardo Schlegel
Jun 9, 2018

The product is excellent all works
#1 prinnadoowarraxia prinnadoowarraxia
Aug 9, 2018

Fast delivery, the machine was stitched without problems, everything is ok, you can take!!!
#1 KentKeginn KentKeginn
Jun 9, 2018

Very good fast delivery
#1 JOSEPH AYUB
Jul 9, 2018

has not been tested yet but everything looks perfect this All-Sun TS79 Stud/Metal/AC Detector 3 In 1 is good quality, working very well
#1 mesnage gregory
Jul 9, 2018

I received the goods, i liked the quality.
#1 efferrerwop efferrerwop
Mar 9, 2019

Item arrived quickly and guality was good.
#1 alexandre dubos
Oct 9, 2018

Everything works. Delivery is super fast. Disk c to read. Seller recommend!
Previous: New Toyo Key Pro OBD II Support Toyota 40/80/128 BIT (4D, 4D-G, 4D-H) All Key Lost