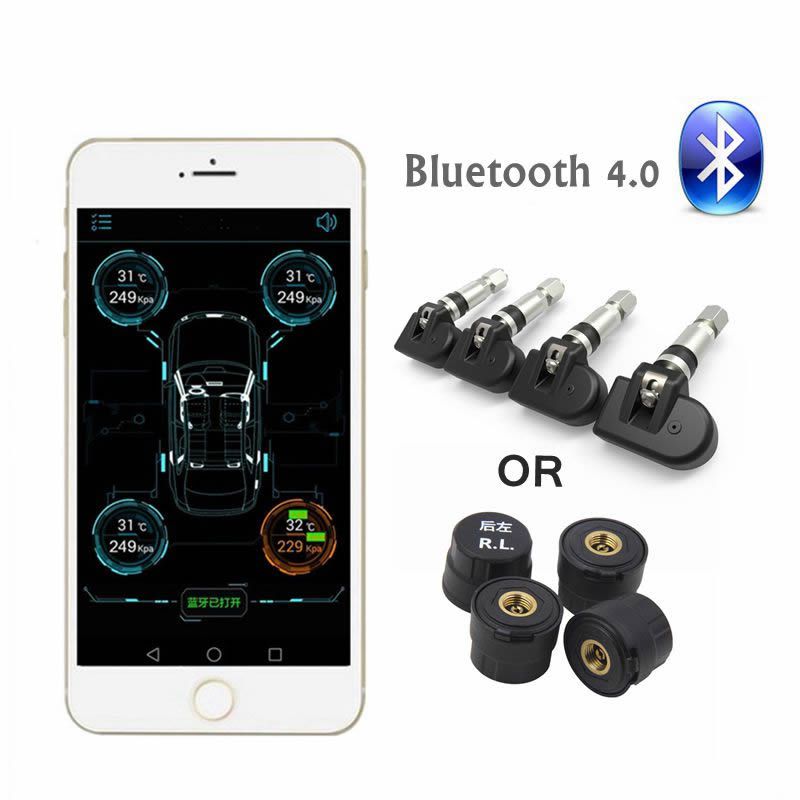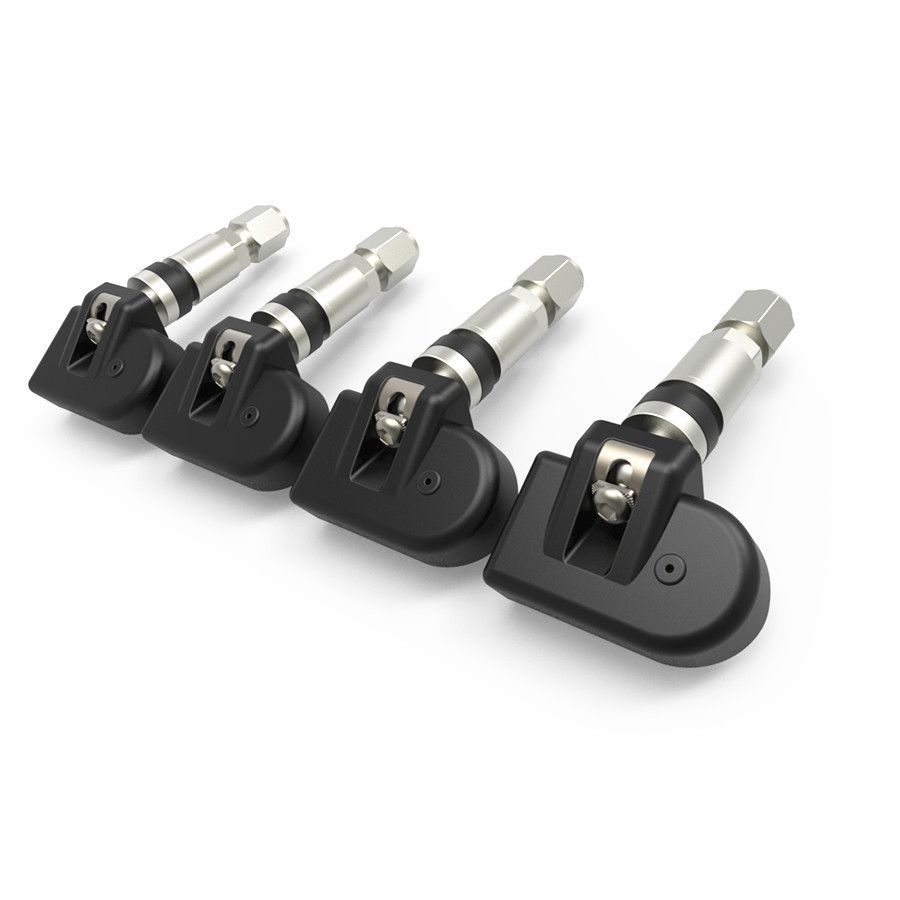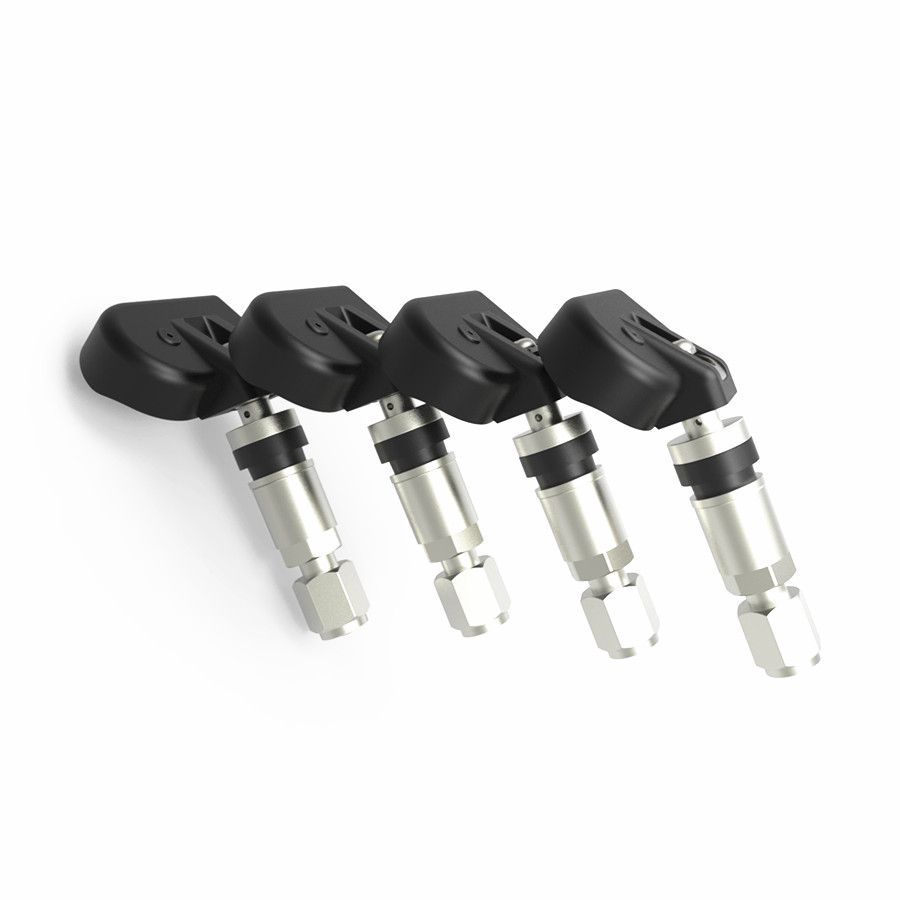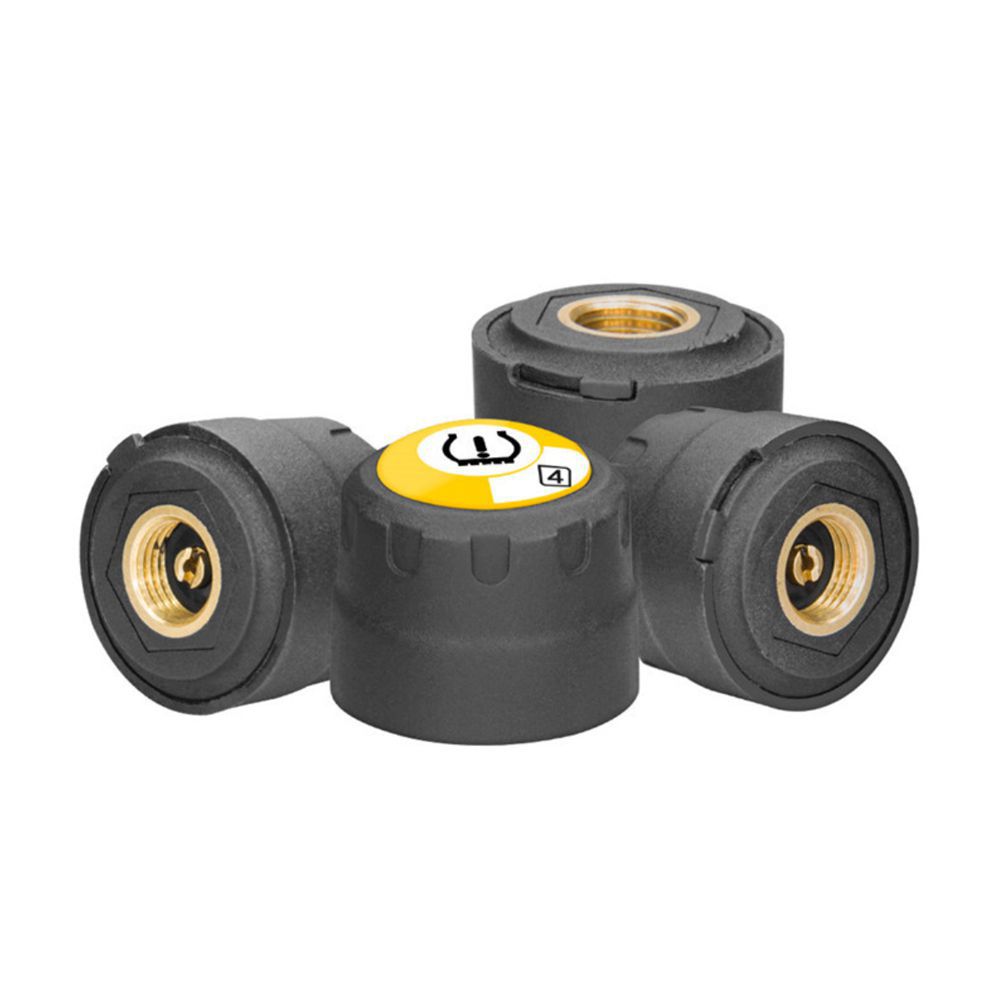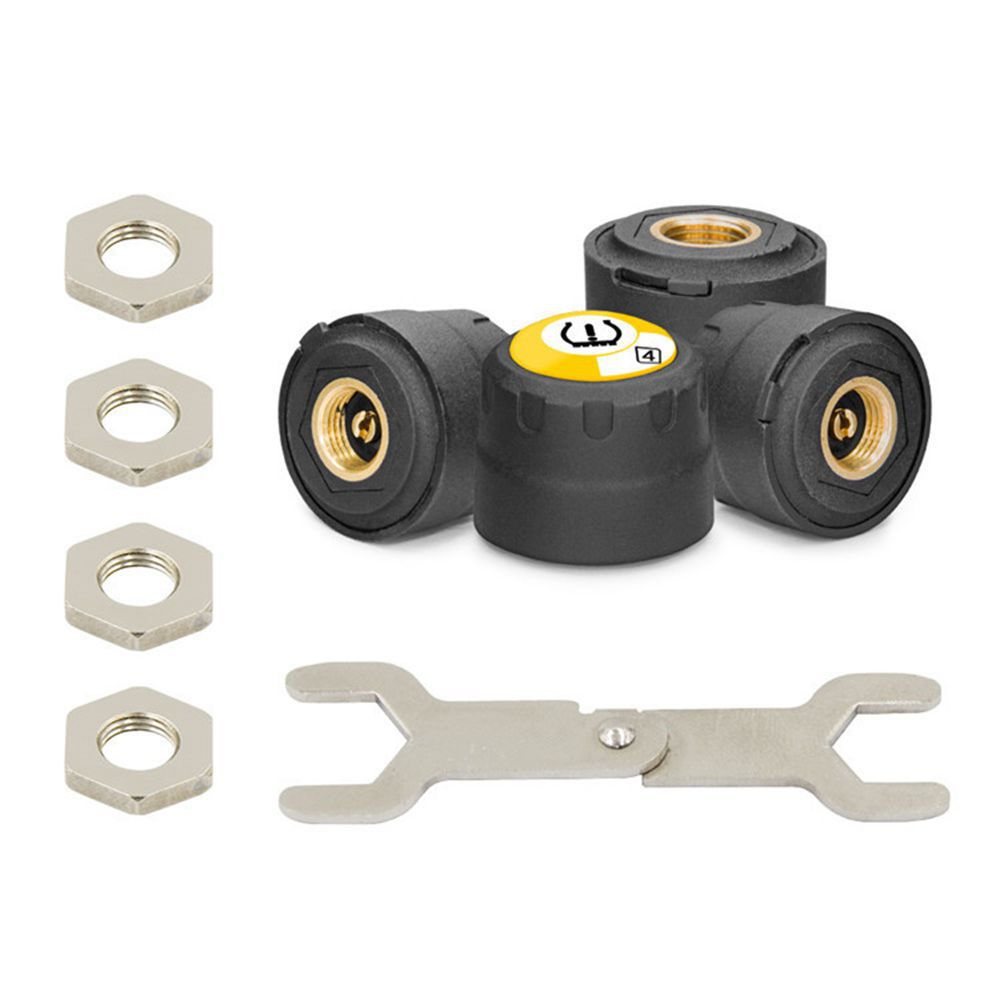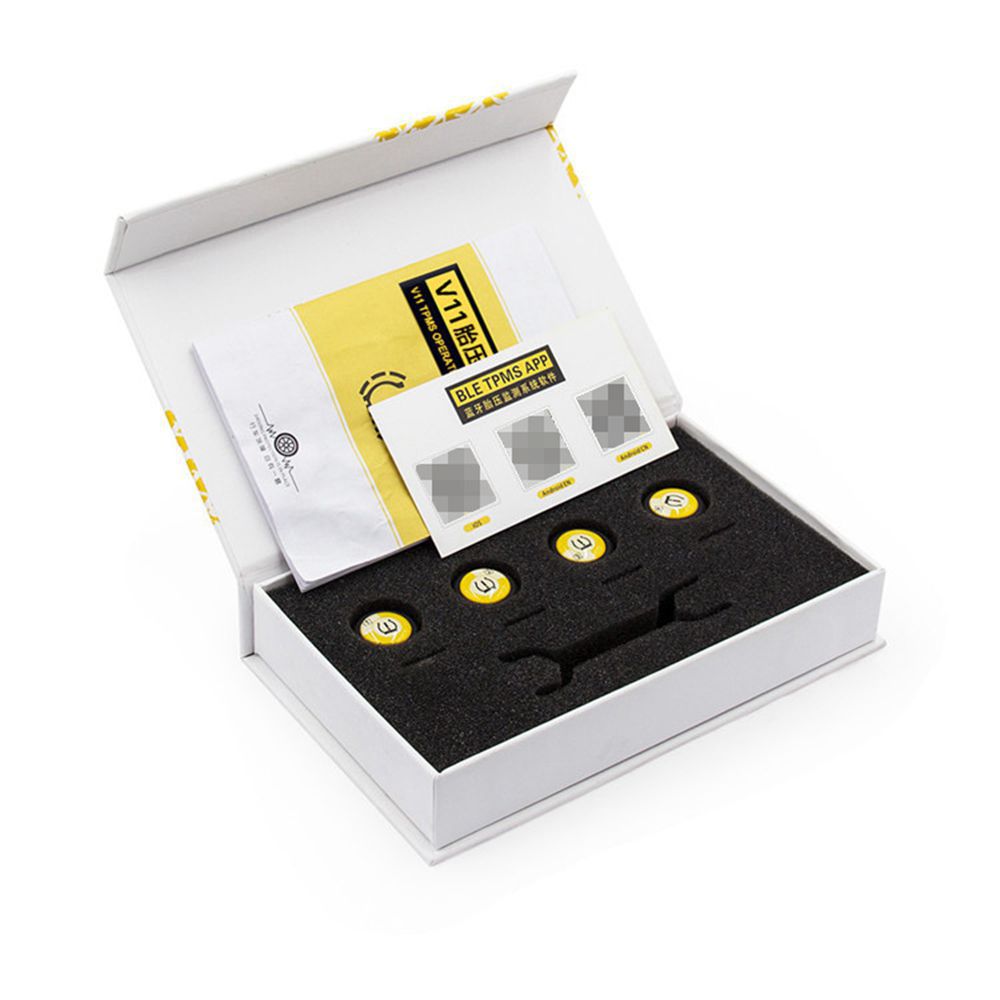 Description
TPMS Bluetooth 4.0 With 4 Sensor Tire Pressure Monitor System
Works For Android/iOS Mobile Phone

4 Internal Sensor Display: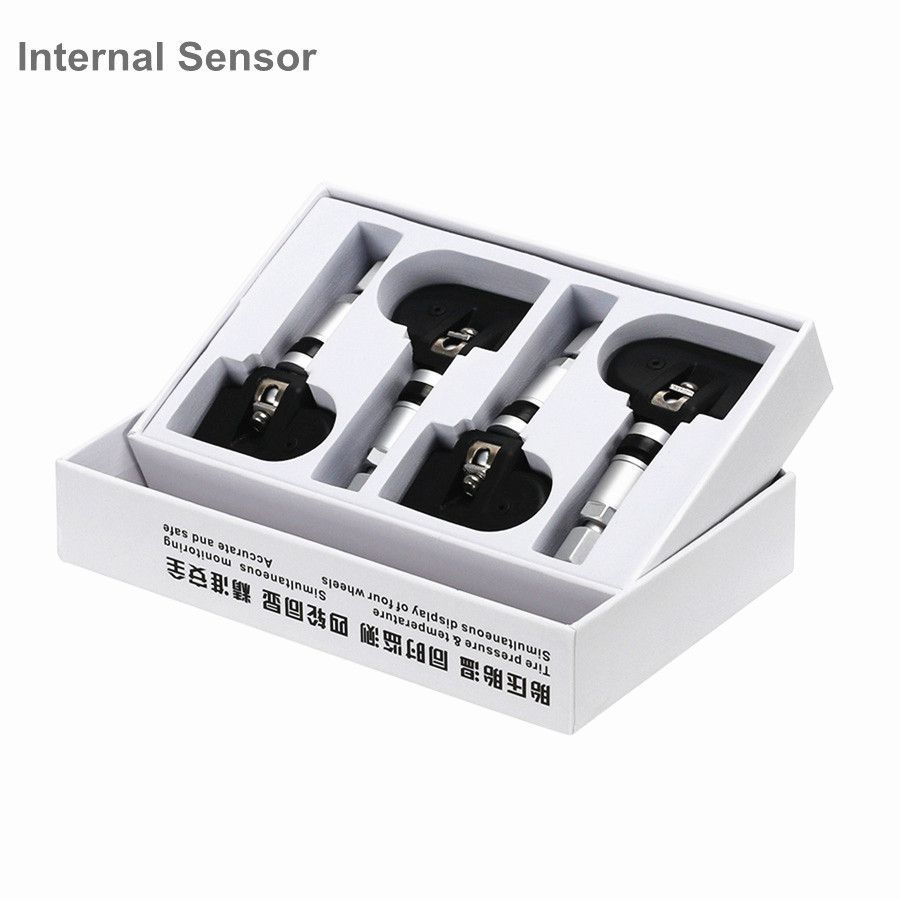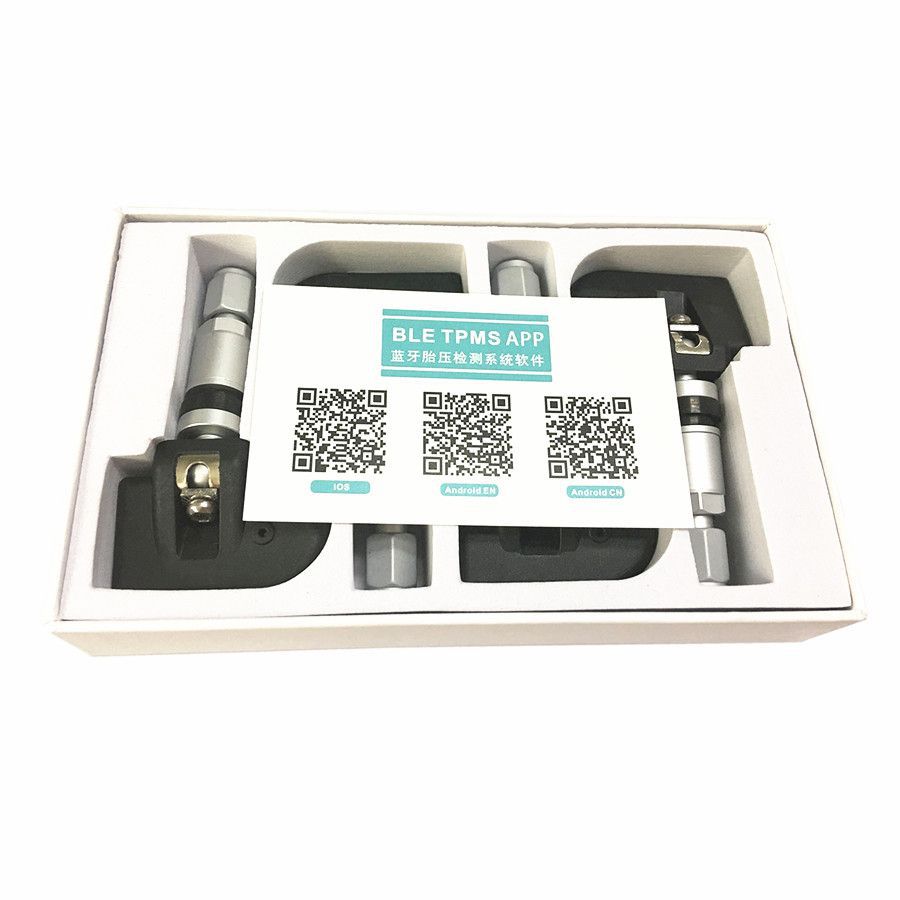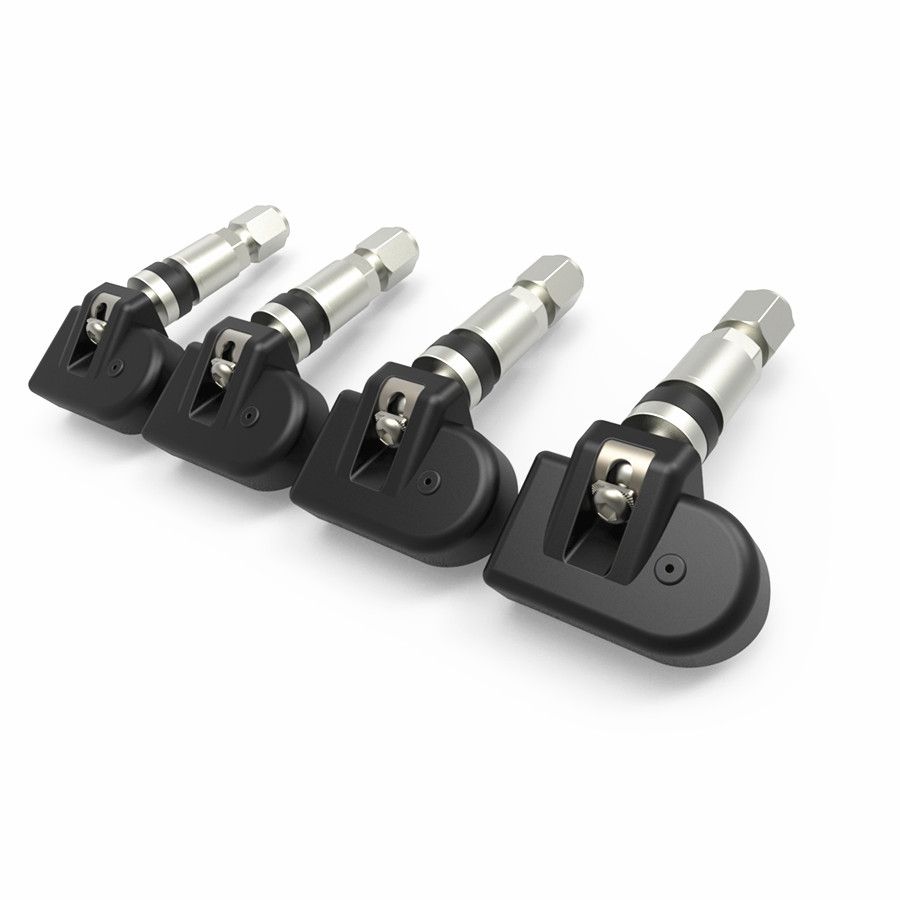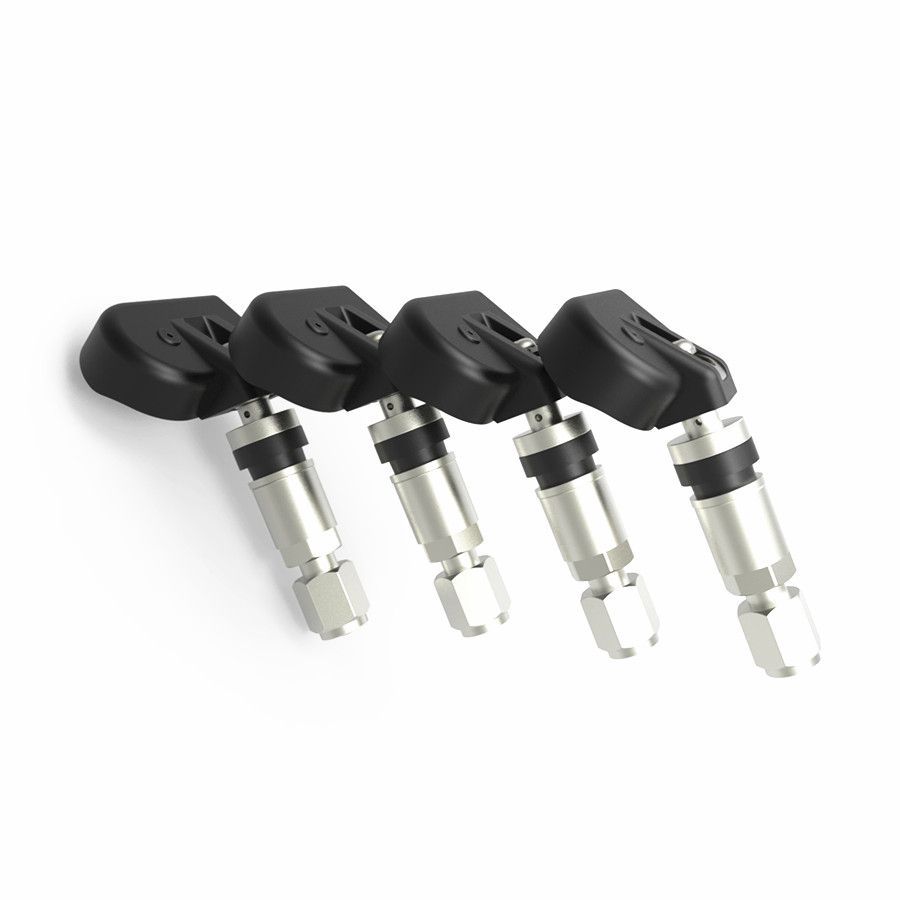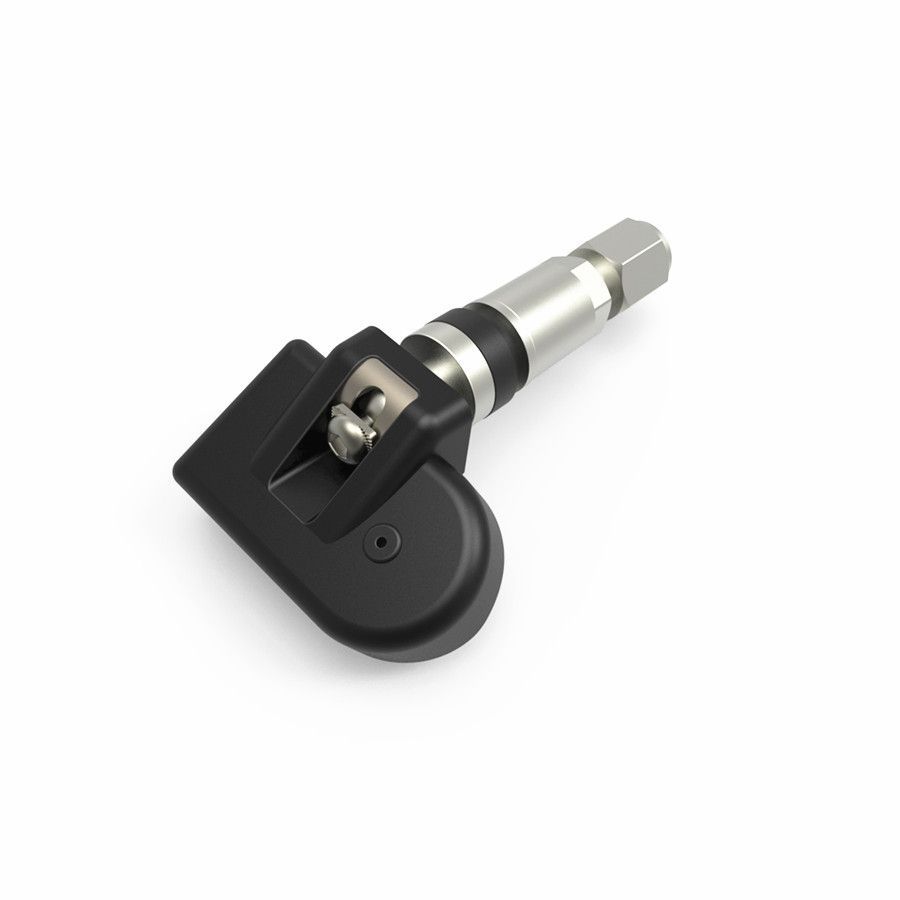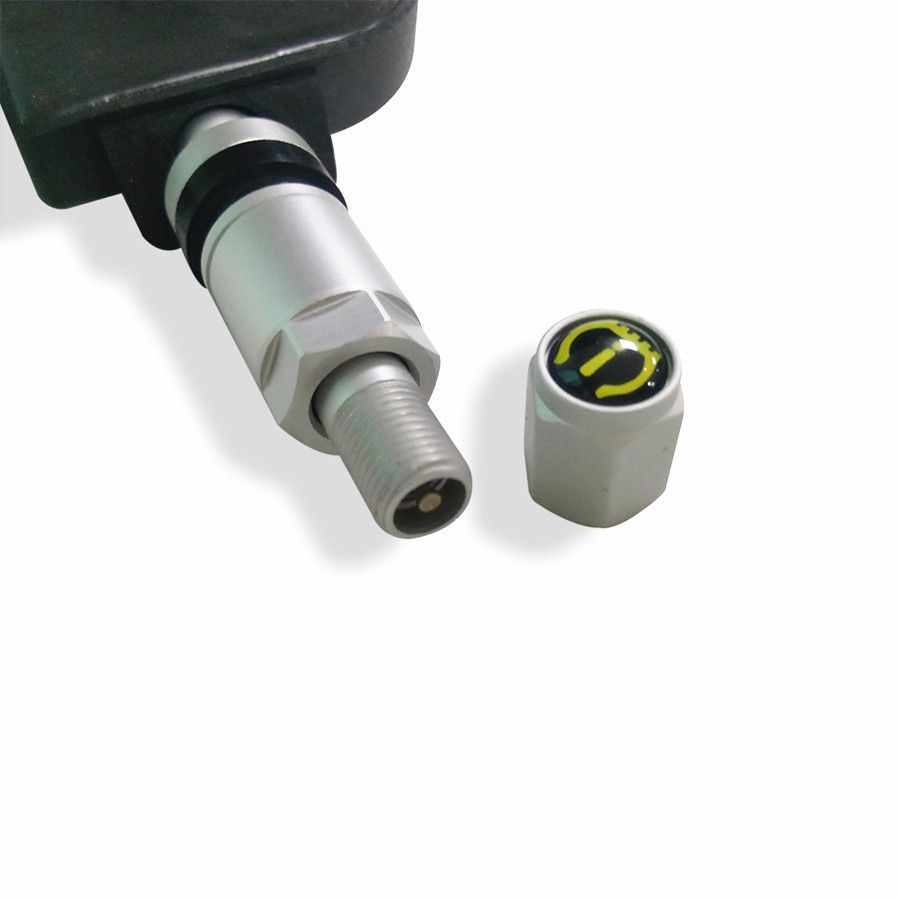 4 External Sensor Display: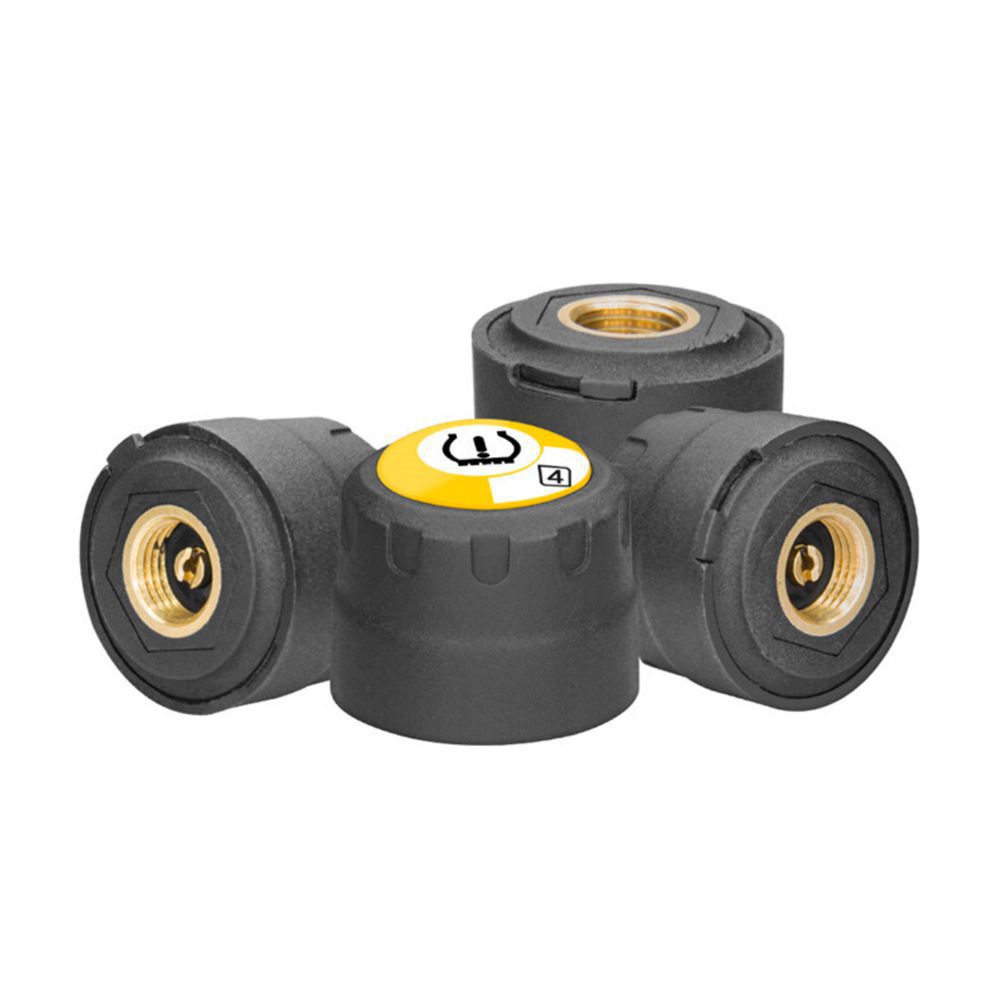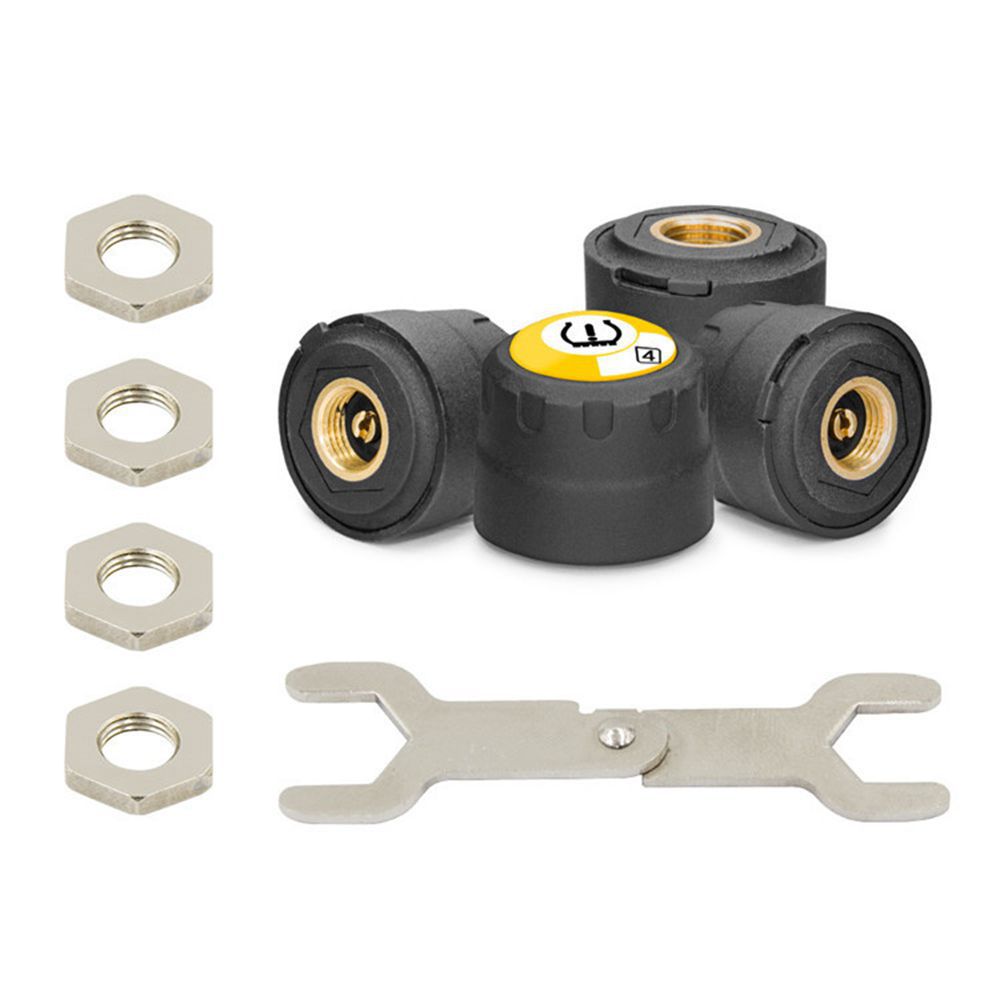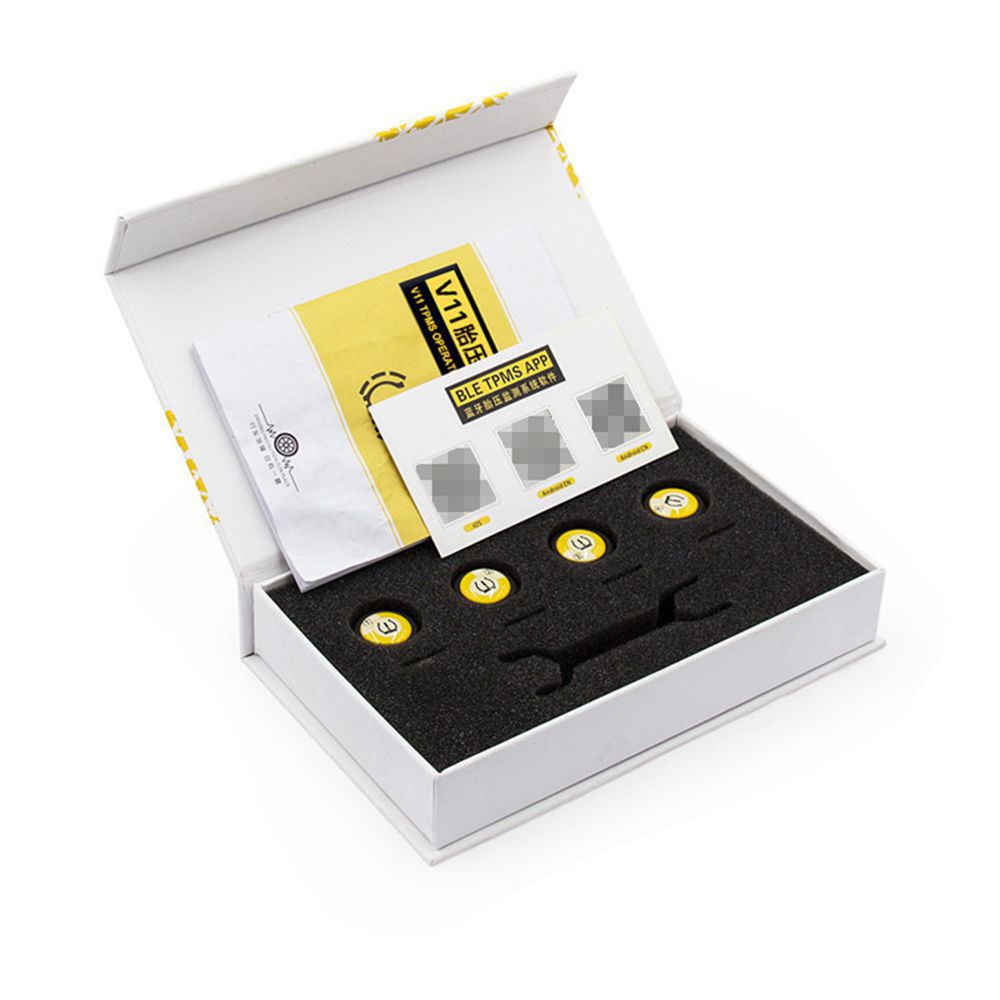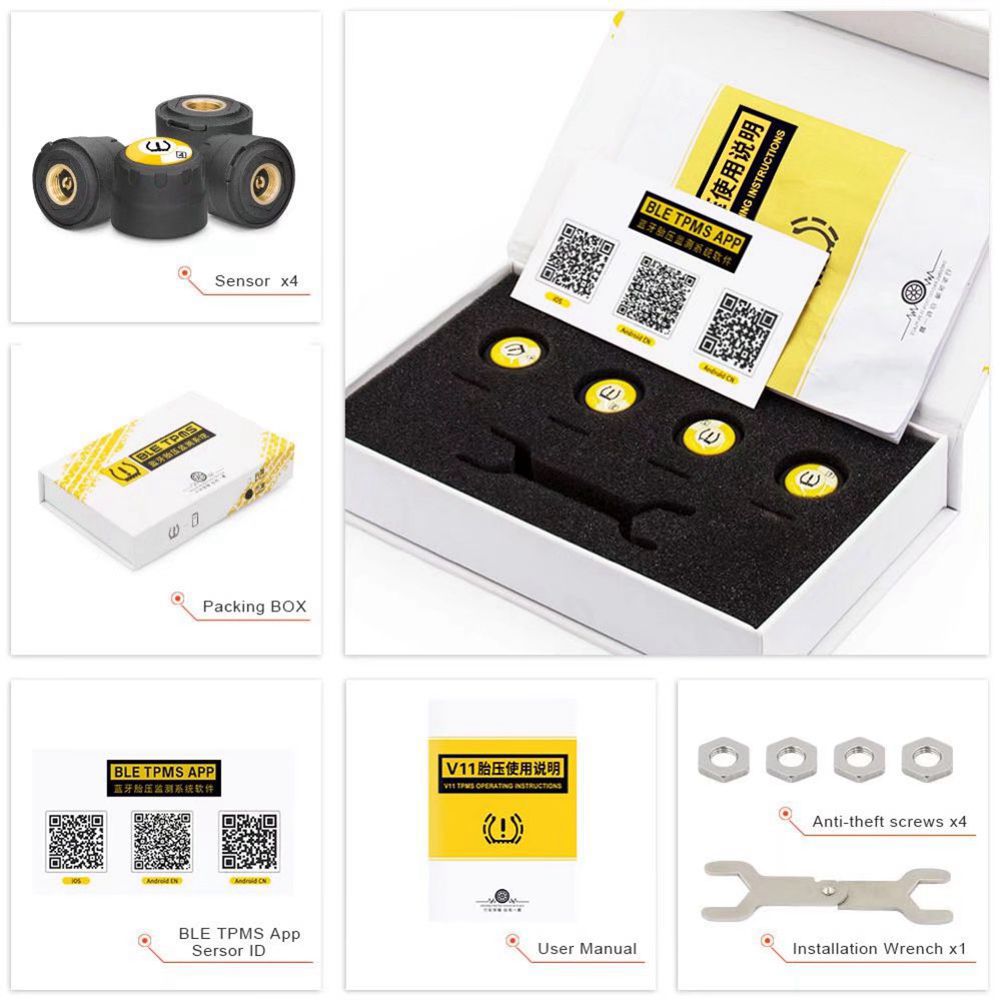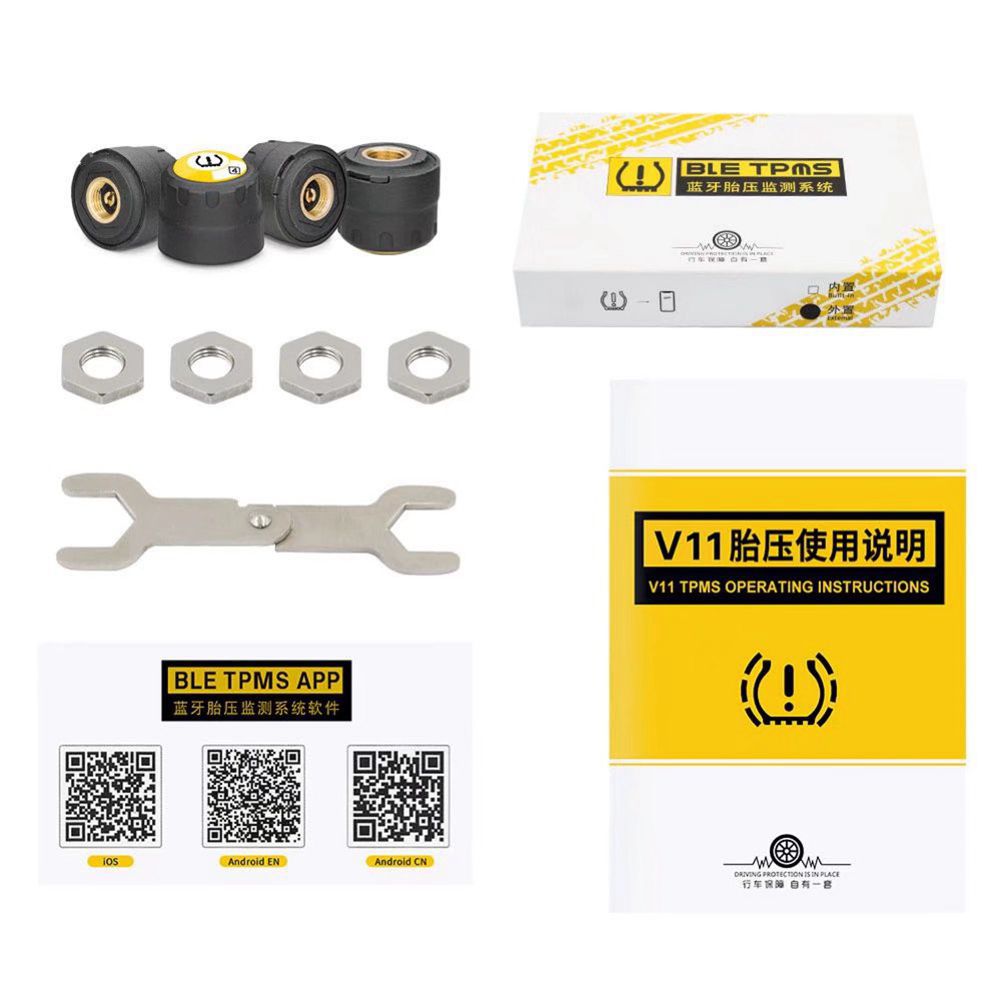 Description:
This is the newly developed TPMS Monitor Alarm system which works through Bluetooth 4.0 (Bluetooth Low Energy Consumption).
You just need to install 4 TPMS sensors on Tires and they will send the temperature and pressure signal to mobile phone through Bluetooth. You can view rea-ltime temperature and pressure through the APP you installed on Andriod and IOS device. APP will alarm when temperature and pressure of tires are abnormal.
Please note:
​It only supports Android and iOS Smart phone ONLY !!!
It does not support car's navigation android system and no supports car DVD Android system.
Please first install the sensors and then connect to your phone.Otherwise it will connect failed and shows errors.
Installation Steps:
1. Install the sensors to your tires
2. Connect the sensors to your Phone's APP.
3. After you installed and bound the sensors well, please open the app, please inflate or aerate the tire to activate the bluetooth of the sensors at the same time .
Supports Platform:
Working Via Android/iOS Mobile Phone,Scan QR Code to Download software for APP Display.
Android(Android4.3 and above bluetooth 4.0)
iOS(for iPhone 4S and above bluetooth 4.0)
Feature:
Fuel economy,Less wear,Tire burst,APP Display
Tire pressure&temperature,Simultaneous monitoring,Simultaneous display of four wheels,Accurate and safe
Real-time tire detection to ensure traffic safety.

TPMS:
All-round real-time monitoring of tire pressure and temperature
Tire leak alarm,low pressure alarm,high pressure alarm,high teperature alarm
Wireless connection,prefessional certification,energy saving,applicable to all models
Highlights of The Bluetooth 4.0 TPMS Mornitoring Alarm System:
TPMS Sensors works through bluetooth 4.0 to mobile phone. Fast and accurate.
There are 4 internal sensors will be installed, Anti-theft and waterproof (IP67).
Internal sensors can works 5 to 8 years( 40 KM per day)
It has KPA, BAR and PSI switch function.
It has C and F temperature switch function.
Parameters:
CPU: ARM M0
Working voltage: 3V
Working current: 100μA
Sleeping current: Less than 2.2μA
Bluetooth working frequency:2.4GHz
Response time: Less than 5S
Tire pressure detection range: 100-1300 kPa (1-13 Bar)
Tire pressure detection accuracy: ± 10kPa (0.1 Bar)
Battery life : 3-5 years ( external sensor), 40km per day
or 5-8 years ( internal sensors), 40km per day.
Sensor Weight: one sensor 36g,four sensors total 144g
Package Weight:240g
Packing list:
4 x BLE TPMS Sensors(Optional)
1 x Card with App QR Code
1 x Carton Box

Q:What is the APP ?
A:APP Name:BLE TPMS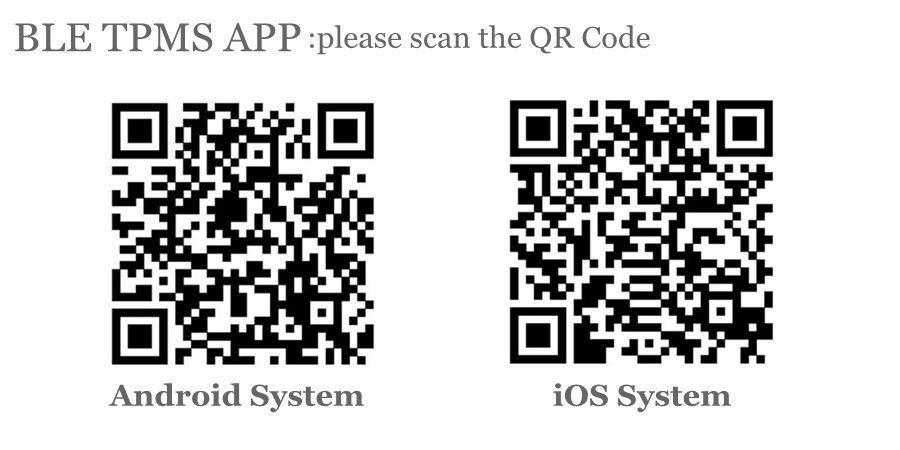 Q:How many Langauge supported?
A:Language:English/Chinese
On APP system setting ,there is Language switch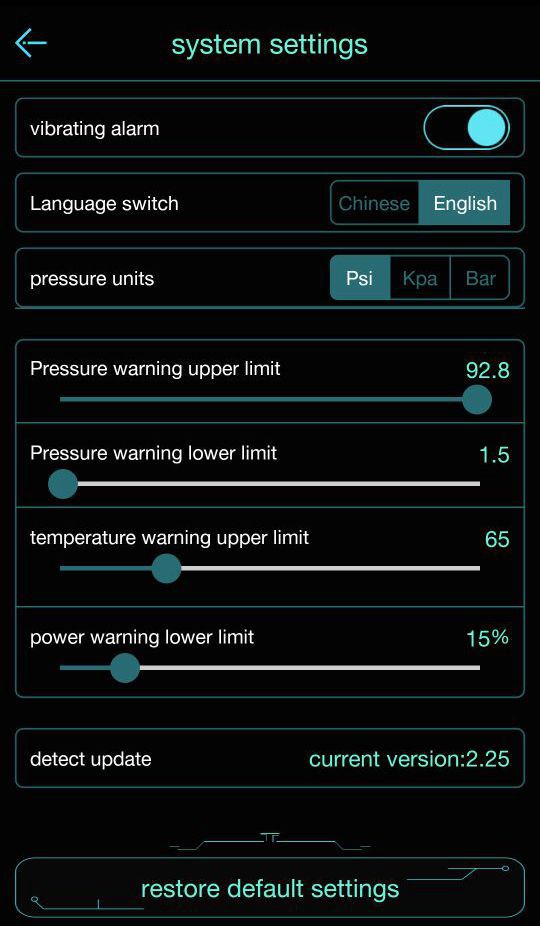 Q:How long about the battery life and can it replace battery?
A:External Sensor can replace battery
Internal Sensor can not replace battery,the working time is 5~6 years
Q: Can this TPMS work on Car's Android Navigation or DVD or Radio ?
A: Sorry,TPMS doesn't support it for the moment, only support smartphone.
Q:Why the APP shows "low Bait"error?
A:Beucase you did not install the sensors to your tire ,so the APP shows error .Before you connect to phone ,please first install sensors to tire.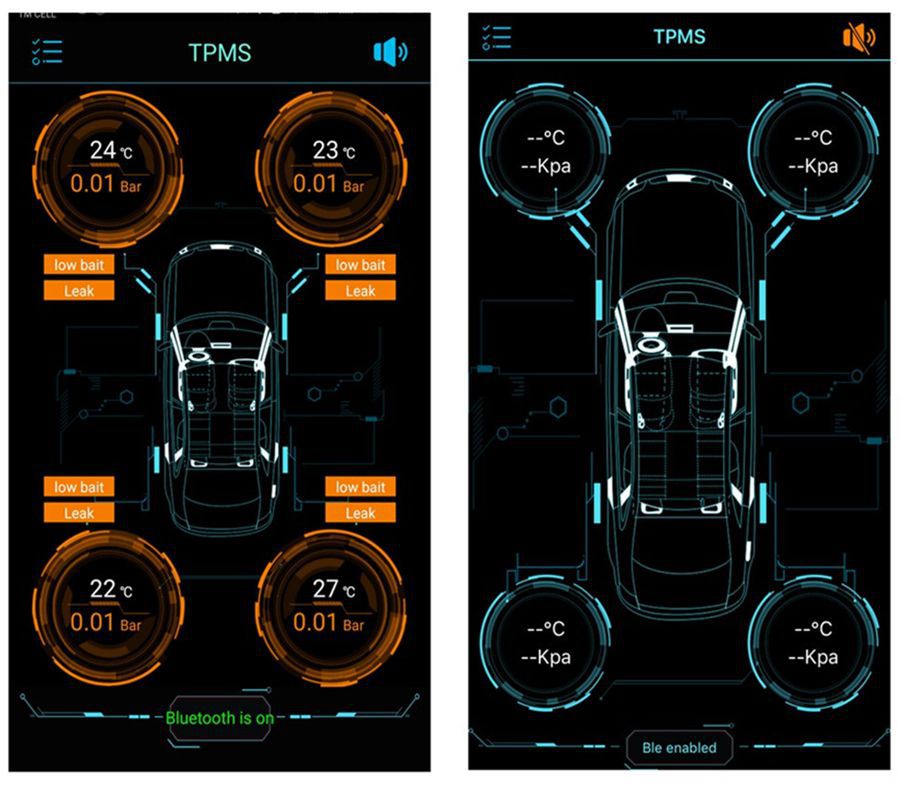 Q:What is the different between Internal Sensor and External Sensor?
A:please check below photo
Works on Android Phone APP for reference: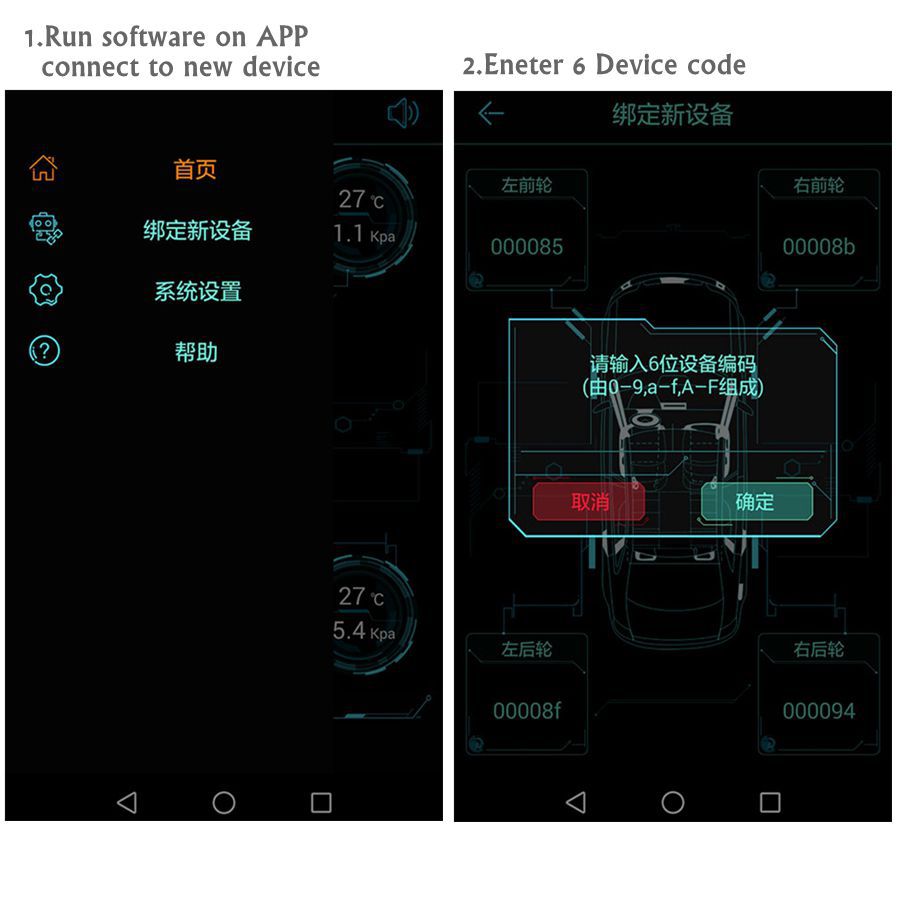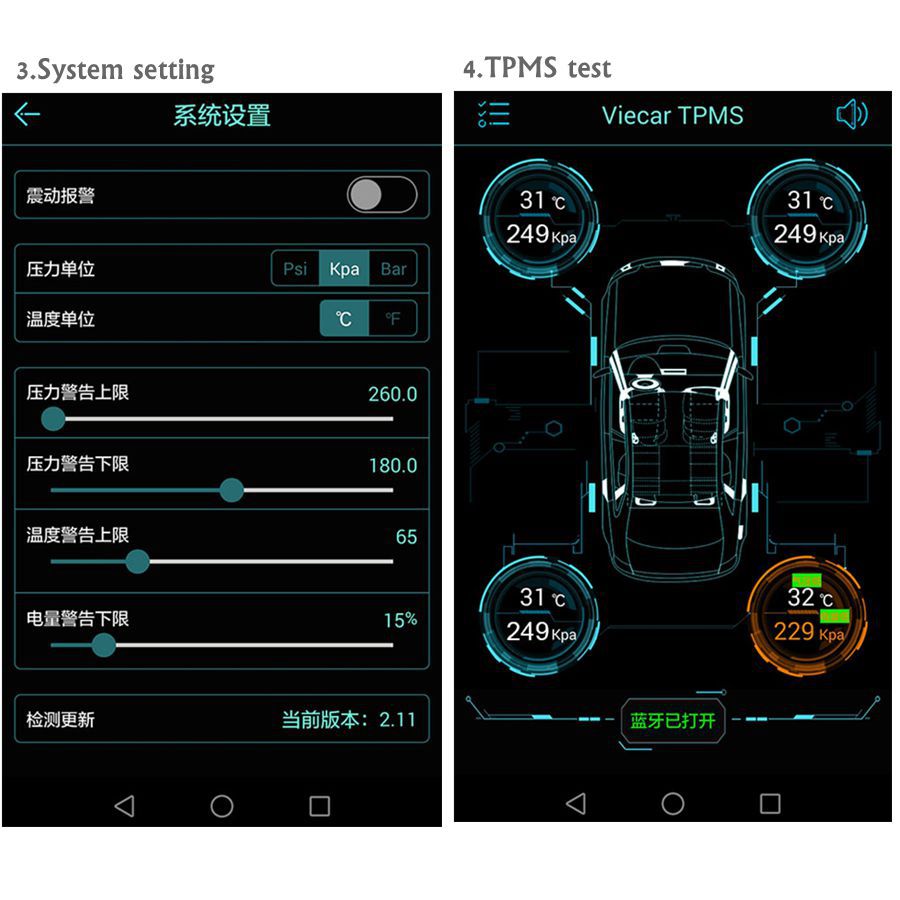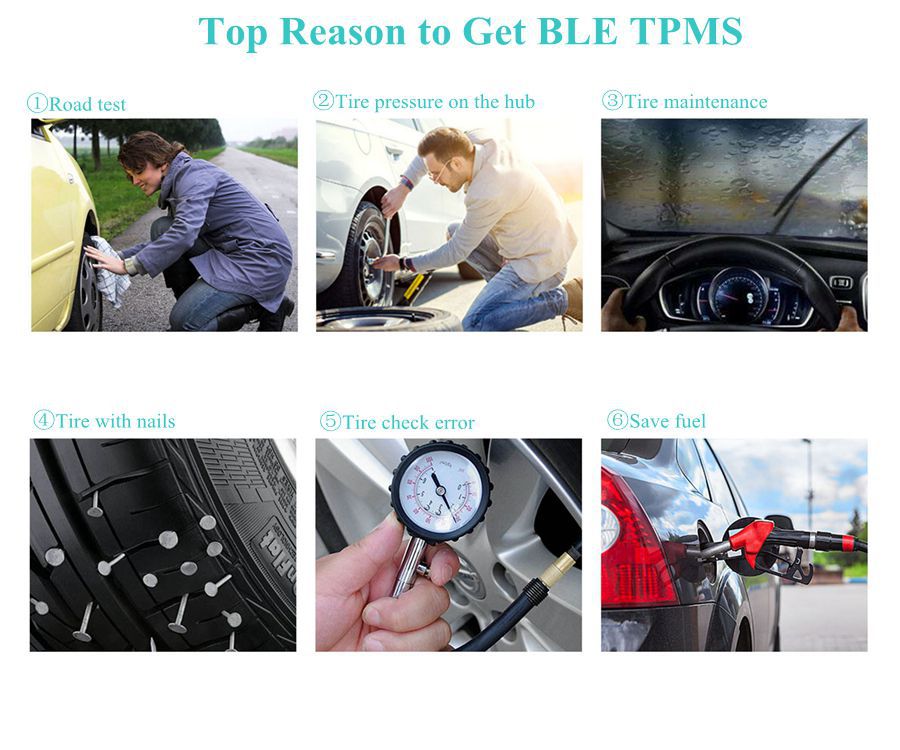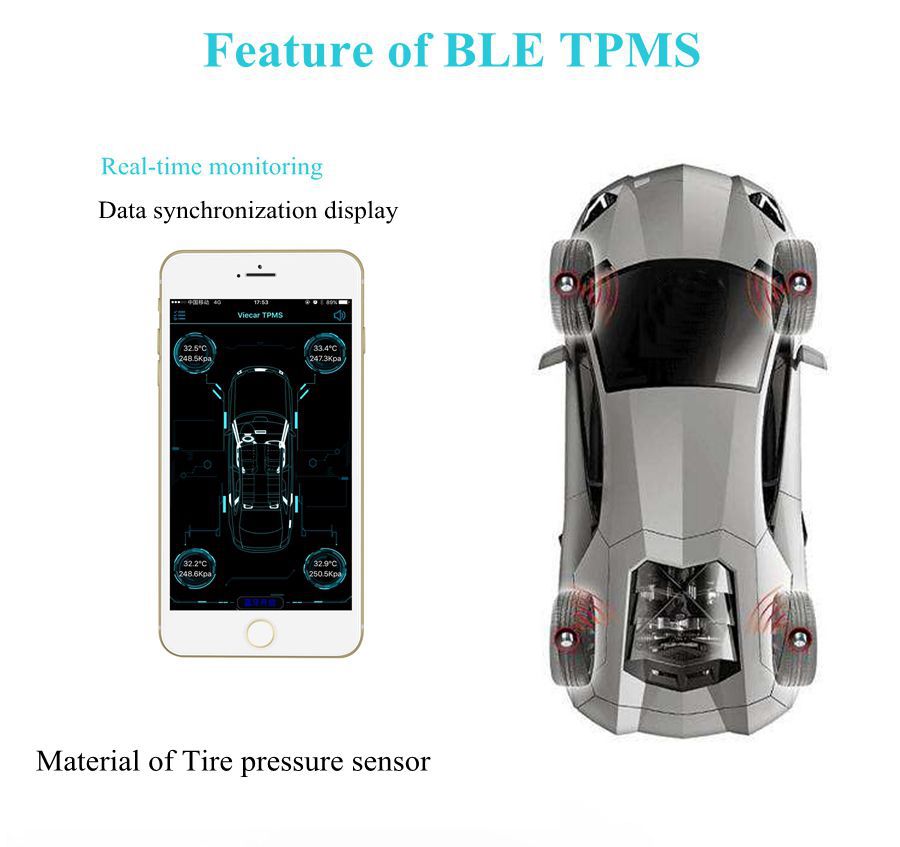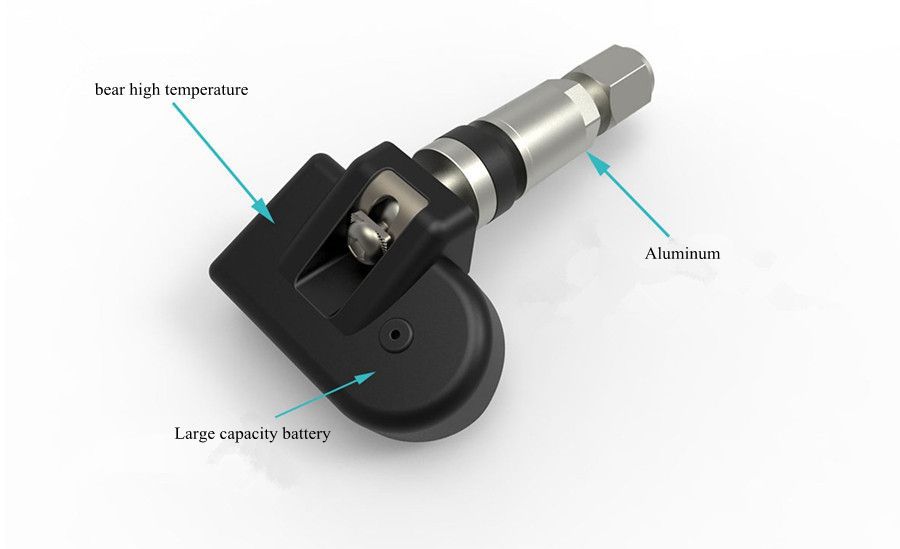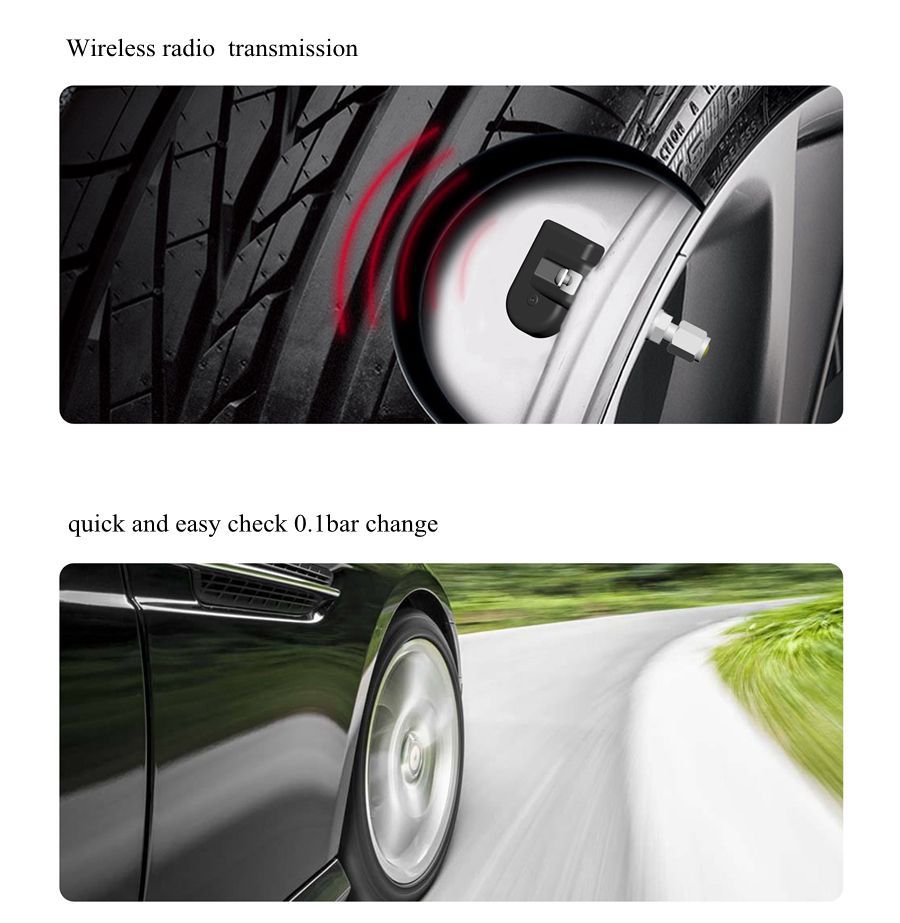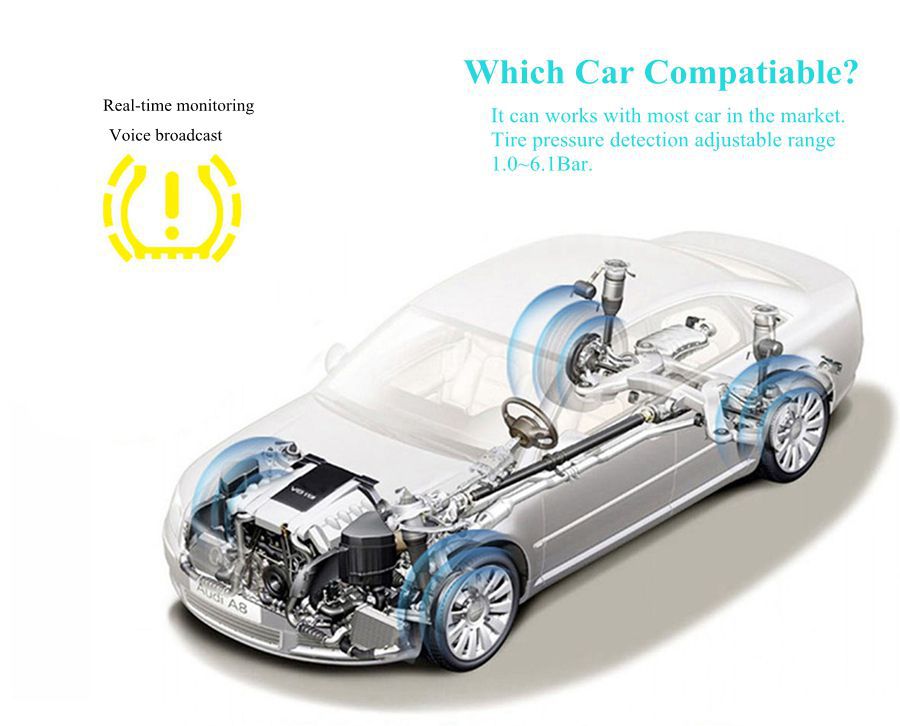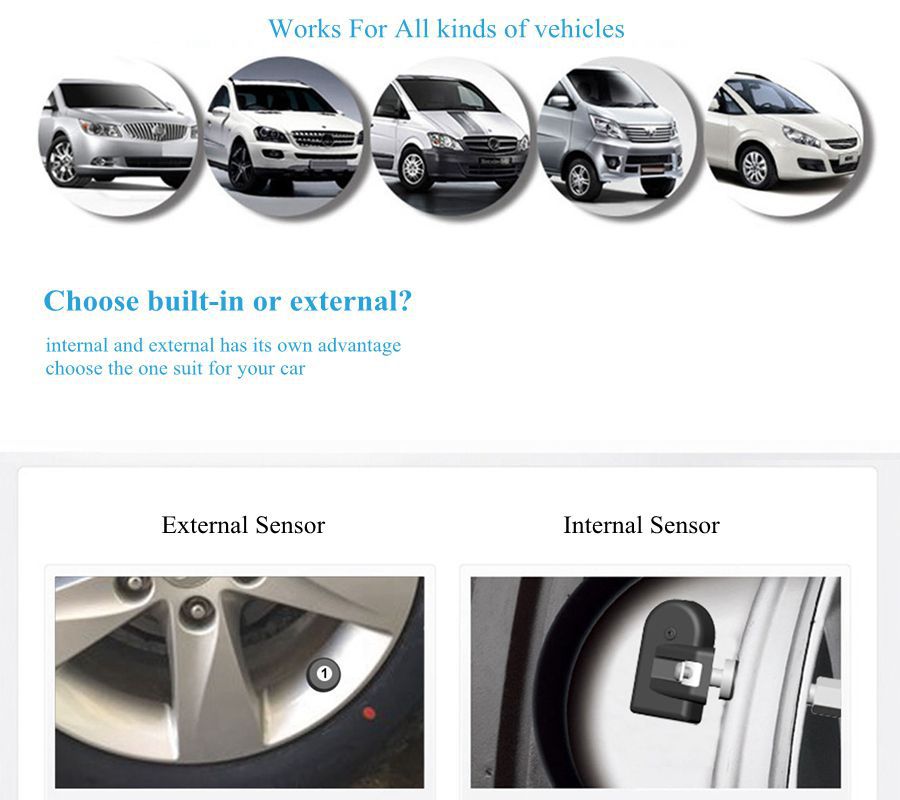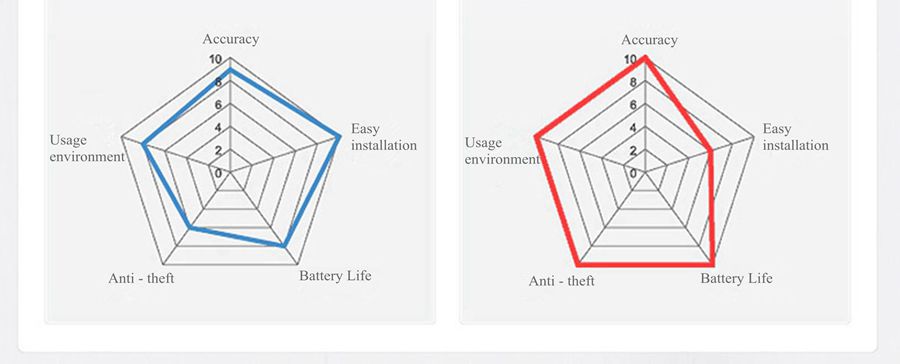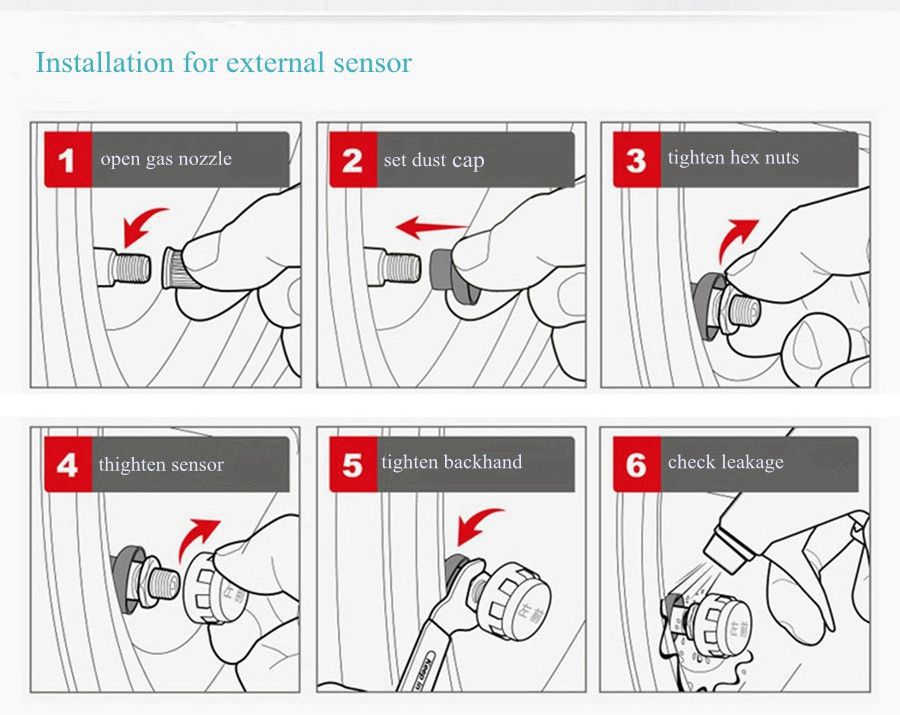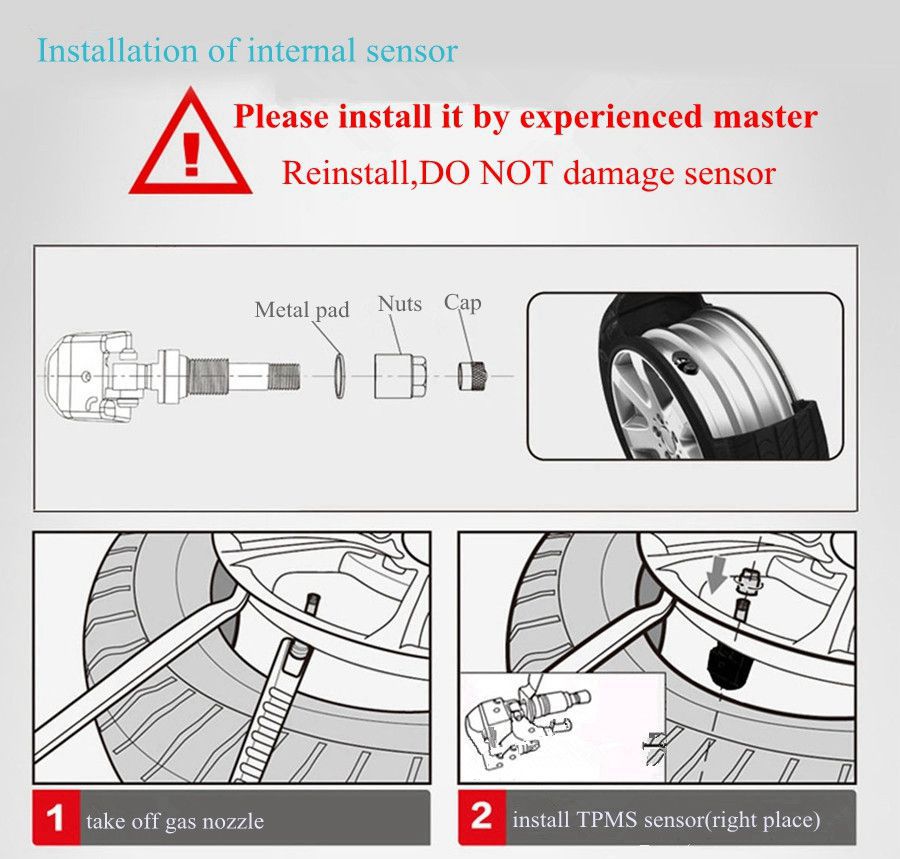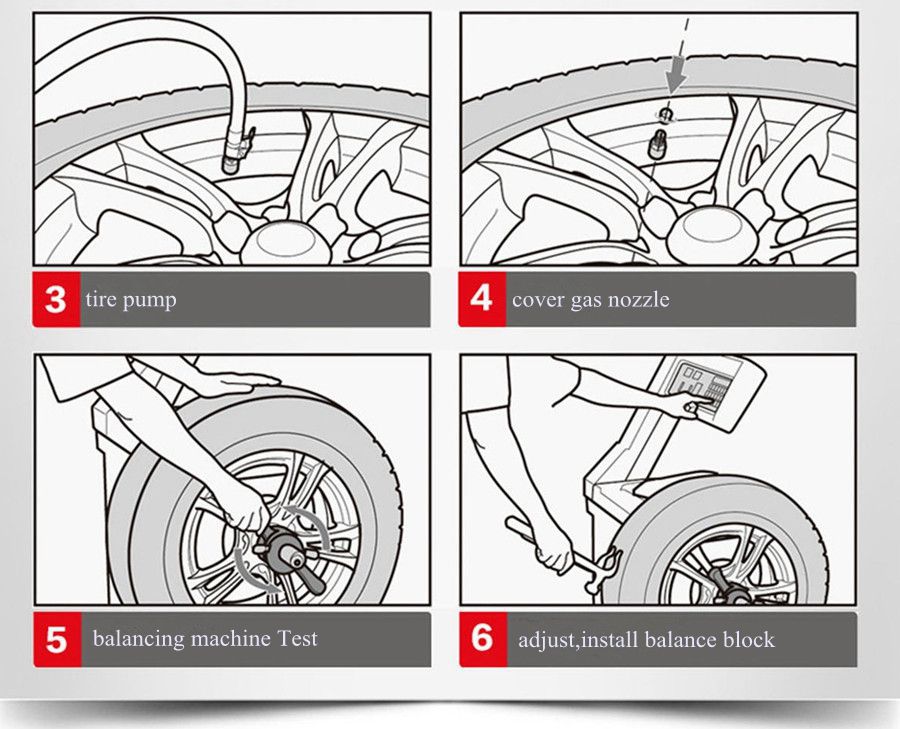 Reviews

17
#1 Sebastiaan Habets
Aug 9, 2018

Excellent product
#1 Yaroslav Brodsky
Nov 9, 2018

Product as advertised. Delivery superápida. Recommend to everyone.
#1 Hrvoje Marjanovic
Apr 9, 2019

The product is excellent all works
#1 Sergei Giljasev
Apr 9, 2019

It came quickly. The device is kind of working.
#1 John Appleyard
Feb 9, 2019

Ok. Thank you very much.
#1 ian wilson
Jul 9, 2018

Received it via DHL,all good.thank you.
#1 Tas Janjua
Jul 9, 2018

Very fast delivery. I will buy again from this store. Thank you! this New TPMS Bluetooth 4.0 Tire Pressure Monitor System 4 Internal/External Sensor Works Android/iOS Mobile Phone APP Display is good quality, working very well
#1 rocio ramos
Apr 9, 2019

Great company!!!!
#1 Sebastian Smulski Mas
Sep 9, 2018

Very fast to len. area in six days. The drive with the progs is whole, everything is installed and connected. I haven't checked the car yet.
#1 anibal buriani
Apr 9, 2019

Everything works. Delivery is super fast. Disk c to read. Seller recommend!
Previous: DPA5 Dearborn Protocol Adapter 5 Heavy Duty OBD2 Truck Scanner DPA 5 Diesel Heavy Duty Diagnostic Tool Without Bluetooth
Next: HILDA Car Polisher Machine Auto Polishing Machine Adjustable Speed Sanding Waxing Tools Car Accessories Power Tools