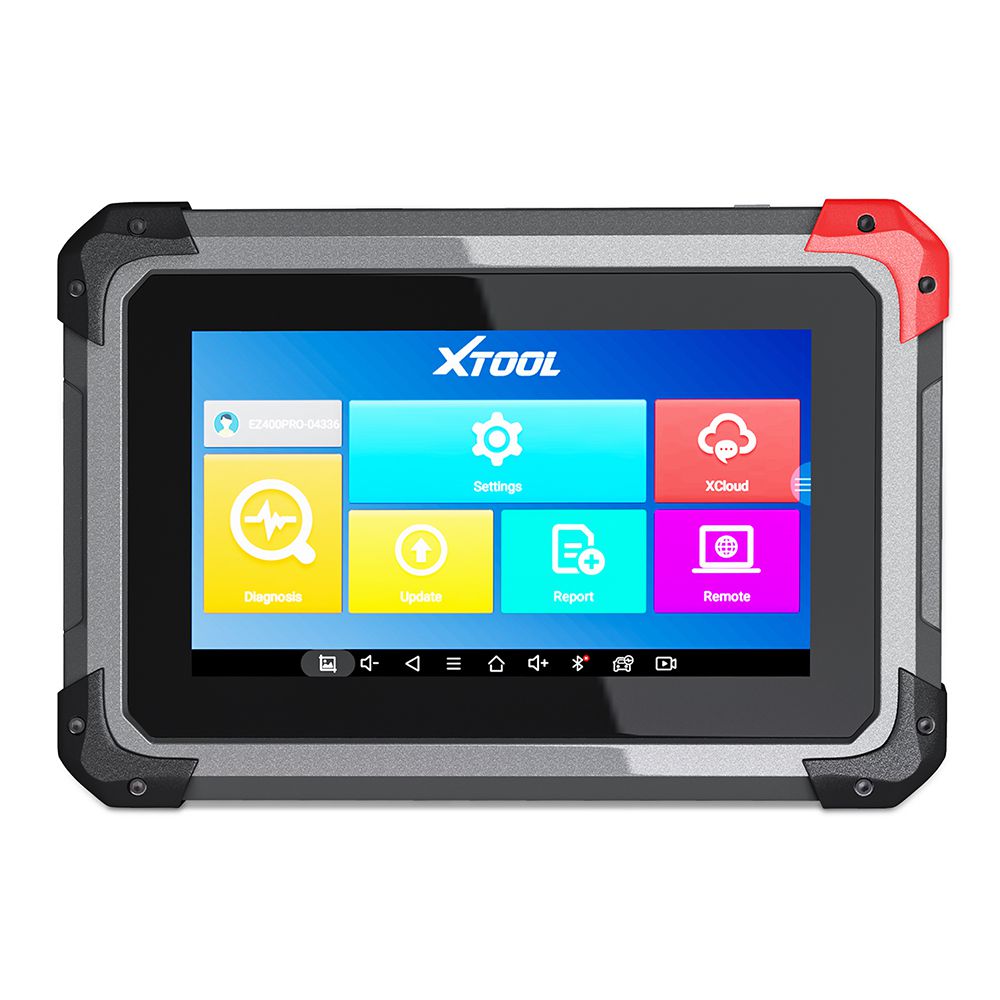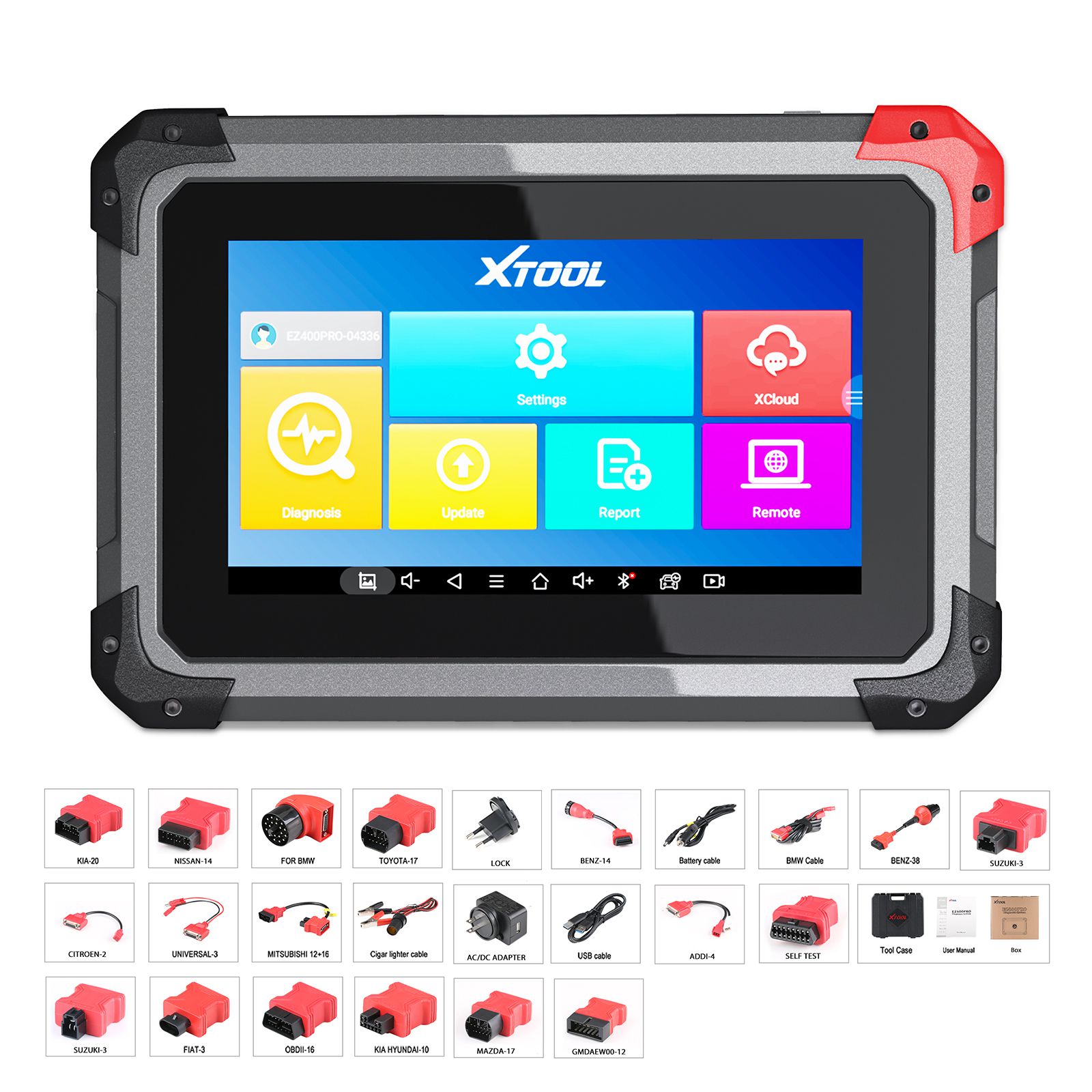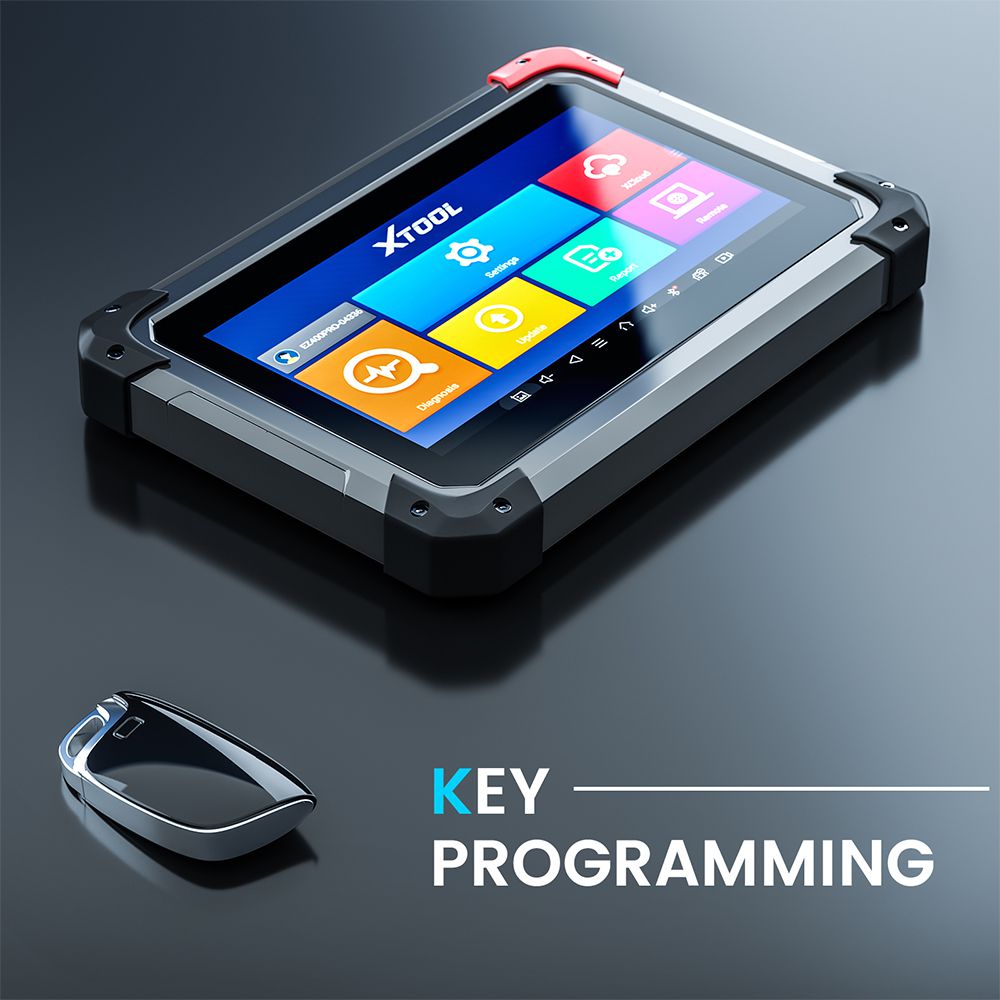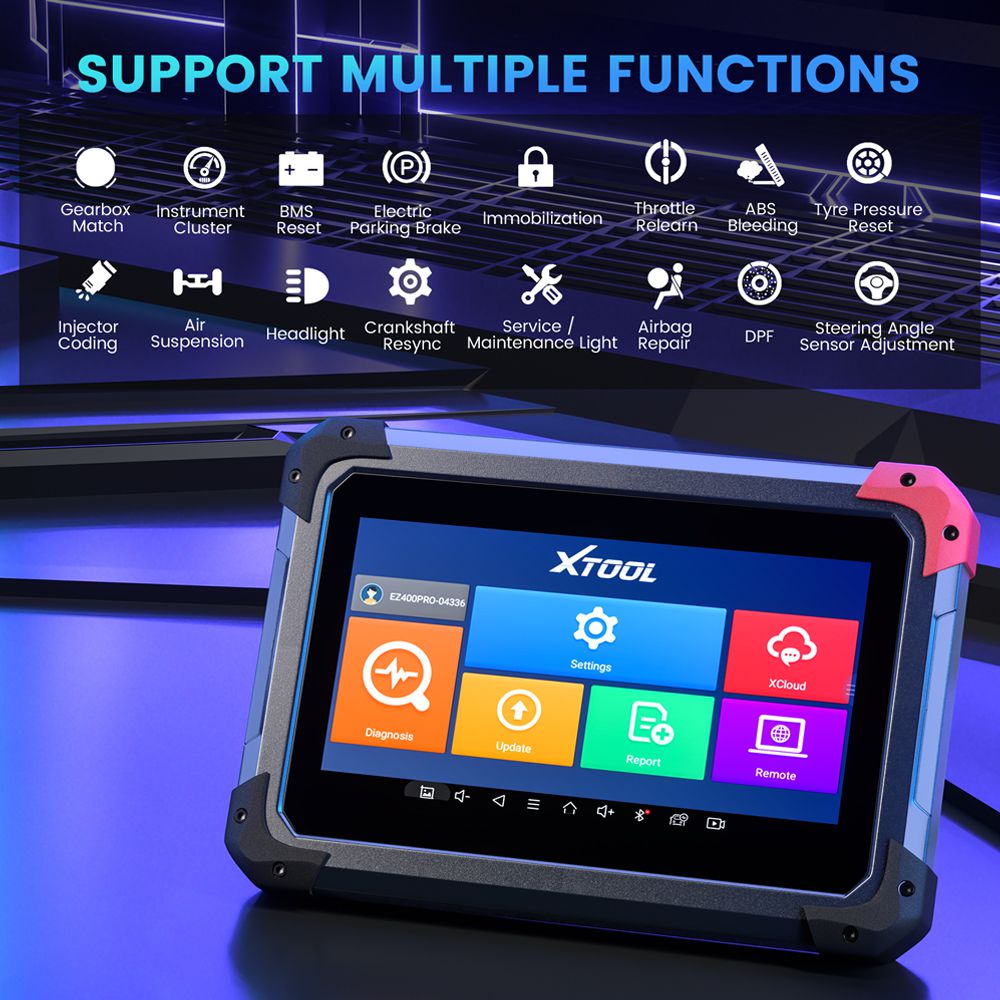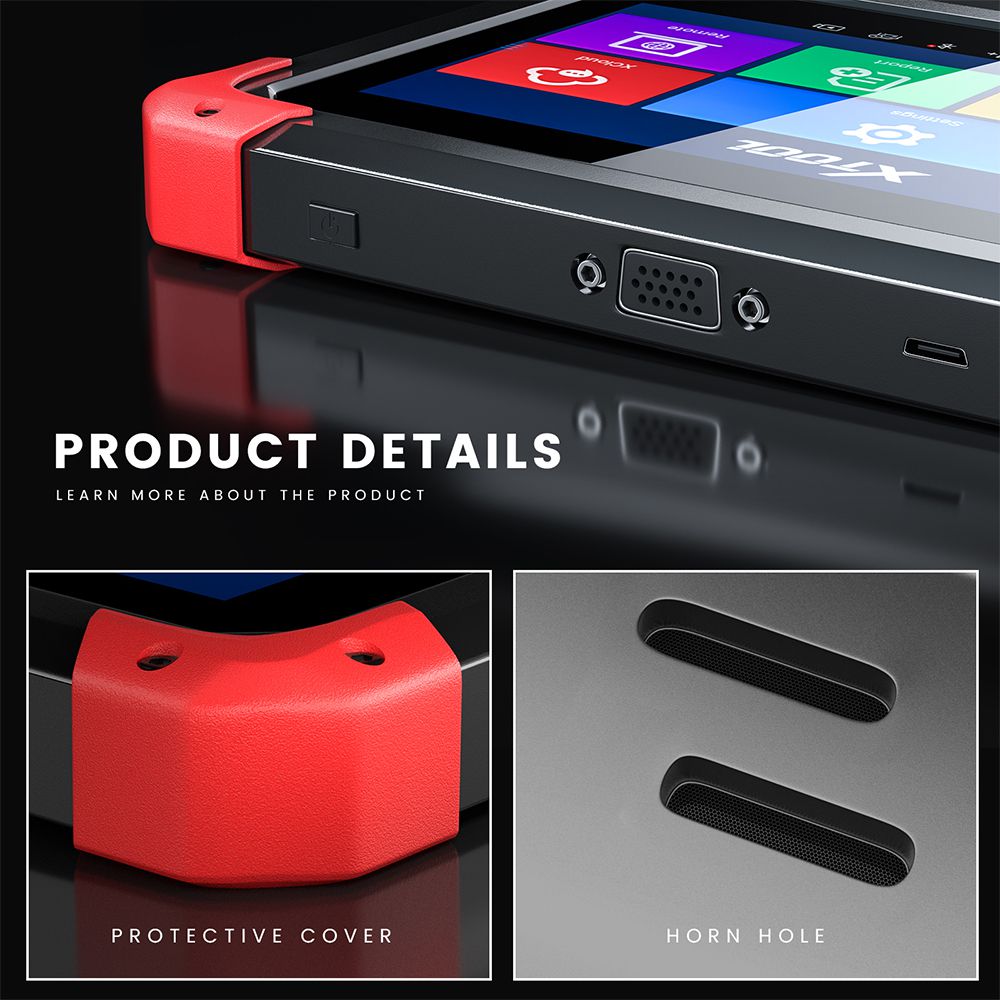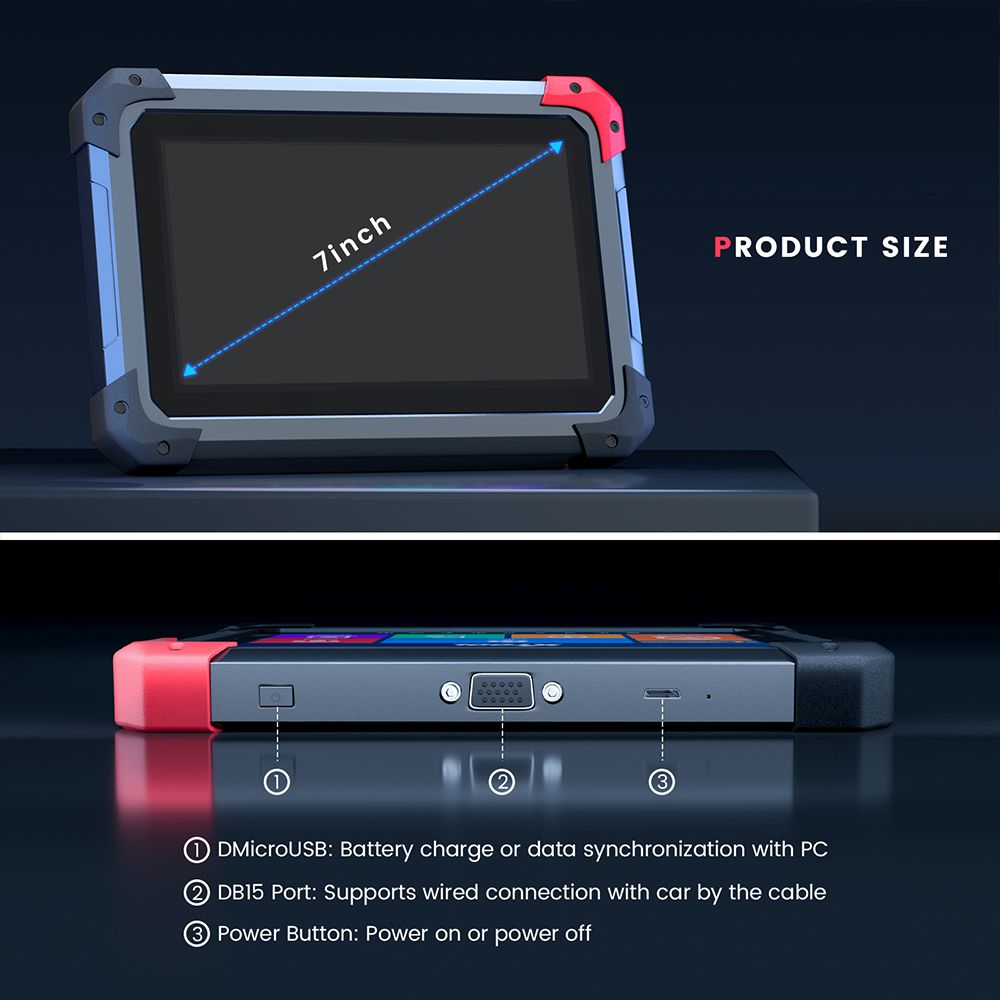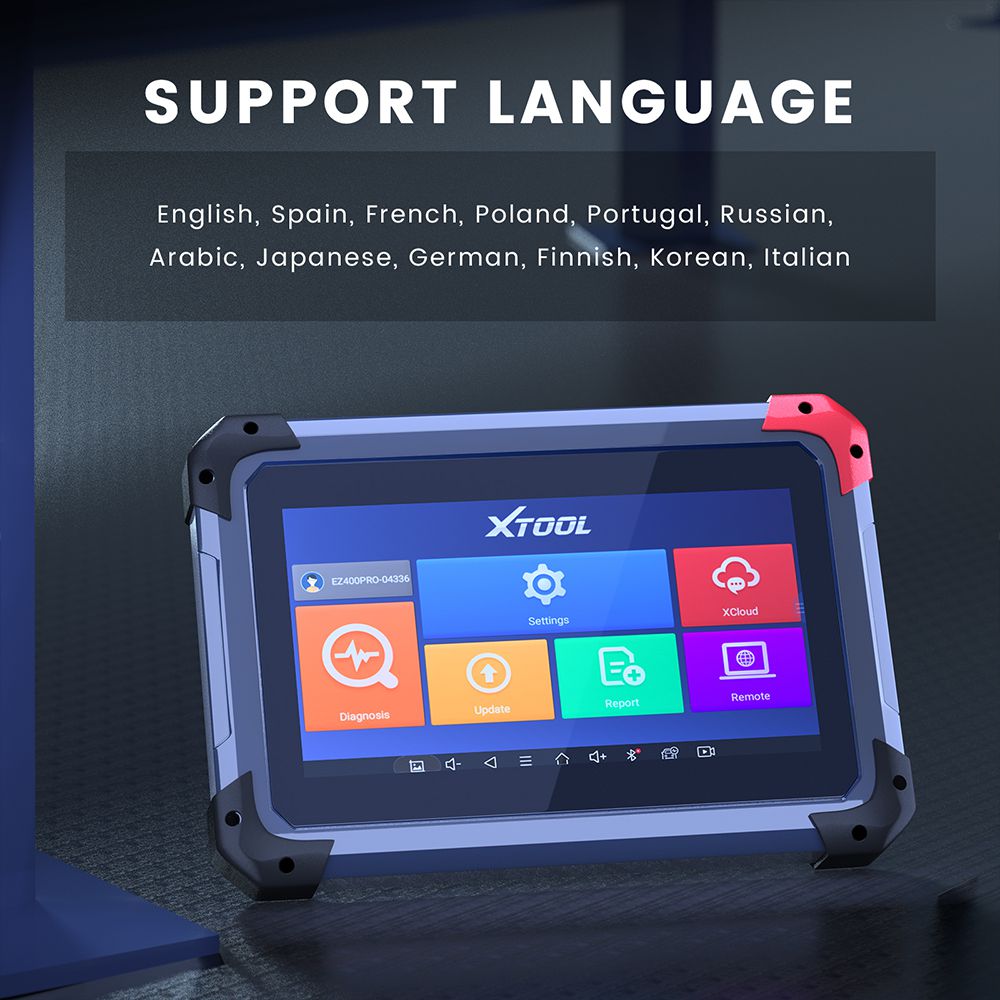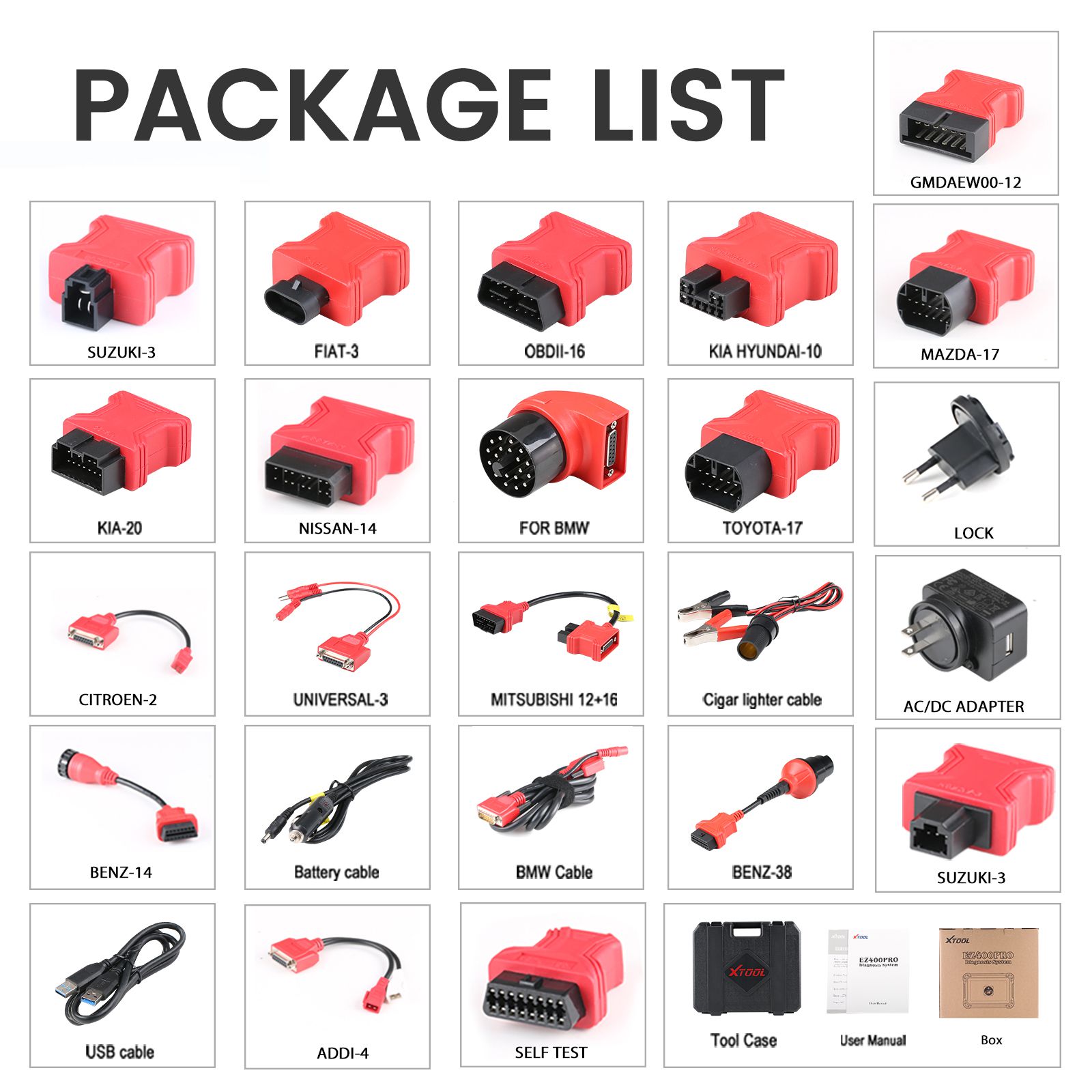 Related Accessories/Similar Items
Description
XTOOL EZ400 PRO Full System Auto Diagnostic Tool
XTool EZ400 PRO is a high-end and new style auto diagnostic device developed by XTOOL based on Android system which has same function as Xtool PS90. Xtool EZ400 Pro is based on
Android
system and Internet application,combines the XTOOL Company's vast vehicle coverage, strong diagnostic functions, many special functions and modern high quality tablet together,which makes it the best solution for workshops.
XTOOL
EZ400 PRO can work on Malaysia cars now, please pass us serial number of your device to get the authroization for free.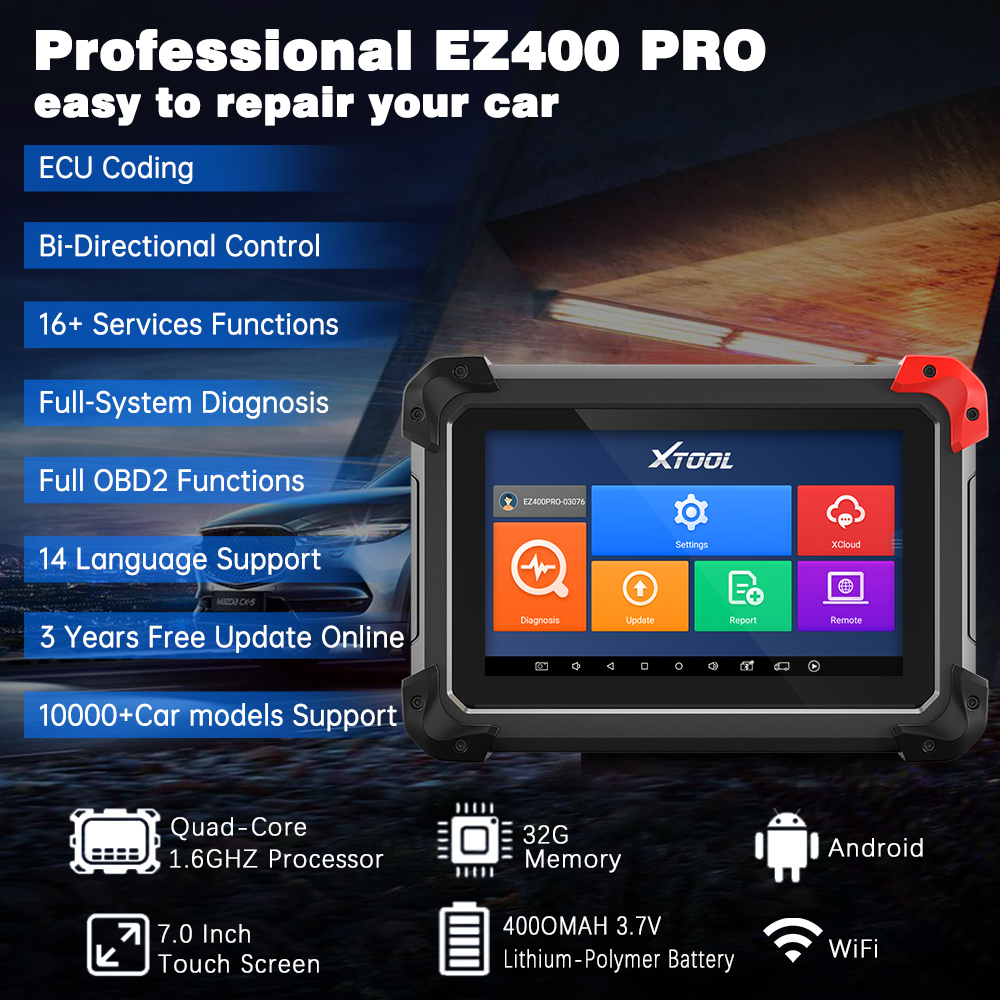 The Best Reason to Choose EZ400 Pro
1. OE-Level All Systems Diagnostic
EZ400 Pro is a professional diagnostic equipment connected to the car through
OBD2
protocol to find out specific car problems. It can read/erase codes, view live data, retrieve ECU info, do active test and service functions for all systems including
ECM
, TCM,
ABS
,
SRS
, BCM, BMS,
TPMS
, SAS, Fuel System, Light System and A/C system etc.
2.16+ Reset Service (Adaption / Initialization /Matching )
EZ400 Pro bi-directional scan tool Works for: Auto VIN Detect, ECU Coding, Adaptation , Matching ,
Oil Reset
, Brake Reset,
ABS
Bleeding, Injector coding, Gear Reset,
IMMO
Reset, SAS Reset,
TPMS
Reset, DPF Reset, BMS Reset, ETS Reset, AFS Reset, EGR Adaptation, GEARBOX, SUNROOF,
Seat
Calibration, Adblue Reset , Airbag Reset and etc.
3. Actuation Test (Bi-directional Control)+ ECU Coding
EZ400 Pro Can test if the actuator is normal, without using the vehicle's controls, to get a significant boost in effectiveness and can modify the adaptive data for vehicle control modules, after repairs or replacements of vehicle parts
4. 5 Years Warranty +3 Years Free Update + Almost OBDI&
OBDII
Connectors and Cables Included
EZ400PRO with 5 years free warranty and 3 years free update online with the
OBD2
functions like Read code、Clear code、Read live data、Read freeze frame etc… support more than 10000+car models and keep updating
5. 16 Language Supported and Multi Oversea Warehouse
choose your native language without encountering any sort of language barrier-- Arabic, German, English, Spanish, Finnish, French, Italian, Japanese, Korean, Polish, Portuguese, Russian (please provide the Serial number to us for changing the language )
6.365 Days Free Replacement &Free Return
Support for free return for seven days without reason, 365 days for free replacement of equipment with any problems, and for any problems during the five-year warranty period, we support online technical support, so you can use it without any trouble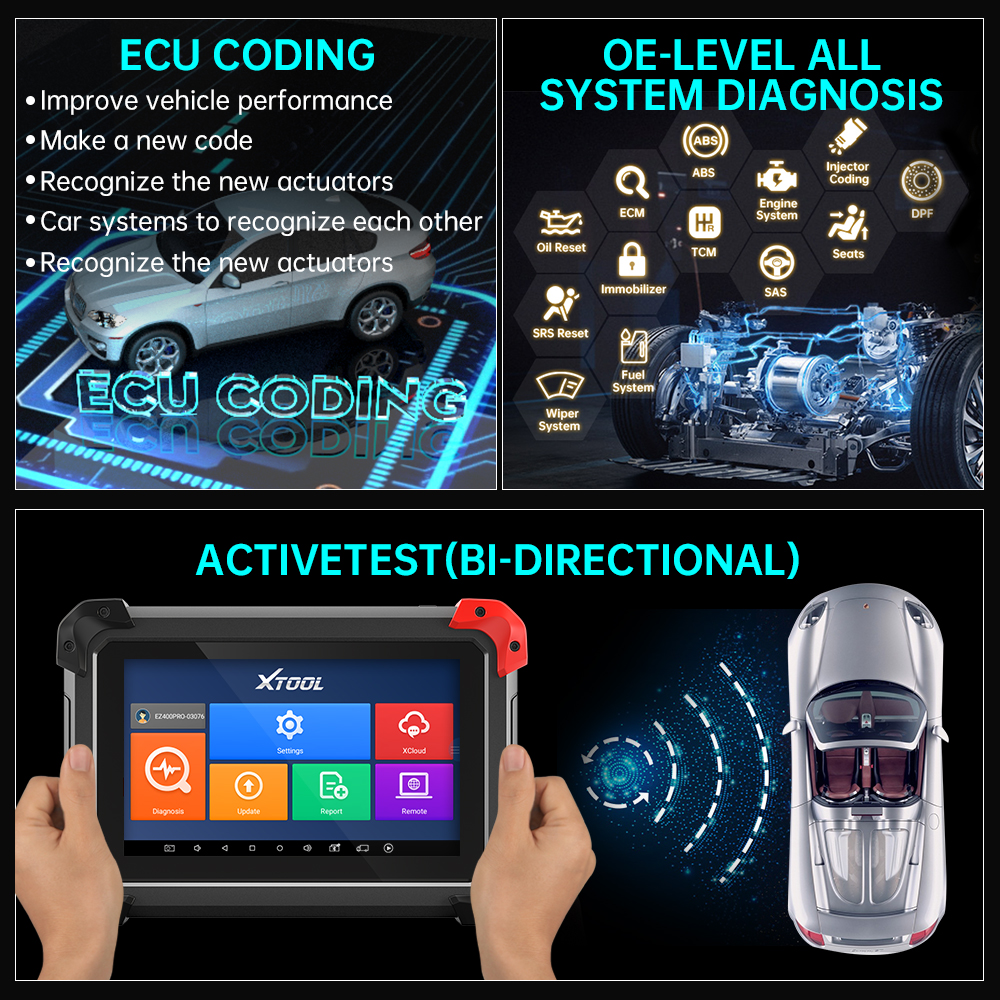 *ECU Coding (Customize)
EZ400 Pro can online modify the adaptive data for vehicle control modules, after repairs or replacements of vehicle parts including:
Power Window,Illuminated Entry,Warning,Light Control,Slide Roof,Air Conditioner ,Display,Unit Conversion,Entry & Start,PSD & PBD Operation,Seat …
*Full System Diagnostic
The Diagnostics application enables a data link to the electronic control system of the test vehicle for vehicle diagnosis. The application performs functional tests, retrieves vehicle diagnostic information such as trouble and event codes and live data for various vehicle control systems, such as
ABS
,
SRS
,
engine
, Transmission, Brake System, Emission System, Fuel system, Light system, Wiper System and etc.
*Active Test (Bi-directional Control)
EZ400 Pro can online test if the actuator is normal, without using the vehicle's controls, to get a significant boost in effectiveness:Turn on the radiator fan,Modulate the throttle ,Open/close windows,Operate mirrors,Turn on/off the lights,Turn on/off the sound horn, Test door lock …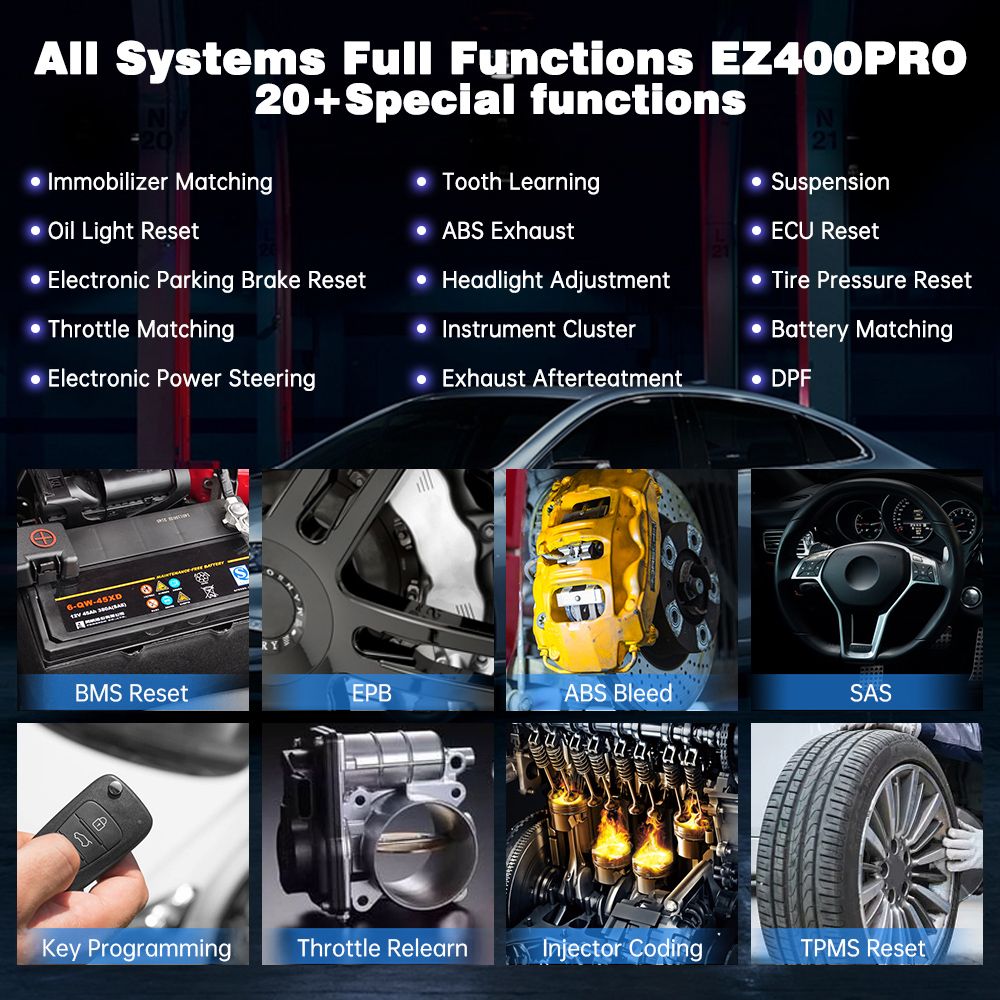 More than 16+ Special Functions
*Oil/Service/Maintenance Light
Performs reset for the
engine
Oil Life system, which calculates an optimal oil life change interval depending on the vehicle driving conditions and climate, and turns off the warning light
*Electric Parking Brake (EPB)
Maintains the electronic braking system safely and effectively through deactivating and activating the brake control system, assisting with brake fluid control, opening and closing brake pads, and setting brakes after disc or pad replacement, etc.
*Throttle Relearn
Initialize the throttle actuators to the default state for regulating throttle (or idle
engine
) operations accurately
*Tyre Pressure Reset
Relearn
TPMS
sensors so that new sensors can be recognized by ECU
*
IMMO
bilization/
Key Programmer
enables you to disable the
lost
vehicle keys and program a replacement key fob
*BMS Reset
Re-match the control module and motoring sensor for battery detecting more accurately, clear original low battery information and prevent the related control module from detecting false information
*Headlight
It detects the light of the environment, then decides whether to automatically turn on the headlights or not. It can also adjust the headlights in time
*Air Suspension
For
Audi
,
Mercedes Benz
,
BMW
,
Citroen
,
Chrysler
,
FORD
, GM(Cadillac, Chevrolet,
GM
C, Holden)
Peugeot
, Seat,
Skoda
,
VW
, ChangAn
FORD
, DF
Citroen
, S
GM
, Y
*Steering Angle Sensor Adjustment
Performs calibration for the Steering Angle Sensor (SAS), which permanently stores the current steering wheel position as the straight-ahead position in the steering angle sensor EEPROM. On successful completion of the calibration, the steering angle sensor fault memory is automatically cleared
*DPF
carry out numerous functions to the Diesel Particulate Filter system. The tool will manage DPF regeneration, DPF component replacement teach-in and DPF teach-in after replacing the engine control unit
*ABS Bleeding, Gearbox Match, Gear Learning, Injector Coding, Airbag Repair, Instrument Cluster and etc...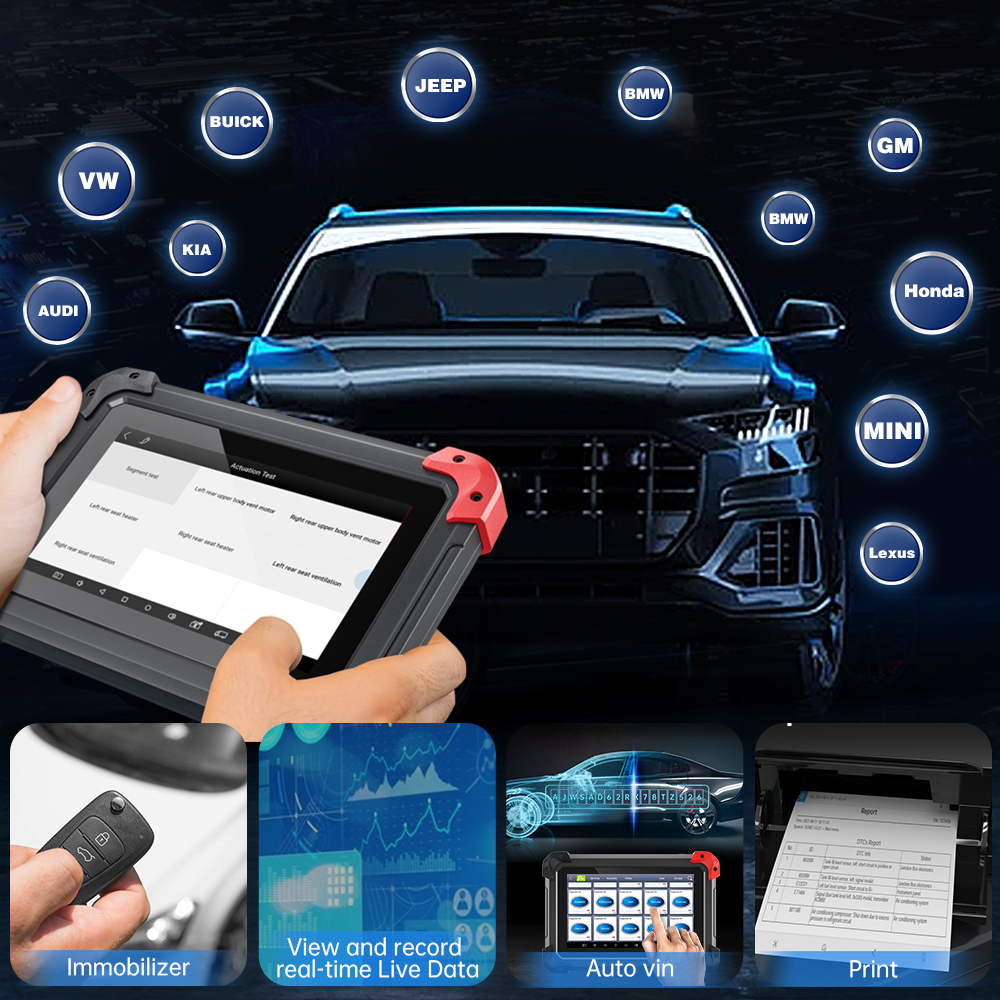 Disable
lost
keys and add/program the new car keys. (Especially support keys programming for
Honda
cars - Most models )>>TOP POPULAR
View & Capture (Record) Real-time Live Data
This data including current operating status for parameters and /or sensor information can provide insight on overall vehicle performance. It can also be used to guide vehicle repair.
Auto Scan Car VIN Code
EZ400 Pro can automatically scan the car's information, include VIN number, release year, model and engine type(if not read out can automatically your car models via you write VIN codes inside )
Print Diagnostic Report
With EZ400 Pro, you can generate a full system Diagnostic Report by ONE-CLICK. The reports can be emailed to the office or directly to your customer. You can also print out the vehicle health report card.
Wide Car models Support
EZ400 Pro can work for most of the universal car models in the world for all functions of those car models can been supported.
Diagnostic Vehicles:
Asian Car Models: for LEXUS, for HYUNDAI, for
TOYOTA
, for HONDA, for NISSAN, for TUSUZU, for INFINITI, for Daihatsu, for SSANGYONG, for MARUTI, for ISUZU, for MAZDA, for TATA, for
Kia
, for MAHINDRA, for SCION, for ACURA, for MITSUBISHI, for PROTON, for RENAULT/SAMSUNG, for DAEWOO, for SUZUKI, for SUBARU and etc.
American Car Models: for CHEVROLET, for HUMMER, for SATURN,for CADILLAC, for PONTIAC, for
FORD
(USA), for BUICK, for DODGE, for
Chrysler
, for GMC, for LINCOLN, for
GM
and etc.
Europe Car Models: for ROLLS, for RENAULT, for DACIA, for LANCIA,for VW, for
VW
/CR, for OPEL, for MAYBACH, for BUGATTI, for MINI, for
BMW
, for BENTIEY, for LAMBORGHINI, for SAAB, for ABARTH, for
FORD
(EUR), for VOLVO, for JAGUAR, for
Peugeot
, for LAND ROVER, for
Citroen
, for SMART, for VAUXHALL, for
PORSCHE
, for ALFA ROMEO, for BENZ, for FIAT, for BENZ TRANSPORTER and etc.
Australia Car Models: for
FORD
(AU), for HOLDEN
Chinese Car Models: for FORD, for GREAT WALL, for BYD, for LIFAN CARS, for CHERY, for JAC, for BRILLIANCE, for GEELY CARS, for GONOW CAR.
EZ400 Pro with Malaysia Version can works for Proton and for Perodua
Product Parameters
Quad-core:1.6GHZ processor
Memory:32 GB
Touch Screen: 7.0 inch
Lithium-polymer Battery: 4000mAh, 3.7V
Systetm:
Android
system
Connection: Wifi
Bluetooth
compatible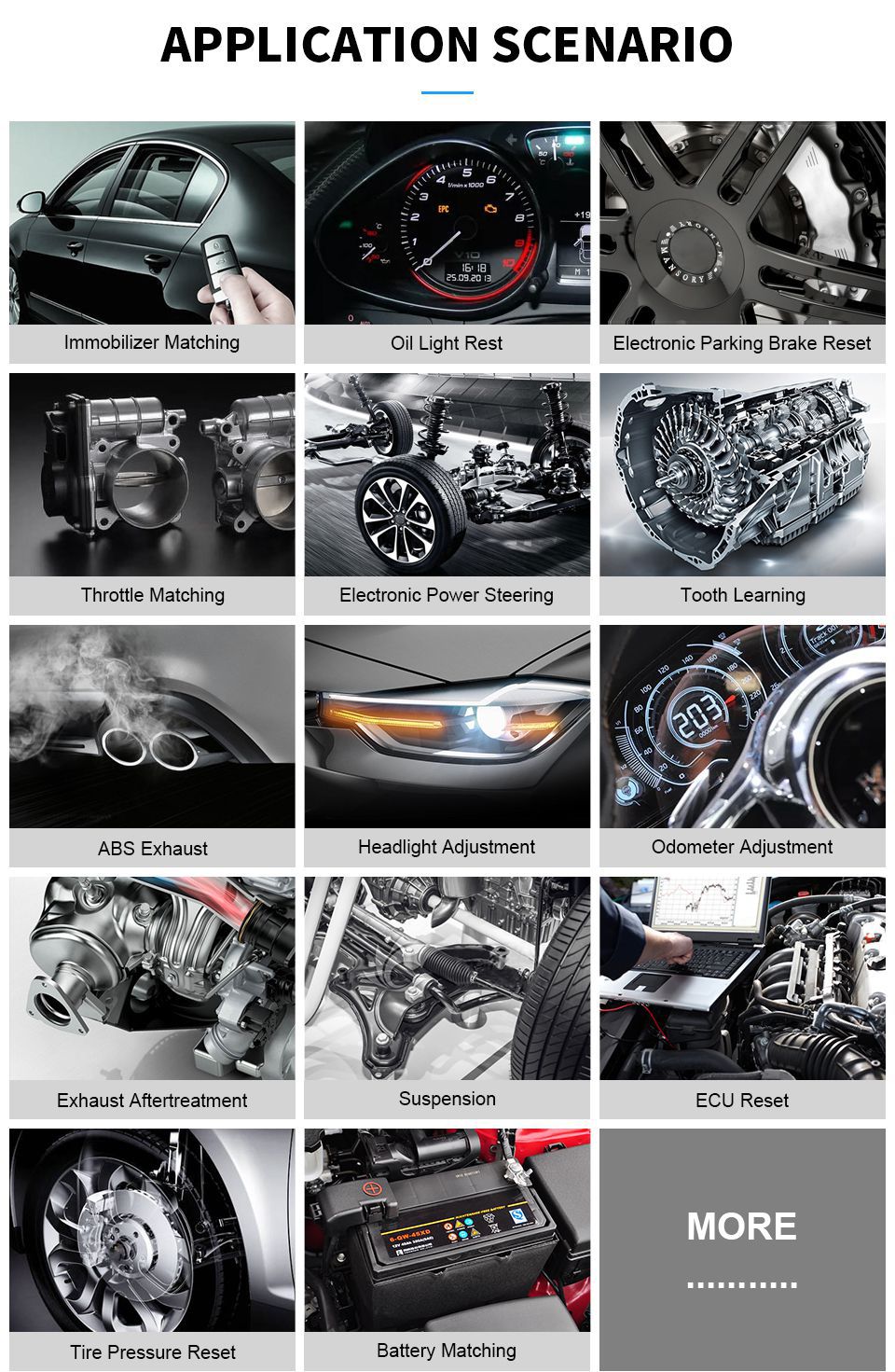 How to Update XTOOL EZ400 Pro?
One-Click Onlie Update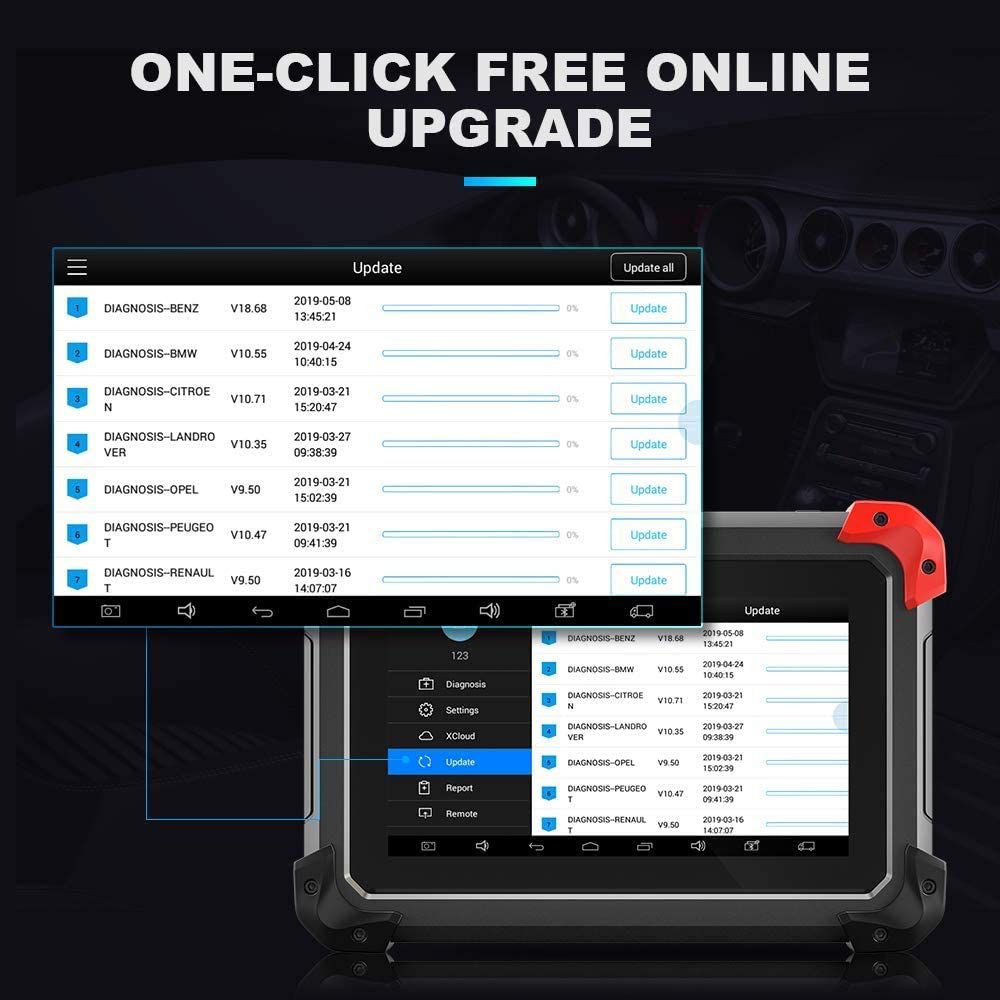 XTOOL EZ400 Pro Vehicle List: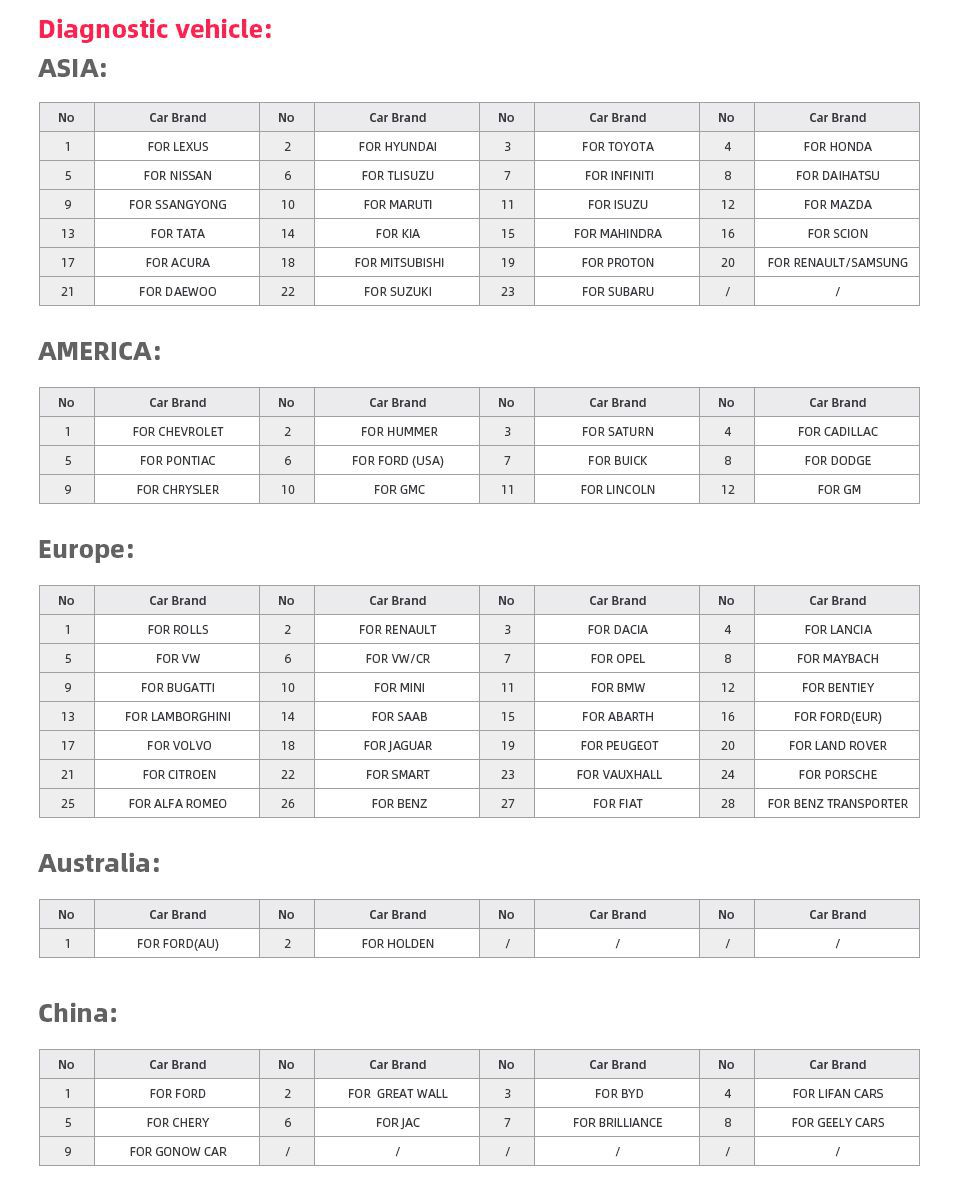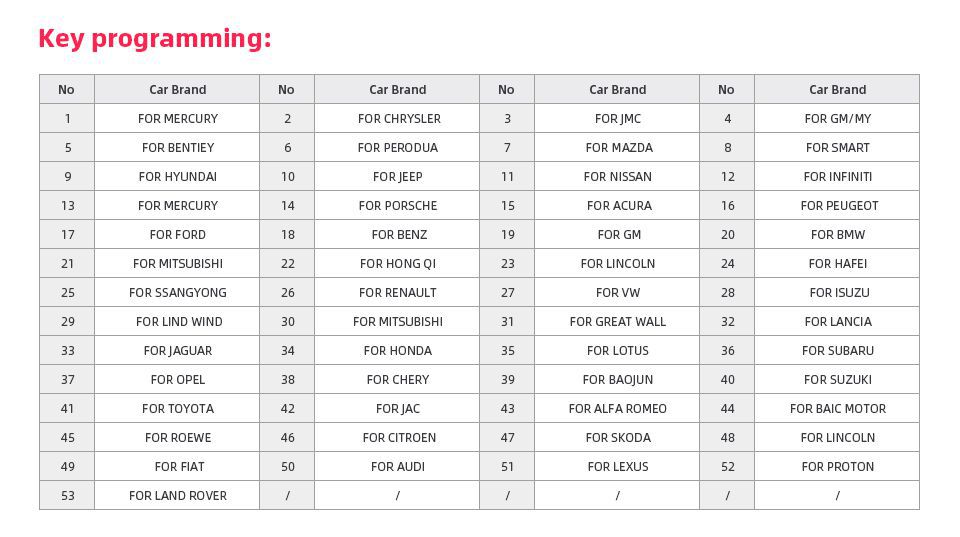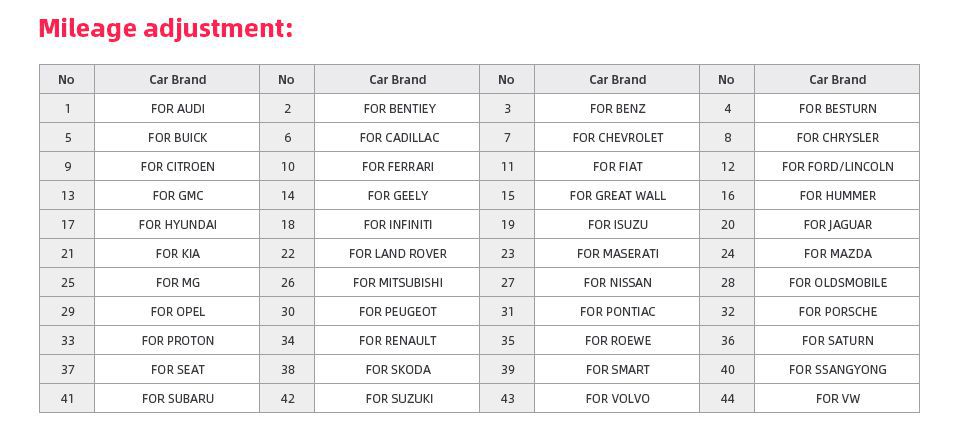 Xtool EZ400 Pro Tablet Overview: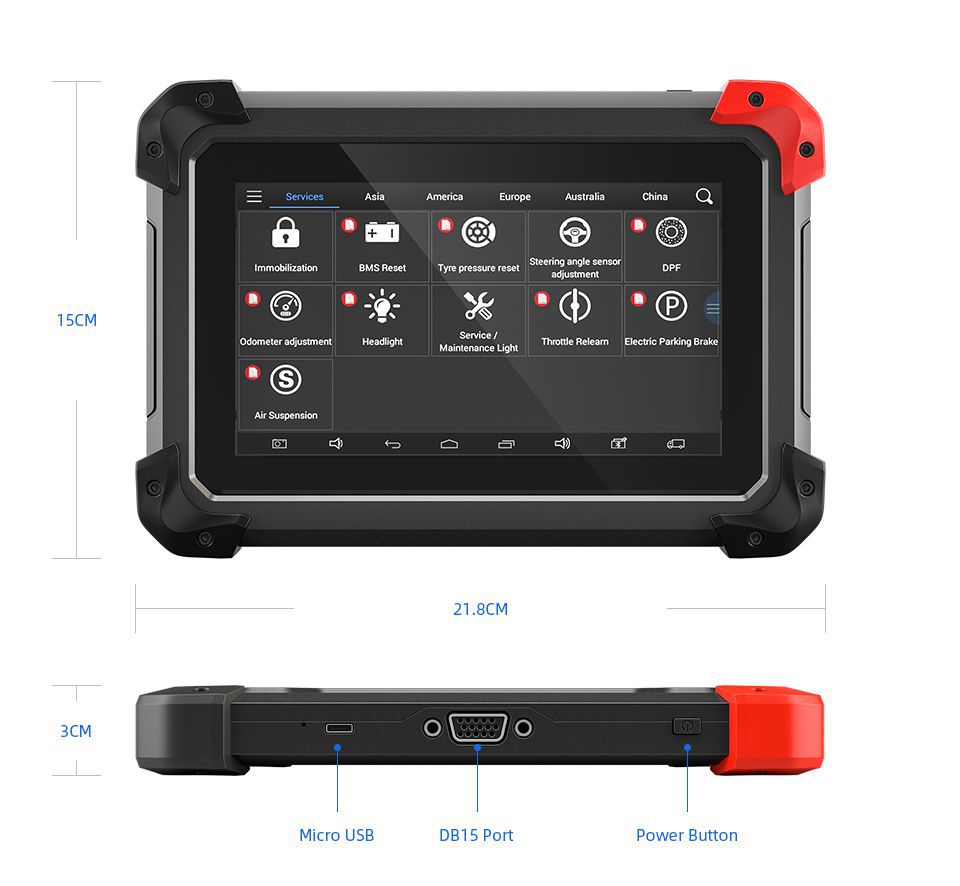 ①MicroUSB:Battery charge or data synchronization with PC
②DB15 Port:Supports wired connection with car by the cable
③Power Button: Power on or power off
Vehicle Connection Test
Wired Connection ①→②→③→④
a. Connect cables and EZ400PRO in following order: ①→②→③→④
b. Switch on the ignition and turn on EZ400PRO tablet, then tap on EZ400PRO application to test vehicles. (Shown as follows)

① EZ400 PRO Mainframe ② Main Test Cable ③ OBDⅡ-16 ④ Vehicle
Precautions Before Use
1. The vehicle power supply has to meet the normal voltage limits DC4.8V---5V.
2. When pull and plug test wire harness, users should pinch the front-end of the wire harness to pull and plug, not pull the middle section of the wire harness. Users should check the corresponding direction of the port and plug in horizontally when they plug the wire harness, instead of inserting in an oblique way, which may damage the terminal.
3. When taking some special functions tests, users are required to operate the device according to operating instructions. For vehicle, it has to strictly meet the requirements, for example, the conditions that some vehicle models need to be reached are as follows: engine temperature 80℃/105℃,turn off the loads (such as headlights, air-conditioner, etc.), put accelerator pedal in released position, etc.
4. The ECU for Chinese domestic vehicle models are relatively disorderly, so when users meet conditions, such as the car can not be tested or the test data is wrong, they should consider whether the selected menu corresponds to the tested electronic control system, or they can find the car ECU and select the right menu according to the model number on the ECU label.
5. If users can not find the tested vehicle model or electronic control system in EZ400PRO test menu, they may need to update the software or consult Xtool technical service department
6. Banned to have connection test by using harness not from Xtool to avoid unnecessary losses.
7. Banned to power off directly in the communication between EZ400PRO and vehicle. Users should cancel the task and return to the main interface, then power off.
8. The device should be put and lifted slightly to avoid collision when using EZ400PRO. When click the screen, touch it gently to guarantee the service life of the touch screen.
9. During long period of non-use, please disconnect the power and turn it off.
After EZ400PRO tablet connected to vehicle via main cable, diagnosis can be performed now.Settings
Select enter Settings; users can set the language, unit and other system related options:
Languages: select the language. Please tick the needed option from multi-language options on the right.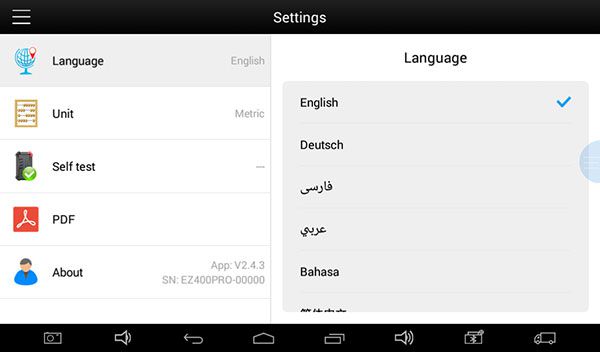 Units:
Select unit of measurement. Users can tick Metric or English measurement.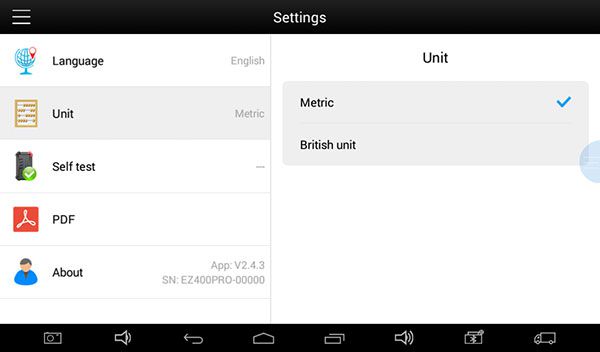 System Settings:
Android
system setup, such as wireless,
Audi
o frequency, light sensation, etc.
XTOOL EZ400 Pro FAQs:
Q1:Does it can program a key 2014 ford fiesta St?
A1:yes,it work with 2014 year ford on
Key Programmer
.
Q2:Is this bidirectional for cadilac 04 srx will it test fans on hvac and reset mileage program key fobs?
A2:not sure of 2004 years. It will work for reset mileage and program key fobs for cadilac, but not support test fans on hvac.
Q3:Does do the km change on Mecedes w211 e320cdi 2004?
A3:yes,it does w211 E series.
Q4:Can this work on kia hyundai and
TOYOTA
from central america form 2005 to 2017?
A4:
TOYOTA
yes but Kia haven't used it on it yet
Q5:Does it have bi directional control functions such as evap vent test or ABS bleeding?
A5:not support this function.
XTOOL EZ400 Pro Technical Parameters

Operating System: Android
Processor: Quad-core 1.6GHz Processor
Memory: 1G RAM,16G FLASH
Display: 7.0 inch touch screen with 1024×600 resolution
Sensors: Gravity Sensor,Ambient Light Sensor
Audi
o Input/Output: Microphone, Dual Speakers, 4-Band 3.5 mm stereo/standard headset jack
Power and Battery: 4000mAh, 3.7V lithium-polymer battery
Power Voltage: 5V
Power Consumption: 8W
Operating Temperature: -20 to 50℃(-4 to 126℉)
Humidity: <90%
Dimension (L*W*H): 218*150*29mm
XTOOL EZ400 Pro Package List:
1pc x OBD II-16
1pc x HONDA-3
1pc x
BMW
-20
1pc x TOYOTA-17
1pc x MAZDA-17R
1pc x KIA-20
1pc x HYUNDAI/KIA-10
1pc x NISSAN-14
1pc x GM/DAEWOO-12
1pc x SELFTEST
1pc x UNIVERSAL-3
1pc x SUZUKI-3
1pc x FIAT-3
1pc x CITROEN-2
1pc x AUDI-4
1pc x MITSUBISHI-12+16
1pc x BENZ-38
1pc x BENZ-14
1pc x MAINCABLE
1pc x Battery Cable
1pc x Cigar Lighter Cable
1pc x EZ400PRO Tablet
1pc x Charger for Tablet
1pc x Charger US Adapter
1pc x Charger EU Adapter
1pc x MicroUSB Cable
1pc x Tool Case
1pc x Certificate of Quality
1pc x Packing List
1pc x User Manual
1pc x Carton
Reviews

10
#1 Alexey Chernov
Apr 9, 2019

Ok. Thank you very much.
#1 buccione piero
Dec 9, 2018

Delivery is very fast, the device is intact and do not harm. To the car has not yet connected, as i will try then i will add a tip, and so everything is fine.
#1 David Allstott
Jul 9, 2018

Perfect. Communication at all times. Very fast sent
#1 Andy Tam
Jan 9, 2019

The goods came quickly enough, packed perfectly, checked works!
#1 kerry castillo
Sep 9, 2018

Do not have time to test right now, looks great
#1 arnaldo benjamim
Jun 9, 2018

All perfect, as always. Free. blisteringly fast
#1 wisam arabiat
Feb 9, 2019

All as in the description. this XTOOL EZ400 PRO Tablet Auto Diagnostic Tool Update Version of EZ400 Same As Xtool PS90 with 2 Years Warranty is good quality, working very well
#1 Johnny Brown
Jun 9, 2018

Absolute best seller on Aliexpress! Good communication, good service. I have done many orders here last few month. But this was awesome. Delivering 2 (two!) working days.
#1 Anthony Brush
Jun 9, 2018

now I have the product, now i can learn to use it. NO QUESTIONS ON USE! Google is your friend, learn to search. Thank you & recomended seller
#1 Placido sanchez mu��oz
Jun 9, 2018

Everything perfect
Previous: Latest Best Quality GM MDI Multiple Diagnostic Interface with Wifi
Next: BMW FEM/BDC BMW F20 F30 F35 X5 X6 I3 Test Platform with a Gearbox Plug