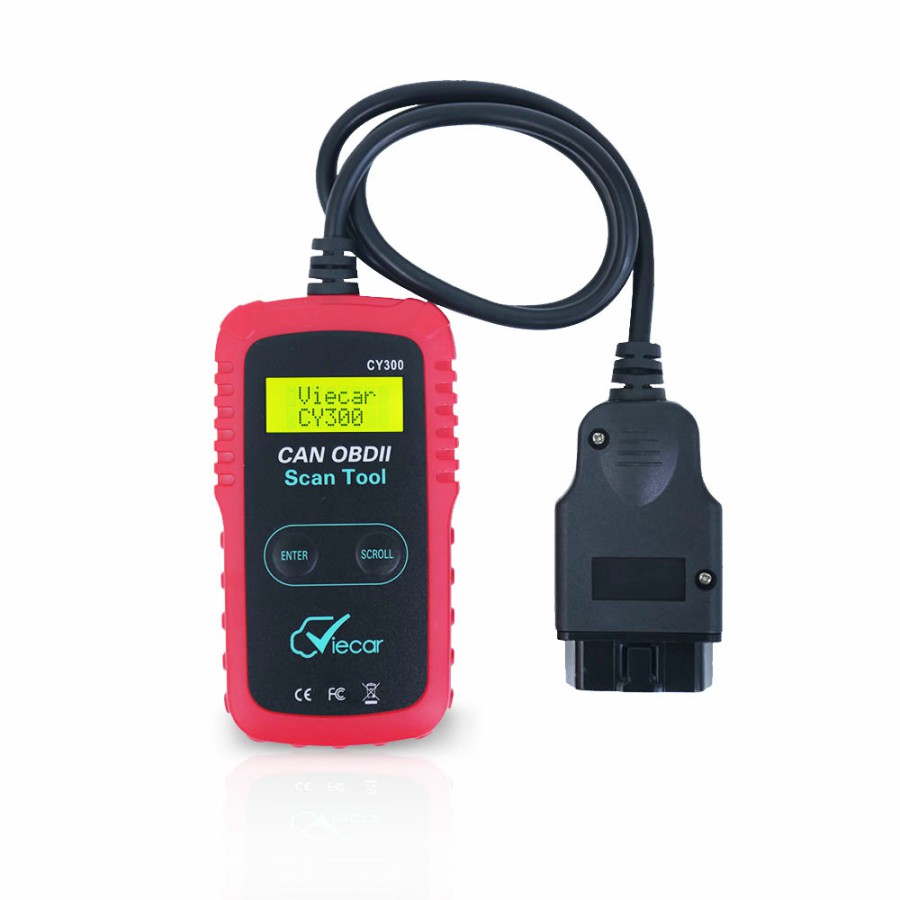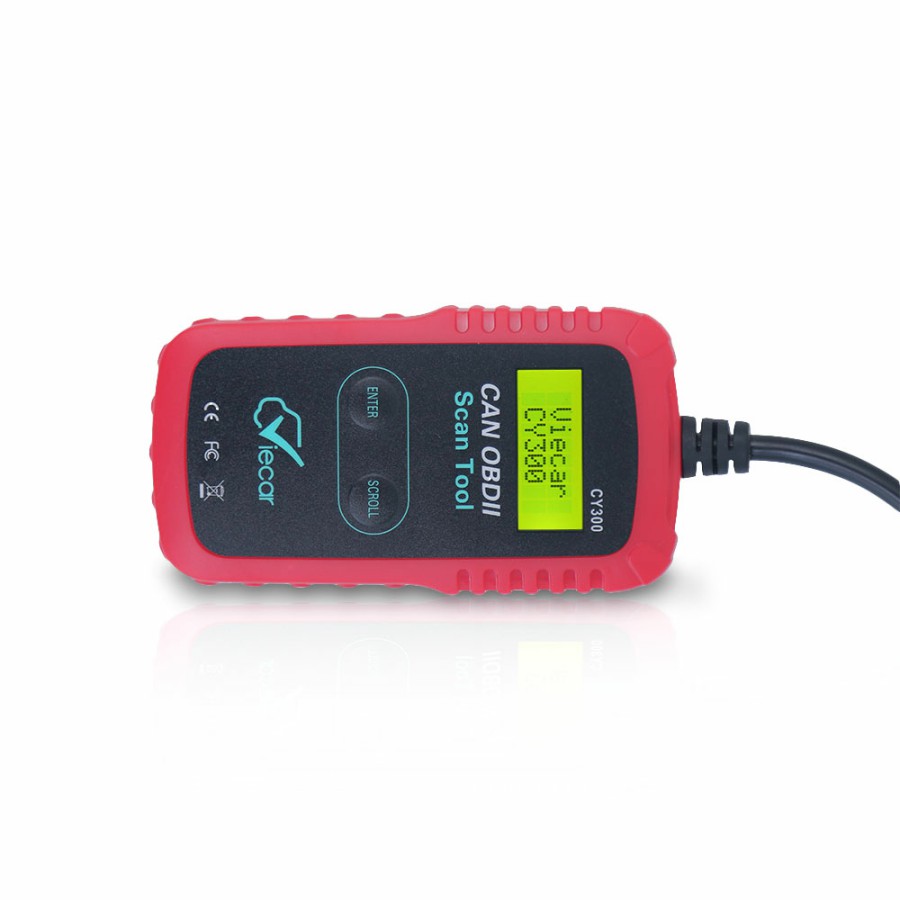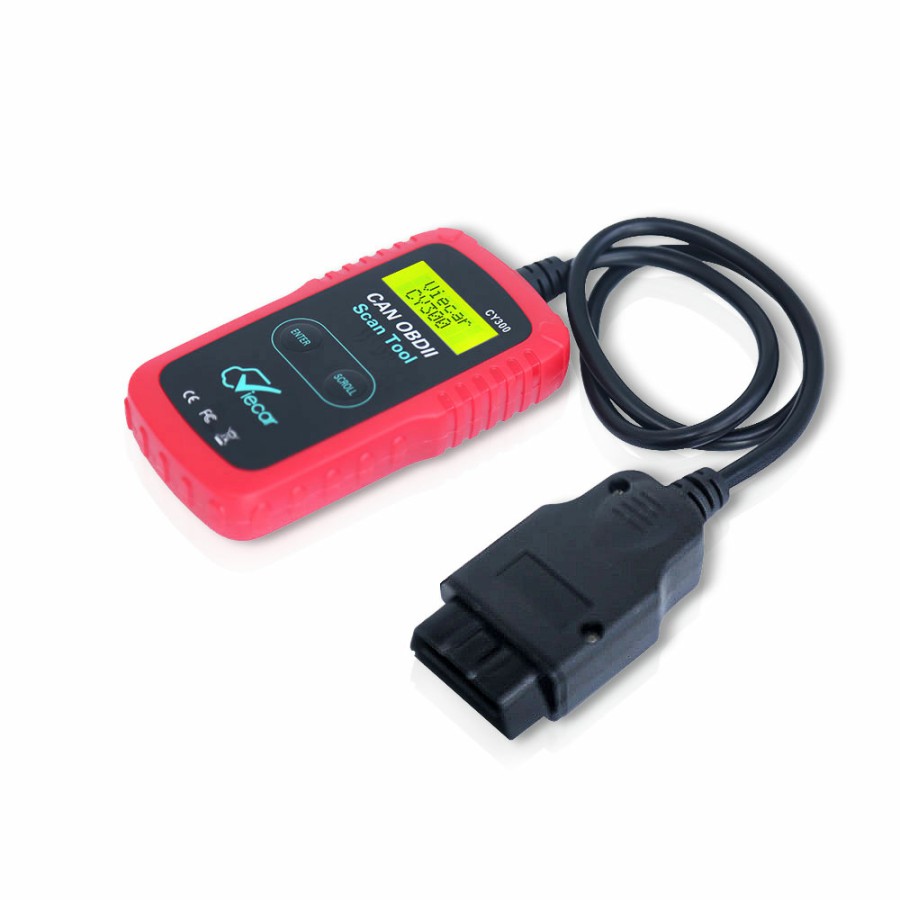 Description

OBD2 Diagnostic Interface Tool VIECAR CY300 ELM327 OBD2 Scanner VC300 Support SAE J1850 Protocol

The Viecar VC300 code reader supports all OBD II protocols, including the newly-released Controller Area Network (CAN) protocol.
Though it is small, it is able to retrieve same information as large expensive scanners!

A small number of gasoline vehicles (1994 and 1995 model year) are the OBD II compliant. To verify if a 1994 or 1995 vehicle with OBD II compliant or not, check the Vehicle Emissions Control Information (VECI) Label which is located under the hood or by the radiator of most vehicles.
That is, if the vehicle is OBD II compliant, the label will designate "OBD II Certified". Additionally, Government regulations mandate that all OBD II compliant vehicles must have a "common" sixteen-pin Data Link Connector (DLC).

For your vehicle to be OBD II compliant it must have a 16-pin DLC (Data Link Connector) under the dash and the Vehicle Emission
Control Information Label must state that the vehicle is OBD II compliant.

Viecar VC300 Supported OBD-II protocols:

SAE J1850 PWM (41.6 Kbaud)
SAE J1850 VPW (10.4 Kbaud)
ISO 9141-2 (5 baud init, 10.4 Kbaud)
ISO14230-4 KWP (5 baud init, 10.4 Kbaud)
ISO14230-4 KWP (fast init, 10.4 Kbaud)
ISO15765-4 CAN (11bit ID, 500 Kbaud)
ISO15765-4 CAN (29bit ID, 500 Kbaud)
ISO15765-4 CAN (11bit ID, 250 Kbaud)
ISO15765-4 CAN (29bit ID, 250 Kbaud)

Viecar VC300 Features :

Work with all vehicles after 1996 that are OBD II compliant (including CAN)
Read and clear generic and manufacturer specific Diagnostic Trouble Codes (DTCs) and turn off check engine light
Support multiple trouble code requests: generic codes, pending codes and manufacturer specific codes
Review the emission readiness status of OBD monitors
Determine the malfunction indicator lamp (MIL) status
Retrieve VIN (Vehicle Identification No.) on 2002 and newer vehicles that support Mode 9
Easy to use with one plug-in
Free CD software with over 7000 DTC definitions
No batteries needed-powered via detachable OBD II cable

Viecar VC300 Specifications:

Display: Backlit LCD, 2-line, 8 characters
Operating Temperature: 0 to 50 C (32 to 122 F)
Storage Temperature: -20 to 70 C (-4 to 158 F)
Power: 10.0 to 15.5 Volts provided via vehicle battery
Dimensions: Length 4.4" (113 mm) Width 2.9" (74 mm) Height 0.83" (21mm)
Weight: 281g

Package Includes:

1pc x CY300 (VC300)Auto mobile diagnostic
Reviews

13
#1 Mauricio Matthews
Jun 9, 2018

Absolute best seller on Aliexpress! Good communication, good service. I have done many orders here last few month. But this was awesome. Delivering 2 (two!) working days.
#1 MOEZ GARBI
Jul 9, 2018

Product as advertised. Delivery superápida. Recommend to everyone.
#1 mohammed alomrine
Jul 9, 2018

Perfect. Communication at all times. Very fast sent
#1 Otunba Ajayi-Smith
Apr 9, 2019

Good quality, fast shipment.
#1 dale stephen
Aug 9, 2018

Arrived super fast delivery. The best they have representative here in Brazil P make delivery. Good seller. Recommend.
#1 Oleg Yuryev
Jan 9, 2019

very good salesman always available and very helpful. I will buy again at the seller.
#1 David Marquis
Nov 9, 2018

It came quickly. Everything works.Thank you to the seller. I will buy more here! this OBD2 Diagnostic Interface Tool VIECAR CY300 ELM327 OBD2 Scanner VC300 Support SAE J1850 Protocol is good quality, working very well
#1 Alexandre TOLLITTE
Jun 9, 2018

pretty good to use,thanks for your help!
#1 steve kahane
Aug 9, 2018

Do not have time to test right now, looks great
#1 Fred Boone
May 9, 2018

Super fast, tried on my car works perfect. Great seller.
Previous: OE581 OBD2 EOBD CAN Diagnostic Tool Car Engine Fault Code Reader
Next: OBD2 EXPERT OE581M CAN OBDII/EOBDII Code Reader Support all 1996 and Newer Cars & light Trucks