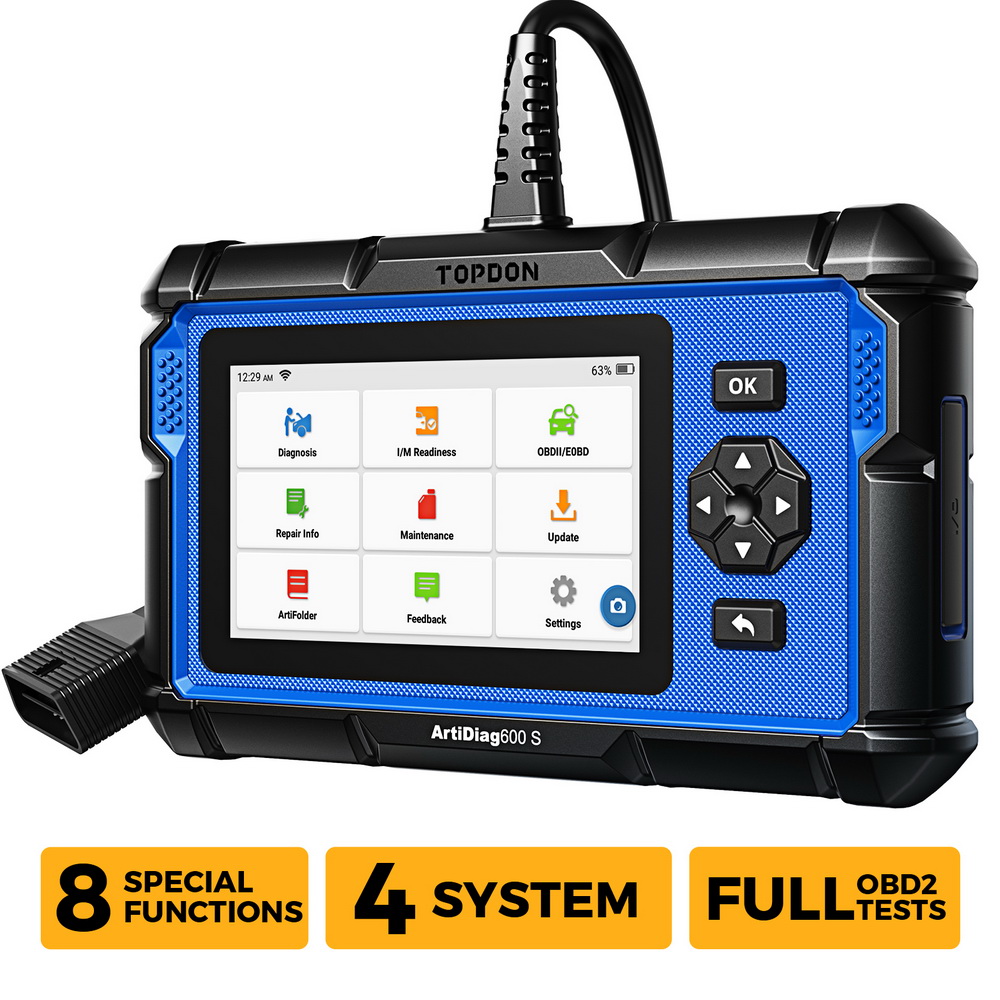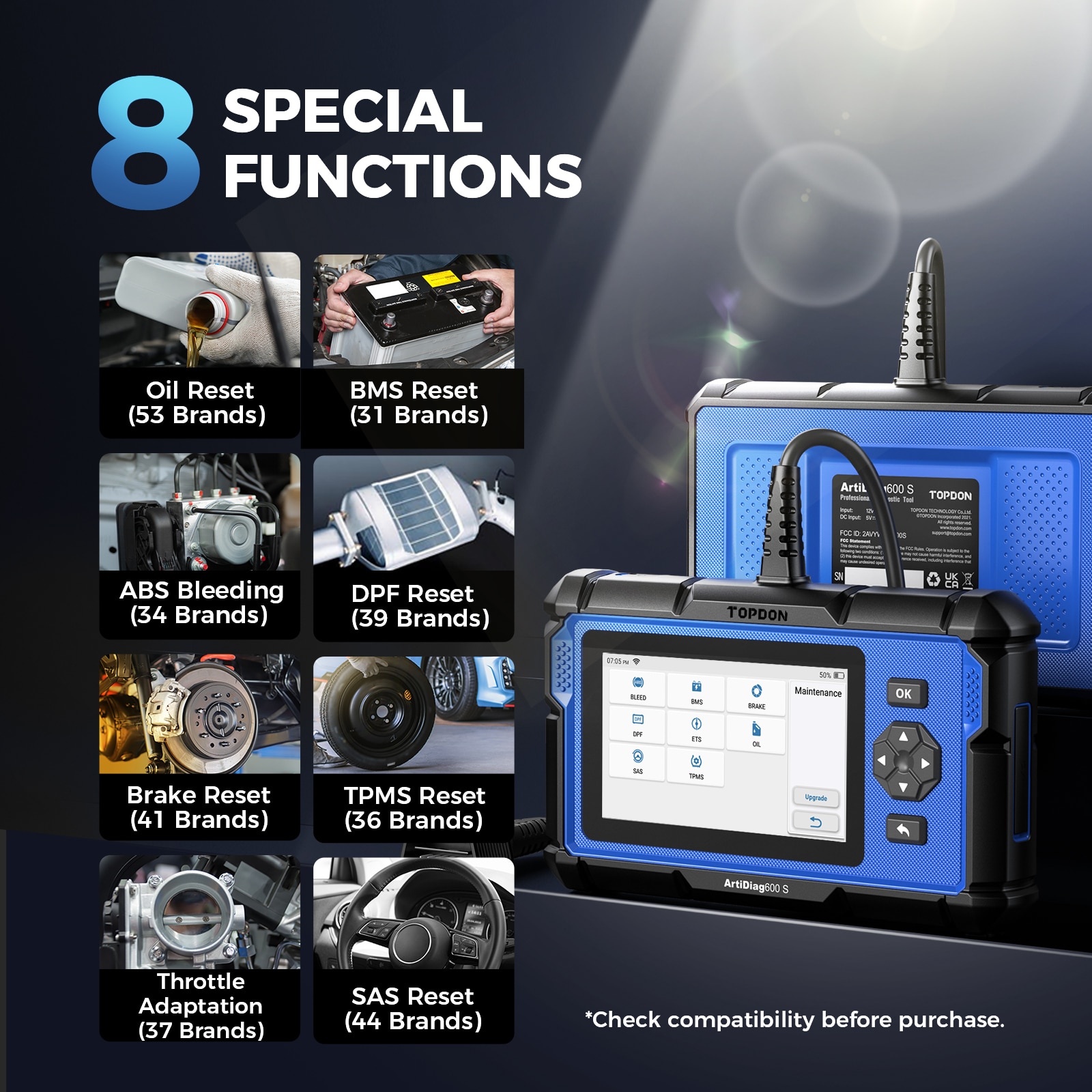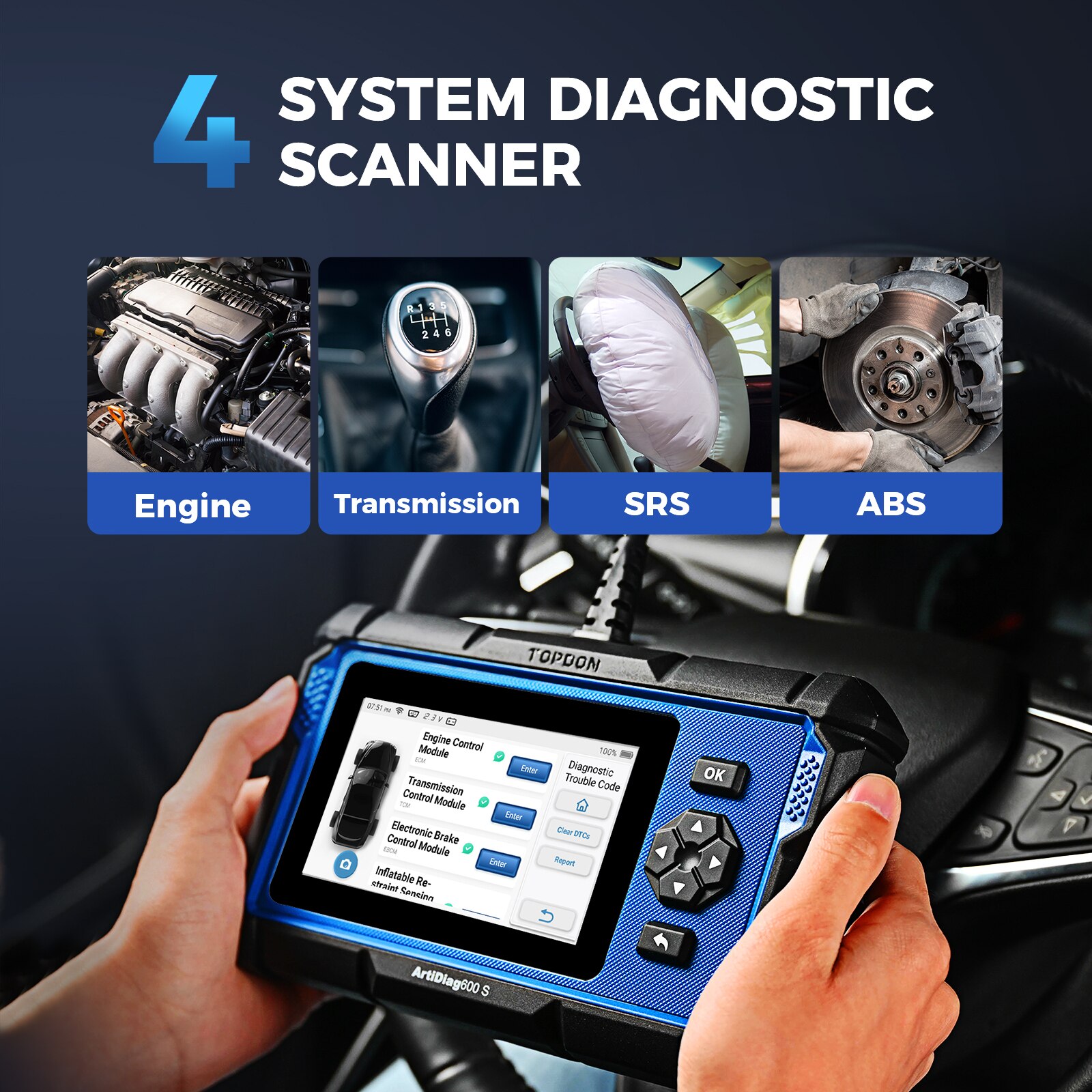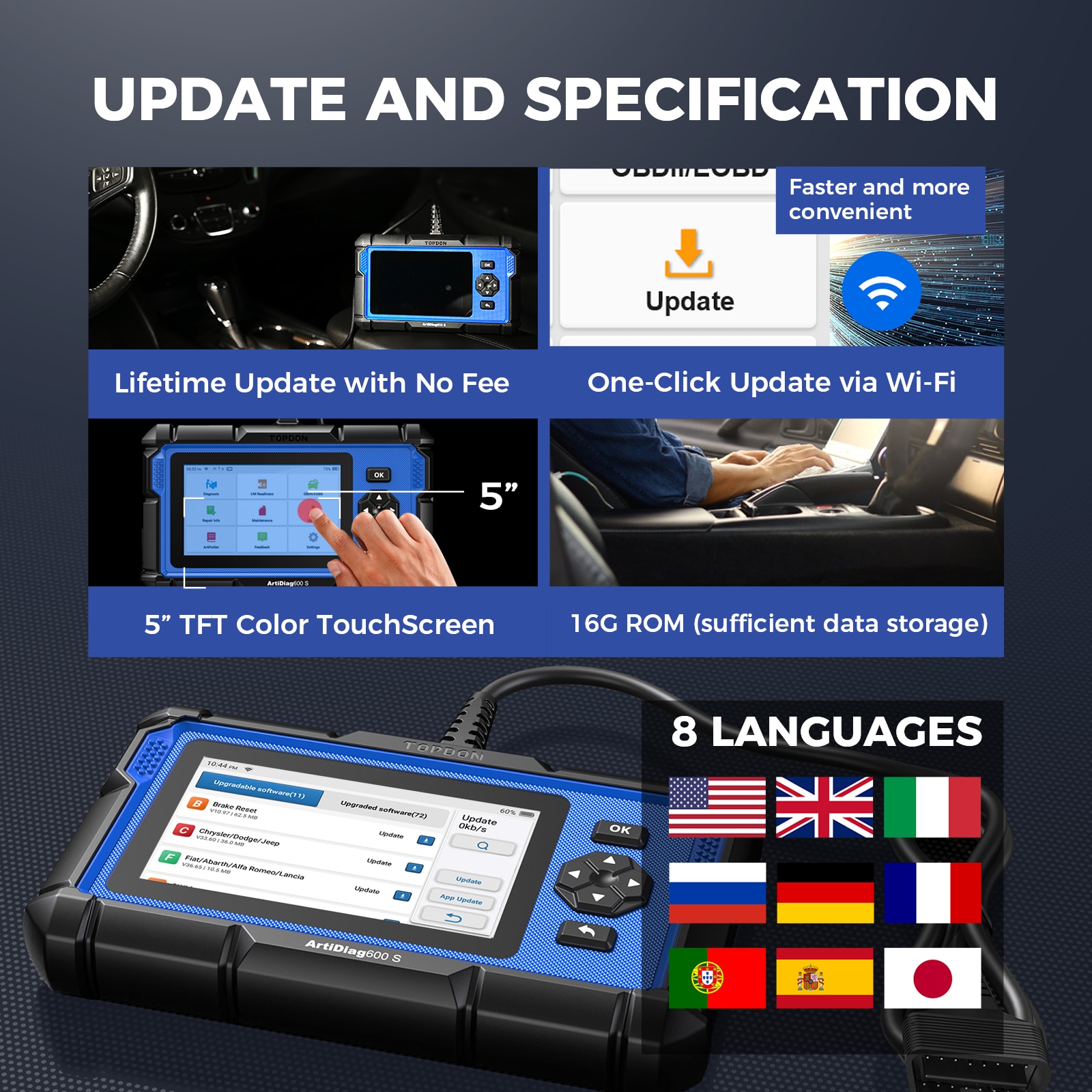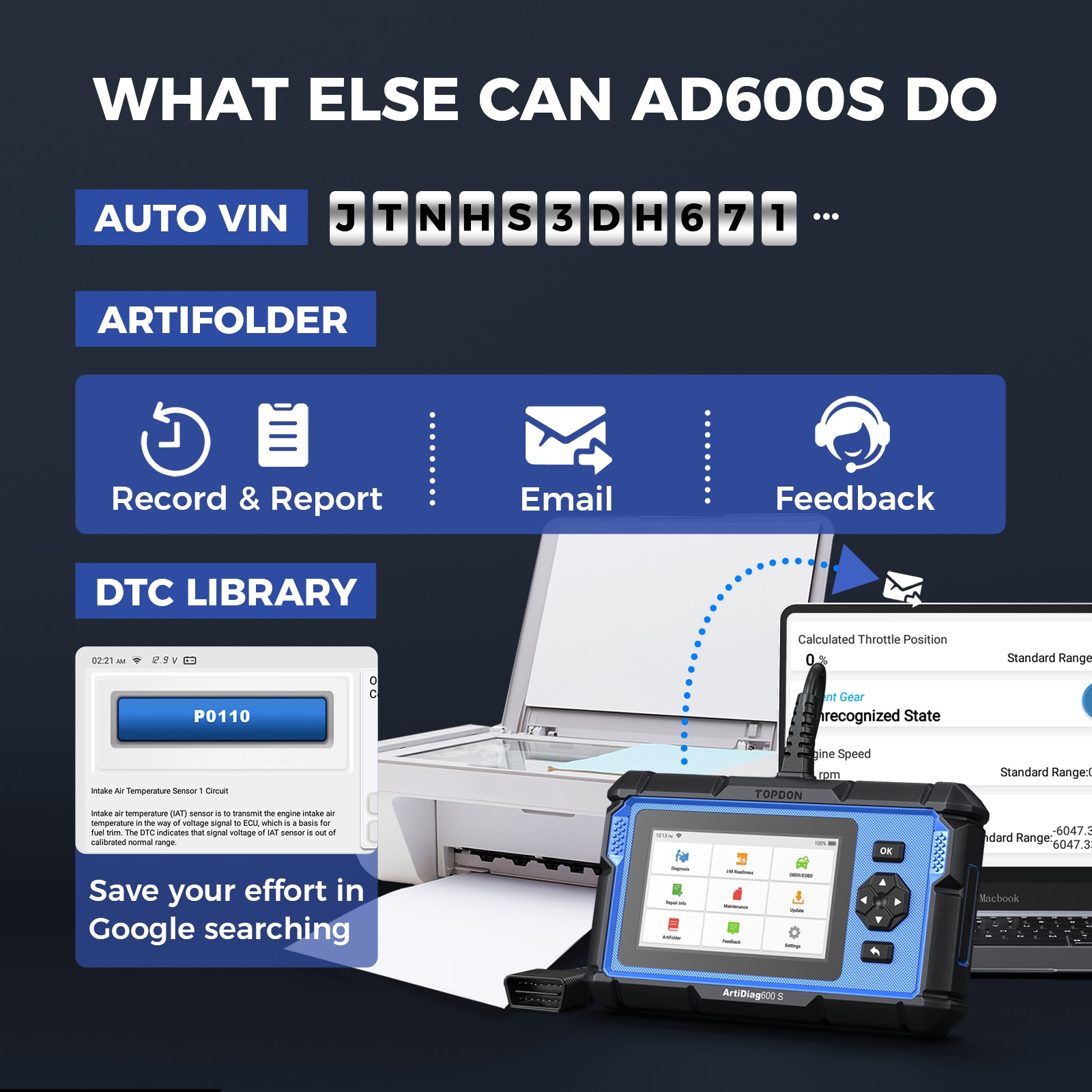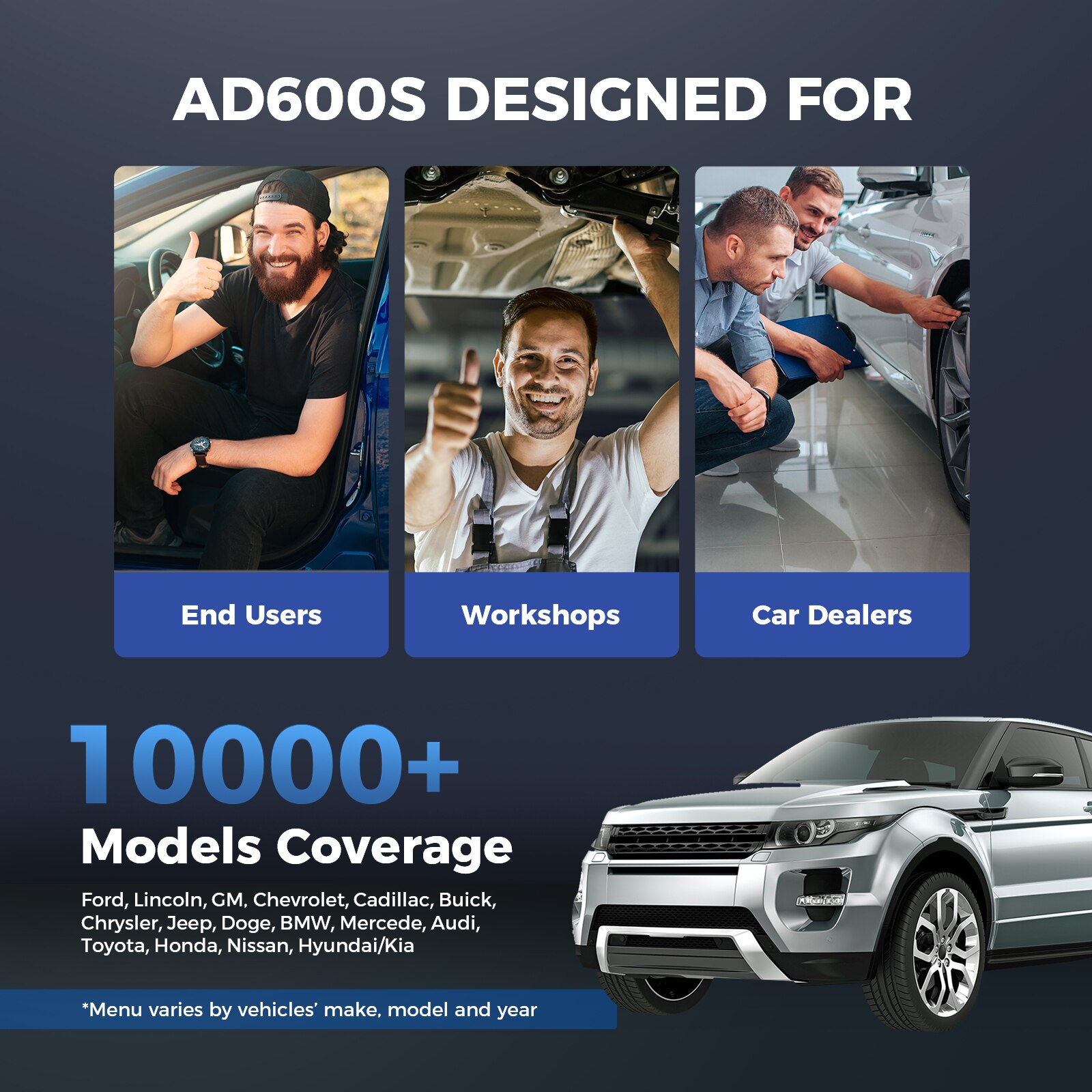 Description
TOPDON has developed this scan tool AD600S to meet industry demands for diagnosing and repairing virtually any vehicle on the road today. It strives to make automotive repairs easy, efficient, accurate, and affordable for do-it-yourself to professional-level technicians.
8 Hot Rest and Relearn Maintenance Services
2. BMS Reset (for 31 car brands)
Your car system still holds the old battery parameters and treatsthe new battery like an old one? Use this service to evaluate the battery charge state, and register the new battery replacement.
4. DPF Regeneration (for 39 car brands)
This diagnostic toolcan manage DPF regeneration to clear the blockage through continuous burning of the particulates captured in the filter.With AD600S, you can get rid of stored soot and even find faults in the DPF system withno hassle.
5. Brake Reset (for 41 brands)
Cars and trucks with electronic parking brakes can be a pain to service without a scan tool allowing you to retract electric parking brake calipers. This feature allows you to reset the brake pad afterthe replacement
7. Throttle Adaptation (for 37 car brands)
This scan tool can make initial settings to throttle actuators and so you'll have smooth drivingafter the throttle bodyhas been replaced or cleaned.
8. SAS Reset(for 44 brands)
This feature helps erase the record of the old steering angle sensor and overwrite it with a new one.This is the function that is not frequently found on cheaper scan tools. It is important that your steering stays aligned, and vital to ensure that the driver-assistance systemworks properly.
4 SystemsDiagnosticTool
4.For Transmission
The ignorance of a gearbox problem will lead you to a tremendous maintenance cost. To keep the transmission system output closely linked to the load and speed, thisscan tool views live data, reads and clears codes in transmission systems, and turns off the warning light.
4-in-1 Graphic Live Data
4 live data streamscan be merged in one graph for easy and intuitivecar diagnosis. This OBD2 scanneralso gives you the details of the fault code so you don'thave to search it online. And you can simply select the code to have its definition in the Diagnostic Trouble Code (DTC) lookup library.
Feedback & Printable Data
This scan toolgives you access to the "Feedback" function which provides customized repair suggestions fromour certified professionals. Moreover, you can print out the diagnostic data on paper for future reference. Simply hook it up to a Windows PC.
Update with No Costs
The software within this OBD2 code reader can be updated on demand throughout its lifetime at no extra charge; save you over-paying insane money for other scan tools that require yearly subscription. With just one click you canbring upcoming car models within its fold.
Clear Visual
The highresolution is clear and crisp and the information screens are logically laid out. The screen is LED-backlit for easy reading of test results in the dark or poorly lit areas. Plus the 5"size interface lets you view more details than smaller scan tools.
Easy Operation
Thin and light tablet-style design, with a capacitive touchscreen that is sensitive to your every gesture. This scan toolalso offers the flexibility of selection buttonsthat minimize the operation required to get where you want to go. It is very convenient when you are doing greasy work.
Great Service
The package containsthe diagnostic tool main unit, a user manual, a USB cable,and a carrying case. Have a question about this car scanner? Contact us 24 hours a day 7 days a weekto get qualified technical assistance anytime!We'll respondby email within 24 hours.
Multilingual Menu
Wide Car Coverage
Your Diagnostics Expert
Either you are a car enthusiast, a professional mechanic, or an expert car tunerin the workshop, you'll find this car scanneris handy to diagnose vehicle issues, preventfaults with safety systems, and find the right troubleshooting procedure.It puts affordable diagnostics into the hands of techniciansto further explore issues.
Reviews

13
#1 Sebastiaan Habets
May 9, 2021

Very fast delivery less than a week packing super satisfied order not the first time all advise seller
#1 zbigniew butkiewicz
Jul 9, 2021

As the product description, only think the seller could give a support
#1 Marcos Jose Cardoso
Apr 9, 2021

Great quality product delivered very fast
#1 John Perri
Mar 9, 2021

Everything's okay.
#1 Yaroslav Brodsky
Mar 9, 2021

fast shipping ,awesome
#1 joaquin sanchez cebrian
Feb 9, 2021

Delivered quickly, the seller is very Quickly answers all questions and tries to help if there is a problem
#1 Hrvoje Marjanovic
May 9, 2021

It came quickly. The device is kind of working. this Topdon Artidiag600S Car Diagnostic Tool Auto OBD2 Coder Reader Scanner Tool Full System Diagnostic Tool is good quality, working very well
#1 Todd Miller
Jun 9, 2021

Very good… Super fast
#1 rafael balderas
Apr 9, 2021

Product as advertised. Delivery superápida. Recommend to everyone.
#1 ian wilson
Feb 9, 2021

Very good fast delivery
Previous: ANCEL AD410 OBD2 Scanner Code Reader Support Full OBDII/EOBD Function Auto OBD 2 Scanner Auto Diagnostic Tool Free Upgrade
Next: TOPDON ArtiDiag600 OBD2 Scanner Car Diagnostic Tool Automotive Scan Auto Diagnostics ABS SRS Engine Test Autoscanner Free Update