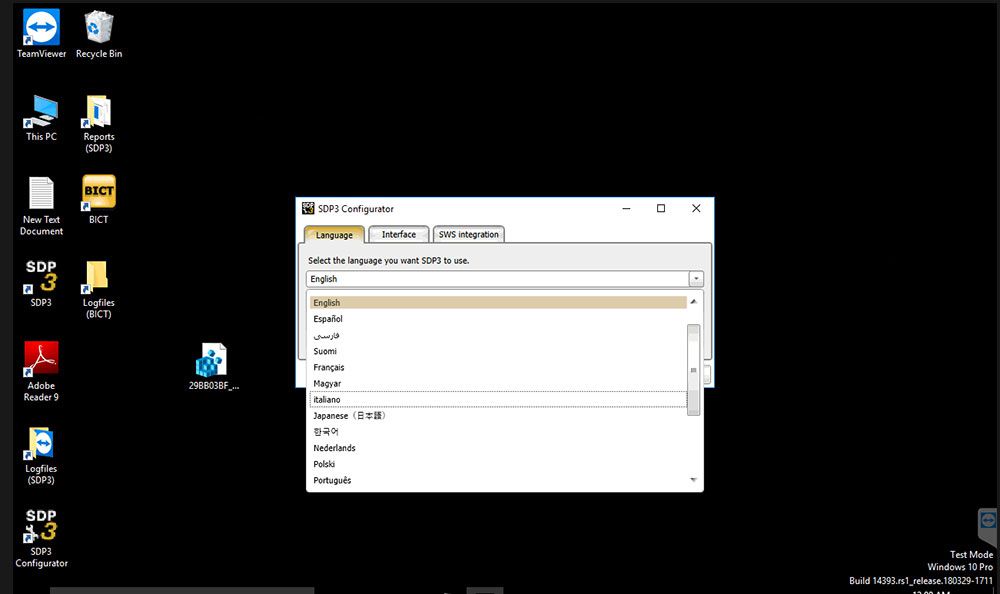 Description
Scania SDP3 2.51.3 Diagnosis & Programming for VCI 3 VCI3 without Dongle

V2.51.3 SDP3 Support Operating System:

Win7 sp1 ultimate edition 32 or 64
Win7 pro sp1 just 32 bit
Win10 pro

The program is used for troubleshooting, adjusting customer parameters, calibrations, conversions affecting the electrical system and updating software in control units.
Scania diagnostic software works with VCI 3 interface:
Highest level access
Internal
Scania
Industry & Marine
Authorized Scania Workshops
Bodybuilder

Supported languages:
English, German, Spanish, French, Japanese, Dutch, Persian, Polish, Portuguese, Swedish, Norwegian, Suomi, Turkish, Italian, Czech, Russian, Chinese.
Scania SDP3 2.51.3 Features:
Check and adjustements
Conversion
Maintenance
Campaign
Bodywork
Fault Codes
Fault Reporting
Programming of Control units
Need Netframework 4.5 installed on system.
In order to install SDP3, administrator rights are required.
UPDATE ECA Please also see Scania Ti 04-14 02 16 for more information about background and regarding the update process.
SOPS EDITOR INCLUDED:
Download with SDP3 from truck SOPS export file;
Decrypt SOPS export file to XML format;
Edit XML file with any XML editor;
Modify more than 300 parameters: like AdBlue, EGR, NOx Control, see whole list;
Encrypt XML file to SOPS import file;
Upload SOPS import file to truck with SDP3;
Scania XCOM - is a diagnostic tool to read, save and modify ECU data such as trouble codes, parameters, statistic data etc. VCI2/VCI3 interface is used to connect to ECU via CAN protocol.
Supported modification of ECU data of the following types:
EMS – Engine management system.
GM
S – Gearbox management system.
RET – Retarder system.
AWD – All wheel drive system.
CLS – Clutch Control.
EEC – Exhaust Emission Control.
COO (COO7) – Coordinator.
BWS (BCI1) – Bodywork system.
Supported resolving trouble codes to text description for the following types:
EMS (S6, S7, S8).
GM
S (OPC4, OPC5).
RET (RET1, RET2).
AWD (AWD1).
EEC (SCR1, EEC3).
COO (COO6, COO7).
HMS (HMS1).
Some interesting options:
AdBlue ON/OFF.
EGR ON/OFF.
Chassis ID/VIN Change.
Immobilizer ON/OFF.
Truck Power INCREASE.
ECU Recovery.
ECU Reset.
ECU Unlock.
Reviews

14
#1 teharttroyr vigorda
Oct 9, 2018

Good product ...... works perfectly… no problem Recommend the purchase. Arrived fast ahead of schedule. Not the two came together, arrived separate but both came in perfect condition.
#1 adolfo aleman
Mar 9, 2019

Great product arrived super fast via office for Brasil recommend.
#1 Siarhei Hryhencha
Dec 9, 2018

Works just great, I am totally inpressed! very good!
#1 addeprove addeprove
Nov 9, 2018

Ok , happy
#1 frazer frizelle
Nov 9, 2018

Very fast shipping. Thank you seller.
#1 Lance Weston
Aug 9, 2018

Good product I recommended.
#1 steve king
Nov 9, 2018

Super nice this Scania SDP3 2.39 Diagnosis & Programming for VCI 3 VCI3 without Dongle is good quality, working very well
#1 Rodrigo Lemmi
Jul 9, 2018

The goods were delivered quickly.
#1 miguel vilchis trejo
Feb 9, 2019

The goods came quickly enough, packed perfectly, checked works!
#1 VLADISLAV POSTOL
Nov 9, 2018

The order came for 3 days, everything would be so!!!! I'll check, i'll add a review.
Previous: FVDI SVCI 2018 ABRITES Commander Full Version (18 Software) No Time Limited Covers Function of FVDI 2014 2015 Unlock Version
Next: Yanhua Mini ACDP Programming Master Full Configuration with Total 12 Authorizations