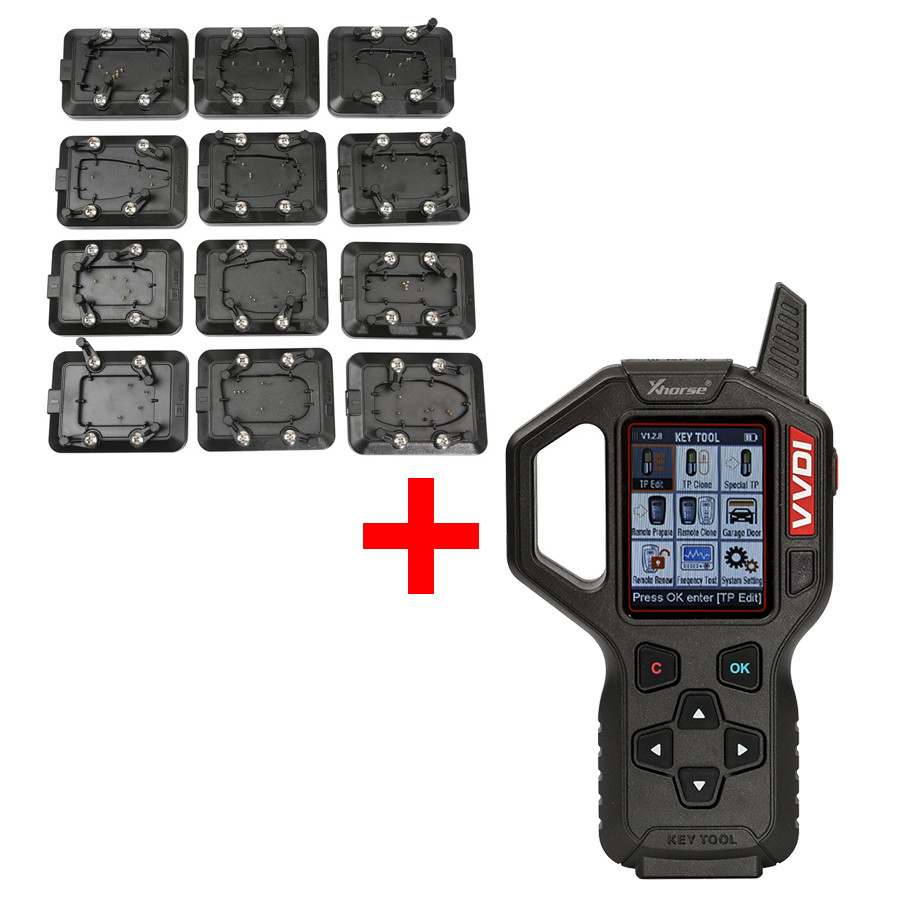 Description
Original V2.3.9 Xhorse VVDI Key Tool Remote Key Programmer American Version With Full Set 12pcs EEPROM Adapter Free ShippingTop 4 reasons to get VVDI Key Tool:
1. Latest version: V2.3.9
2.
Xhorse
VVDI Key Tool remote maker supports most common remote types in the market; it is reliable and easy to use.
3.VVDI key tool remote generator can perform these functions:edit transponder, clone transponder, test frequency, clone Remote, generate remote, generate garage door remote controller, unlock smart card etc.
4.In a word,
Xhorse
VVDI Key Tool is a device with multi-functions.
Xhorse VVDI Key Tool Function:
Eifficiency Device,simple and easy for getting your work
Support nearly all common remote types that can be generated in the market
Transponder Edit
Support data edit of 36 46 47 60 70 common transponder & prepare parts of special transponder.
Transponder IC Duplicate
Support 46 42 11 12 4D immobilizer transponder IC duplicate.
Frequency & Power Measure
Support frequency test of 27-900MHz & power measure 300-450Hz.
Duplicate Remote
Support duplicate parts of keeloq roll code & fixed code remote key with arbitrarily frequency.
Prepare Remote
Support prepare up to 400 types of vehicle remote keys.
Prepare Garage Door
Support prepare more than 100 types of garage doors remote.
Renew Remote
Support renew parts of NXP keylessgo keys & normal keys.
How to use VVDI Key Tool:
(Here take Generation of MG3 433 Remote Key for example)
1.Open VVDI Key Tool remote maker, select "Remote Generation"
2.Select vehicle country/ region,i.e China
3.Select Vehicle Make:MG
4.Select model: Old MG3 433
5. Connect VVDI key tool with vvdi mini remote programmer, click on generate
6.Select corresponding remote type, wireless or wire remote
7. After select generation remote, vvdi key tool will generate barcode automatically , take a photo of the barcode
8.Use decode device to decode the remote key with the barcode.
The new generated remote is almost the same as original remote with barcode
VVDI Key Tool Package List:
1pc x VVDI Key Tool remote maker main unit
5pcx Remotes keys
2pcx Programming cable
1pcx Remote renew cable
1pcx USB cable
2pcx Transponder storage box
1pcx Key blank storage box
12 pcs * VVDI KEY TOOL Key Adapter
Reviews

15
#1 Toni Nikic
Feb 9, 2019

The goods were sent quickly.
#1 Jeff Cowan
Sep 9, 2018

works Perfect Thank You
#1 Yevgen Stoyanov
Jul 9, 2018

fits my machine perfectly
#1 Tony Wong
Feb 9, 2019

Okay.
#1 ELYAN Hewady
Aug 9, 2018

Perfect! Thank you. Not yet tested but happy
#1 Peter Mady
Apr 9, 2019

Great product everything on time.Seller great thanks
#1 Patrick Mortimer
Apr 9, 2019

Product as advertised. Delivery superápida. Recommend to everyone. this Original V2.3.9 Xhorse VVDI Key Tool Remote Key Programmer American Version With Full Set 12pcs EEPROM Adapter Free Shipping is good quality, working very well
#1 majid seket saket
Nov 9, 2018

tools work perfect.
#1 Gerardo Bertoni
Jan 9, 2019

Everything perfect
#1 alexis viana
Aug 9, 2018

Everything is super, very fast. from moscow to peter 2 days. p The parent put a tester for the brake as a gift. Many thanks to the seller, that's what quality and speed means.
Previous: Original Xhorse VVDI Key Tool Remote Key Programmer European Version
Next: AUTEL MaxiSys MS906BT Advanced Wireless Diagnostic Devices with Android Operating System 2 Years Free Update Online