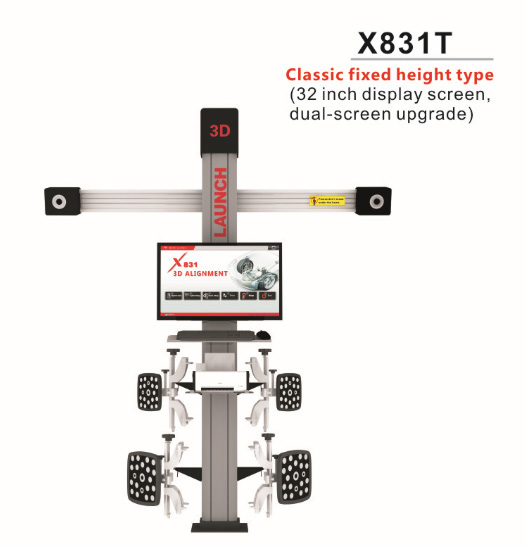 Description
Original launch X831T 3D 4-Post Car Alignment Lift Platform

Classic fixed height type
(32 inch display screen, dual-screen upgrade)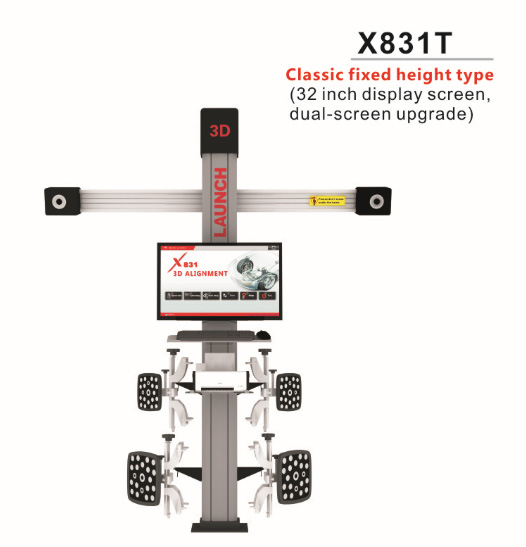 Original launch X831T Features:
Russian version
Measurement platform supports: Trench, 4-post lift, big scissor lift.
Industry's most advanced camera and optical system;
The measurement platform is not required to be horizontal. Measurement is possible as long as the target is visible.
Dynamic machinery visual algorithm technology real-time dynamic measurement of the vehicle data
Industry's shorted, small-distance push and roll compensation, without stop halfway.
Detection of tread track, tread track difference wheel base wheel base difference.
Real-time display of kingpin, conventent for the adjustment of suspension bracket data.
Real-time target monitoring.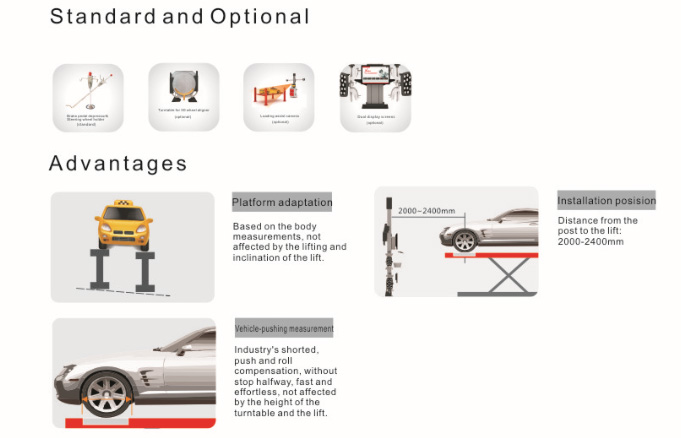 Platform adaptation
Based on the body measurements, not affected by the lifting and inclination of the lift.
Installation posision
Distance from the post to the lift: 2000-2400mm
Vehicle-pushing measurement
Industry 's shorted, push and roll compensation, without stop halfway, fast andeffortless. not affected by the height of the turntable and the lift.


Packing List:

1set X launch X831T 3D 4-Post Car Alignment Lift Platform
Reviews

16
#1 Valter Zugan
Feb 9, 2019

The order came for 3 days, everything would be so!!!! I'll check, i'll add a review.
#1 matt gavin
Nov 9, 2018

Product as advertised. Delivery superápida. Recommend to everyone.
#1 Donnie Guillory
Jul 9, 2018

Got, took off dump and stitched the car without problems) Thank you seller :)
#1 James Salib
Oct 9, 2018

Good quality, fast shipment.
#1 Сергей Ескин
Jan 9, 2019

All as in the description.
#1 Hiessman Mercado
Jul 9, 2018

all perfect ! Items came to me 3days! I would buy it again, from this seller
#1 William Zhu
Aug 9, 2018

I received the Item within 5 days. So the shipping was much faster than expected. Quality is very good and it works just fine. On the CD is a little gift of usable Software. Would buy here again. this Original LAUNCH X831T 3D 4-Post Car Alignment Lifts Platform Classic Fixed Height Type 32inch Display Screen Dual-Screen Upgrade is good quality, working very well
#1 Jeremy Dixon
Jan 9, 2019

Great product everything on time.Seller great thanks
#1 ALEJANDRO SILLA
Dec 9, 2018

works great, arrived really fast. I have already bought 4 of them all 5 stars
#1 Massimo Pisano
May 9, 2018

Thanks to the producer everything came on time all the whole works quality assembly meets the requirements of the description
Previous: Classic 7 in 1 Multi-Brand Motorcycle Scanner Motorbike Repair Diagnostic Tool
Next: Original LAUNCH X831S+ X831Plus 3D 4-Post Car Alignment Lifts Platform Supports multi-language UNICODE