Description

Newest ODIS 5.1.6 Software for VAS 5054A Support Multi-languages
ODIS 5.1.6 Software: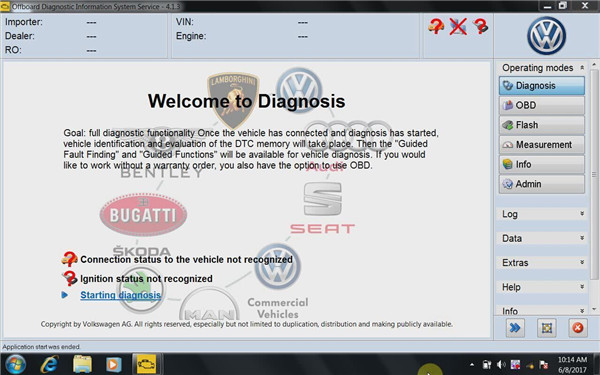 ODIS 5.1.6 Software Support Models:
ODIS 5.1.6 Software Language Available:
English, Japanese, Portuguese, Romanian, Korean, Dutch, Polish, Turkish, Spanish, French, Italian, Croatian,Danish, German, Swedish, Finnish, Slovenian, Czech,
Russian, Greek, Chinese
ODIS 5.1.6 Software New Functions:
Estimated remaining times are shown for ECU flash operations.
Diagnostic protocol contains interruptions of GFF sessions, extended measurement values, improved ECU communication view,
used diagnostic hardware, connection type of diagnostic hardware, operating system, the hotfix used and submissions of support requests
The measured value display has been improved.
Documents in GFF are displayed in separate windows.
One message box will be shown at the beginning of the test drive mode.
GFF hotfixes can be integrated during diagnostic sessions.
Danger messages have been revised.
Stopping of diagnostic sessions may be interrupted.
Automatic deletion of autosave diagnostic protocols after successful transmission.
Selection of PassThru diagnostic hardware has been improved.
ODIS Service Software update has been stabilized.
Package Including:
1pc x USB3.0 64G ODIS 5.1.6 Software
Reviews

12
#1 mpkformas29 mpkformas29
Oct 9, 2018

Everything works. Delivery is super fast. Disk c to read. Seller recommend!
#1 Peter Nowak
Mar 9, 2019

The goods were delivered quickly.
#1 Jubeda I Patel
Jun 9, 2018

Very fast shipping. Thank you seller.
#1 Norman Carbury
Feb 9, 2019

fast shipping ,awesome
#1 Daniel Kulanga Masiye
Dec 9, 2018

Everything came in time, packed well.
#1 Kevin Blondin
Mar 9, 2019

works like charm
#1 Rick Caisse
Feb 9, 2019

Good product Good quality excellent this Newest ODIS 4.33 Software for VAS 5054A and VAS6154 in USB3.0 64G Support Multi-languages is good quality, working very well
#1 velissa grullon
Nov 9, 2018

Super nice
#1 andrew moore
Apr 9, 2019

Delivery fast everything works!!!
#1 james macomber
Dec 9, 2018

Will be than to check, i will add. So everything is wonderful.
Previous: MB Star Compact C4 Update to V2016.7
Next: 2019.12V MB SD Connect C4 C5 Star Diagnosis with EVG7 DL46/HDD500GB/DDR4GB Diagnostic Controller Tablet PC